Last year I showed you a tutorial for DIY alcohol ink ornaments with the ink applied to the outside of a cream colored glass ornament – this year I'm going to show you how to make alcohol ink ornaments with the ink applied inside clear glass and plastic ornaments:
The results are completely different – I'd love for you to tell me in the comments which ones you prefer. As a refresher, here are the alcohol ink ornaments with the ink applied to the outside. It's a great project if you'd like to know how to paint the outside of glass ornaments: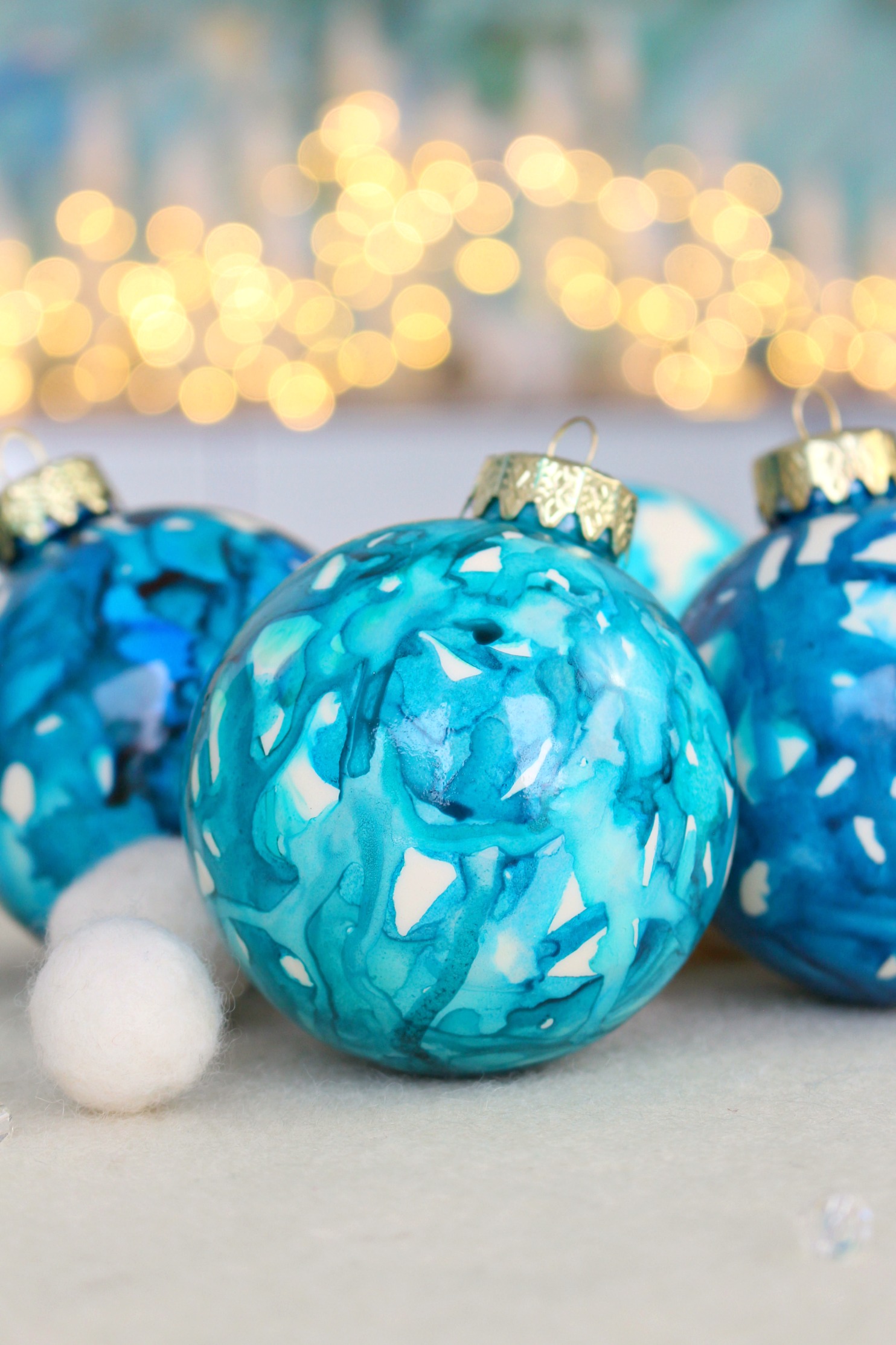 And here are the new alcohol ink ornaments, with the paint inside the glass: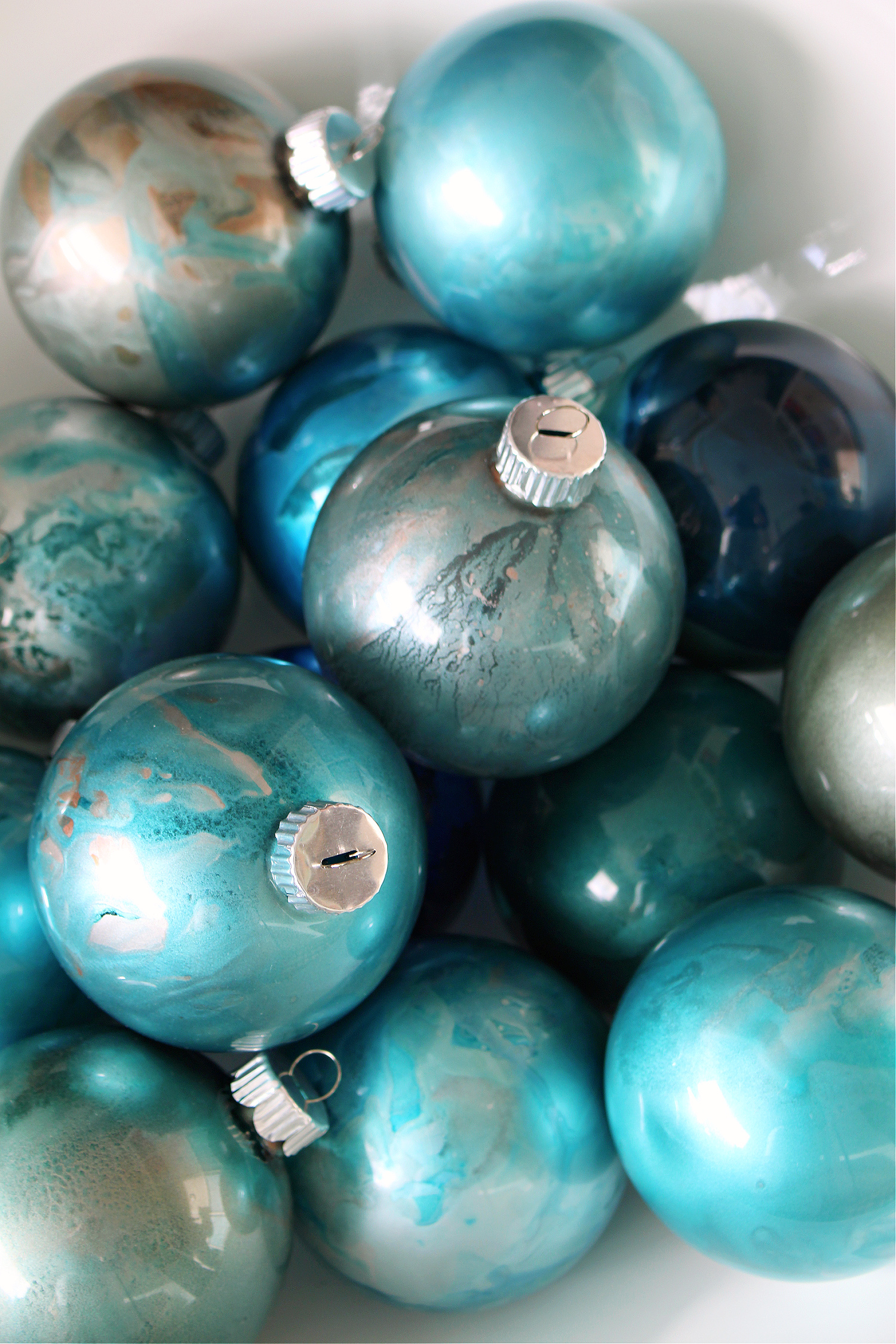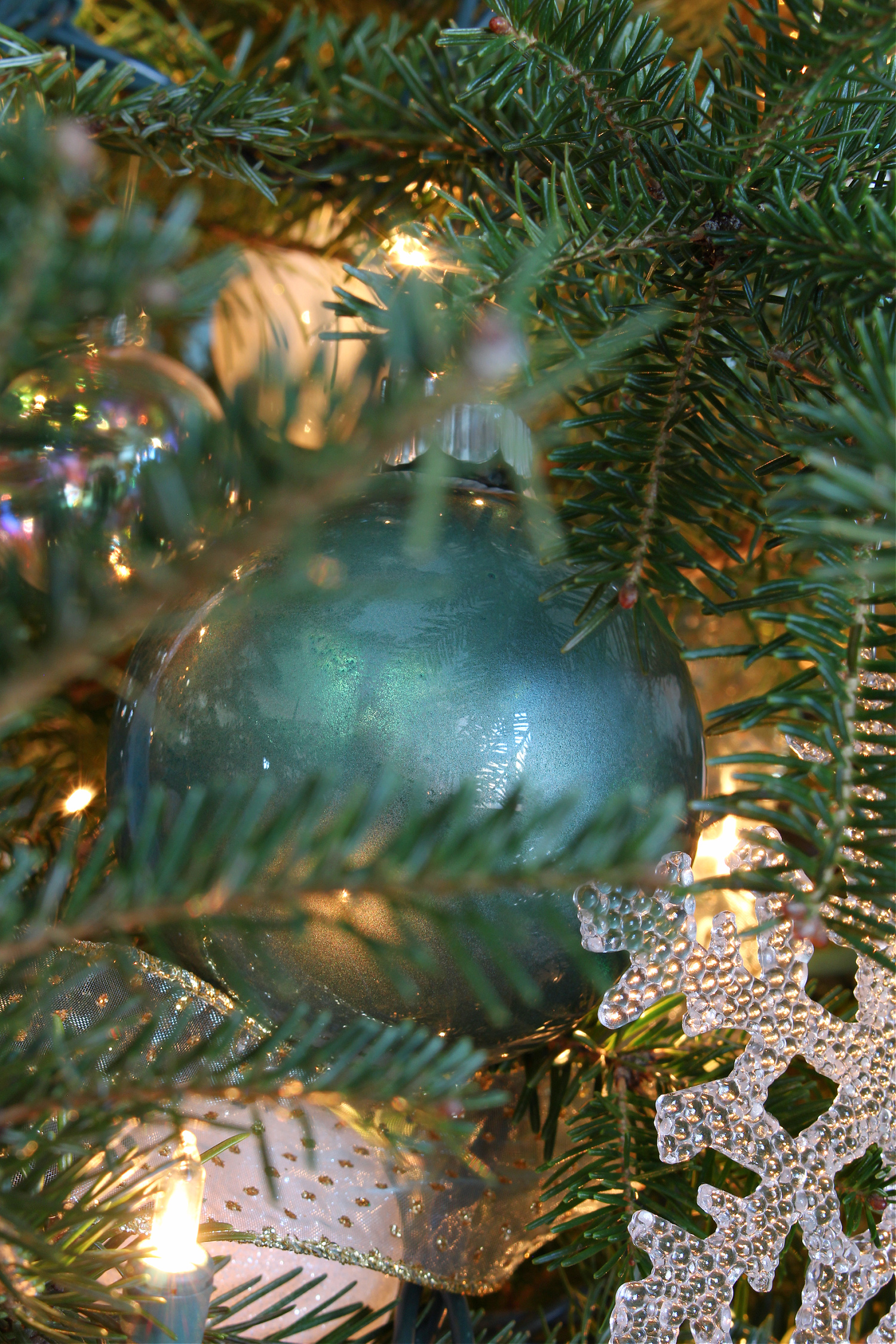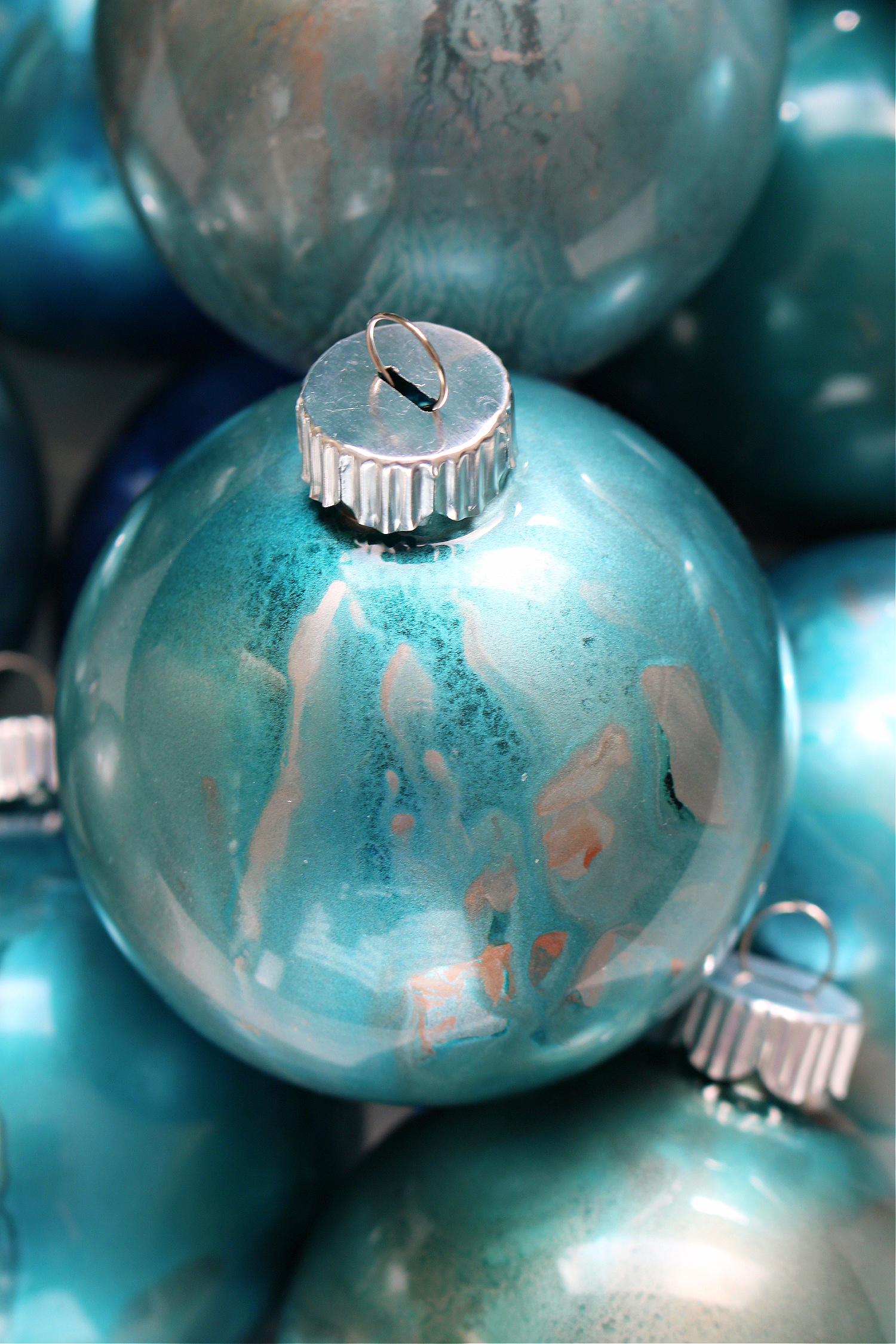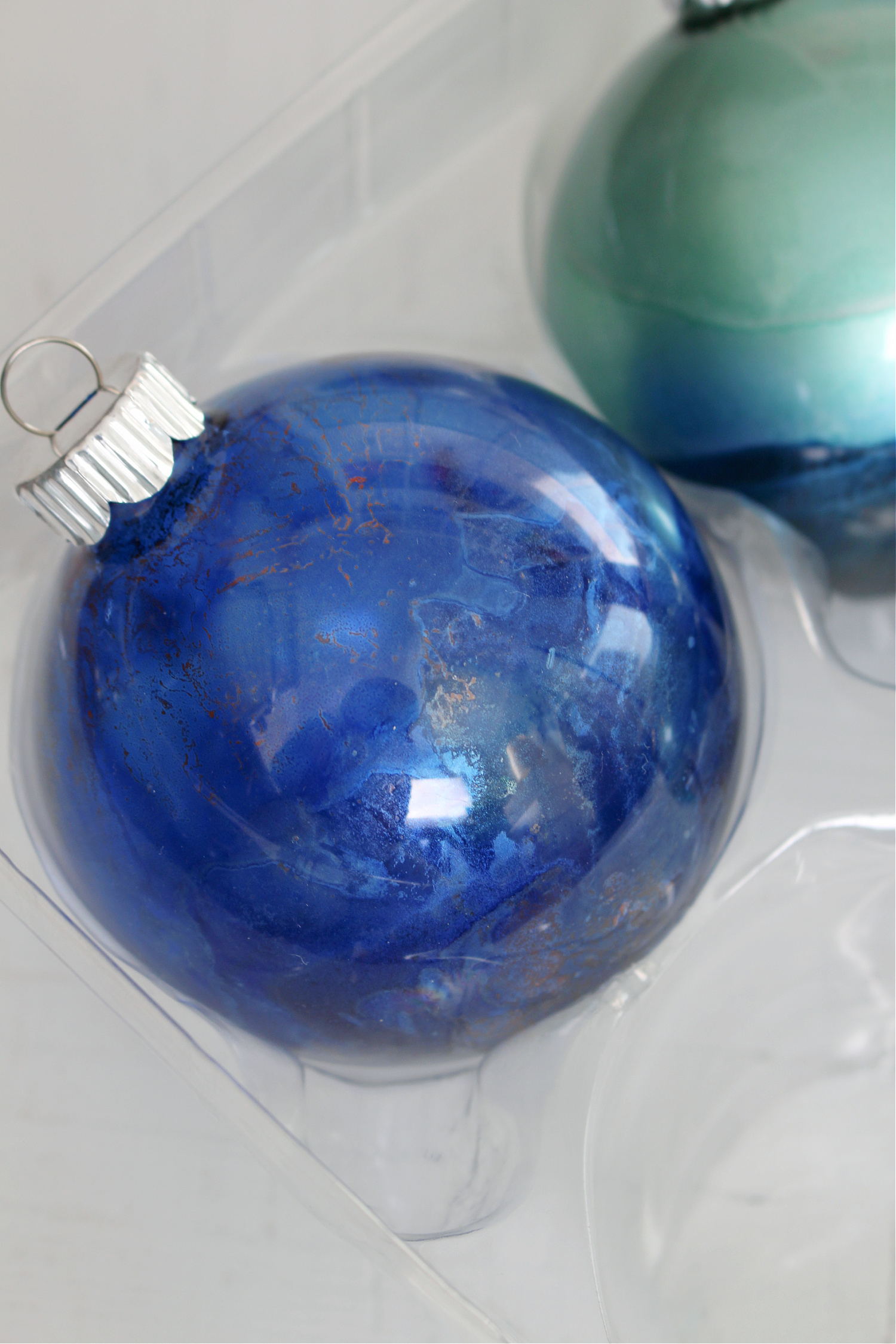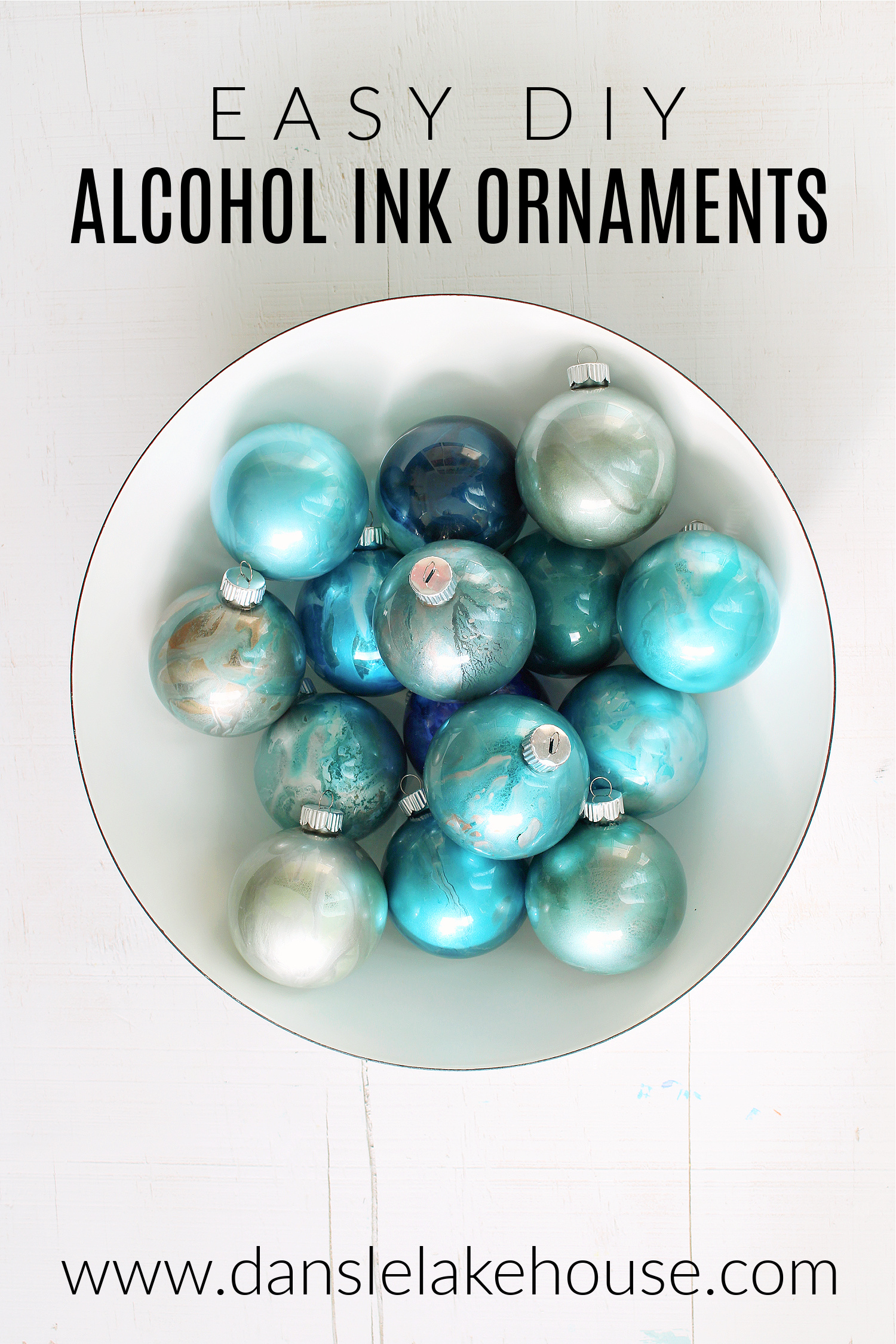 Supplies for Making Alcohol Ink Ornaments:
Clear glass or plastic ornaments (the bigger the better)
Alcohol inks – any color, but I really recommend also buying metallics
Compressed air (optional)
Hair dryer (optional)
Cardboard tube from paper towel or toilet paper, cut into slices
Garbage bag/tarp to protect surface
Gloves (alcohol ink can stain hands)
Rubbing alcohol
Q-tips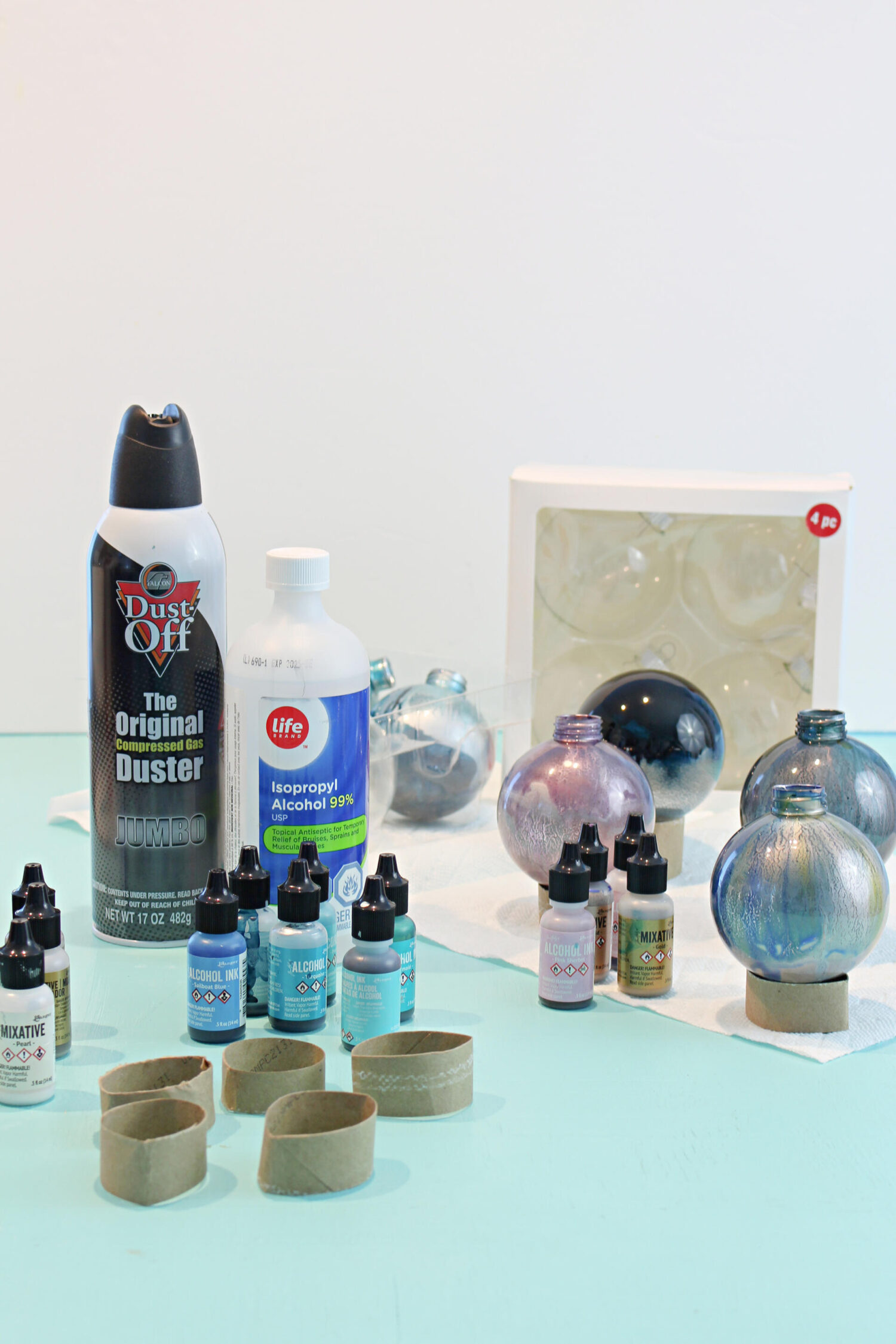 How Do You Make Alcohol Ink Ornaments?
Gently remove the cap from the clear ornament and set aside
Pour one color of alcohol ink into a clear glass or plastic ornament and begin swirling it around
Use a can of compressed air to help move the ink around and create interesting designs
Let the first layer of ink dry 90% – use a hair dryer to speed up the process – otherwise the colors will just mix completely
Then layer in another color of alcohol ink, swirling it around as well, let it dry mostly once you're satisfied with the design
Keeping layering on colors, letting dry in between colors, and using metallics to add shimmer and interest
Keeping moving the ornament – using the hair dryer again to help the ink dry – until you no longer see the ink moving inside
Set the ball on the little cardboard tube stand and let dry
Remove any excess ink from the opening or outside with rubbing alcohol and a Q-tip
Let dry overnight and reassemble ornament
That's the process for how to make alcohol ink ornaments in a nutshell, but let me share a more detailed tutorial with some photos to help you see the process.
How to Make Alcohol Ink Ornaments – Detailed Tutorial: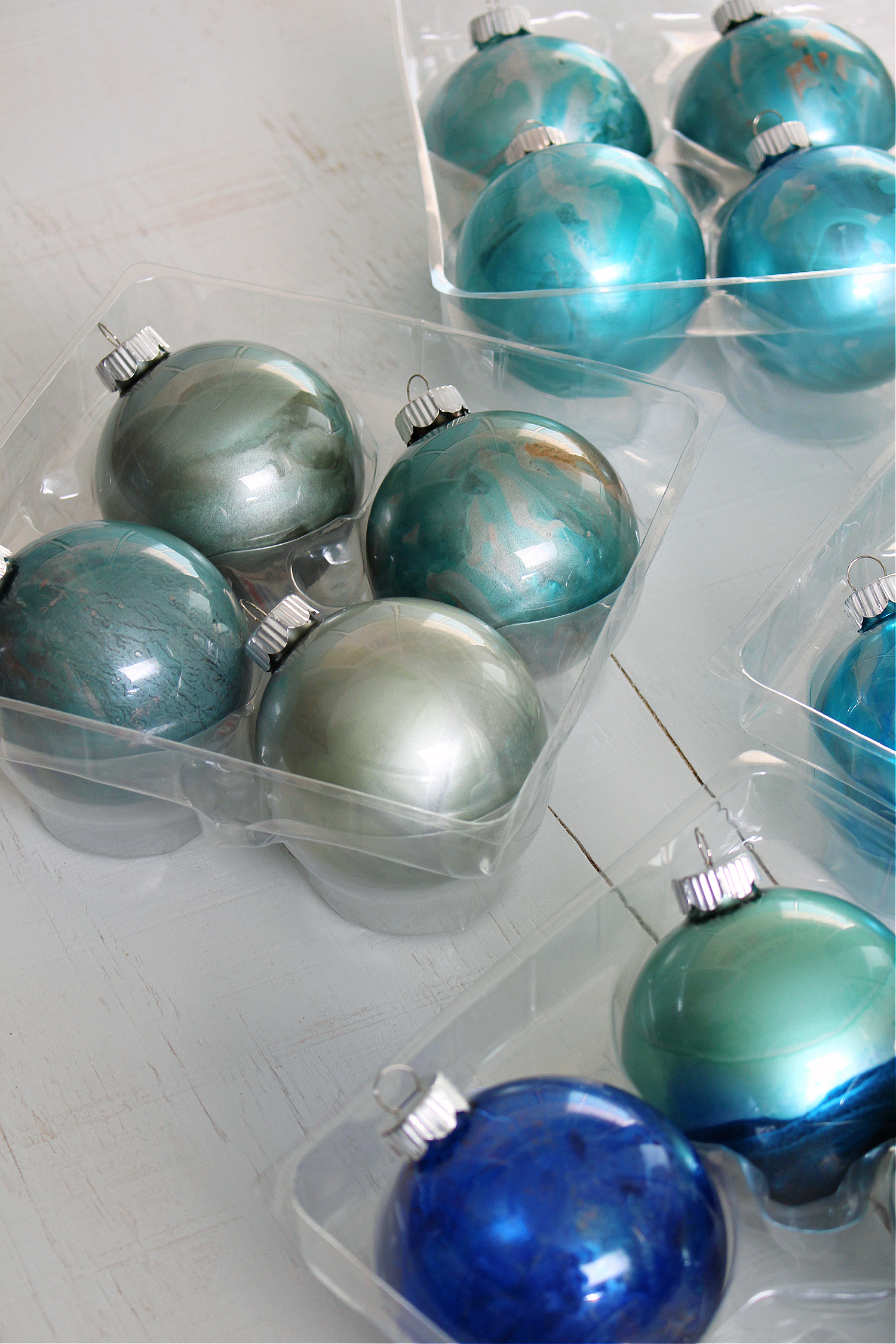 First set up your work station. Cover the area with garbage bags or a tarp to protect against staining. Wear rubber gloves (I didn't, but I'm telling you to, lol). If you're sensitive to smells, open a window because the rubbing alcohol can be a bit much. Then cut up a paper towel tube to make little stands. My Mom came up with this idea and it's genius! Remove the cap from the ornament – and remove the lids from the alcohol ink colors you'd like to use.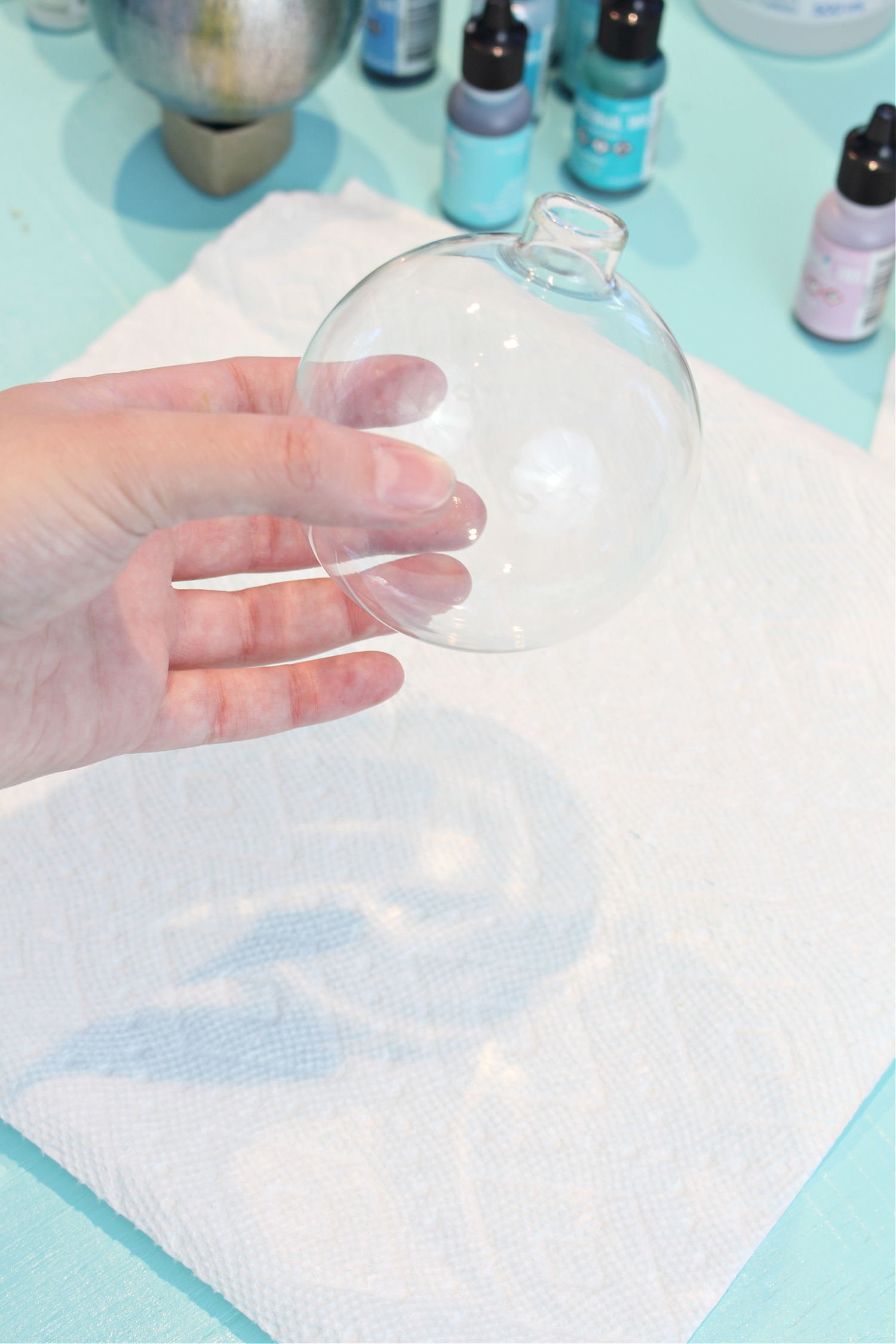 Pour in a few drops of a single color – mix with metallic inks if you'd like the same effect I created.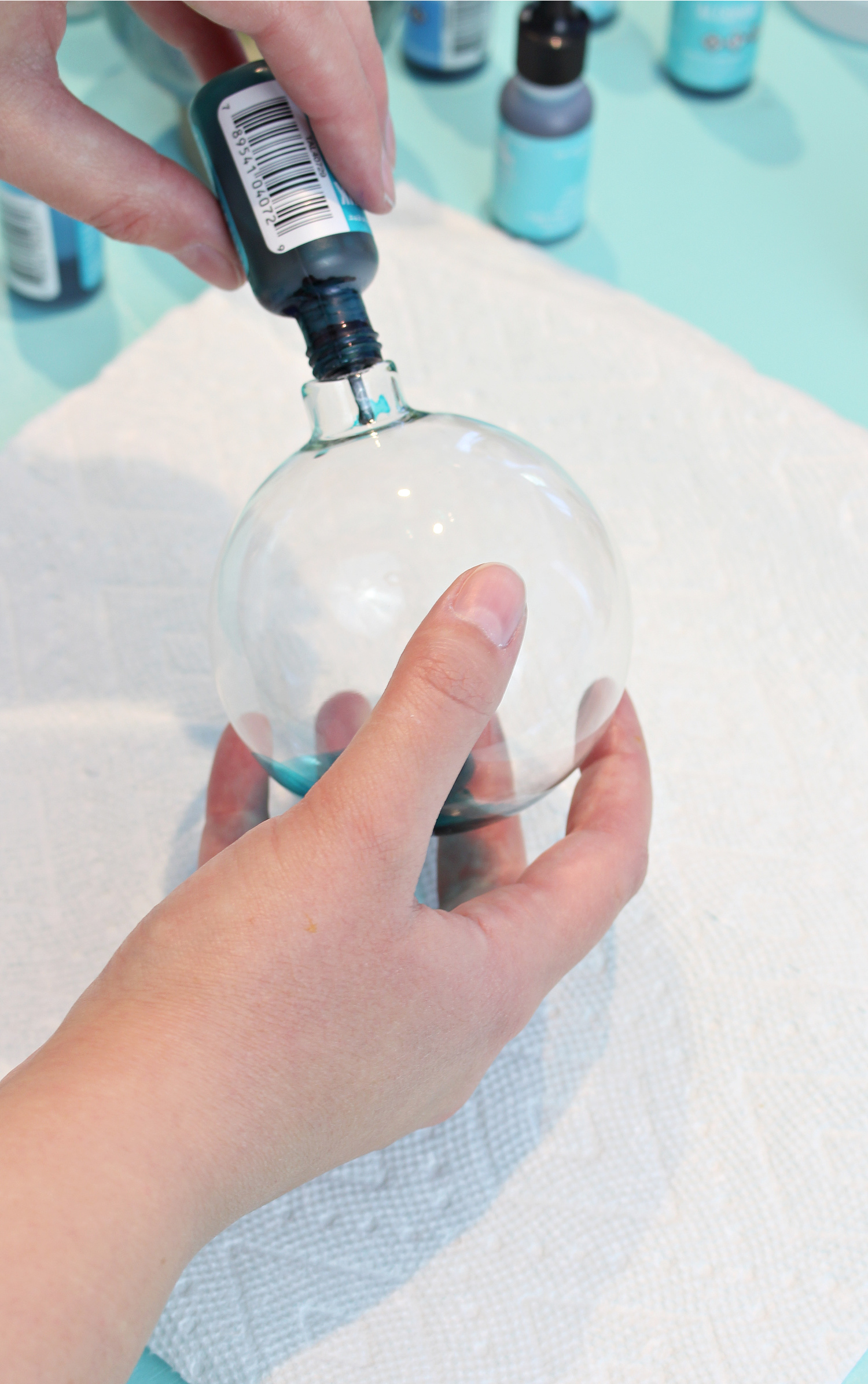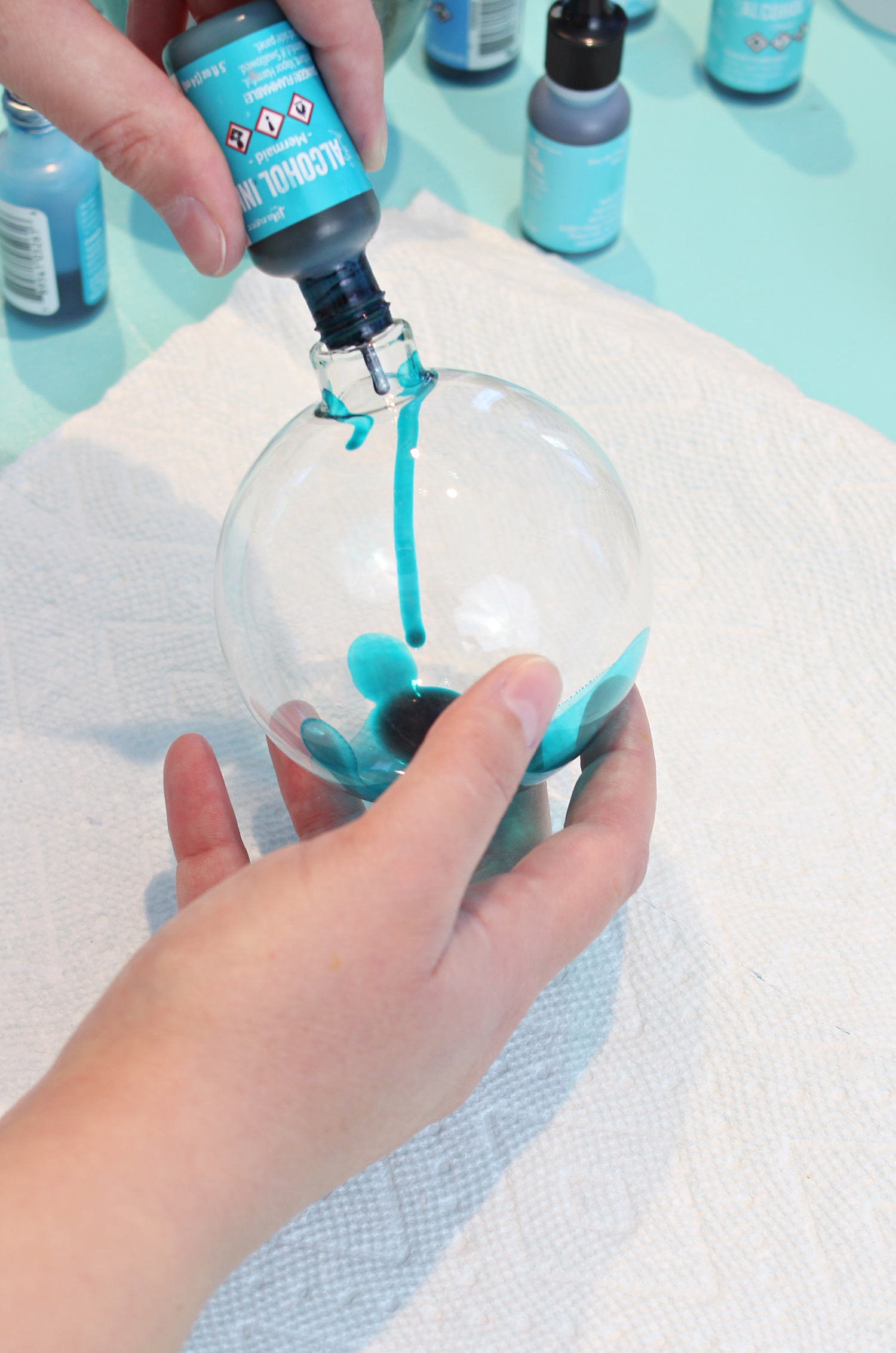 Swirl the ink around and let this "layer" dry most of the way before adding more colors.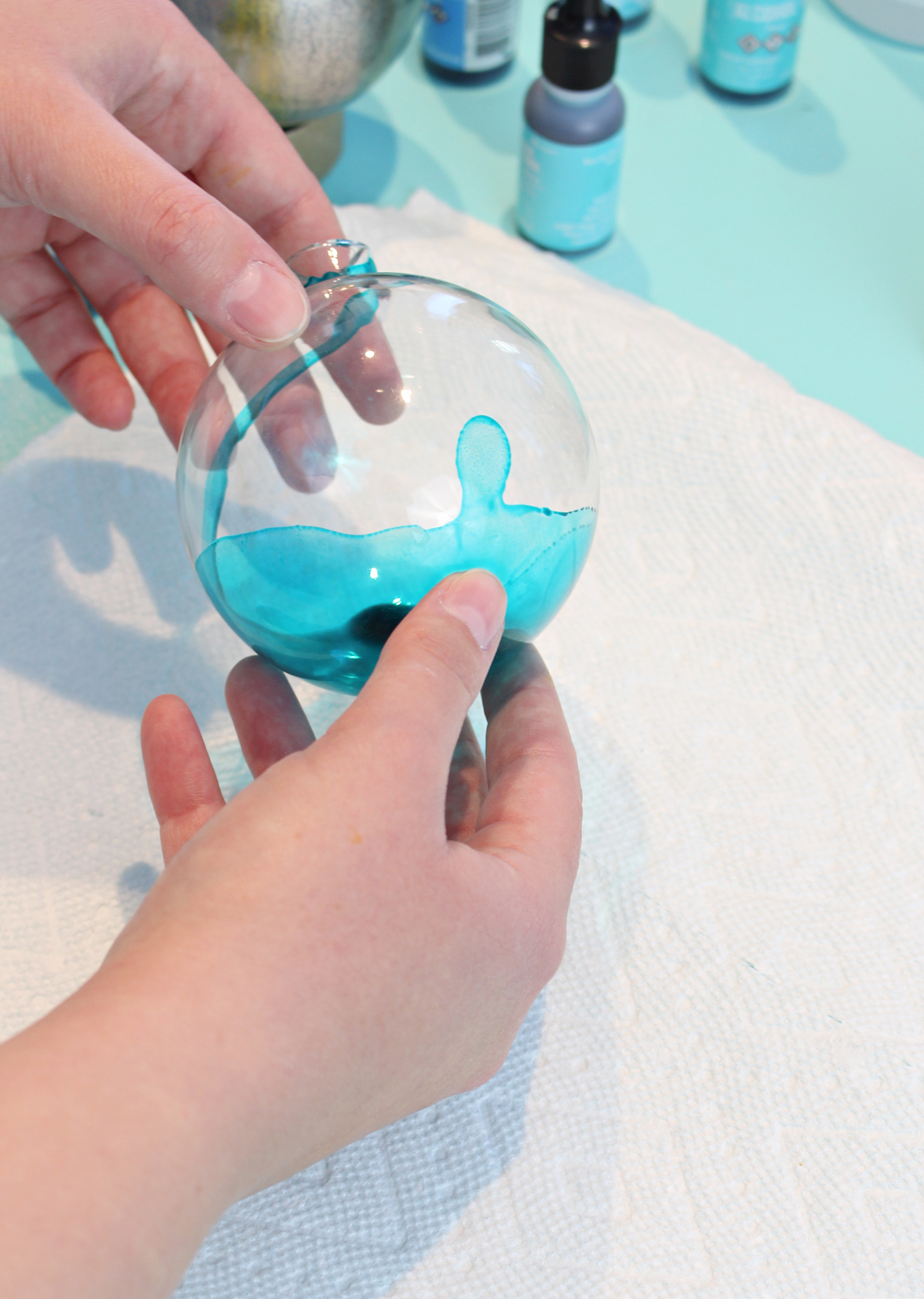 You can use compressed air to move the ink around, or just swirl the ornament.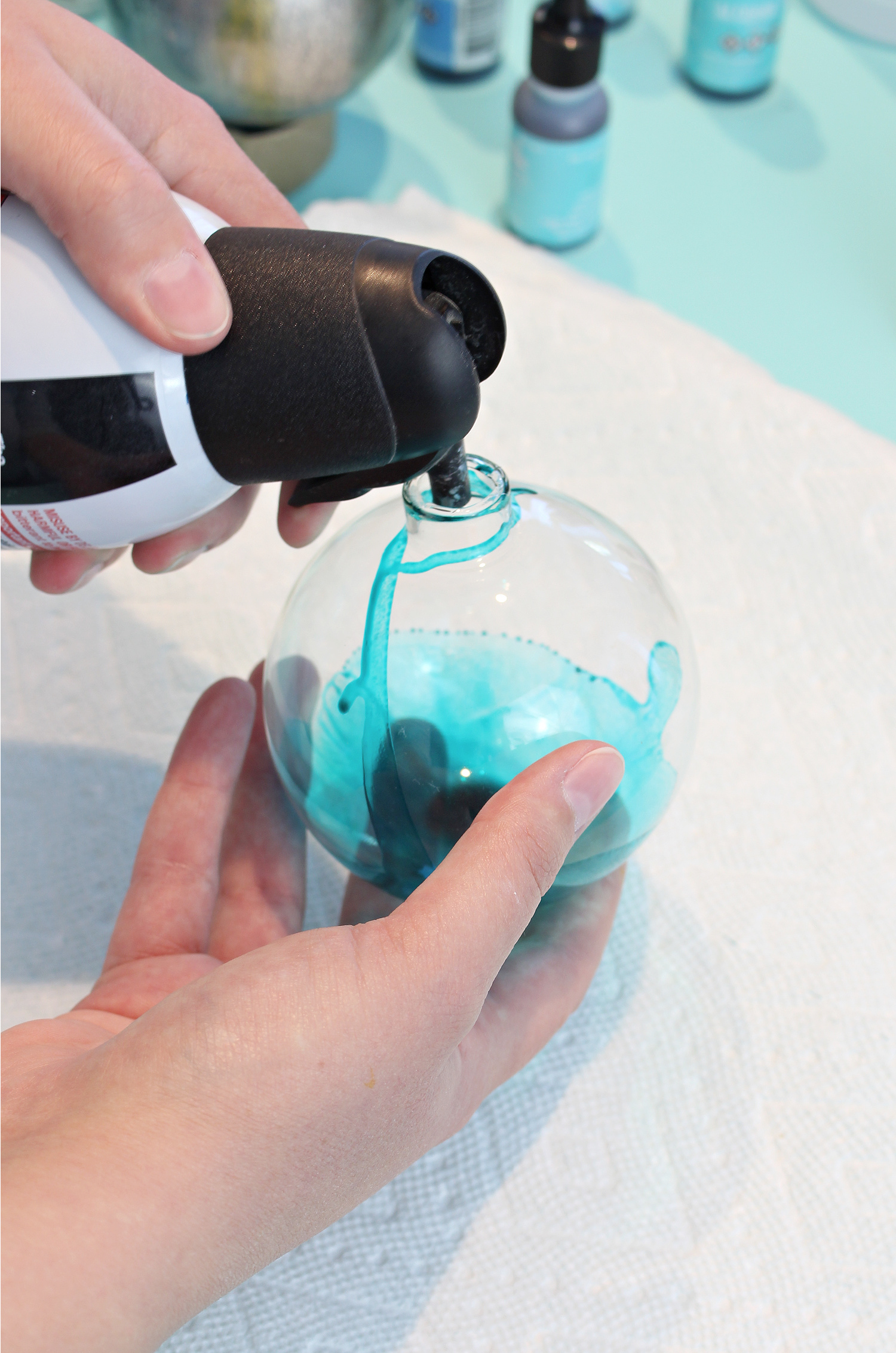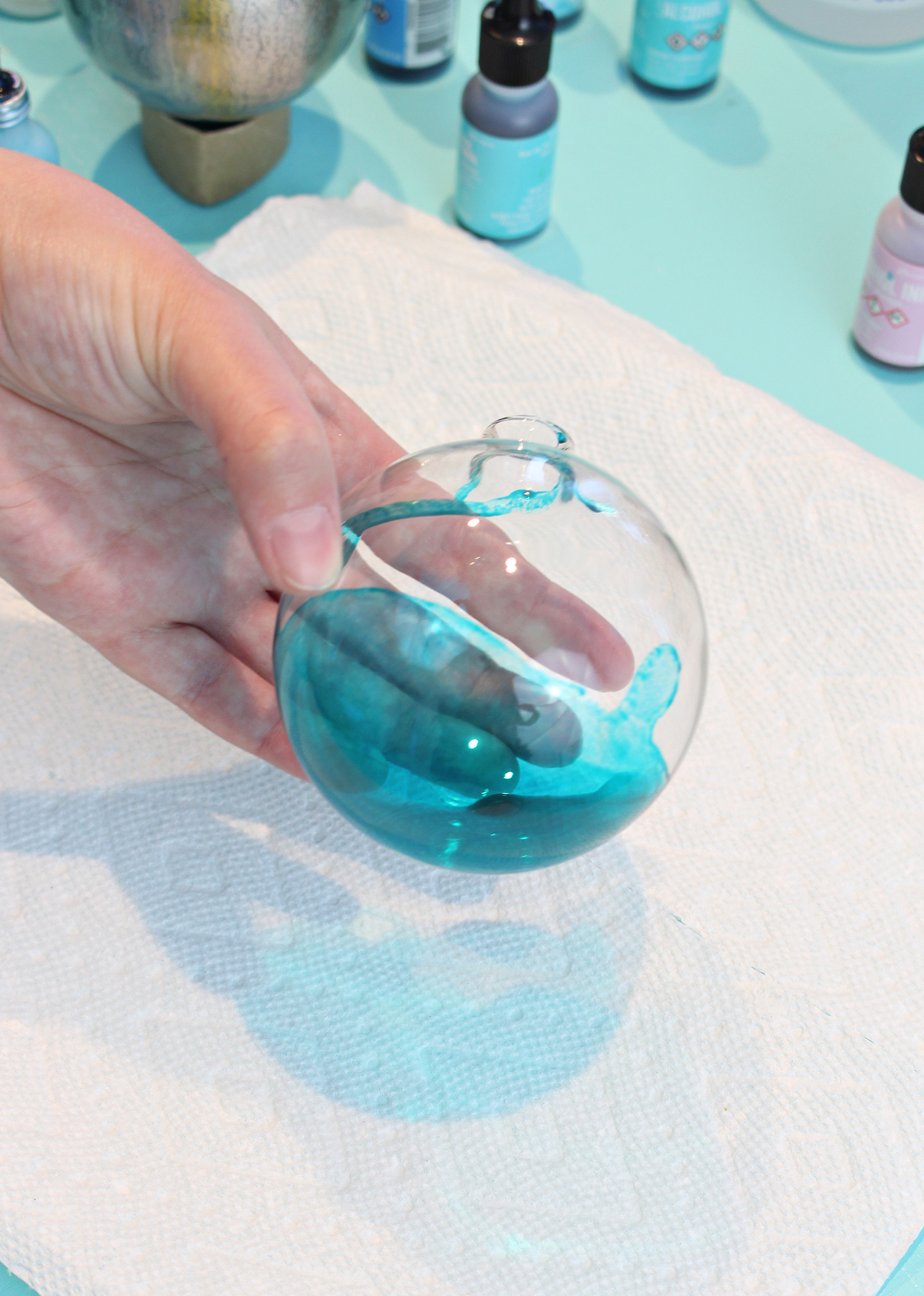 If you mix in other colors right away, they will all blend together and make one color. Letting the layers dry most of the way will keep some division, but they'll still swirl and blend a little if they haven't dried 100%. A hair dryer will help speed up the drying process to make layering colors easier.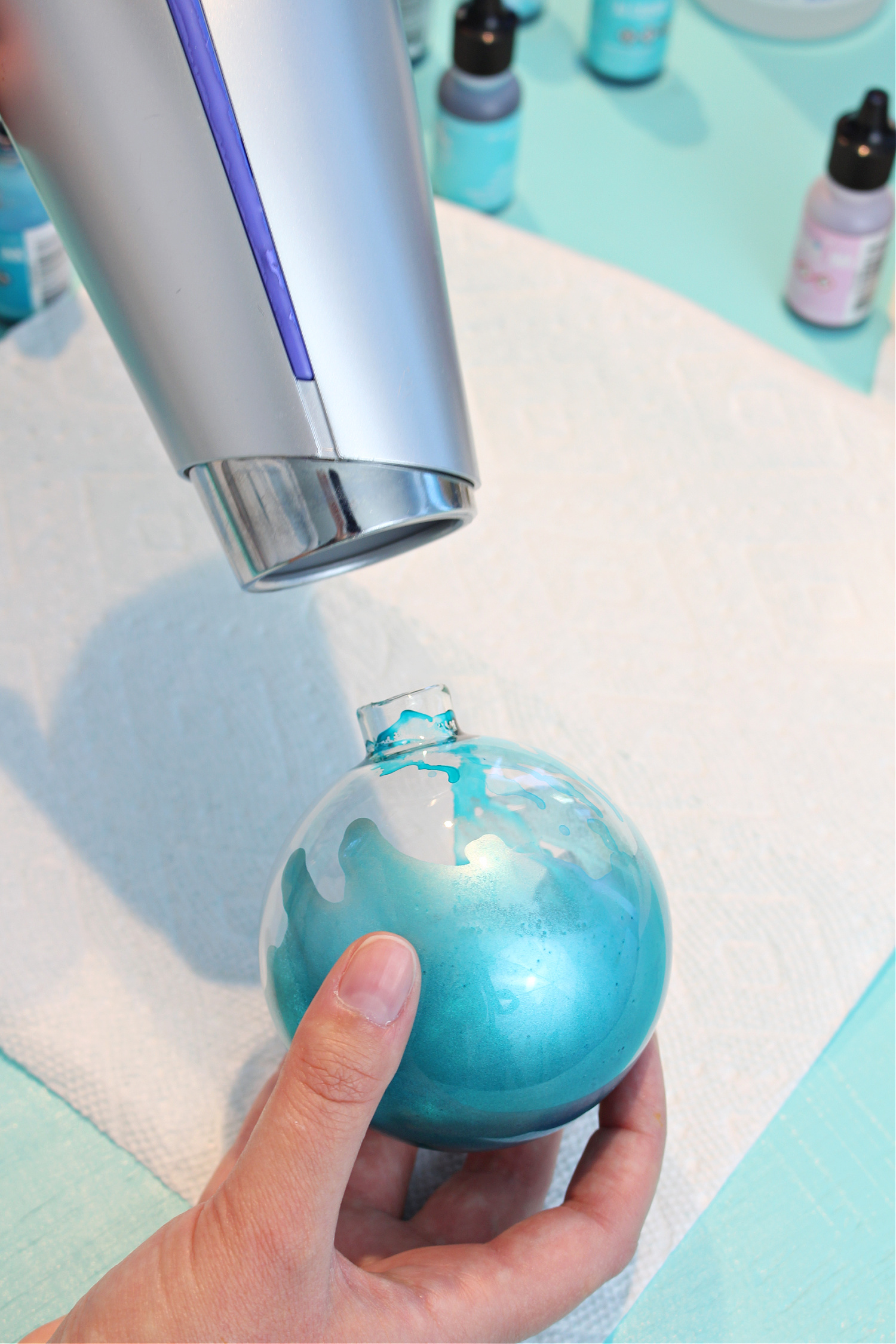 Once the ink has stopped moving, pour in another color and repeat the process above. I used approximately 3-5 colors per alcohol ink ornament, plus a metallic ink. Keep in mind that some mixing will occur and your inks will make new colors. Remember the color wheel to avoid being surprised by new colors forming (like yellow and blue making green).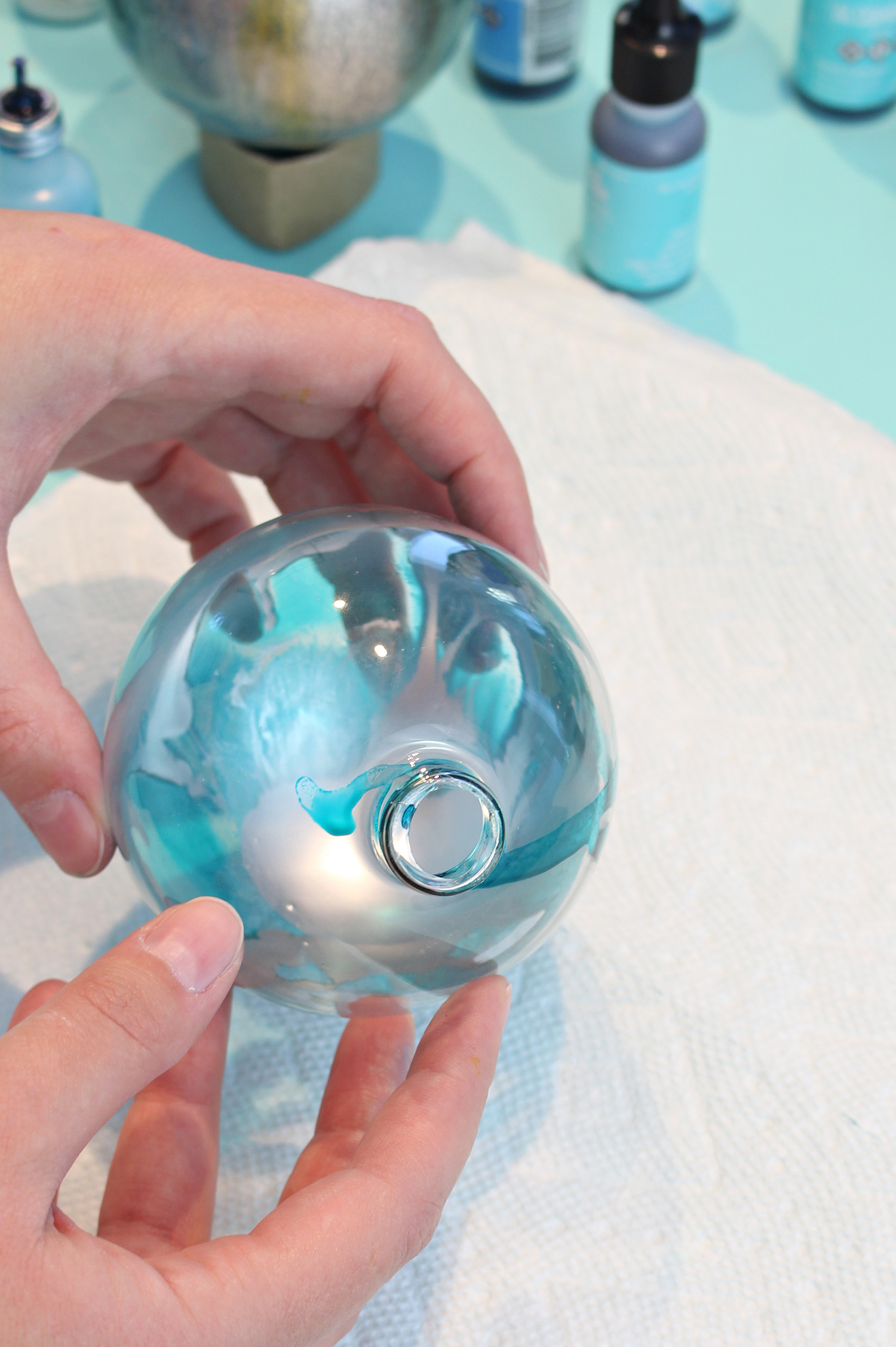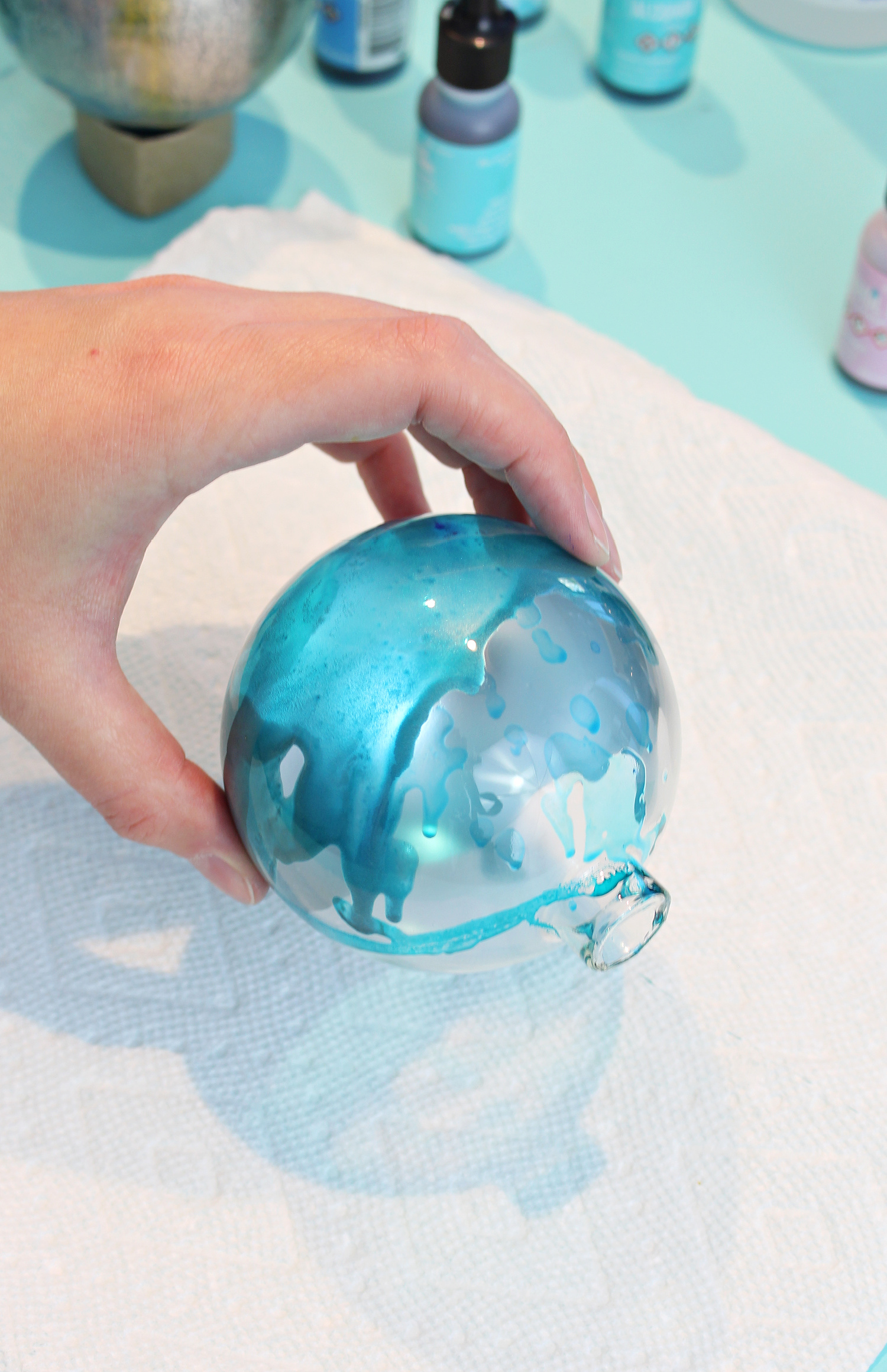 I found the best method was to work on a few ornaments at a time, so I could set one down to dry while I worked another. This allowed me to create definition between colors, without being driven batty by the waiting (I'm not good with waiting, lol).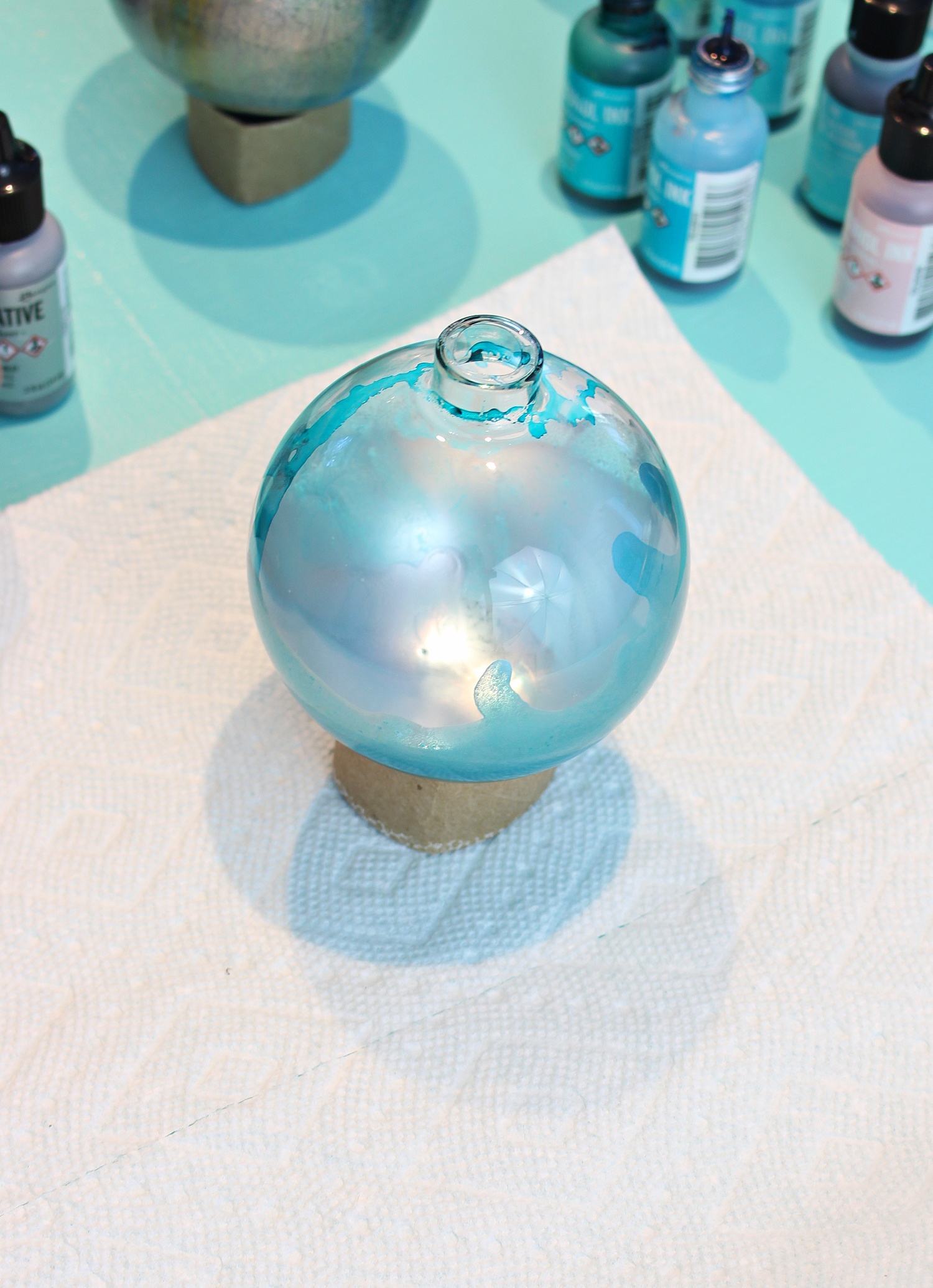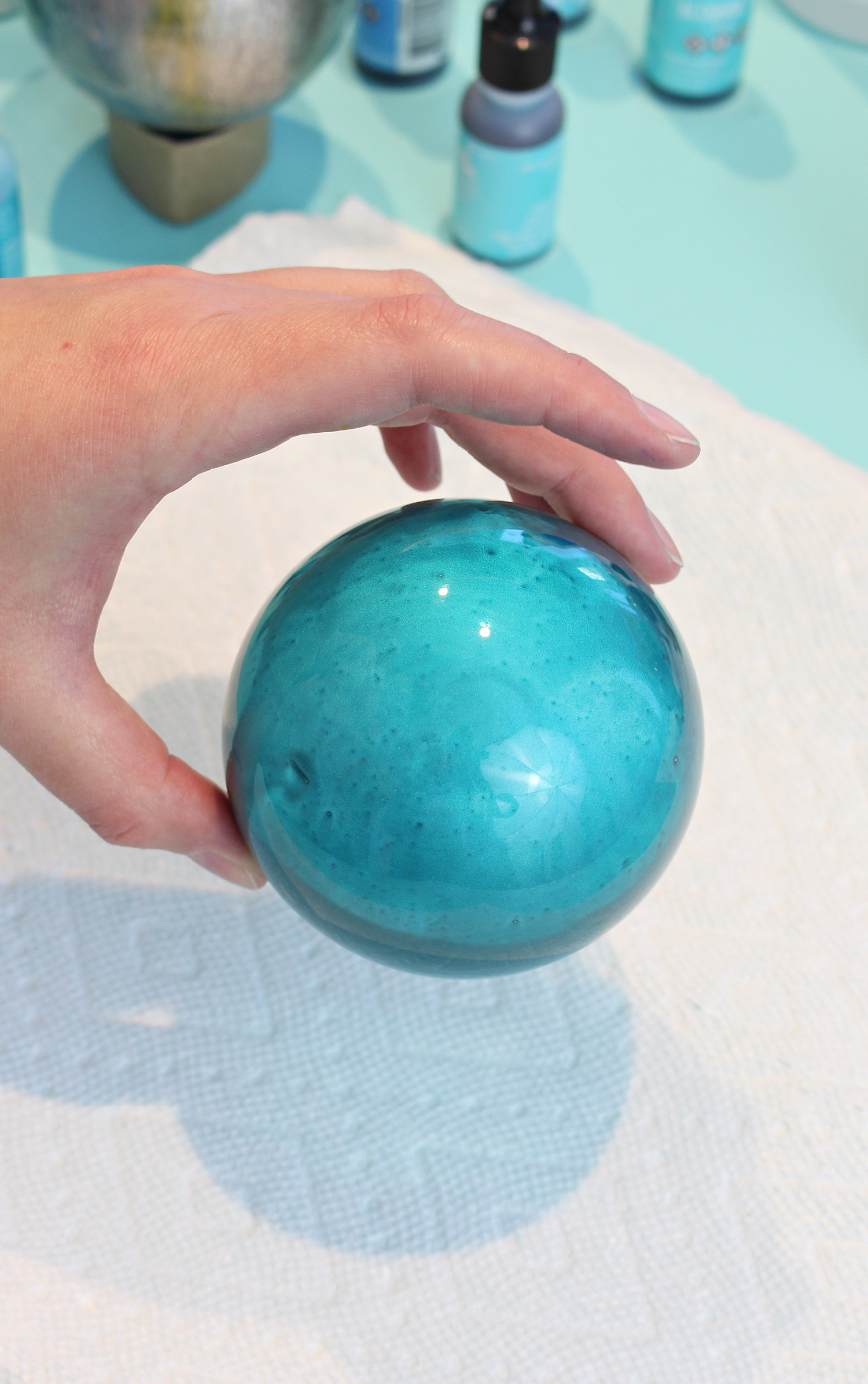 Experiment moving the ornament different ways to create different effects.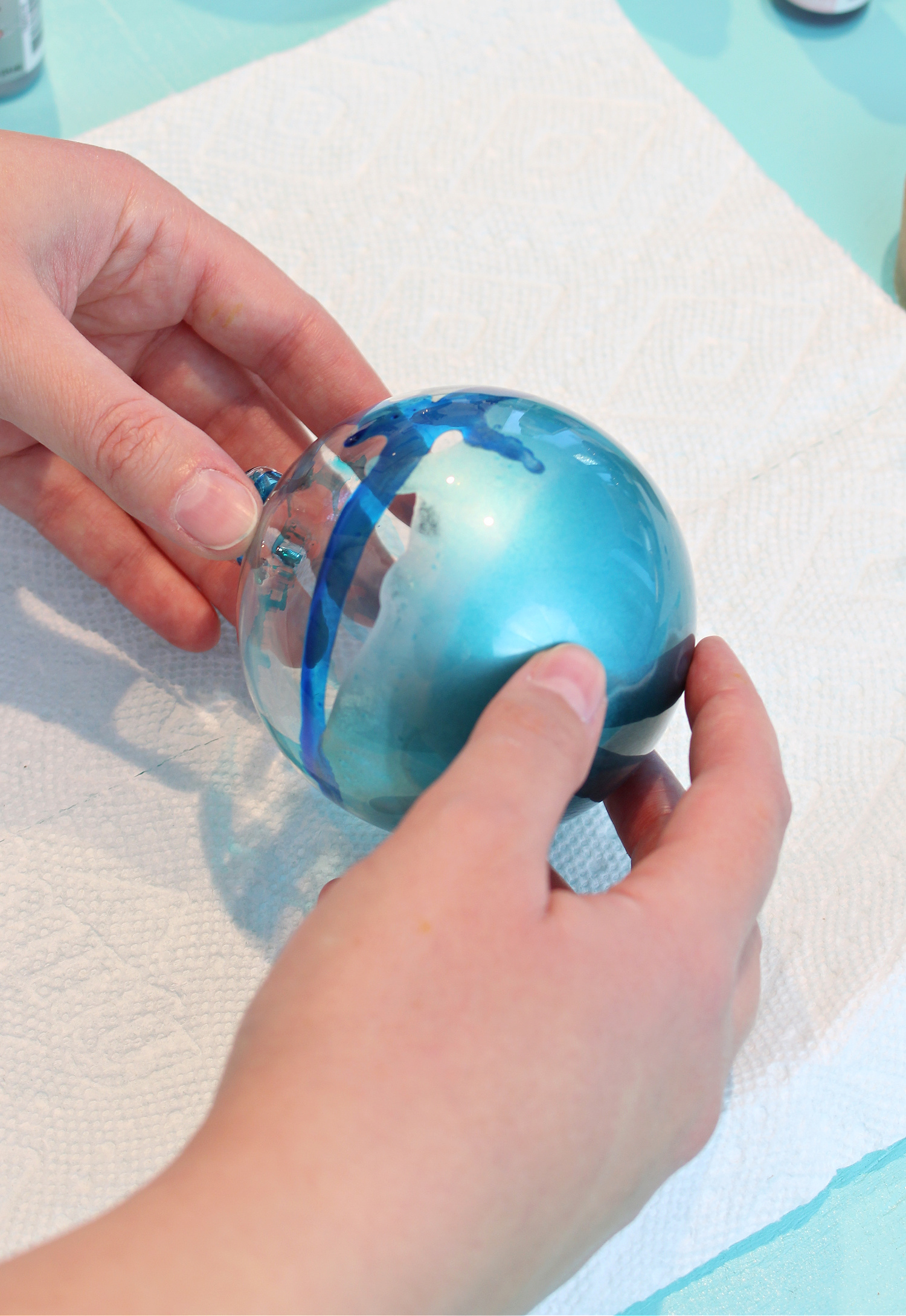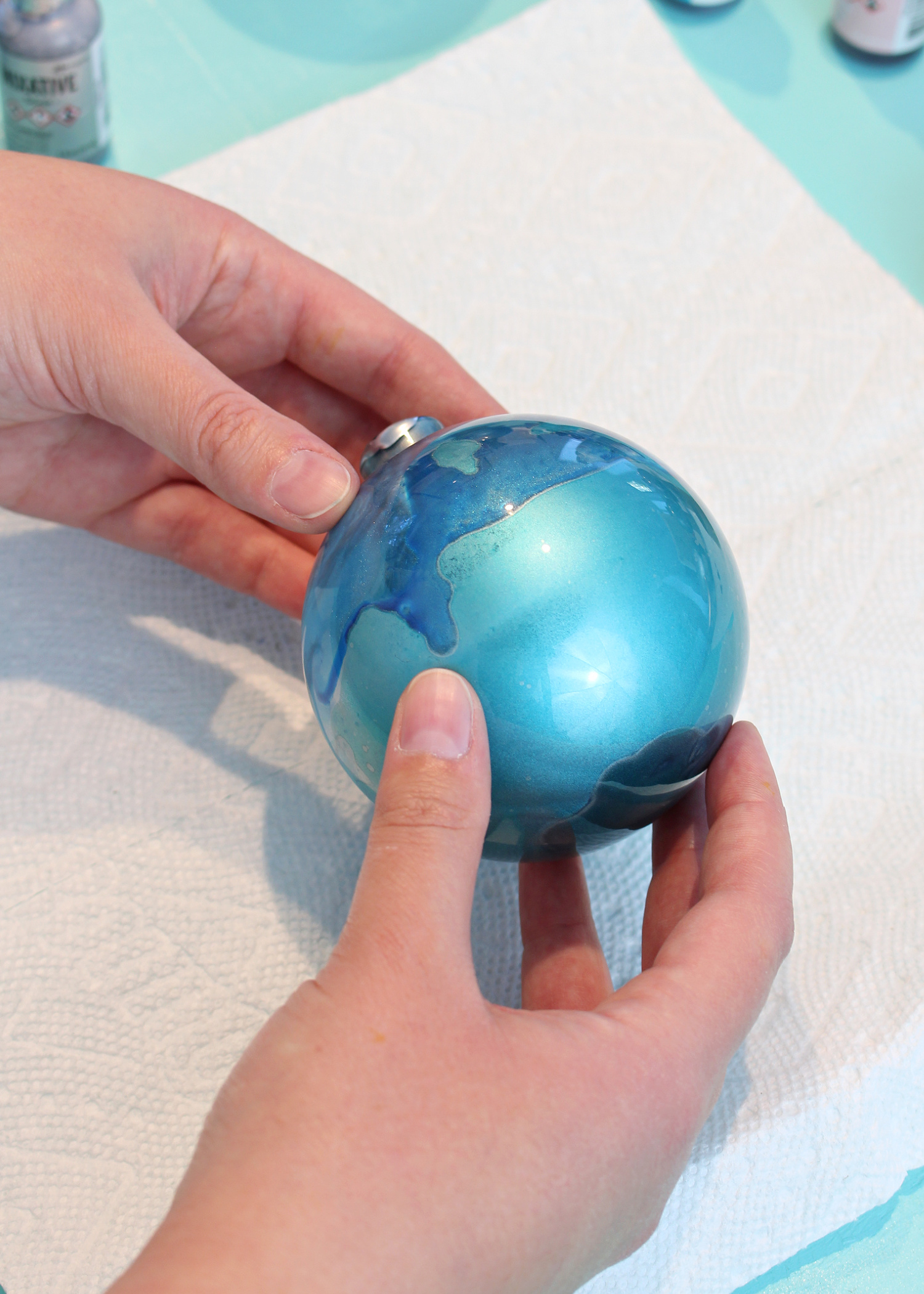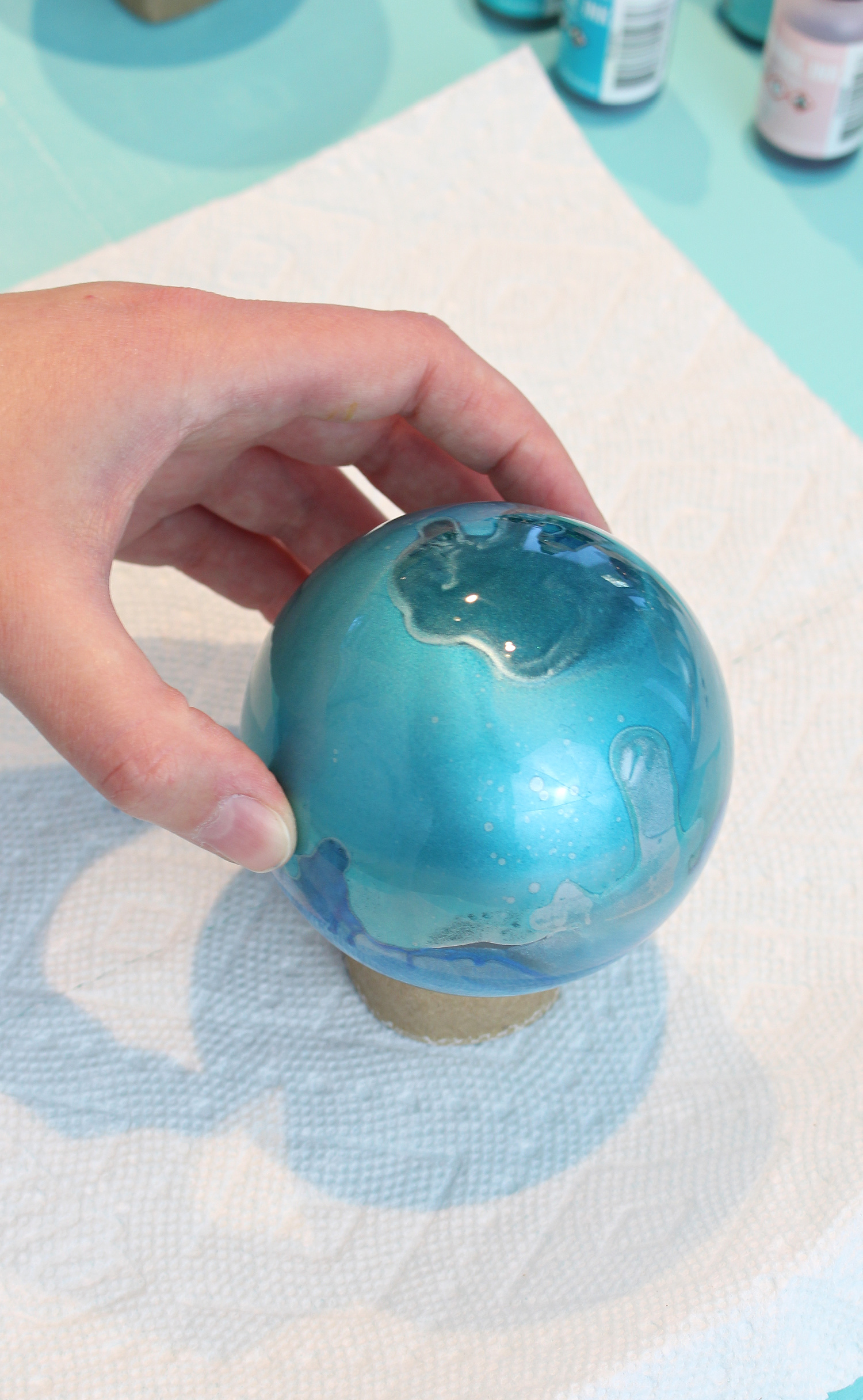 If you don't like the design, you can swirl in a little rubbing alcohol to help lift the color and you can pour it out and start fresh. Or you can simply add more colors and build up the inks inside.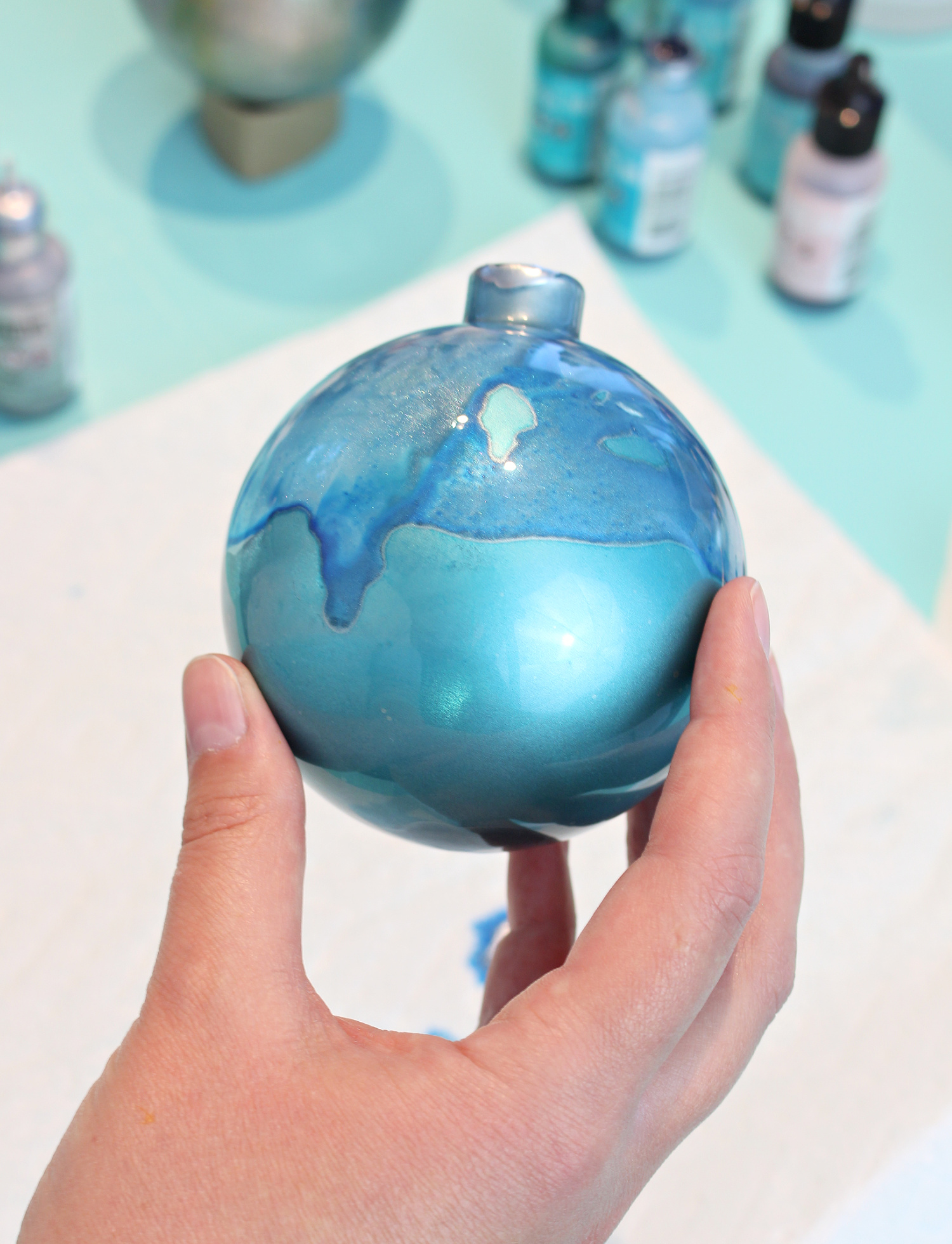 Once you are happy with the design, pour out any excess ink and the blast again with the hair dryer to speed up the drying process and "lock in" your design.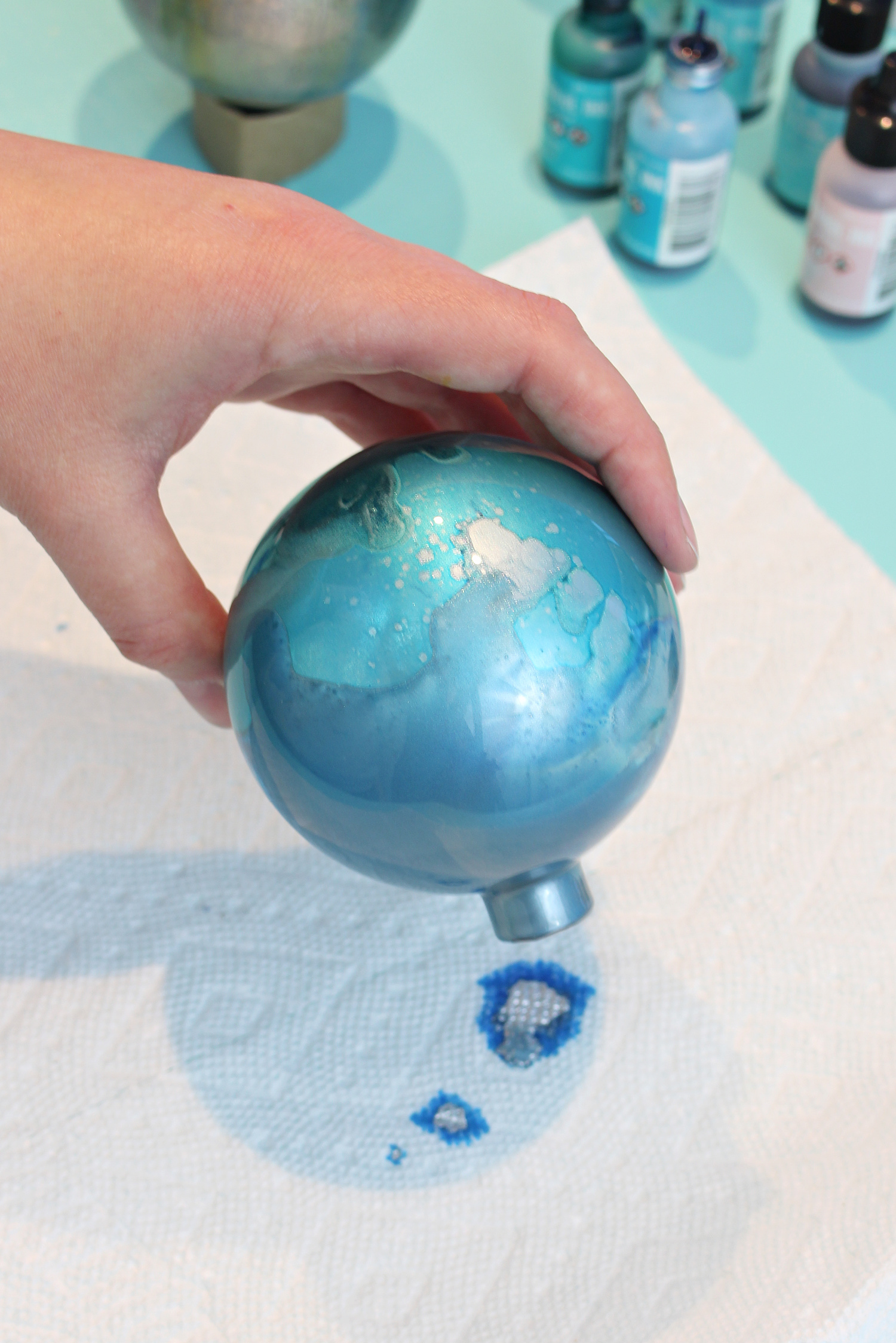 Watch the ink – when it has stopped moving, set it aside on the paper towel tube stand. Remove any excess ink from the outside with rubbing alcohol and a q-tip.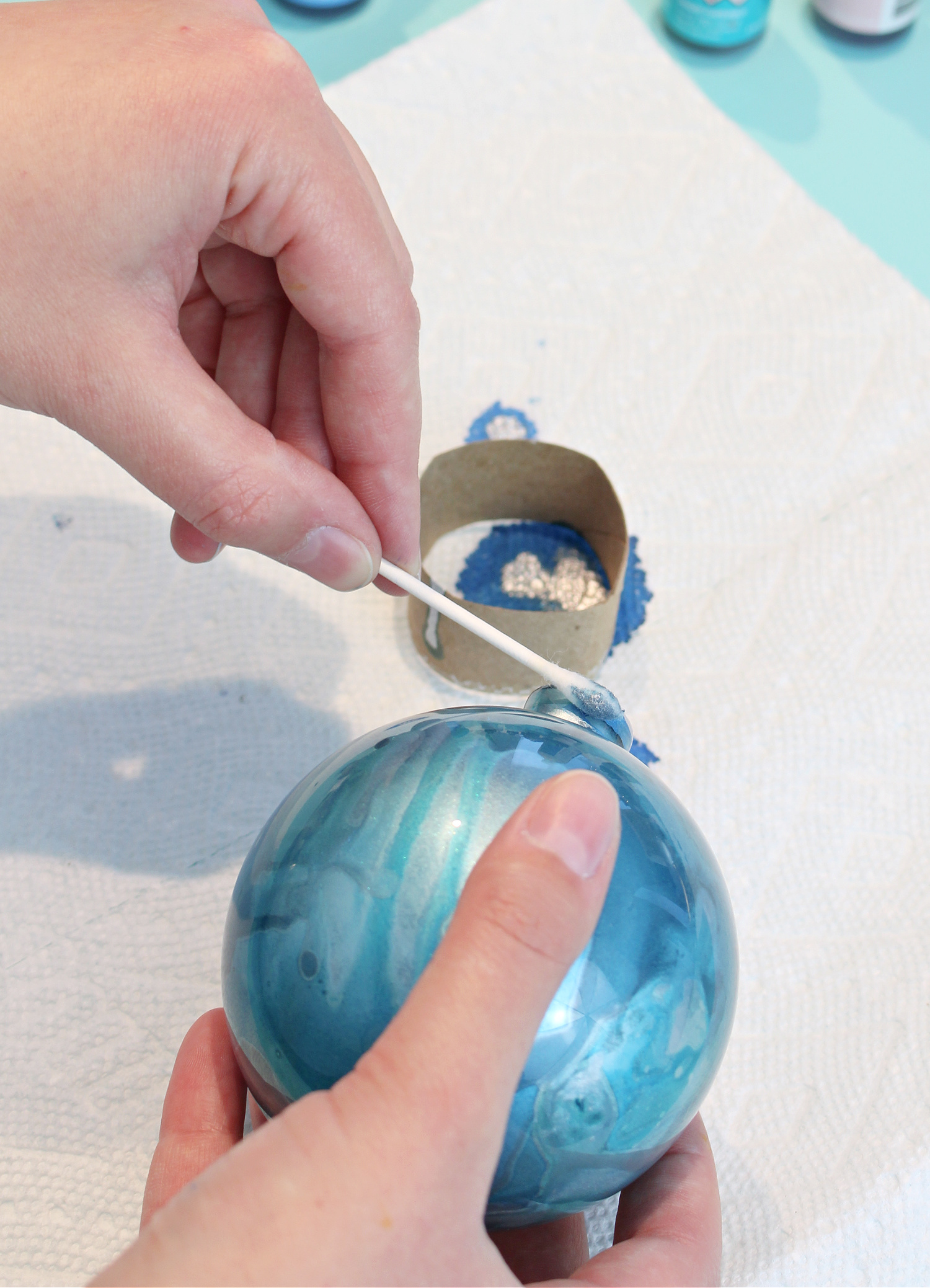 Let dry overnight before replacing the ornament cap.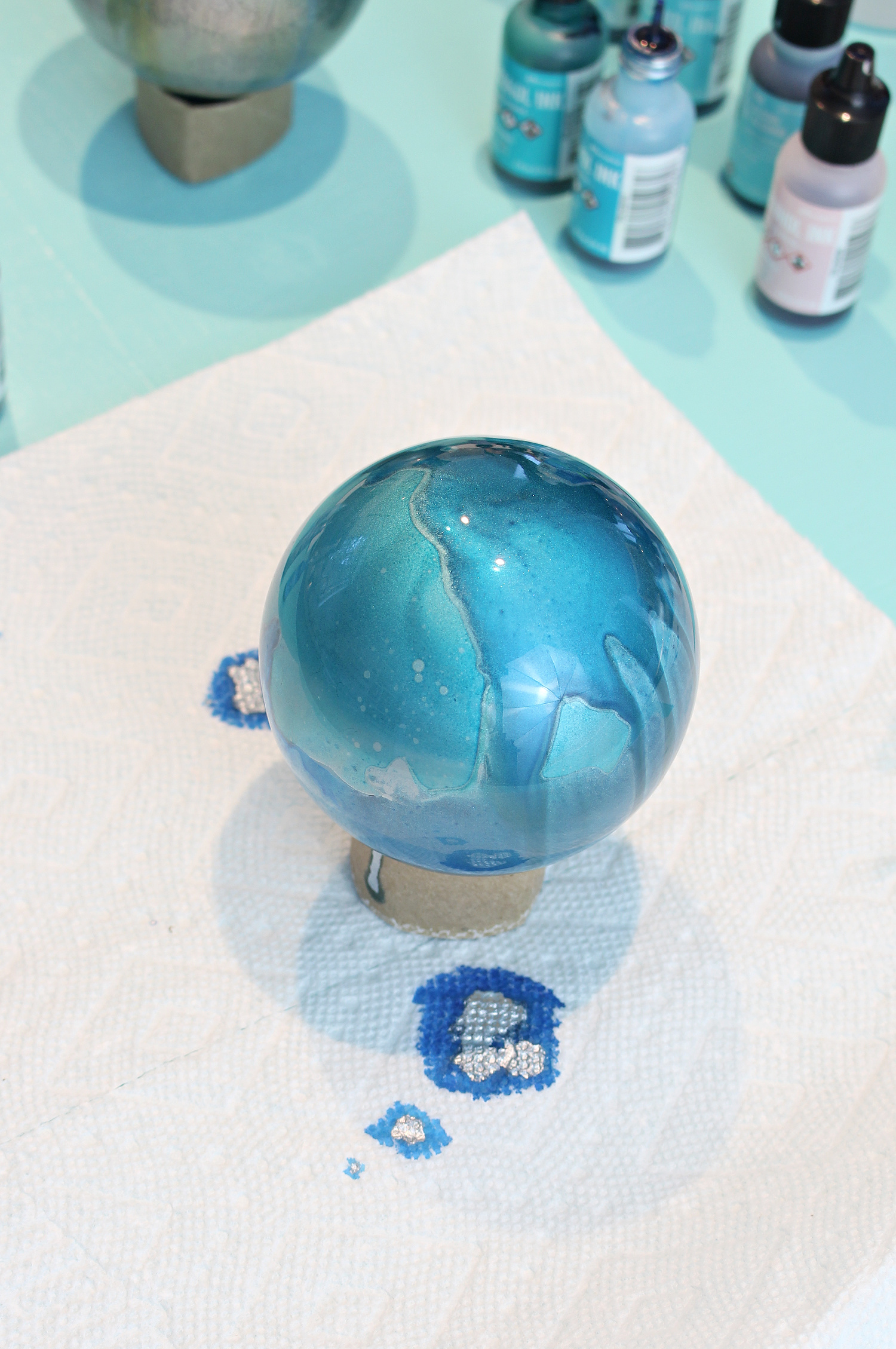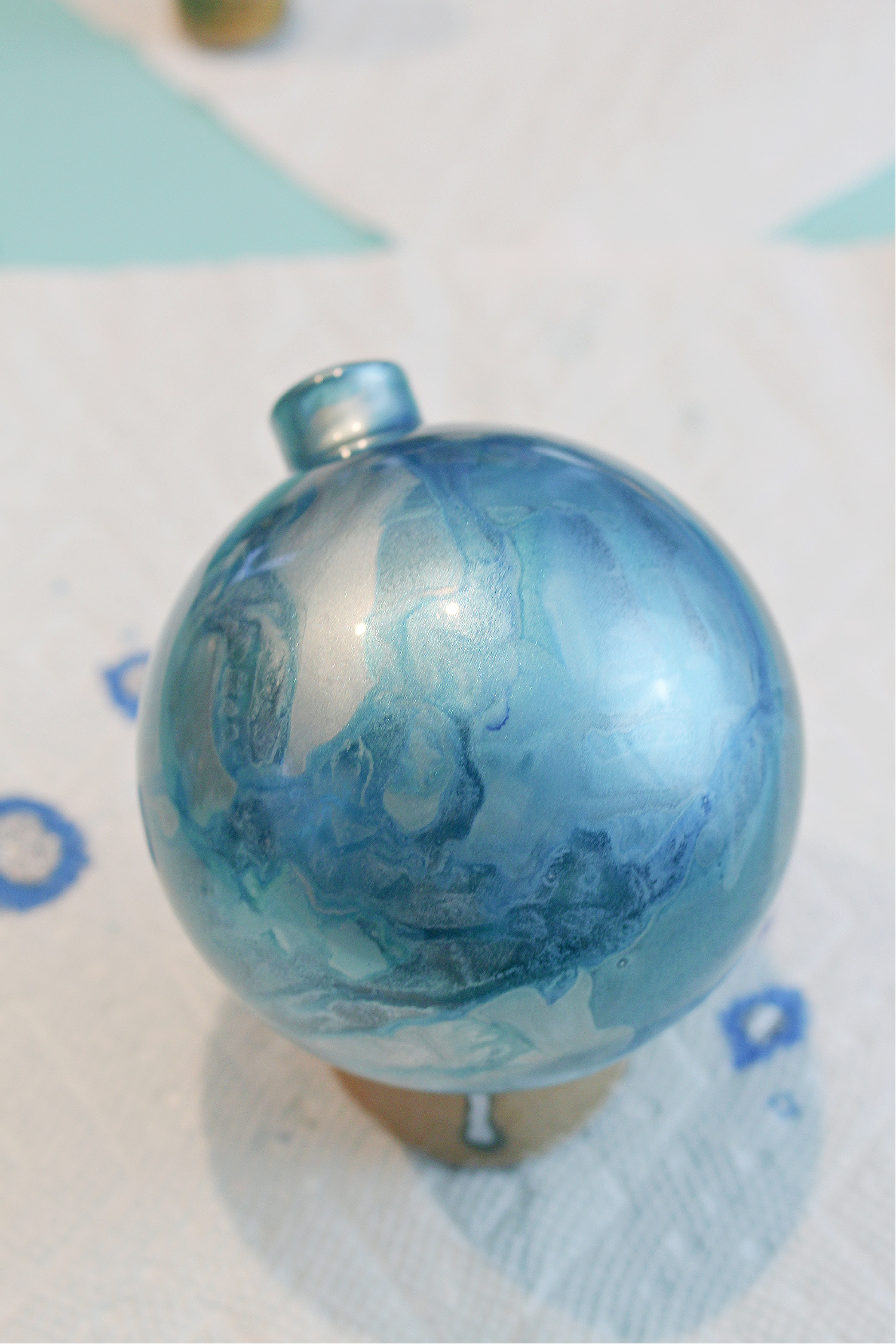 Hot Tip for How to Make Alcohol Ink Ornaments:
The more you let the ink dry in between colors, the bolder the demarcation will be. Here's one I let dry completely before layering on a lighter color and I love the two-tone look. The less the layers have dried, the more they will swirl together. Experiment a little with that process to create ornaments that speak to you!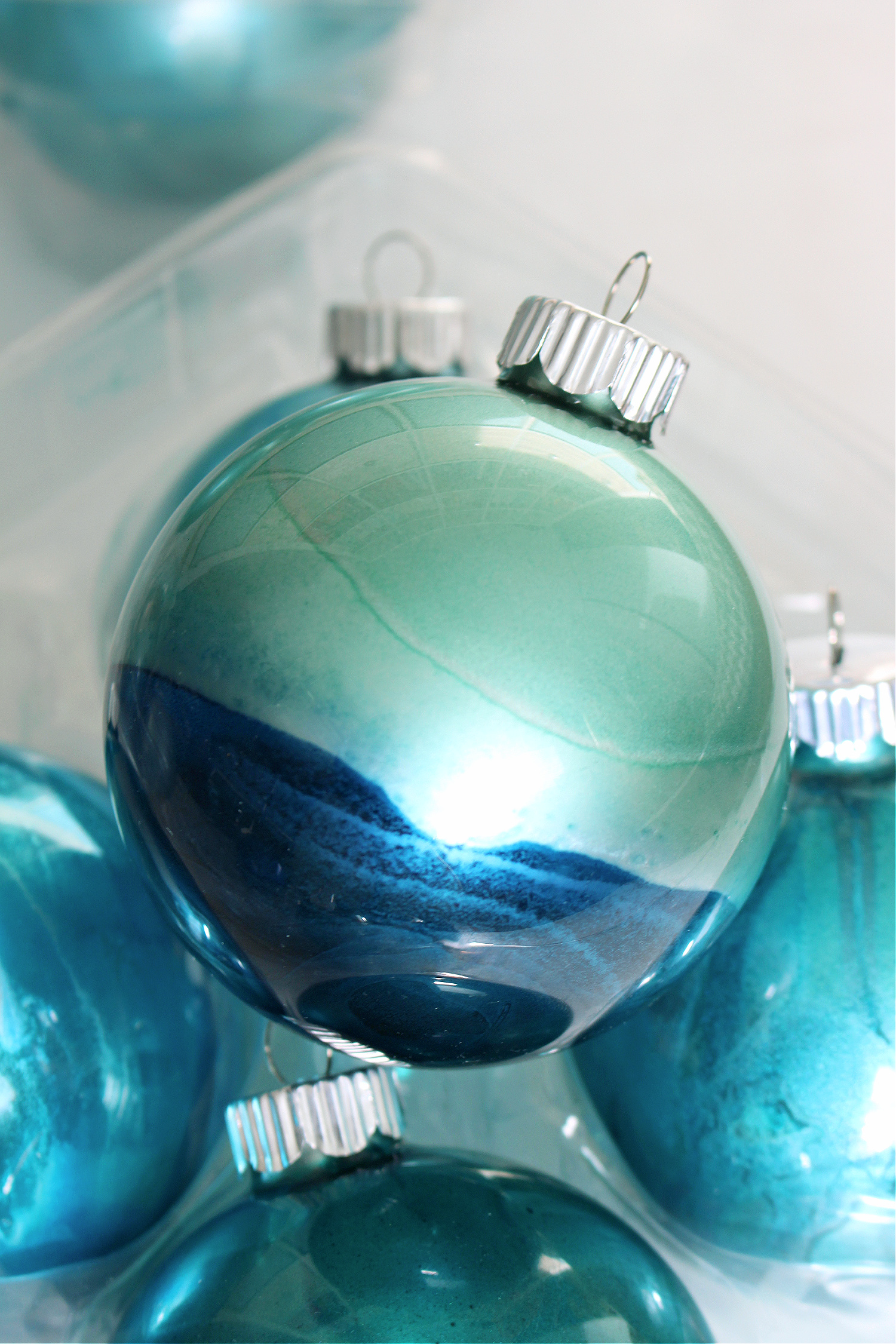 Here Are Some Close Up Views:
Here's my absolutely best tip for how to make alcohol ink ornaments: don't try too hard to create a certain look. Let the inks flow. The alcohol inks want to make a beautiful design for you – let them work their magic with a little coaxing and just enjoy the spontaneity of this project! These inks are mesmerizing as they flow, so enjoy that process and don't worry too much about the end result.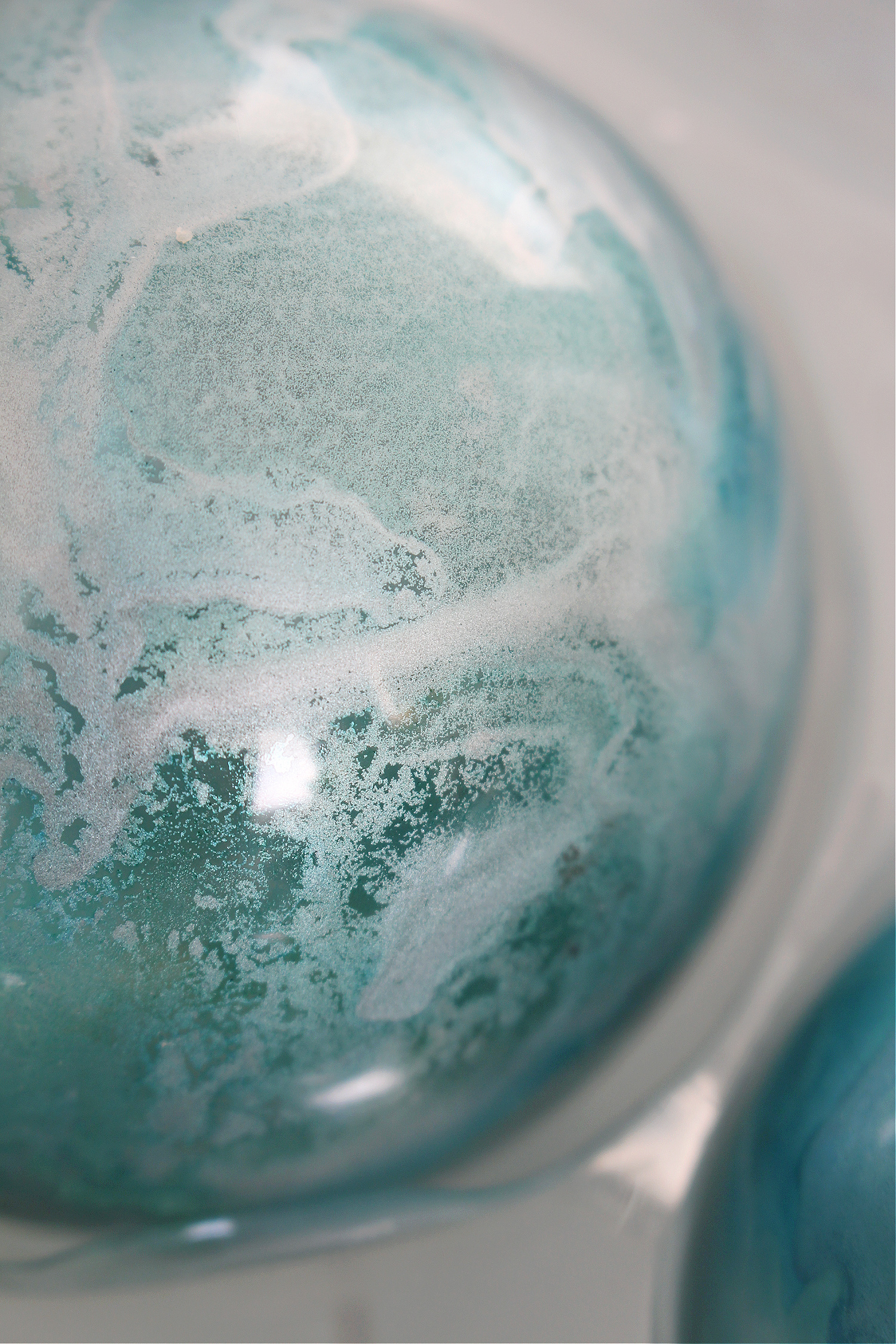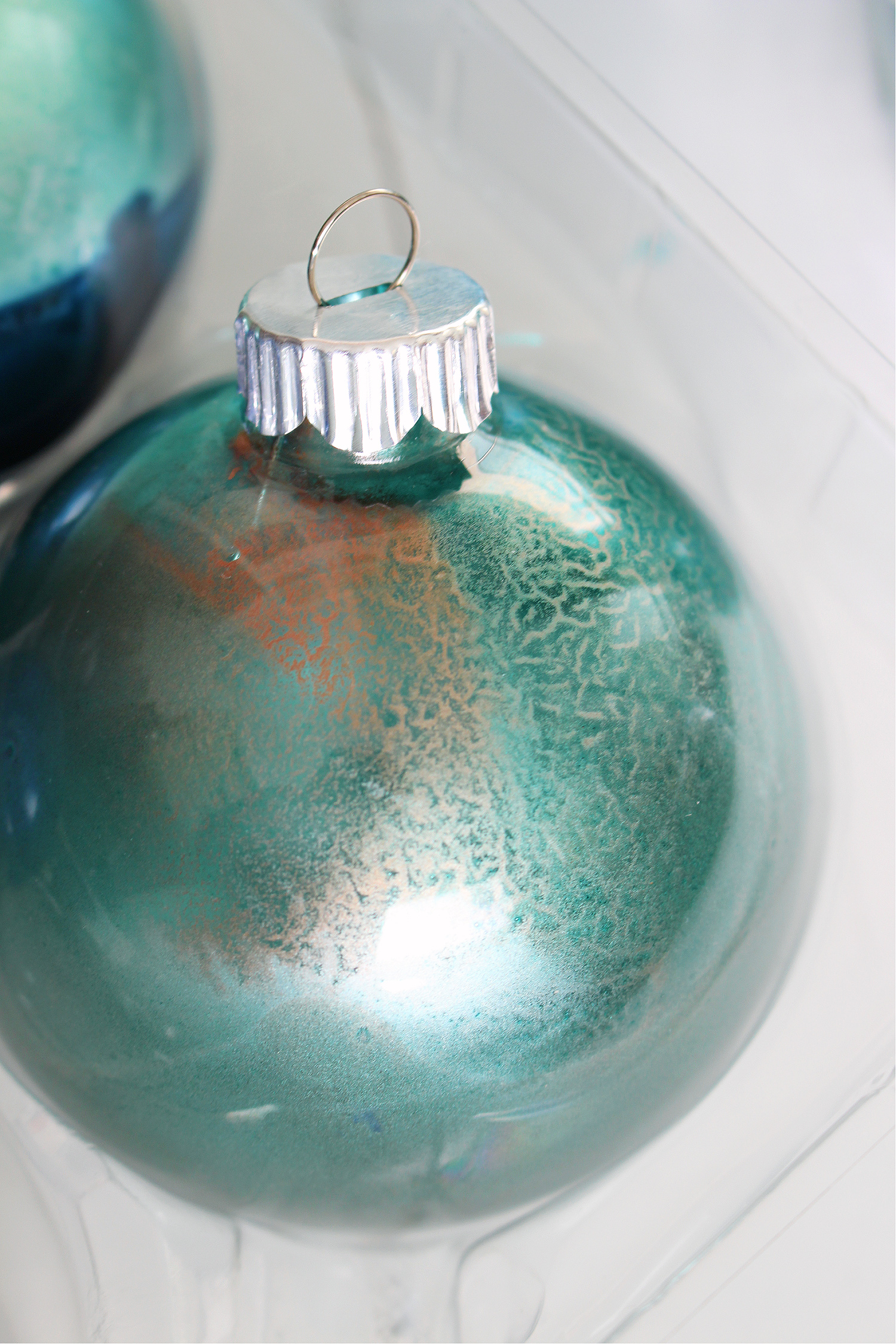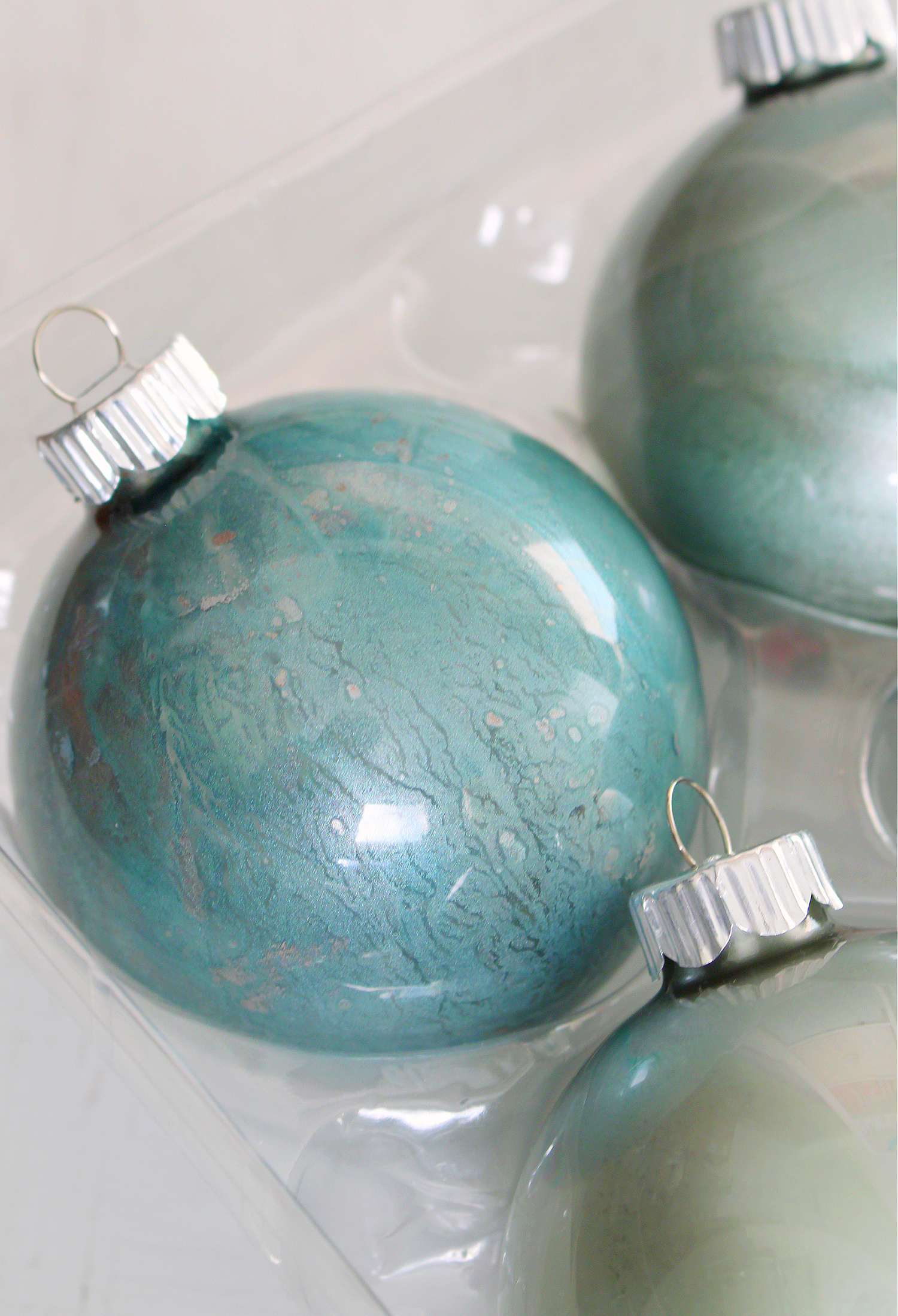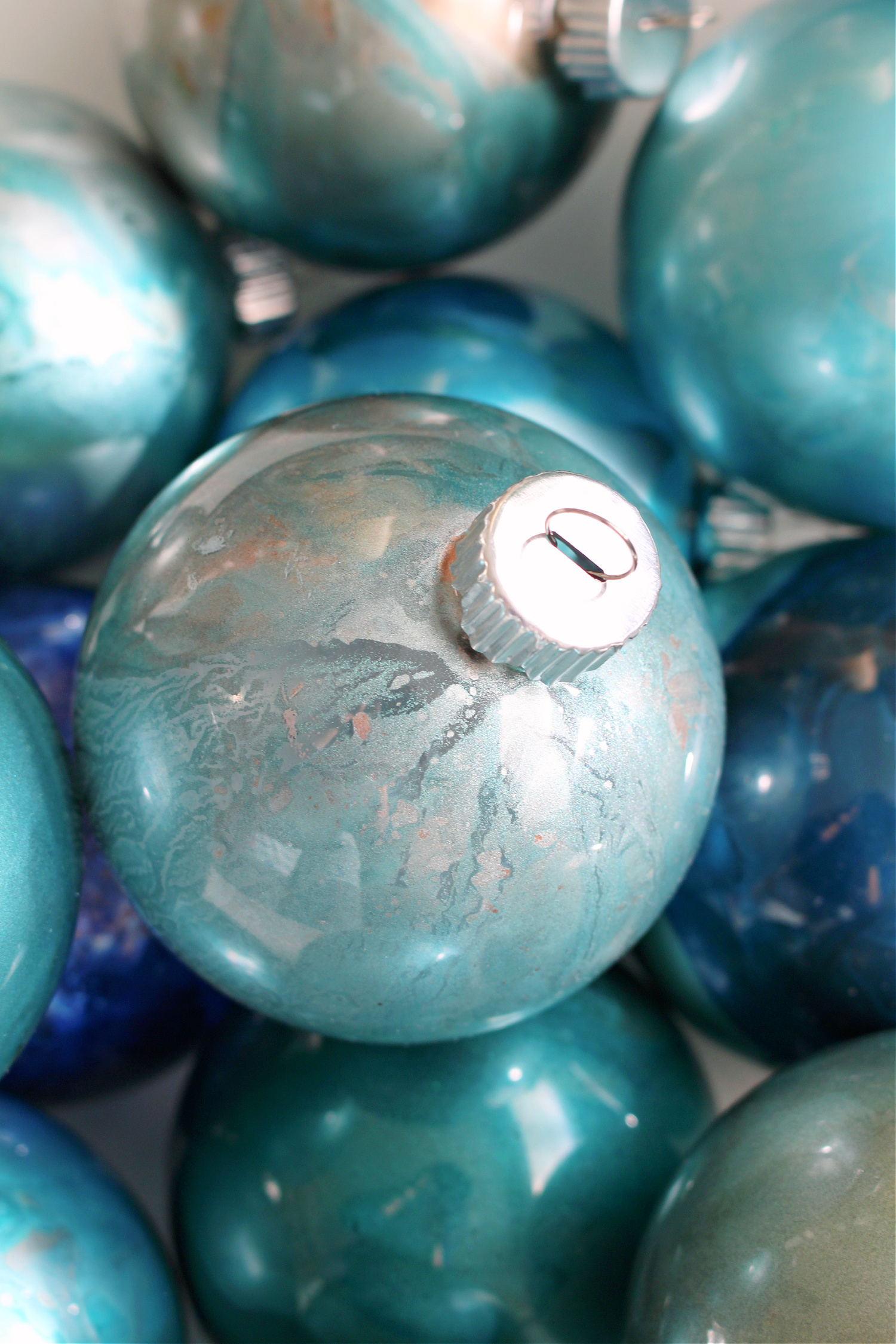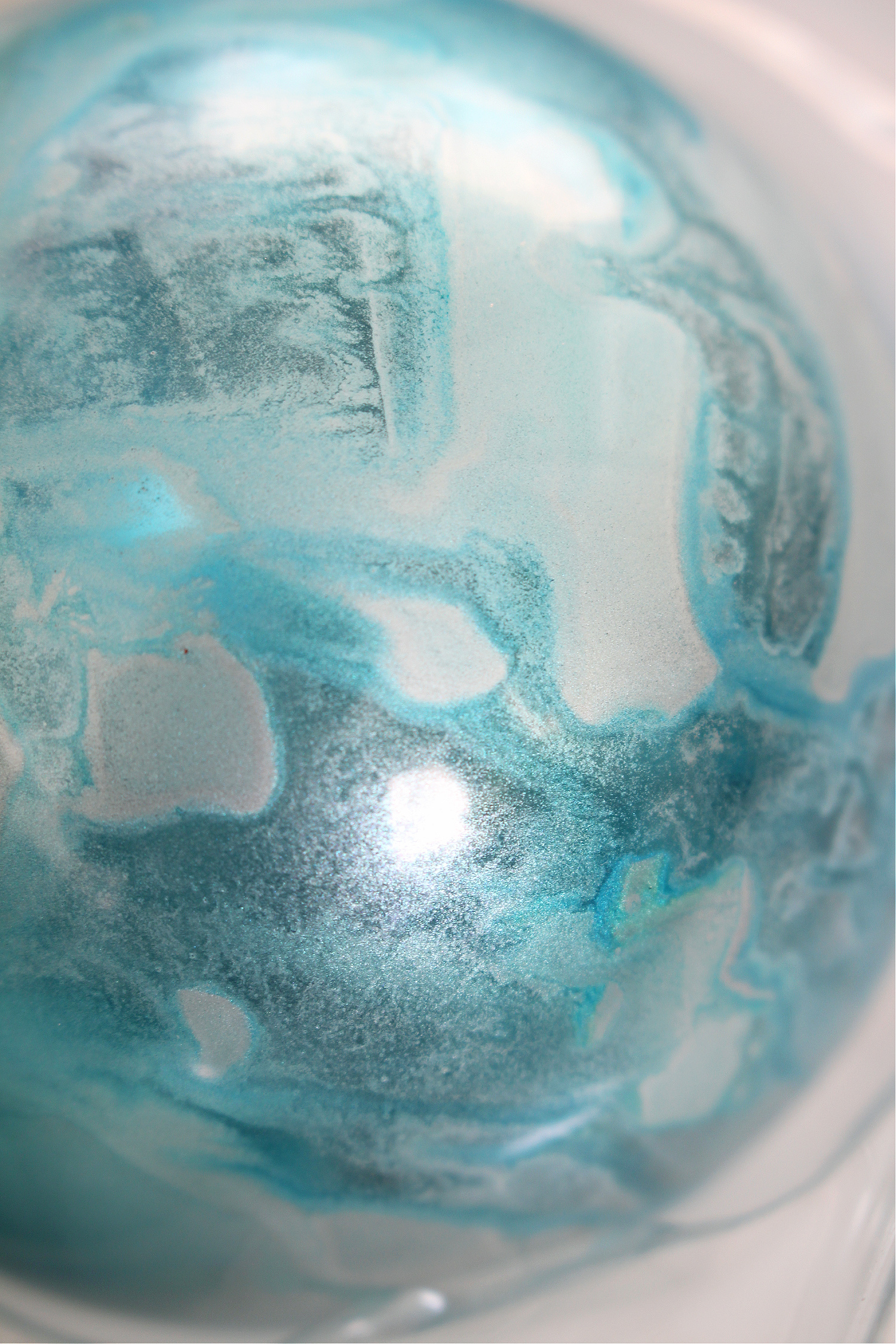 Finished Alcohol Ink Ornaments:
Here's a look at the finished alcohol ink ornaments.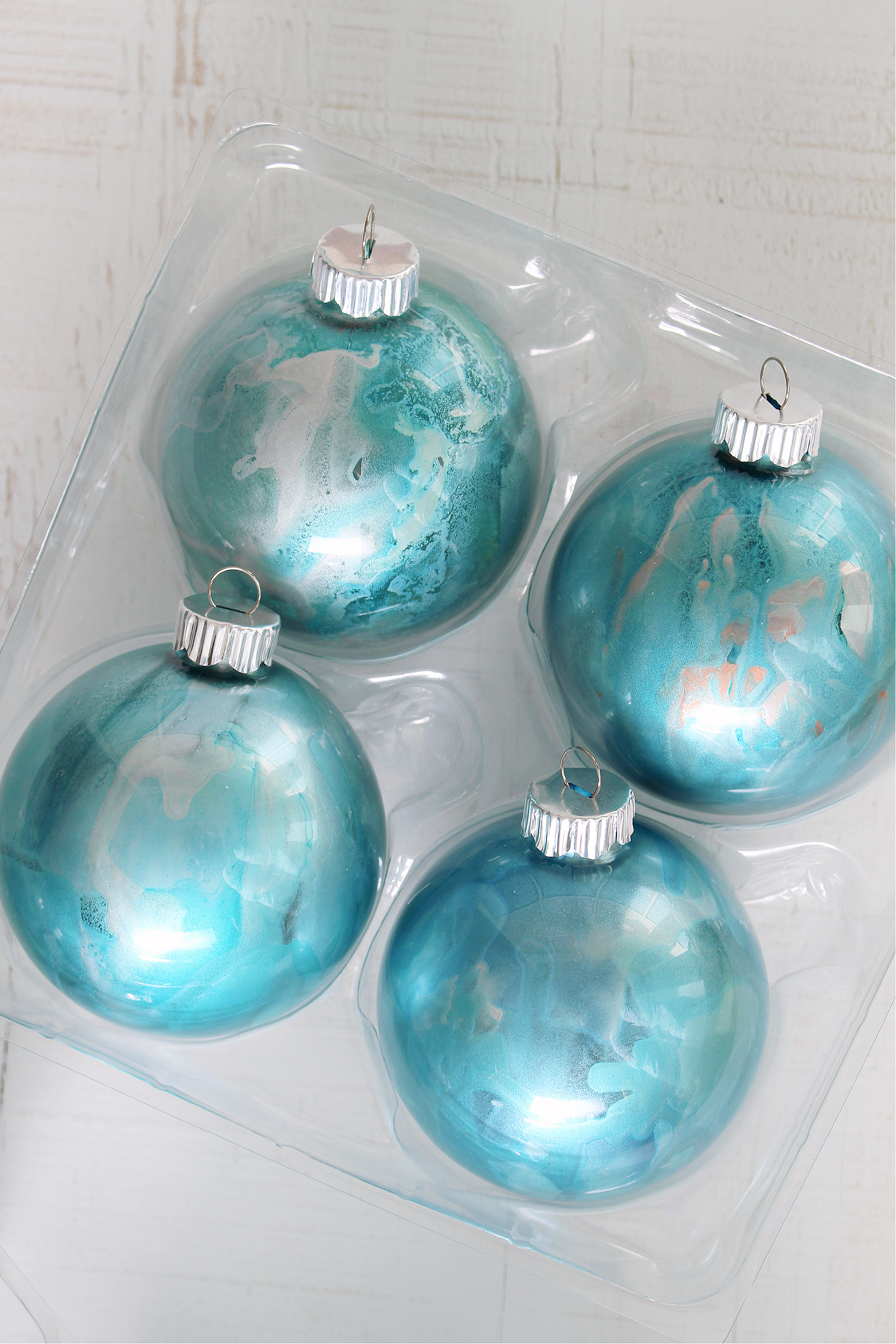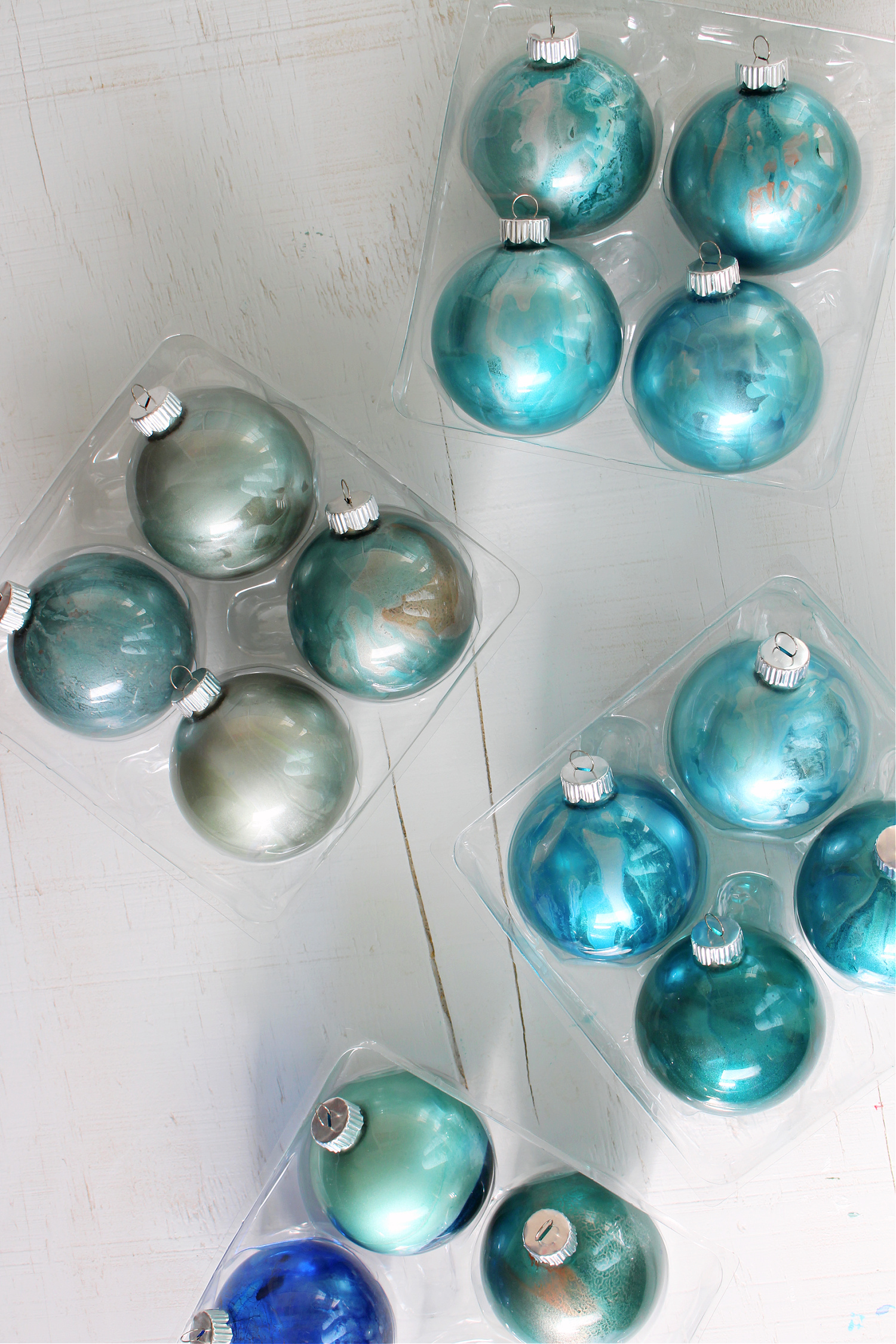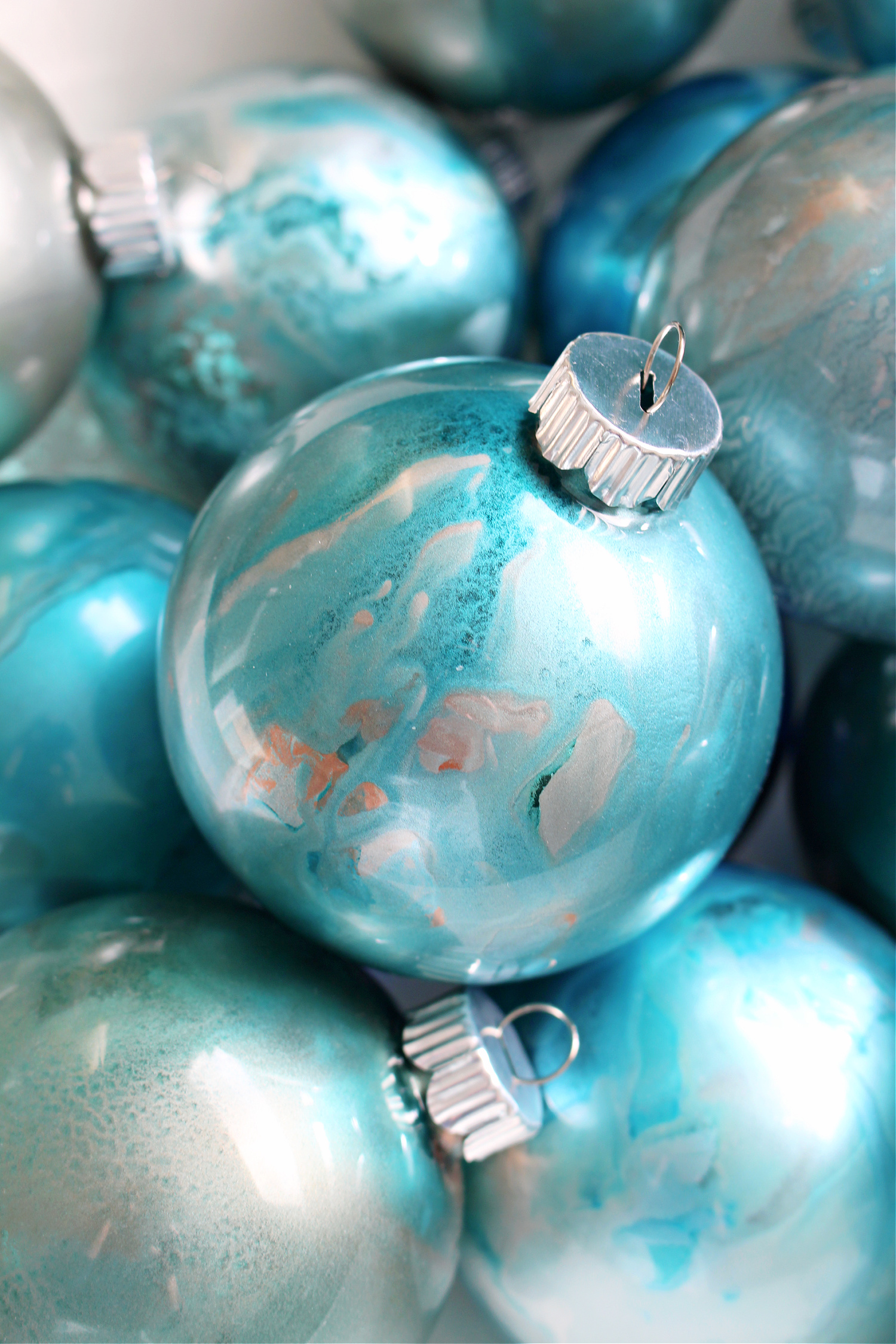 How to Remove Alcohol Inks from Skin
I recommend using gloves but, in a pinch, you can use rubbing alcohol to remove alcohol inks from skin.
Can Alcohol Ink Be Used on Glass?
Yes! Alcohol ink can be used on glass. I used alcohol ink on the outside of creamy white glass ornaments last year and sealed it with Krylon clear glaze.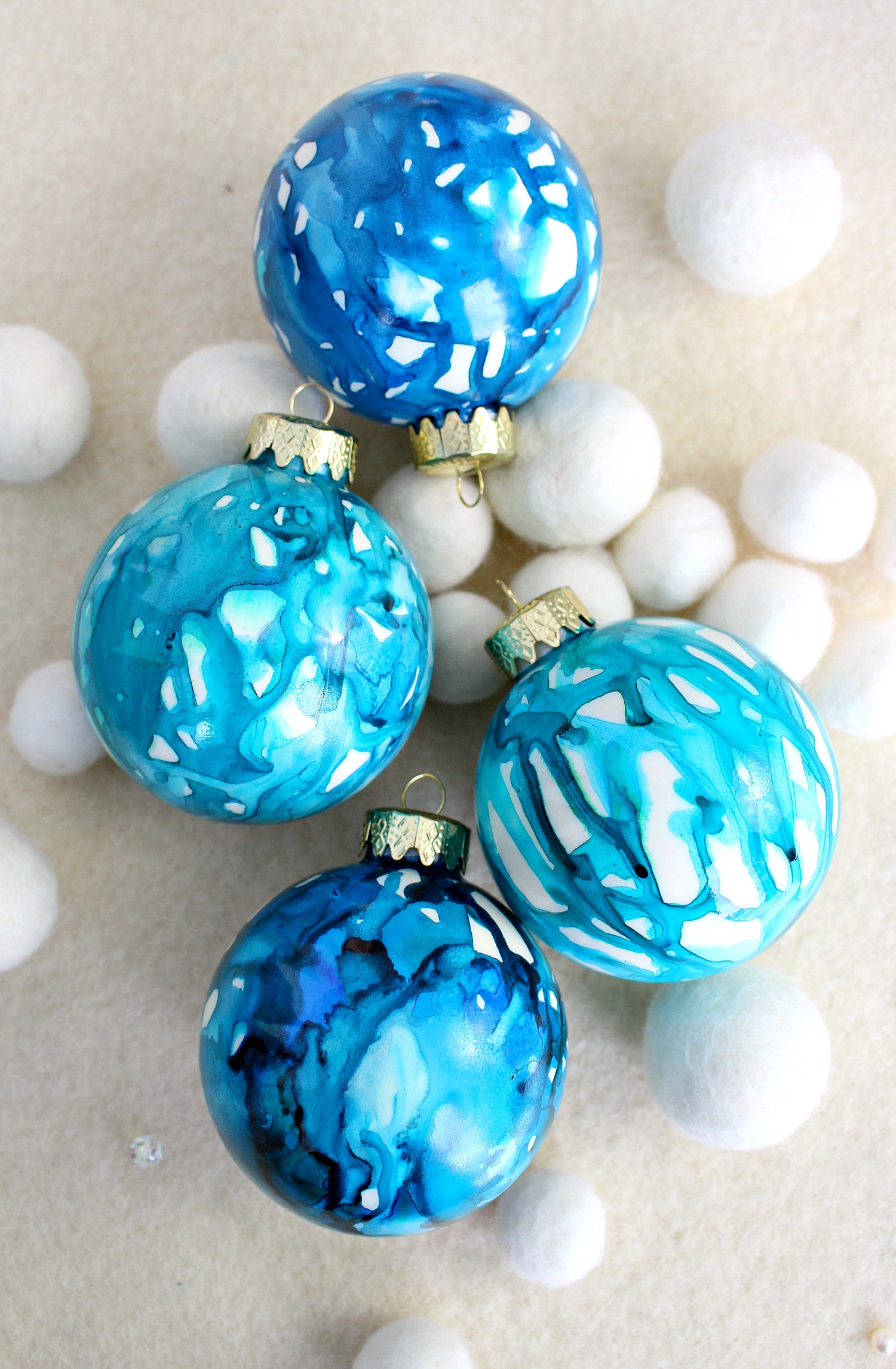 You can handle and enjoy those ornaments with zero transfer. Alternatively, alcohol ink can be used on glass ornaments by applying the ink inside a clear glass ornaments, like you saw in this tutorial. With this method, no sealant is required but the ink in slightly more difficult to control.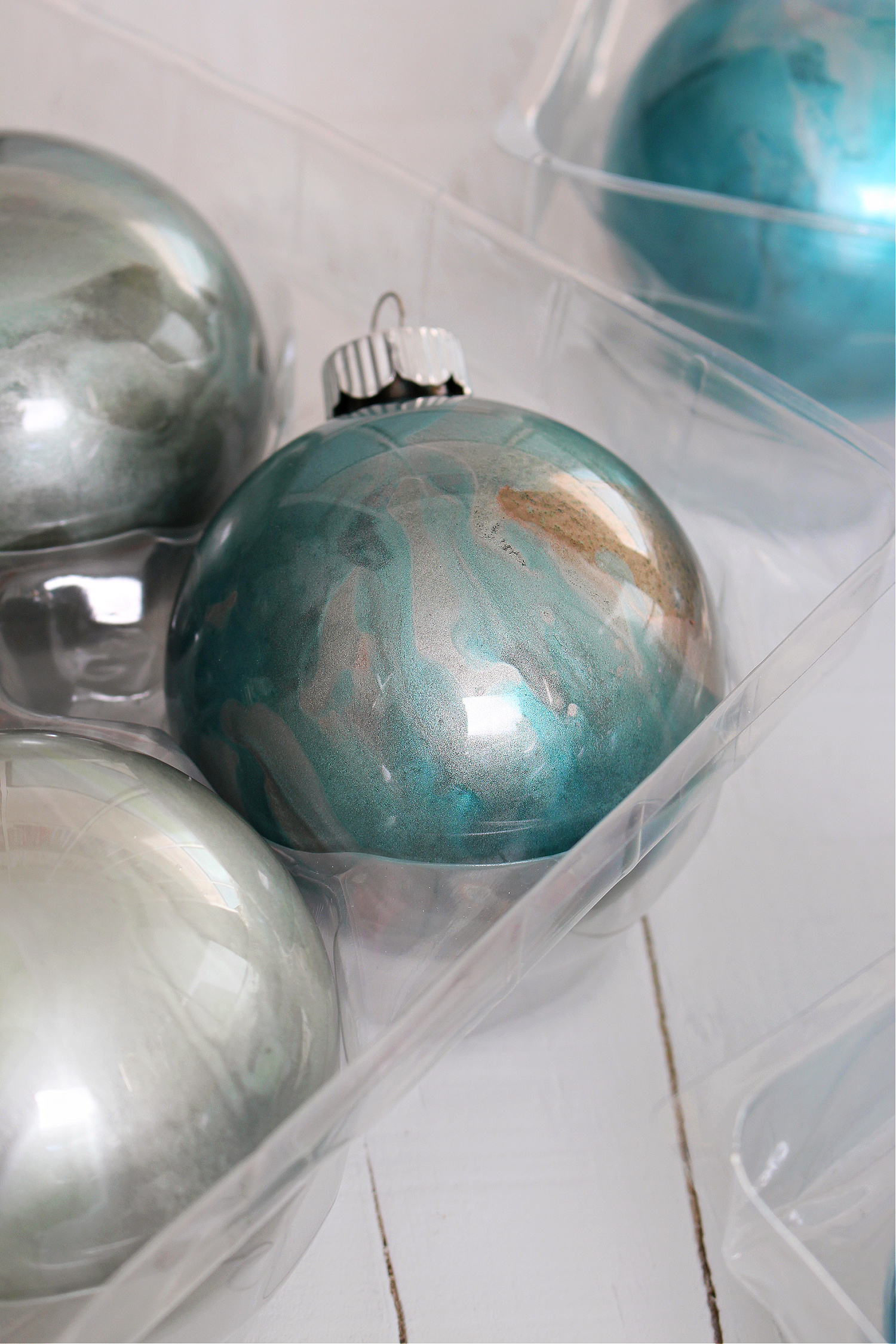 I do recommend avoiding glass ornaments with a design on the outside – I thought these ornaments would be super cute with alcohol ink inside, but when alcohol ink dripped outside it ruined the glitter design, so it was a bit of a flop…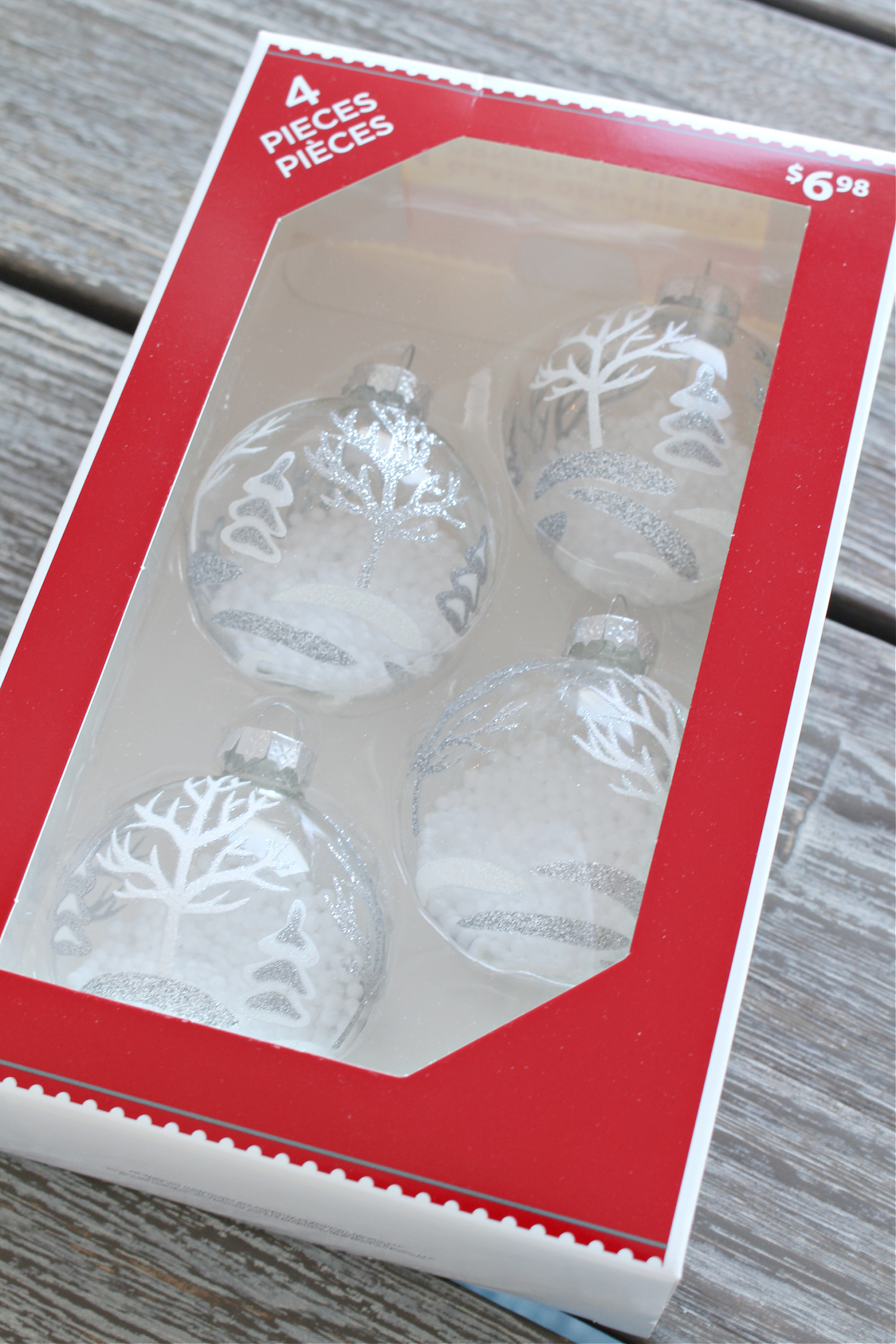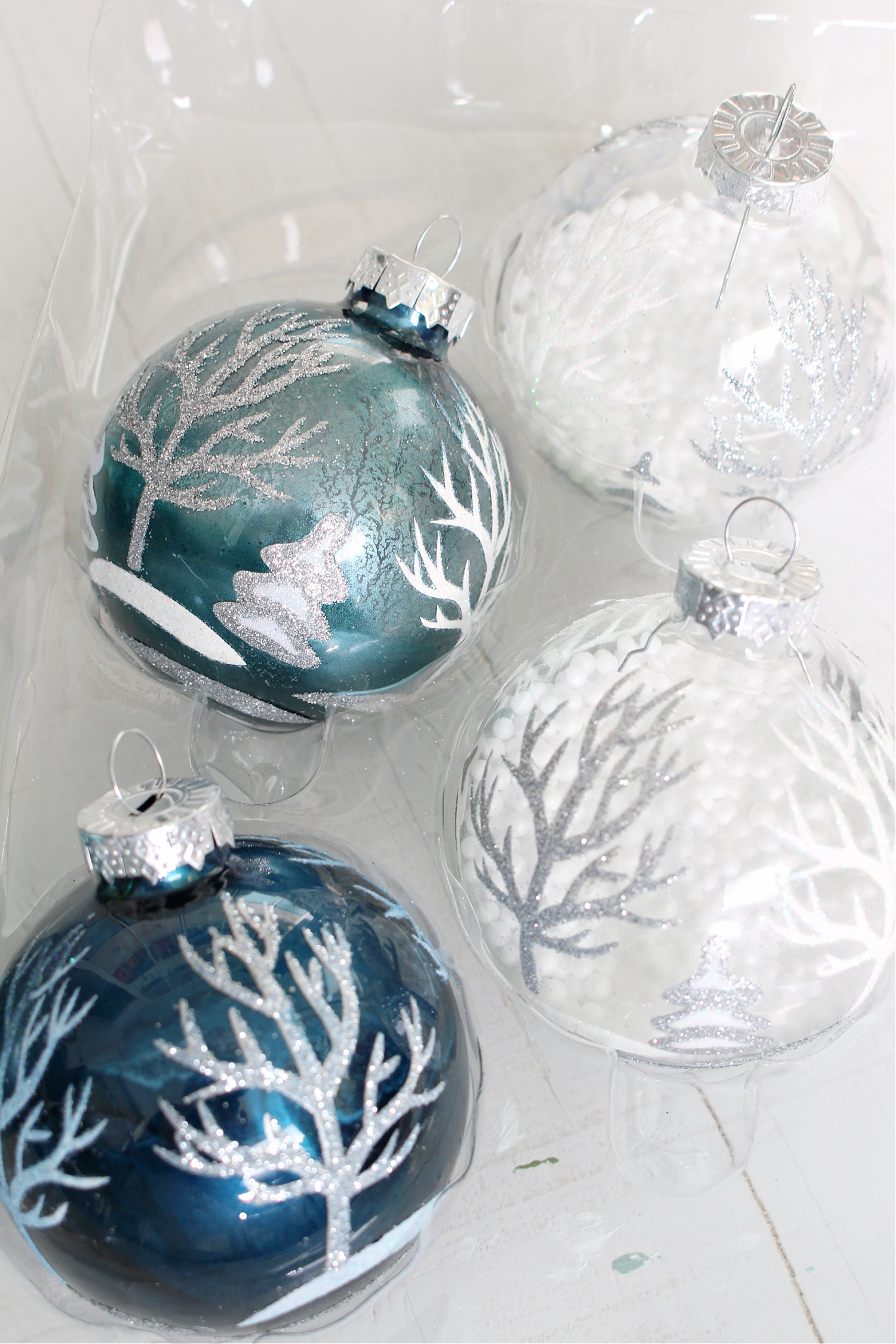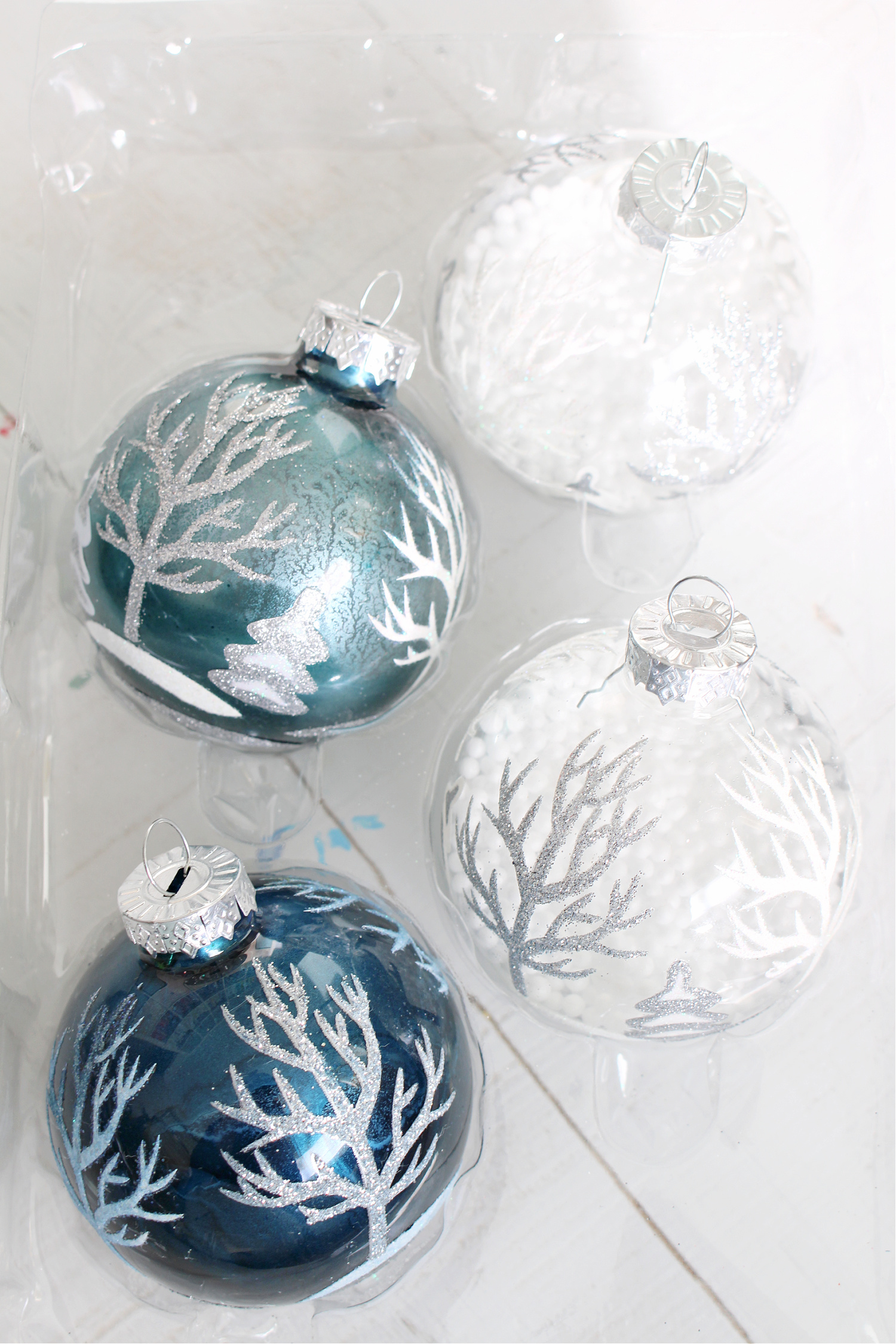 Large, clear glass ornaments worked the best for these DIY alcohol ink ornaments: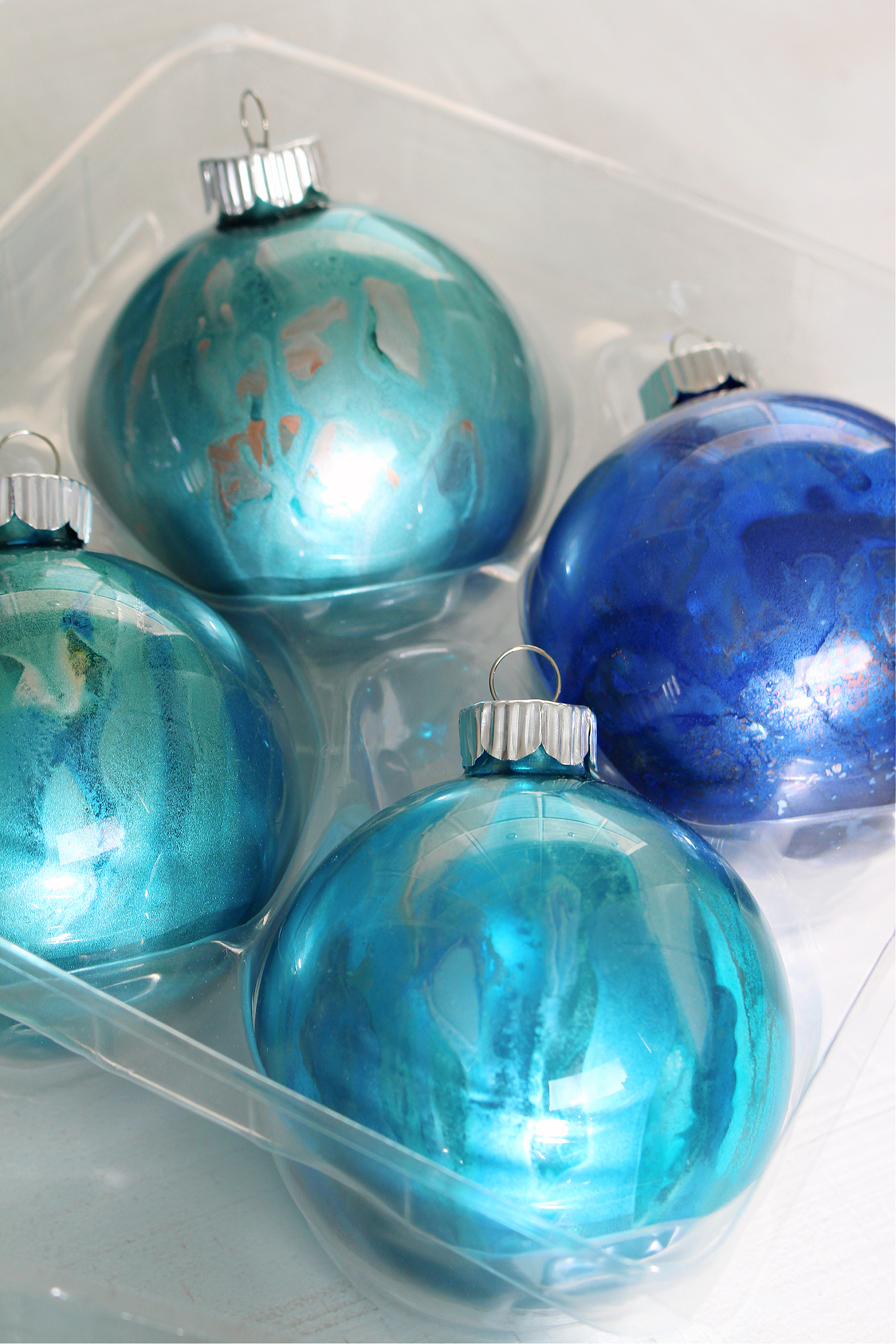 How Do You Seal Alcohol Ink on Glass?
To seal alcohol ink on glass, I recommend using Krylon clear glaze. But for this method, no sealant is required.
Can You Use Alcohol Ink on Plastic Ornaments?
YES! You can use alcohol ink on plastic ornaments and it looks just as beautiful as it does on clear glass ornaments. I used some very, very cheap plastic ornaments from the dollar store and they look like very expensive ornaments with the alcohol ink swirled inside. Here's the before: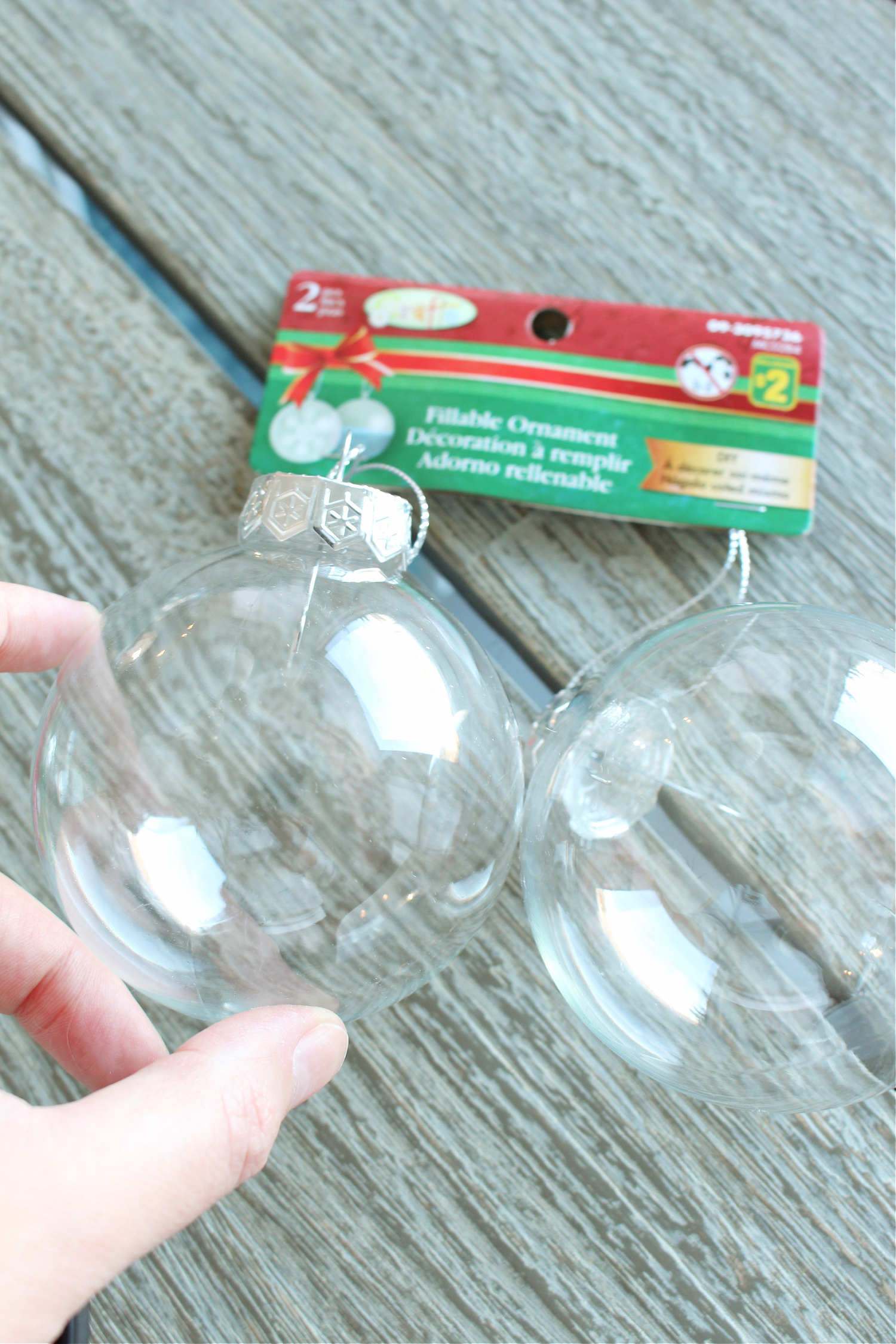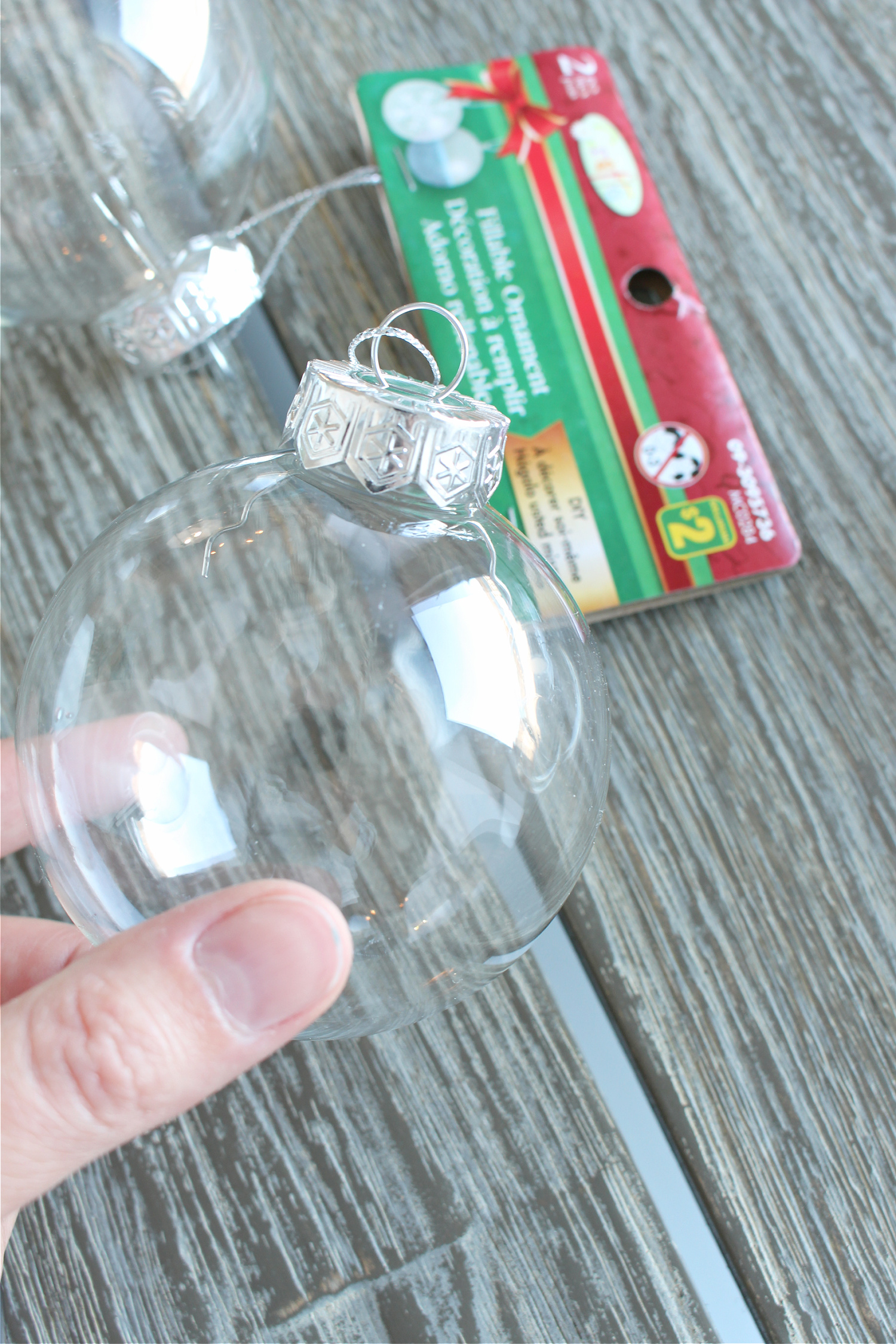 And here are the plastic alcohol ink ornaments – again, I think the trick is to add some metallic inks, which create a beautiful shimmer: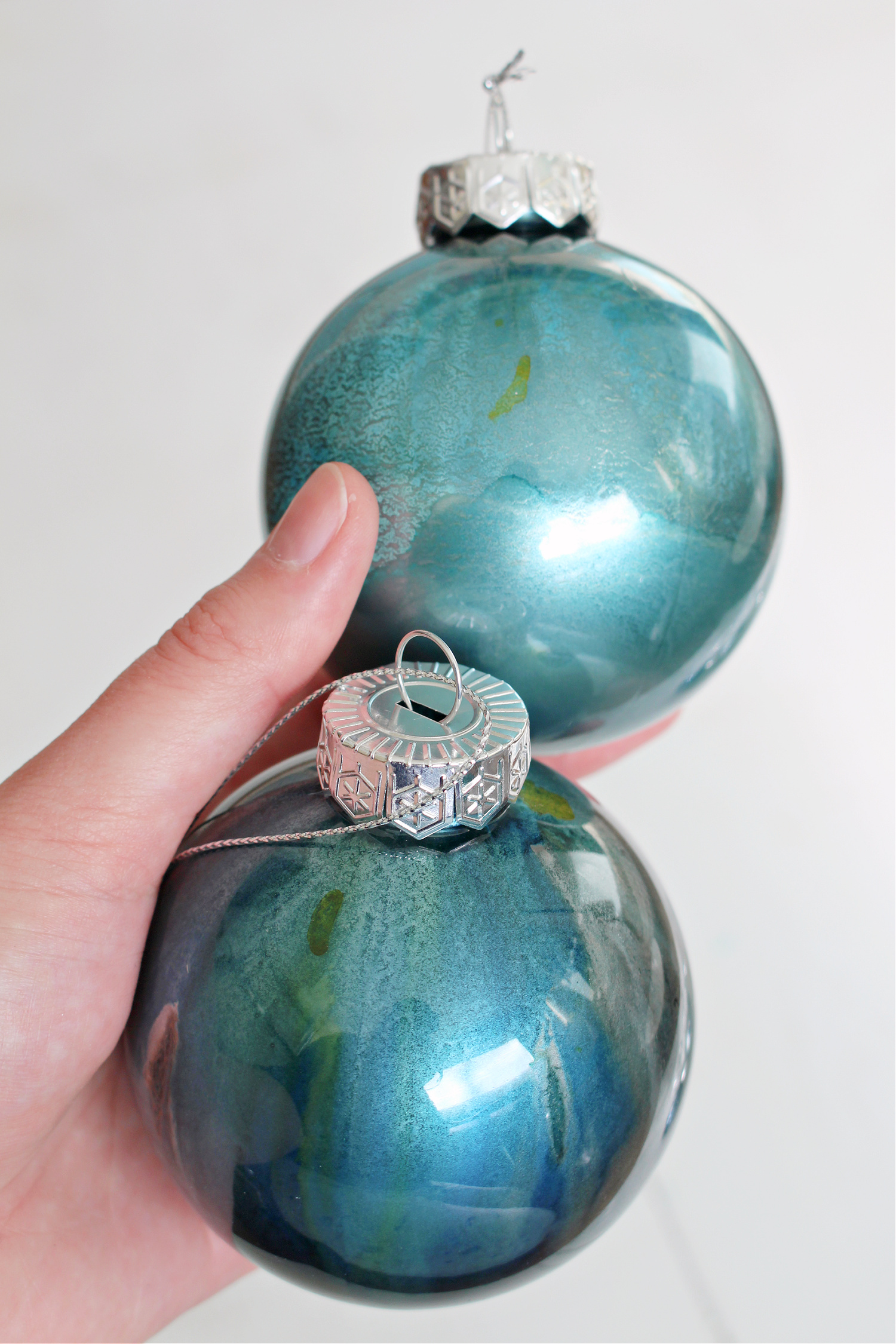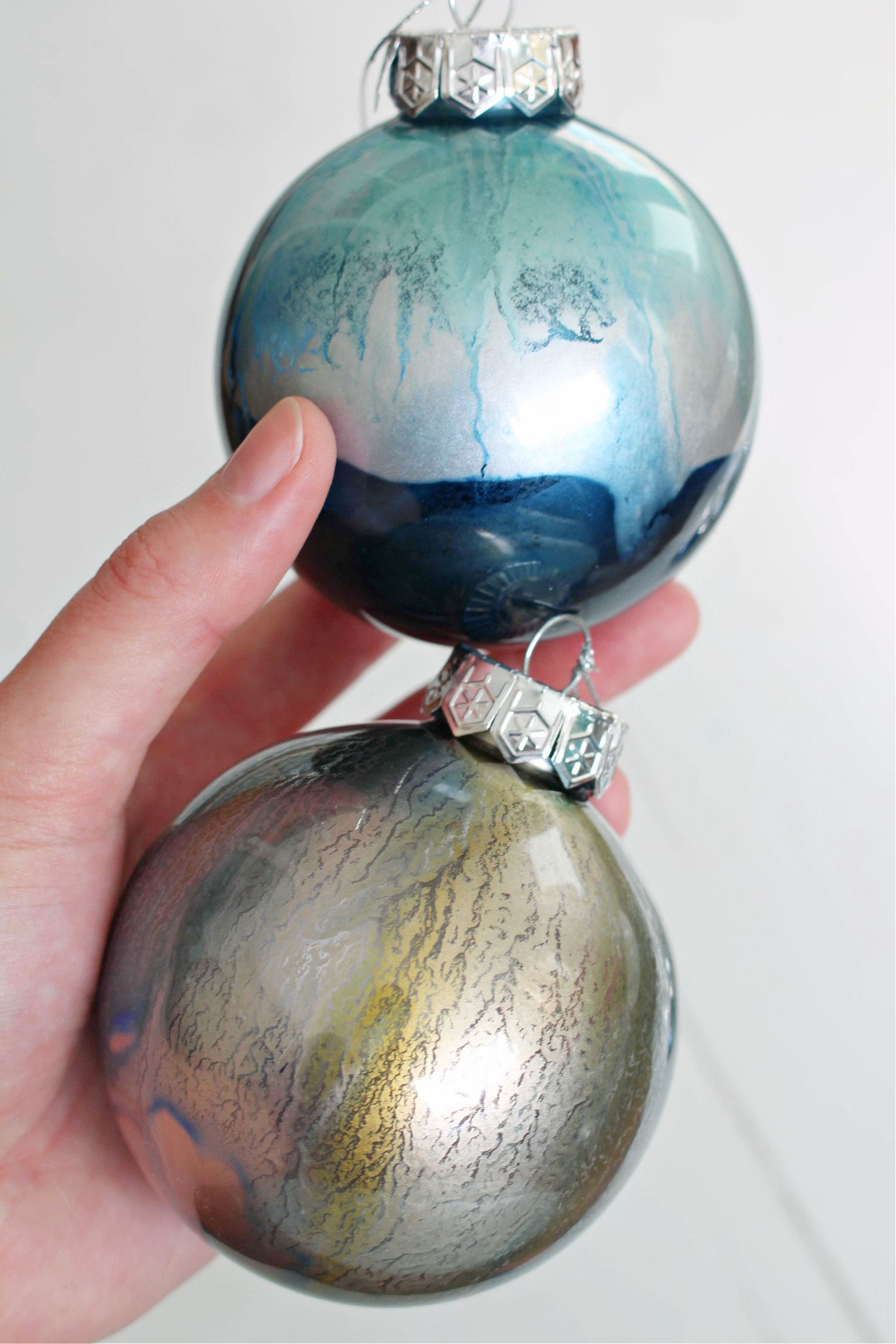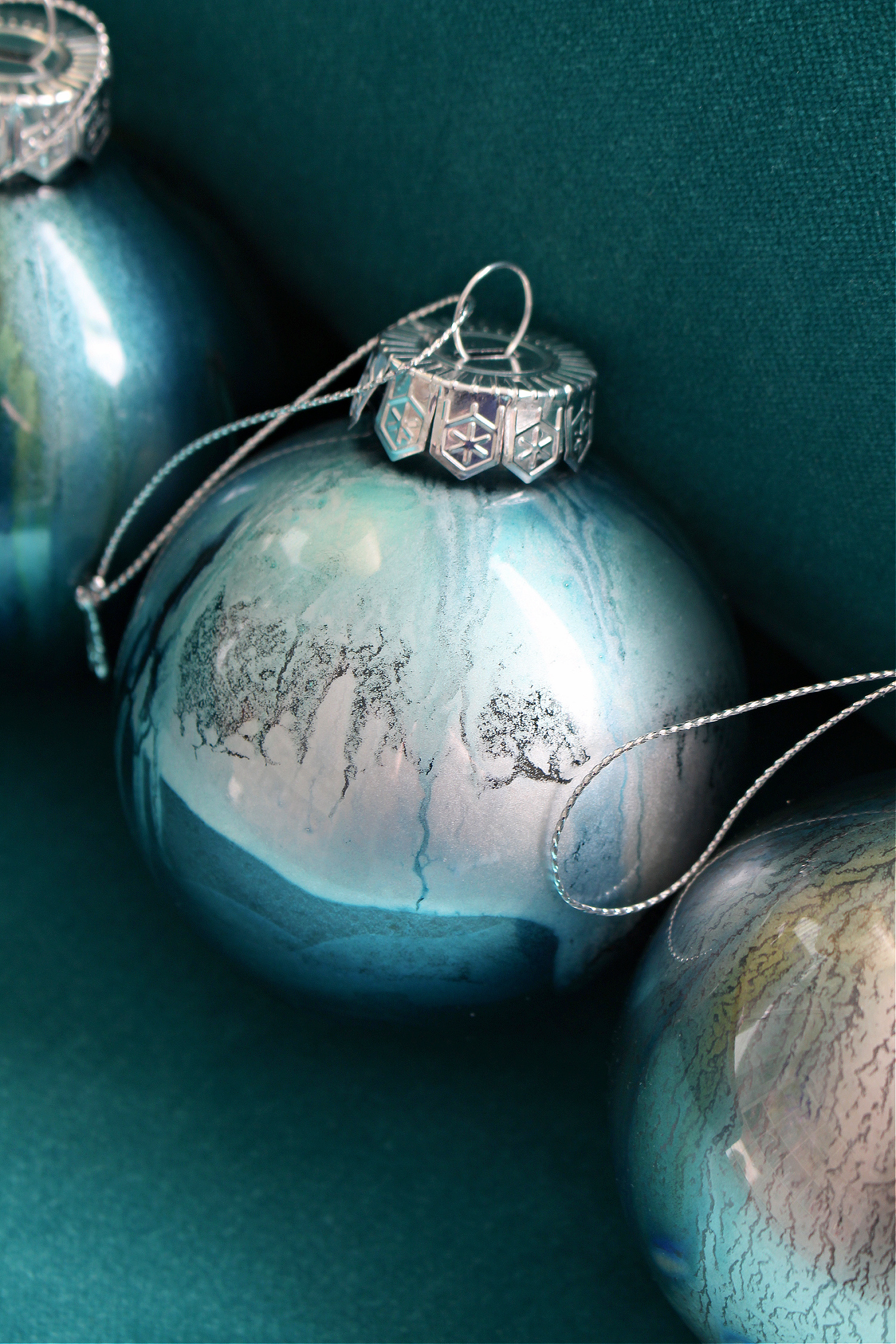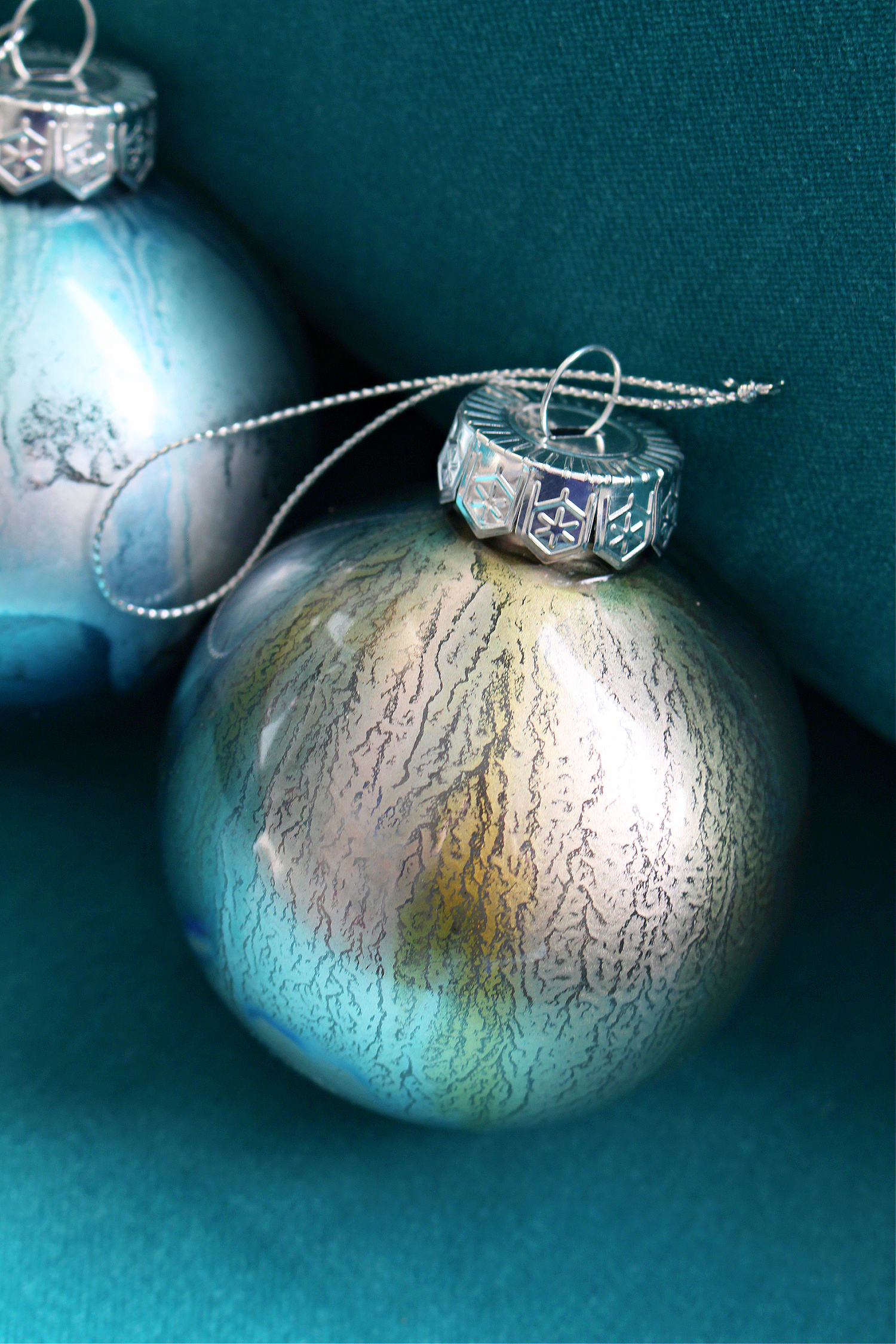 P.S. Don't Forget to Pin For Later!