Here's a pretty addition to any tree: easy DIY agate slice ornaments! Agate slices can be purchased in almost any color, to suit any tree theme.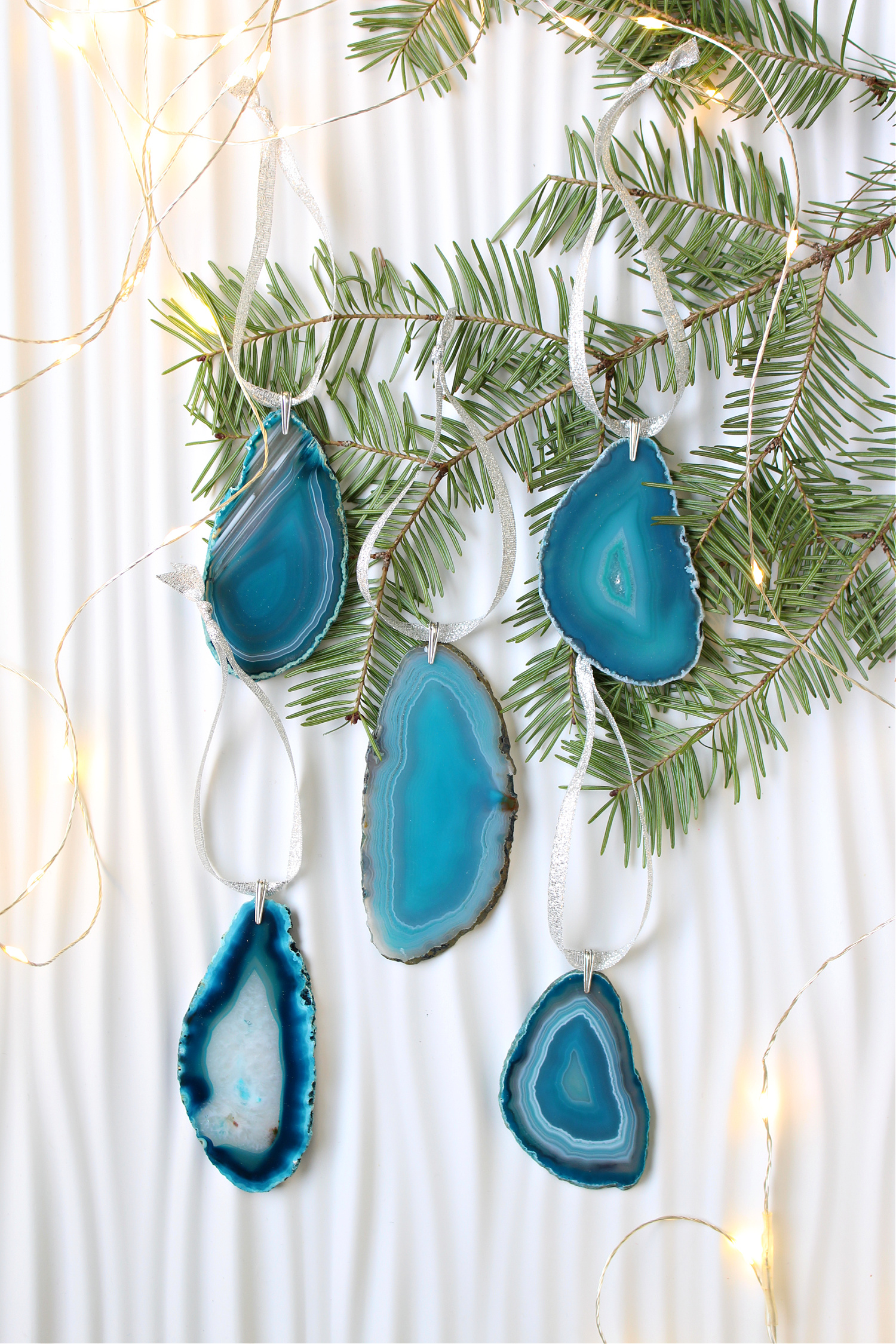 Back lit with lights, they glow beautifully. They're super simple to make and would double as a lovely gift topper.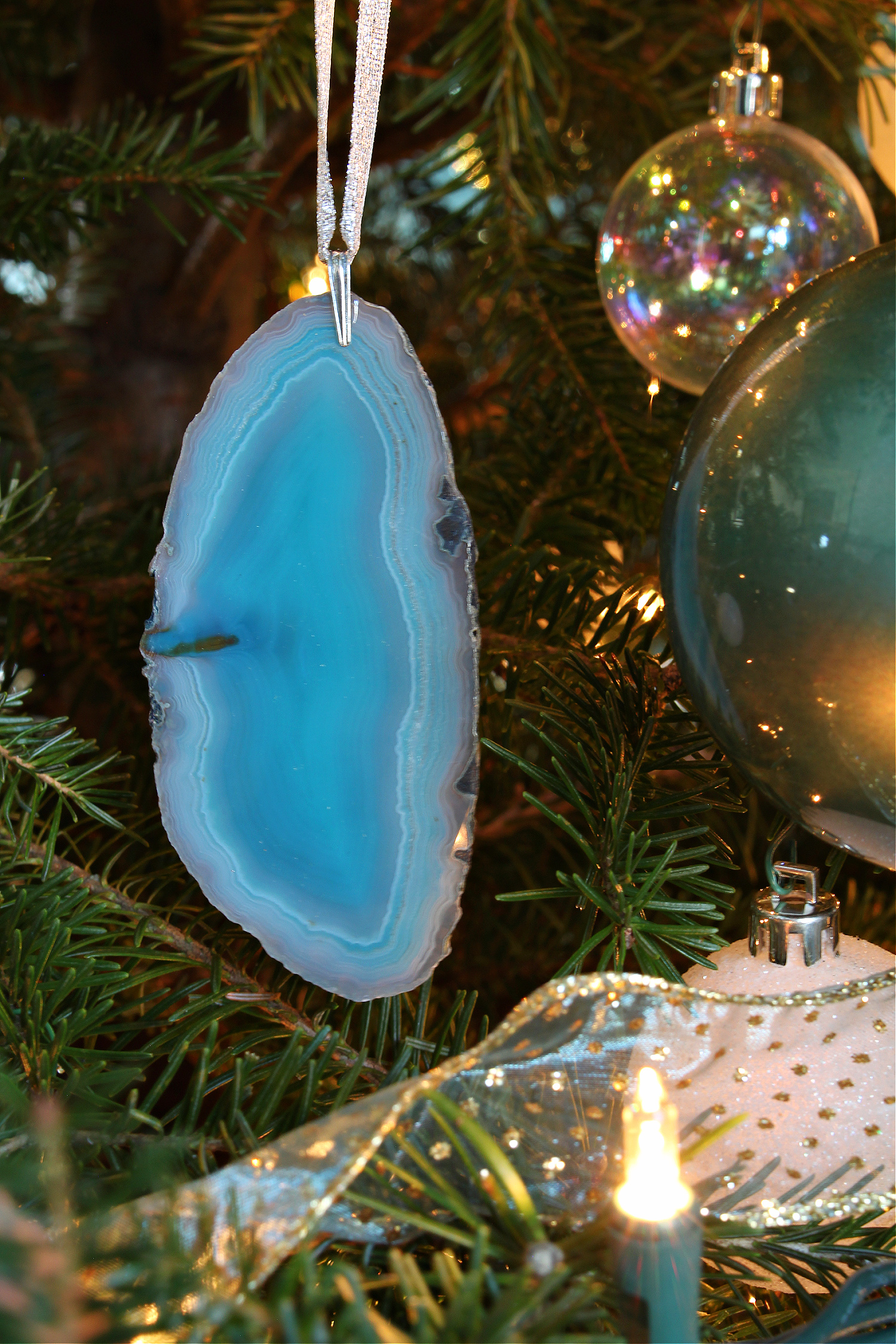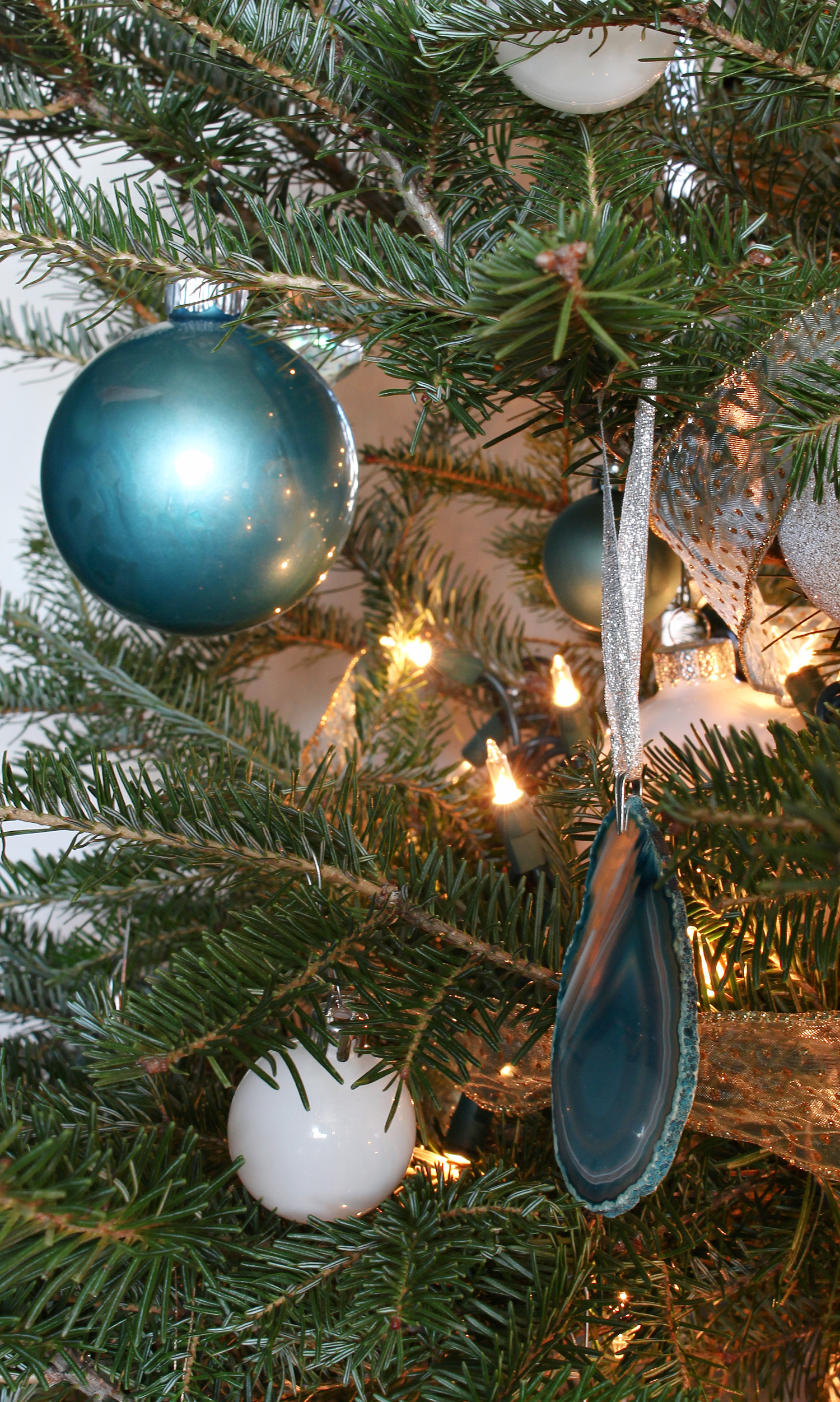 Supplies for Making DIY Agate Slice Ornaments: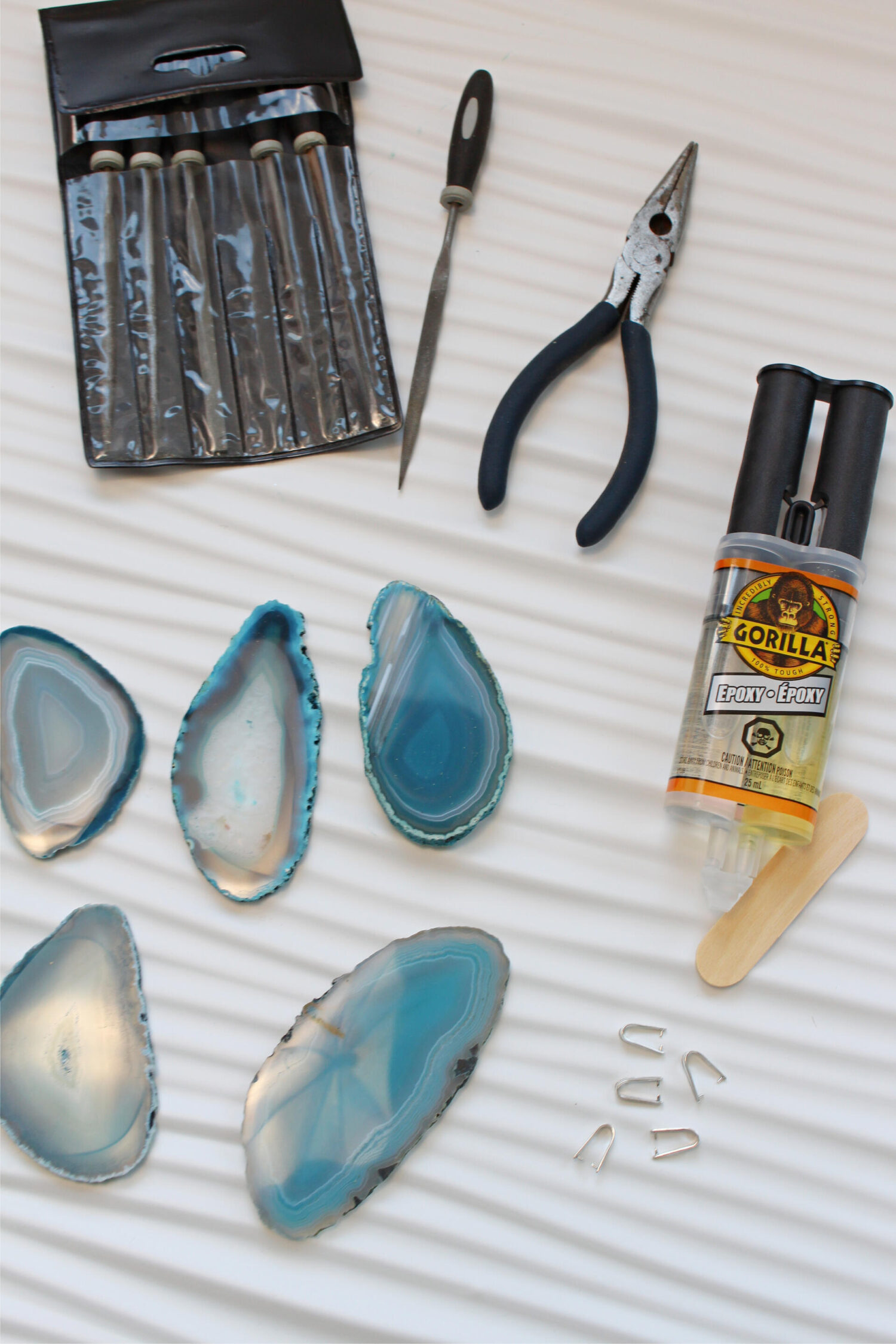 *I only had bails that fit into a pendant with a hole drilled in the top so, just like with my agate slice pendant DIY, we pried off the prongs and filed – hence the extra tools in the picture. If you're buying supplies especially for this, look for a bail without prongs. Here is the bail after we filed off the prongs: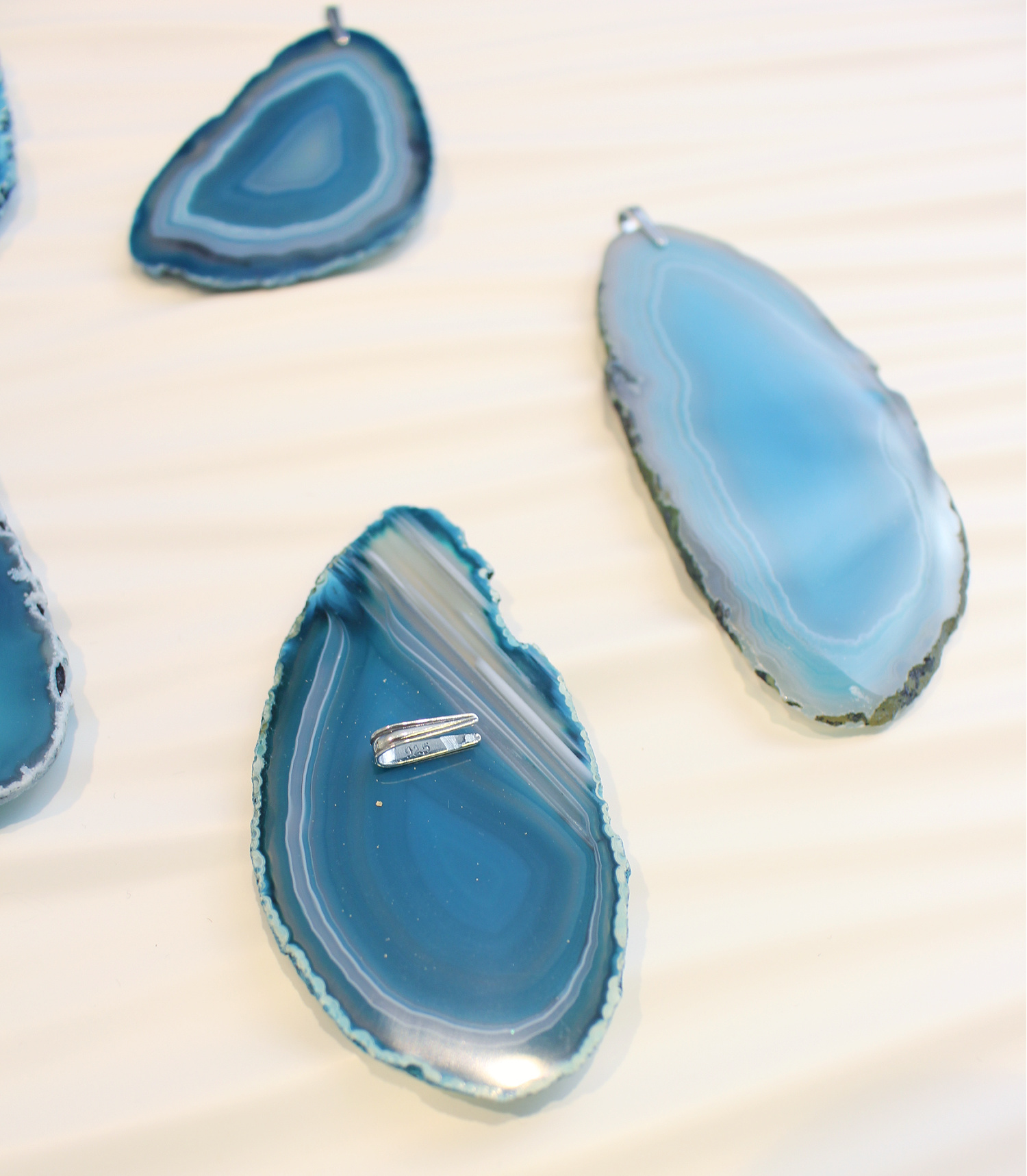 How to Make Agate Slice Ornaments:
Mix up the two part epoxy with a toothpick
Apply a small amount inside the tips of the bail
Gently slide the bail onto the agate slice
Let dry overnight
Adorn with a ribbon
That's it! Technically this epoxy is ready in a few minutes, but I like to let things set overnight just in case.
These DIY agate slice ornaments turned out so beautifully – I love how they look on our winter wonderland tree theme!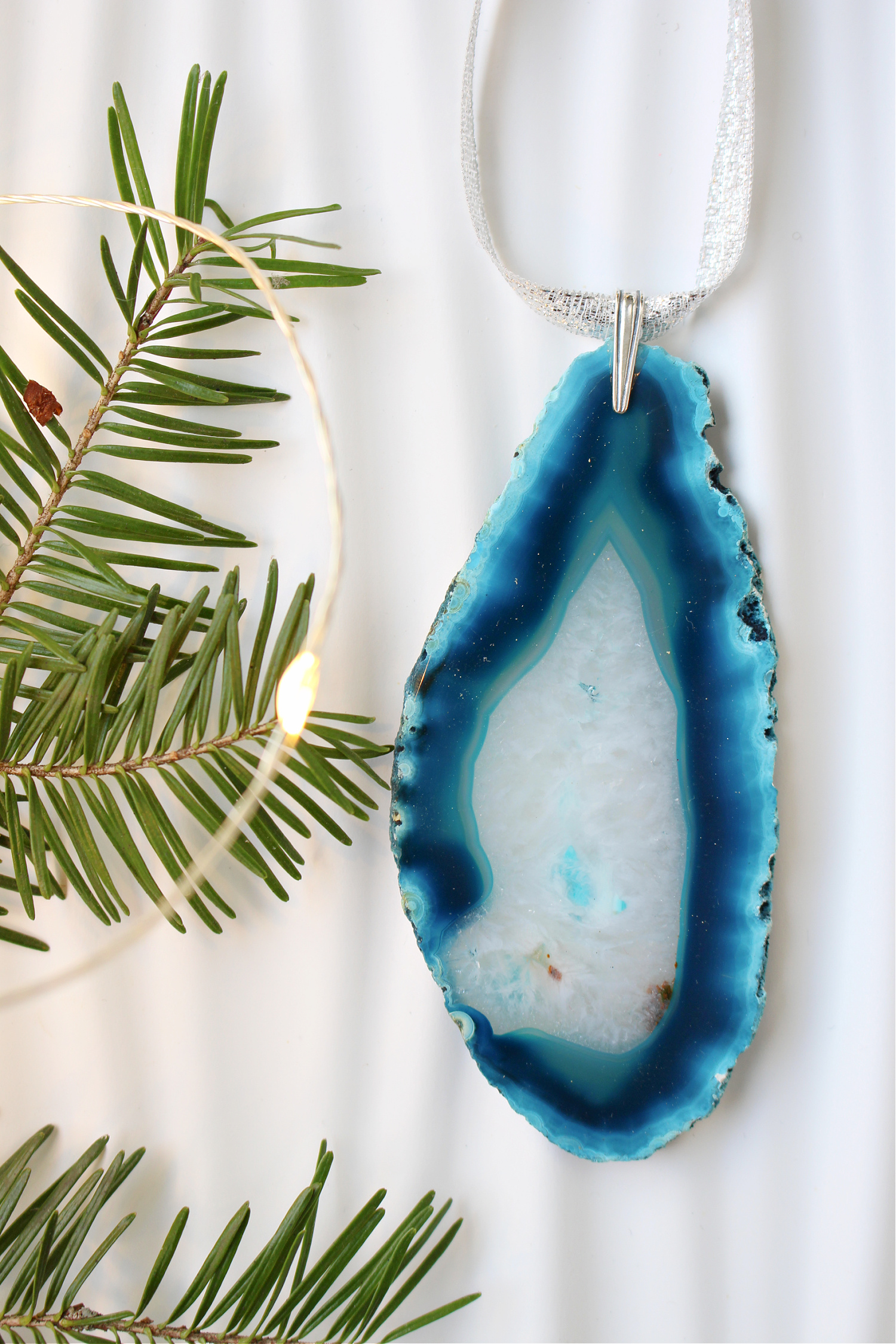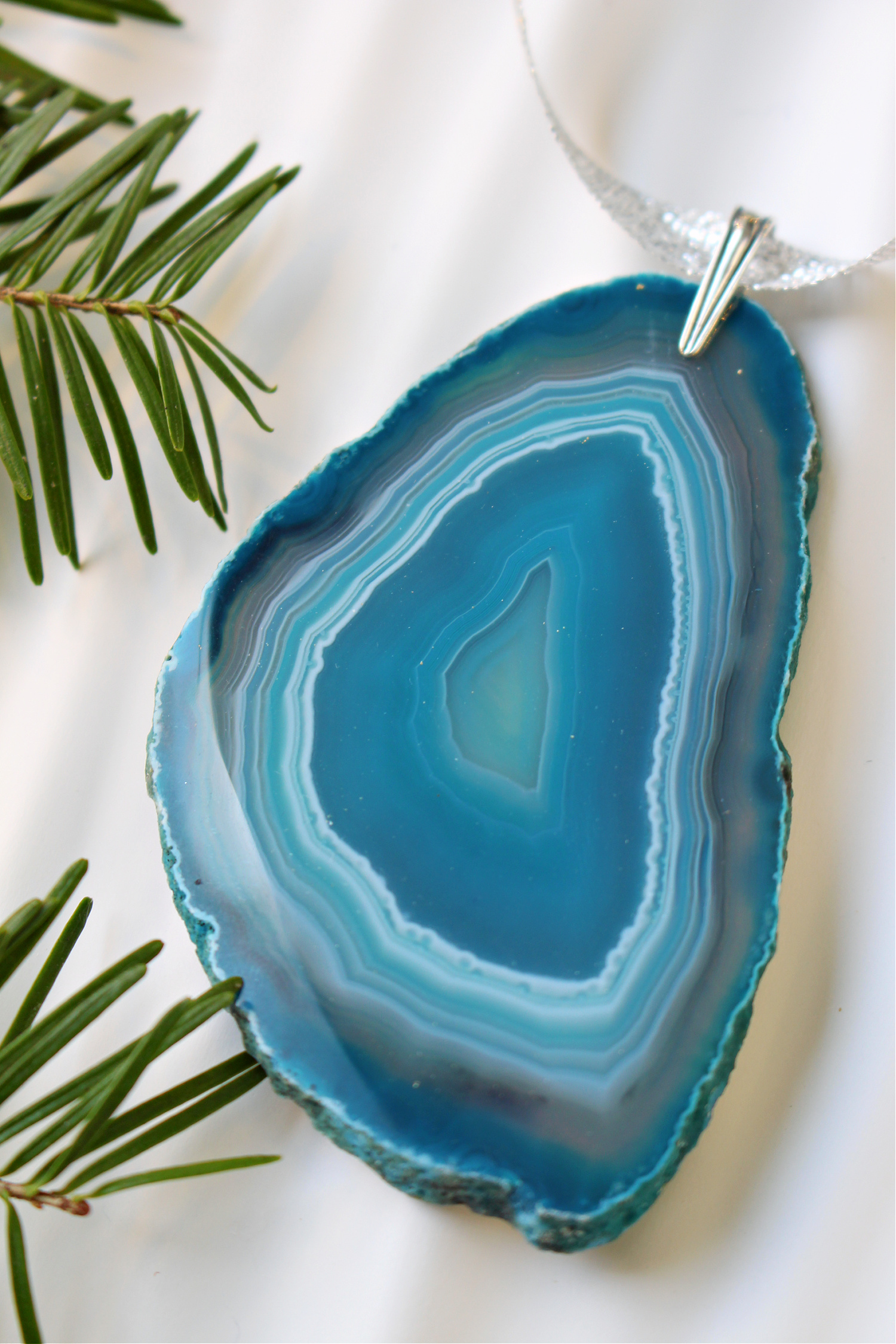 If you prefer a buy-it-now option, these agate slice ornaments are cute – and come in so many different colors! Drilling holes at the top of an agate slice is an alternative approach to the jewelry bail I use – but I didn't want to risk cracking my agate slices.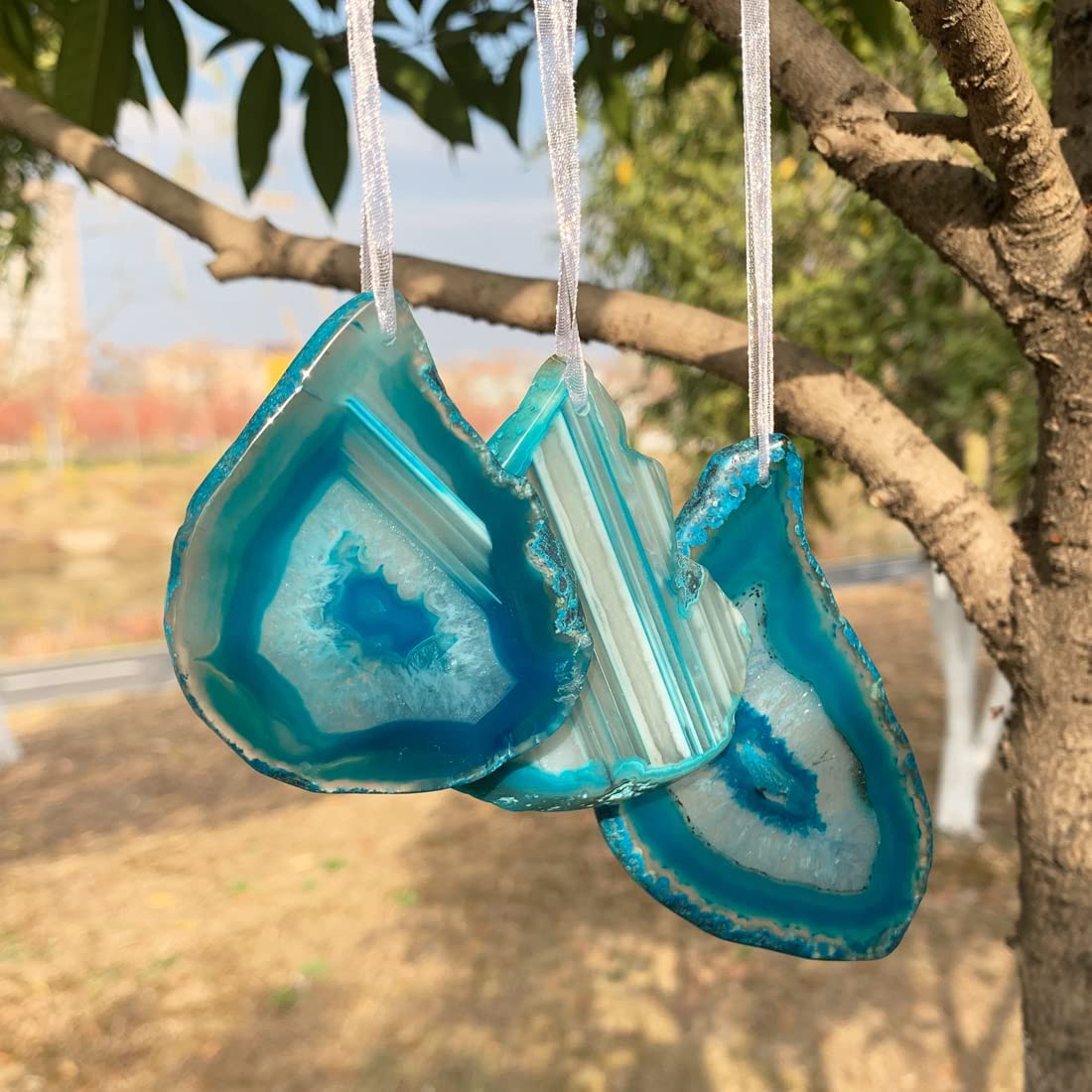 See the rest of my Mom's turquoise and white Christmas tree theme and all of the handmade ornaments I made this year and last by clicking here.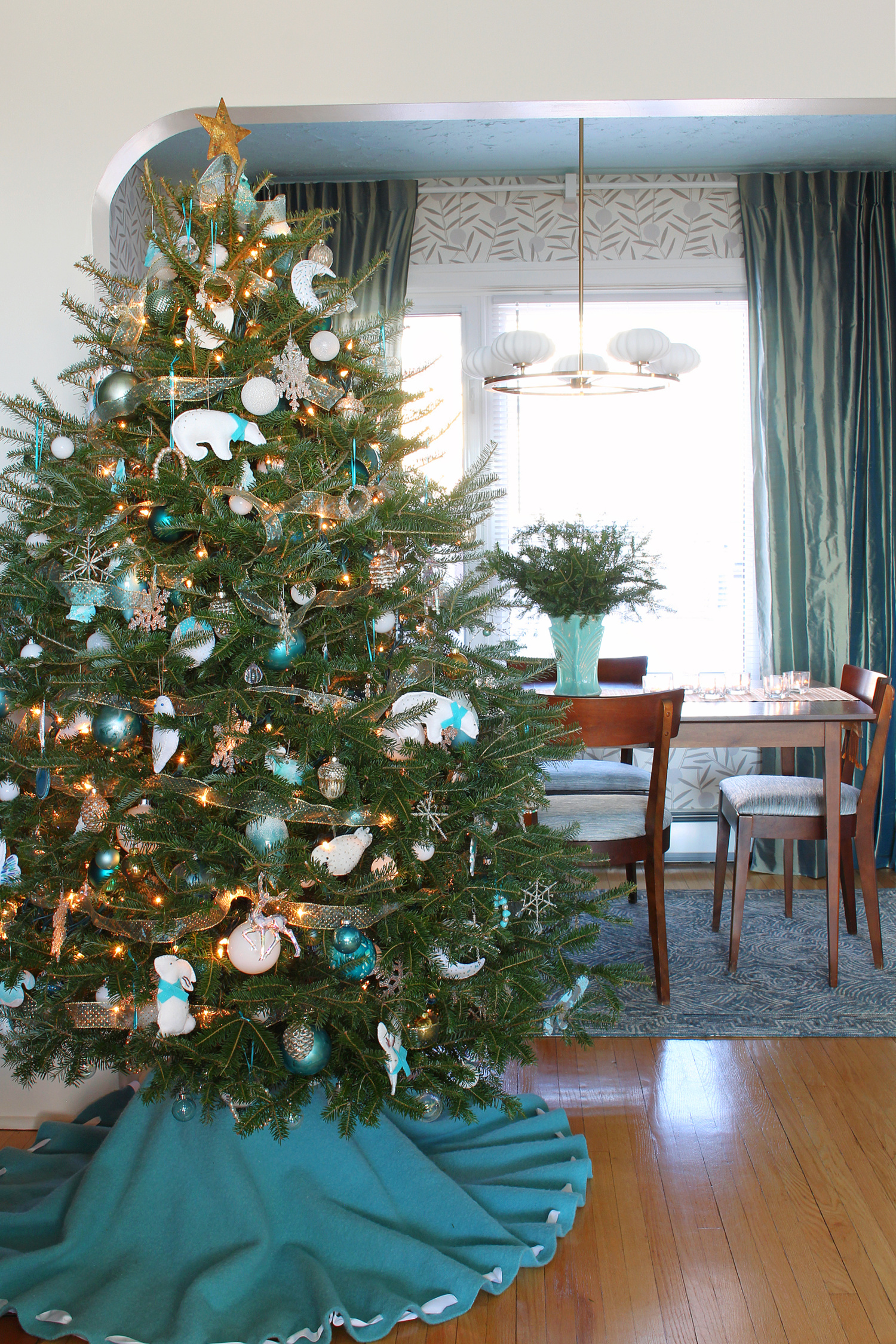 How Do You Glue Agate?
To glue agate to anything, I've always relied on a two-part epoxy, like the one I listed in my supplies and used for this project – or this one (I used it for the pendants):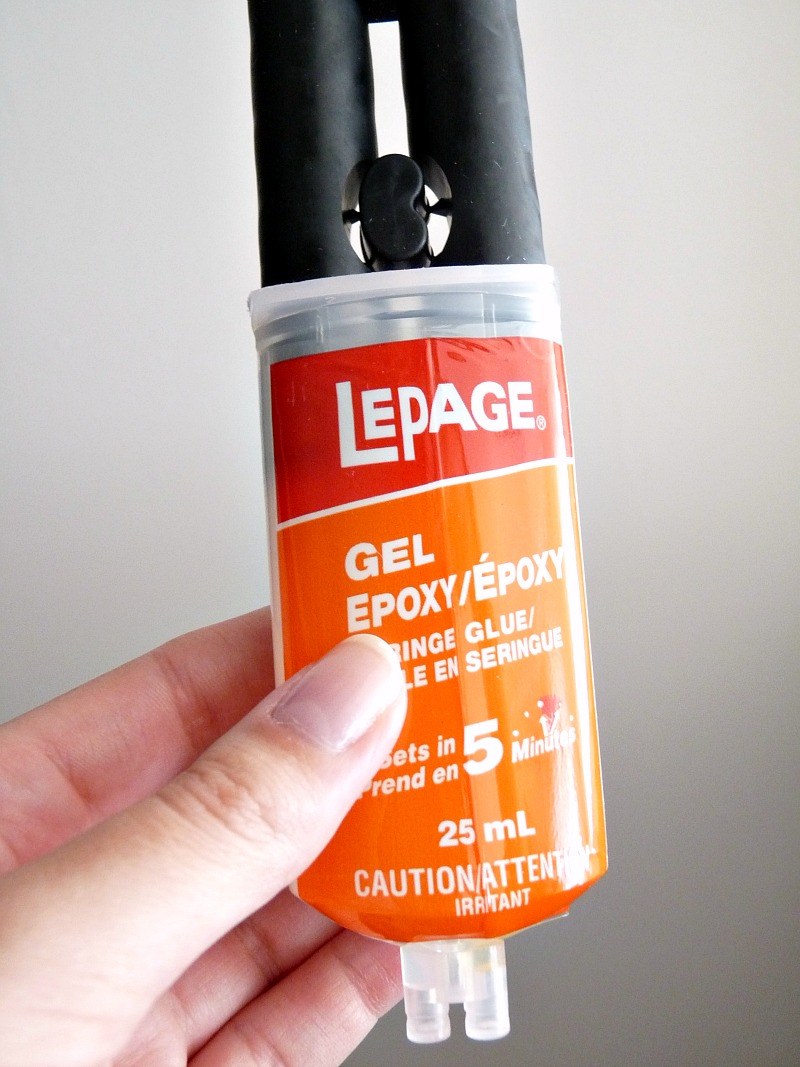 Some brands manufacture them for different purposes, so look for one that's suitable for glass and other slippery surfaces. You could also use E36000, which is popular for jewellery DIY projects, but I've never tried it. If this process sounds familiar, you might remember my DIY agate slice necklaces, from waaaay back in the day! I used the same type of epoxy for those (exact one pictured above) and they're still holding strong – although maybe a little dated, trend-wise? It might be time to re-purpose those into ornaments as well. I also used the same epoxy to make agate art!
Wondering What Else Can You Do With Agates?
I love agate slices because they're so beautiful, with so many crafting applications! Here are a few other projects I've made with agate slices – you might have noticed I used some of the same agate slices for these DIY agate slice ornaments as I did for my DIY agate slice wreath. I love re-purposing and re-using craft supplies, any time I can!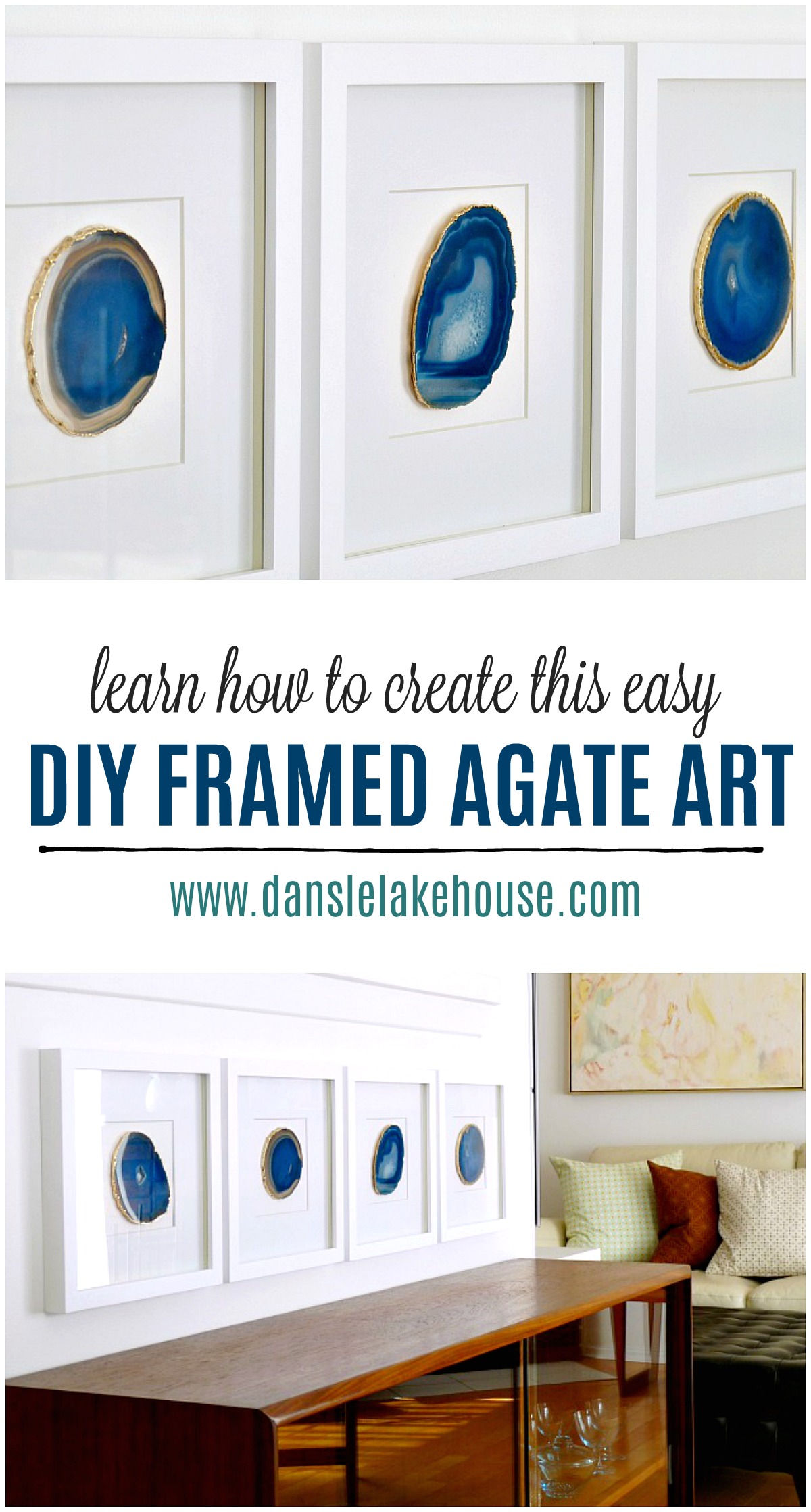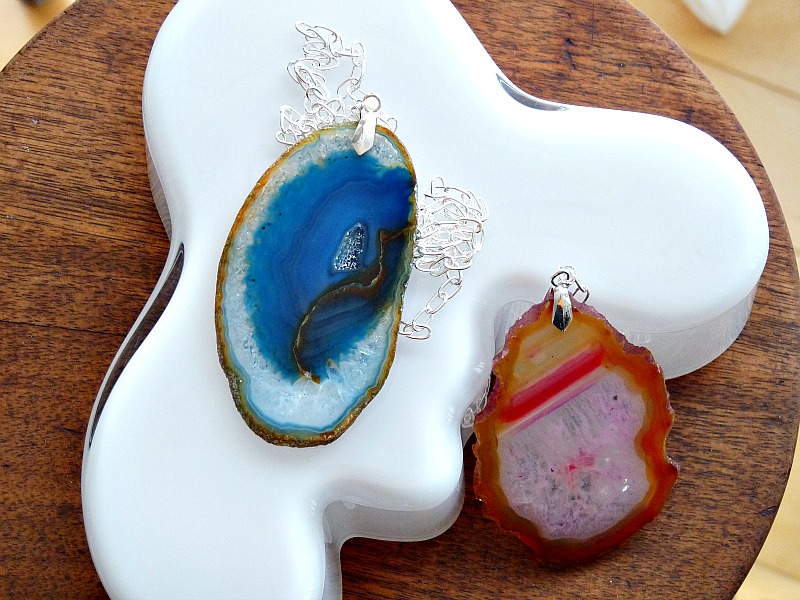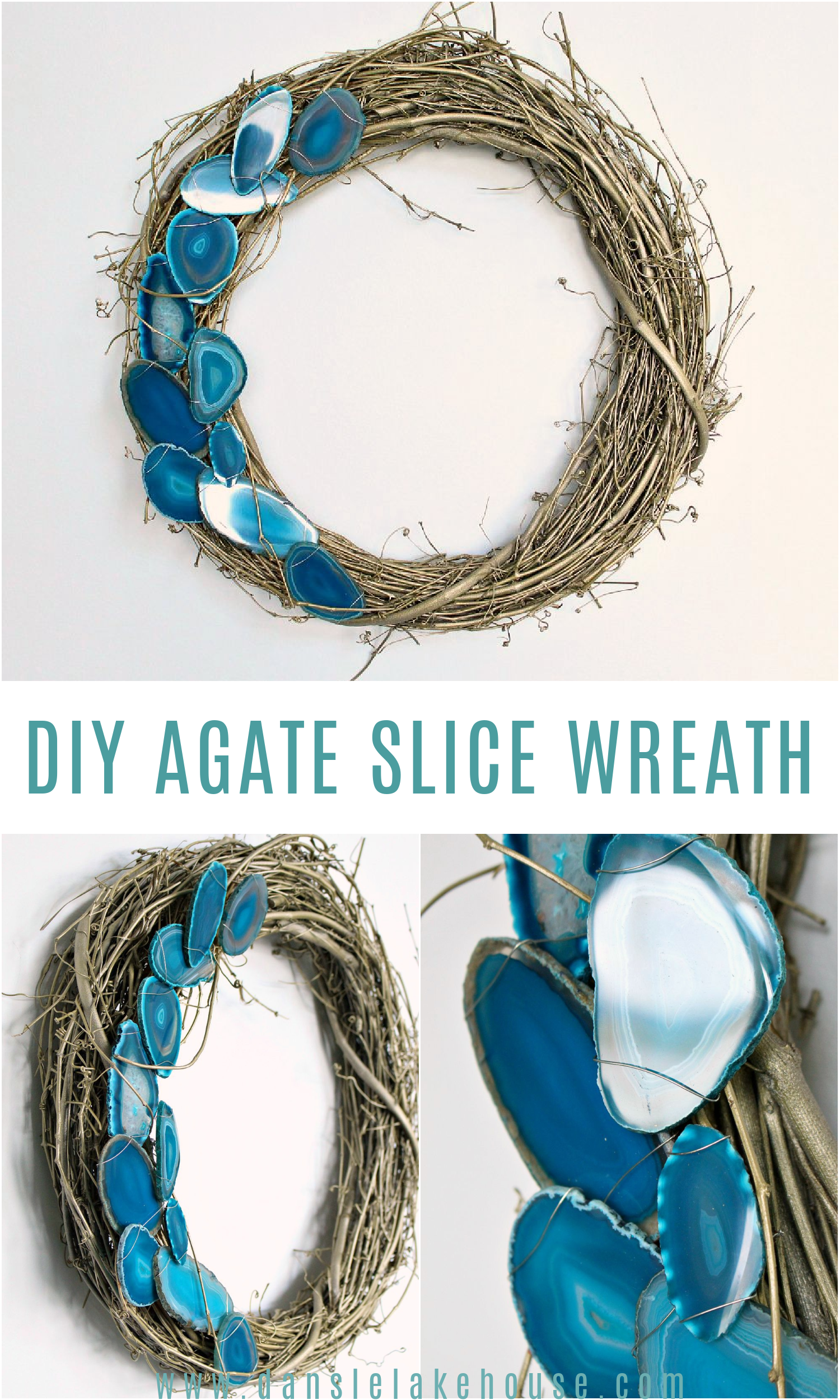 P.S. Don't Forget to Pin for Later!