Inspired by a pair of polymer clay earrings I saw on Pinterest, I decided to try my hand at making some marbled DIY polymer clay ornaments. The tip I picked up was to use translucent polymer clay, which I had no idea existed, but creates the look of a gemstone or stained glass. Of course, I could not find ANY of it locally – my only craft store here was totally out of almost every single color of Sculpy clay. But I was already on a mission, so I ended up scooping up the last sort of translucent, sparkly pack of "Opal" along with a mix pack of random colors, a block of white and a block of glittered turquoise. I might try this again when I can actually get my hands on the supplies I want but, in the meantime, the DIY polymer clay ornaments I made turned out really pretty!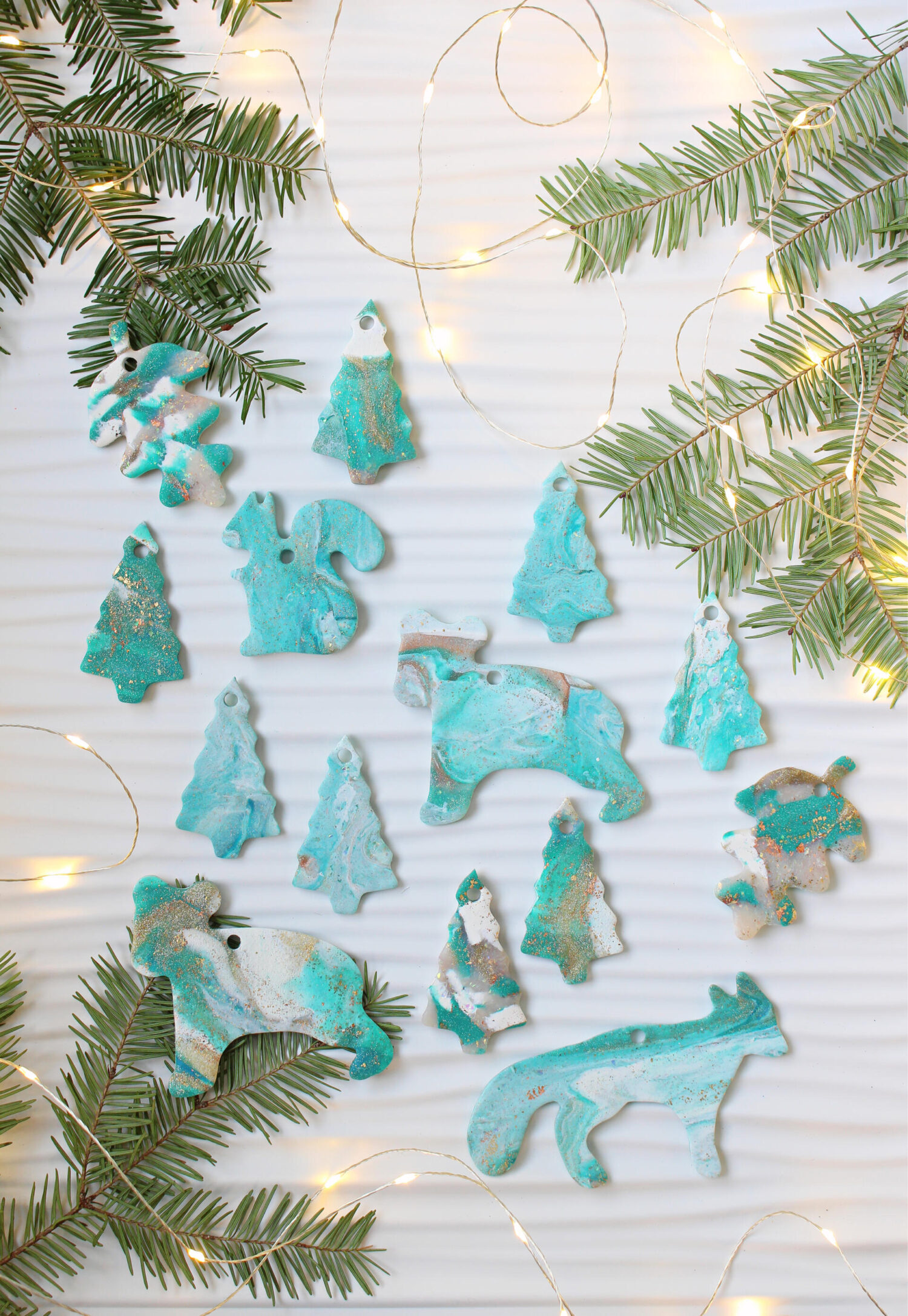 This is only my second time working with polymer clay (see the chicken ornaments I made here), and there's a whole…world around this stuff. People invest in a lot of tools, make intricate designs, and have really complicated methods. It's taken very seriously! So I'm sure my technique is not correct – but I just dove right in and it worked out, so don't be intimidated!
Supplies for Making Marbled DIY Polymer Clay Ornaments:
Notes on Supplies: this clay will stain surfaces, so don't use a favorite cutting board or porous rolling pin (using the unfinished wood one I use for baking was a mistake, lol).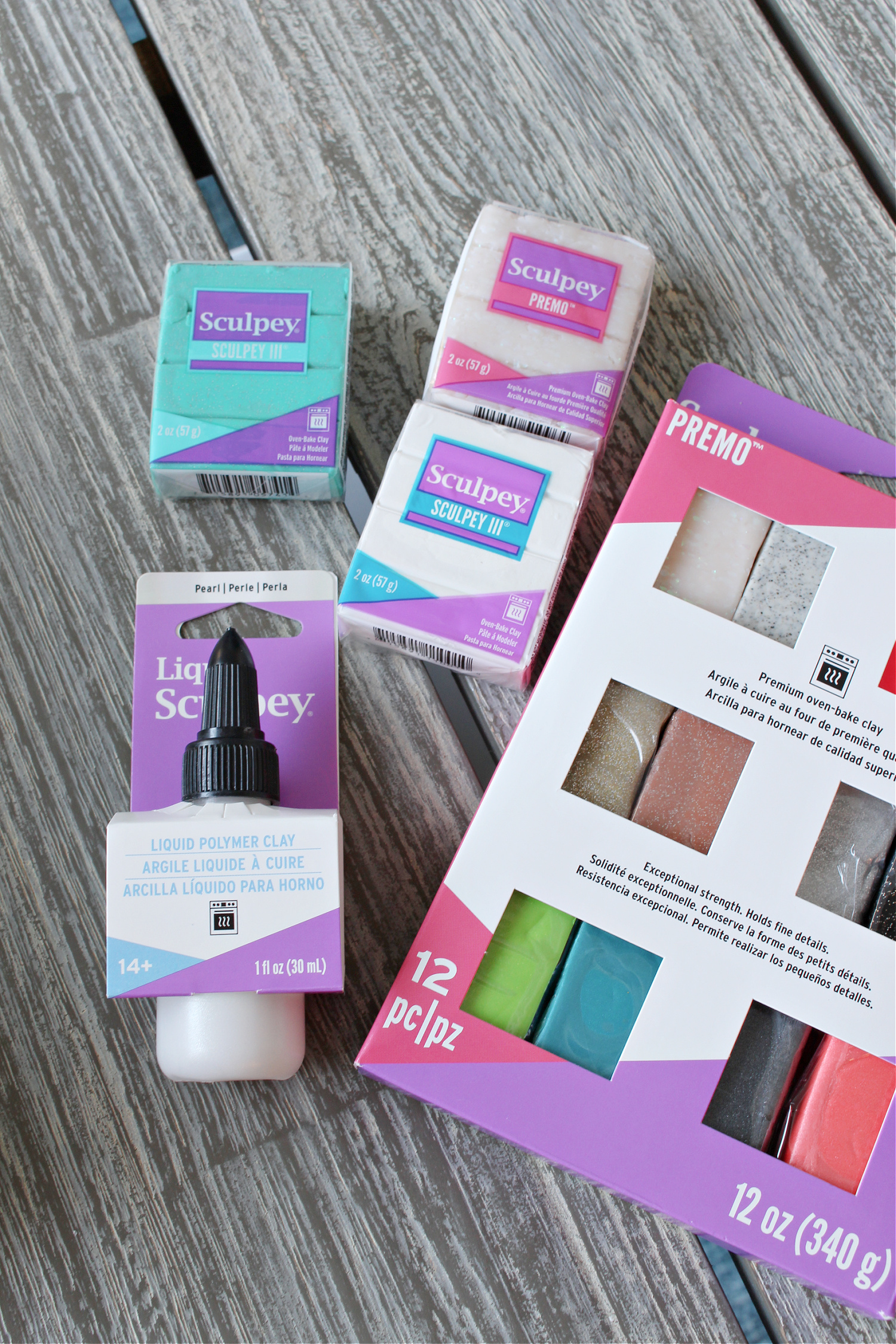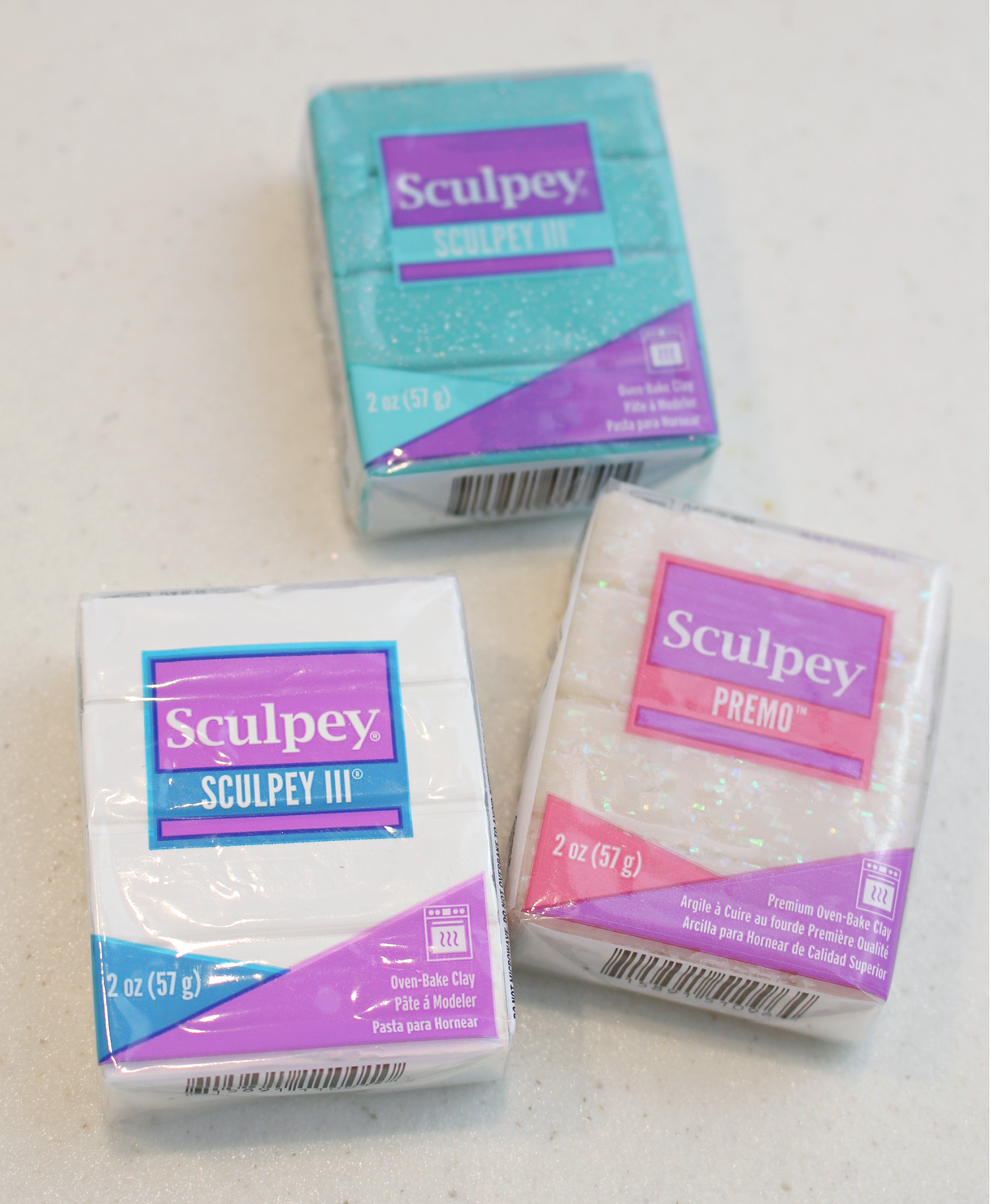 How do You Make Polymer Clay Ornaments:
The process for making polymer clay ornaments is easy!
Condition the clay by rolling it out and kneading in your hands until pliable and flexible
Chop the clay into small pieces
Mix the pieces with gold leaf and liquid polymer clay
Shape into a squared off tube shape
Slice into pieces and lay out the pieces into a sheet
Roll out the pieces to form one large piece, approx 1/4″ thick
Use cooking cutters to cut out shapes
Use a straw to create a hole for ribbon or hooks
Bake at 275°F for 15 minutes (bake 15 minutes for each 1/4″ of thickness)
Let cool and sand edges smooth
Click here to see a quick video tutorial – or click the video below:
View this post on Instagram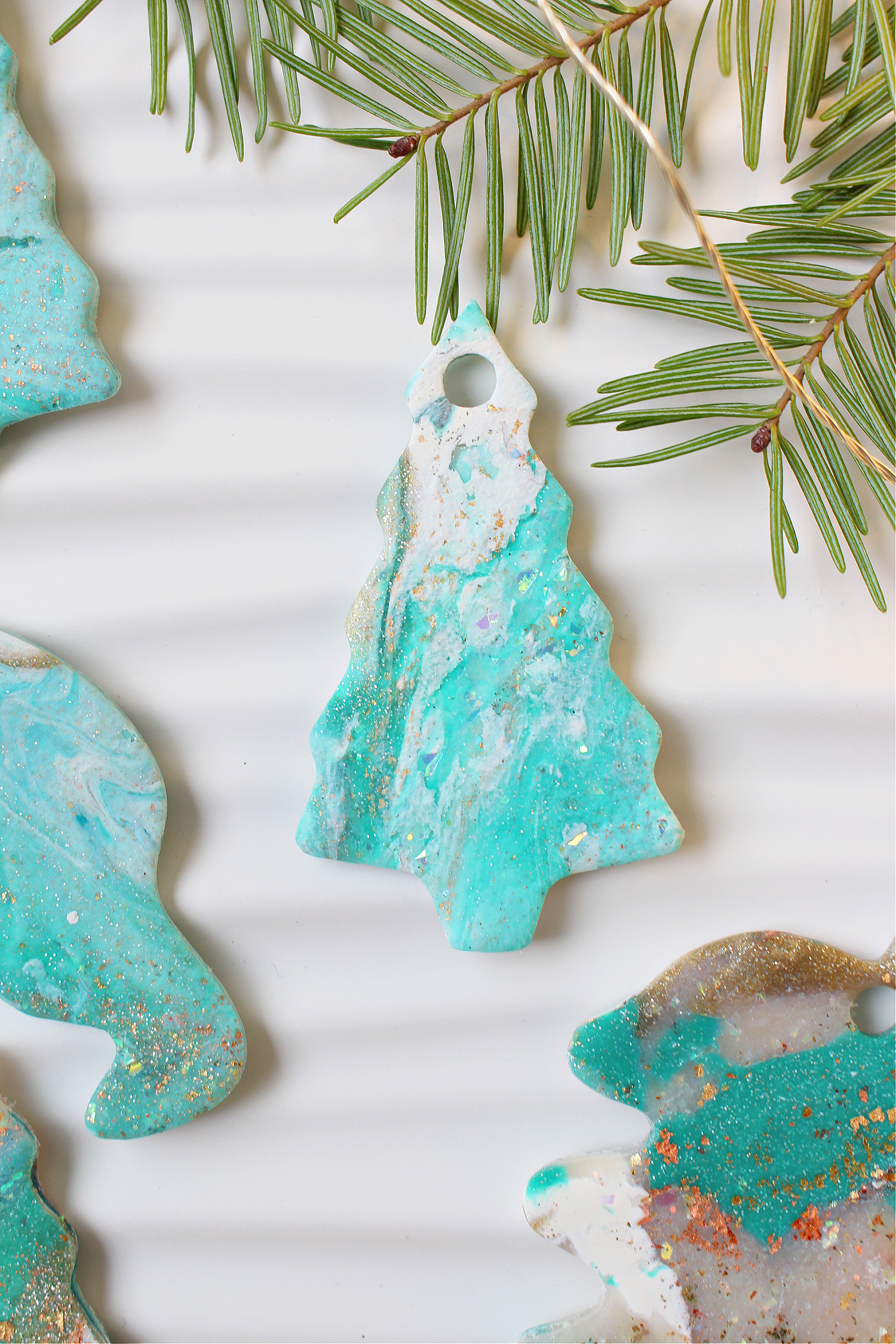 Here's a more detail set of instructions for making Sculpey clay ornaments. After unwrapping my polymer clay, I conditioned it a bit to make it softer. To do that, I rolled it out with a rolling pin and then kneaded it with my hands until it was soft and pliable (it comes out of the package pretty stiff).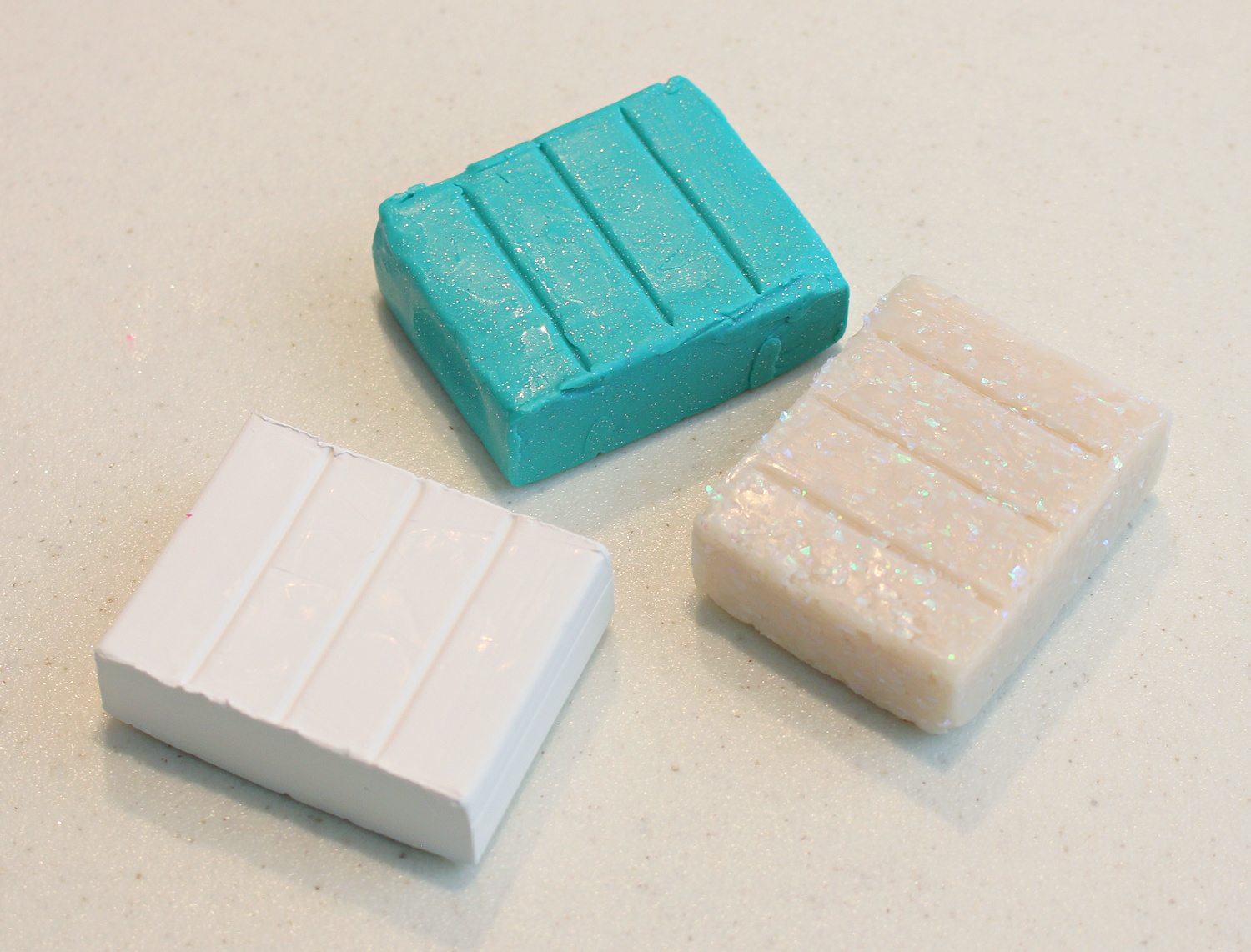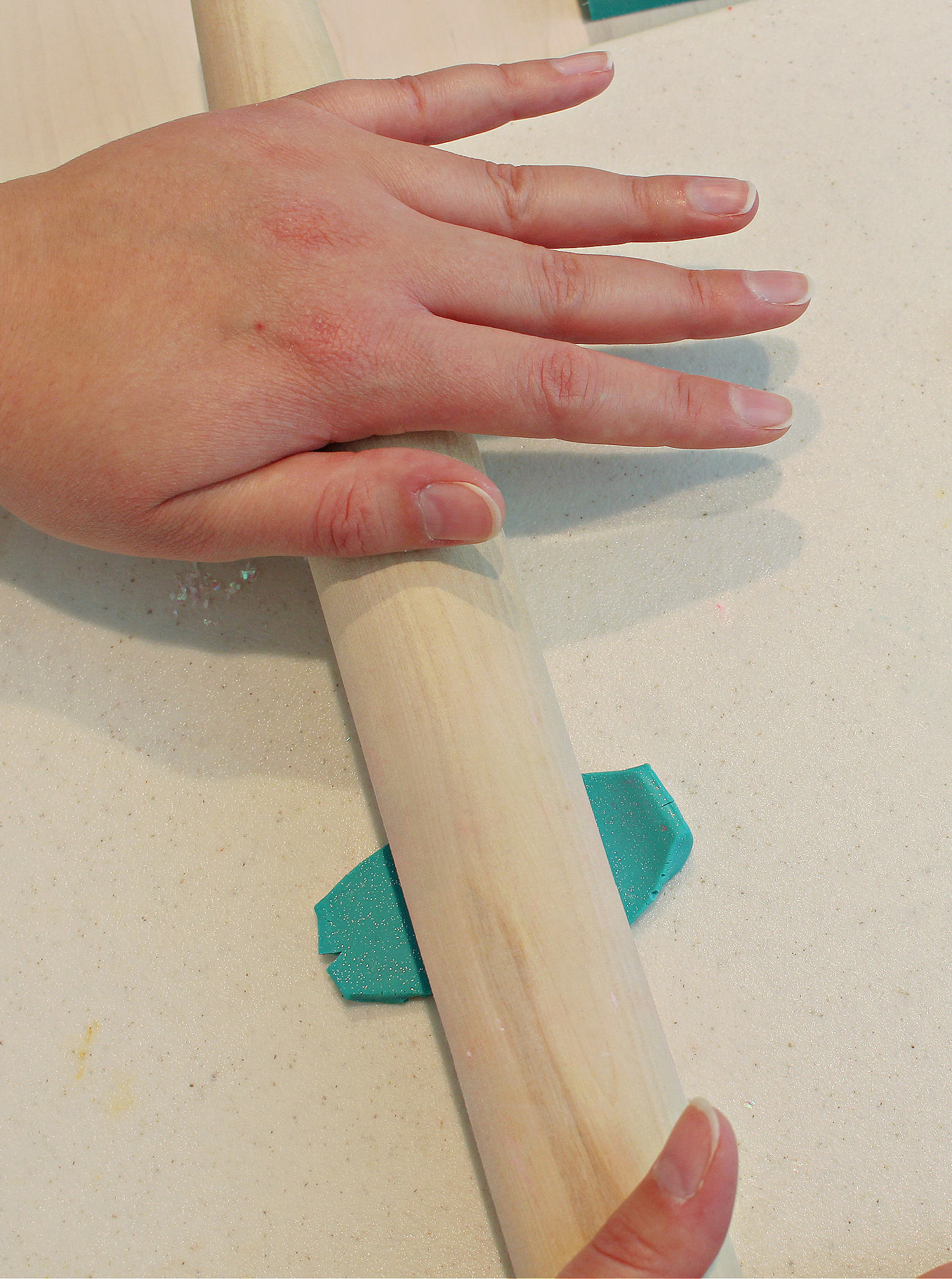 Once it was soft and pliable, I chopped it into little pieces: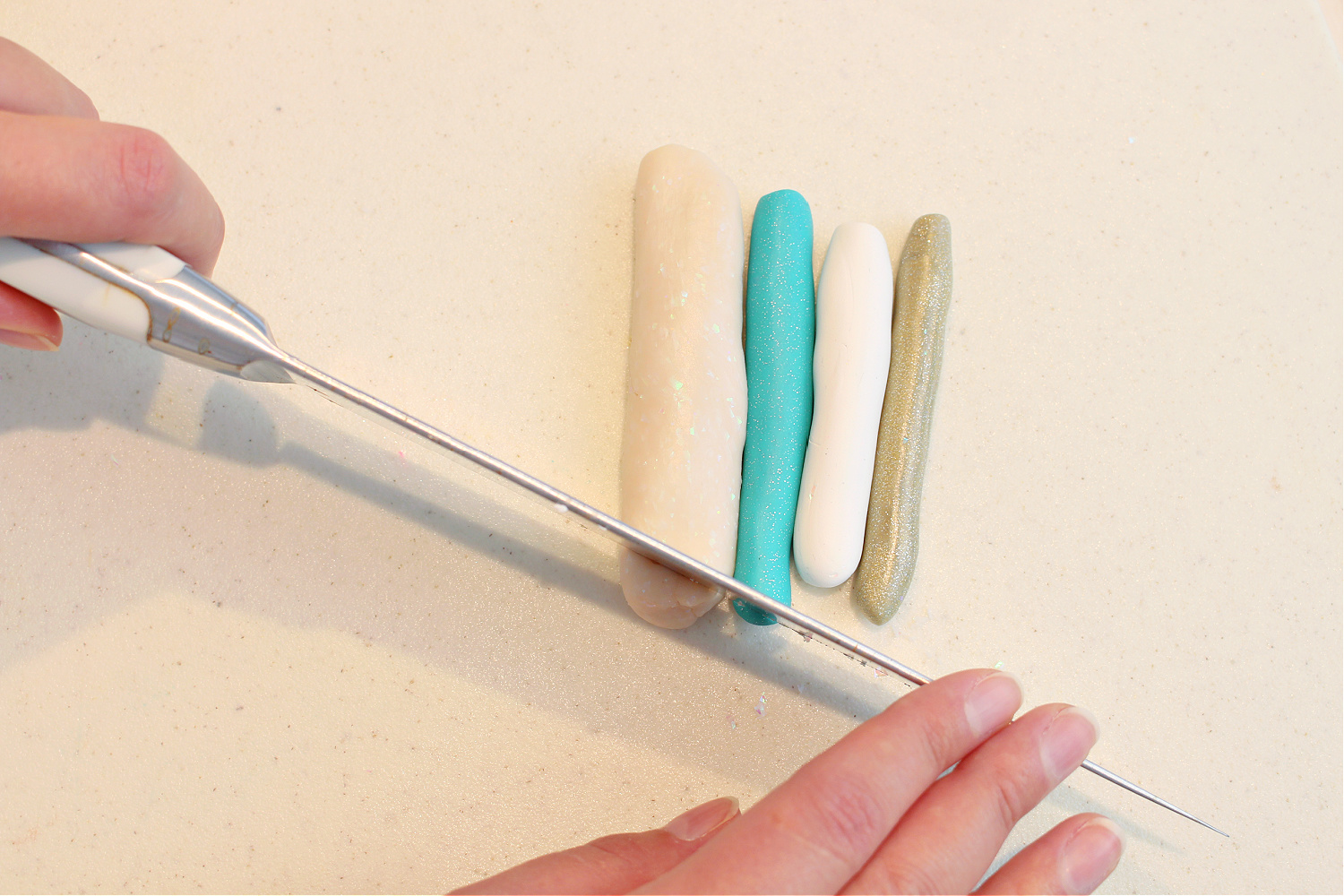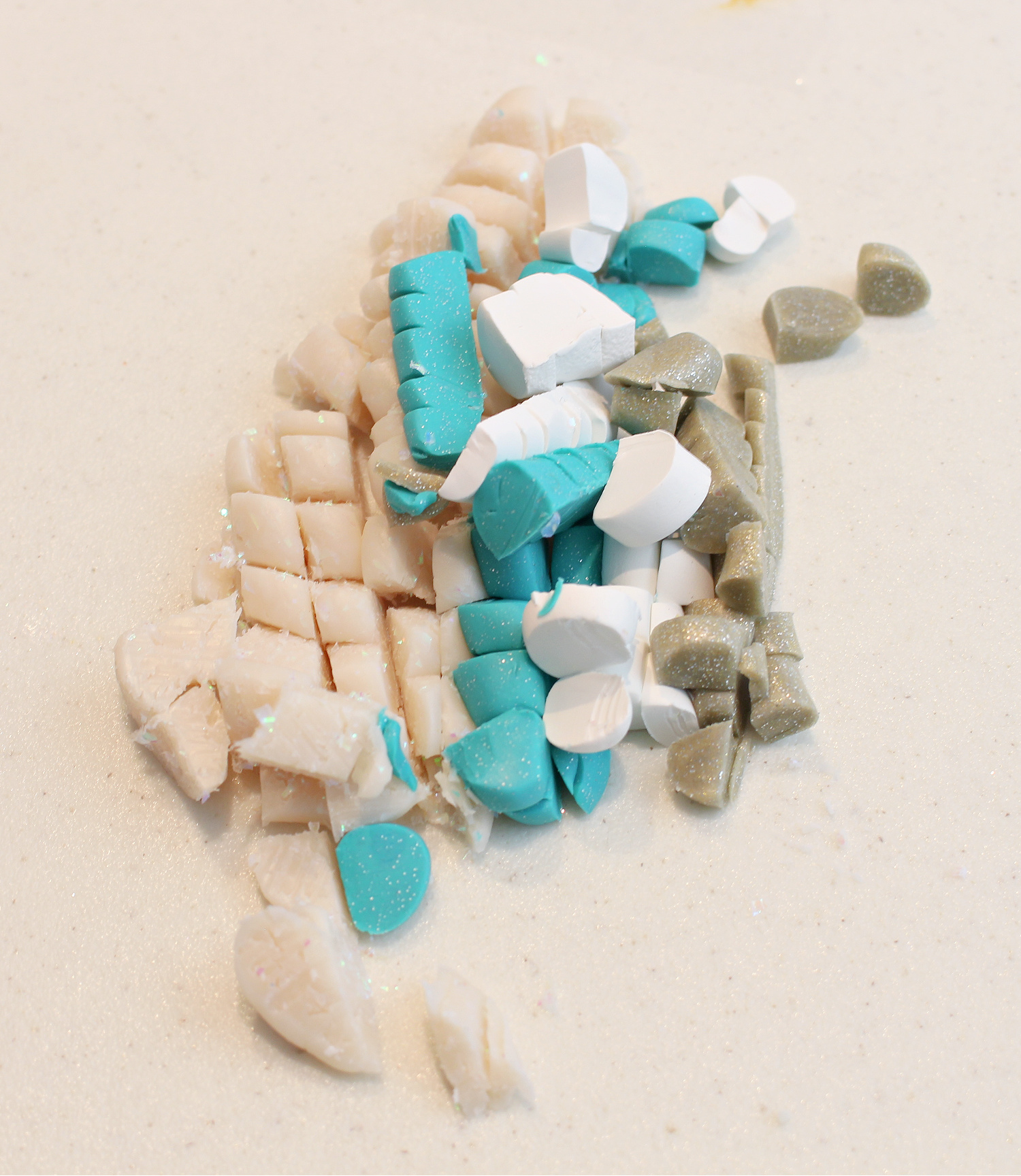 I poured on liquid polymer clay because I heard it helps everything stick back together again: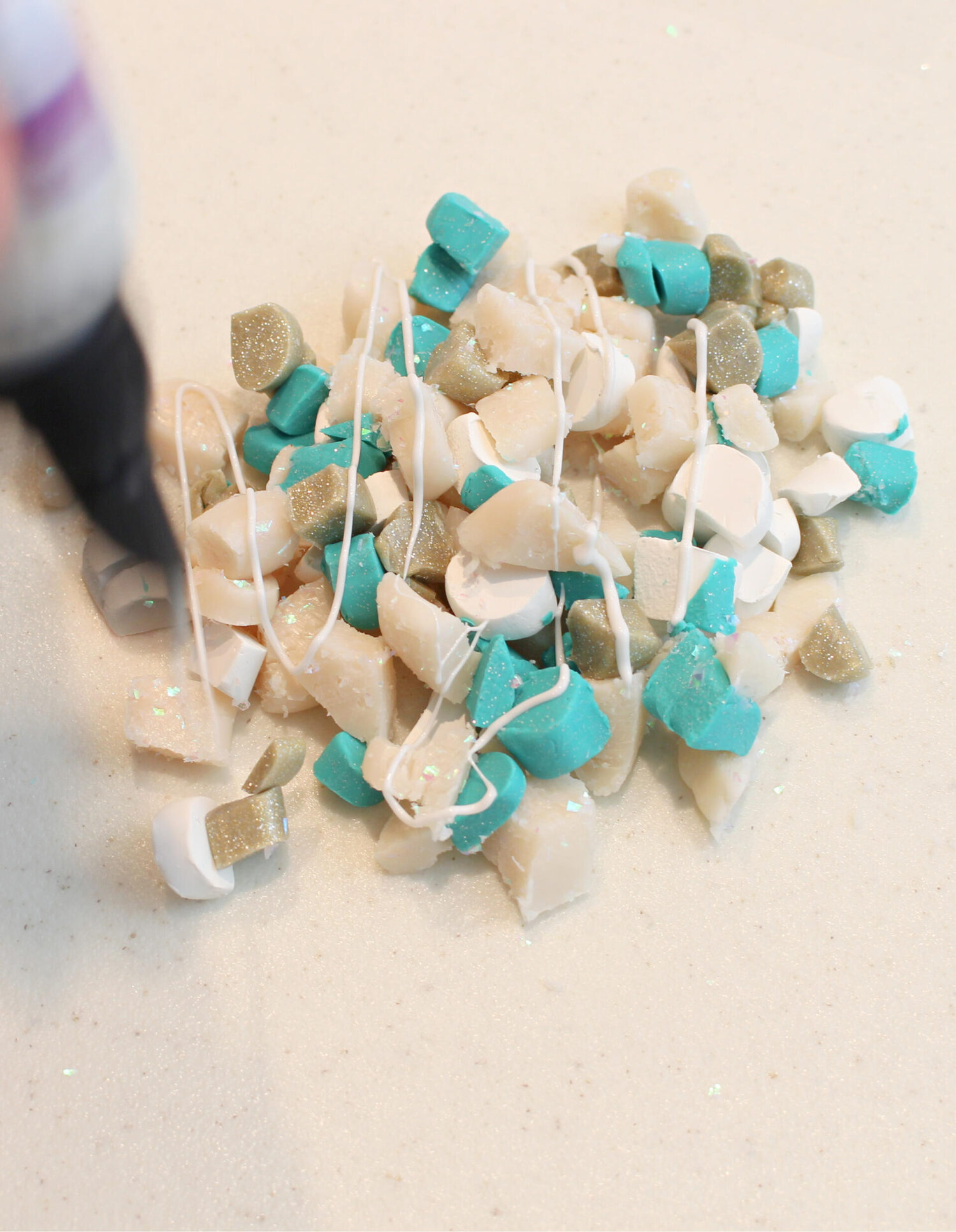 I mixed in some metal leaf, worked it in my hands into a ball, and then rolled it out into a squared off tube shape.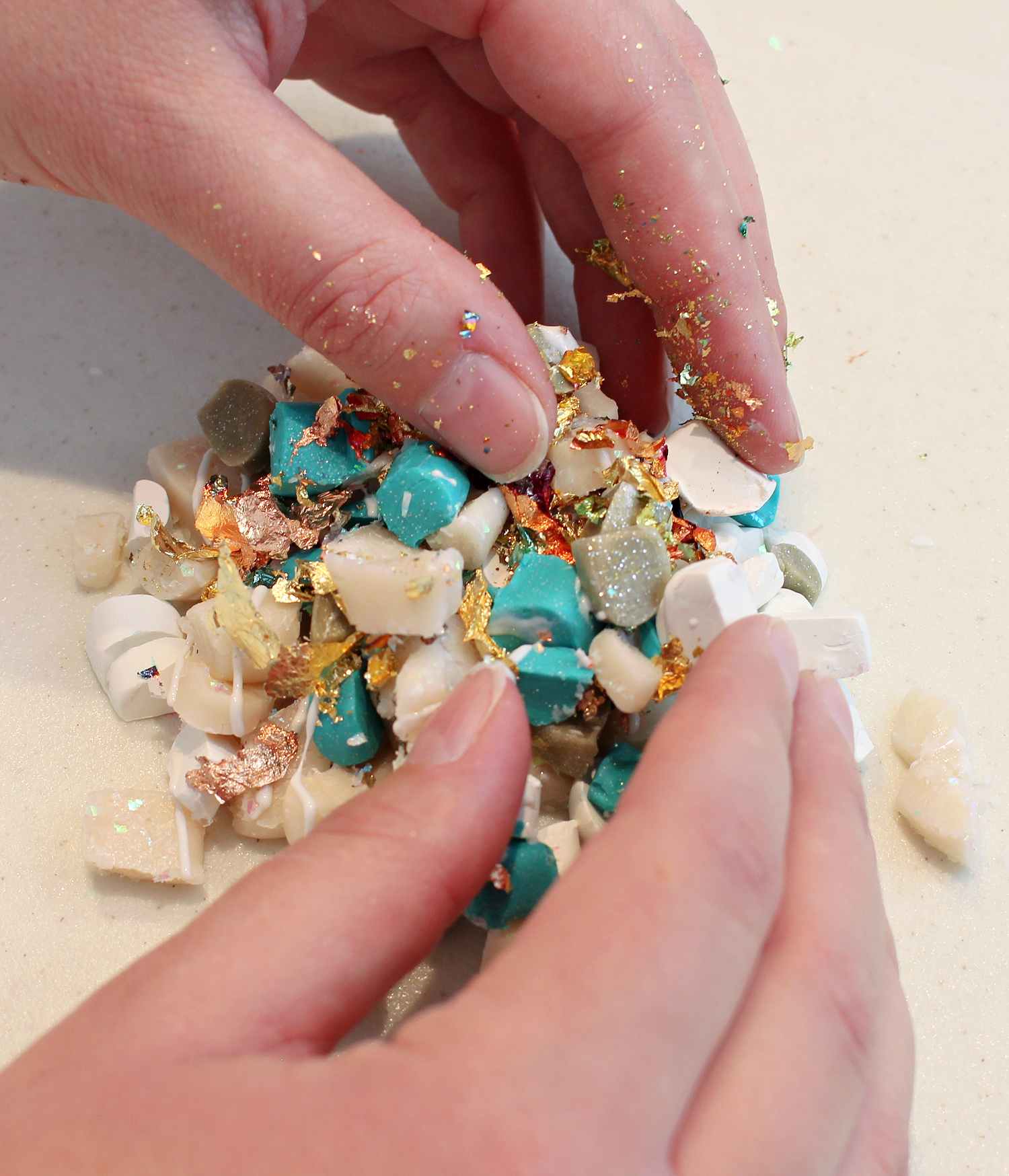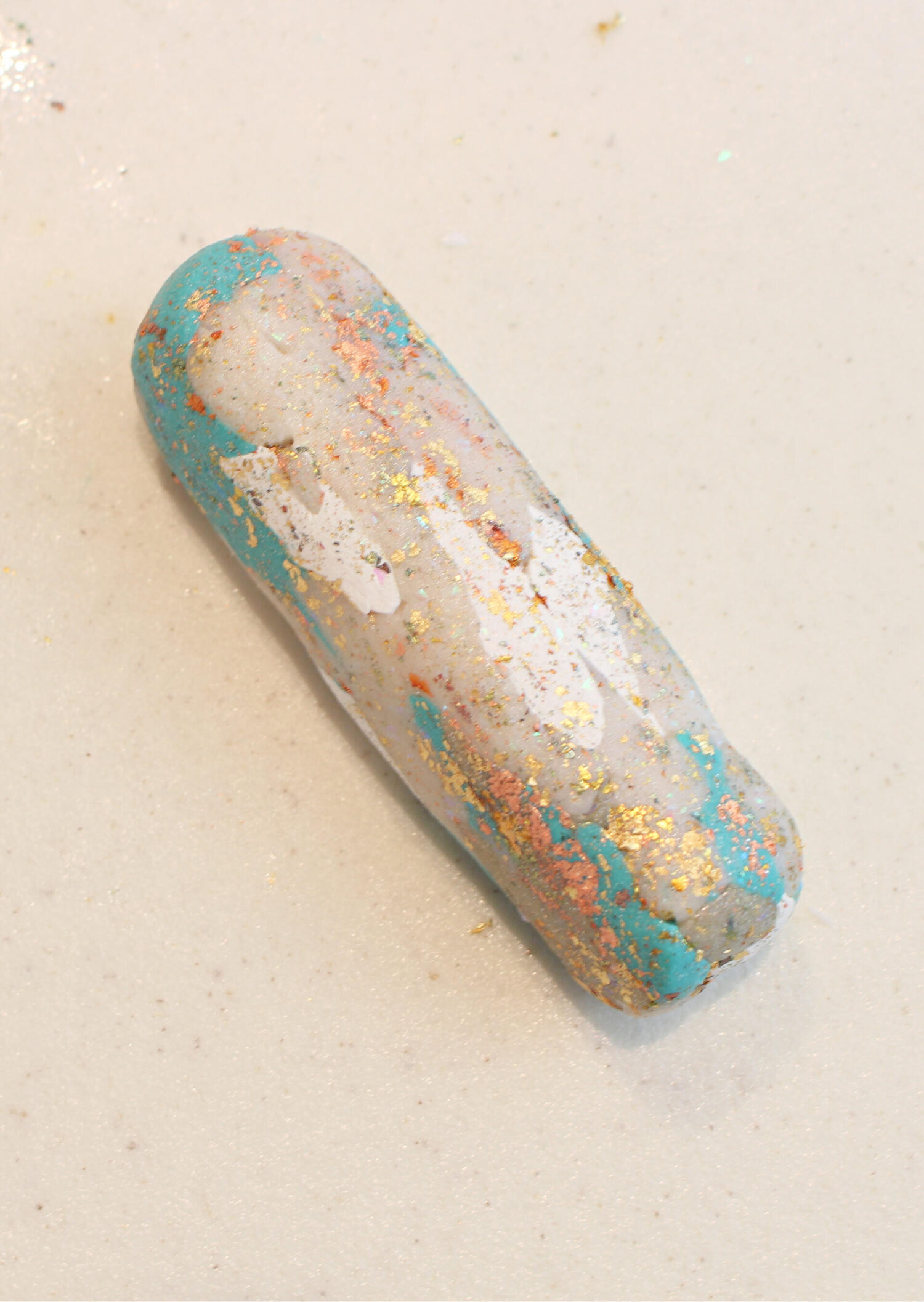 I sliced that into thick slices: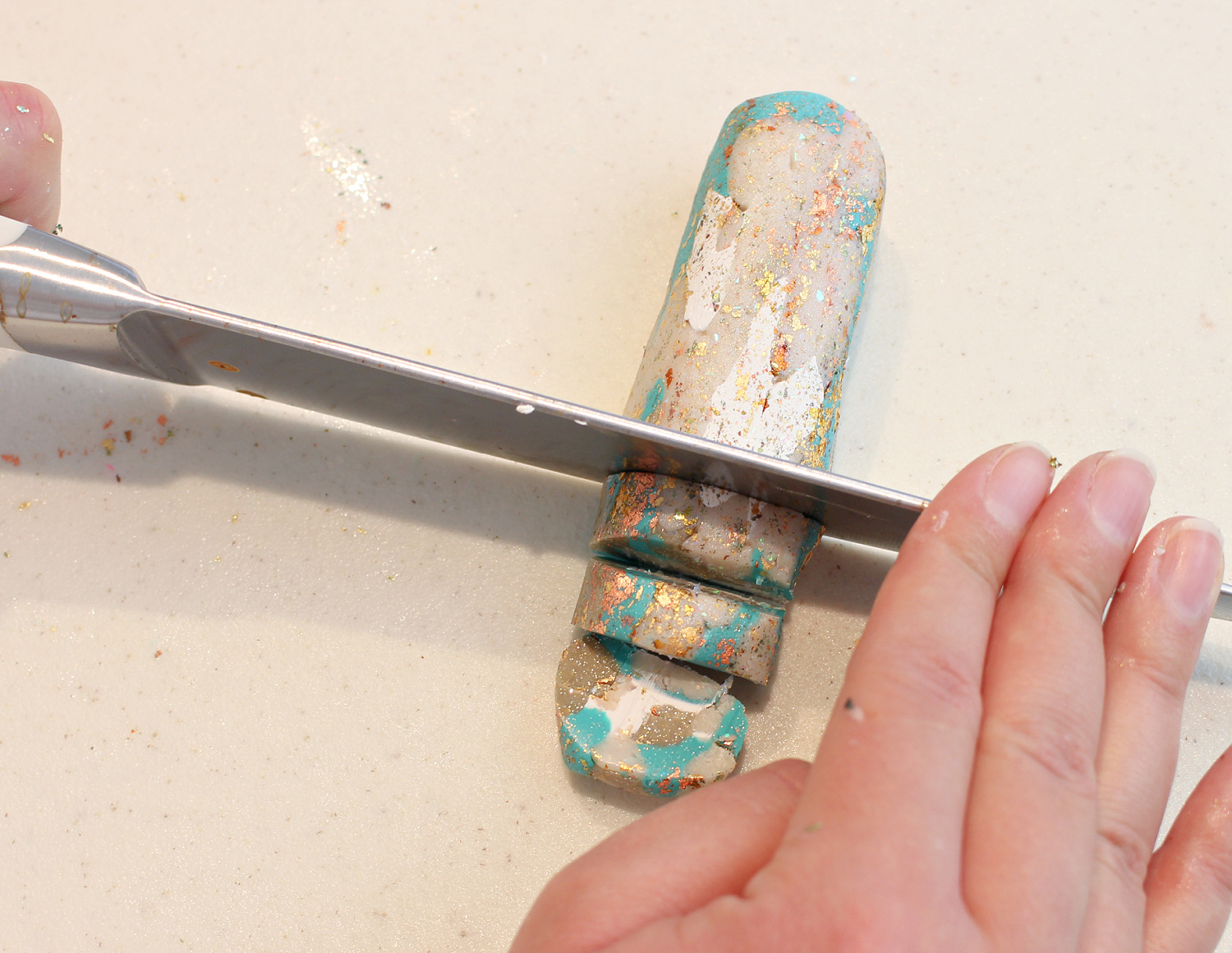 The I laid them together and rolled them out to form one sheet: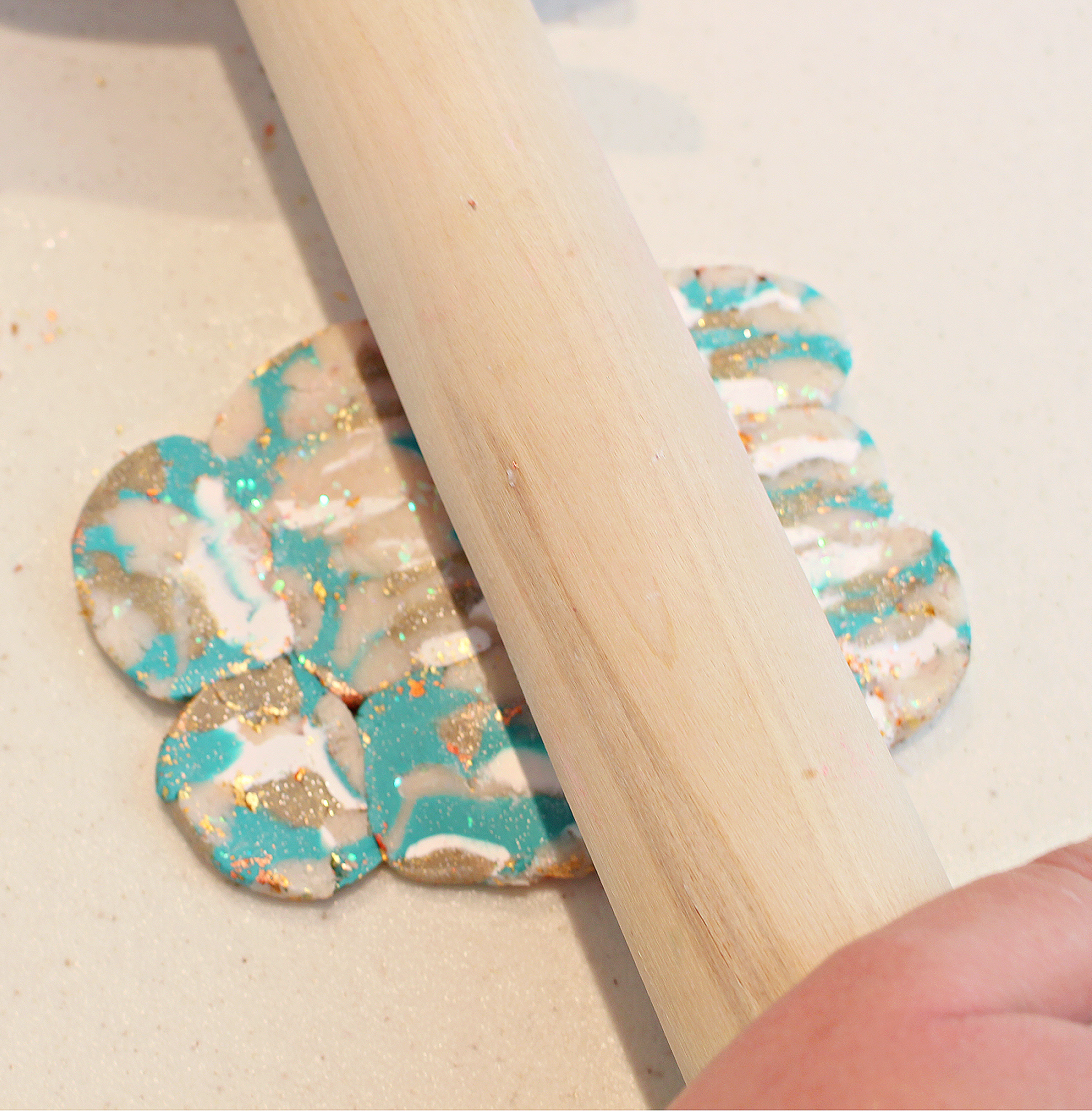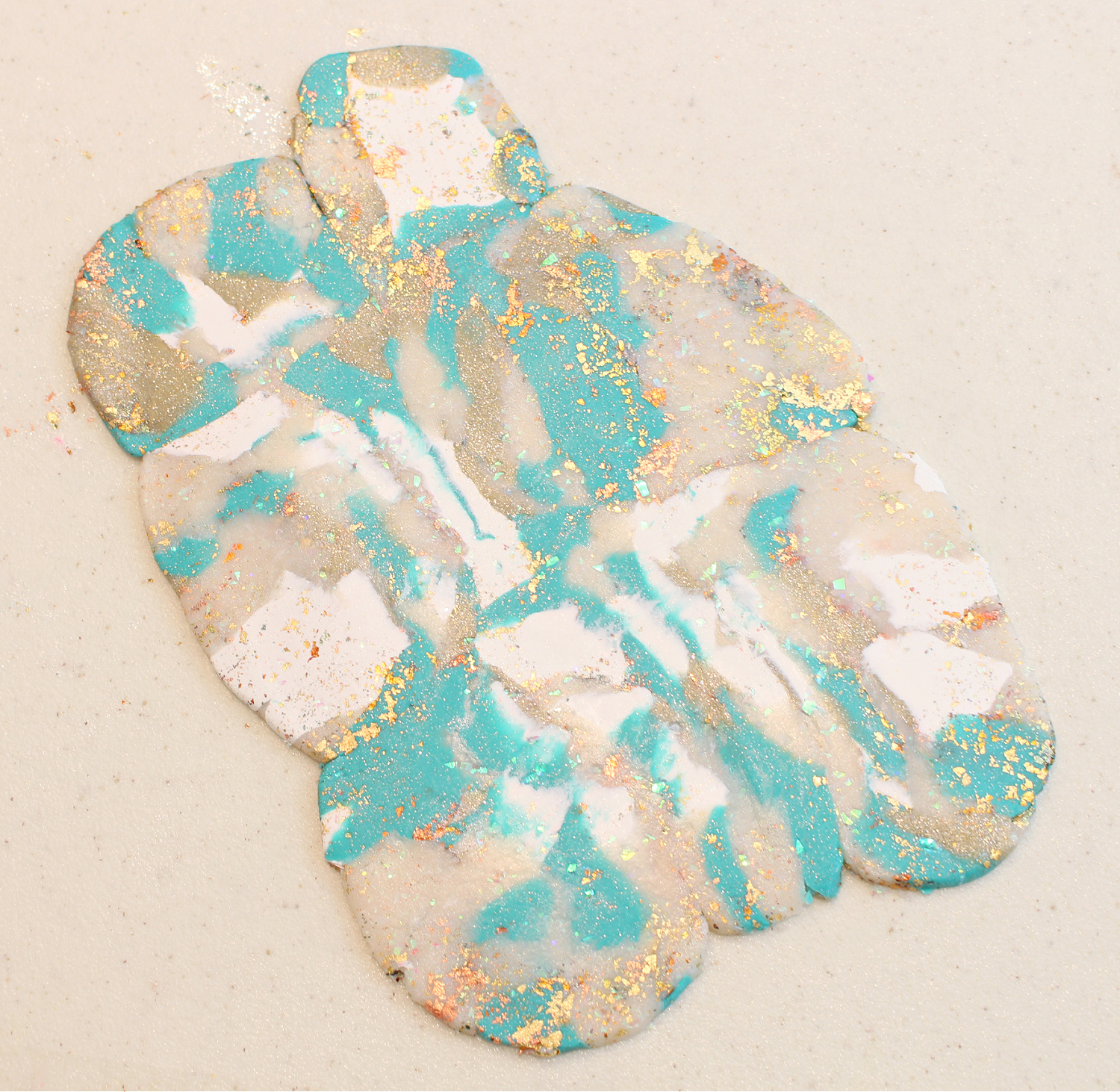 I used cookie cutters to cut out my shapes – the sharper, the better!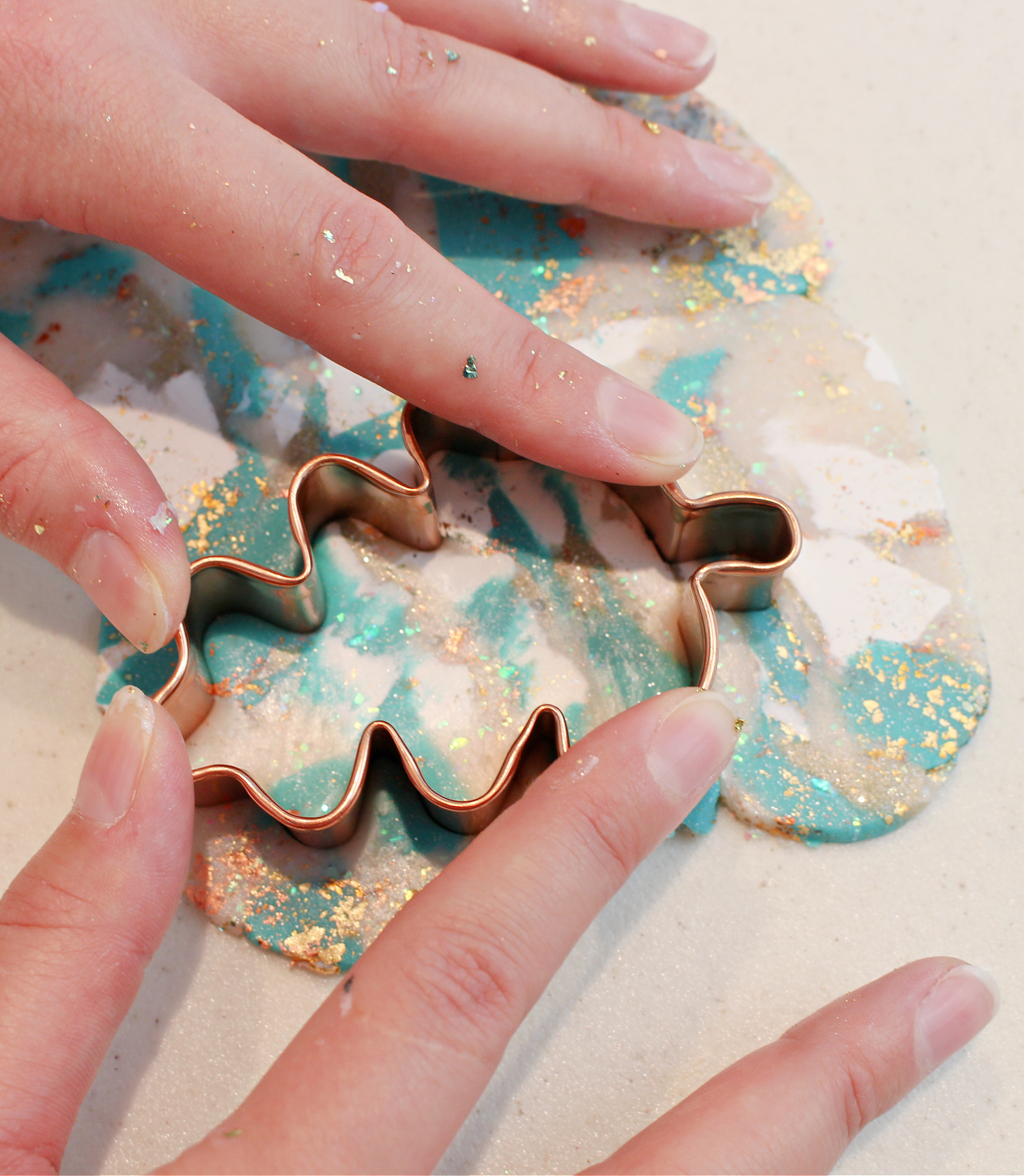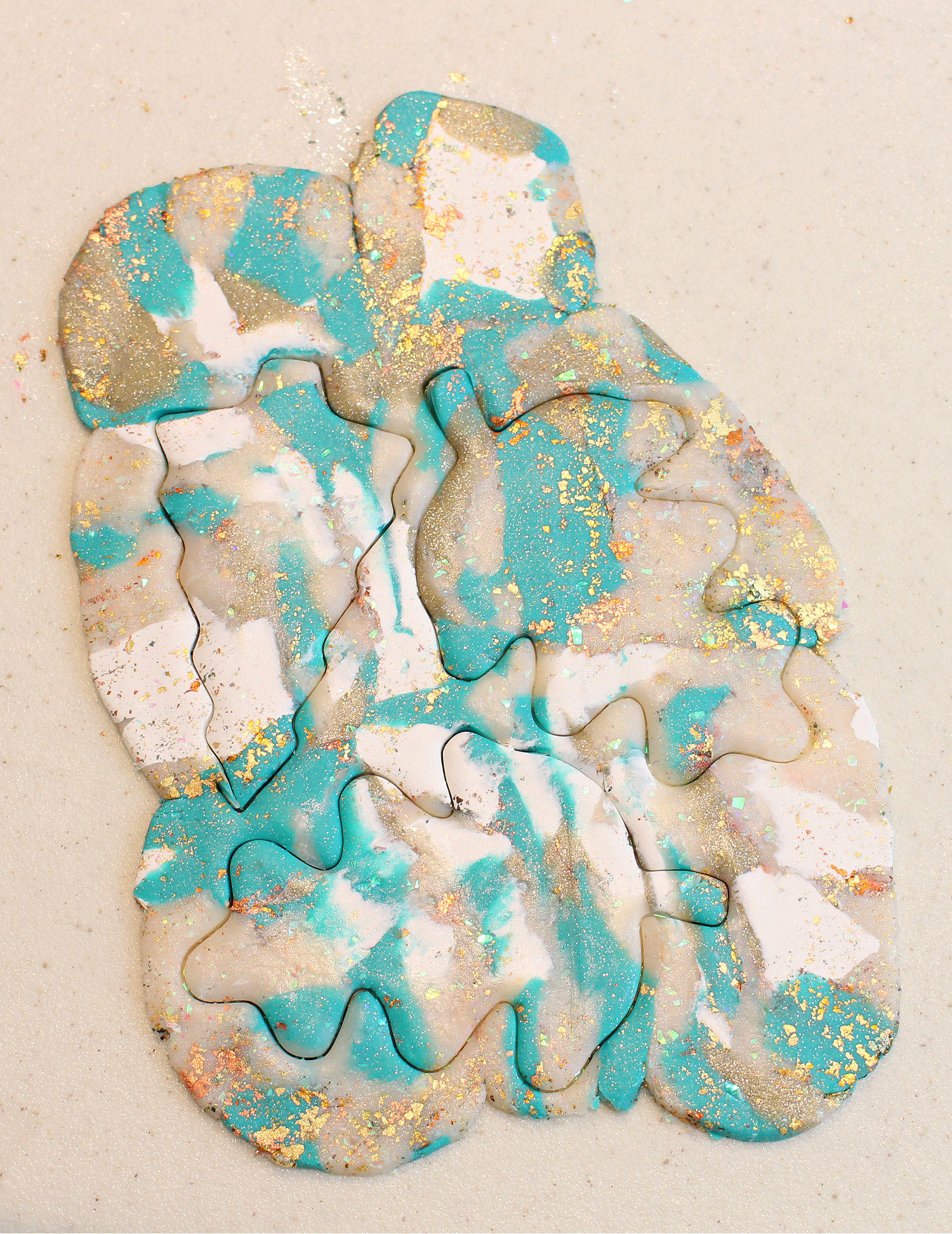 I used a straw to make holes for the top, so I can hang them with ribbon or hooks.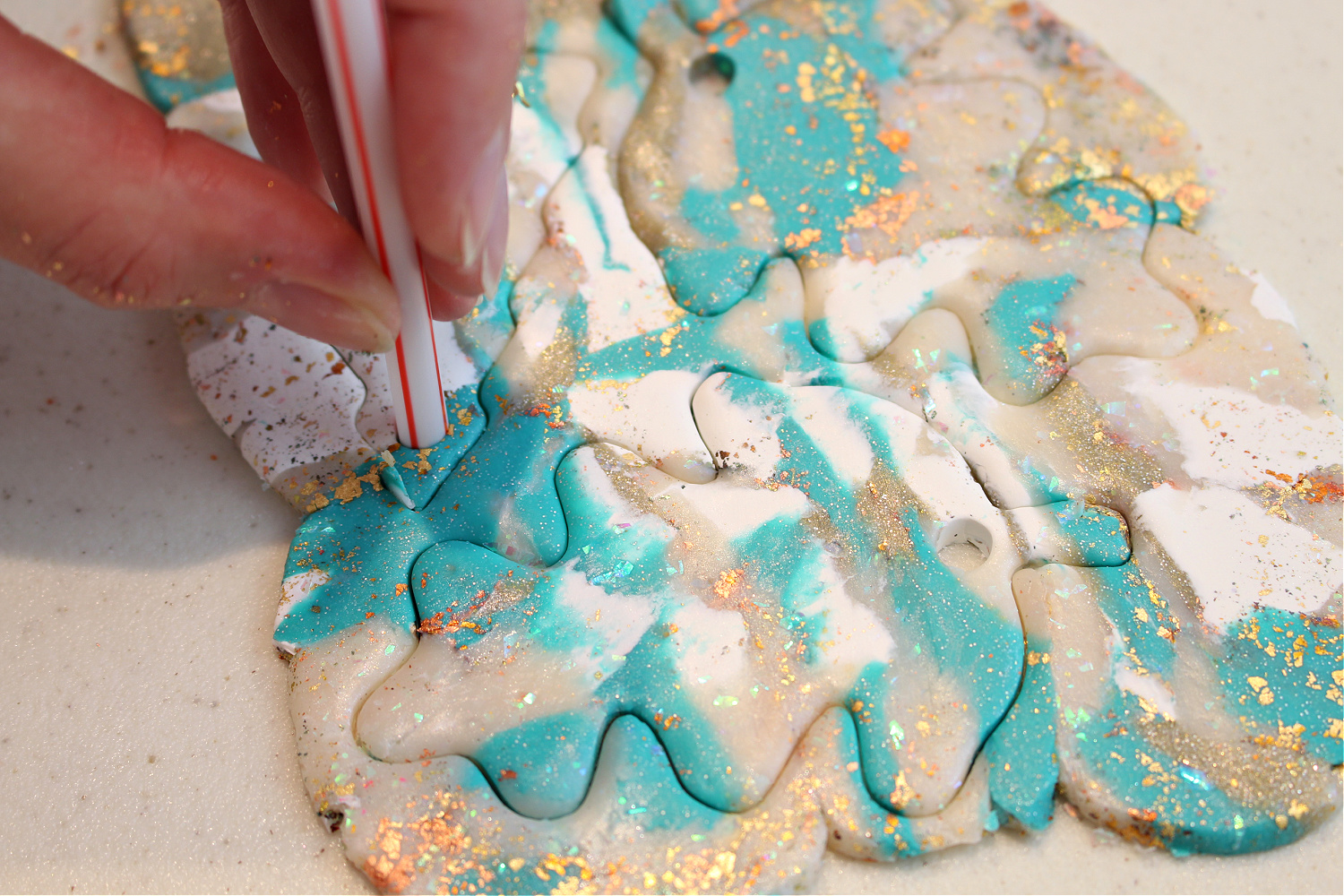 I baked my polymer clay ornaments at 275℉ for 15 minutes. The time to bake polymer clay will vary with the thickness: bake for 15 minutes for each 1/4″ of thickness. I have also read to bake for 30 minutes per 1/4″ but for me, 15 minutes was sufficient. Polymer clay should have a little flex to it when it's cooled – that's how you know it's baked correctly. Under baked polymer clay will be susceptible to breakage and could crumble. My DIY polymer clay ornaments are firm, but not brittle. Then I sanded the edges (outside, wearing PPE) using 120 grit and then 220 grit sandpaper, before rinsing clean.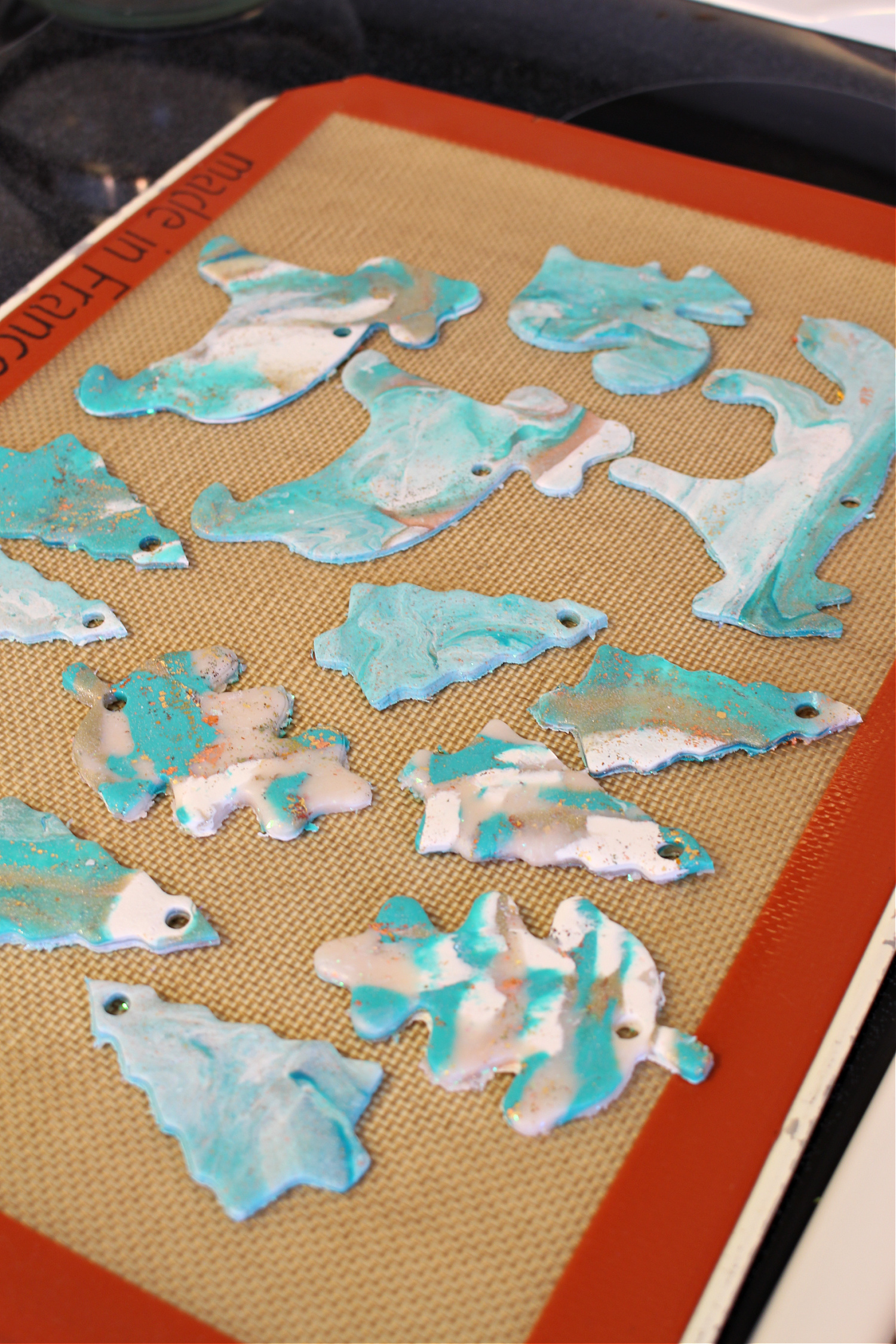 After I cut out my first batch, I rolled the scraps into a ball and then rolled it out again, which is how I got the softer, marbled effect for some of the ornaments – a look I actually prefer to what I called the "stained glass" effect of the first batch, shown in the steps above.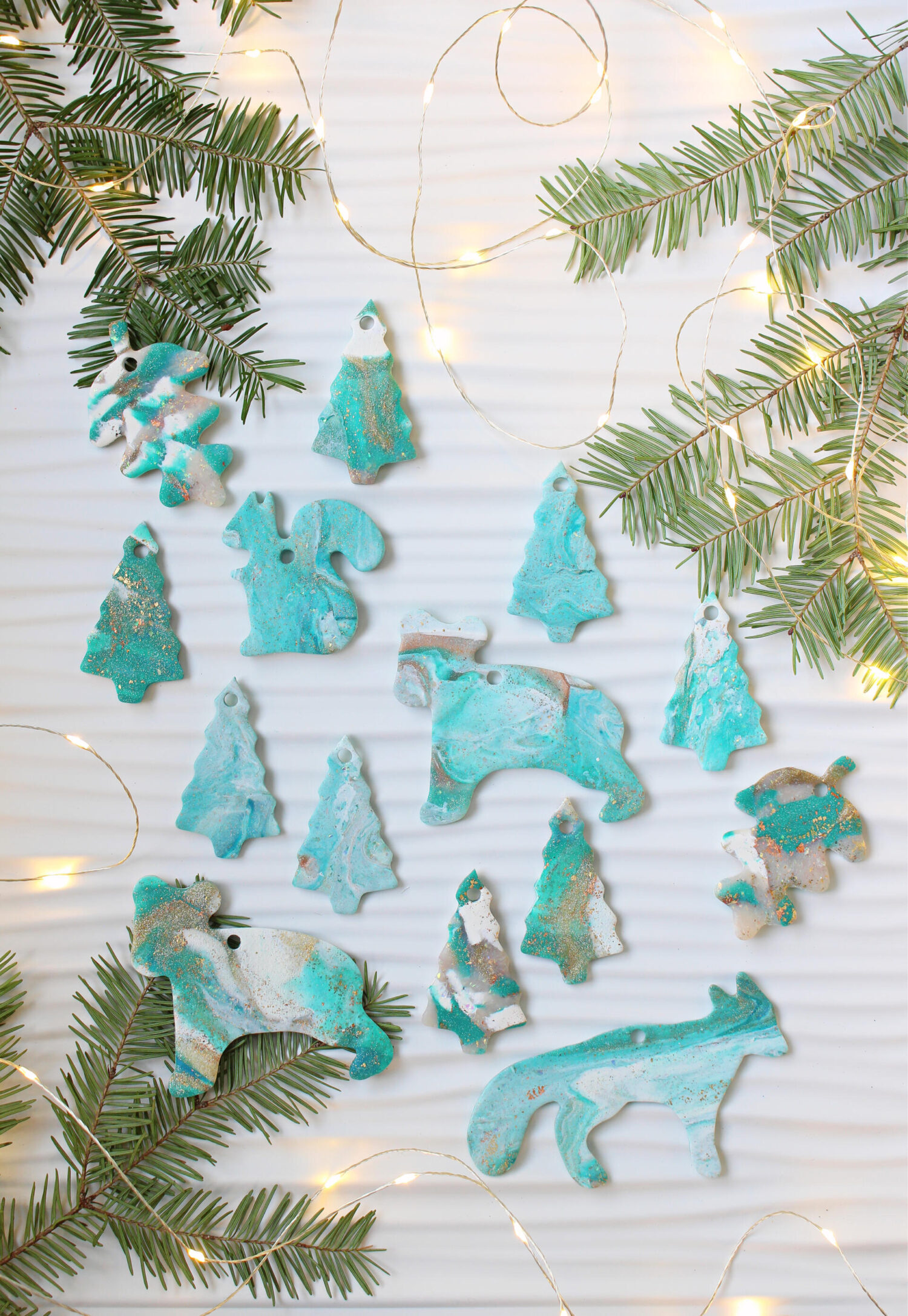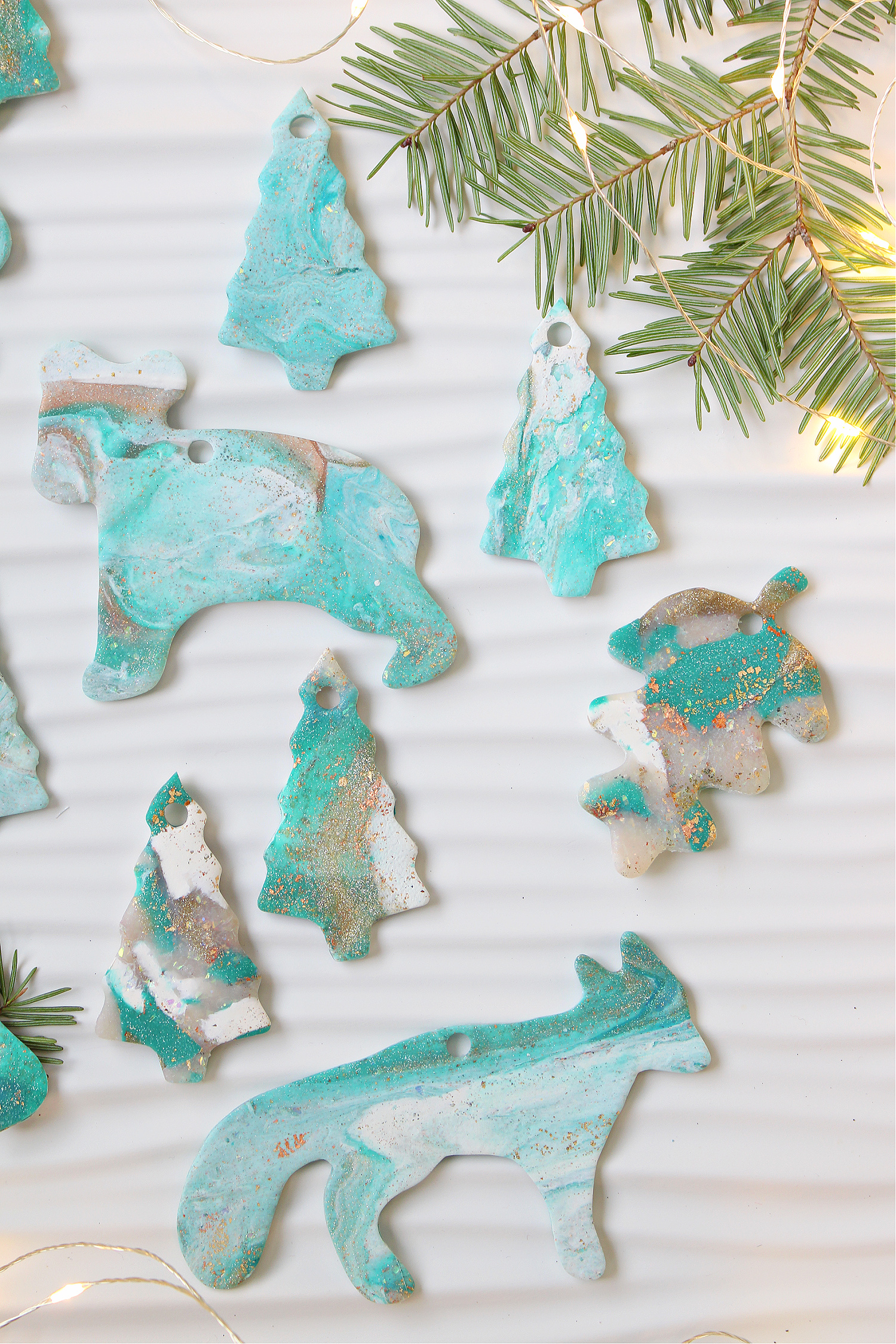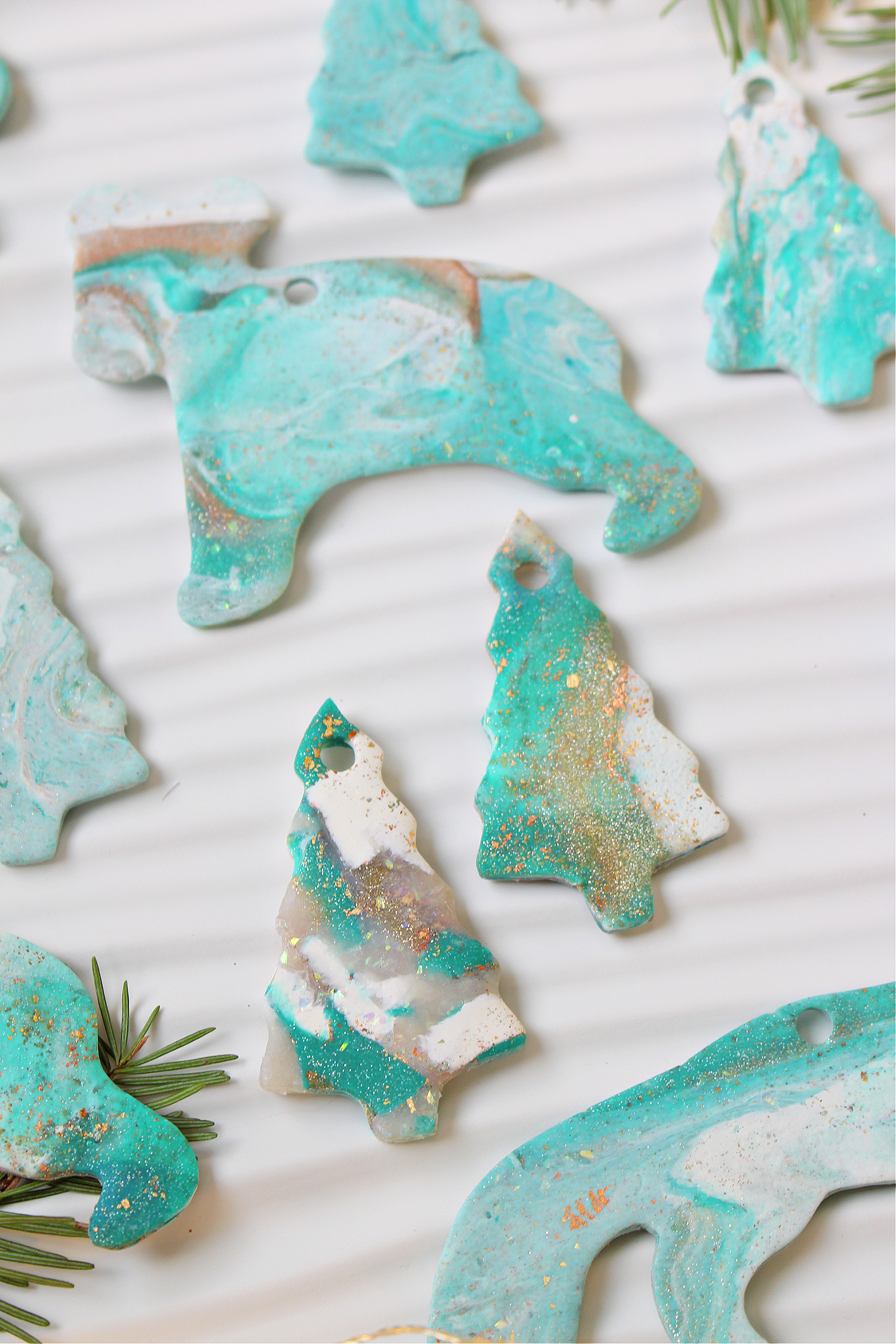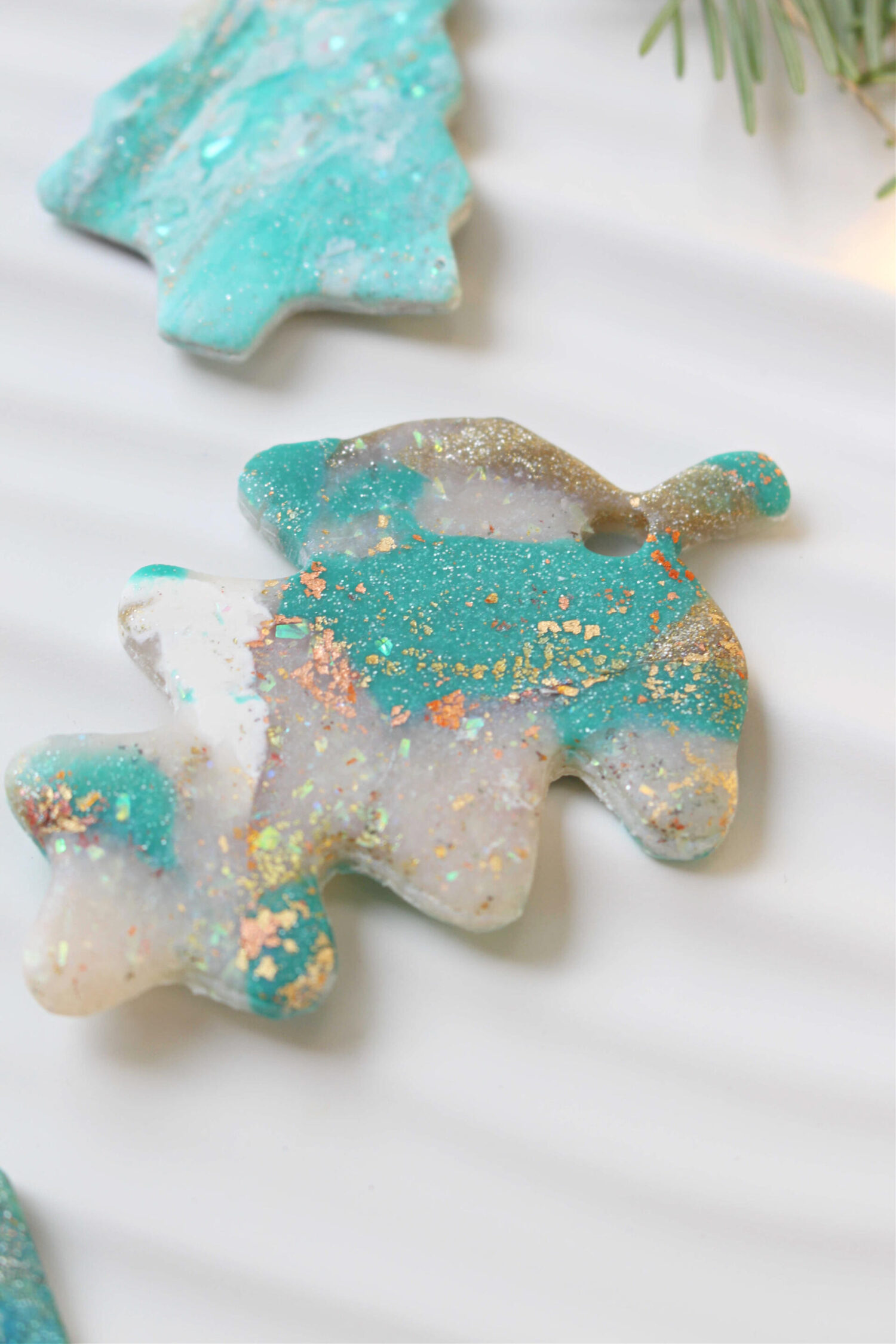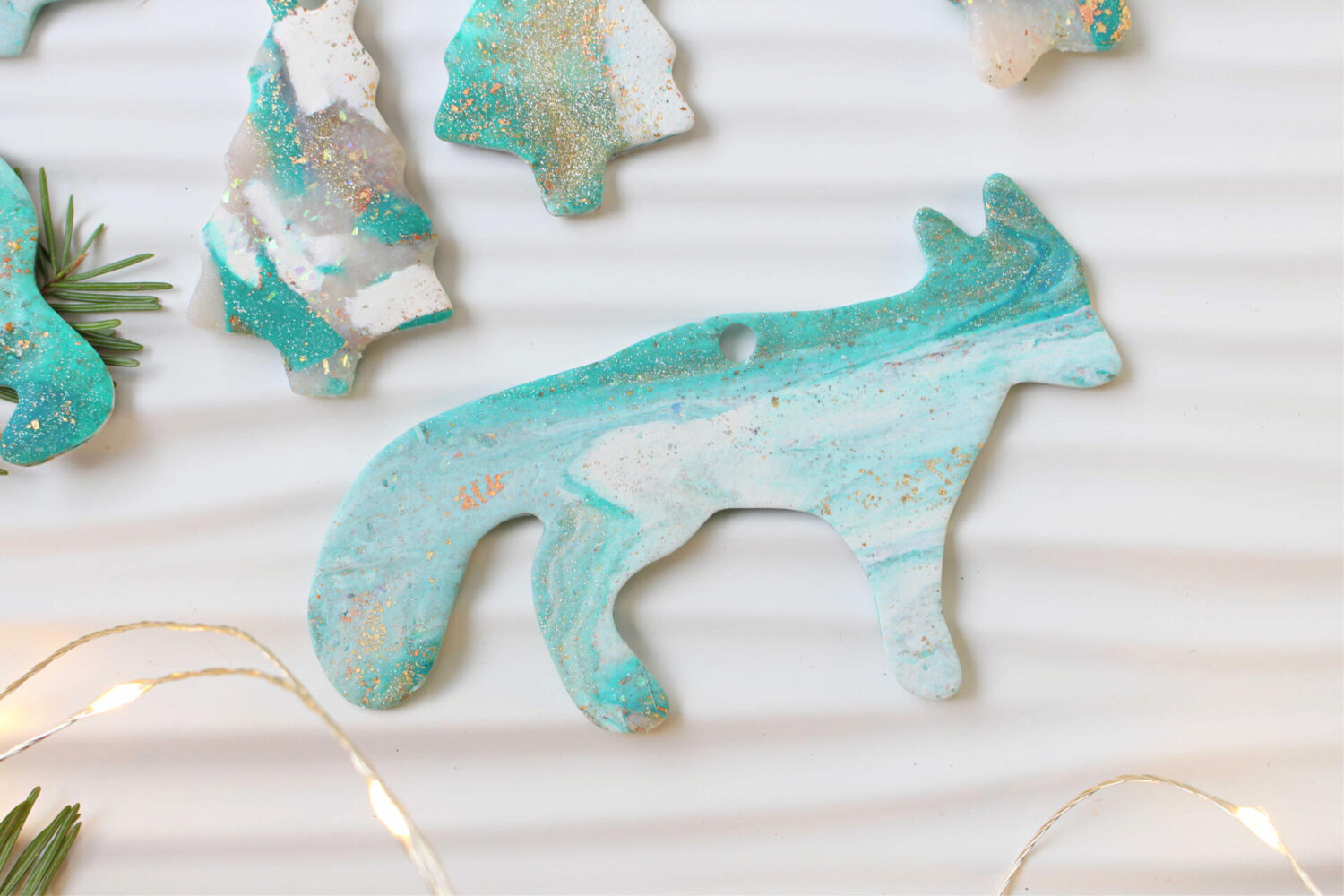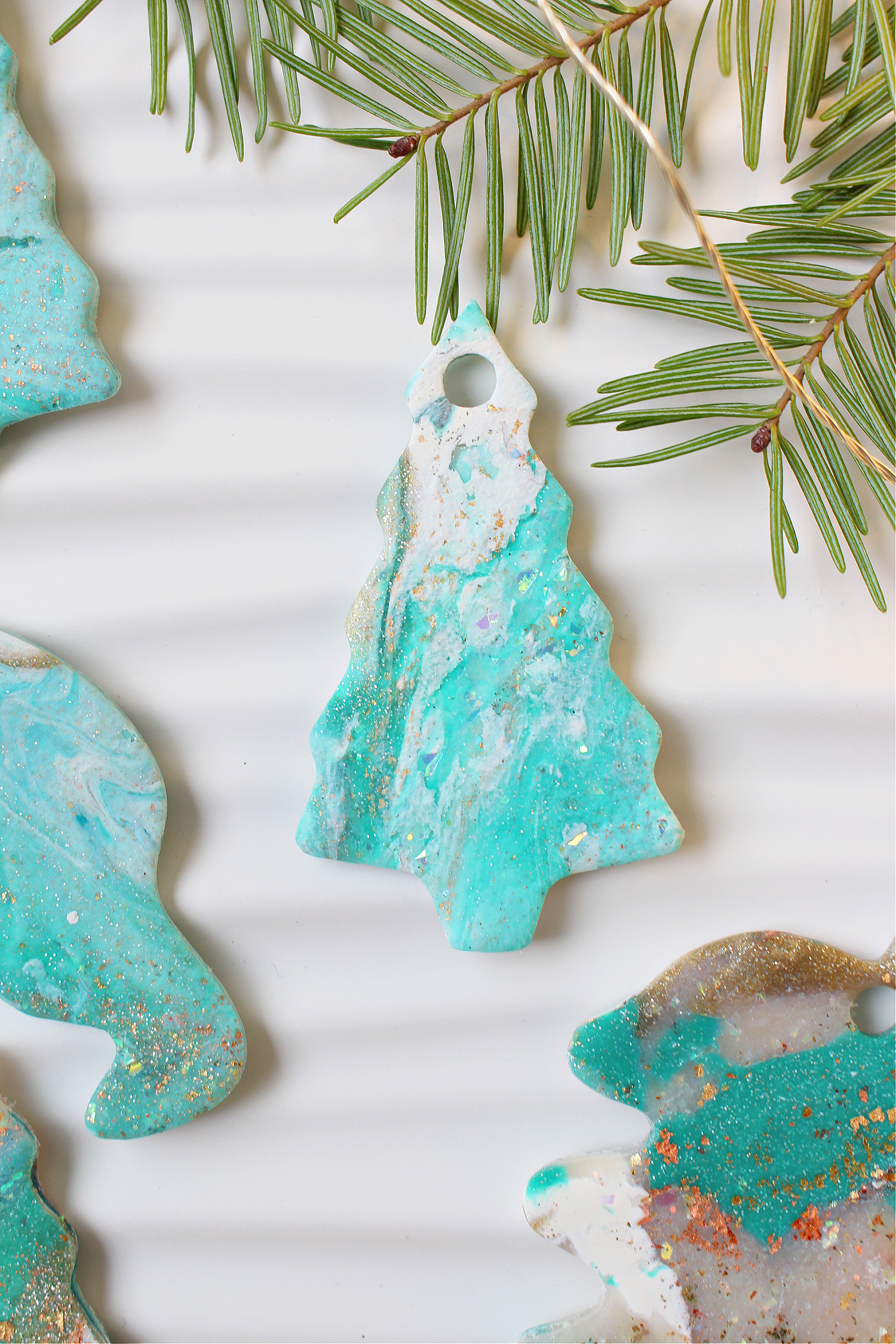 Here they are on the tree:
The glitter from the clay and also the gold leaf I mixed in really catch the light – and some of these DIY clay ornaments positively glow! It's the translucent clay, that's the trick. See a video of how they look on the tree here, and check out the photos below.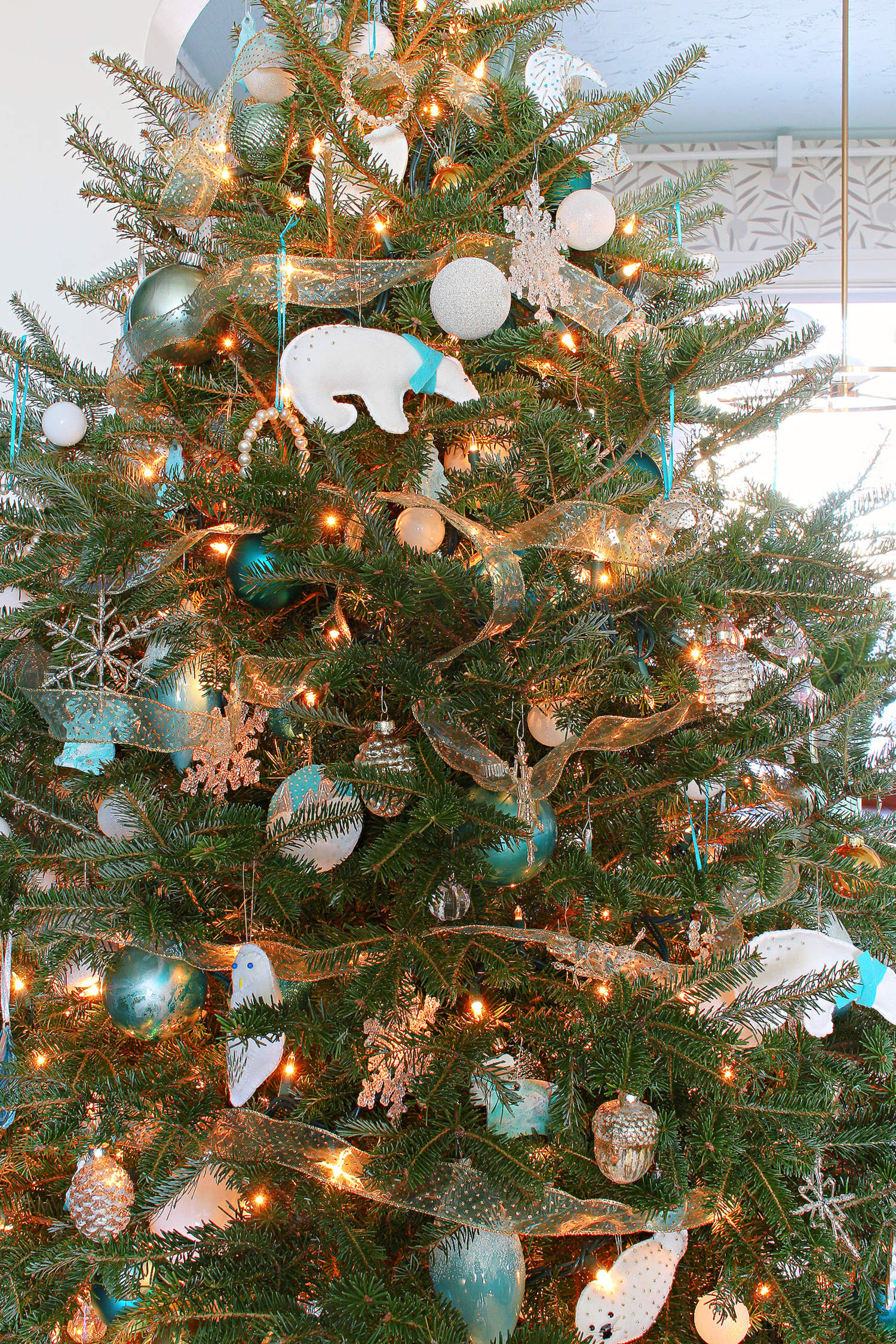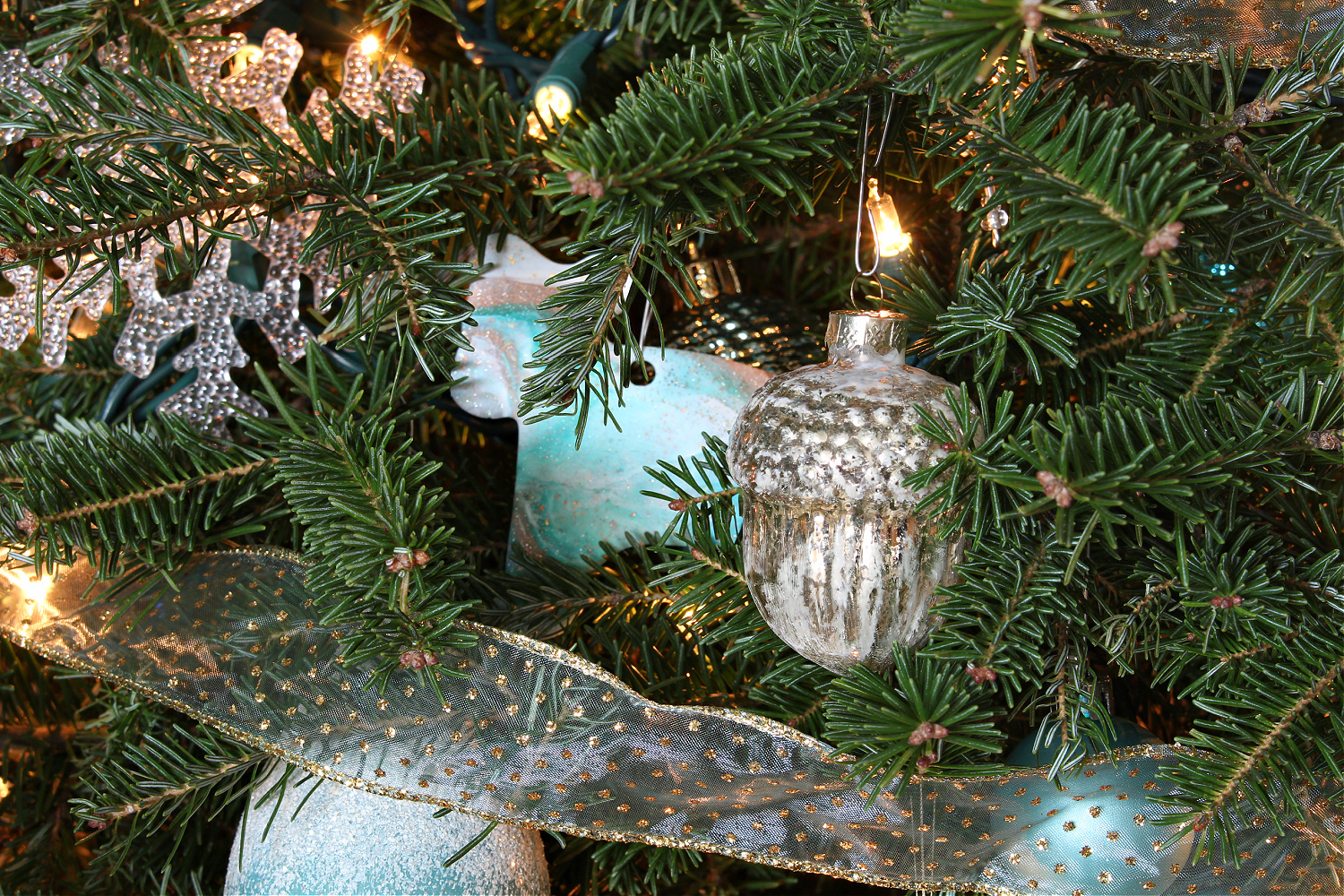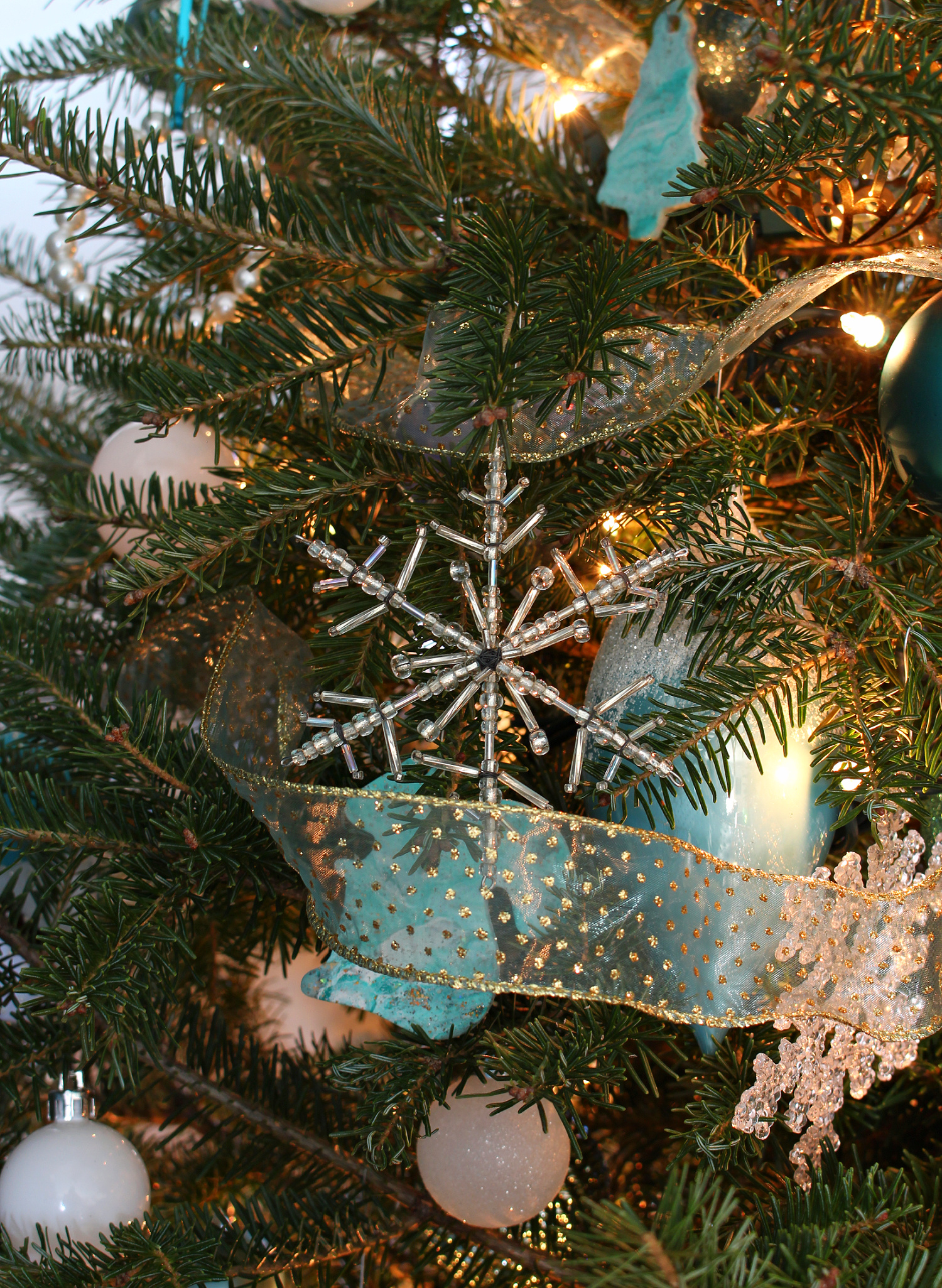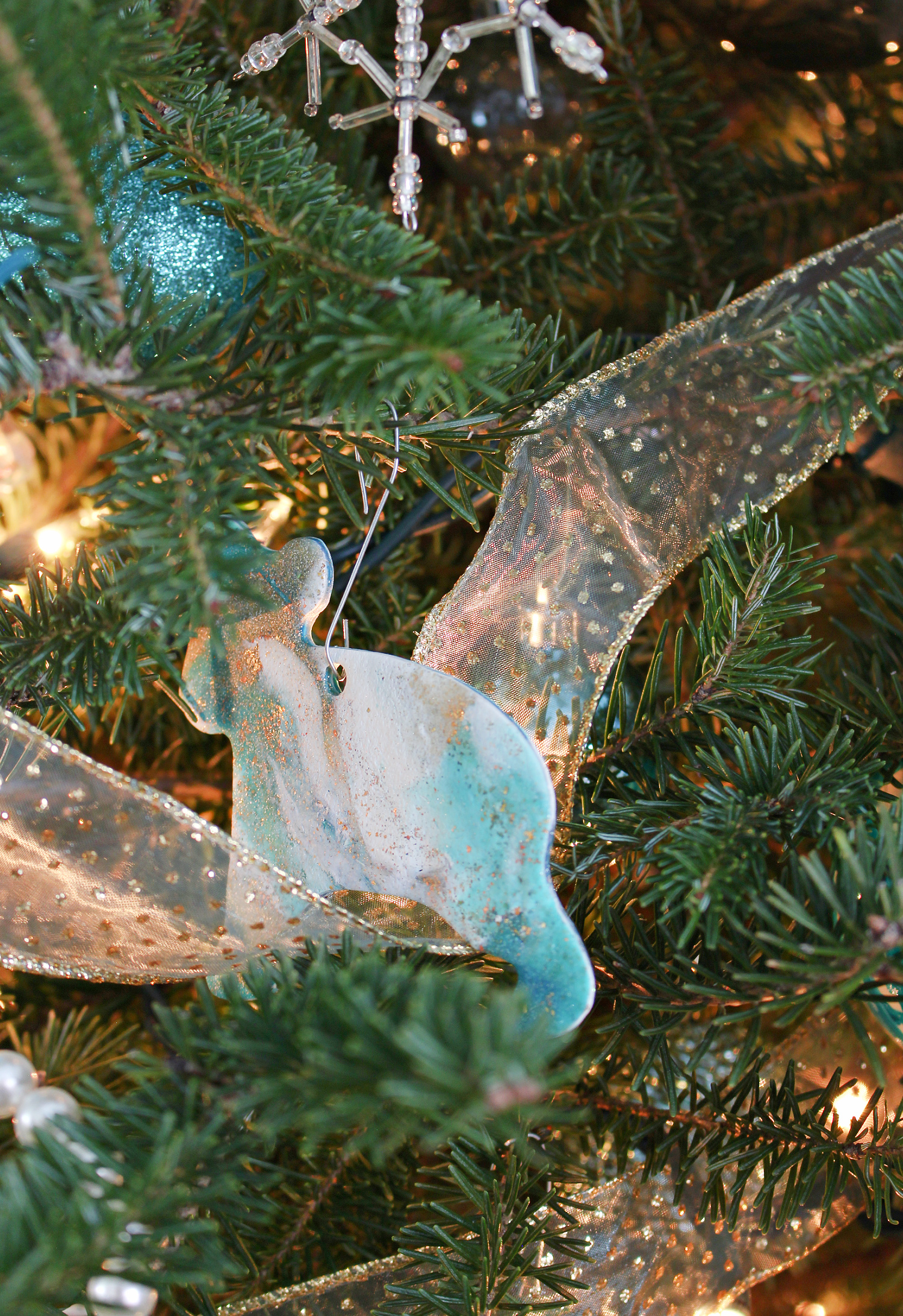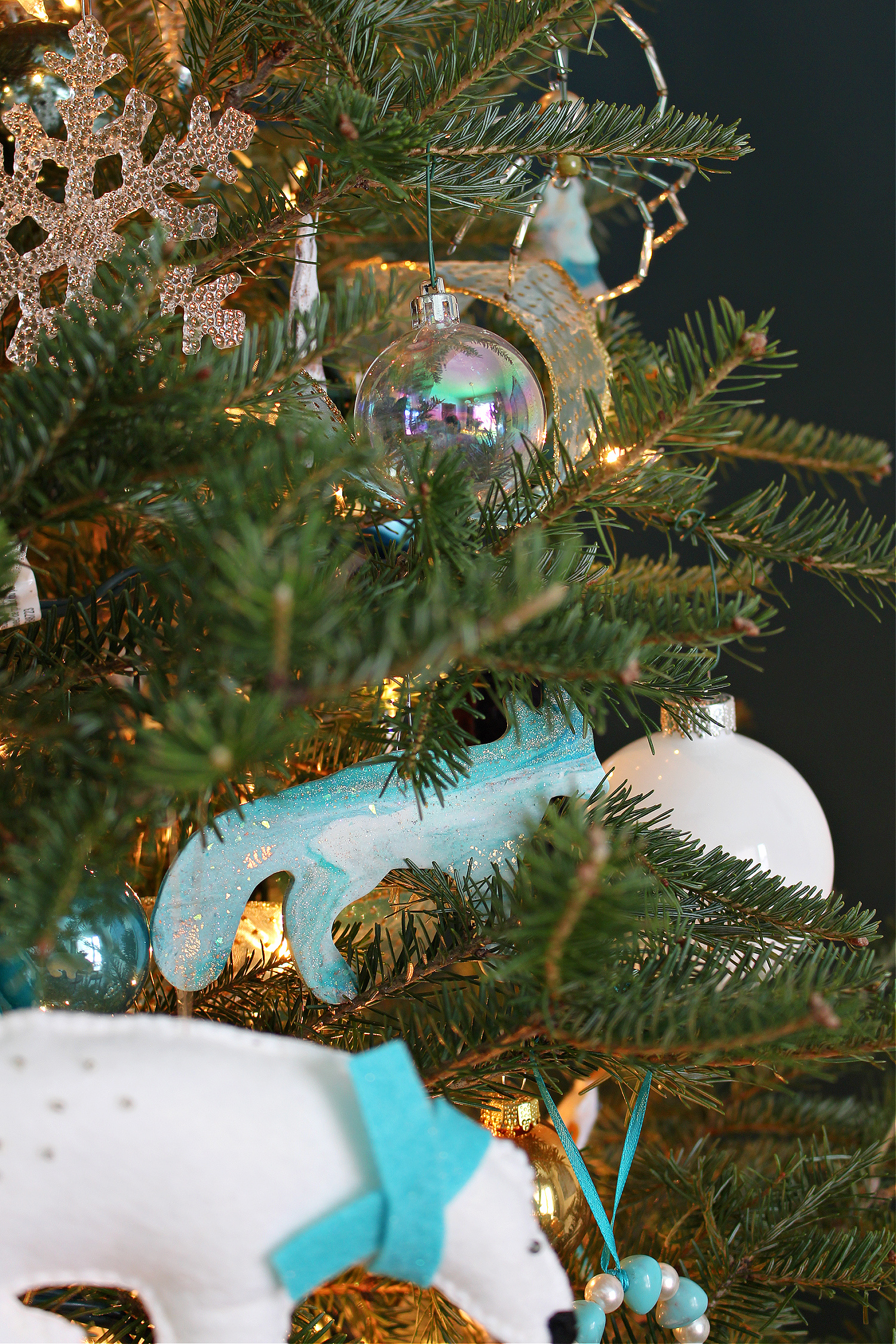 P.S. Don't Forget to Pin for Later!