Every season I re-decorate my Mom's blue painted fireplace for her, and she looooves this year's monochromatic turquoise spring mantel decor! This year we kept the mantel decor very simple: it's a mix of vintage turquoise pottery, faux flowers/plants, and an easy DIY Easter egg tree (a slightly altered version of the one I shared last year) – plus a real bird's nest I found last fall (which Mom promptly stole).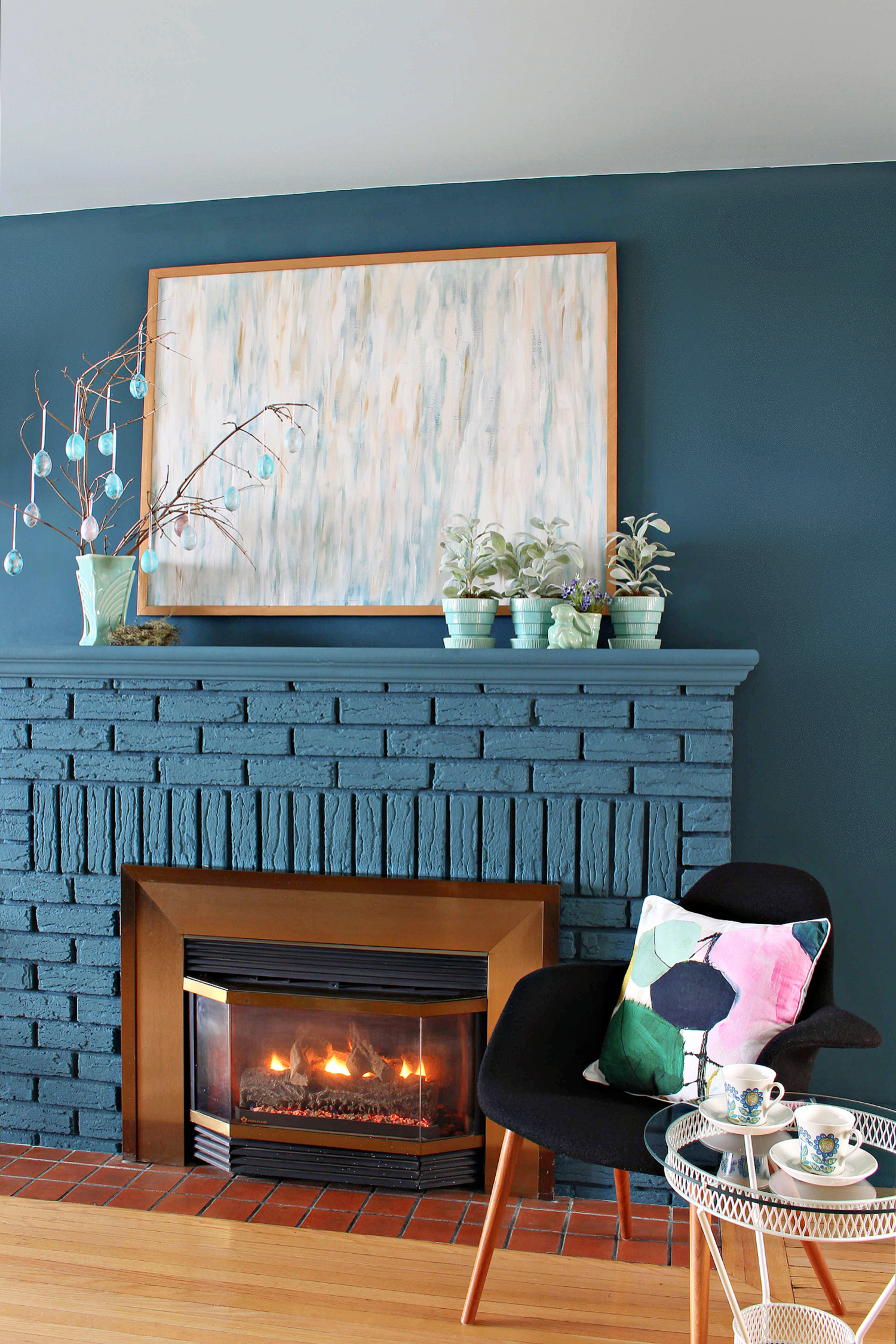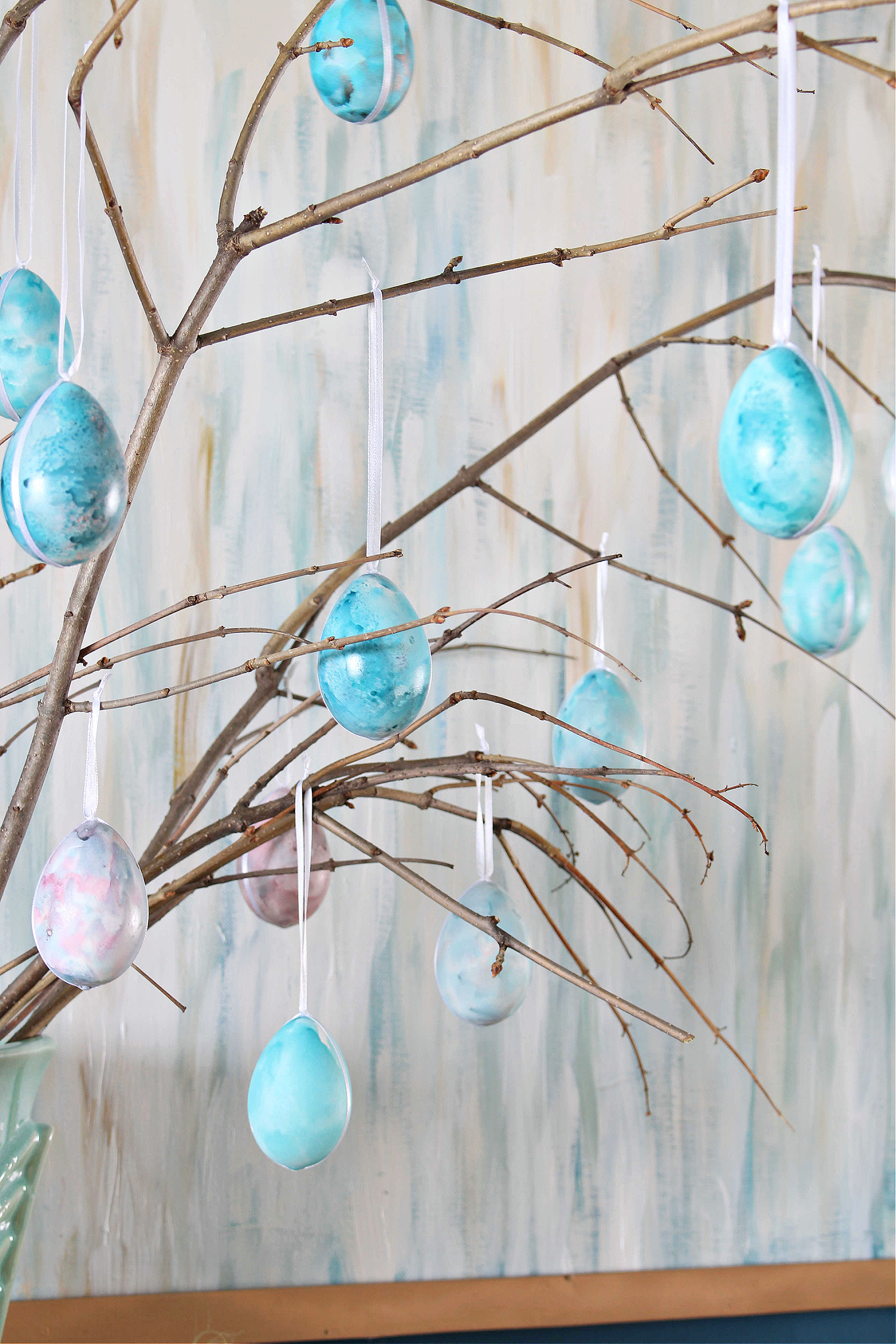 Vintage McCoy Basket Weave Planters
We shopped her house and mine (including our backyards) for this monochromatic turquoise spring mantel decor – we didn't buy a thing, not even fresh blooms. Normally I love adding fresh flowers to spring decor, but this time I reused some faux. You might remember the vintage turquoise McCoy planters (with faux lamb's ear) from last year's more eclectic, coastal inspired summer mantel decor (although I've used them a lot, over the years). They're pretty easy to find on Etsy, and were originally made in lots of different colors.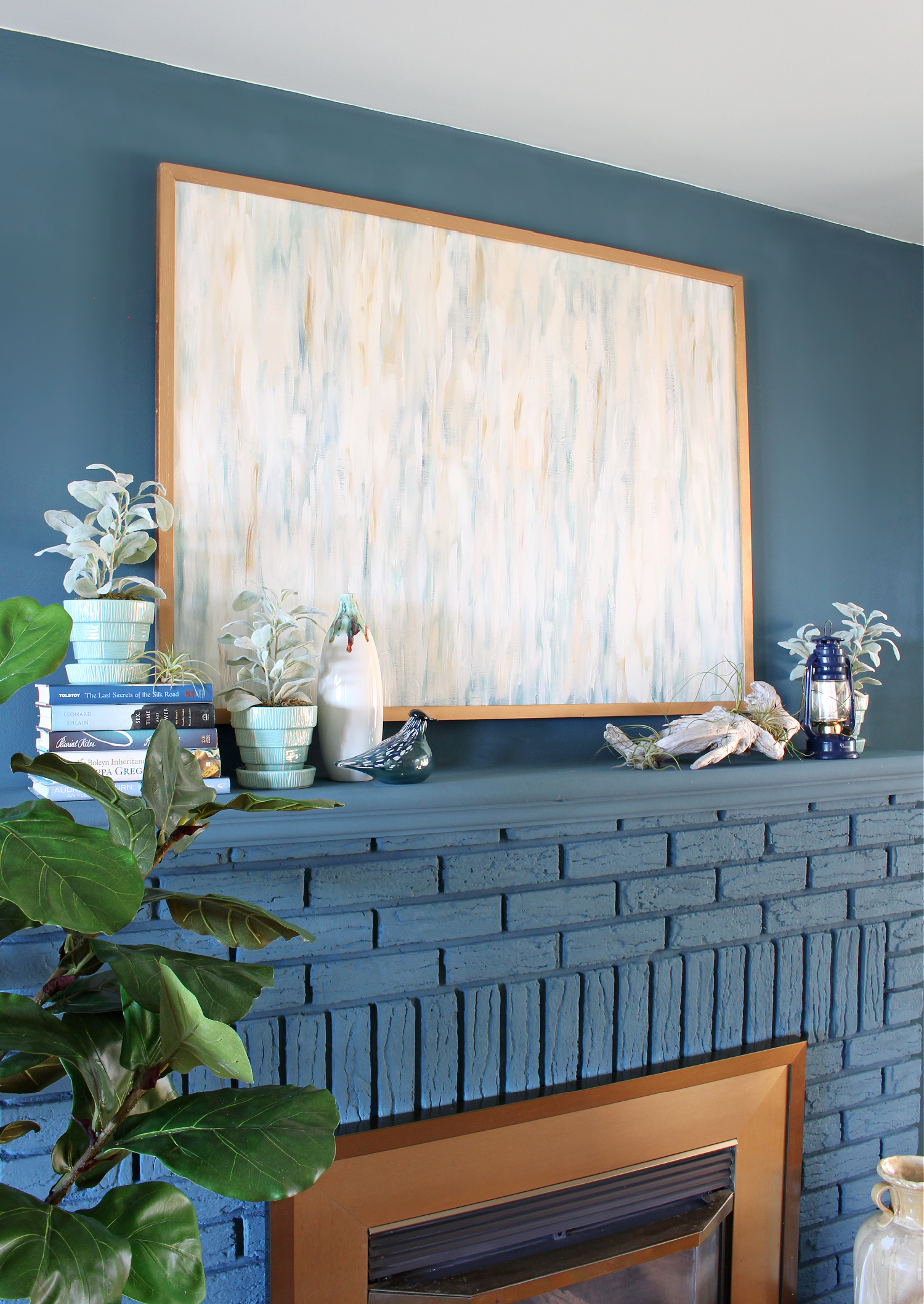 Turquoise Art Deco McCoy Pottery Vase
The vintage McCoy vase, holding this year's Easter egg tree, was featured in last year's Christmas decor, on her dining room table: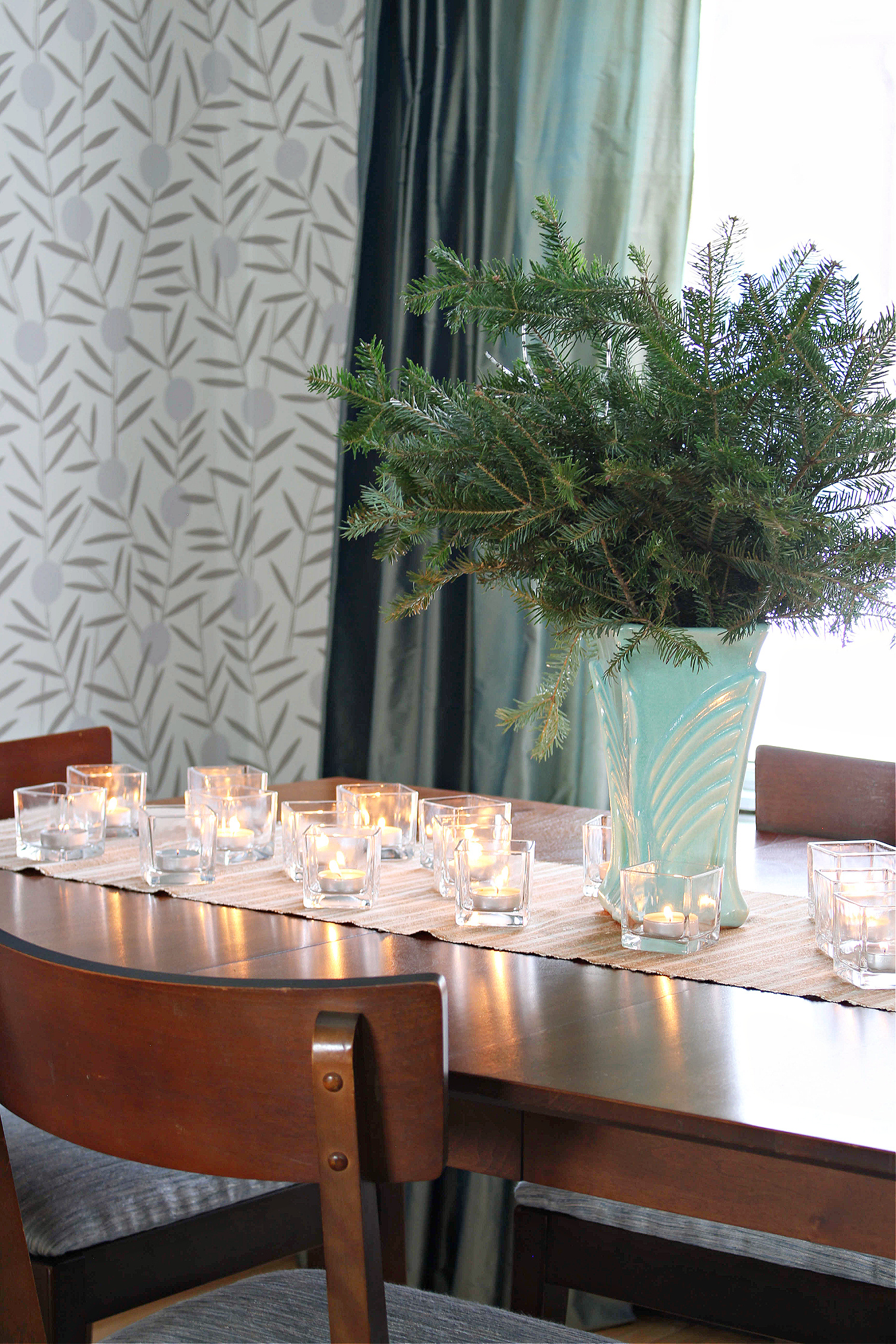 My vase was gifted from Curated Home Decor, but they only had the one – don't worry, I tracked down the exact one, in the softest pale pink, on Etsy. This one and this one also have a similar vibe (this one is unmarked, but an absolute stunner).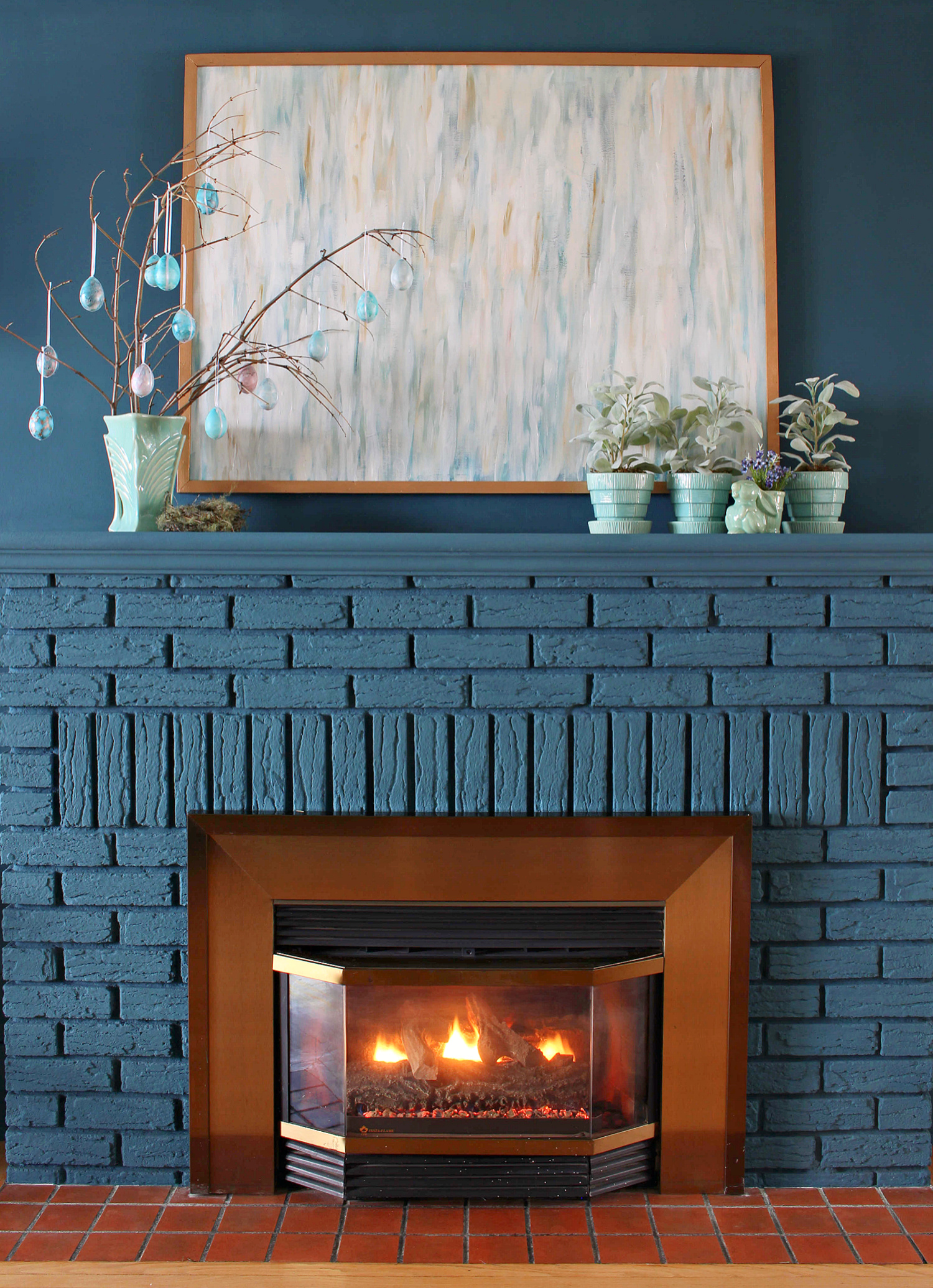 DIY Easter Egg Tree
We filled the vase with branches and re-created last year's DIY Easter Egg tree. Last time I added faux flowers to my branches, but my Mom wanted to keep the branches very minimal. Here's last year's version: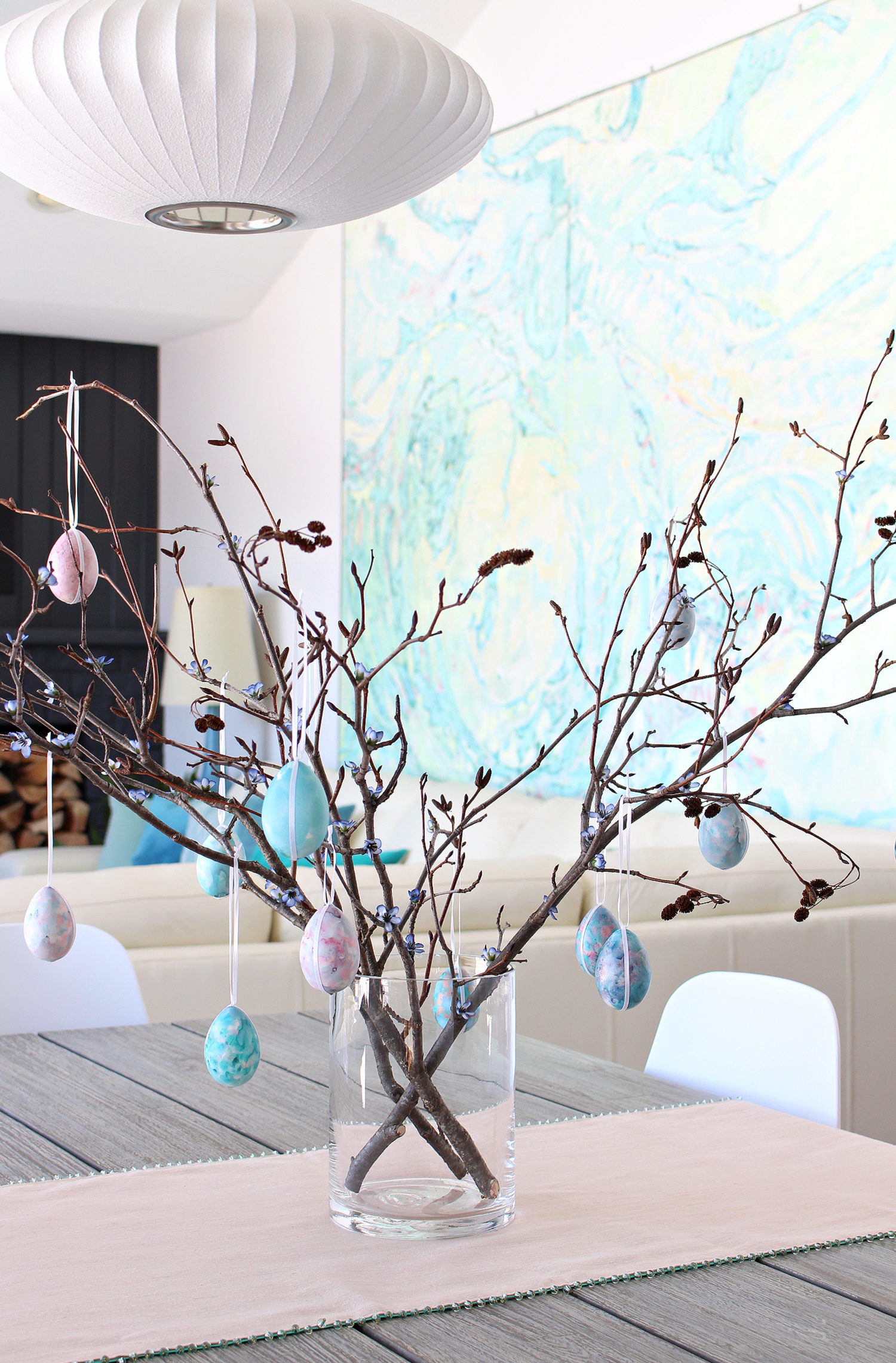 The branches and vase are different, but we hung the DIY alcohol ink Easter eggs I made last year – and they really pop against her blue fireplace wall and play nicely with the pastel artwork I painted for her. Which version of this DIY Easter egg tree do you like better?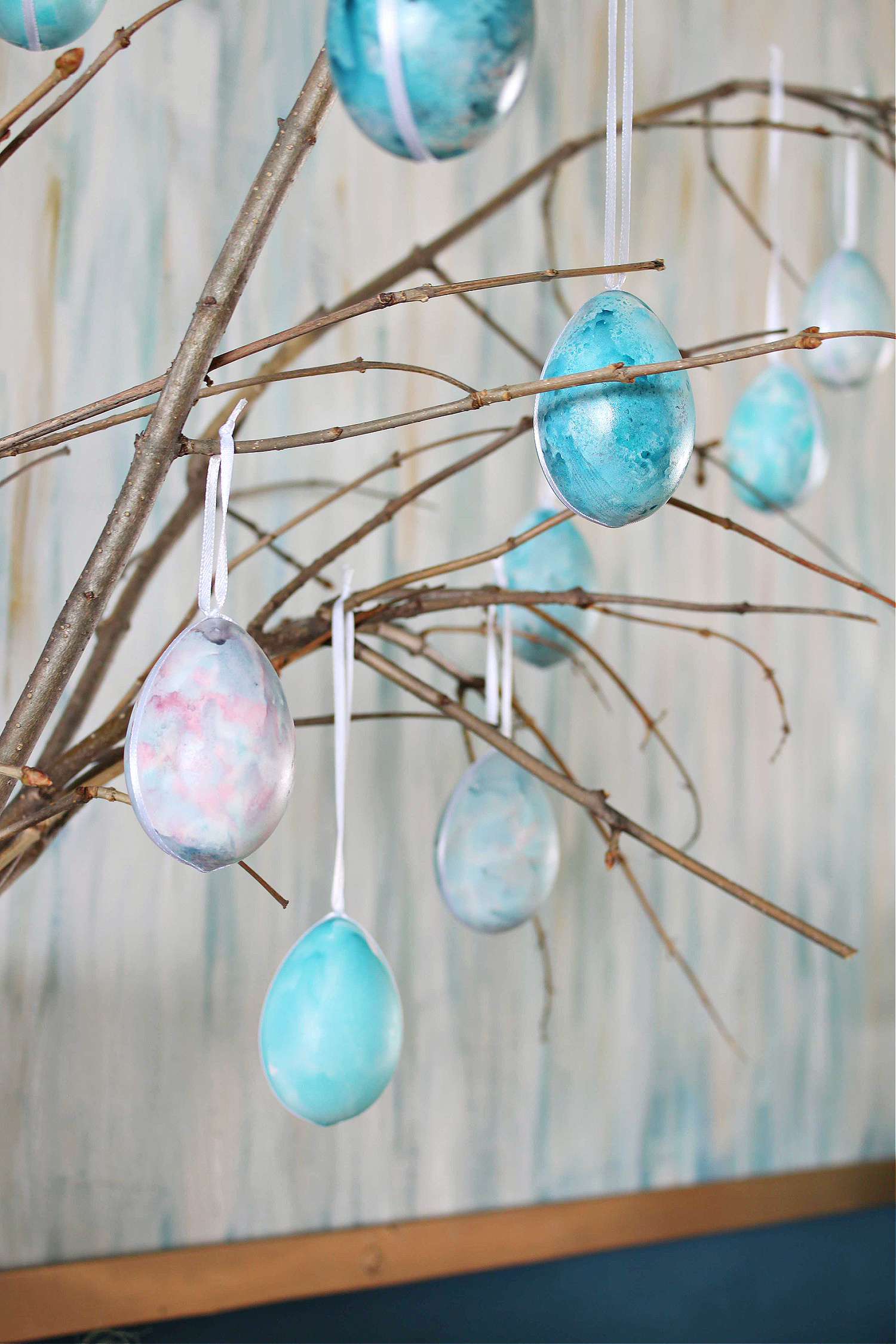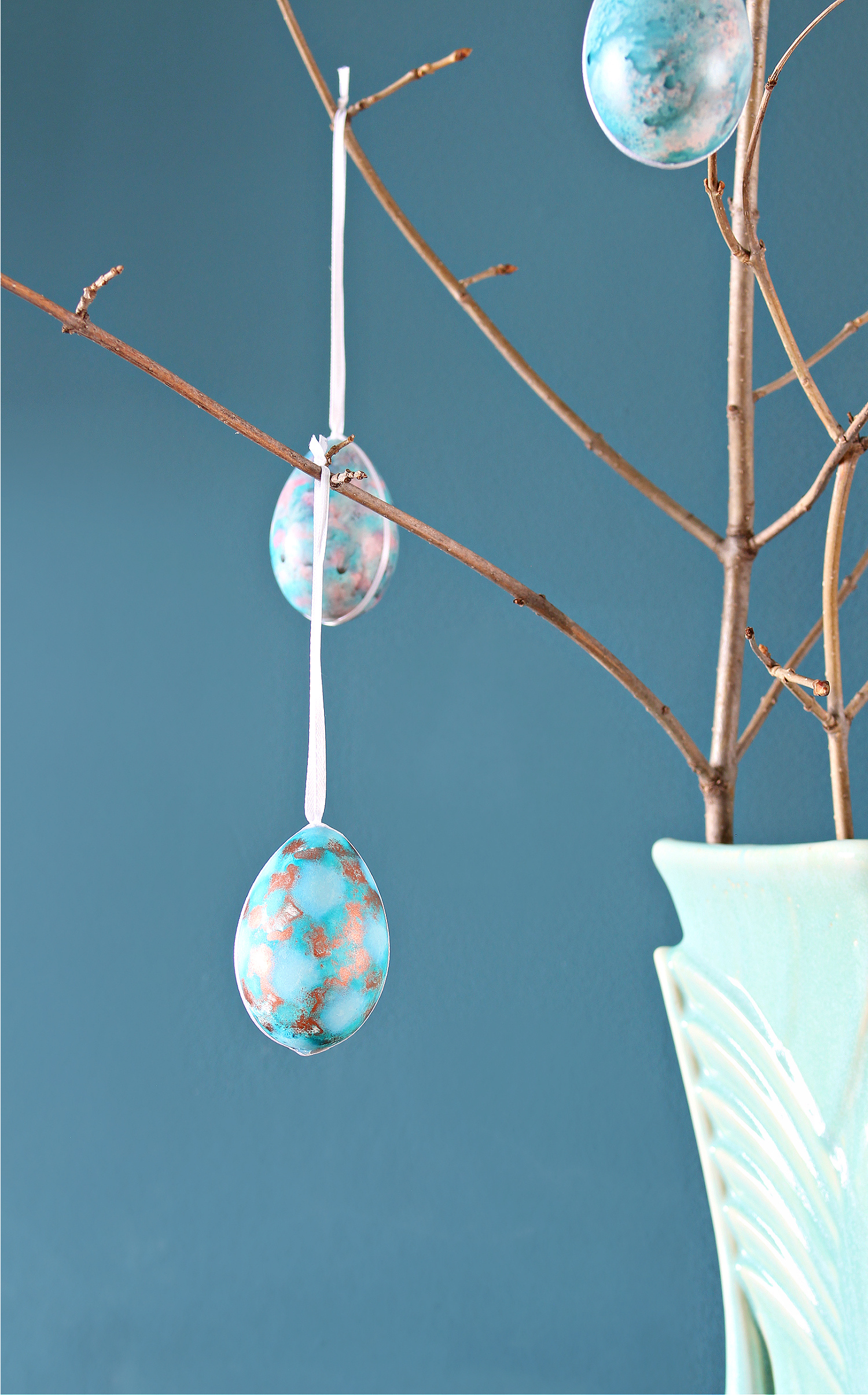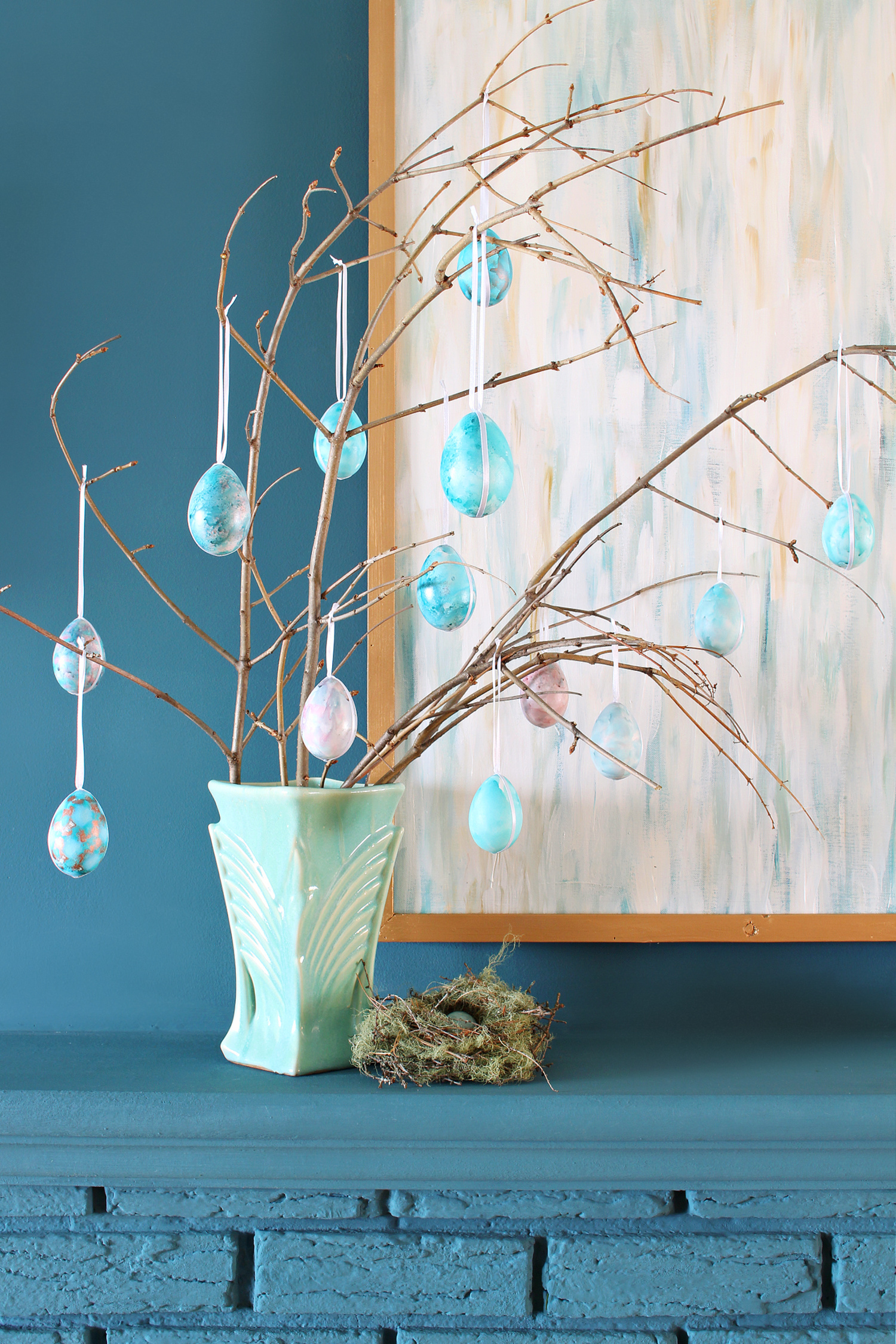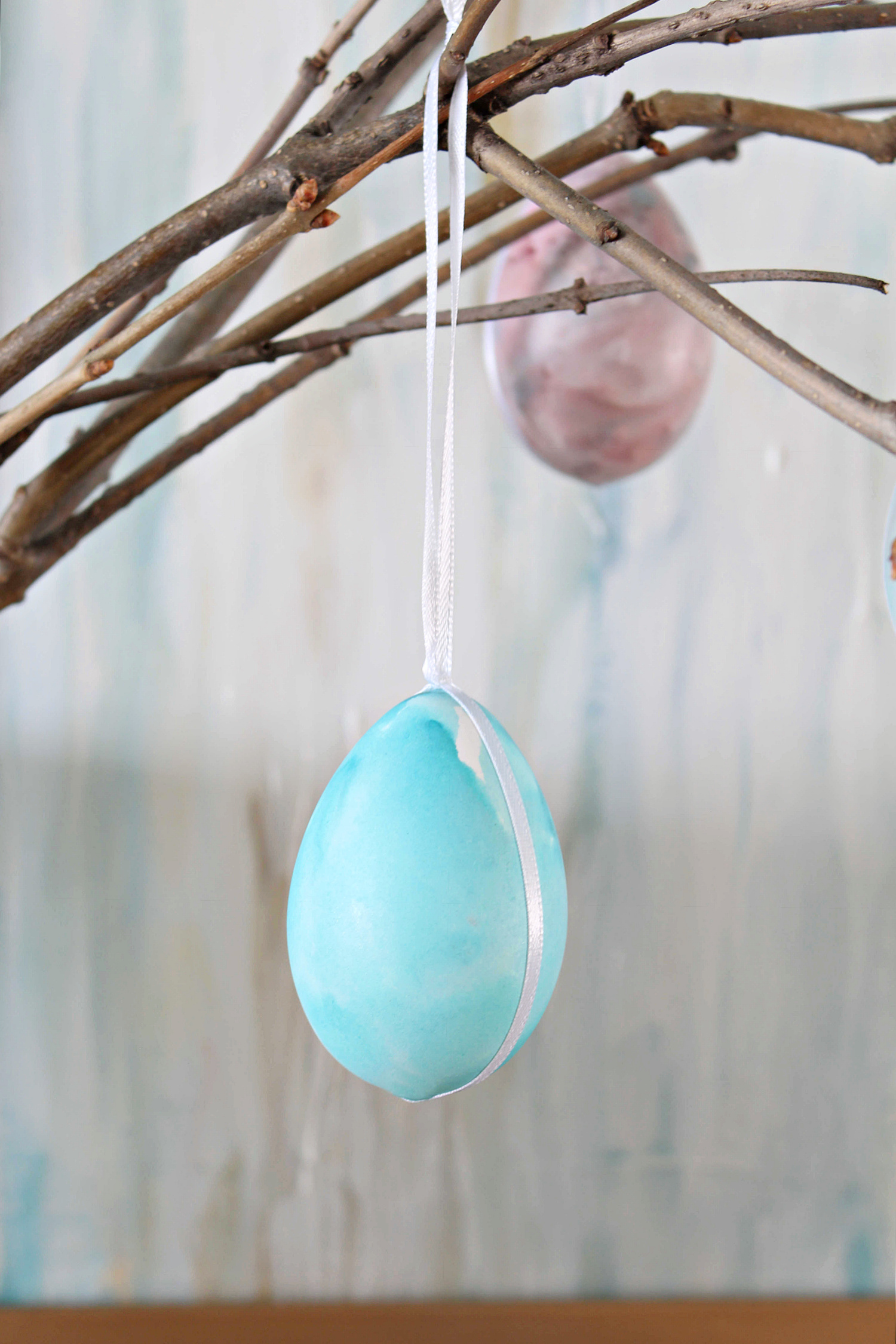 Vintage Aqua Bunny Planter
My Mom thrifted this vintage aqua bunny planter a few years ago, and we've been passing it back and forth every since! It's so versatile, for flowers and plants – or even pens and toothbrushes! I love it with the little blue faux flowers I've had for ages (these are similar). It is such a cute thrifted find (here's a similar one). I share weekly thrifting adventures in my Instagram stories, and this makes me realize it's been too long since I thrifted something vintage and aqua.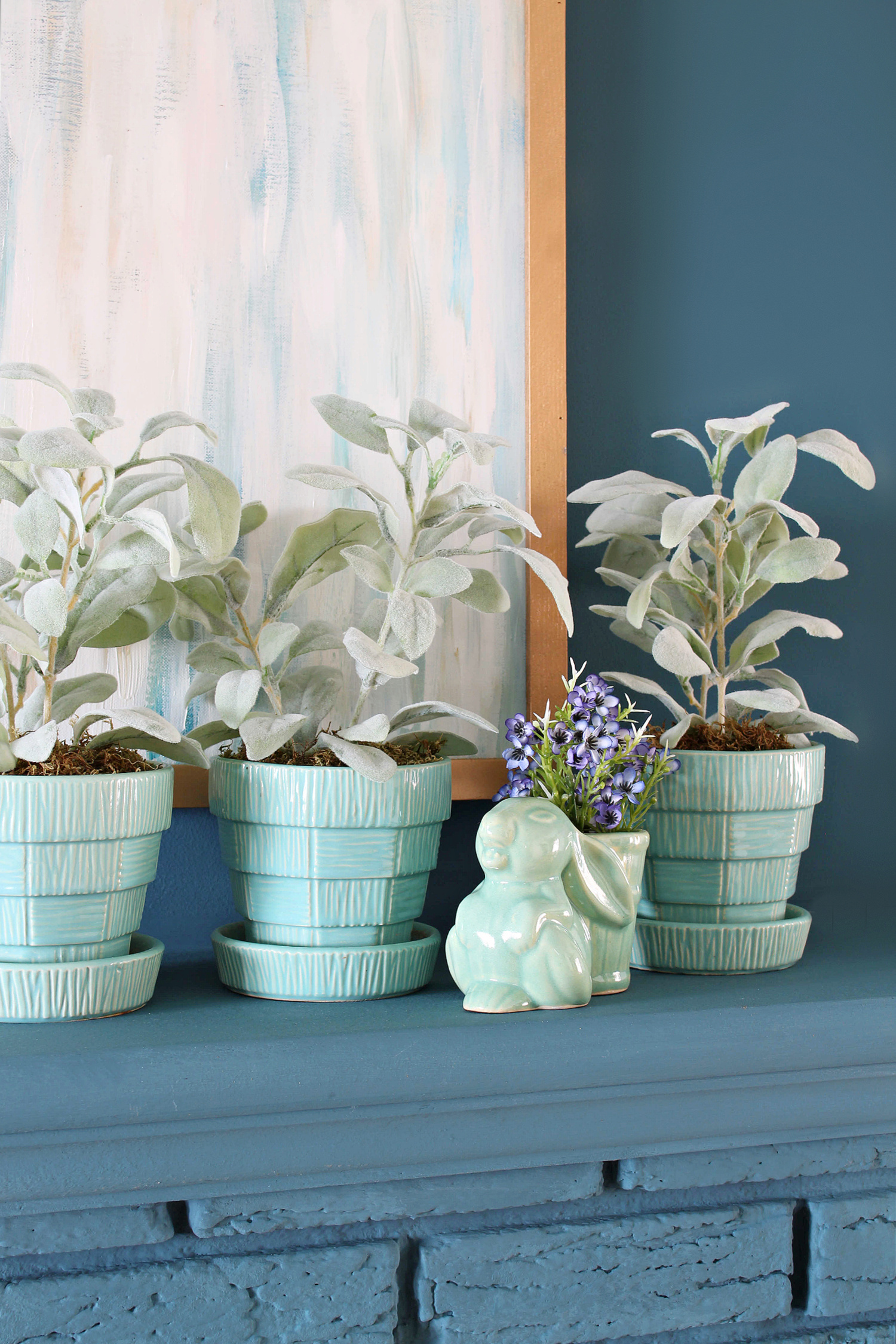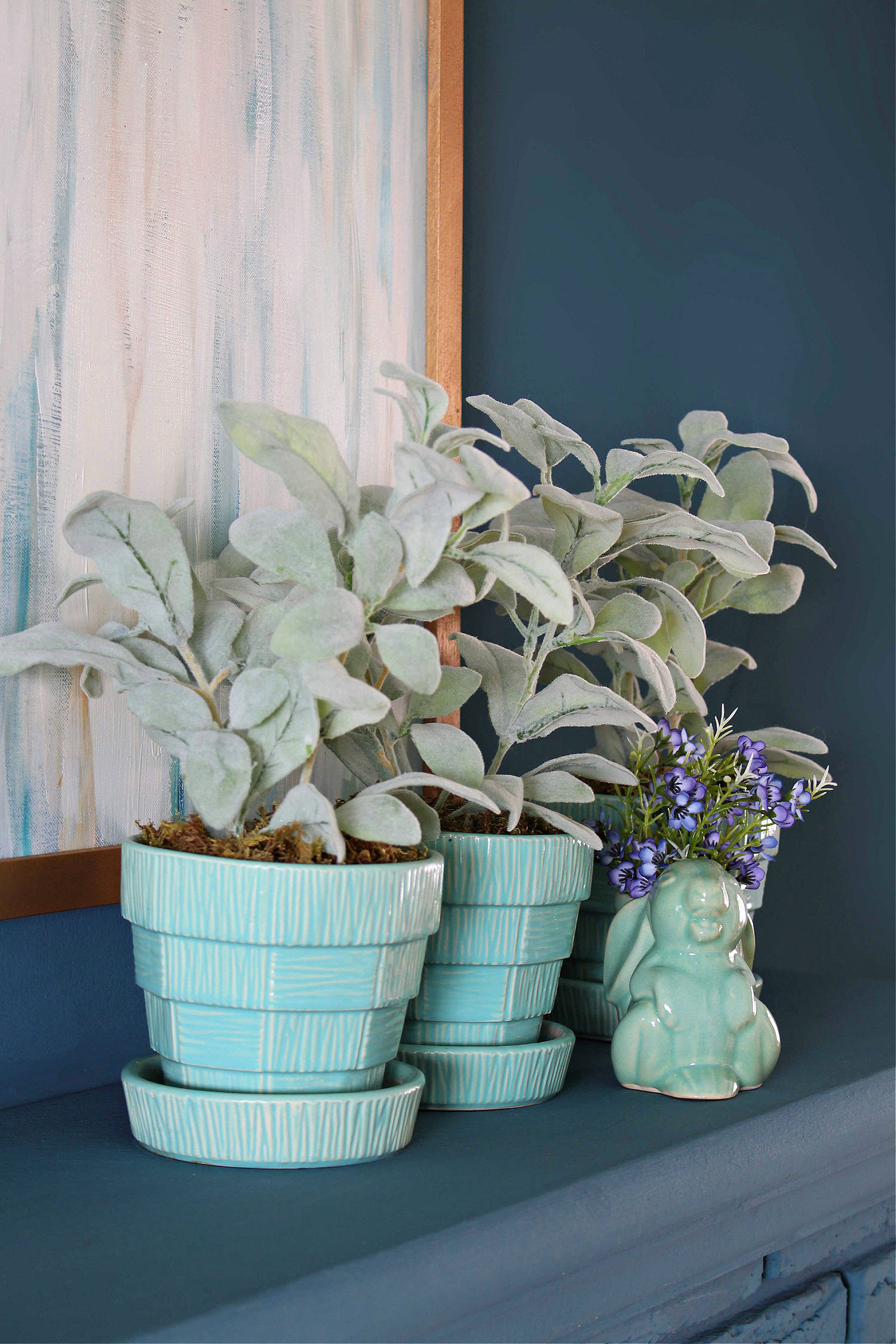 Real Bird's Nest
I shared the story of this bird's nest before! I found it in the fall and, while I've found quite a few discarded bird's nests, this was hand's down the prettiest. When I originally found it, the moss was even more vibrant, and just the perfect shade of mint green. I saved it and when my Mom came over to help me prune my raspberry bushes for fall, I excitedly showed her. Her response: "ohhhh, that is SO cool…put it in my trunk". She absconded with it and has been enjoying it as decor ever since. I even happened to have a little amazonite stone egg. I had bought it to make a necklace, but when it arrived it was MUCH larger than described, which was useless to me but pointless to ship back. Happily, it fits so perfectly in this little nest. Here's a slightly smaller, very similar amazonite egg. We are weird, coveting this little bird's nest, I know, but you have to find things that make you smile where you can, right?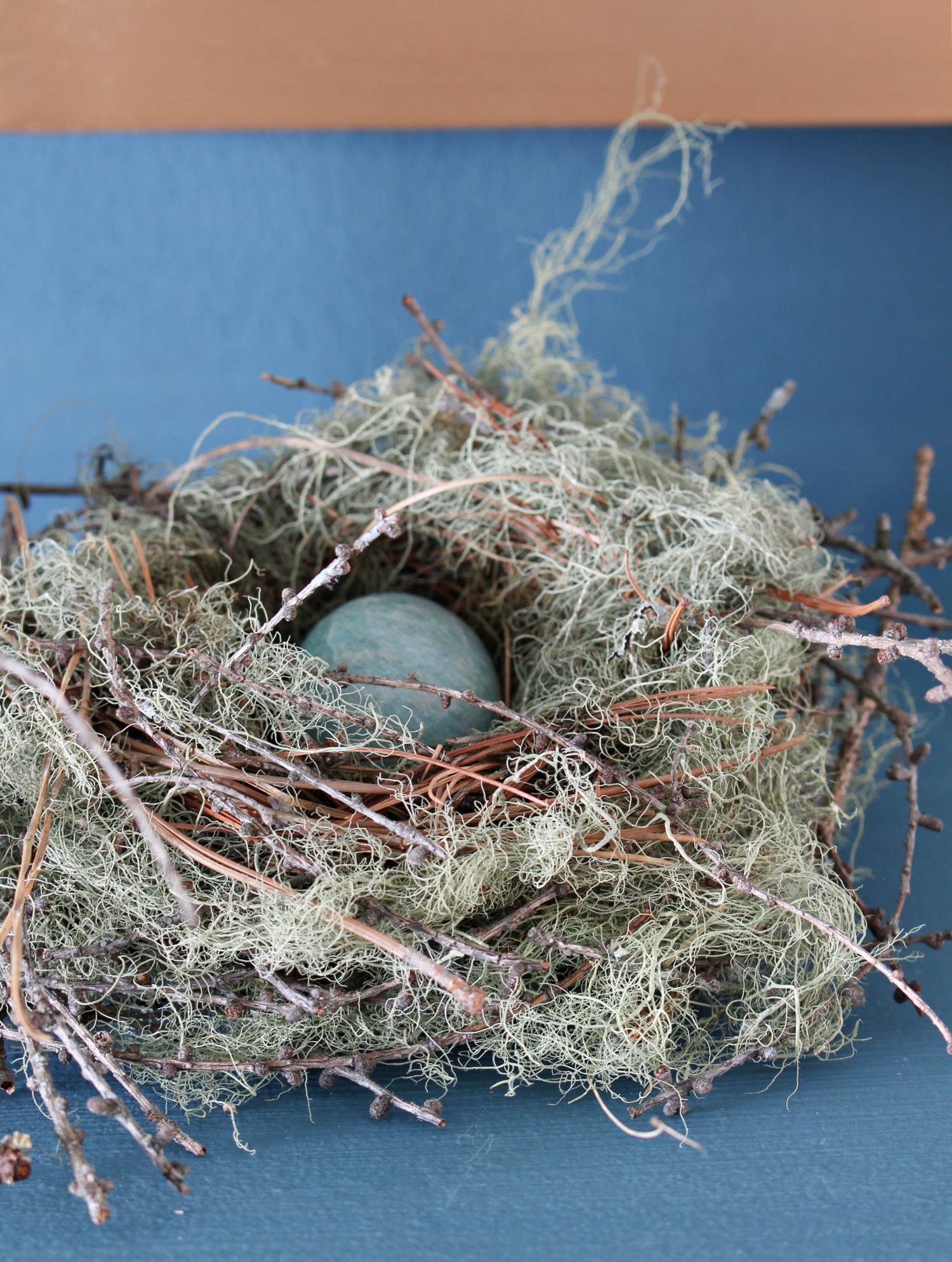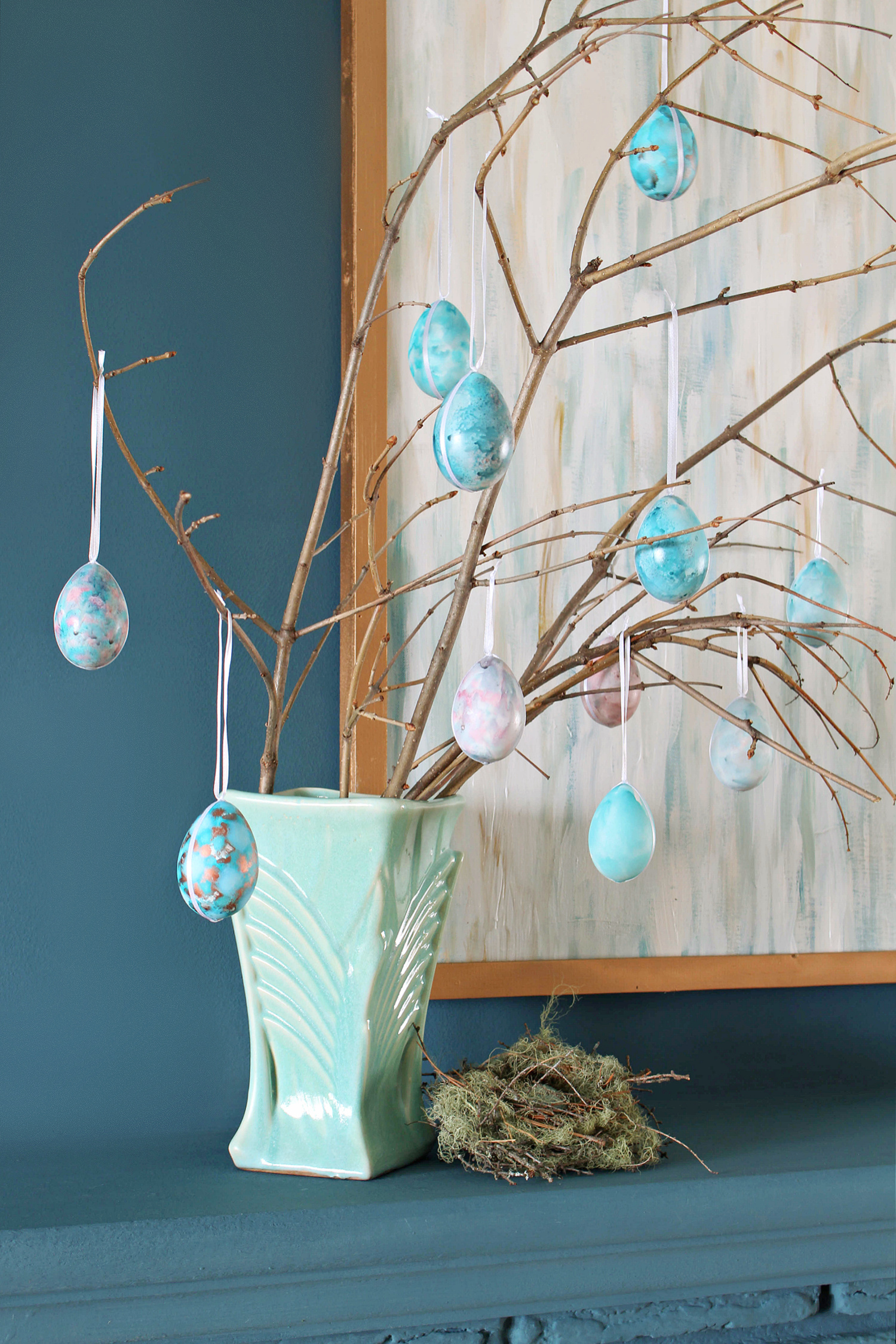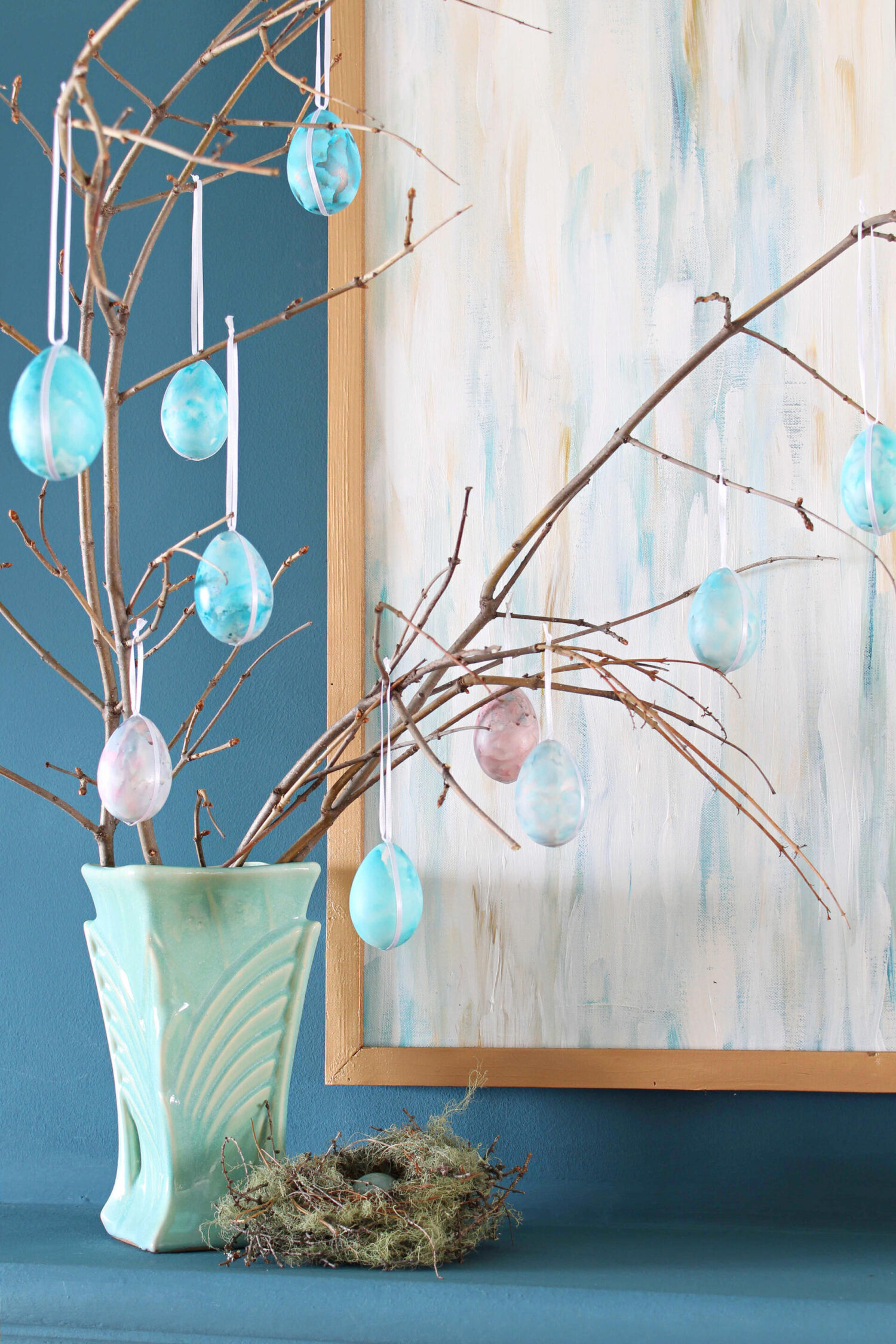 What do you think of this year's minimal and monochromatic turquoise spring mantel decor? I love that we shopped our houses for this and are letting our vintage – and backyard finds – shine!
Today some of my friends are sharing their Spring and Easter mantel decor ideas too! Be sure to visit their posts by using the links below the images.
P.S. Don't Forget to Pin for Later!