Sharing my simple spring kitchen decor ideas today marks the LAST TIME I'll decorate this kitchen! We're finally starting the kitchen reno and the plan is to demo the kitchen this week!!! It's bittersweet because I am so, so, so excited for the kitchen reno – I've waited 8 years! – but also, I've loved every version of this happy little DIY kitchen. I'm a little sad to see it go…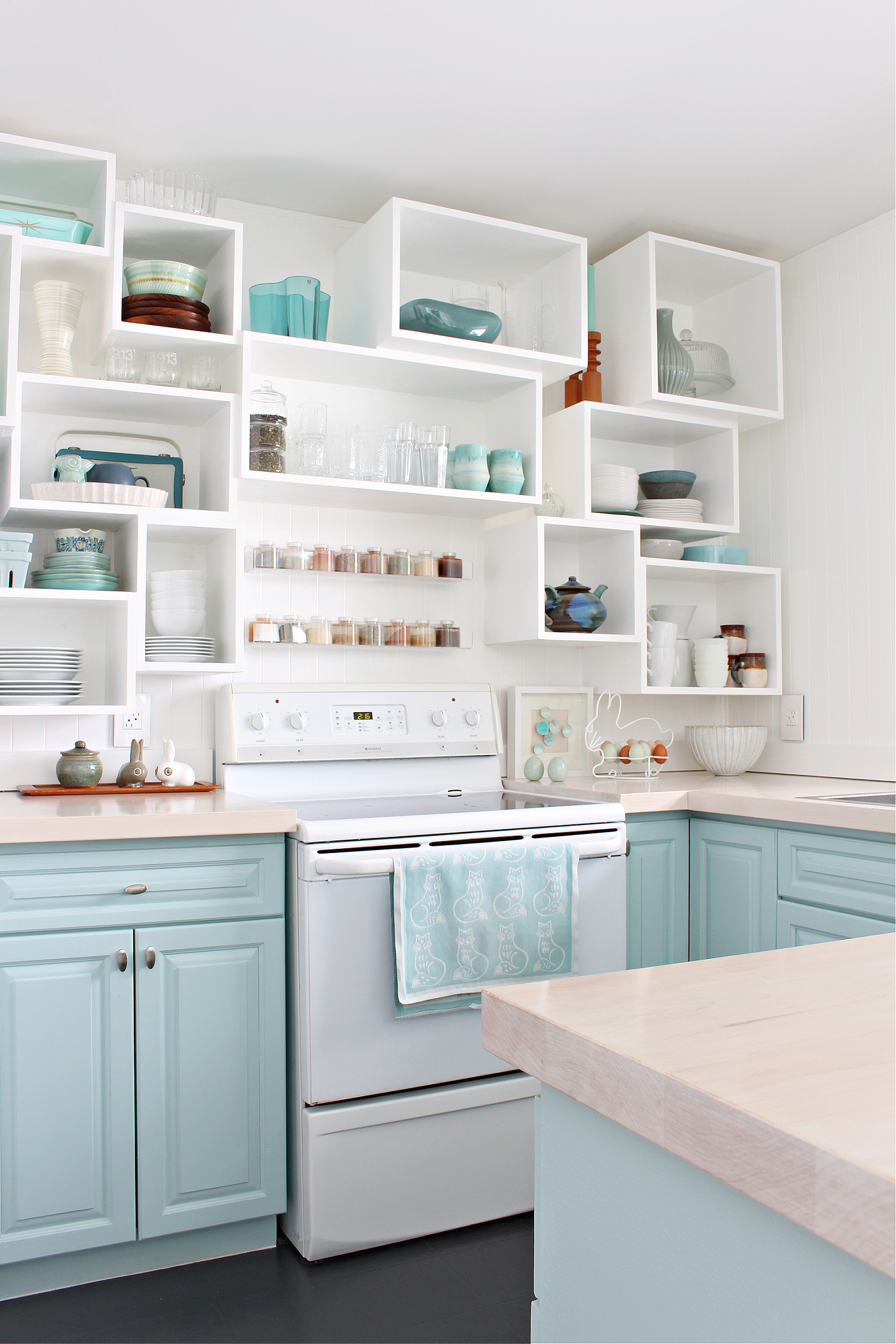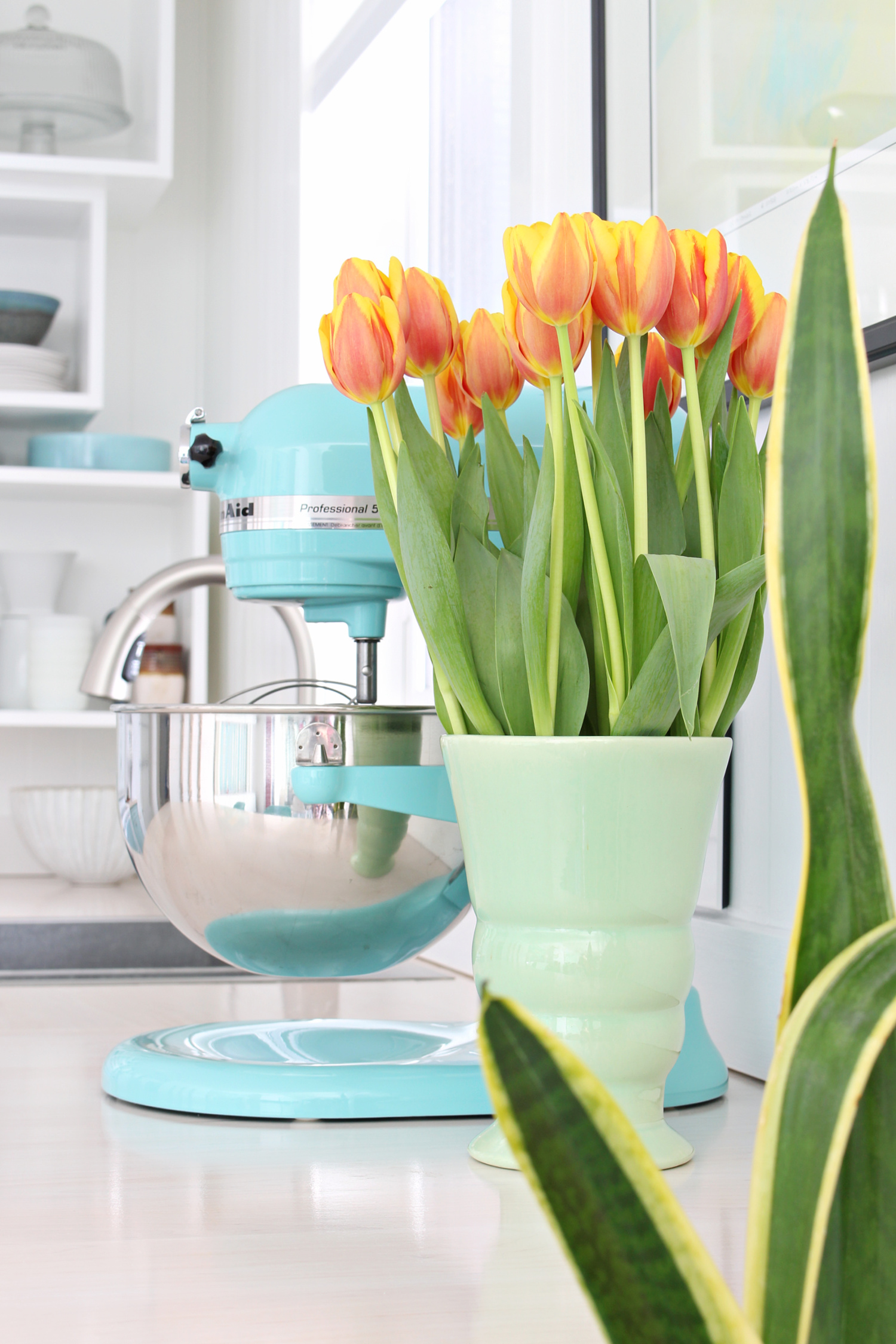 Simple Spring Kitchen Decor Ideas:
I'm glad I could photograph it decorated for spring, one last time, because spring is the season my kitchen shines. I don't even really need spring decor, lol. With it's soft aqua blue cabinet doors, and collection of egg and chicken shaped things on my open cubbies (thanks to my obsession with my backyard chickens), my kitchen is ready for spring 365 days of the year. This year I added to the turquoise egg shaped plates, aqua egg shaped salt & pepper shakers, and vintage clear glass chicken shaped dish with a few simple spring kitchen decor ideas.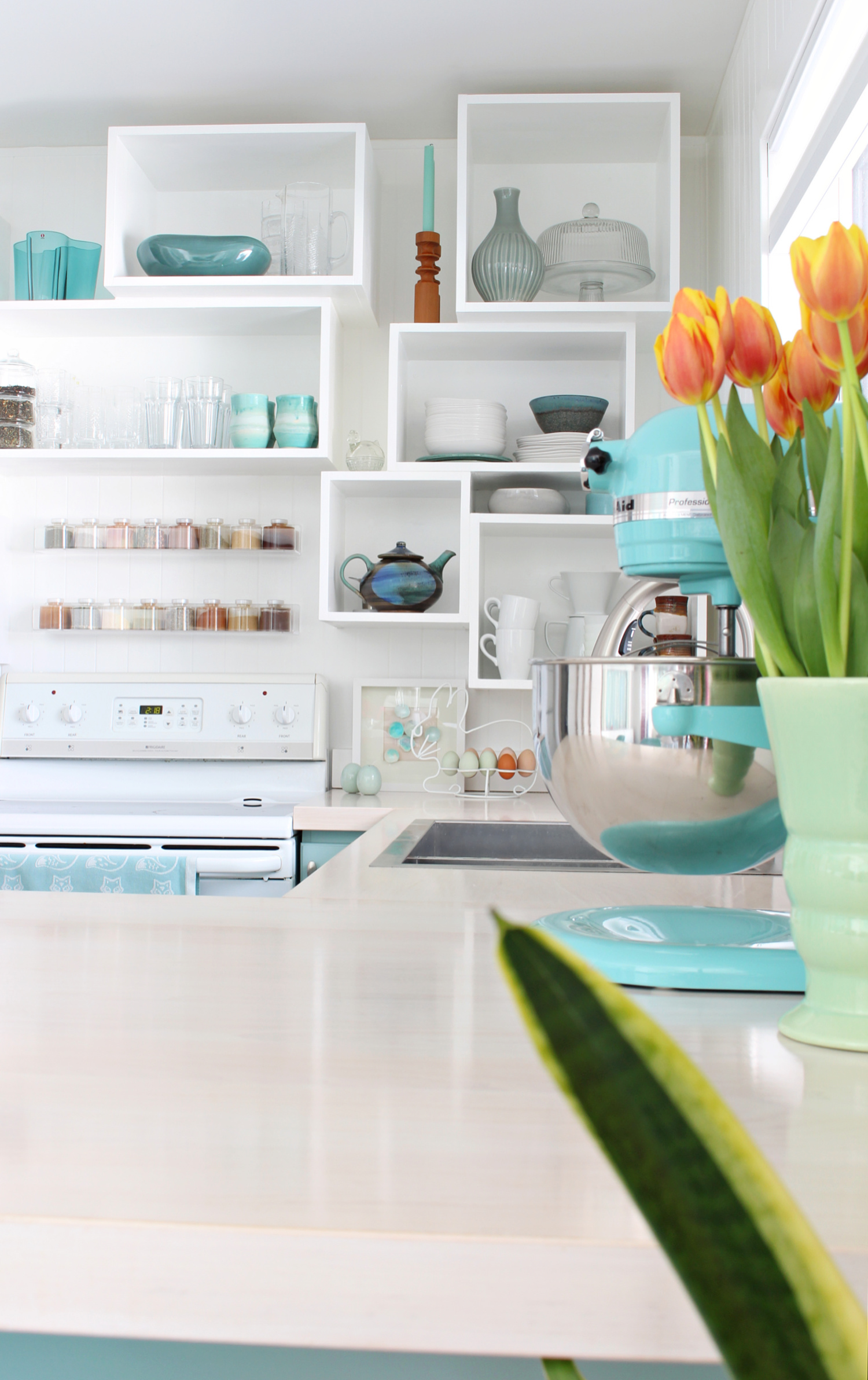 Bunny Shaped Egg Holder:
I thrifted this bunny shaped egg holder (there's one on Etsy), which is so perfect!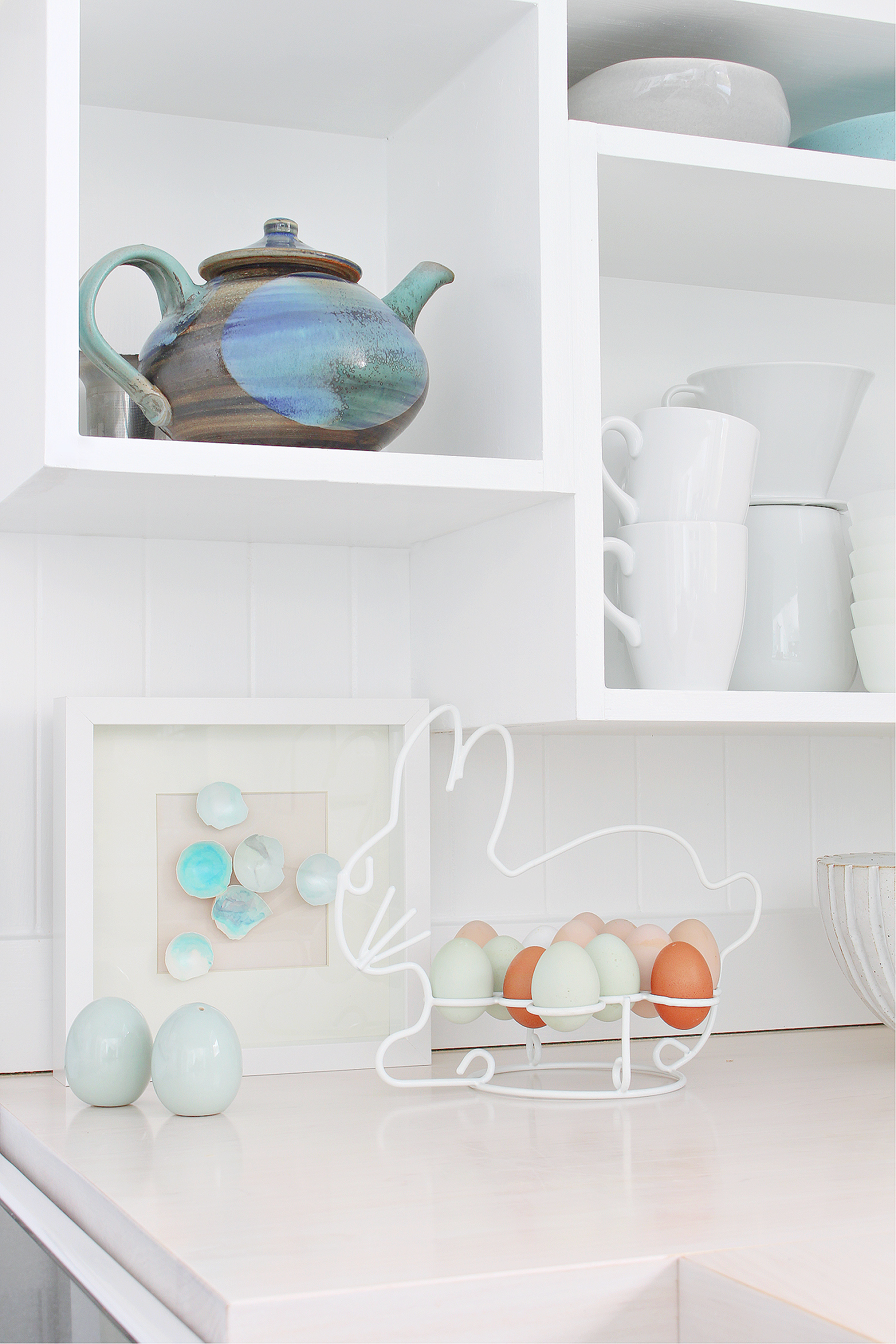 When eggs are fresh from the chicken, they sport what's called a "bloom," which enables them to be stored on the counter. So I always have some sort of egg holder out, to corral the eggs we collect from the hens until I have a chance to wash and store them in the fridge.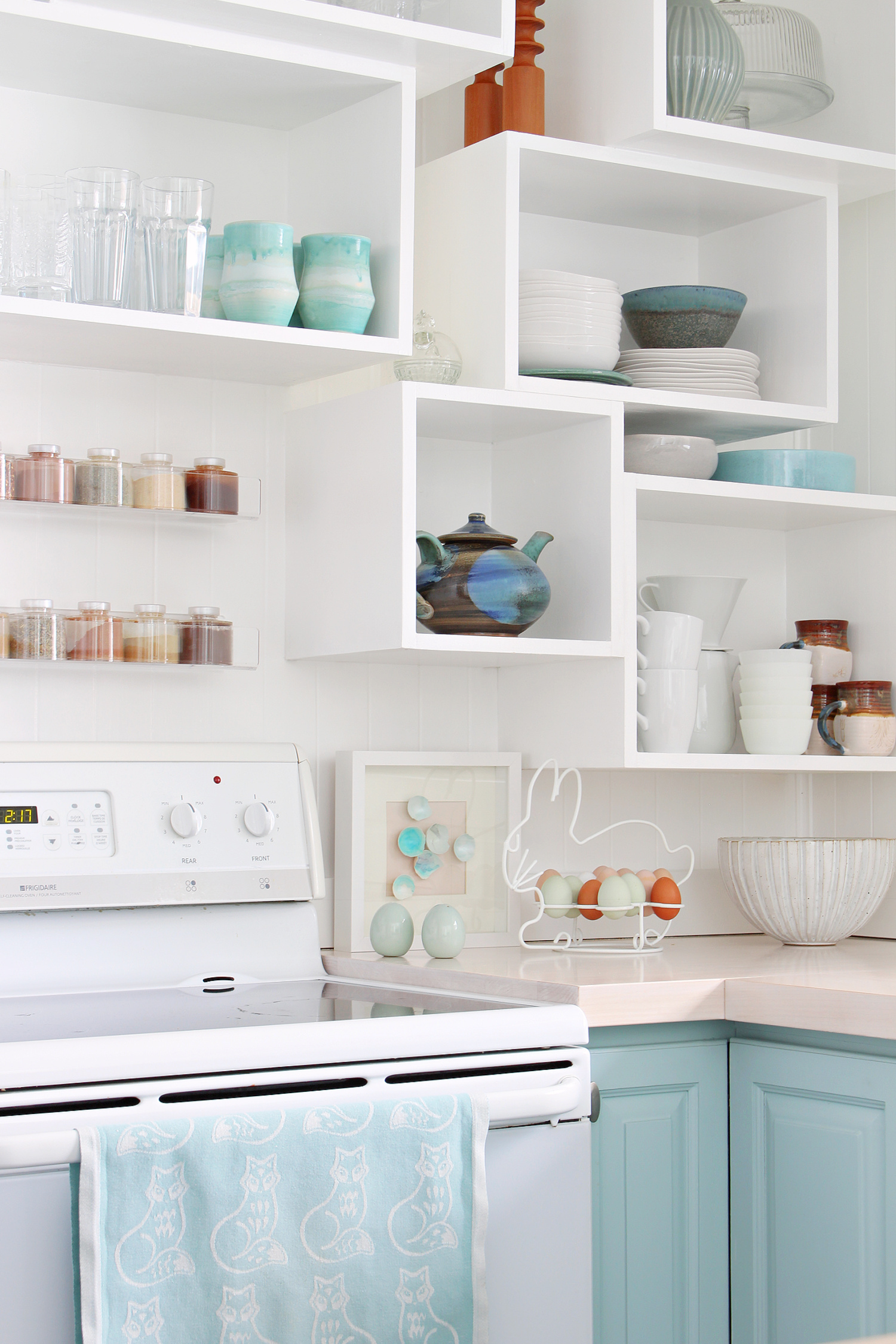 Vintage Pottery Bunnies:
I also brought some of my Strawberry hill pottery bunnies into the kitchen from the office. I have an entire menagerie of vintage Strawberry hill pottery animals in my office – including a larger rabbit – but the little bunnies looked so cute, I had to steal them.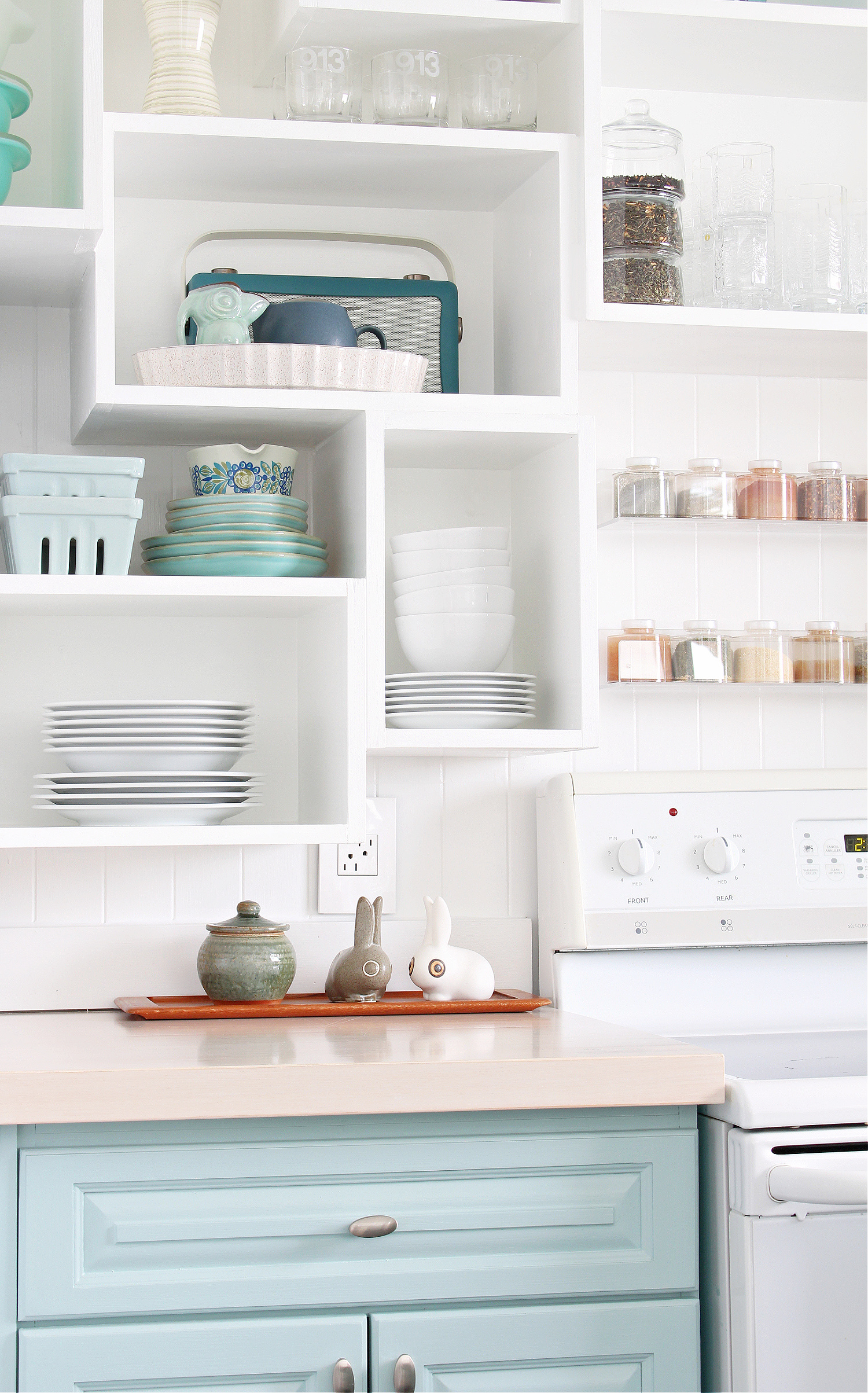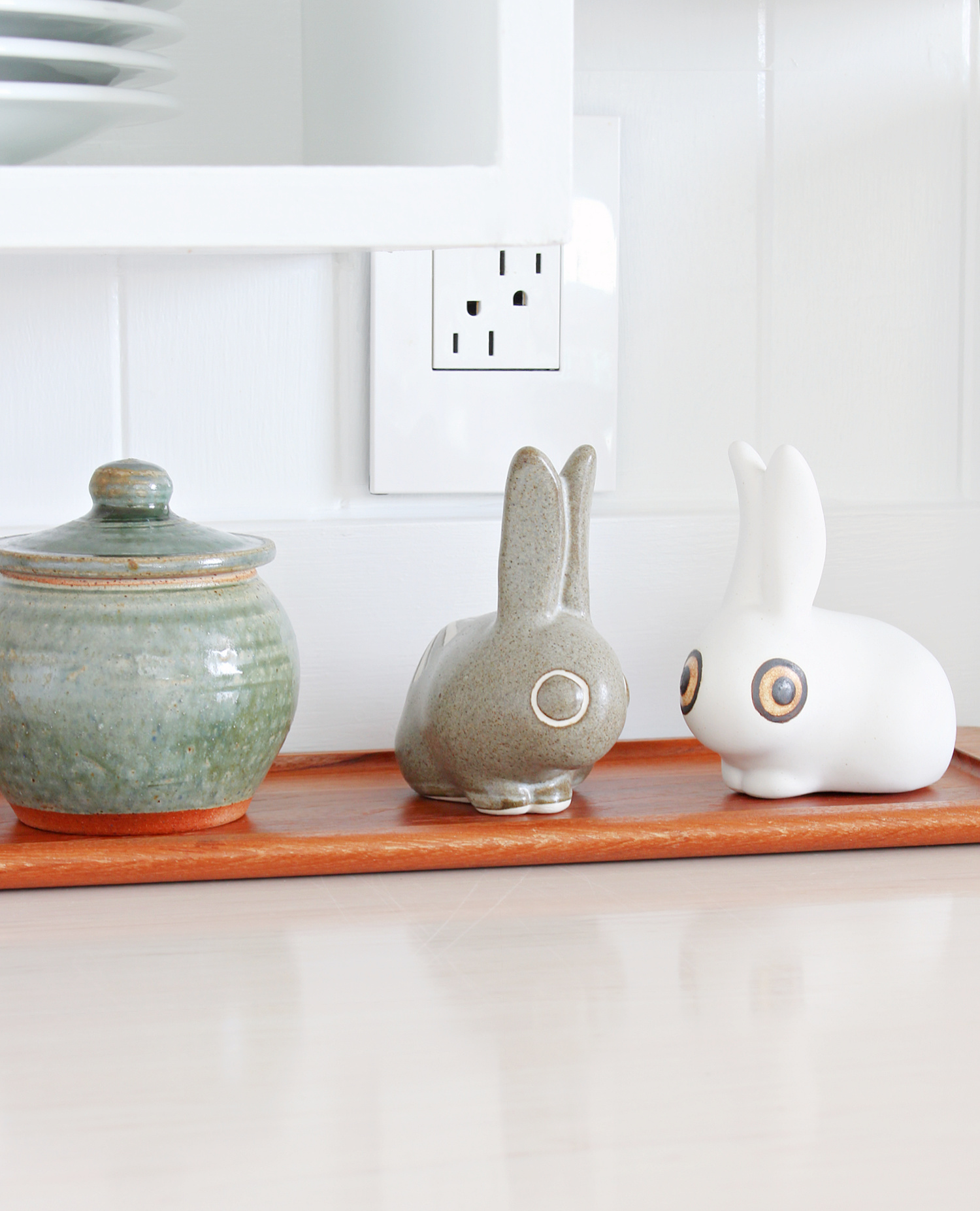 You might remember my pastel egg shell art from last year? It's such a perfect piece of DIY spring art that's super easy to make. I had planned to make a bigger one for the kitchen, but then we decided to renovate and now I won't have a wall for art in here anymore. Maybe I'll still make one if I find the perfect spot!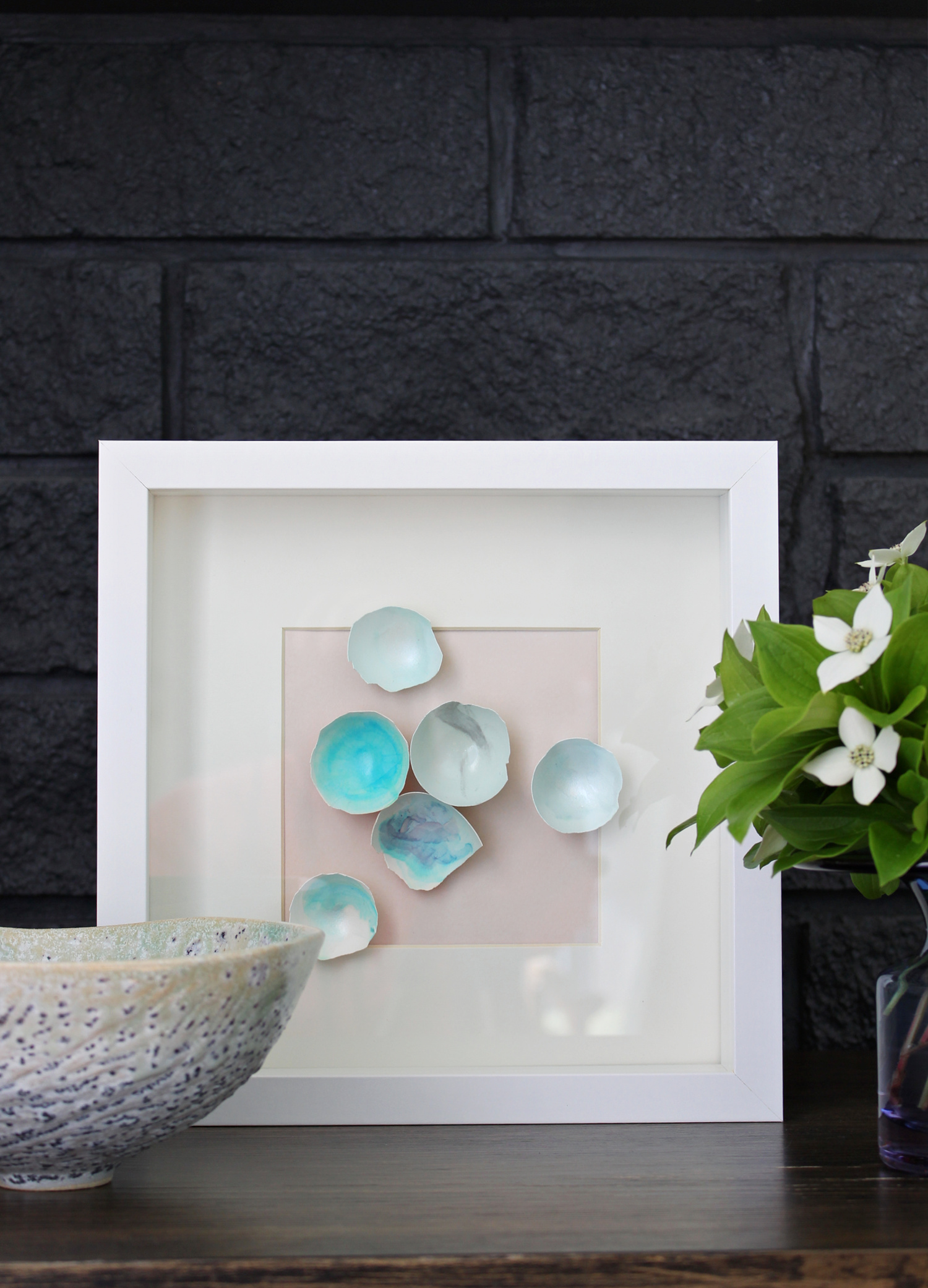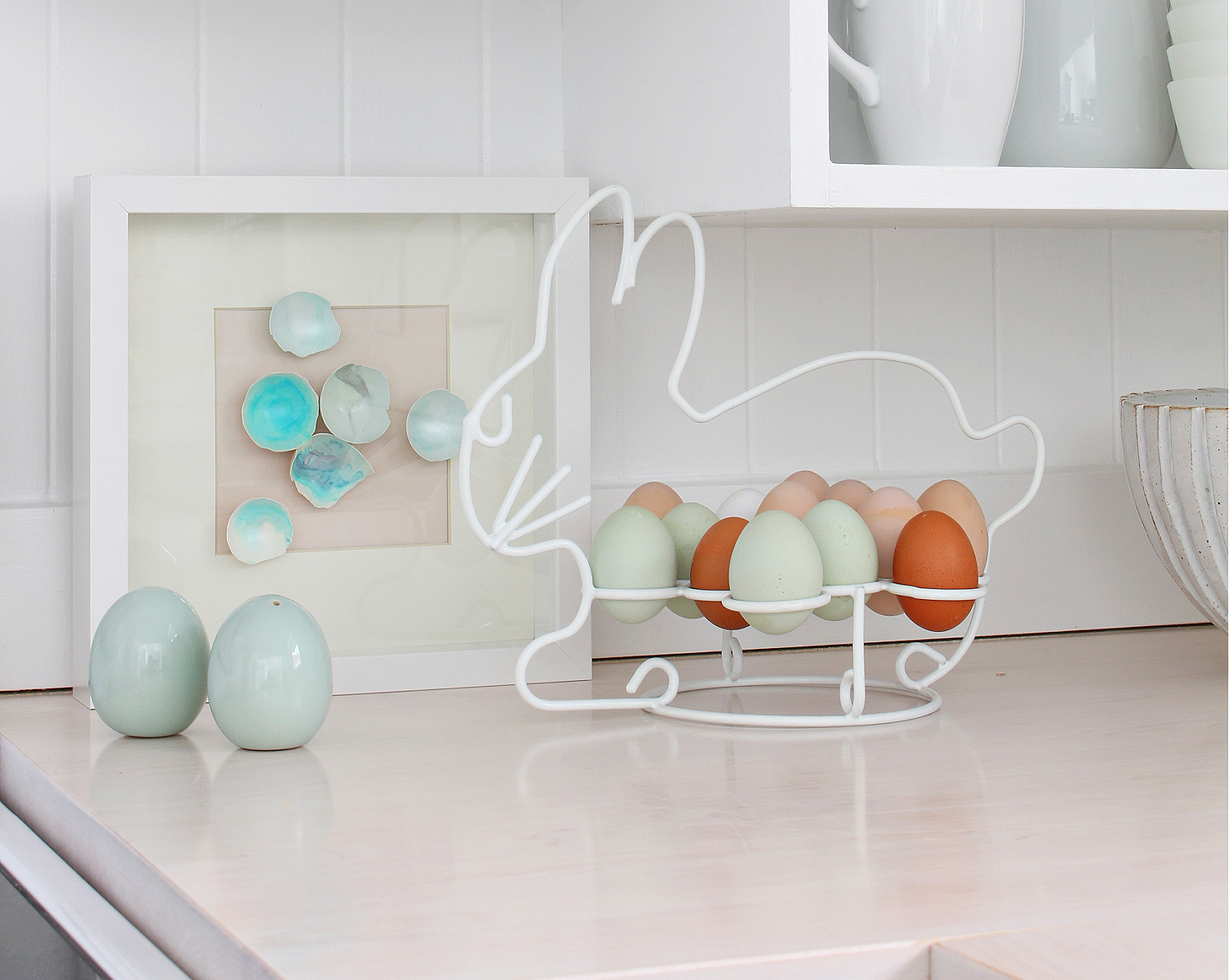 And then I just added a vintage green Haeger vase full of tulips! This was my maternal grandmother's vase, and I inherited it when she passed. I found the exact one on Etsy – this is THE perfect vase for tulips. Whenever I brought her flowers, she'd put them in this vase and immediately place them in the fancy living room. I never understood, because we rarely occupied that space. I like my flowers in rooms where I see them most! Although, with a house this small, you can see every room, haha.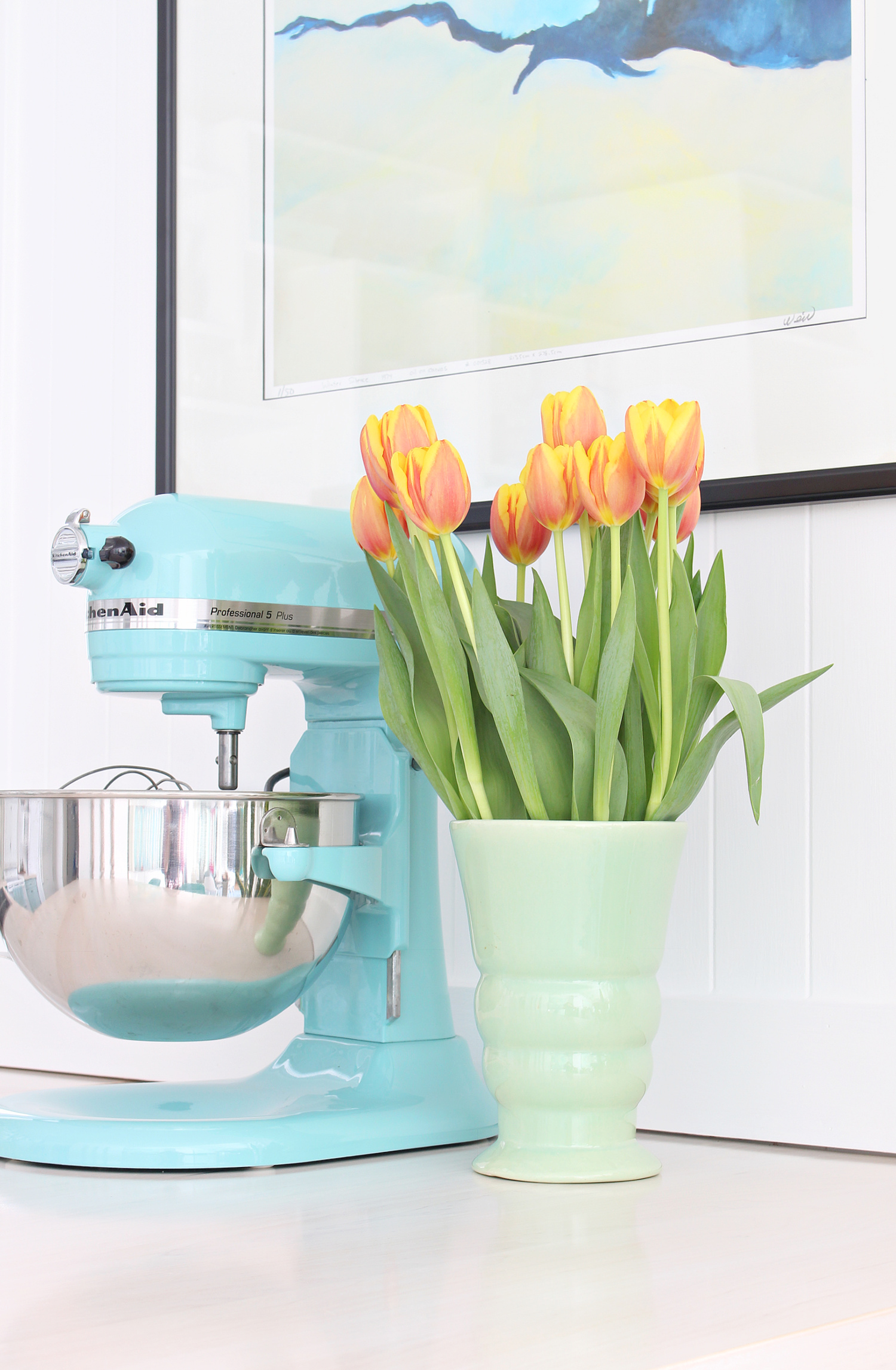 I haven't bought myself fresh flowers in so long, so it was a really nice treat to purchase some. Nothing is blooming around here – we're still buried under many, many feet of snow. But it's been pretty mild, so hopefully it all melts quickly.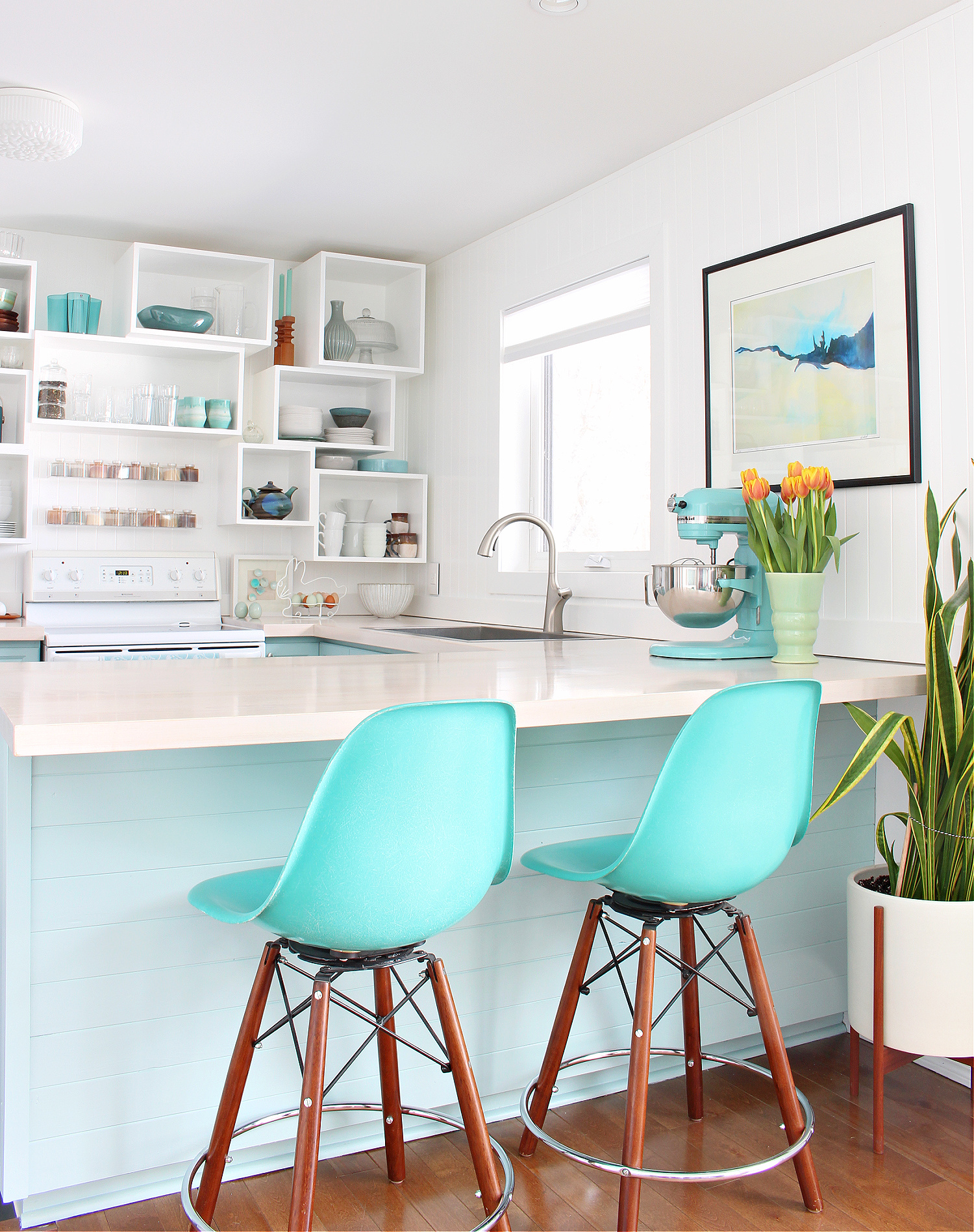 Today some of my friends are sharing their spring home decor ideas for their kitchens. Be sure to visit their posts by using the links below the images.
P.S. Don't Forget to Pin for Later!