It's my week 4 report, as a guest participant in the Spring 2022 One Room Challenge, and this week we have cabinetry (mostly) installed, appliances (mostly) delivered, the start of flooring, and a ridiculously expensive lighting update! Lots of progress made since last week, that's for sure.
Here's what you missed, if you're just tuning in to this 8 week challenge:
Here's the progress we've made since last week's check in:
Walnut Cabinetry & White Uppers – Check!
The cabinets were installed last week, except for a couple of leftover punch list items, like a missing door and toe kick. I don't know how, but the kitchen looks so much bigger! I mean, we did widen the kitchen on the window wall, so I expected it to feel larger in that direction. But it feels wider in the opposite direction as well – and also the ceiling height feels taller. I thought adding more cabinets would make the space feel smaller, but I was so mistaken. I am absolutely THRILLED about all of the storage space we've gained and I can't wait to start cooking in here. There is finally room for both Hubby and I to both comfortably putter in the kitchen. No longer bumping into each other will be a real treat.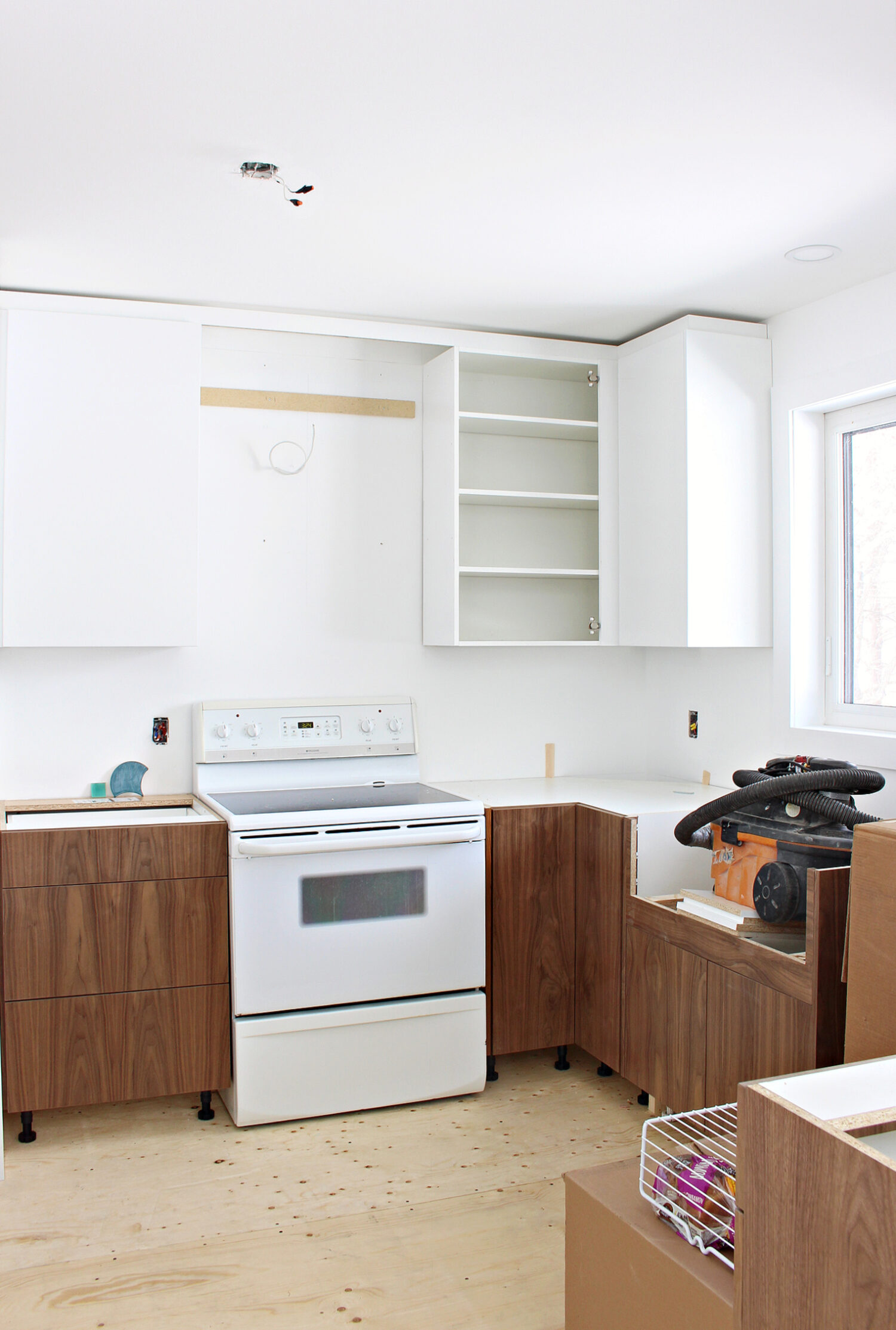 New Appliances – Check!
We also (finally) got two of our new appliances (we'll pick up the integrated dishwasher next week). I am deeply annoyed at the store we bought them from because, when we were shopping for appliances, we knew there were supply chain issues so we asked if the appliances we liked would be delayed. We were told, "no, no, no, these are in a warehouse and just need to be brought here". I swear, it was only a few days after we paid that I received a phone call from a bored salesperson who told me they were all delayed – and maybe we'd get the dishwasher in May. I totally understand that the world has turned upside down, but I do think the store lied to land the sale. It's just lucky that my cabinets were delayed almost the exact same amount of time, lol, so it worked out well. The store refused to deliver out here, so I had to pay over $500 to pay a moving company. The moving company was great, but I died a thousands deaths when one of the movers, while he's hacking into the packaging of the fridge out in the carport, loudly cried out "Ohhhh, NOOOOOO!!!!"
Is it bad that I was relieved it was just a paper cut?
I'll share a full review once we've used and enjoyed the new appliances for a little while. Having seen our old appliances in place with the new cabinetry, I really think white would have been beautiful, but we didn't really like any of the white appliances we saw when we were shopping. I did like the Cafe line of appliances, looks-wise (especially the double oven – my dream), but we learned that we really dislike freezer drawers. I also didn't like the gold handles. So spending extra money to get a fridge we didn't like as much, just for the color, seemed silly. But I will say that if you're consider similar cabinetry, I think the white would be gorgeous!
Having said that, I do like the stainless. I am obsessed with the fridge – the four doors has been so convenient. Plus it's shiny and new! It's such a luxury to have brand new appliances!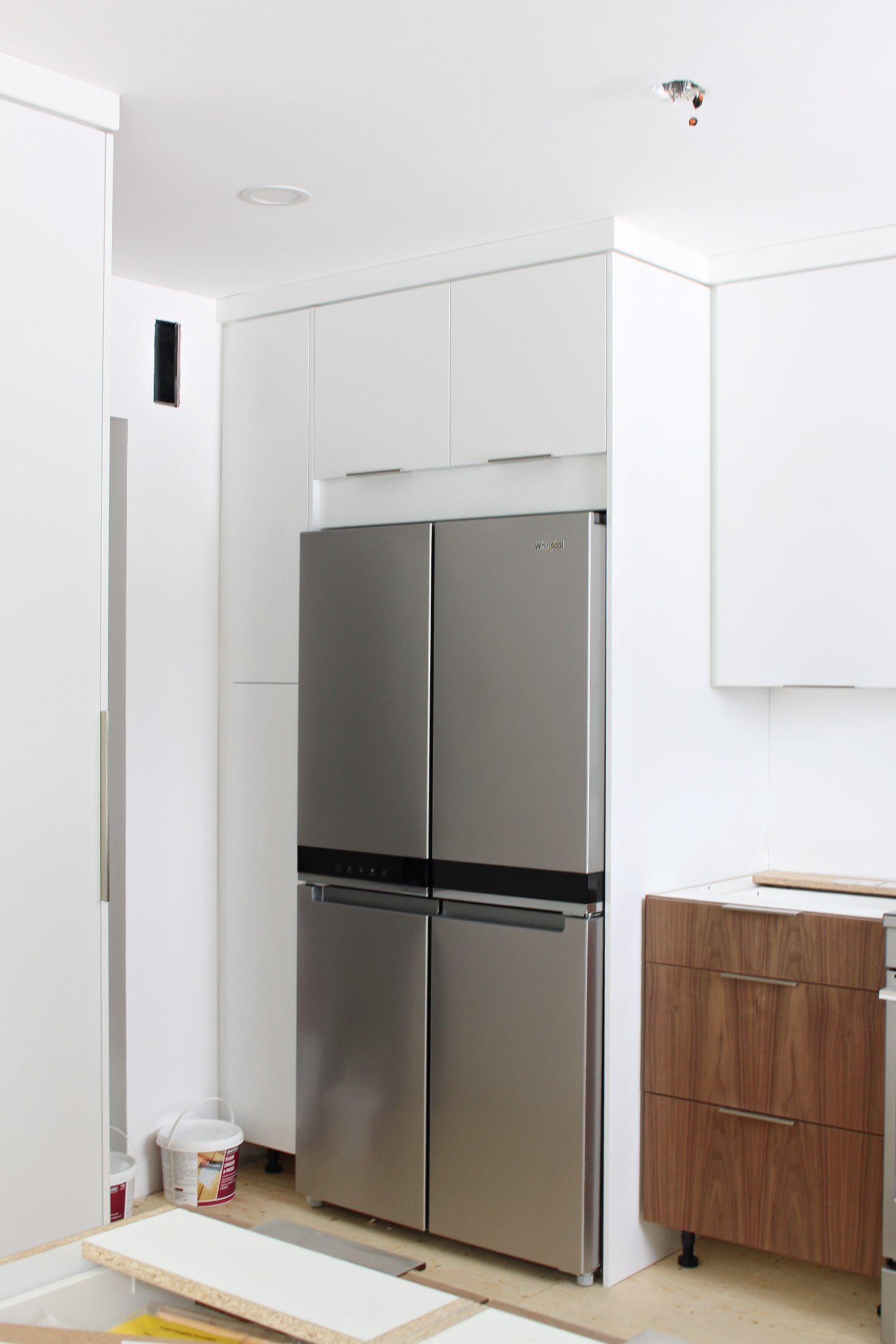 Pot Lights – Check!
We originally decided to skip pot lights (too much hassle!) and add a sconce above the window. But when we took down the old drywall, we found a HUGE header! So we re-visited the pot light idea. Hubby did not want to do it himself, so we ended up hiring an electrician and I'm so glad we did. Not only did he do the unpleasant work of slithering around in our terrible attic, he also gave me some valuable advice! I had originally bought four new pot lights: two above the peninsula (moved slightly forward) and two above the sink. But in conversation with the electrician, we decided to only do one pot light above the sink, and the other above the new pantry beside the fridge. He said two would be too many above the sink – and WOW, was he right! The pot lights we bought are amazing – so bright, with an option to control the warmth of the light. The placement is perfect and the kitchen is so much brighter now. I am so glad we hired a pro and could benefit from their experience.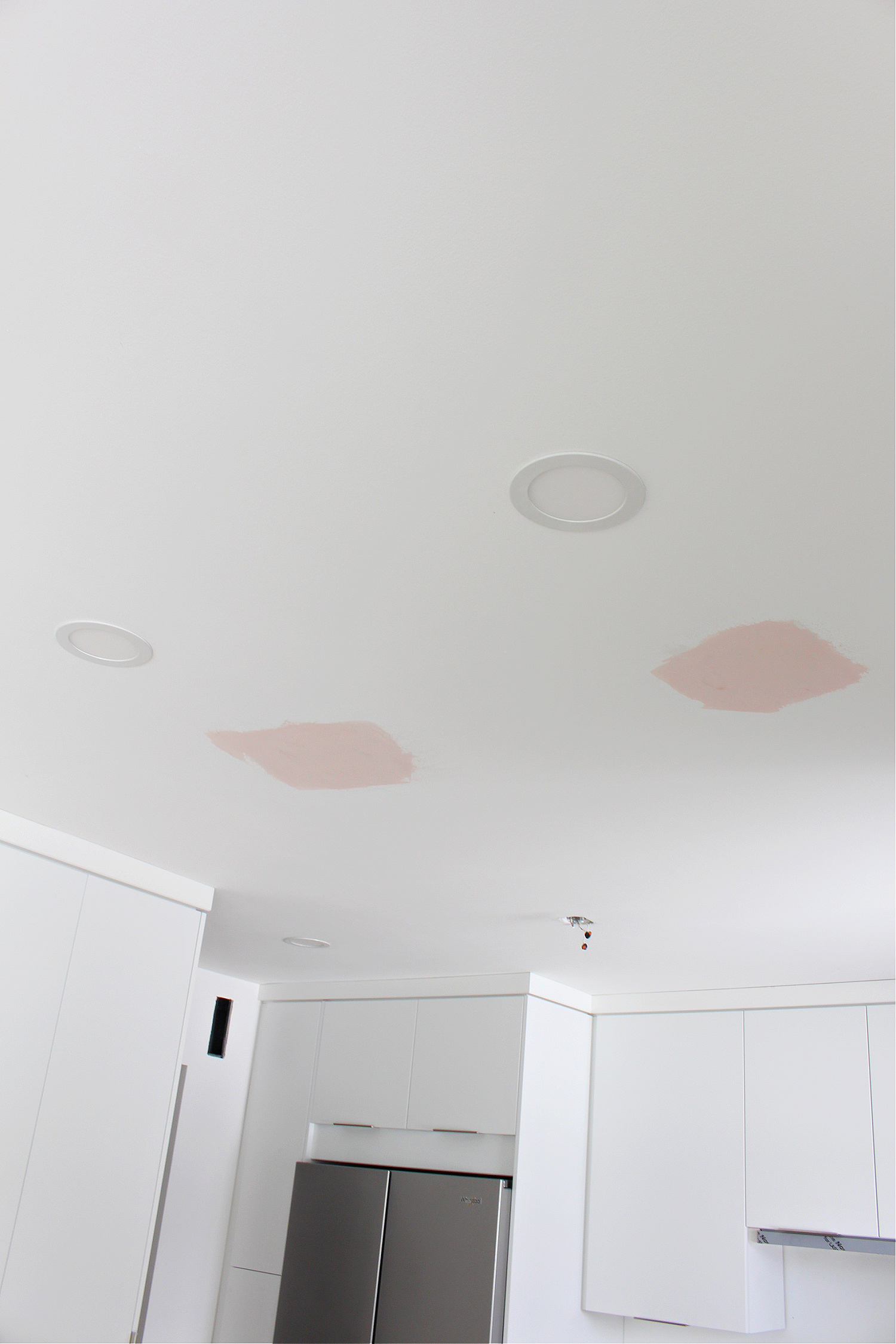 Crazy Expensive Ceiling Light – Check!
In an earlier ORC update, I shared the light I chose from a brand I was collaborating with:
Unfortunately, I realized that I had misunderstood the measurements and I realized that it would be too large for the space. That's okay! Having seen the cabinetry in place now, I realized that a white light fixture would be better, anyway. I don't really want to draw the eye up to the ceiling because I like how the white cabinetry flows into the white ceilings – I think that's what helping the kitchen feel so much taller.
I already had the perfect light fixture in mind. Don't look at the price, it's staggering, but let me tell you a story about this light. I have loved it since 2012, when I saw a mini version (of what I believe is the same light) in another blogger's bedroom. I don't remember the name, but I remember she linked to it and the price made my eyes bulge out. But it reminded me so much of an Iittala Alvar Aalto vase and I never stopped thinking about it. At the time, I ended up buying (much less expensive) table lamps with a similar aesthetic, and those now live in the dining room on the credenza.
I decided that the light I'd drooled over, all of these years, would be perfect in the kitchen. I love the curvy white glass because it will complement the curvy veining of the quartzite and the soft shapes of the fish scale backsplash. It's organic and cool and while it makes a statement, the white won't pull attention from other design elements or visually pull the ceiling lower.
I hope I love it – I can't wait to see it in real life. Here's a terrible mock up of it "installed":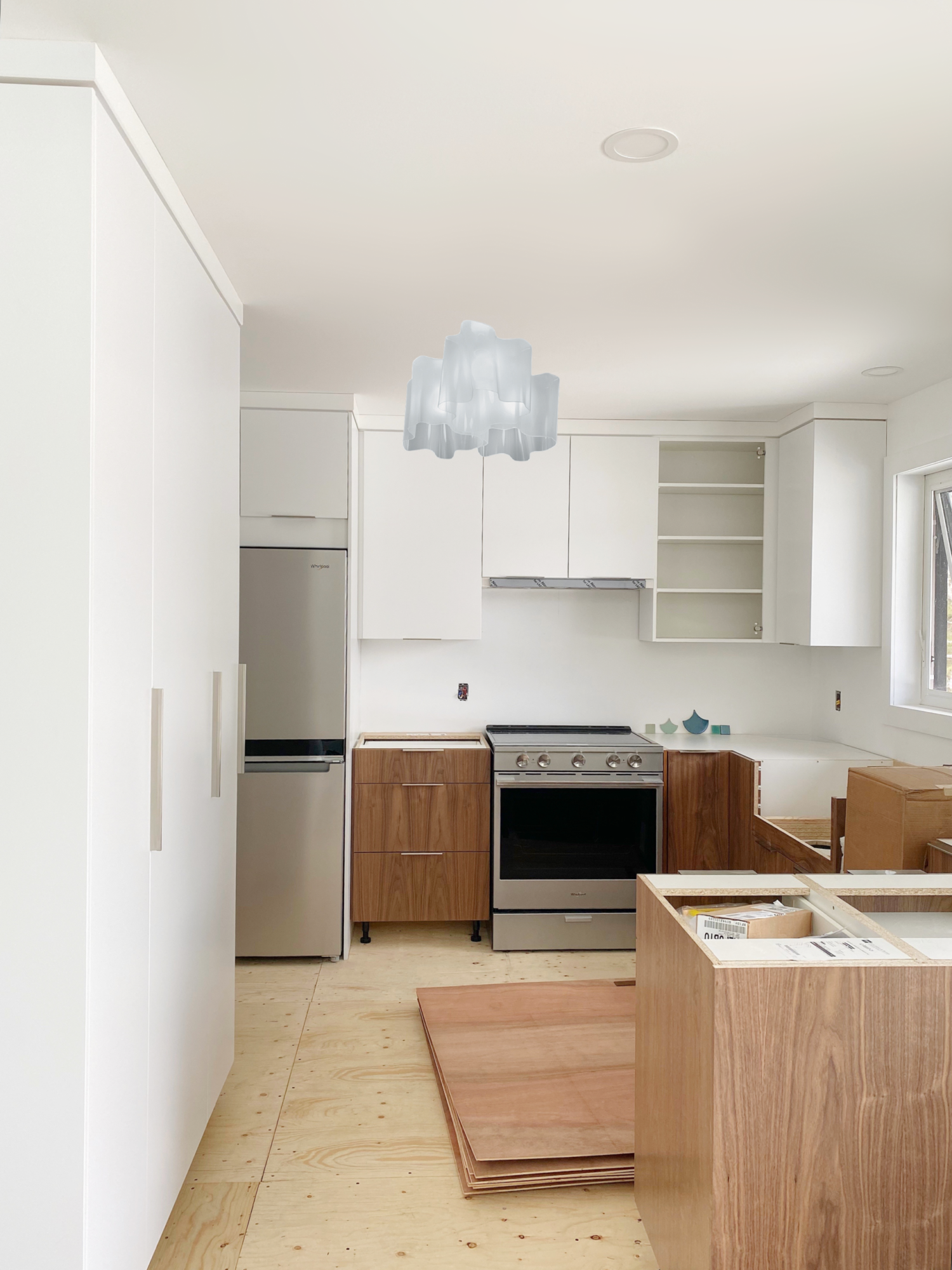 The Necessary Reno Mishap:
We've only really had one mishap: the cabinet installers were working in the carport and a piece of wood was sent flying from the table saw. It dented our nearly brand new soffit! I was so relieved there were no injuries, and the company has offered to pay for and install the replacement soffit, so there's that to be grateful for. It just looks like it could be a bit of a hassle to get the matching soffit – we might need to take a road trip. Just sharing this in case you thought things were going a little TOO swimmingly, lol.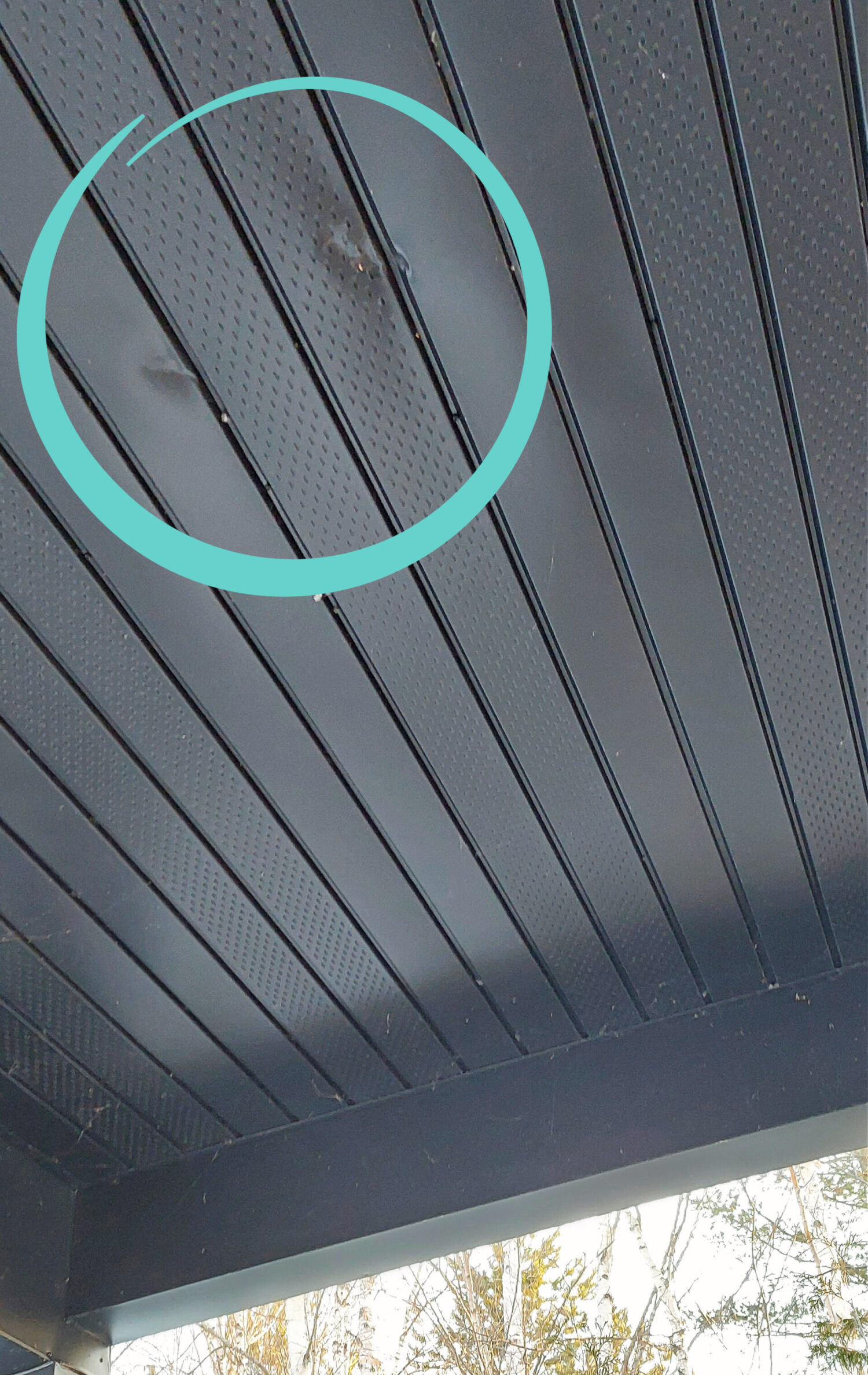 This Week's Project:
Last night we wrapped up installation of the plywood underlayment and today we are working on installing the luxury vinyl tile. Once we pick up the dishwasher, the cabinet installers can finish installing the toe kick.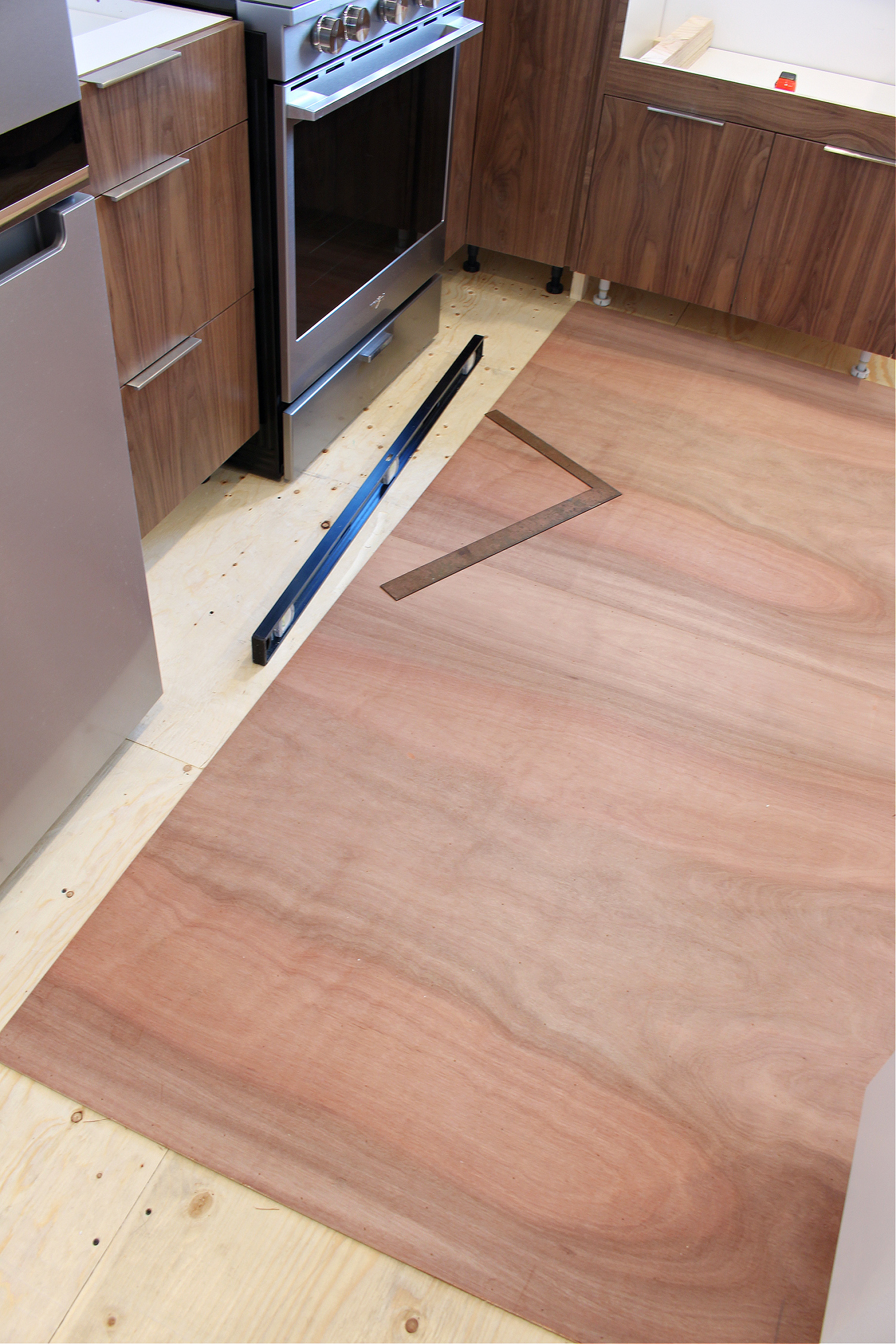 I have no idea when my stone counter slab will arrive, so that's going to hold up this project because, until it arrives, we cannot choose or order the backsplash tile. Although I did share a video on Instagram with a look at my four tile choices – if you'd like to help me choose a tile color, check it out and let me know your vote in the comments!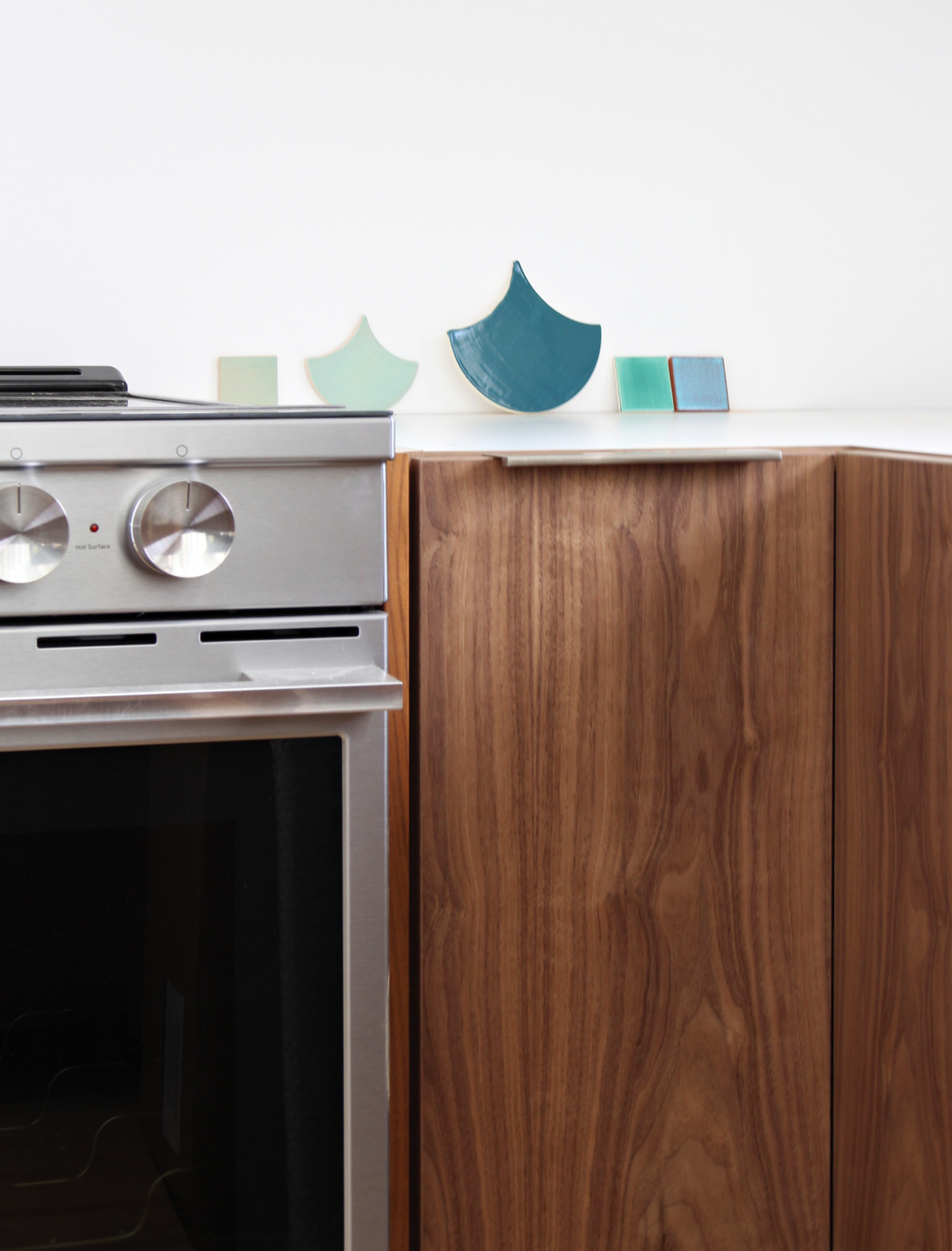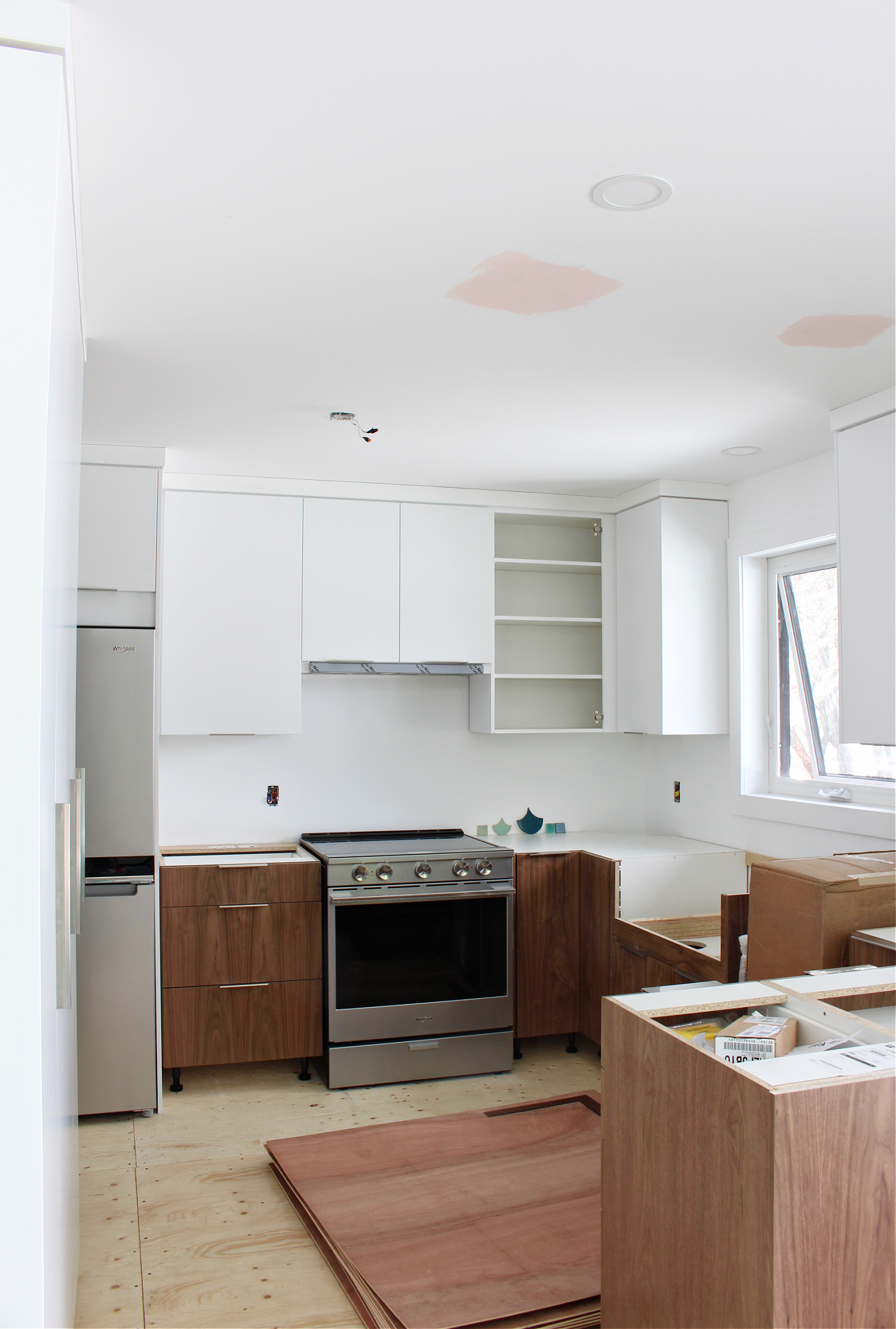 If you'd like to keep up with real-time updates, I'm sharing daily stories on Instagram. I'm saving all of the stories into highlights (currently called "Kitchen 1″ and Kitchen 2"), if you'd like to catch up! Do you think we'll make the One Room Challenge deadline??? We're at the halfway point but I don't feel halfway done…
P.S. It's taken me a few days to clean out the new fridge, so in the meantime we've ratchet strapped the old fridge – and its contents – in the carport. It's kind of been an excellent deterrent for my 11pm ice cream cravings, lol. Not only does it take me forever to remember how to use a ratchet strap, I worry I'll run into my bear friends… I'm wondering what kind of horrors my neighbors imagine I'm keeping inside?!?