My home has a healthy heaping of vintage finds – from furniture to lamps to accessories – in every single room, so I decided to put together a little guide with tips for buying vintage home decor. Plus I'm sharing a list of my favorite vintage finds ever – and I'd love for you to share your favorite finds in the comments! Can't get enough vintage and thrifted finds? I share weekly thrift store trips in my Instagram stories, if you'd like to see what kinds of vintage finds cross my path these days…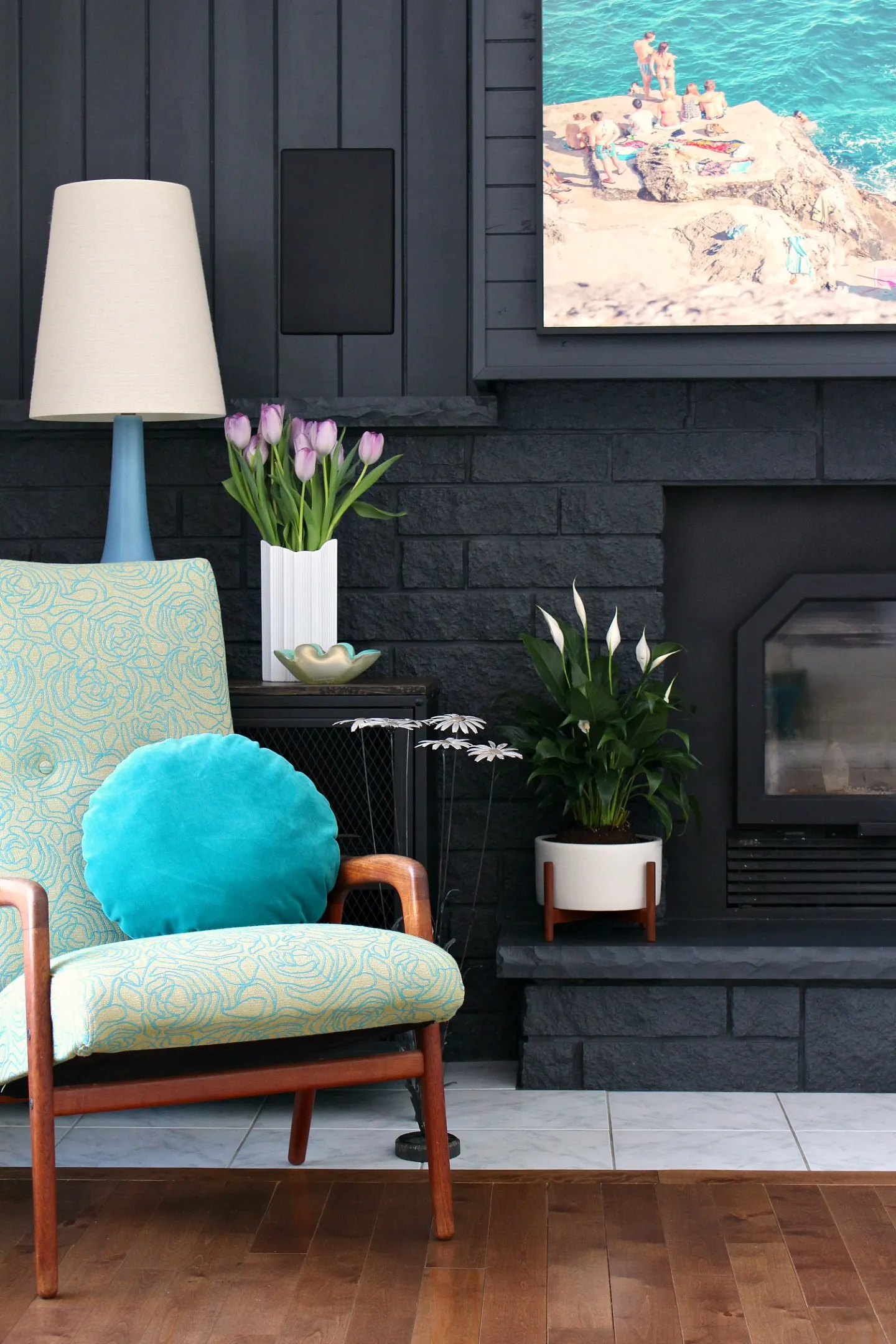 Don't Limit Online Searches to Name/Style/Age/etc
One of my best finds, a pair of vintage Eames chairs, was found in the classifieds described as "plastic" – the former owners had no idea what they had! They never even flipped these chairs over to find the (very obvious) label, so if you want to find a bargain on Etsy, eBay or your local classifieds/Facebook marketplace, sometimes you have to think of search terms someone who doesn't know their product might use. Search "vintage fiberglass" and you might end up in a bidding war, but search "plastic" and you can find a deal like me (I paid $15 each)!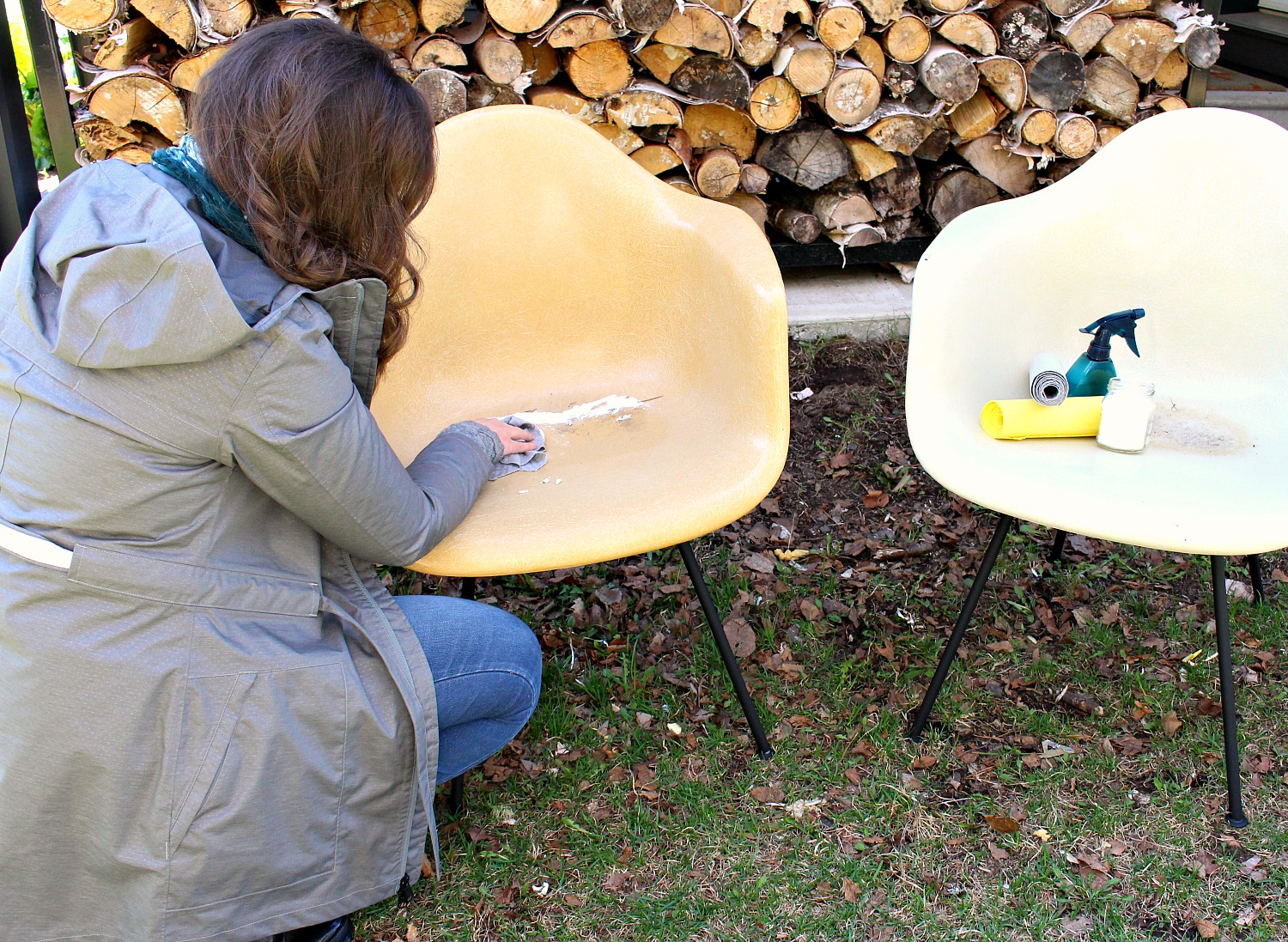 Get Familiar with Vintage Designers & Patterns
One of the best ways to shop for vintage home decor is to get familiar with vintage designers and patterns. When I need a little break from work, I'll take a moment and troll my favorite Etsy shops, key search terms or hashtags, vintage blogs, and Instagram vintage shops. I always imagine my brain is a room, with a tired little hamster pulling things from filing cabinets when I need it. So I like to keep my "vintage home decor" filing cabinet very full. This way it has become easier to spot valuable vintage finds amidst the rubble of a thrift store (and also not accidentally buy something new, from a reputable antique dealer, like I did). Just the other day I searched Iittala patterns on Etsy, because I'm not familiar with every one and I'd love to be able to recognize the lesser known designs when I'm out thrifting (seeing as the thrift stores recognize the popular designs and charge more than new for them, lol). It was thanks to a mid-century modern blog that I learned about Krenit bowls and scooped this beauty for $2 at a church rummage sale: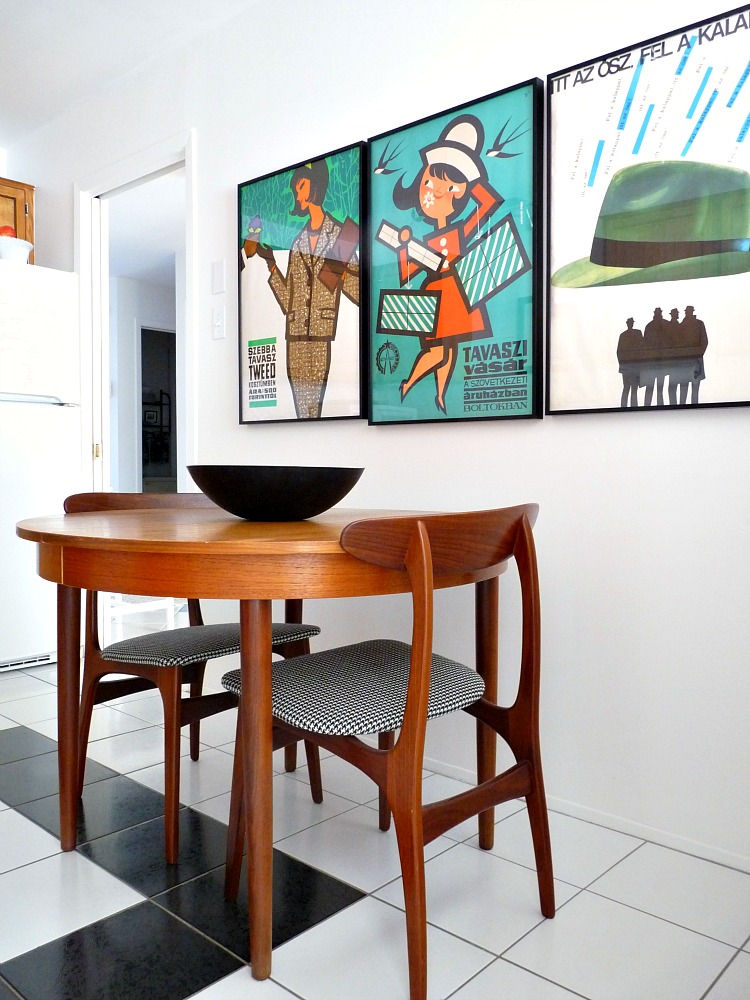 Seeing this Cesca chair pop up on Instagram, time and time again, is how I knew these vintage chairs were valuable enough to scoop from the landfill!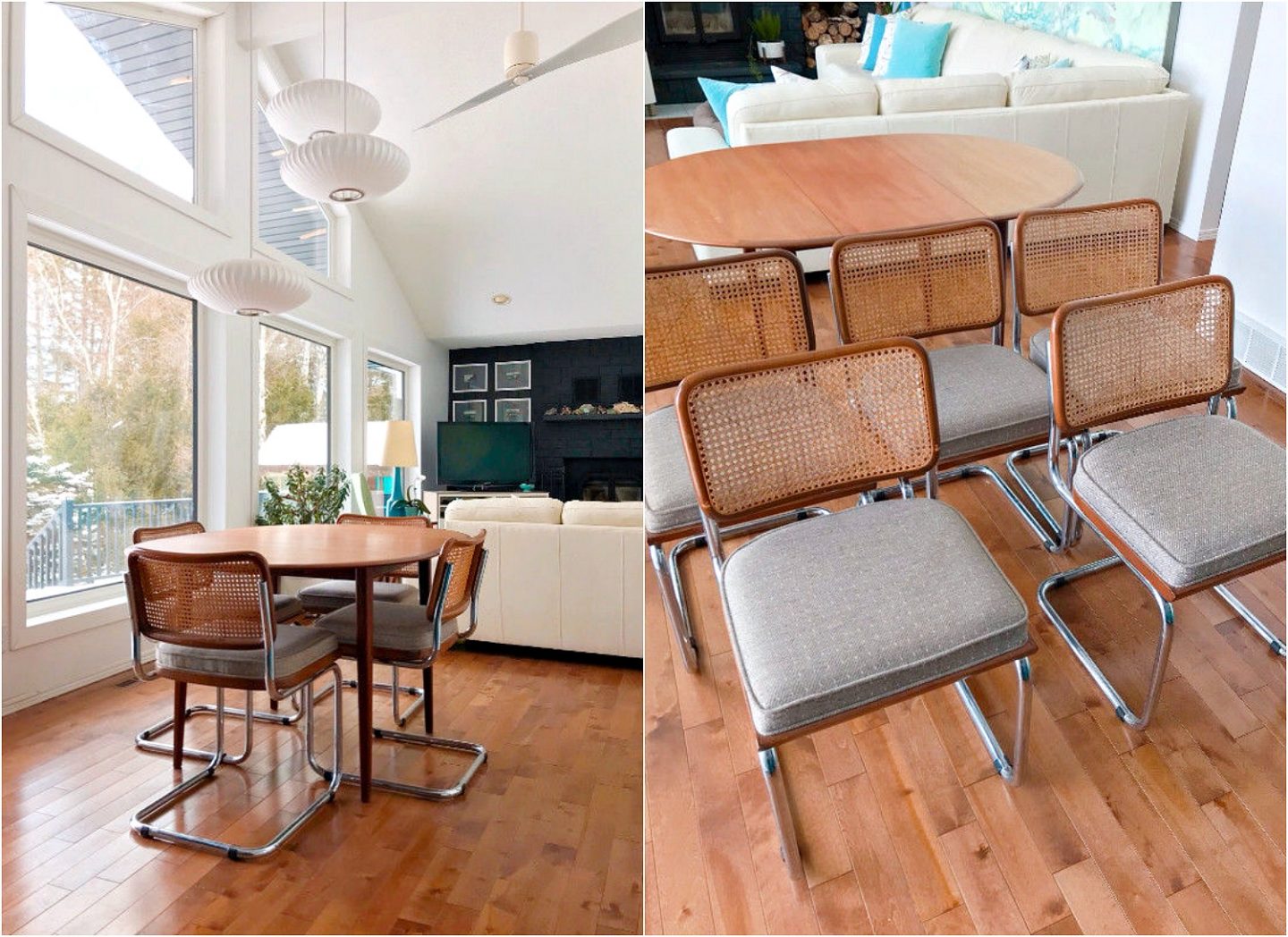 Trust Your Gut
Having said that, trust your gut when buying vintage home decor. If you love a piece and it pulls at your heartstrings, you will always find a space for it or a way to incorporate it into your home. Ultimately, you want to find things you love and that brighten your day – no matter the "value," age or brand. Plus, with a healthy vintage stash, you never know – you might end up trading it with another vintage lover! Among vintage enthusiasts, vintage finds are currency so you can always trade or sell to finance your dream piece. I almost passed on this coffee set, sold at the thrift store in a dirty old box, but something said to scoop it – I flipped over the pieces to check labels and they turned out to be vintage Rorstrand. Mom LOVED – and promptly stole – this set. Well, I think we traded for something I wanted from her home. See? Currency, haha. I've also traded vintage Pyrex with strangers I met on Instagram, which was a lot of fun.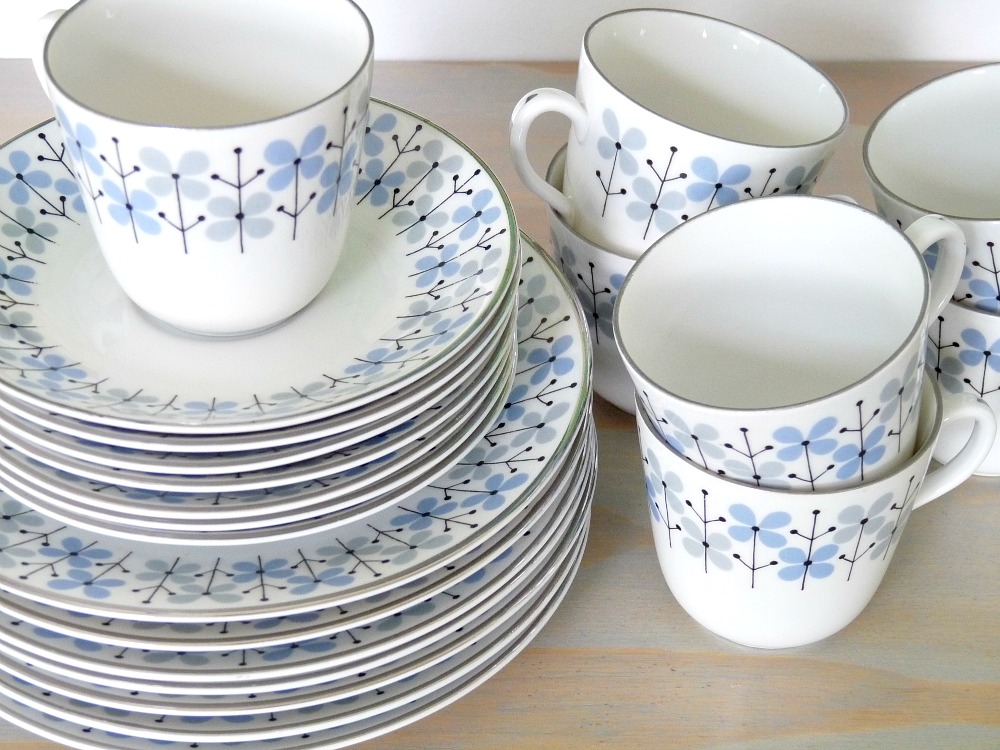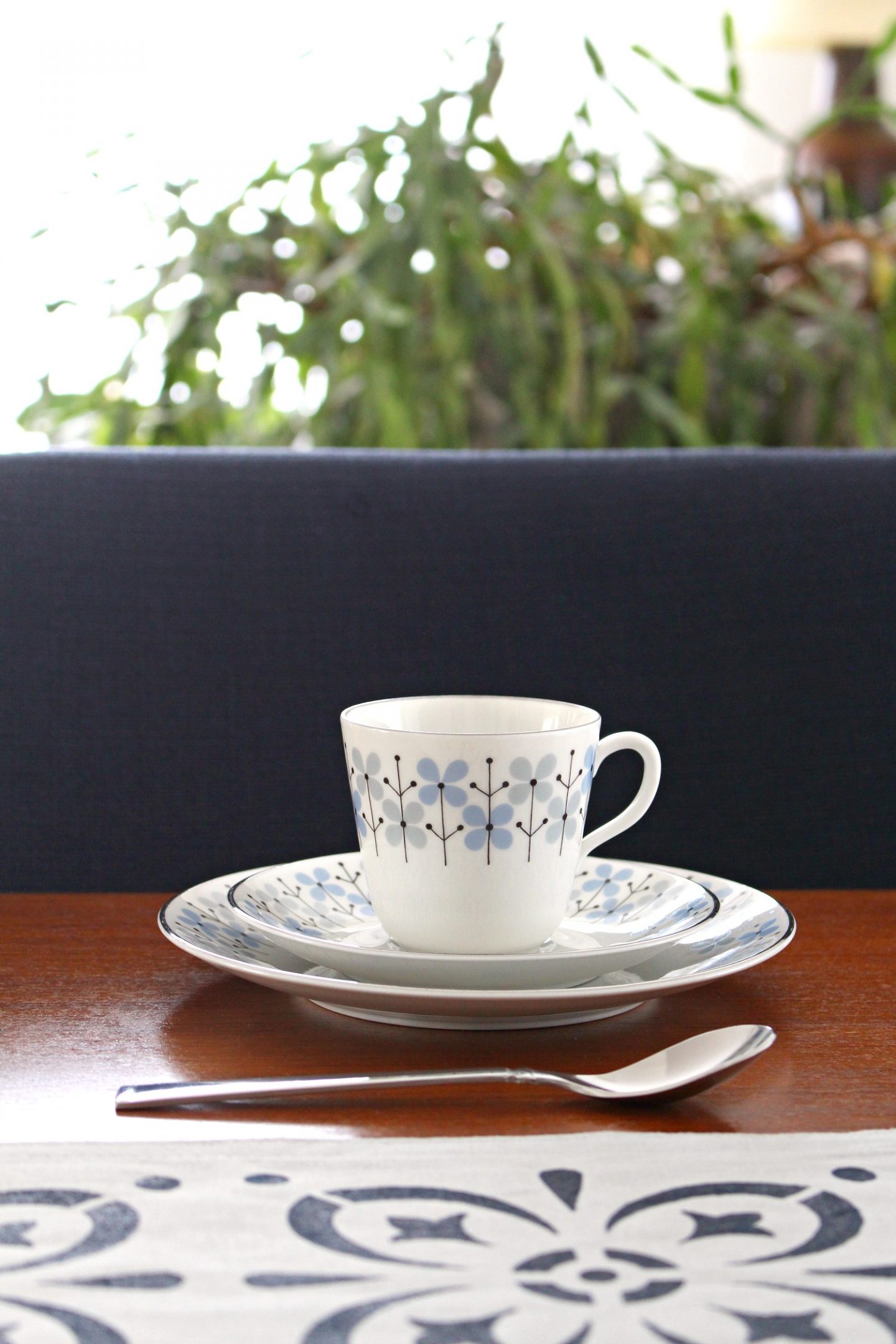 Follow My "3 by 3" Rule
I found this advice in a fashion magazine, probably 20 years ago: before you buy a piece of clothing, think about 3 things you can style it with and 3 places you can wear it to. I don't know why, but that wisdom has stuck! So much so, that I apply it to home decor as well. I always ask myself, what 3 other pieces will this look good with and what 3 spaces can I use/style it in? It's helped me curate beautiful pieces that have travelled all over my former townhouse, current lakehouse, and Mom's house (lol), to help me decorate a home I love.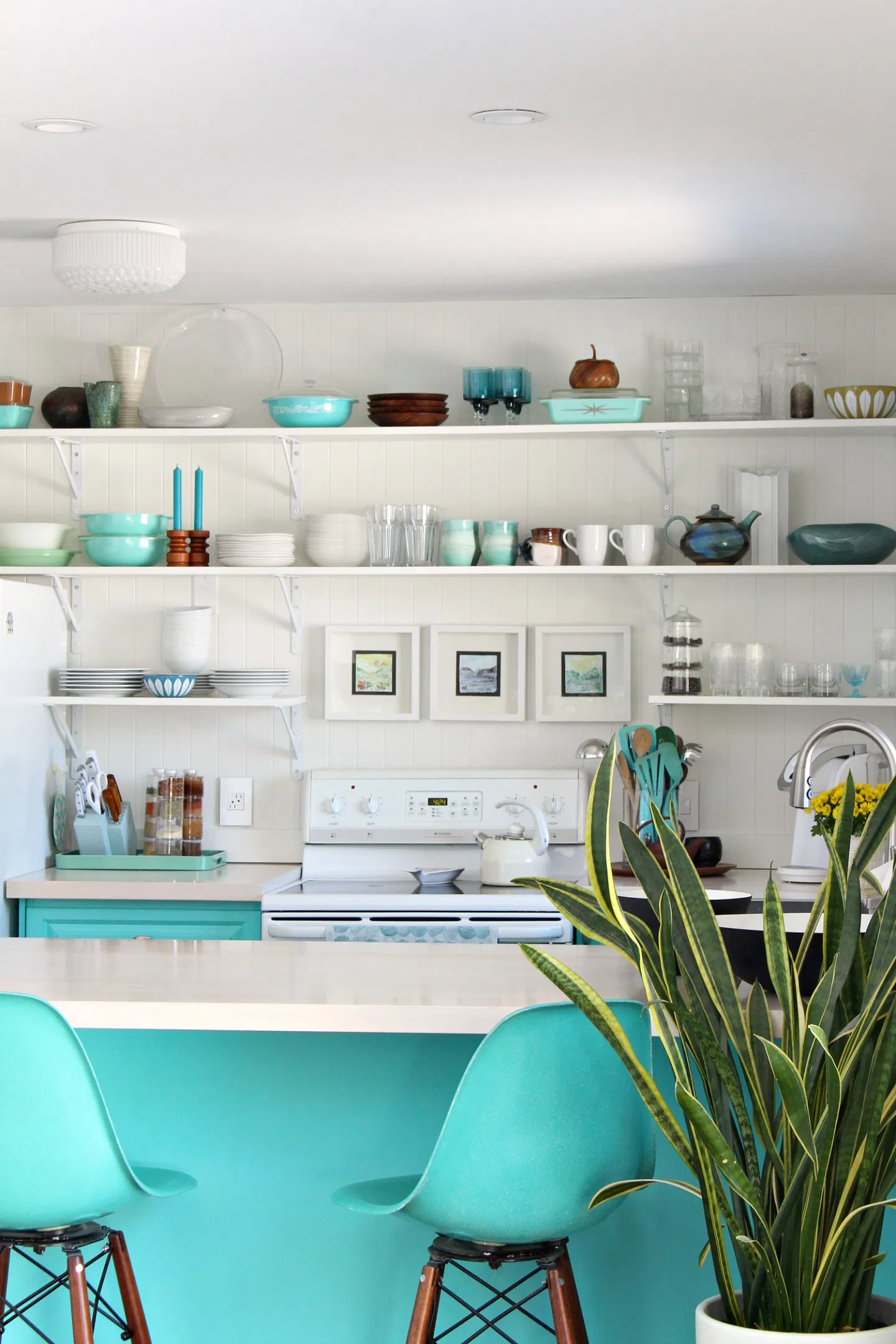 Inspect for Damage
Thrift stores sometimes like to hide damage. I bought a packaged spice jar set, only to realize the tape holding together was actually placed to hide chips and cracks. Sneaky sneaky! Inspect items carefully and try to bring them closer to a window to see them in natural light, to better examine for flaws. If shopping online, be sure to ask questions!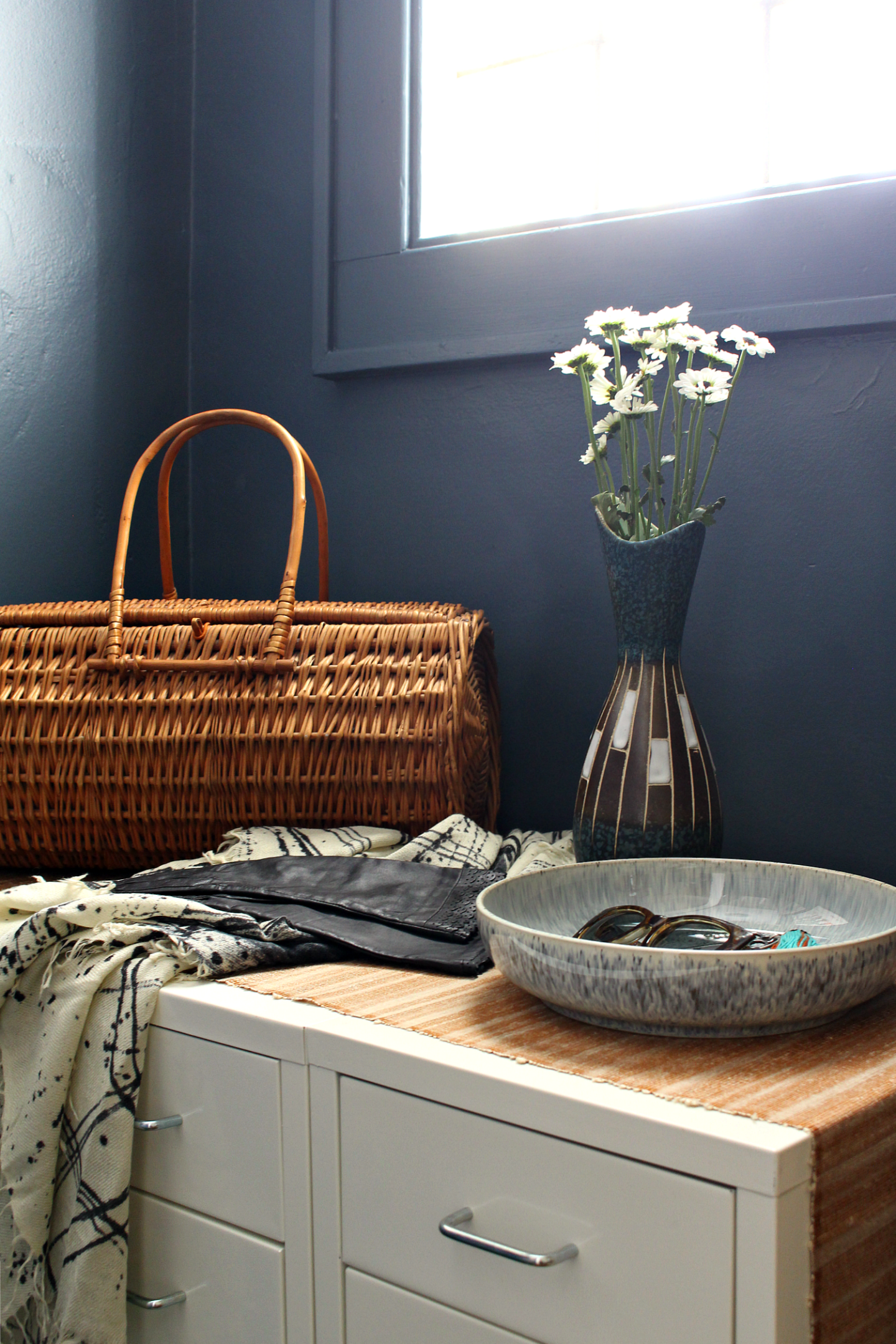 But Don't Overlook Worn Items
Some things will be worth buying, even if damaged. Both of my vintage chairs had substantial damage but after new foam, upholstery, and a little wood refinishing, they've been outstanding pieces in my home for a decade. Sometimes wear adds patina, and sometimes wear can be restored with a little TLC – especially with furniture.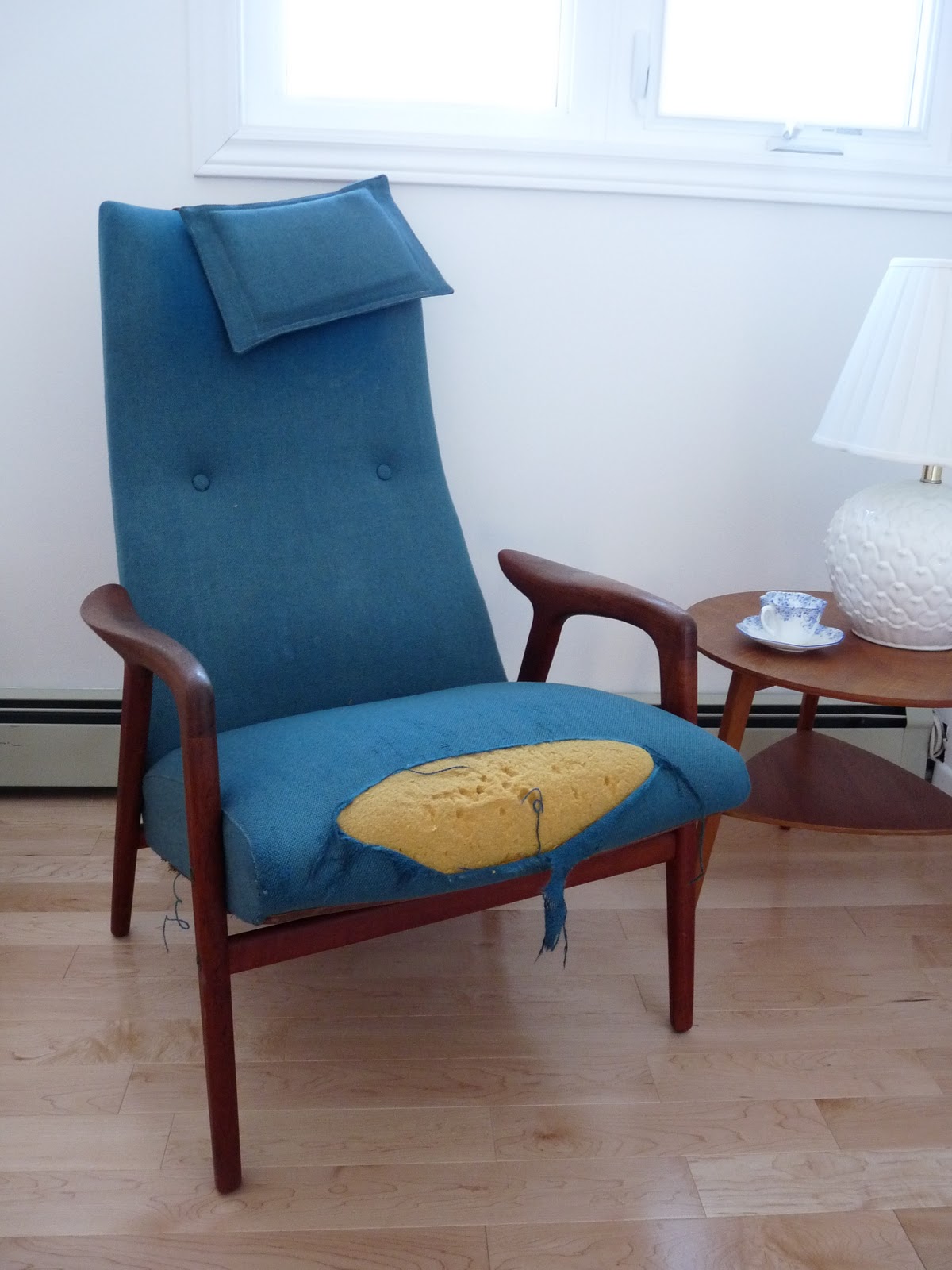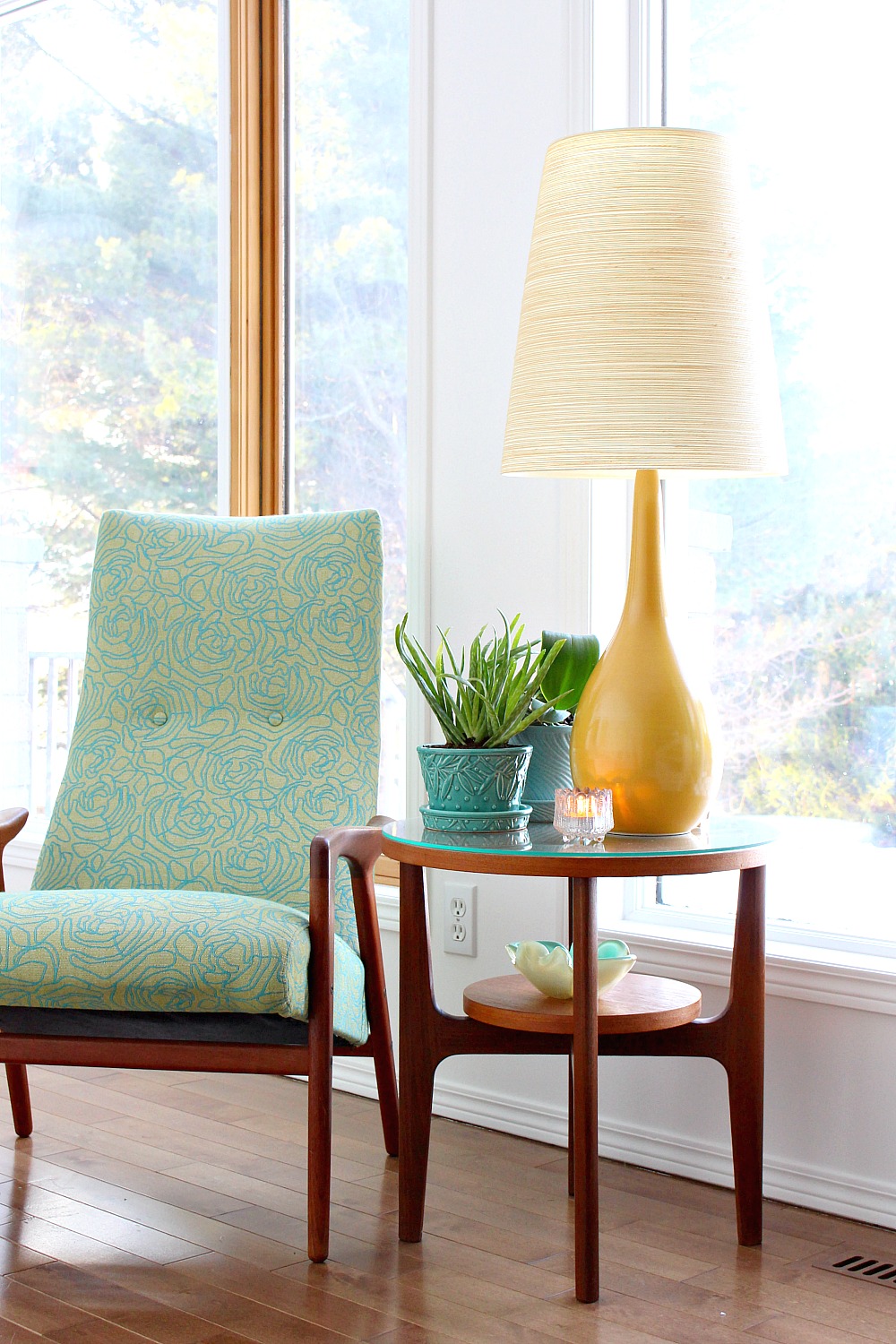 Build a Community
If you really want to get into vintage, find a community you can rely on to help you identify pieces and style them in your home. I share weekly thrift store finds in my Instagram stories and I'm always wowed by the knowledge of my Instagram friends! They've helped me identify so many pieces and a few times I've gone back to get something because I was shown a way to style or use it I hadn't thought of. Whether it's a friend you can text photos to or a social media community, find like minded people who love vintage as much as you do. Like I mentioned above, when I was more into collecting vintage Pyrex, I met so many people online who did too, and we traded pieces, helped each other identify patterns, and it made collecting Pyrex even more fun!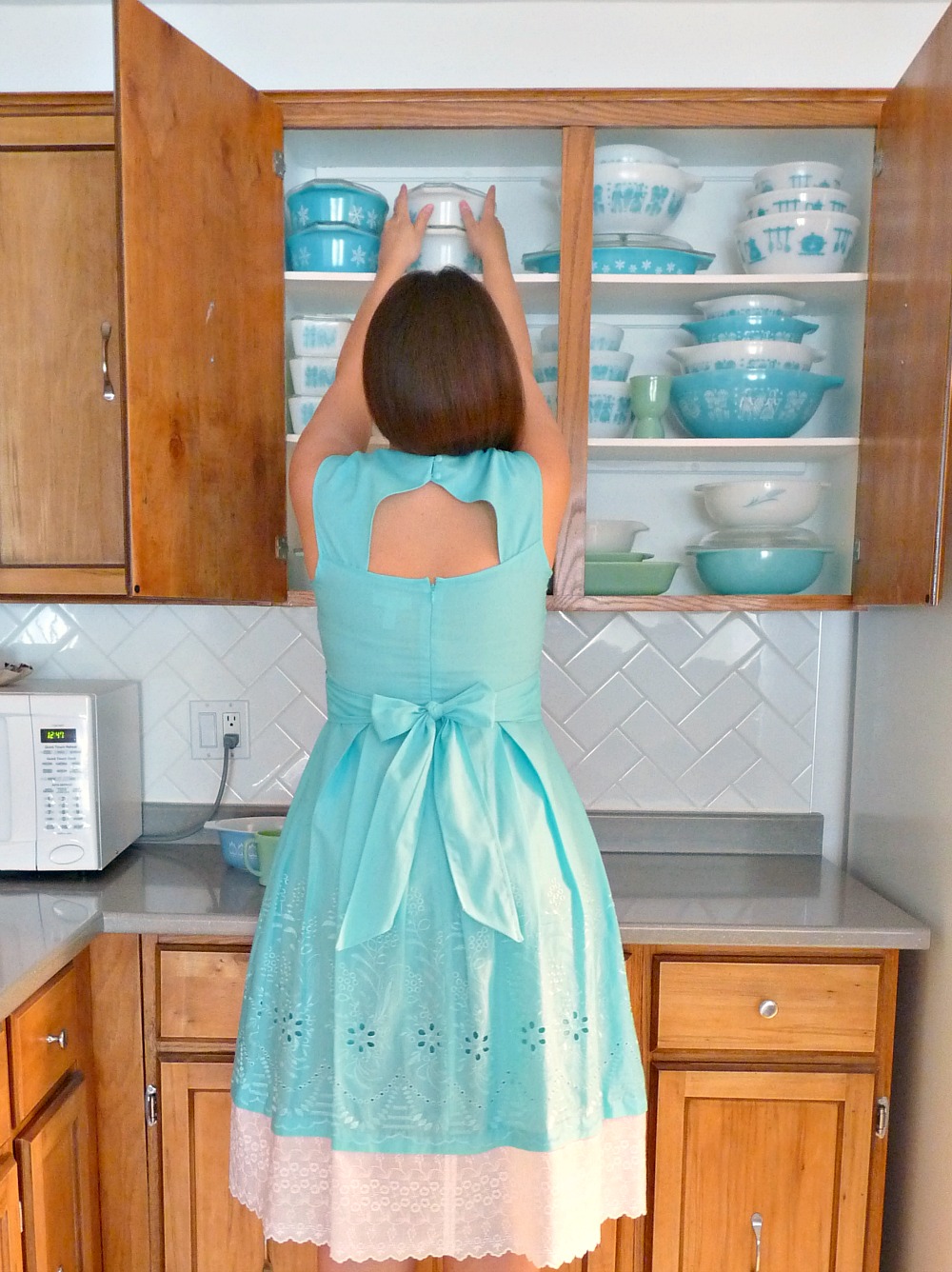 Ask Yourself if You'd Pay Full Price
Although thrift store prices are rising, some finds are still a bargain, so there's a temptation to buy something just because it's cheap – you can't deny that serotonin boost finding something for a great price. I see a LOT of people share their finds on social media, but sometimes it's clear that the only motivator was the low price. But if you add up a bunch of cheap finds you sorta like, you could buy one thing you really love. A "good find" will only become clutter if it isn't something you truly love and value. Ask yourself: would you pay full price? Would you be excited to find the same thing at an antique store for much more? This question helps guide my purchases and keep my love of vintage from bubbling over into clutter. Sometimes I still pick up something vintage because it's cheap and cheerful (see the rocking, 1960s chicken shaped salt/pepper shakers below), but mostly I make sure the vintage I bring home is something I really love – not just because it was thrifty.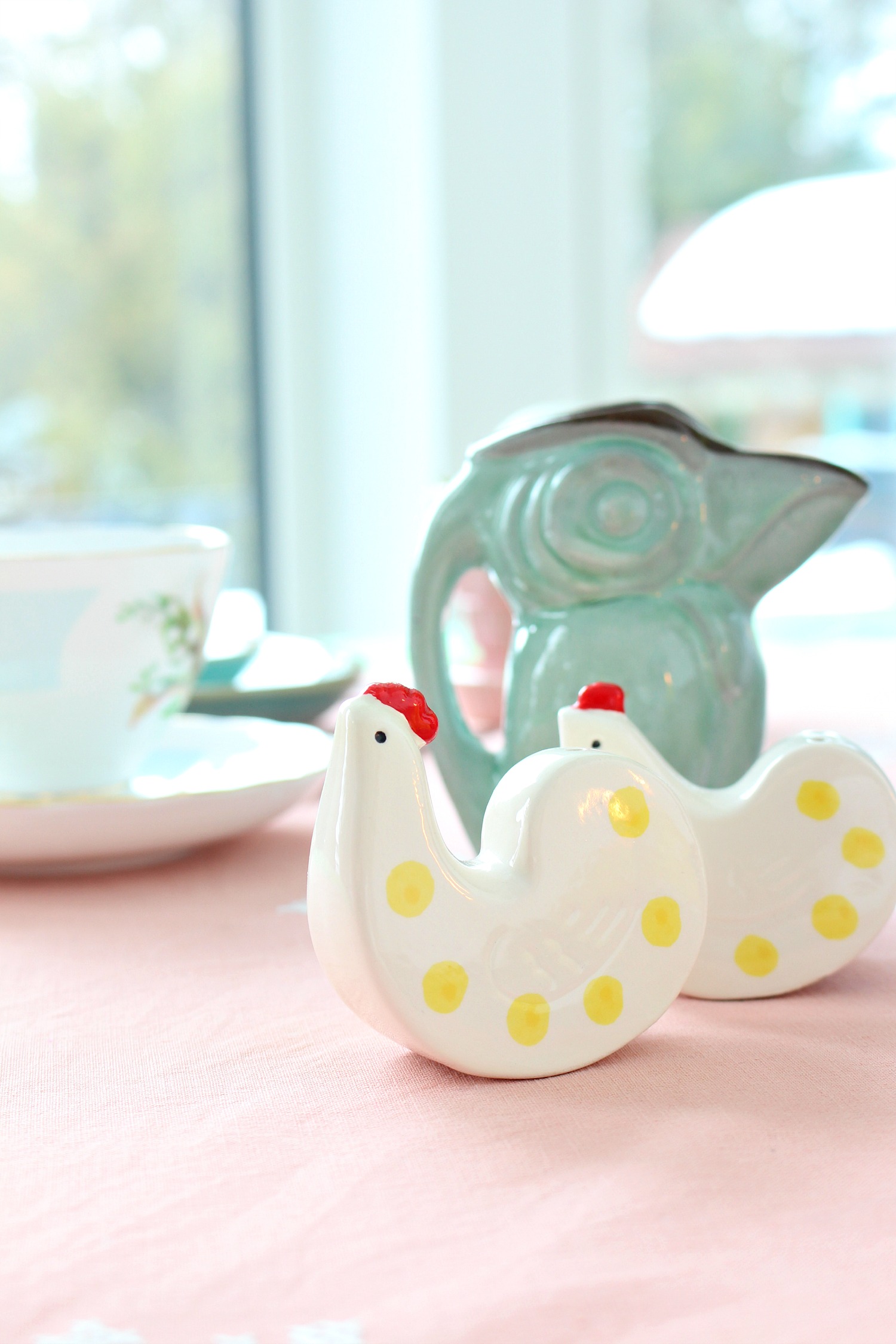 Don't Miss a Special Piece
On the other hand, when vintage shopping you may find something you'll never see again! So while I DO suggest you ask yourself if you'd pay full price, I also suggest scooping very unusual things you're drawn to – that's where my advice, "trust your gut" is so important. I've only ever spotted two cool retro typewriters in my two decades of thrifting and going to yard sales. I bought this blue one with the intent to sell, but my Mom scooped it and loves it so much – we even used it for this DIY project! I'm glad I bought it, even though I really had no use for it. I literally bought it just because it was neat and I'd never seen one like it before!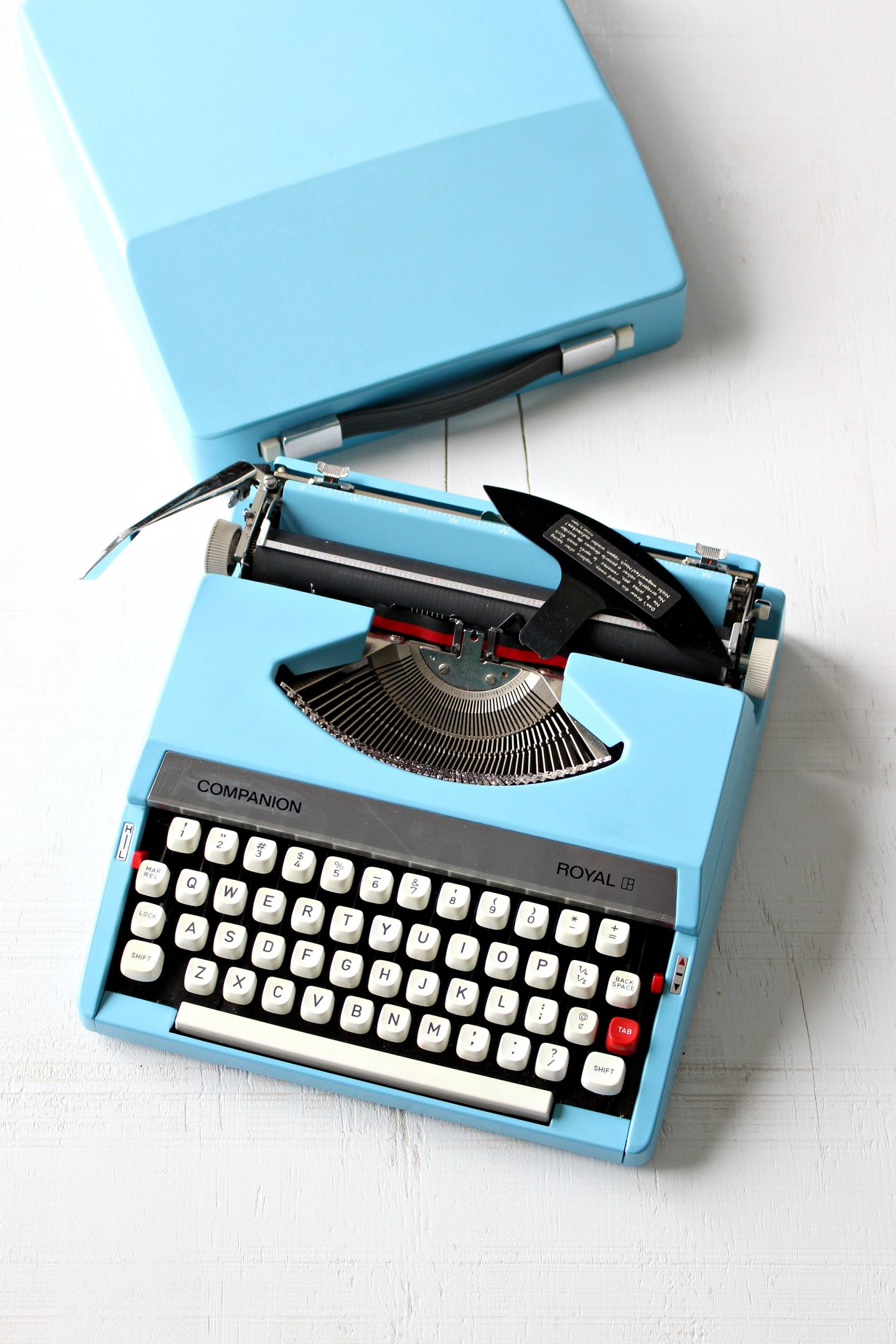 Splurge When it's Right
In my experience, vintage and mid-century tend to hold their value. There are small shifts in trends and sometimes the value of an era/brand/style will drop in price, but ultimately there's always a buyer out there still collecting whatever you have. In the years that I've bought and sold vintage furniture and decor, I'm always amazed at how well vintage will sell. On the other hand, I recently tried to sell almost new furniture and it was SO difficult. Even if it's well made, people want "nearly new" secondhand furniture for dirt cheap (around here, anyway). But I have made money (or at least broken even) anytime I have wanted to sell something vintage. I say this to encourage you to splurge, if you find the perfect piece, because there's a finite supply of vintage and rest assured you can always get your money back if you have buyer's remorse. Sometimes people equate thrifting vintage with finding cheap deals, but I think it's more about finding a beautiful, quality piece. Lately, I'd rather just buy one thing I really love, than 100 "such a good deal" vintage thrift finds I feel somewhat lukewarm about!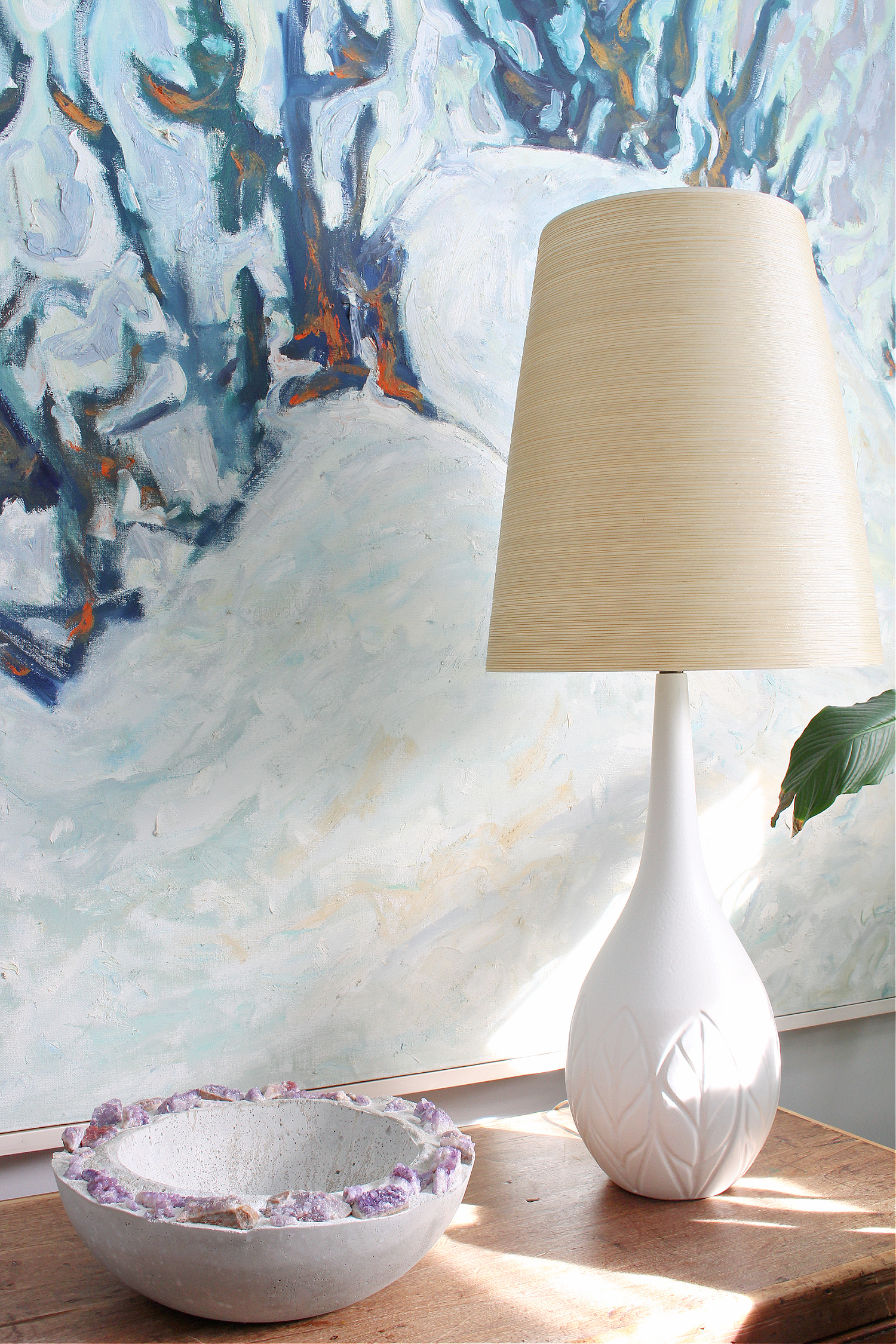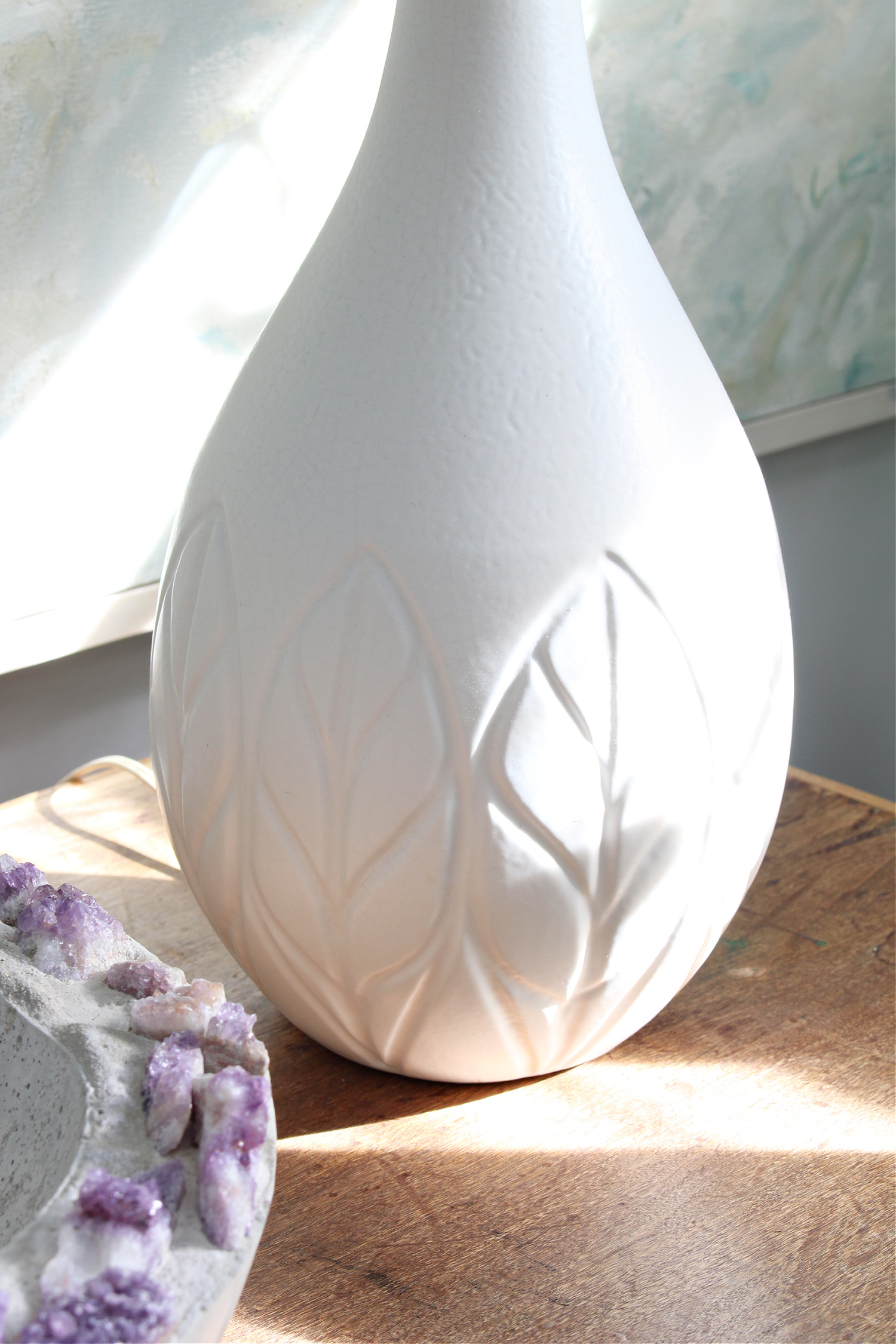 For example, I splurged on the signed vintage Lotte lamp (above), because I loved the simple white glaze (timeless and goes with everything!) paired with the unique carved leaf design. It's even signed! I have a small collection of Lotte lamps (the pair of blue ones in the living room – see one of them below – plus a small brown one in my former kitchen, and three yellow ones my Mom uses) and having this special one in my mini Lotte lamp collection brings me joy! While I'm thrilled I scooped the yellow ones for a bargain, many years ago, this white one is so just perfect with my decor so, even though I paid much more and it wasn't a good deal, I still love it more.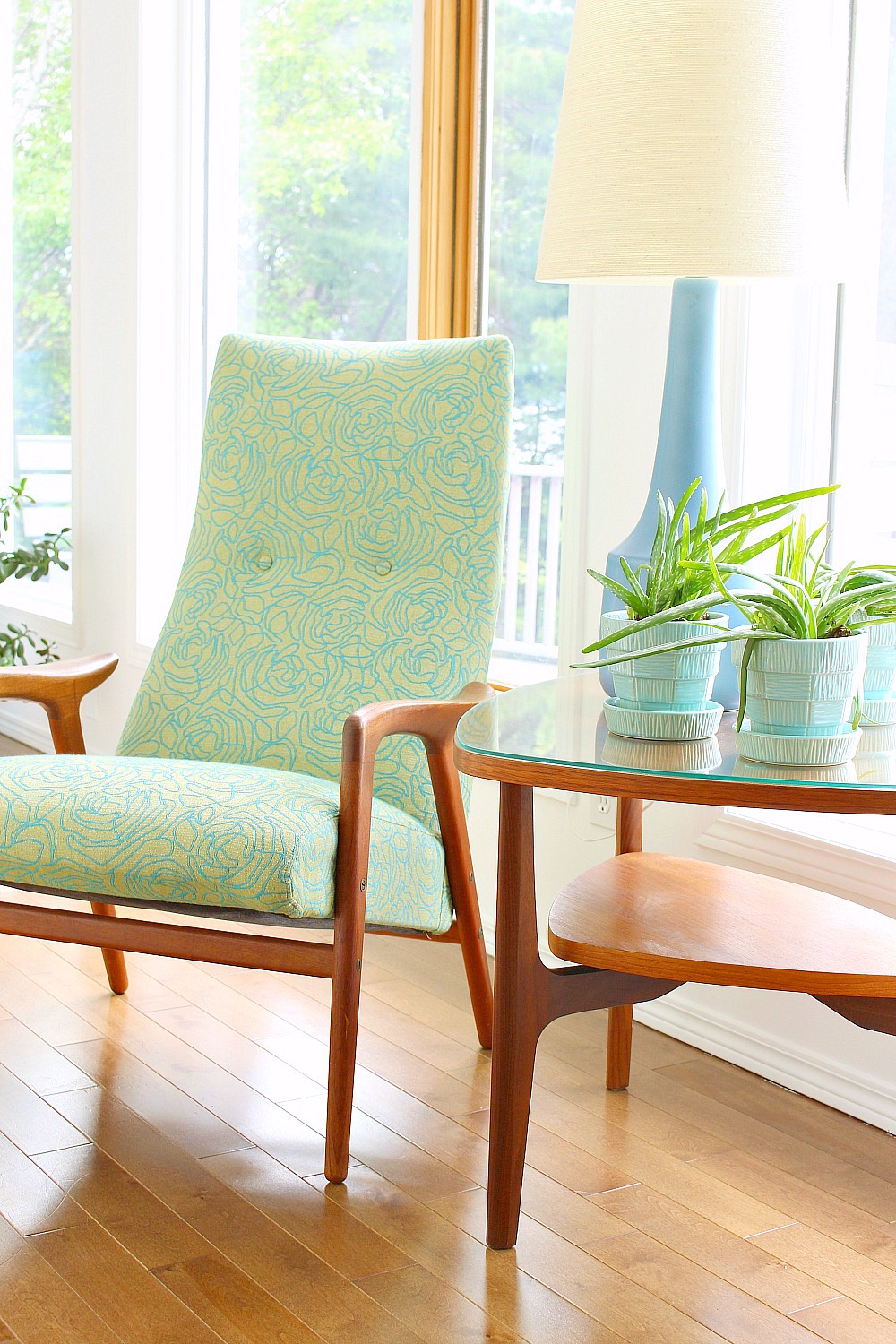 Think Outside the Box
When shopping for vintage, think beyond an item's intended purpose. In my hands, vintage bakelite brooches became art – as did vintage post cards of the Lake Superior area. I follow a lot of creative people on Instagram who always amaze me with the inventive ways that they re-purpose vintage finds. It's exciting to think about an obsolete item finding new life as decor. When in doubt, anything looks cool and artful arranged in a collection: old globes, wooden shoe forms, Pyrex dishes! Although, don't be afraid to USE vintage too! I'm all about using the "good dishes" for daily use!
Mix & Match Eras & Styles
When I first started shopping for mid-century furniture, and sharing my spaces online, people were such vintage purists! I always got a lot of criticism for mixing eras – heaven forbid I misidentified the age of something or paired mid-century end tables with my contemporary sofa. The FLAK I got for recovering a vintage chair in velvet and not tracking down the original fabric. Ugh. But I never liked MCM simply because it was MCM (and trendy). There were always inherent qualities I liked: the craftsmanship, the clean lines, the gleaming woods. And I have never shied away from mixing and matching eras, vintage with new, because there were also things I hated about vintage furniture: hard, uncomfortable chair seats being one of them. I loved our mid-century modern teak dining table, for example, but the chairs were uncomfortable, so I paired them with (various) bum-friendly chairs, over the years.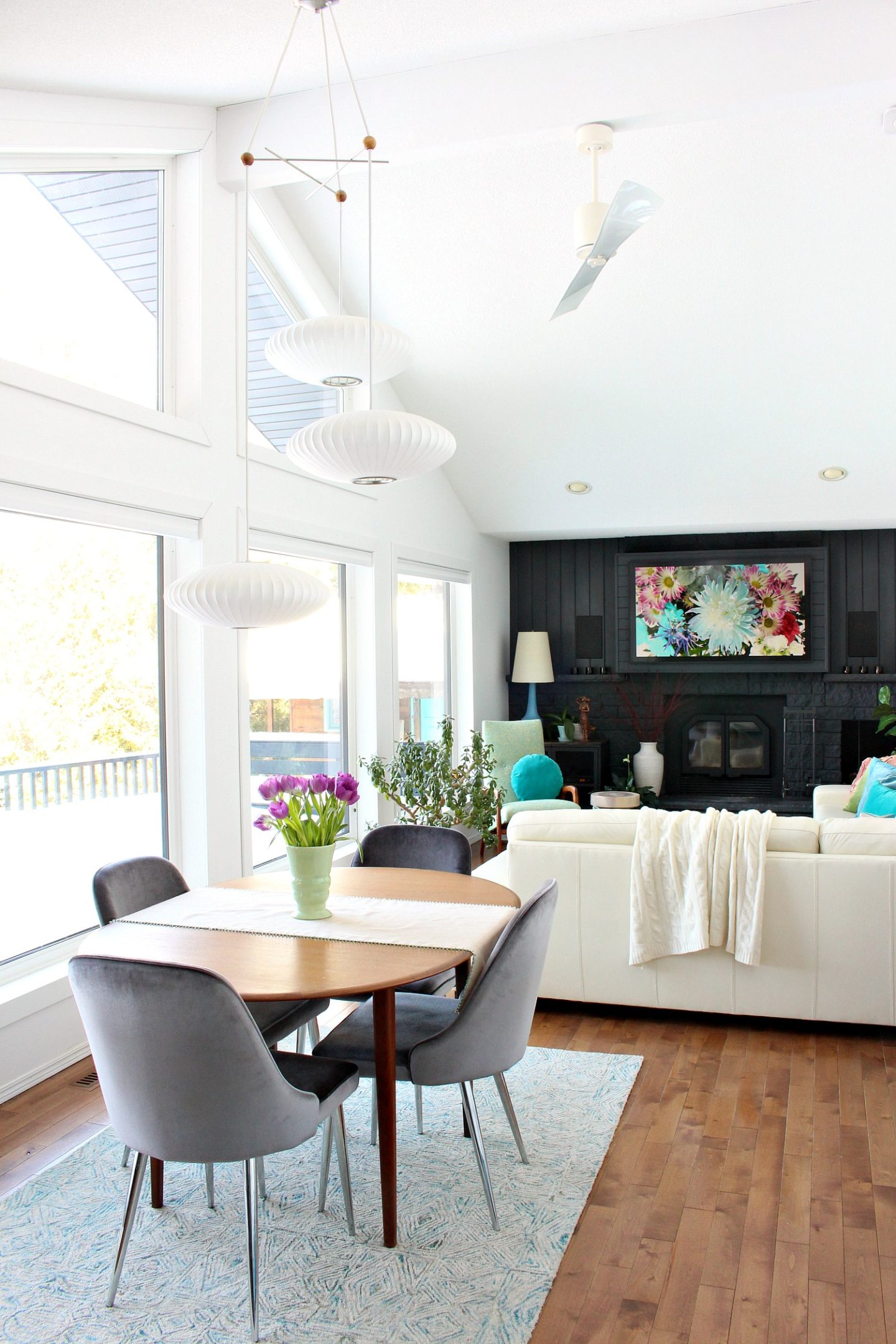 The hard chairs themselves got use, with another teak table in my townhouse kitchen, and then with a tulip table base in my Mom's kitchen.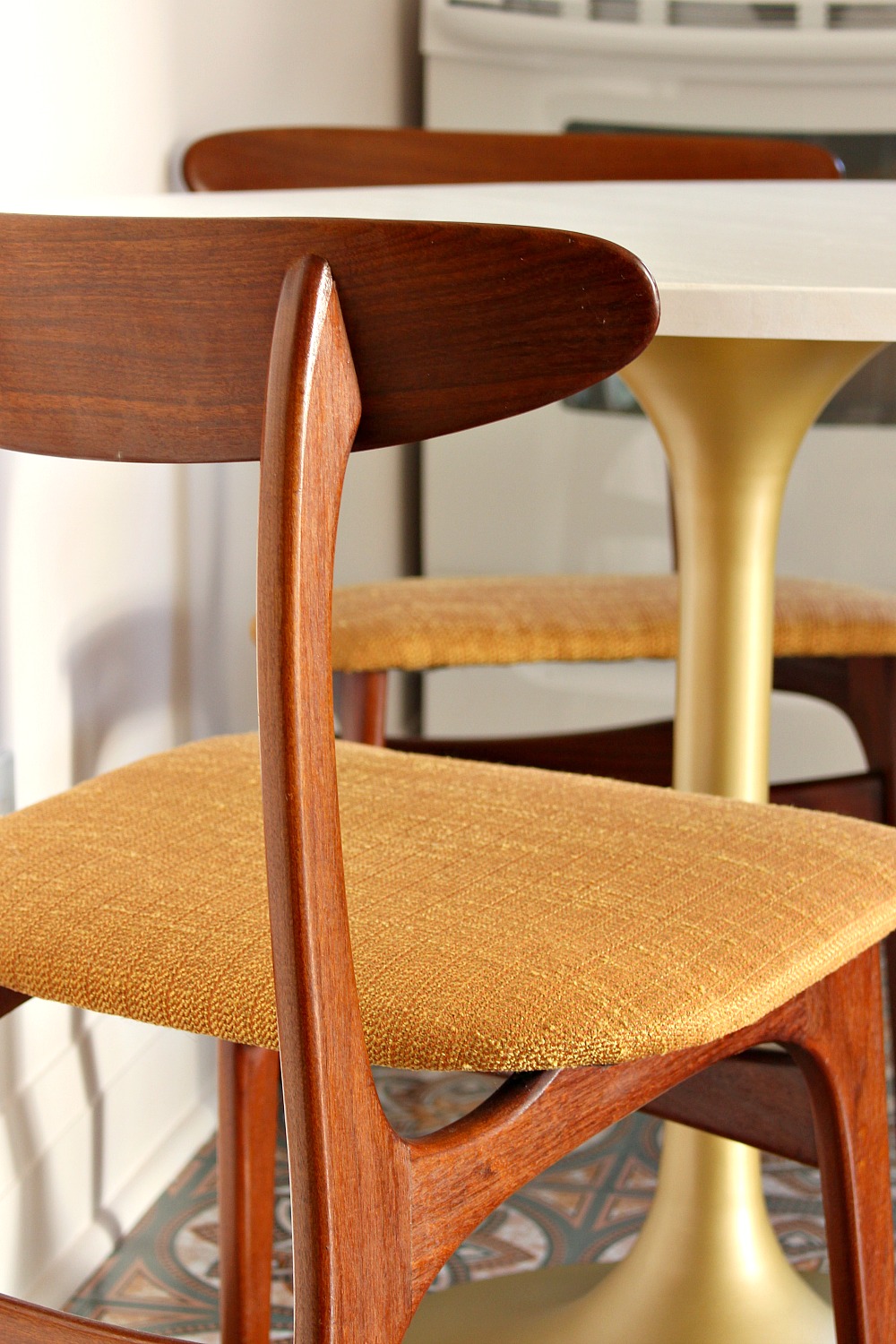 For my Mom's dining room, we kept the vintage set together (chairs and table) and, let me tell you, those chairs are comfy-ish – but definitely not for long nights playing board games or lingering around the dining table all evening.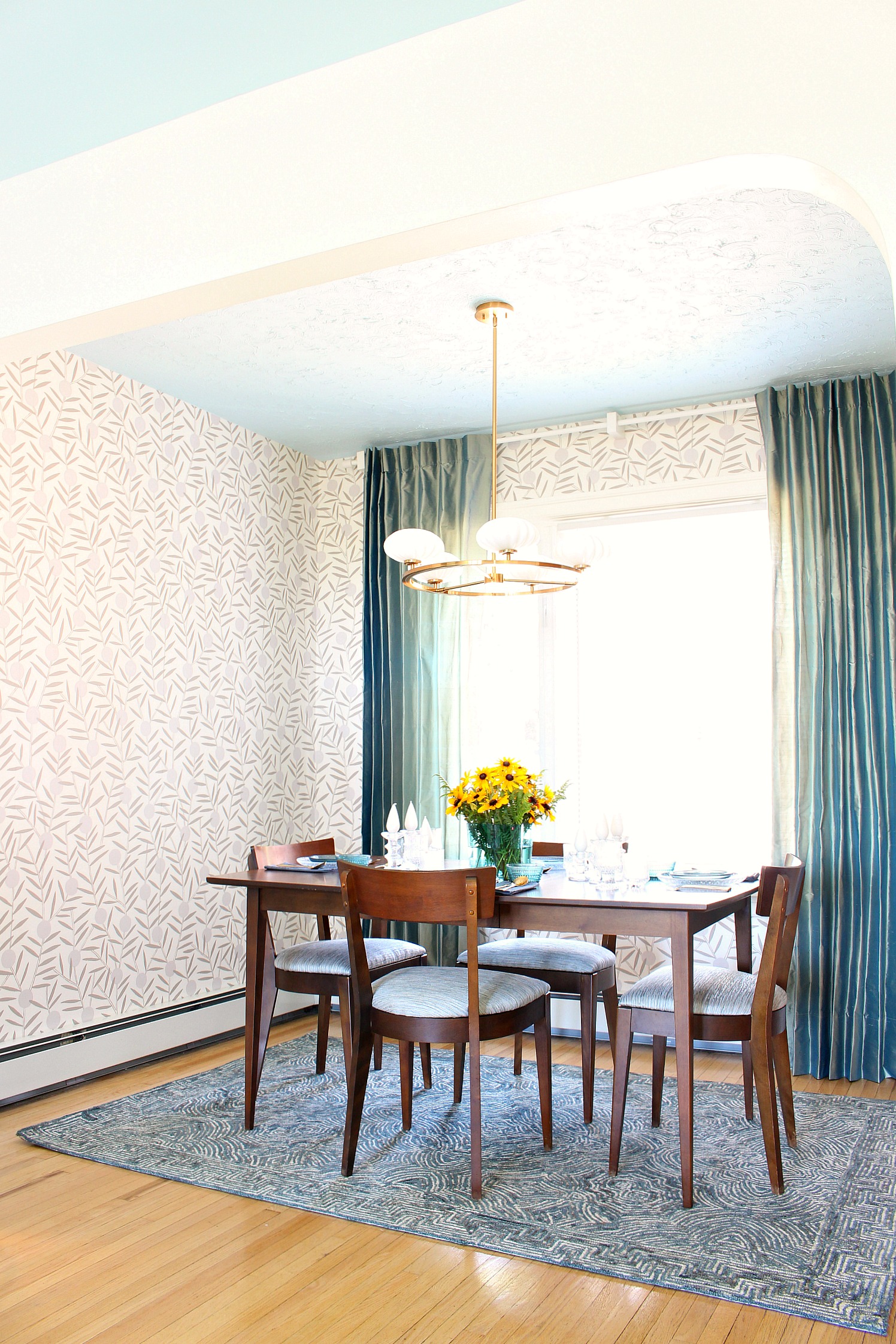 Look Up Values the Right Way:
If you want to make sure you're getting a deal, take a moment to look up values on your phone – but don't look at what sellers are asking. Some sellers are really ambitious – or clueless – when it comes to listing vintage. They aren't in step with trends or they misidentify pieces. Instead, pay attention to sold prices on eBay (filter searches by "sold" items) and Etsy (here's how to find prices on sold Etsy listings) – even Instagram sellers will occasionally keep the sale price up on a listing they sold through the app. This will give you a better idea of whether the price in question is fair or not. I find that thrift stores, when they put special items in a case, always make the mistake of printing off eBay/Etsy active listings – which doesn't mean anything!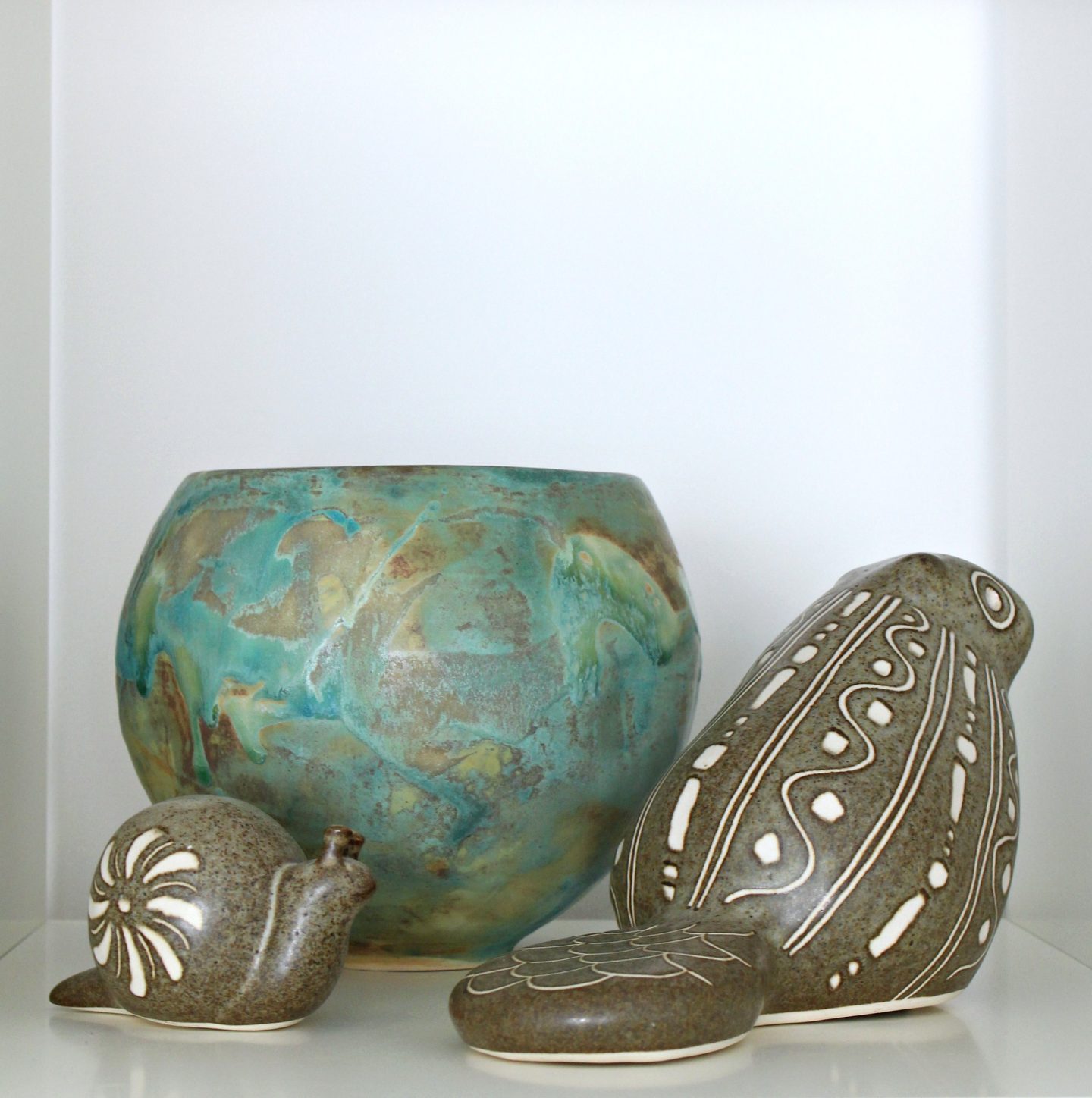 Keep a Wish List + Measurements:
When shopping vintage, you don't always have time to go home and think about something – or measure if it will fit. I like to keep a note on my phone with a list of things I'm keeping my eye open for or need/want, along with some measurements if I'm shopping for art or furniture. You never know when you'll find the perfect credenza or table, so it's helpful to keep some key room measurements at hand for when opportunity strikes.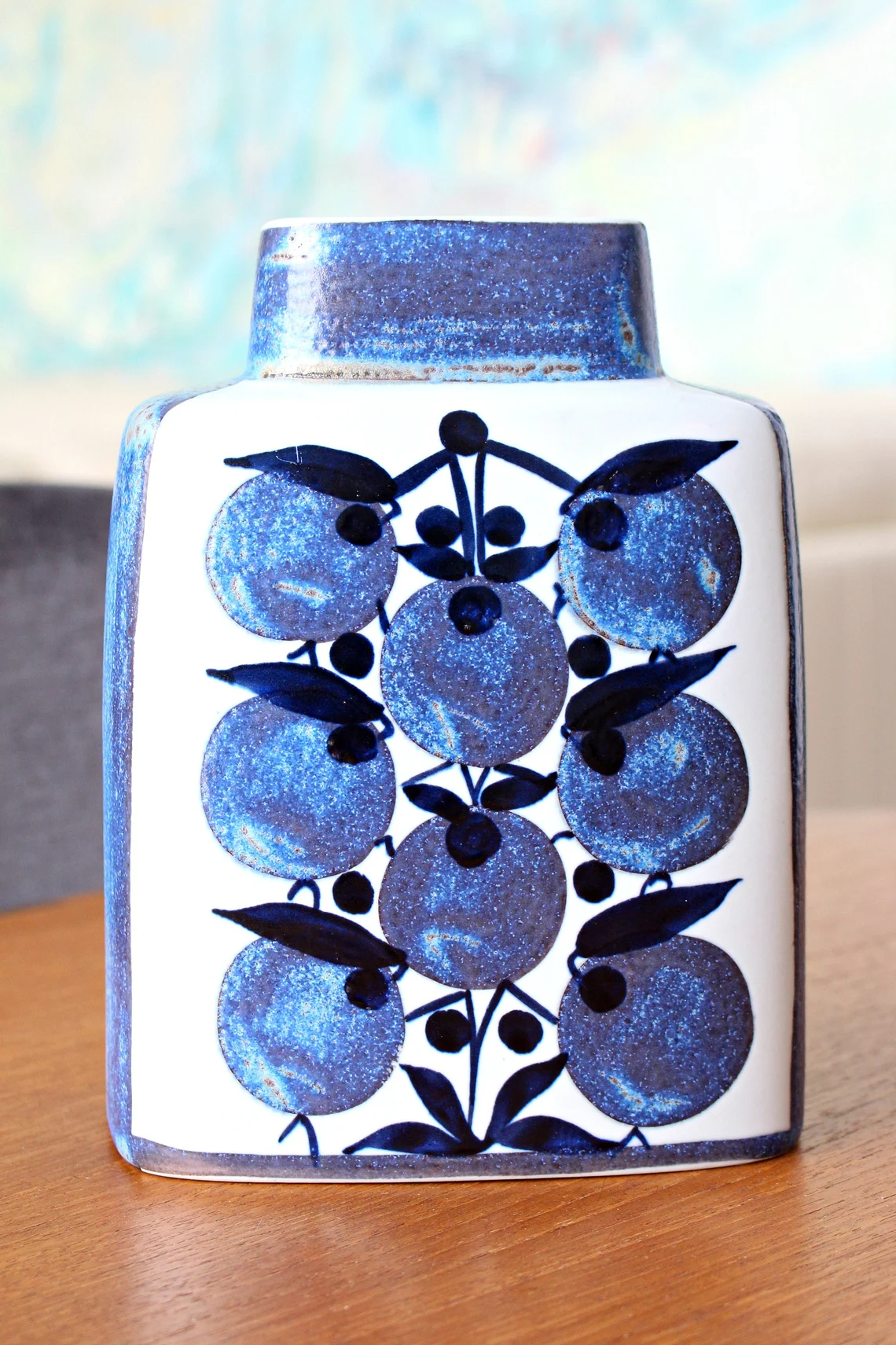 What Vintage Pieces I Shop for and Collect:
Here are some of the things I still keep my eyes out for when I'm thrifting or checking out antique stores.
Pyrex (only turquoise and pink these days)
Pottery (I looked for signed pieces)
Cathrineholm/Dansk and other vintage enamel bowls or plates
Ceramic dishes/serving ware (I have a couple of pieces of Russel Wright)
Lighting, particularly ceramic or teak/walnut table lamps
Teak or walnut MCM furniture and accessories
Bakelite/vintage flatware
Iittala/Arabia or Finnish designs
West German pottery vases (especially large floor vases)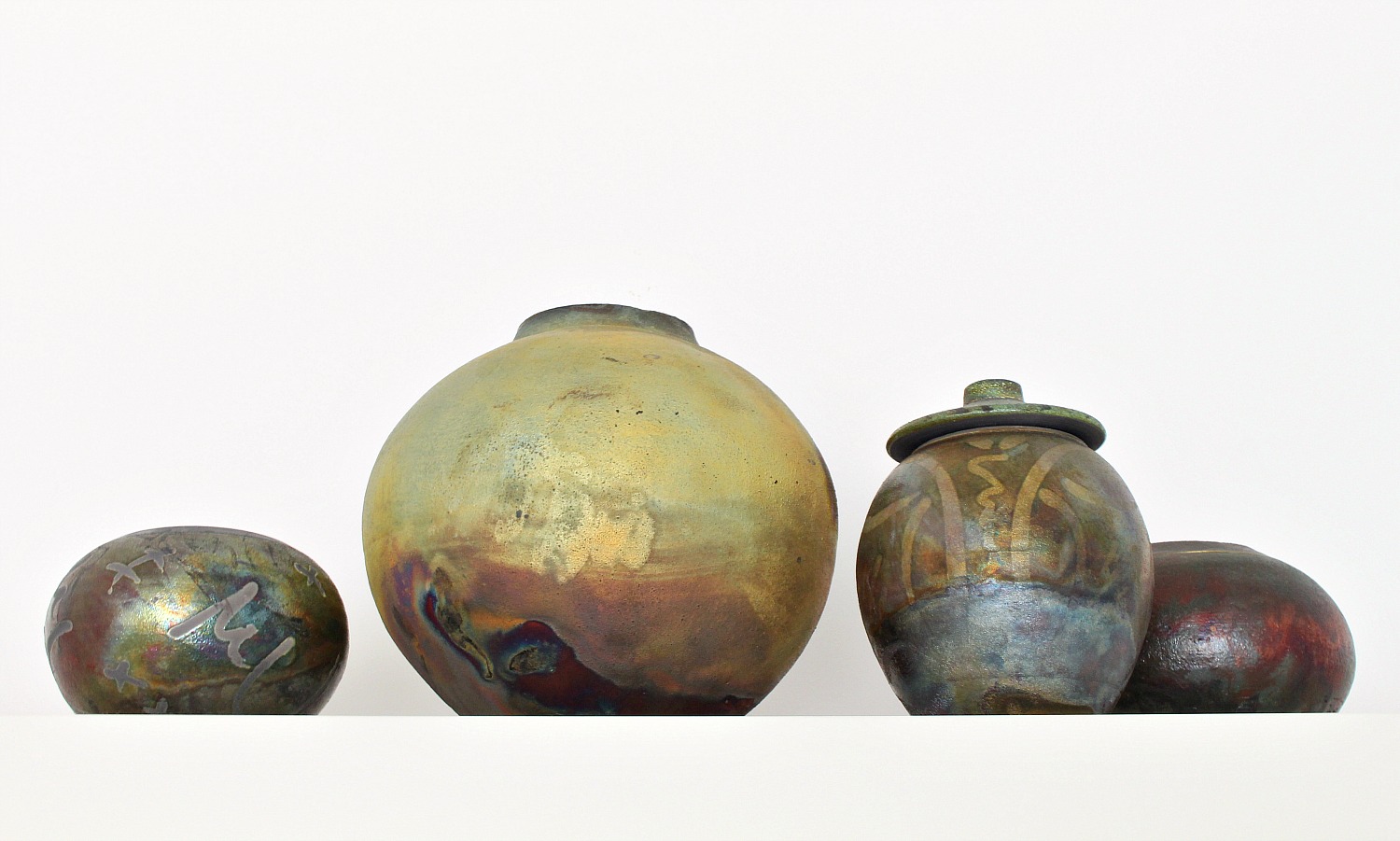 Some of My Favorite Vintage Scores!
I wanted to share some of my favorite vintage scores (there have been MANY). Let me know if you'd like to see more of my collections, or want to learn more about what I collect/how to identify pieces.
Furniture: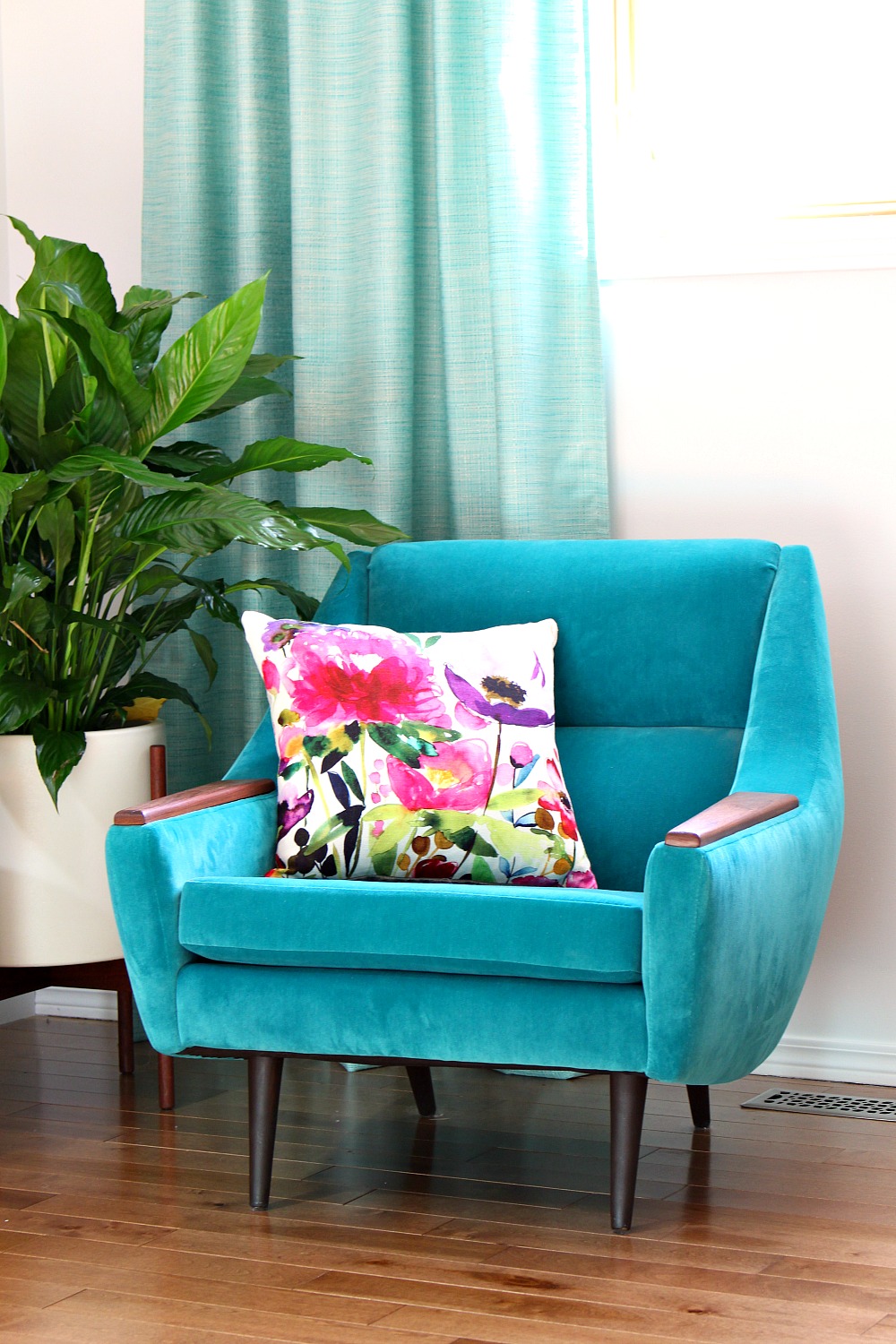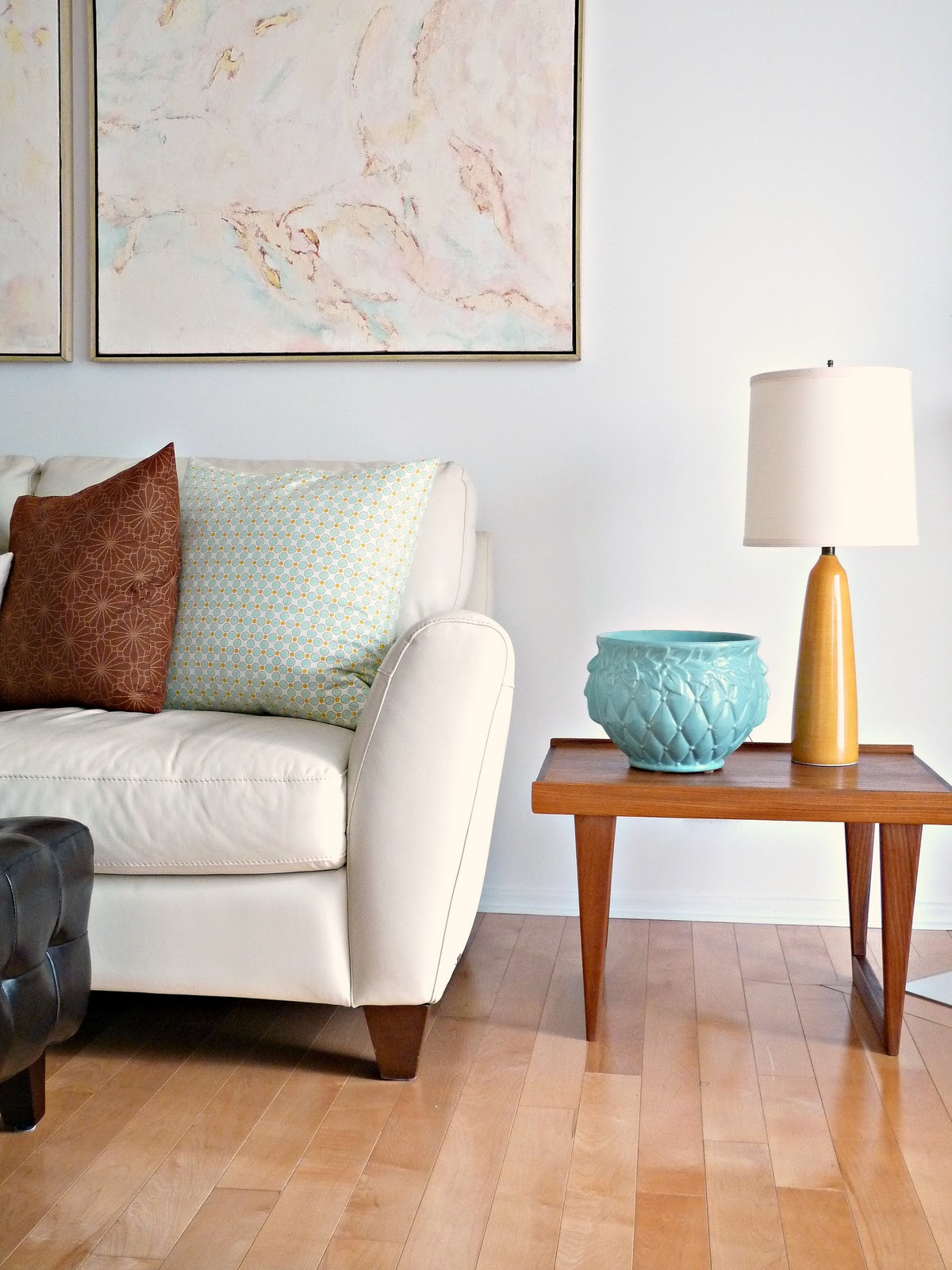 Art & Accessories:
Pyrex Blowing Leaves Bowl (all-time favorite)
Pyrex Starburst (one of my first pieces!)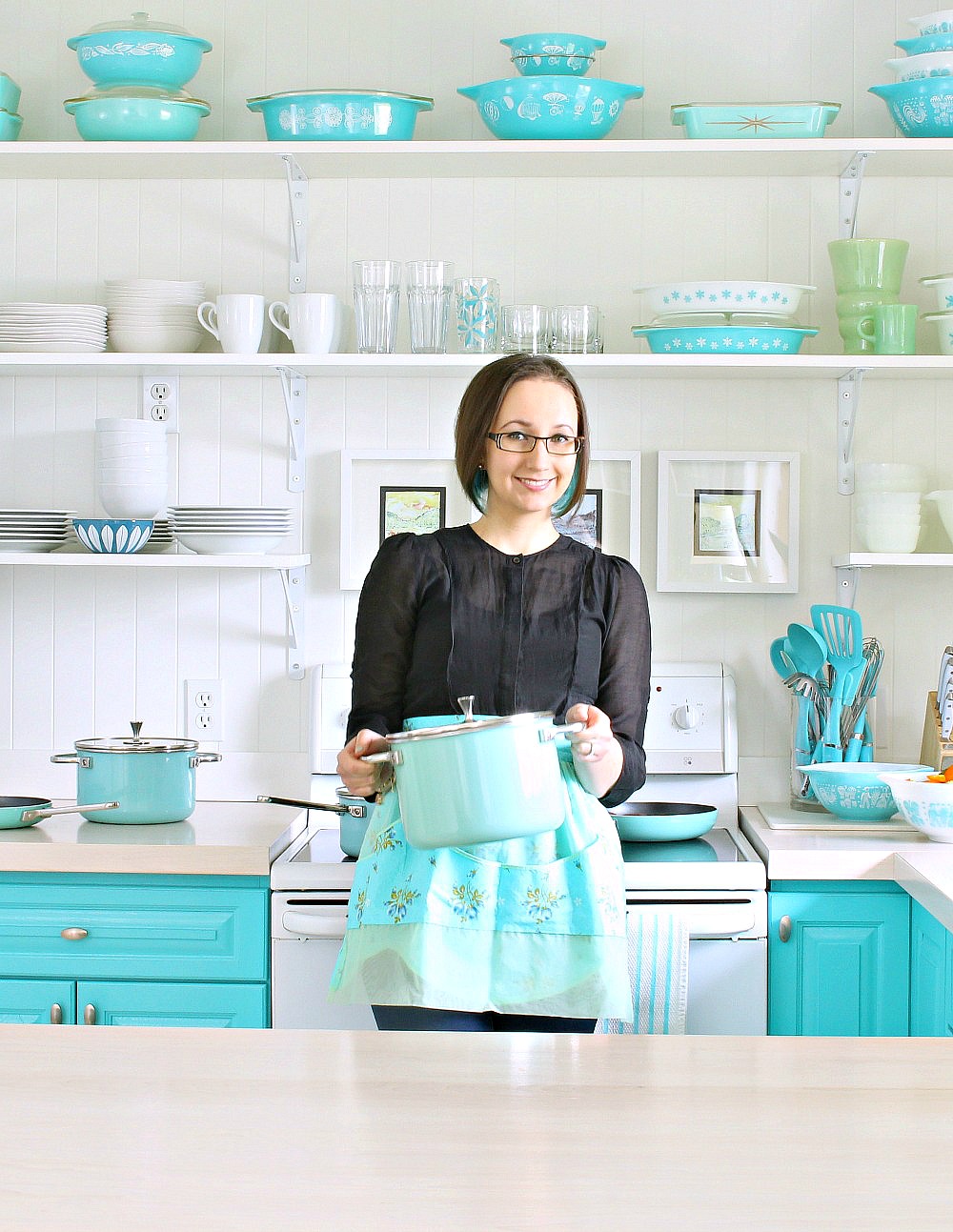 Vintage Post Cards of Lake Superior (framed in floating frames)
Vintage Lotte Lamps: two blue, three yellow, one white, one brown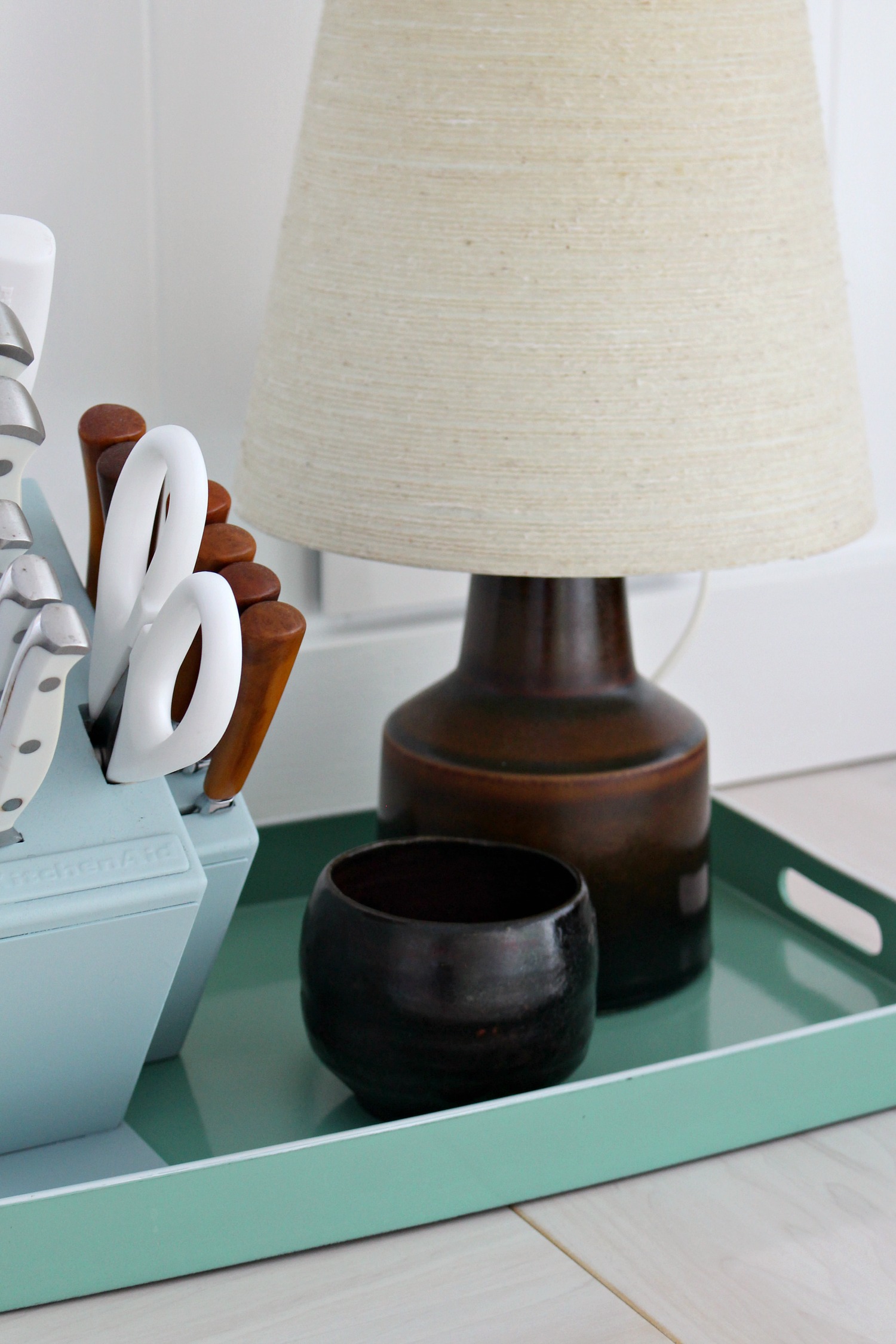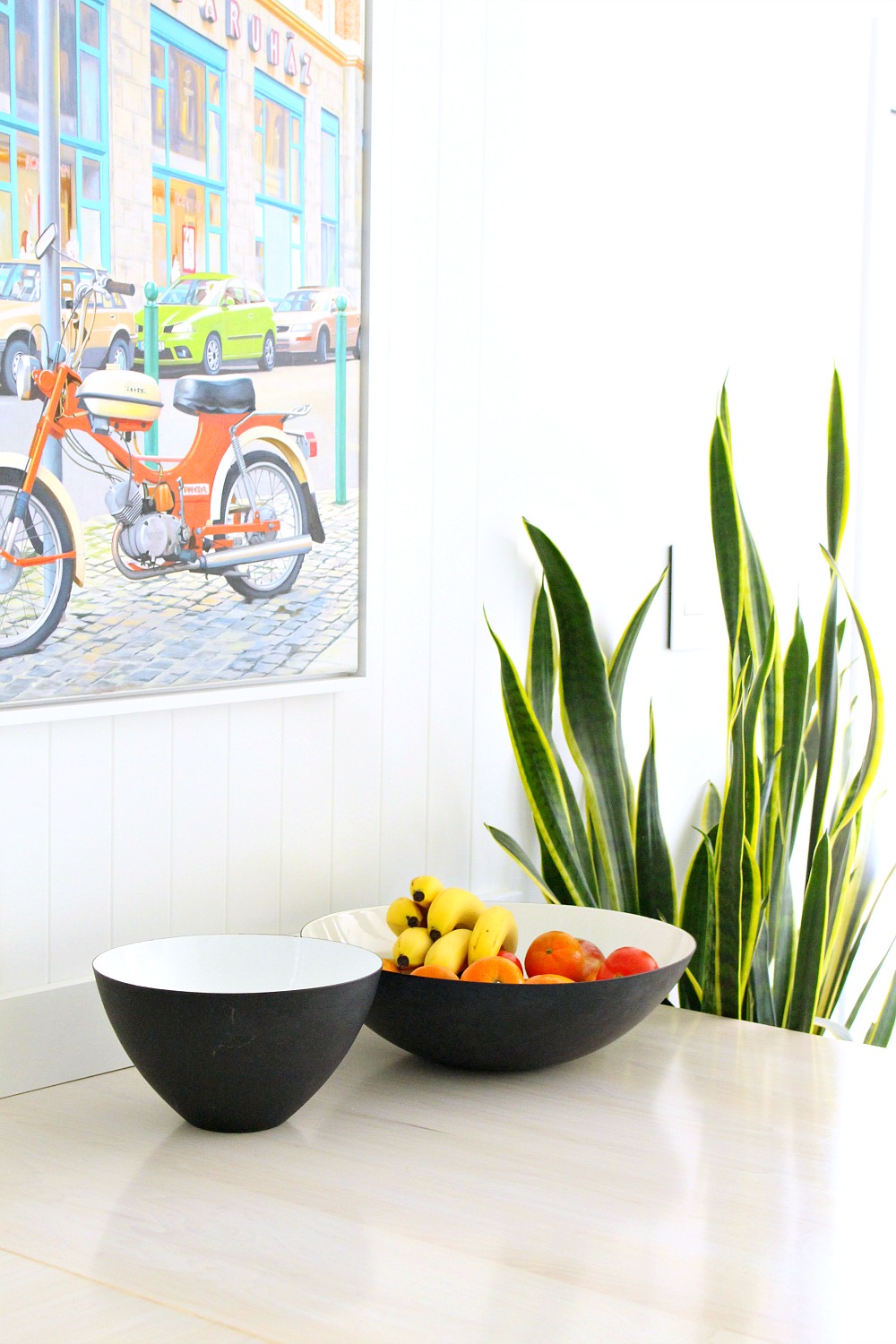 FIVE Cathrineholm Bowls (I sold two and kept three)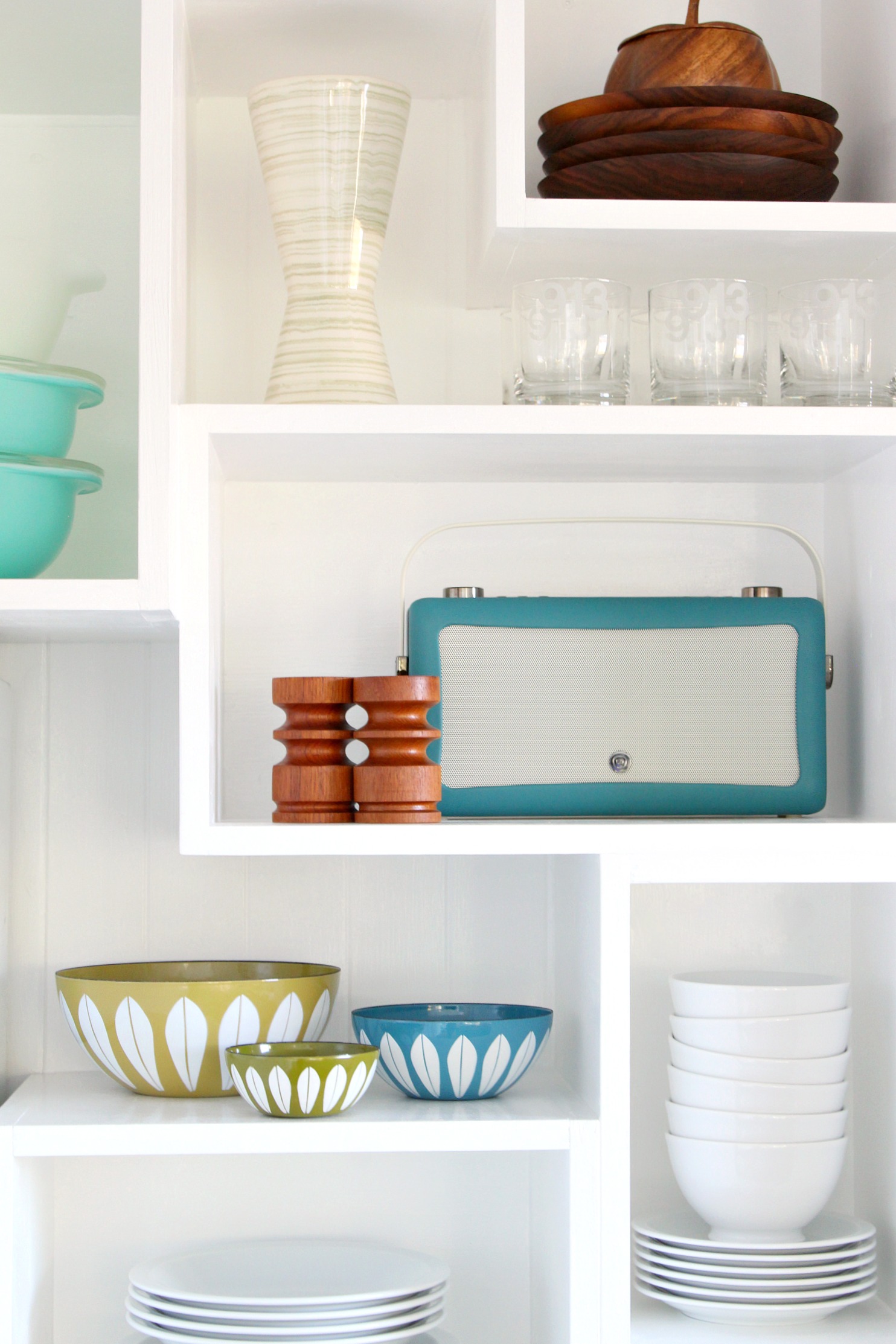 Various Iiittala finds (always a thrill to find at the thrifts)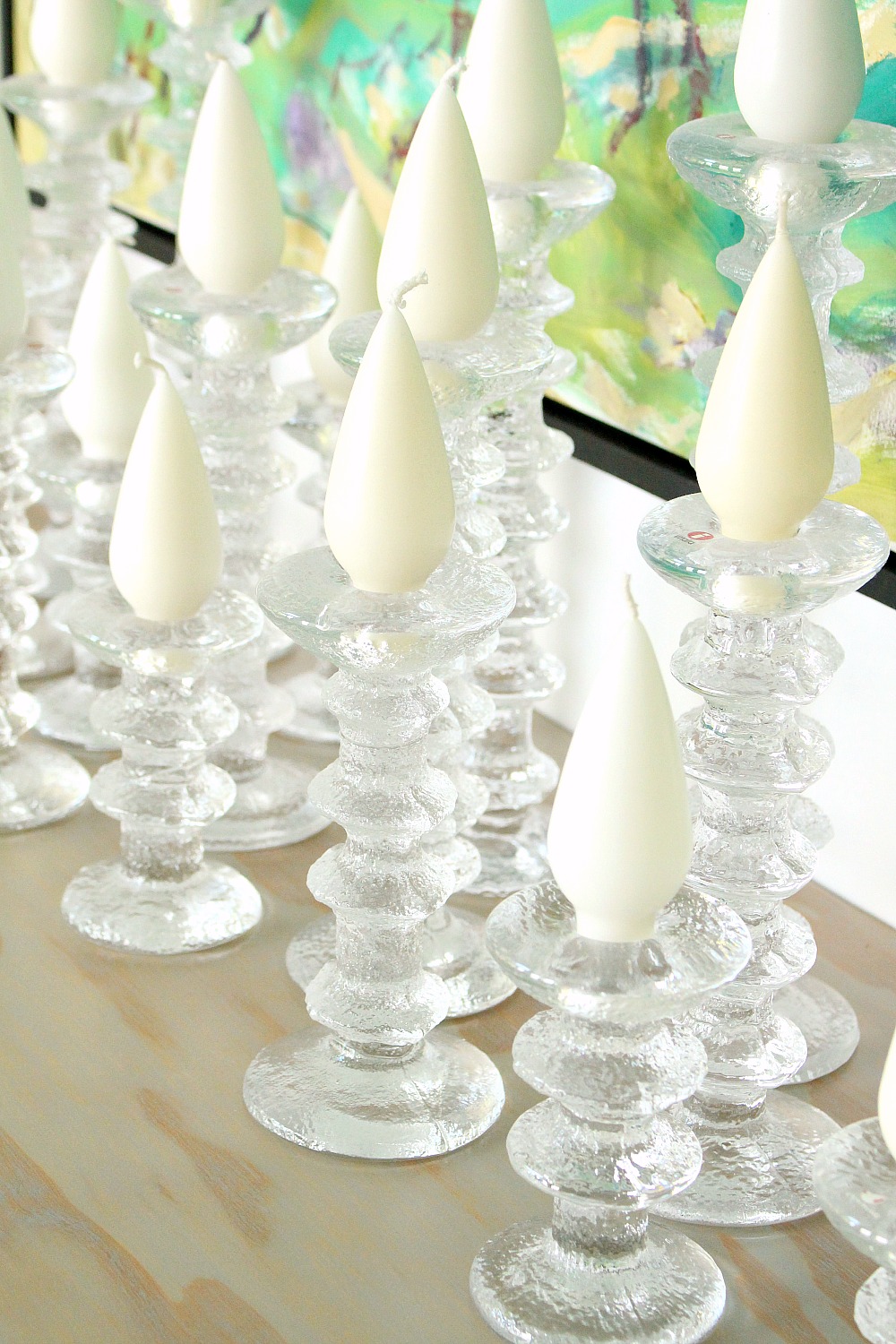 This signed Iittala vase is another fave. I actually listed it in the Etsy shop and now I'm so glad it didn't sell! It is a relatively rare, Neodymium art vase designed and signed by Tapio Wirkkala (produced from 1963-1969). It has an unusual, incredibly beautiful ombre color melt from blue to violet purple. Interestingly, in the thrift store it was teal. Imagine my surprise when I unwrapped it at home and it was a vibrant amethyst color! According to Collector's Weekly: "Neosin' is a derivative of the chemical agent Neodymium, whose compounds were first commercially used as glass dyes in 1927. The color of neodymium compounds—due to the Nd(III) ion is often a reddish-purple but it changes with the type of lighting". Mystery solved.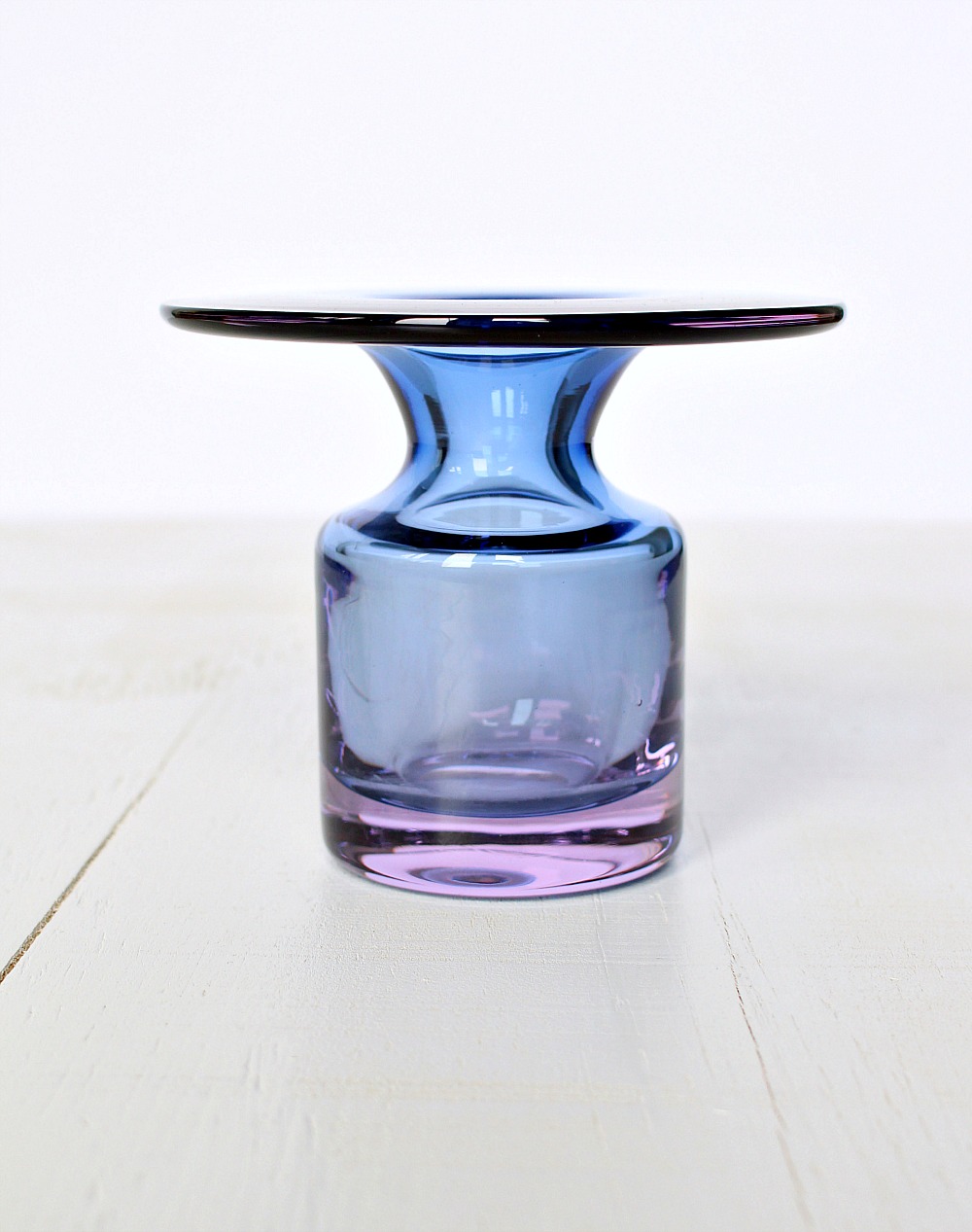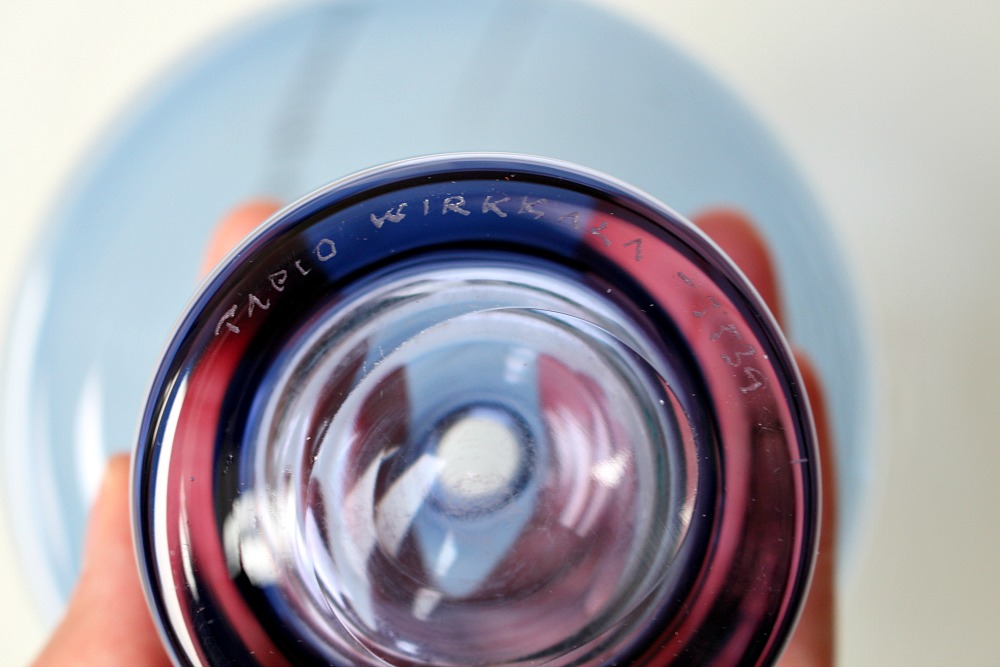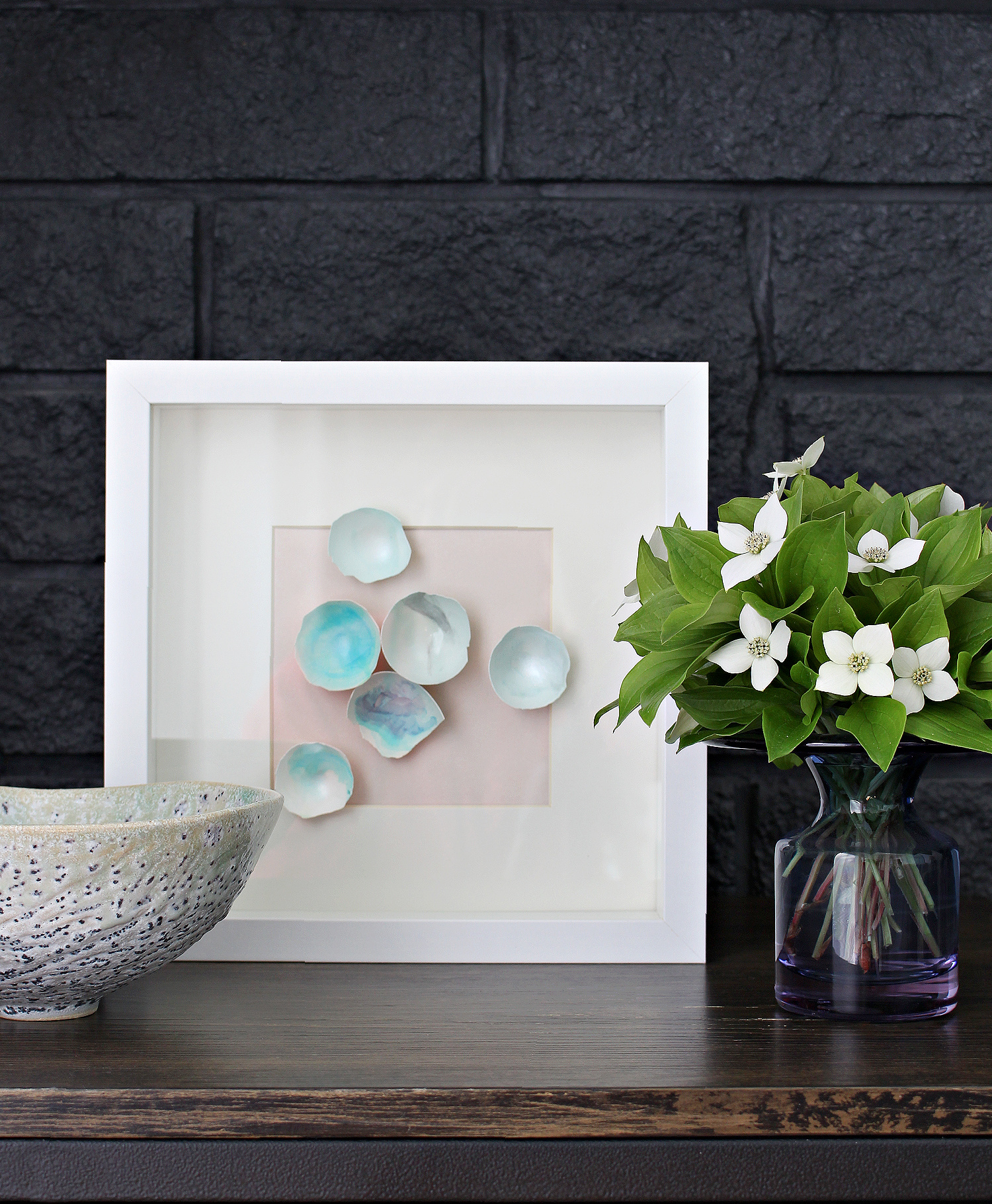 I hope you found these tips for buying vintage home decor helpful – and a peek at my favorite vintage finds entertaining! Happy collecting!
P.S. Don't Forget to Pin for Later!