Full disclosure: my Mom's A Midsummer Night's Dream Christmas Tree theme is not 100% complete. The tree skirt isn't done and there are some ornaments I never made. I got really sick at the end of November, with you know what, and I fell behind. I only recently started making ornaments again and wanted to take a few more days to finish the tree skirt, but this week we were predicted to have a 3-day long snowstorm. I live an hour away from my Mom, in the country, so I didn't want to be driving through bad weather to photograph her tree. So I made the decision to photograph her tree before the snow hit, with the ornaments we have completed and the very cool tree skirt we designed only partly done. Her last tree theme really took three years to perfect, so I'm okay with this being a "work in progress". As luck would have it, my Mom and I had to cut down her Christmas tree, as every place in town was sold out, and we sort of picked a really wee one. It seemed much bigger when we had to saw it ourselves… In her apartment, it's definitely way smaller than mine and her previous trees, which means our ornament shortage worked out! Even though we're not done, I have to say this new tree theme is so magical!!
Our Inspiration:
If you recall, I had the weird idea of decorating this tree by pulling ideas from imagery inspired by A Midsummer Night's Dream. Basically I envisioned a moonlit forest theme, with jewel tones, florals, and iridescent shimmery touches. I did not make a donkey ornament (yet!) or pull too much literal inspiration from the play – even though I made my Mom suffer through the 1981 production featuring Helen Mirren. In my grandfather's words, who honestly slept through most of it when we invited him for a movie night: "I'm sure he was funny in his day, but I find Shakespeare boring". I actually found it quite funny, but I was more interested in the art inspired by the play – and the magical forest depicted – than I was the context and words. However, while I was initially intent on using more teals, we ended up really leaning into purple.
The (Nearly Finished) Tree Reveal:
Here's a peek at what we have so far with this Midsummer Night's Dream Christmas tree theme – I have to say, so far we both absolutely love it! It's so magical and sparkly and the jewel tones are so rich – and look especially good paired with my Mom's blue fireplace wall, floral wallpaper, soft aqua ceilings and gorgeous green silk curtains.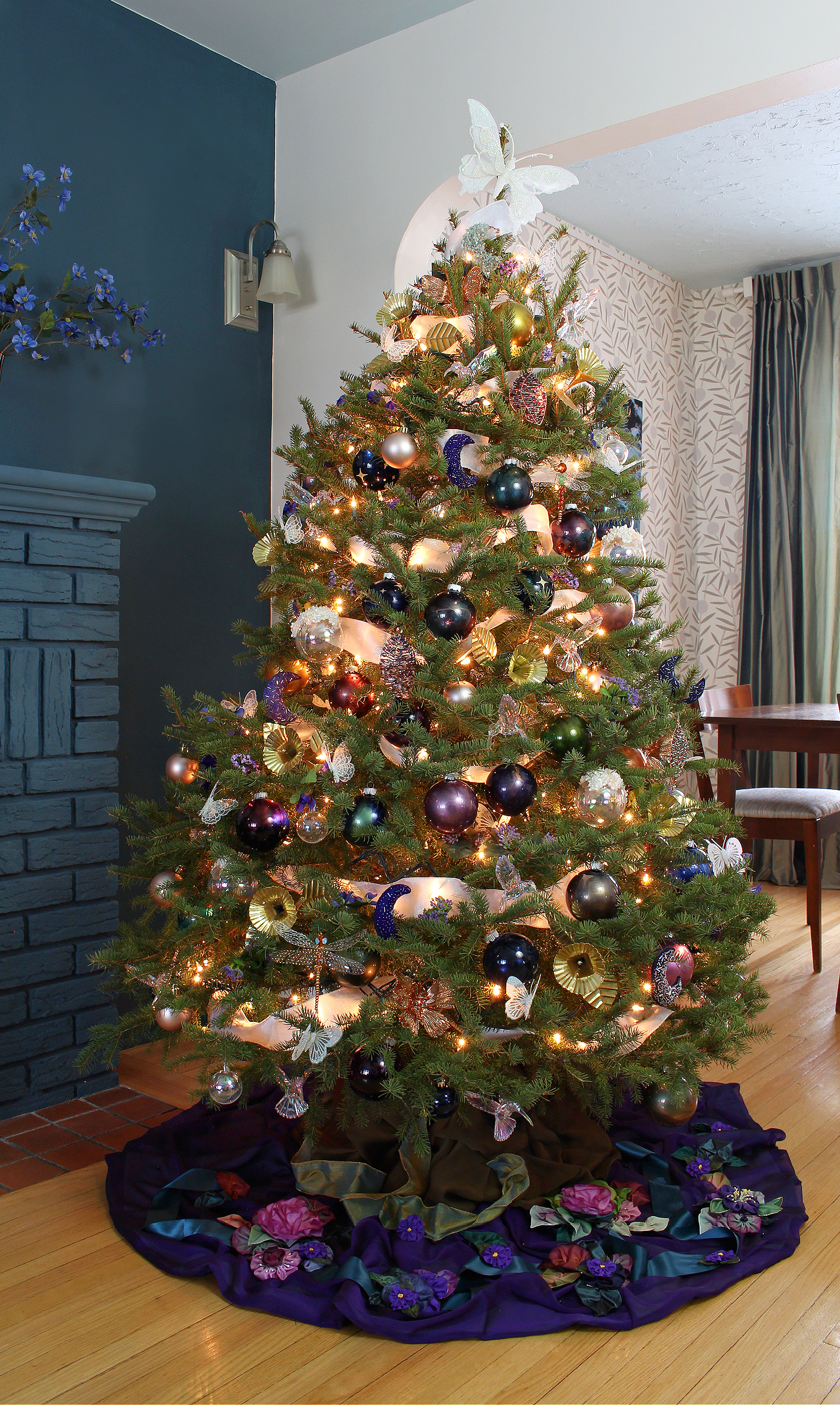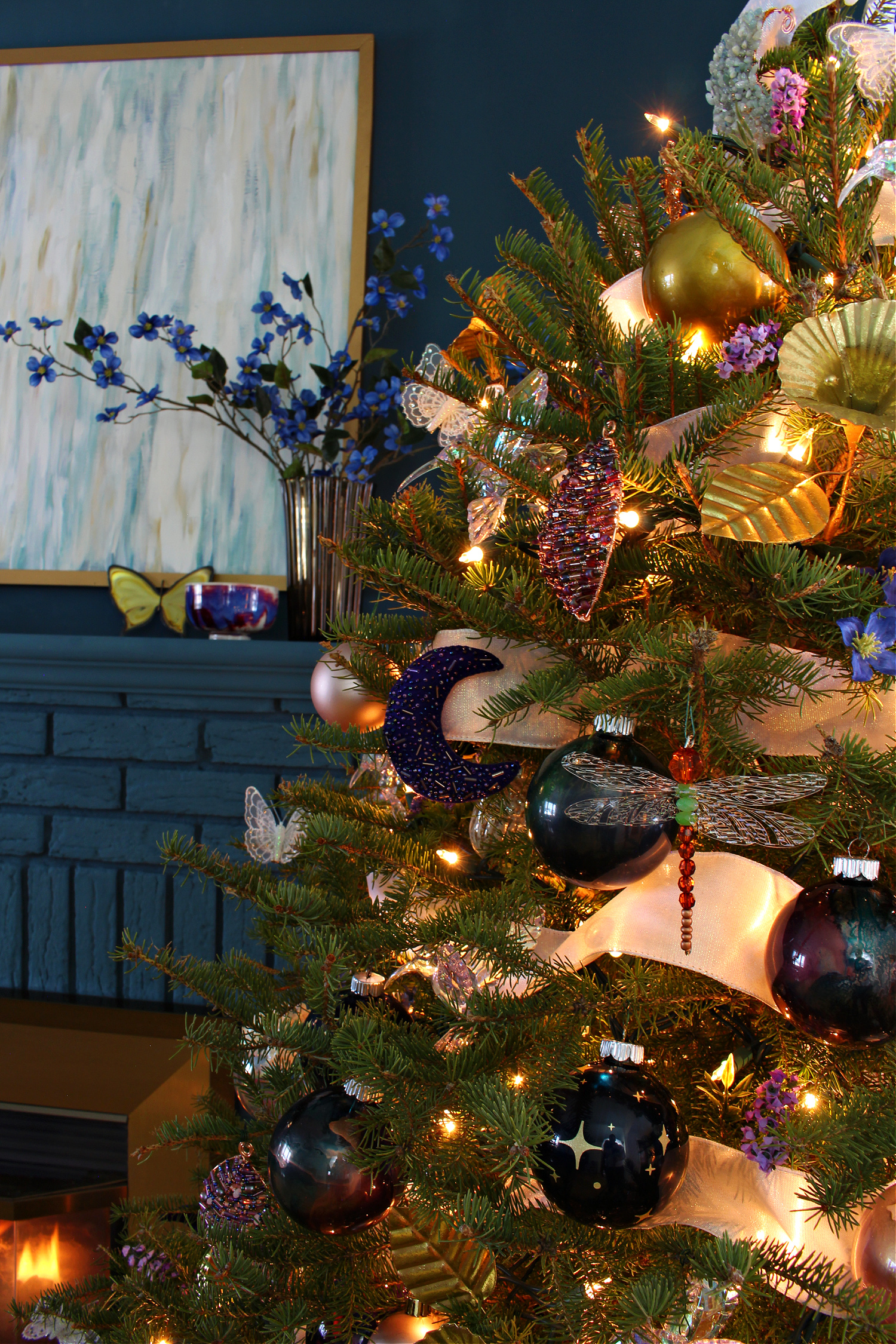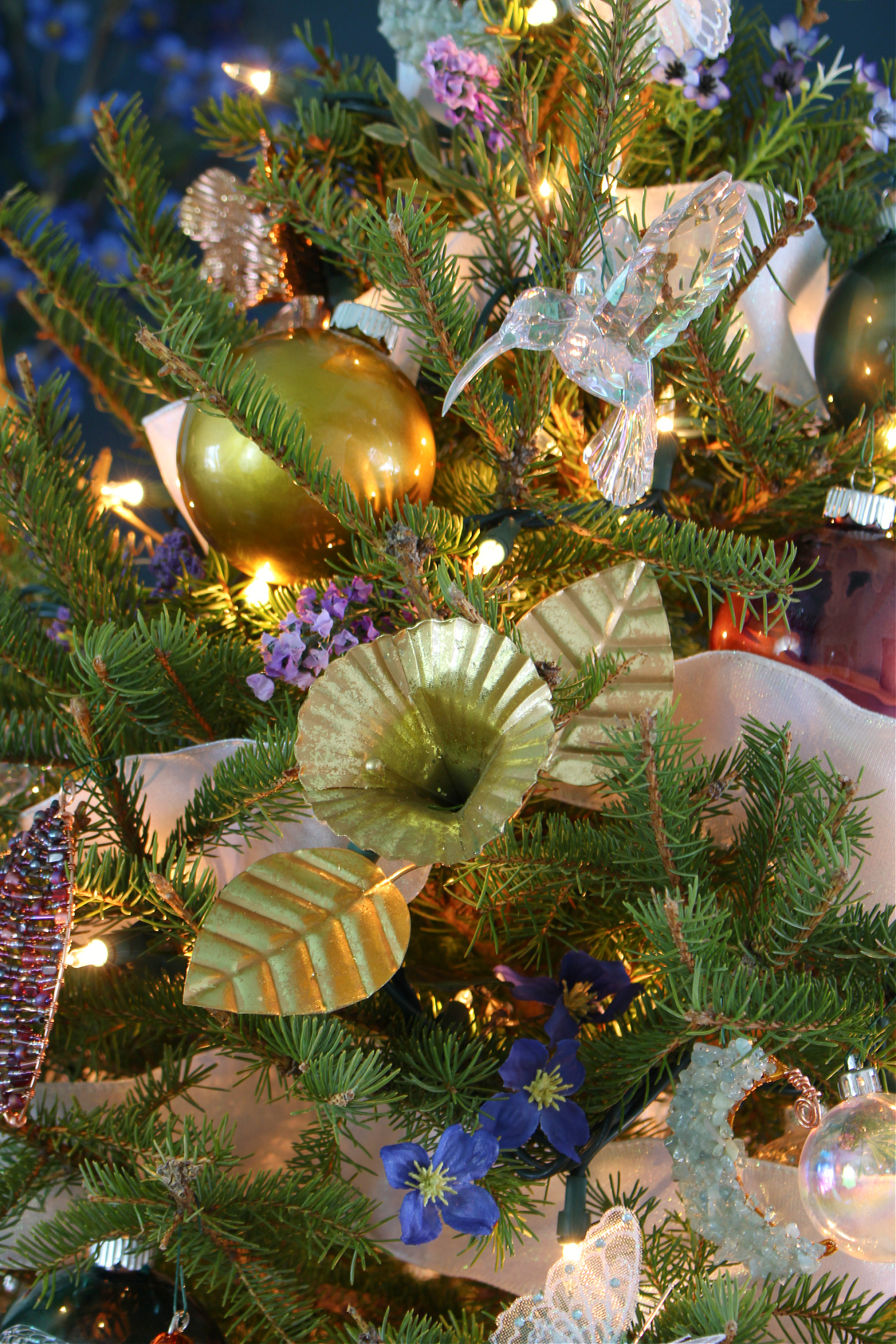 DIY Midsummer Night's Dream Ornaments:
These are the ornaments that I have made for the tree so far:
DIY Beaded Dragonfly Ornaments (tutorial soon)
DIY Beaded Leaf Ornaments (tutorial soon)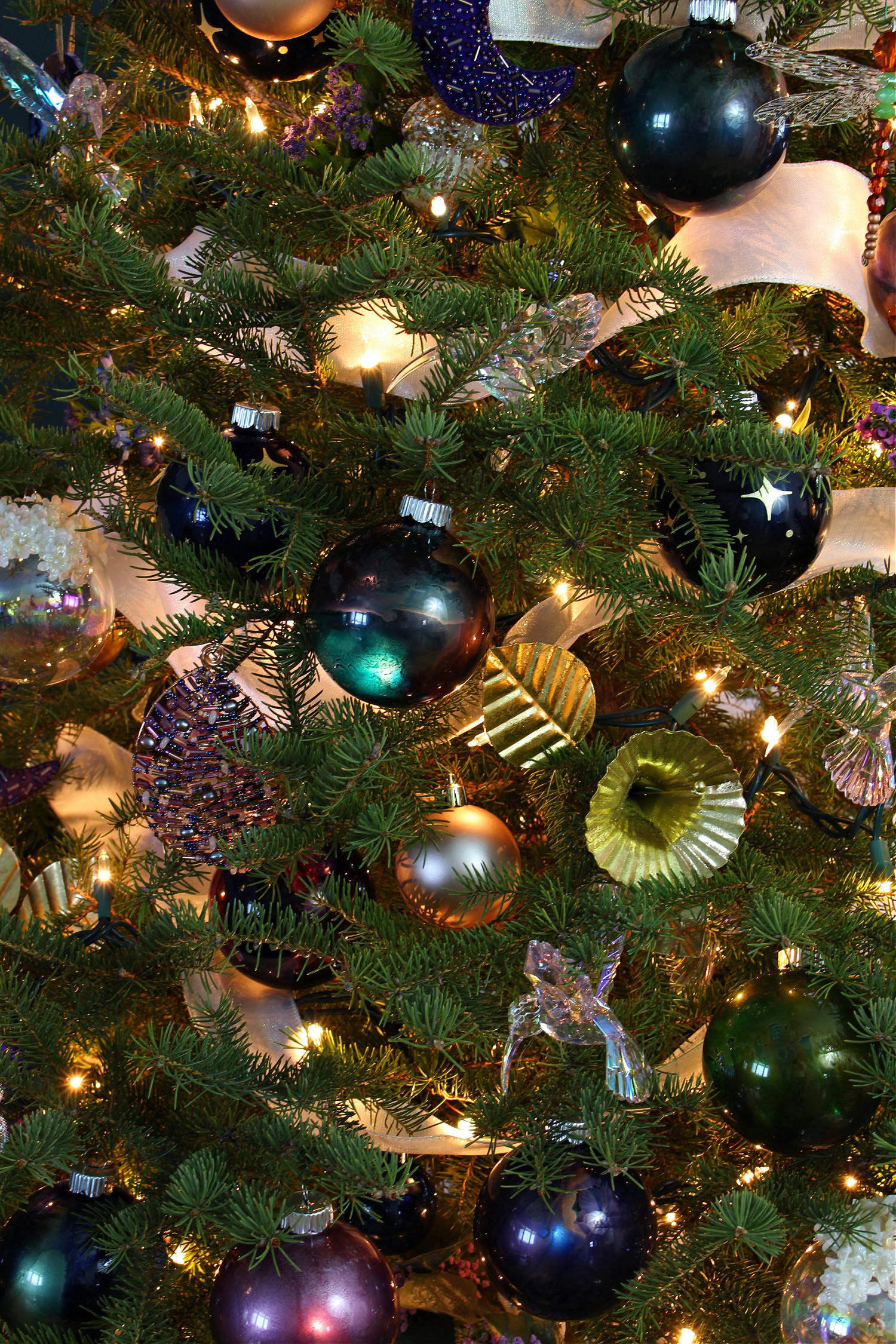 This was the first ornament I made for the tree and I love how the little iridescent flowers look once they're illuminated by the tree lights.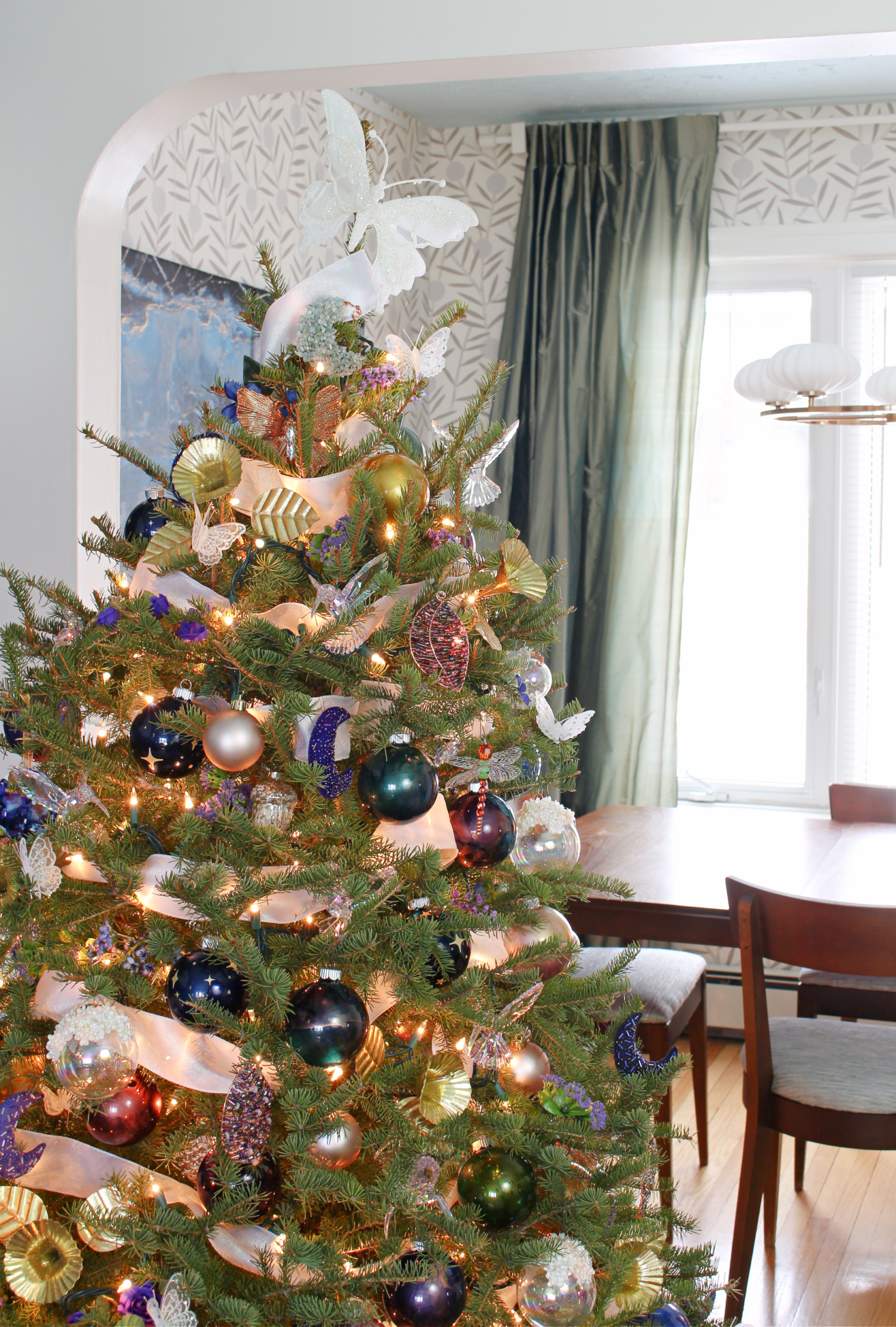 DIY Alcohol Ink Ornaments
I LOVE the jewel toned alcohol ink ornament balls we made and it was really fun for me to experiment with colors that aren't teal – although I DID still make quite a few teal ones, but there's also pink and lots of purple and even some gold and cranberry hues.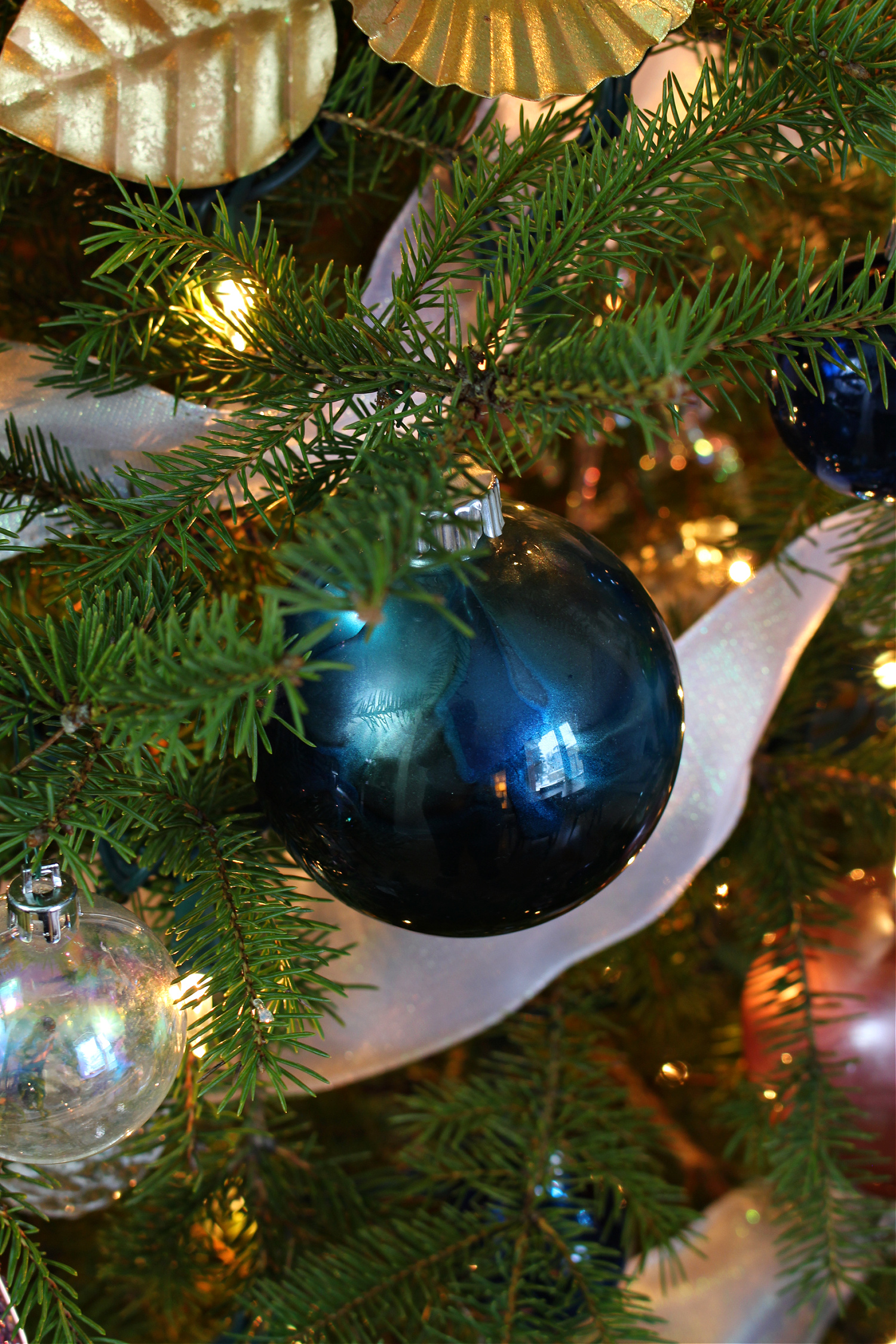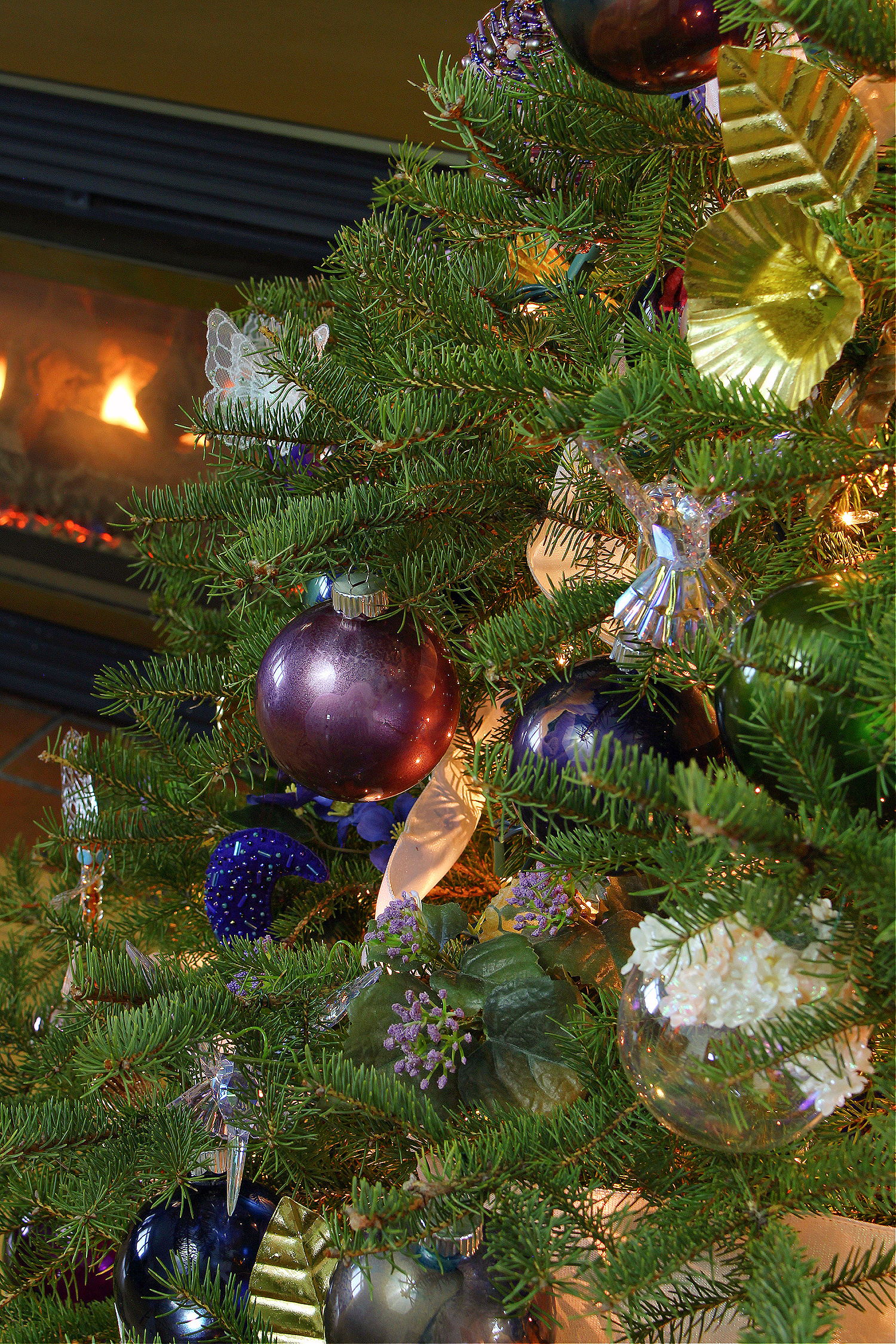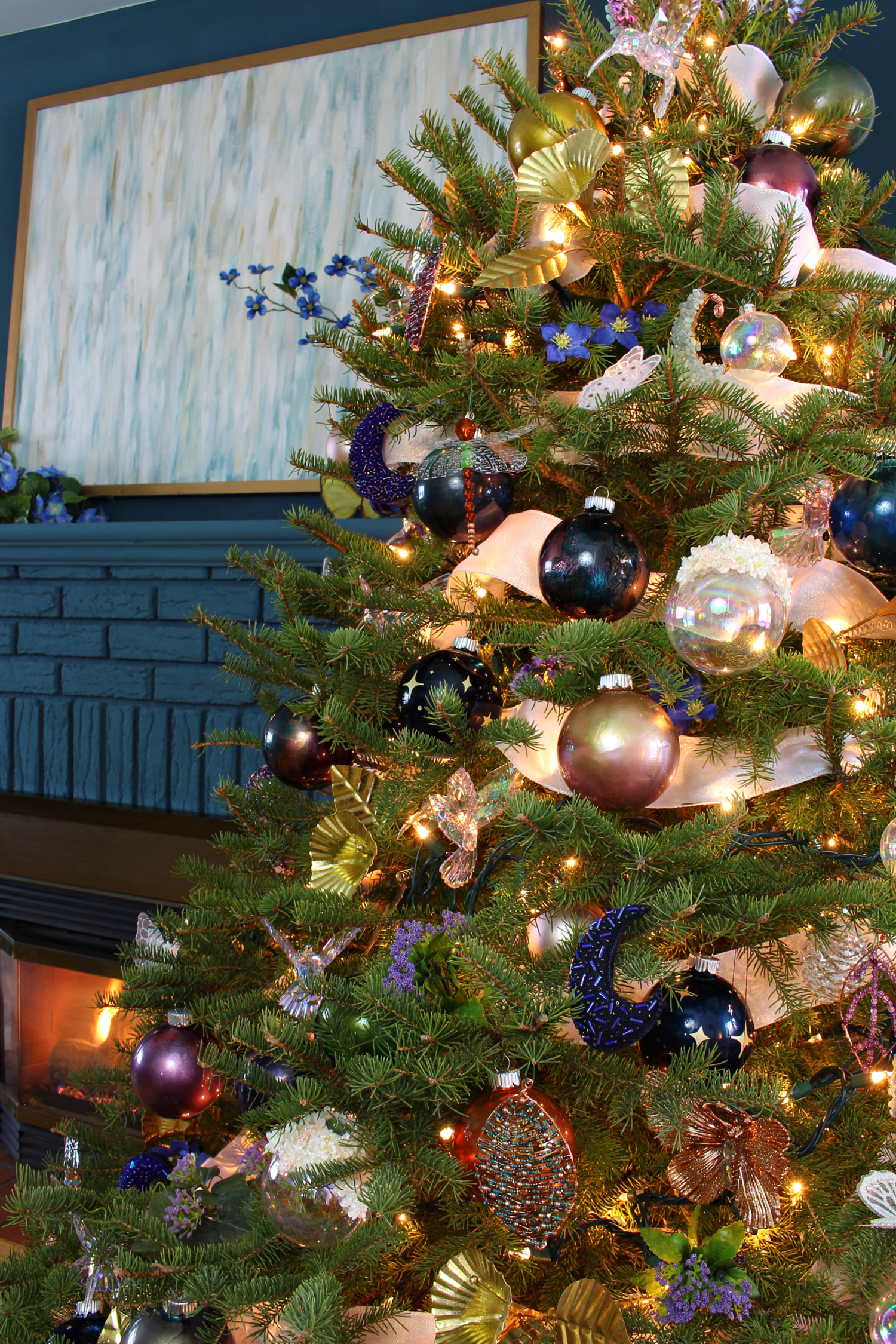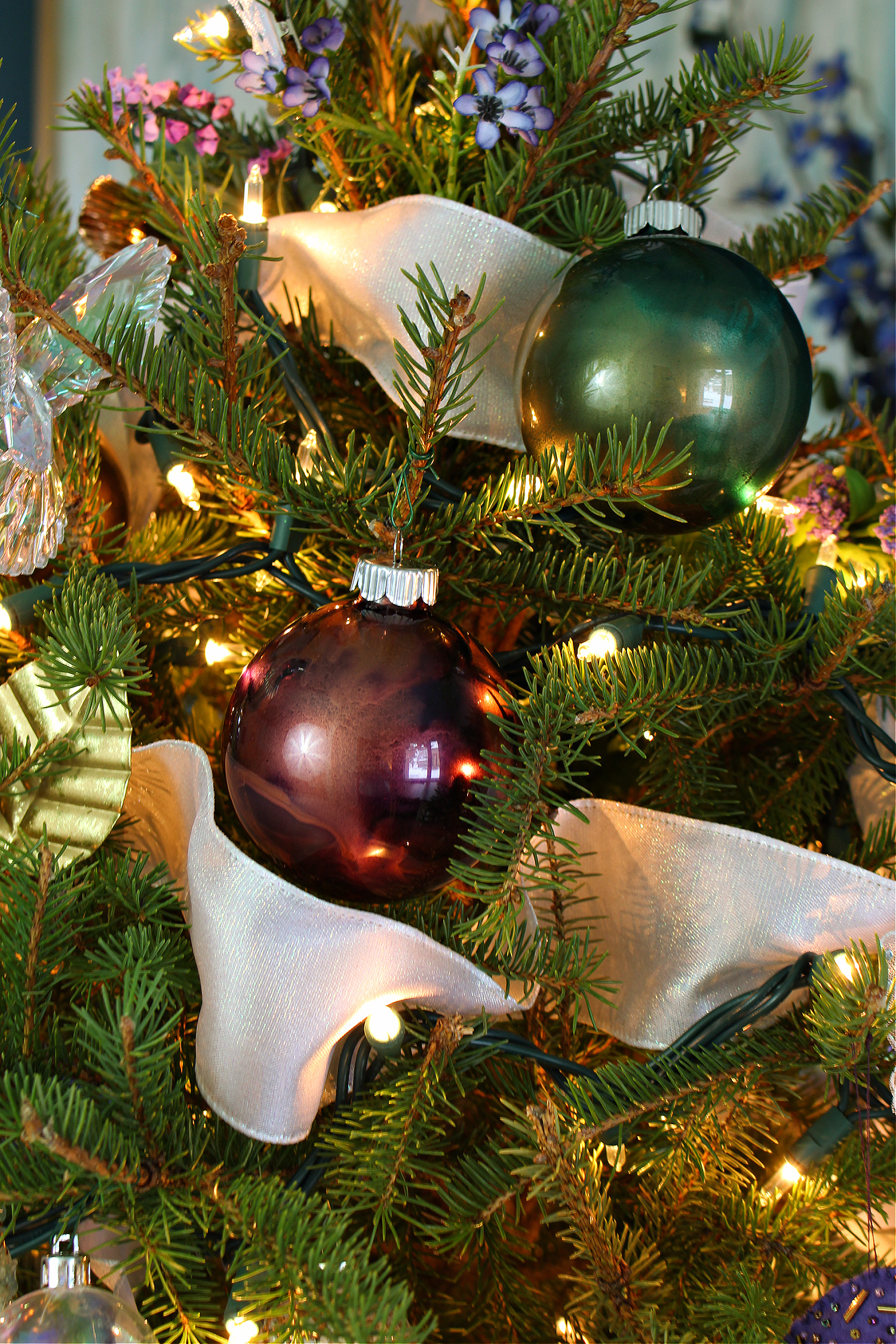 As we were making the alcohol ink ornaments, I had the idea to create an inky blue midnight sky color and add some gold glittery stars with my Cricut Joy. The glitter vinyl is super sparkly – but with ZERO glitter transfer, which is a welcome relief as I am still finding glitter on my coat from looking at ornaments in a store four weeks ago, lol.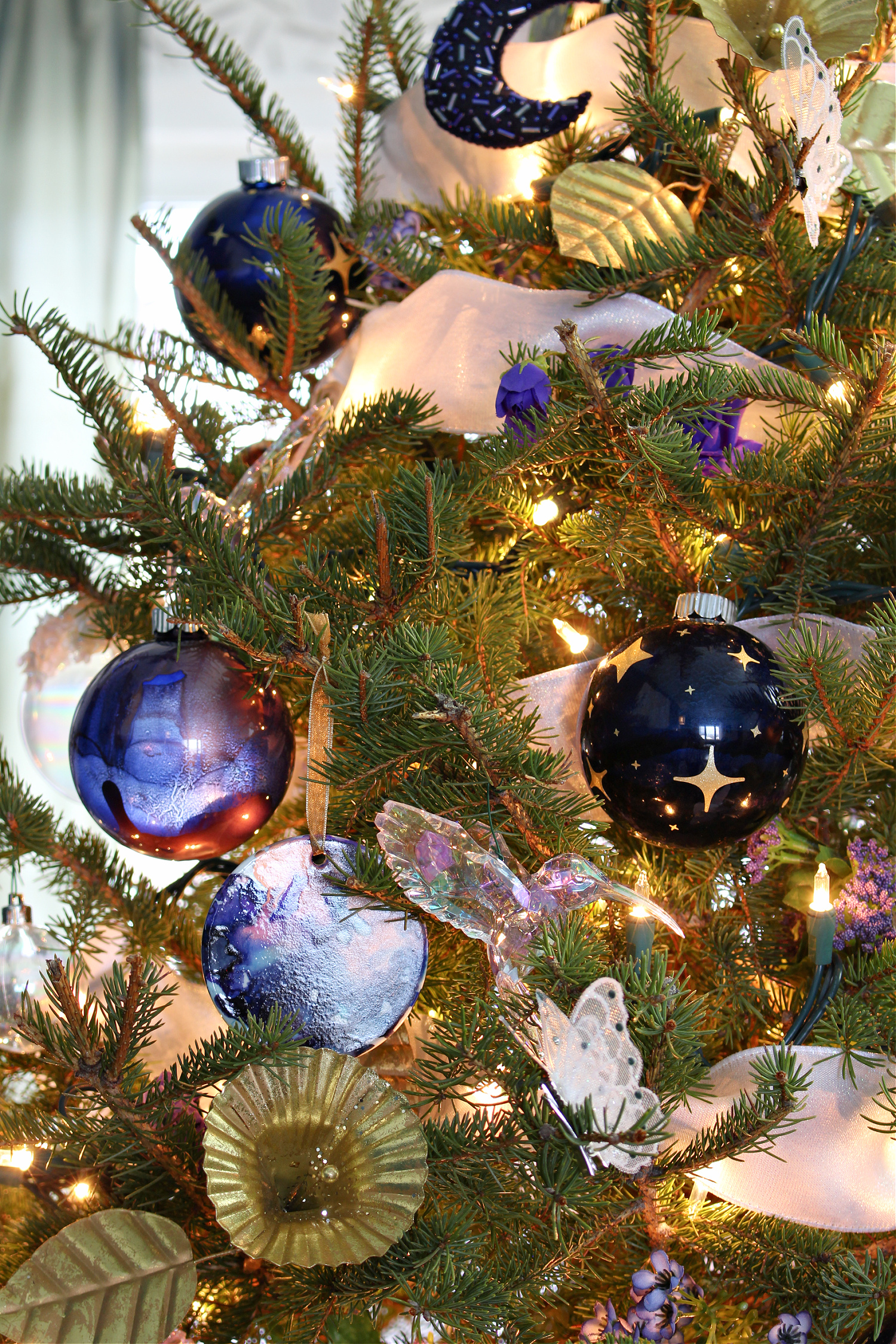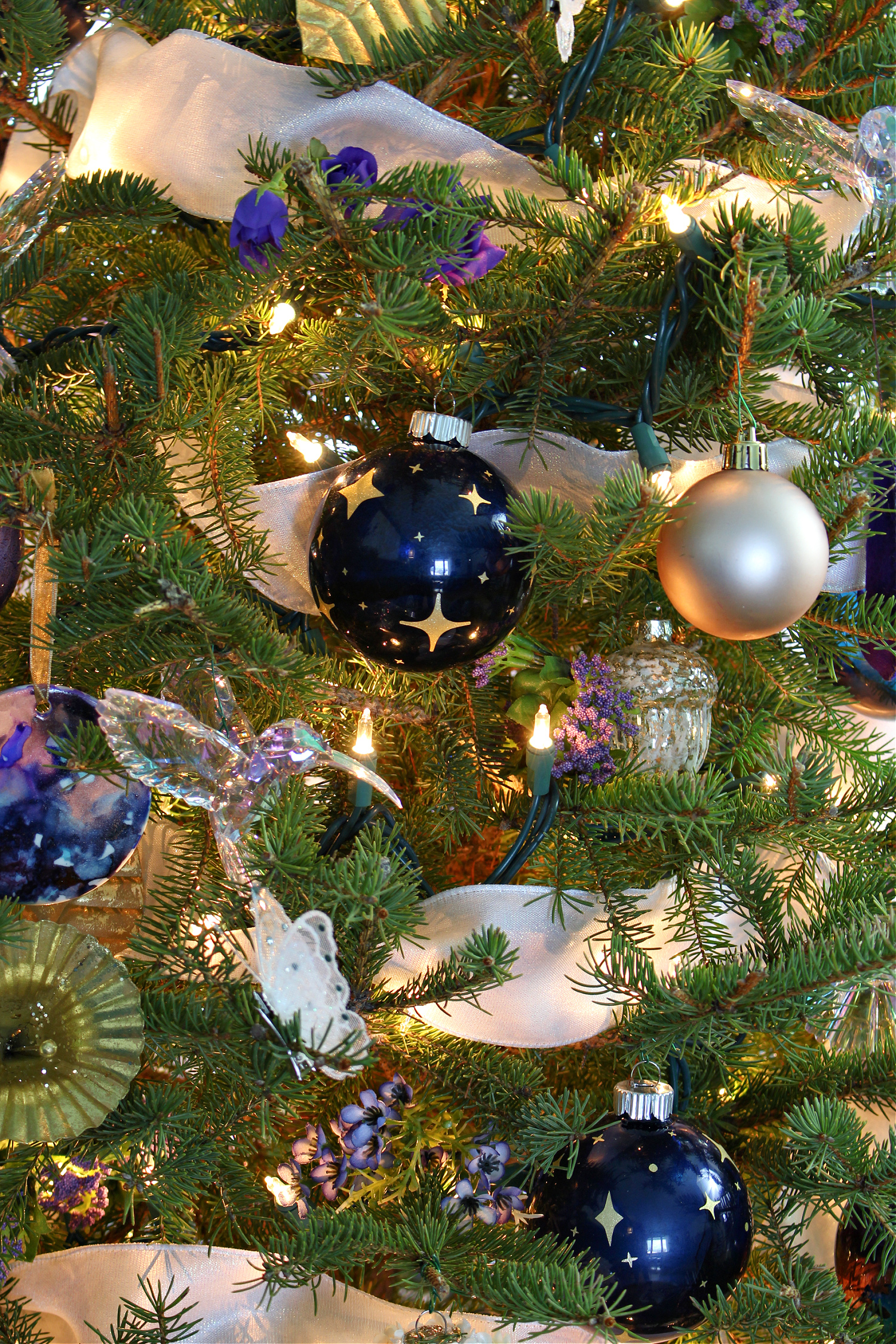 DIY Beaded Crescent Moon Ornaments
You can make these beaded crescent moon ornaments using any type of bead or stone – but I have to say these aquamarine stone chips really glow!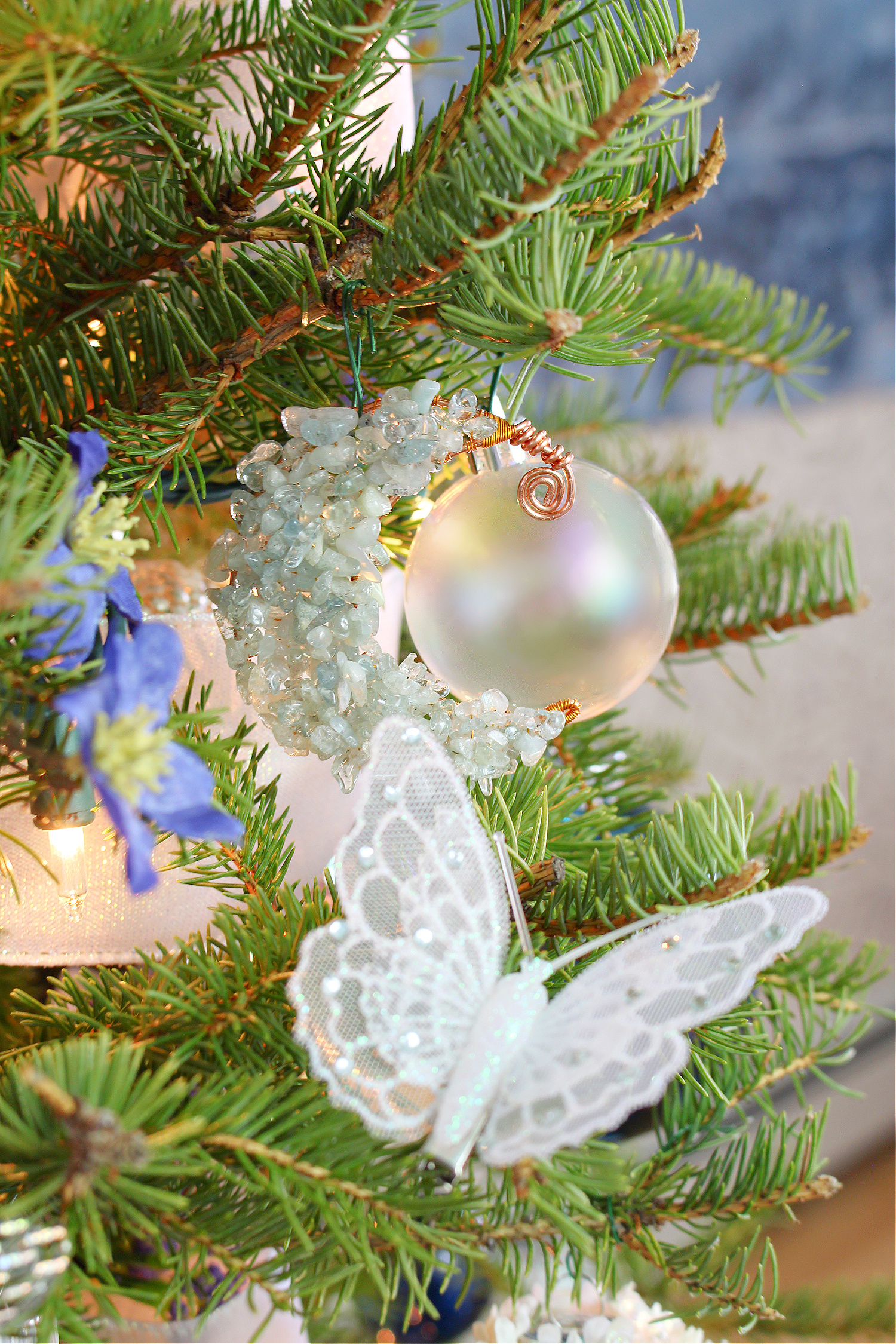 These ceramic ornament blanks painted with alcohol inks were easy to make and the metallic inks really pick up the light!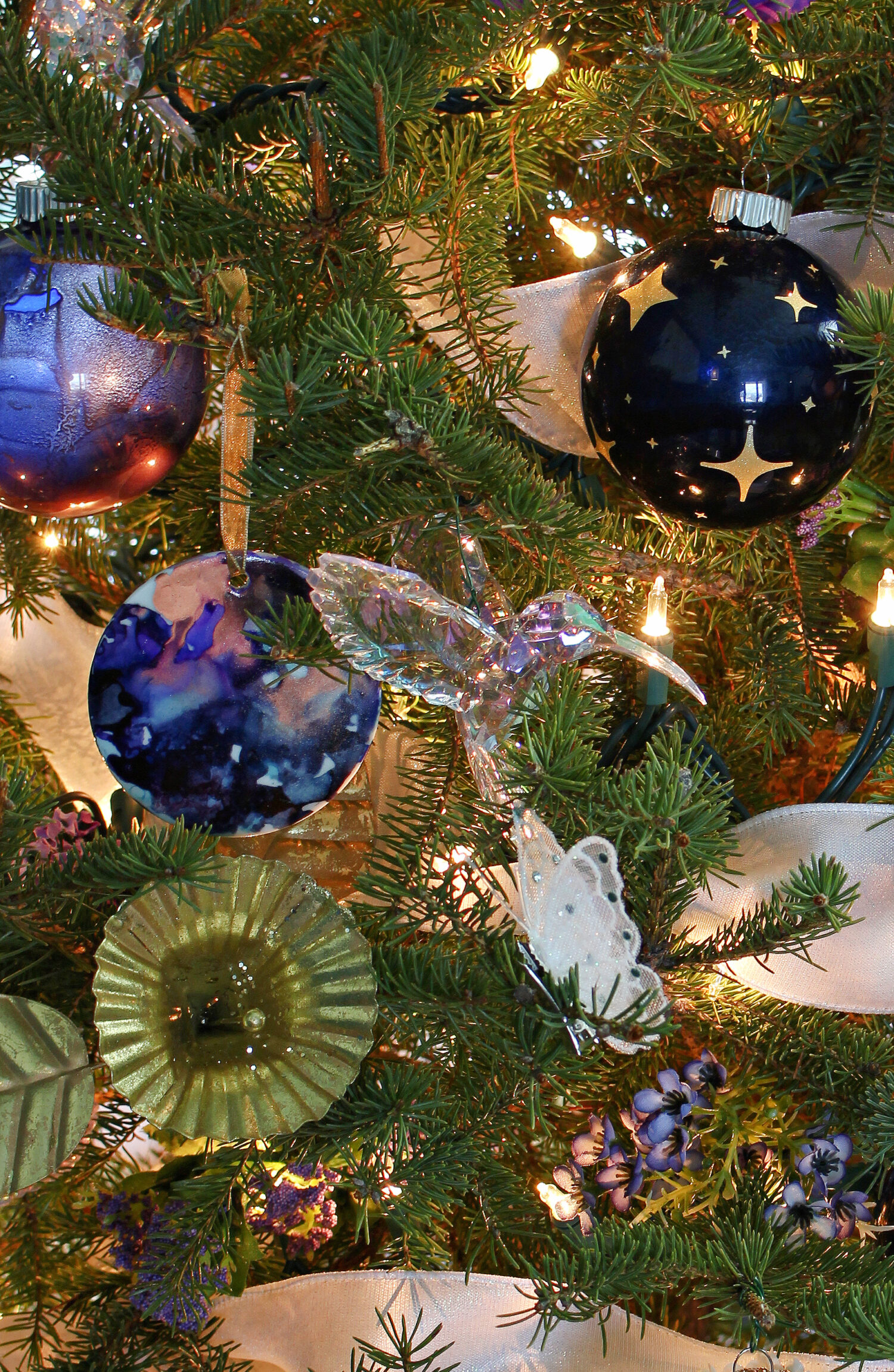 Using the same process as my felt animal ornaments I made these beaded felt moon ornaments for my Mom and the hours of beadwork really paid off because they sure do SPARKLE!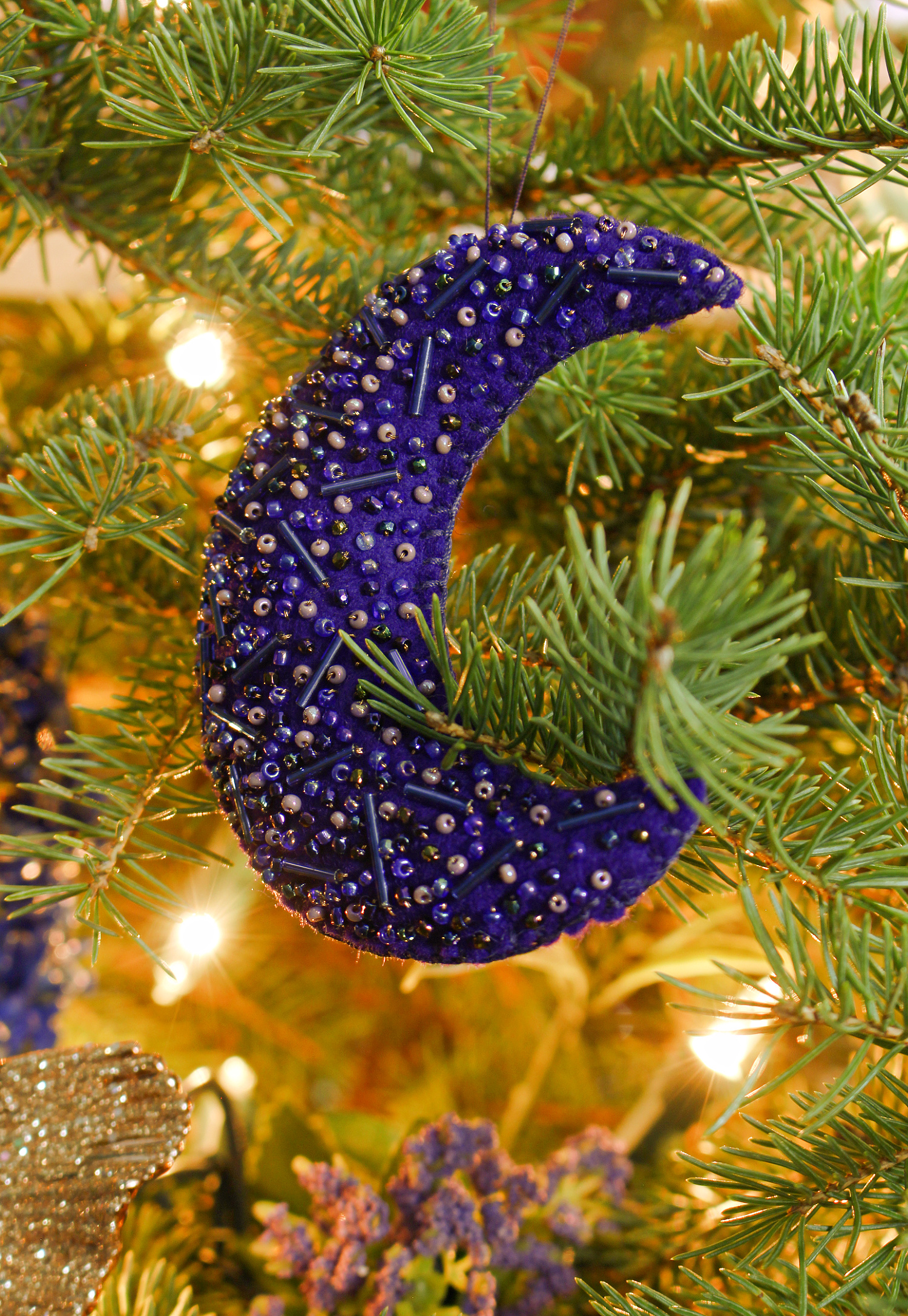 DIY Beaded Dragonfly Ornaments (tutorial soon)
I've struggled with making the wings of these beaded dragonflies, which is a shame because I have about a dozen, one of a kind, beaded dragonfly bodies all ready to go. Hopefully I can sort it out and share a tutorial soon…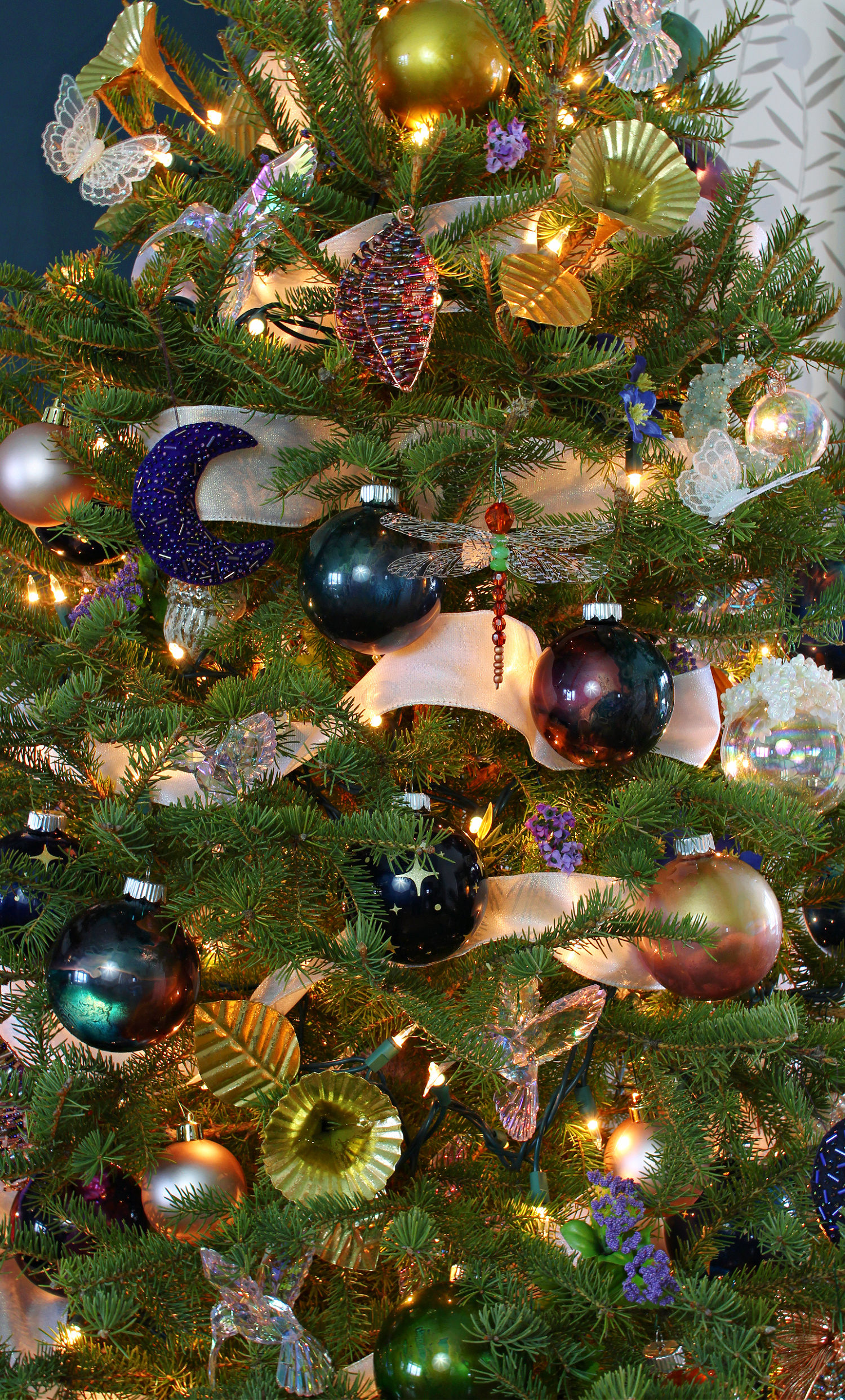 DIY Beaded Leaf Ornaments (tutorial soon)
I made a few beaded leaf ornaments – including a turquoise and white one that just "didn't go" with this color scheme so I HAD to steal it… It's the same basic process as the beaded crescent moons, but I'll share a tutorial soon.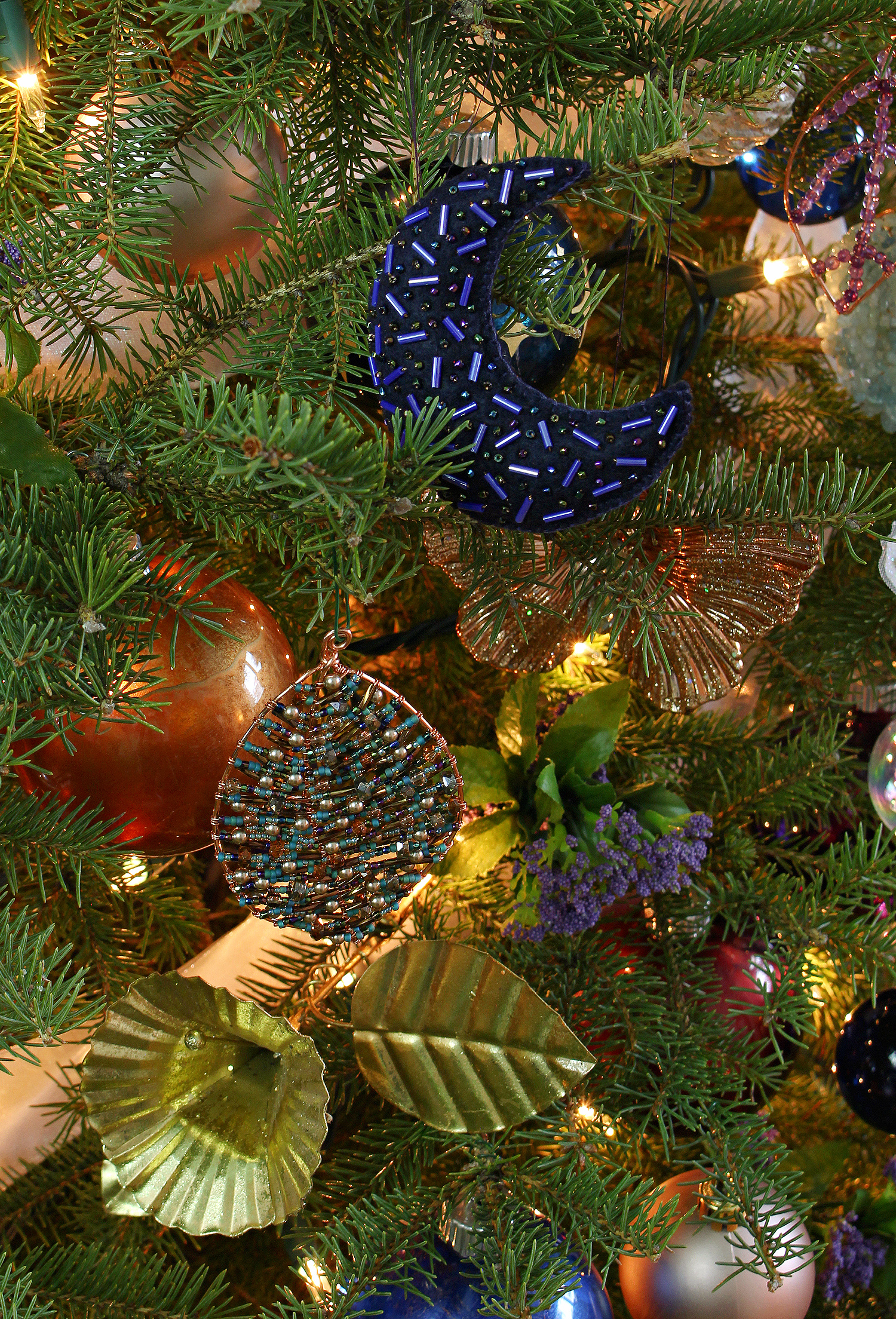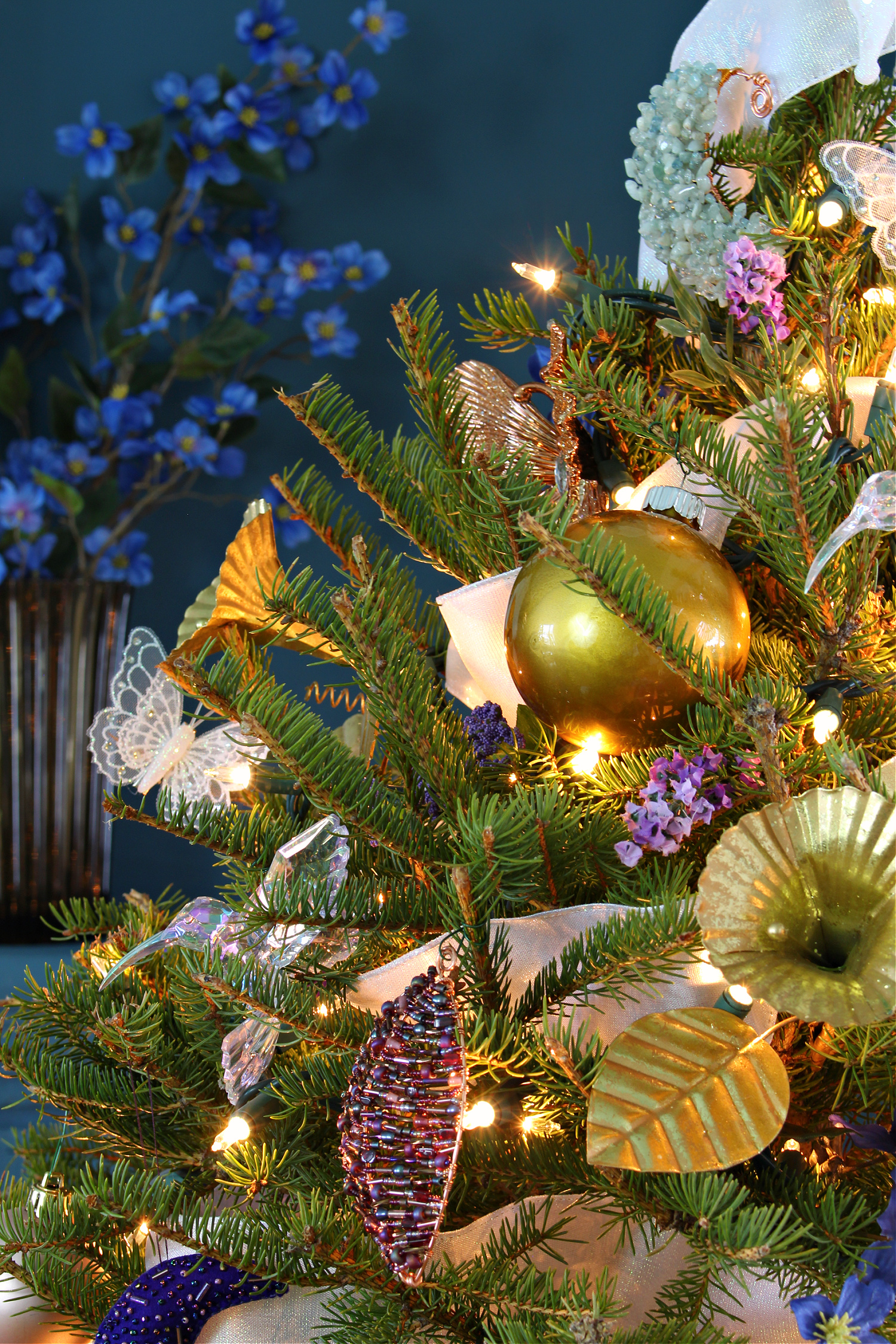 Store Bought Ornaments:
The dollar store delivered and I found a bunch of really cute, really affordable ornaments to fill in the gaps at Dollarama, but I also scooped some gorgeous clip on metal flowers, and the large butterfly I'm using as a tree topper, on clearance last year.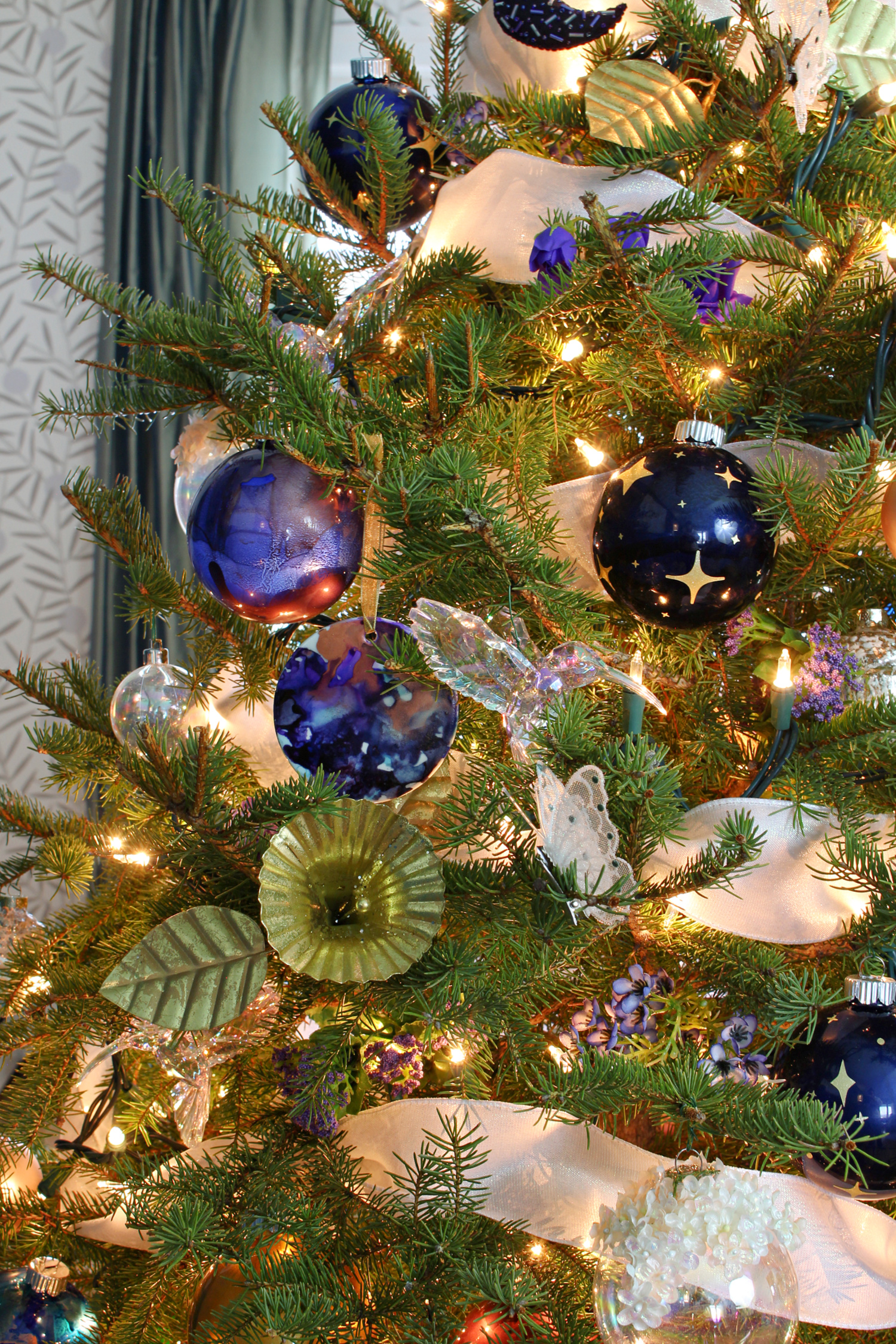 Iridescent Hummingbird Ornaments (Dollar Store)
I have these iridescent ornaments in deer and snowflake shapes on my tree and I just love them. The hummingbirds are even more faceted and they're honestly so stunning in real life – here's a similar listing on Amazon but seriously check out your local Dollarama for these.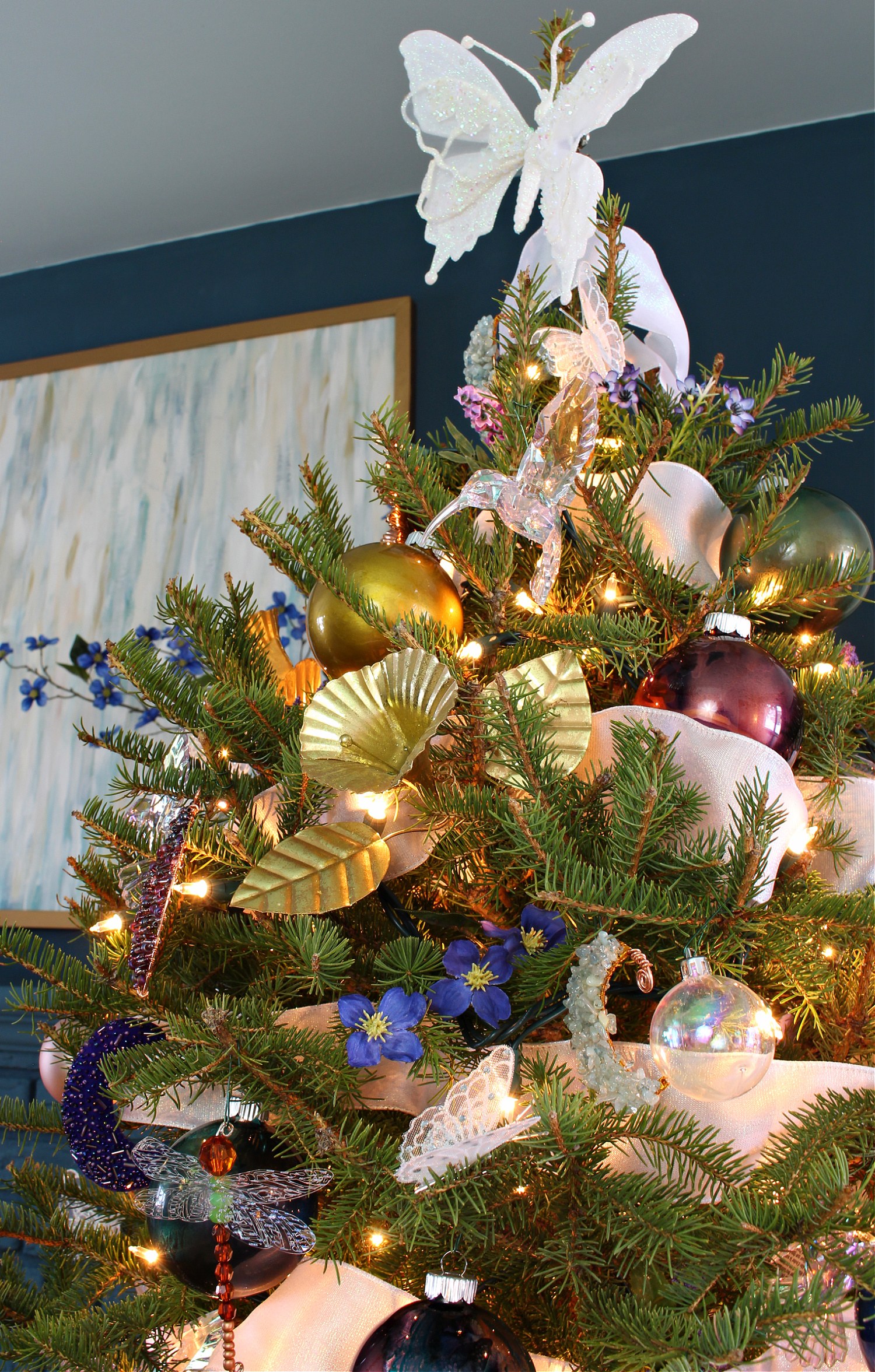 Shimmery White butterflies (Dollar Store)
These clip on shimmery white butterflies are the perfect "moon lit" touch for the tree and I loved that I could clip them onto skinny branches that were too weak to hold up an ornament. The end result is really magical, but these were super inexpensive. I found some similar ones online, but they're larger. Again, check your Dollarama!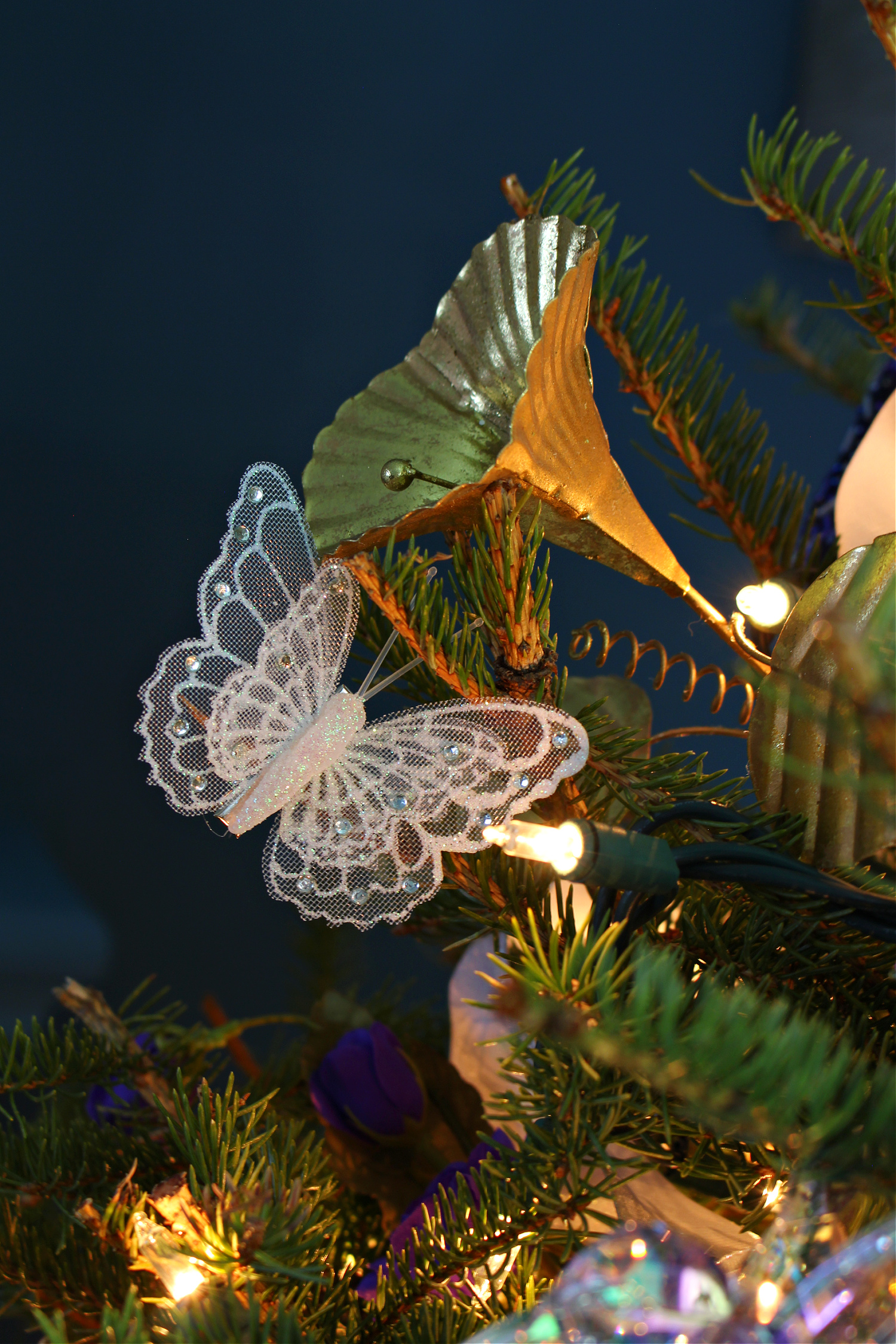 Gold Metal Clip On Flowers
You might remember my grandpa was a metal artist and so he's been really interested in seeing the wire ornaments I've made – so I excitedly showed him the metal flowers I had scooped as I was trimming the tree. He loved them and I said, "can you believe nobody bought these? I got them all on clearance". And he said, "well, people have no taste" and it just made me laugh. He can be deeply critical of things I create. Sometimes I'll ask him, "Papa, what do you think of this?" and show him something I made – and he'll say, "well, I don't want to hurt your feelings" lol. So it was nice to have him on my side re: the wire ornaments I made AND the metal flowers I was so excited about.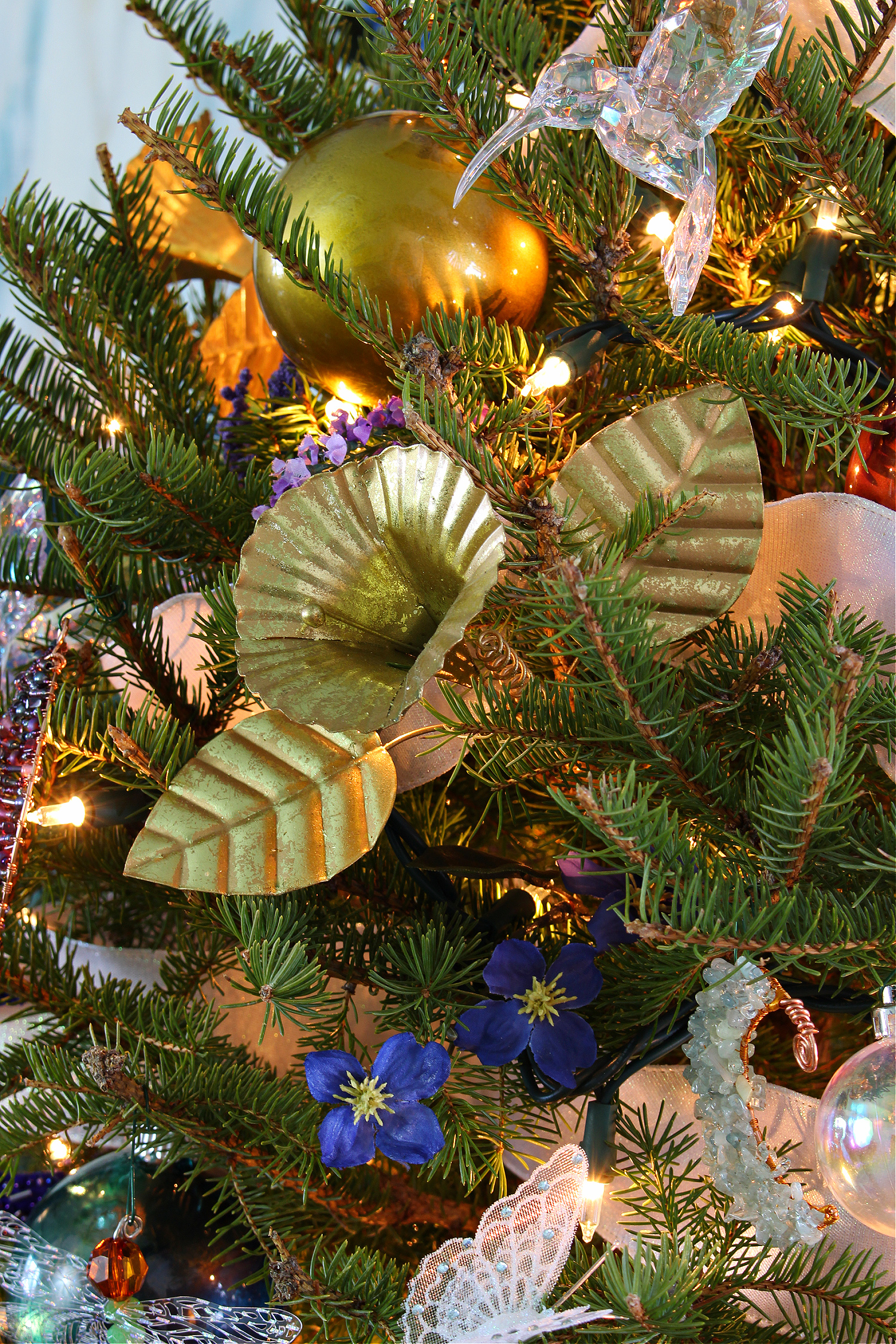 Plastic Glitter Butterflies (Dollar Store)
Another dollar store deal was the plastic copper butterfly ornaments, which look cheap up close, but once on the tree they sparkle like magic and look so pretty! Here's a similar one in gold but I really love this teal version.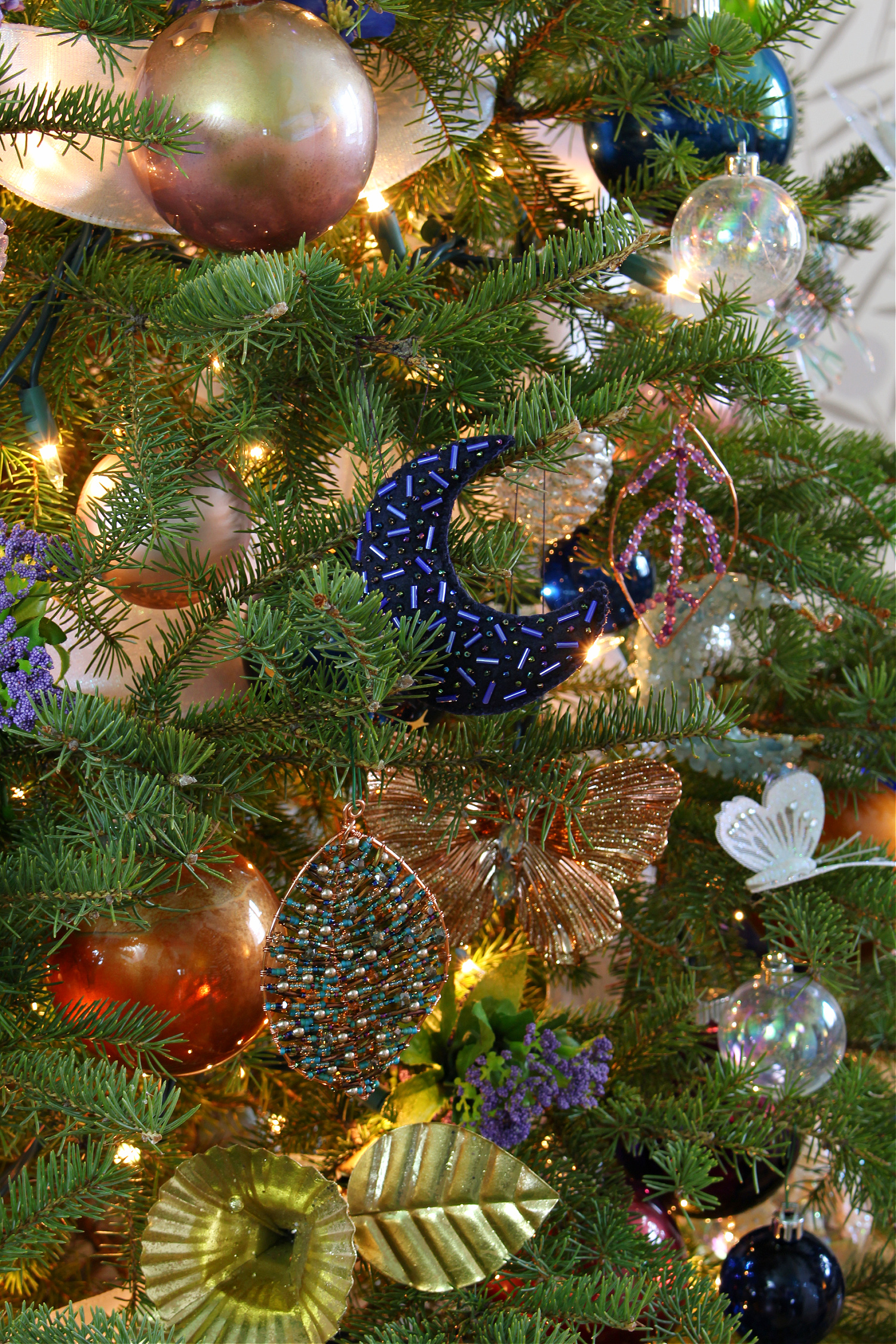 Floral Adorned Tree Skirt:
I will make a new post all about our floral tree skirt when it's complete, but already you can see the vision! Gorgeous gathered sheer fabric (inspired by this gathered silk pillow we sewed) adorned with the ribbon flowers my Mom is so good at making. Just picture a lot more flowers and then the ribbon sewn on in a sculptural way. If you squint, you can see the vision!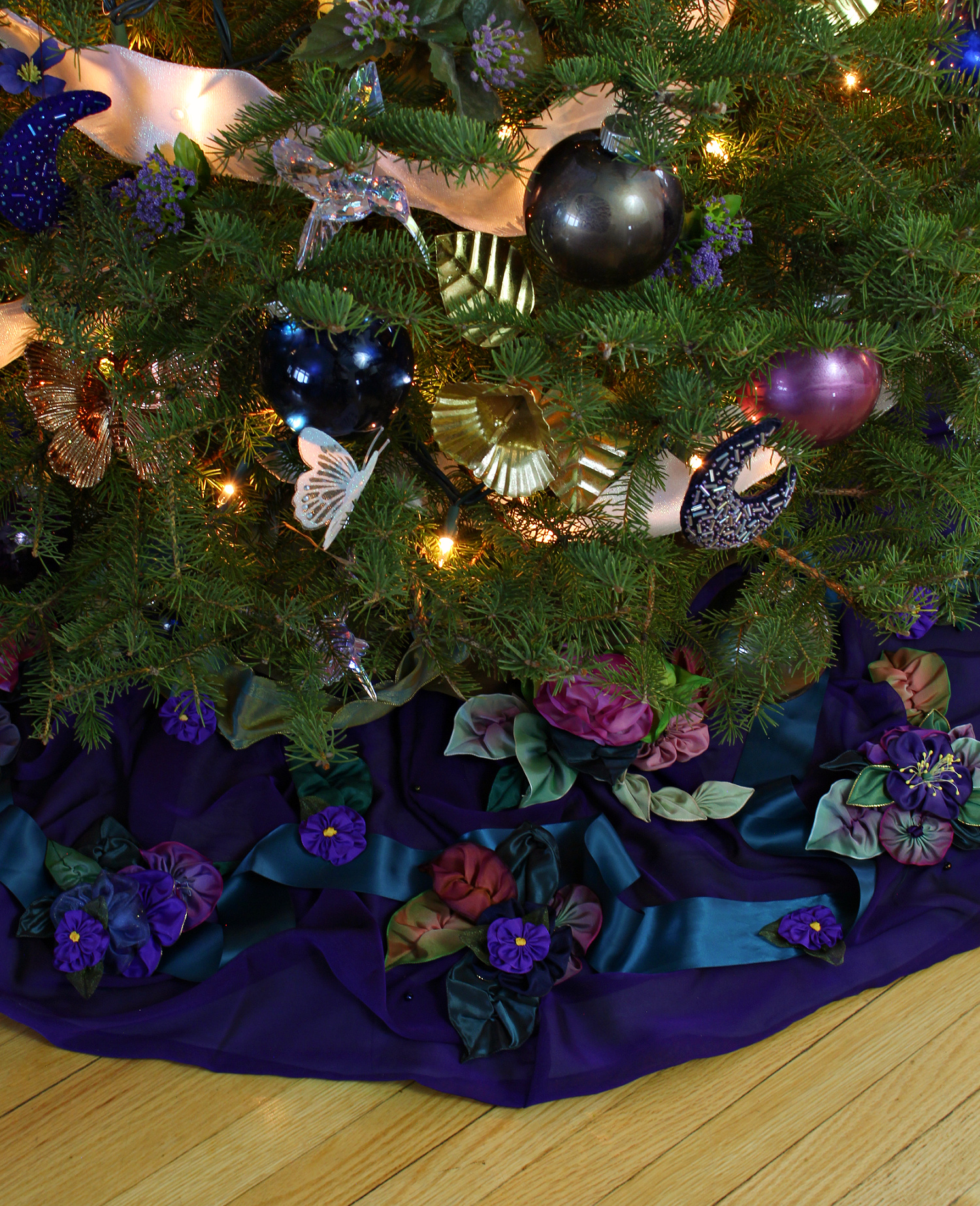 Plans for Next Year:
I don't even mind that we didn't finish all of my ornament ideas because that means next year we can add to the tree some more! After decades of not celebrating Christmas I have realized that I LOVE making ornaments. So I'm happy that we can continue making them next year – although we will have to aim higher with the trees we choose! I'd like both my Mom's and our tree to be larger next year. Our tree is a lovely height but I would like one a bit taller, just because we can, with our vaulted ceiling. Plus that way I could make a few more ornaments for my aqua and white Christmas tree as well. I also think I might switch the ribbons – this one is one I picked up on clearance and I thought it would be more sheer but it was really white and wintry, so it will look perfect on my aqua and white Christmas tree and the ribbon I have (which is a sheer teal with gold) will look perfect on my Mom's Midsummer Night's Dream Christmas tree theme.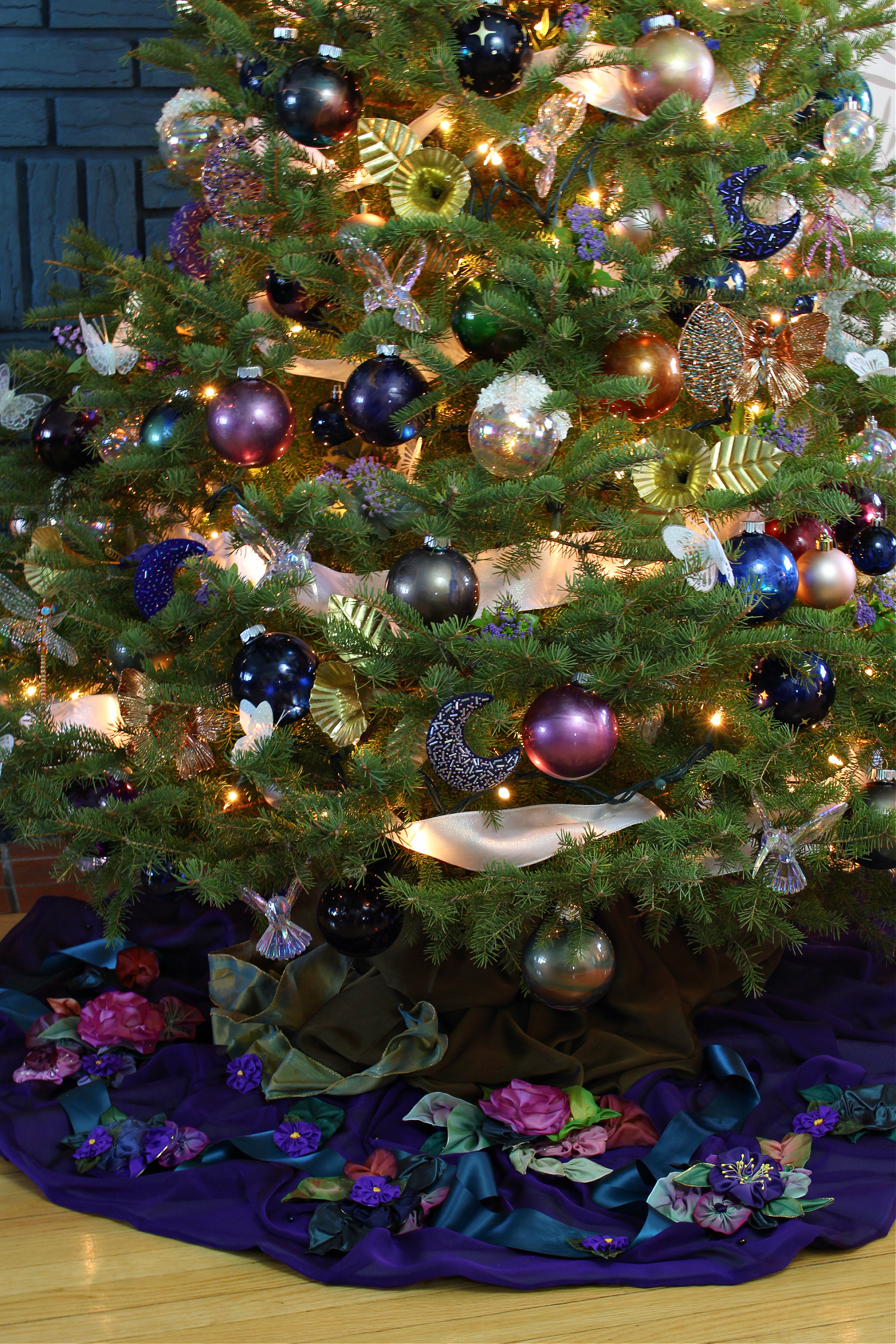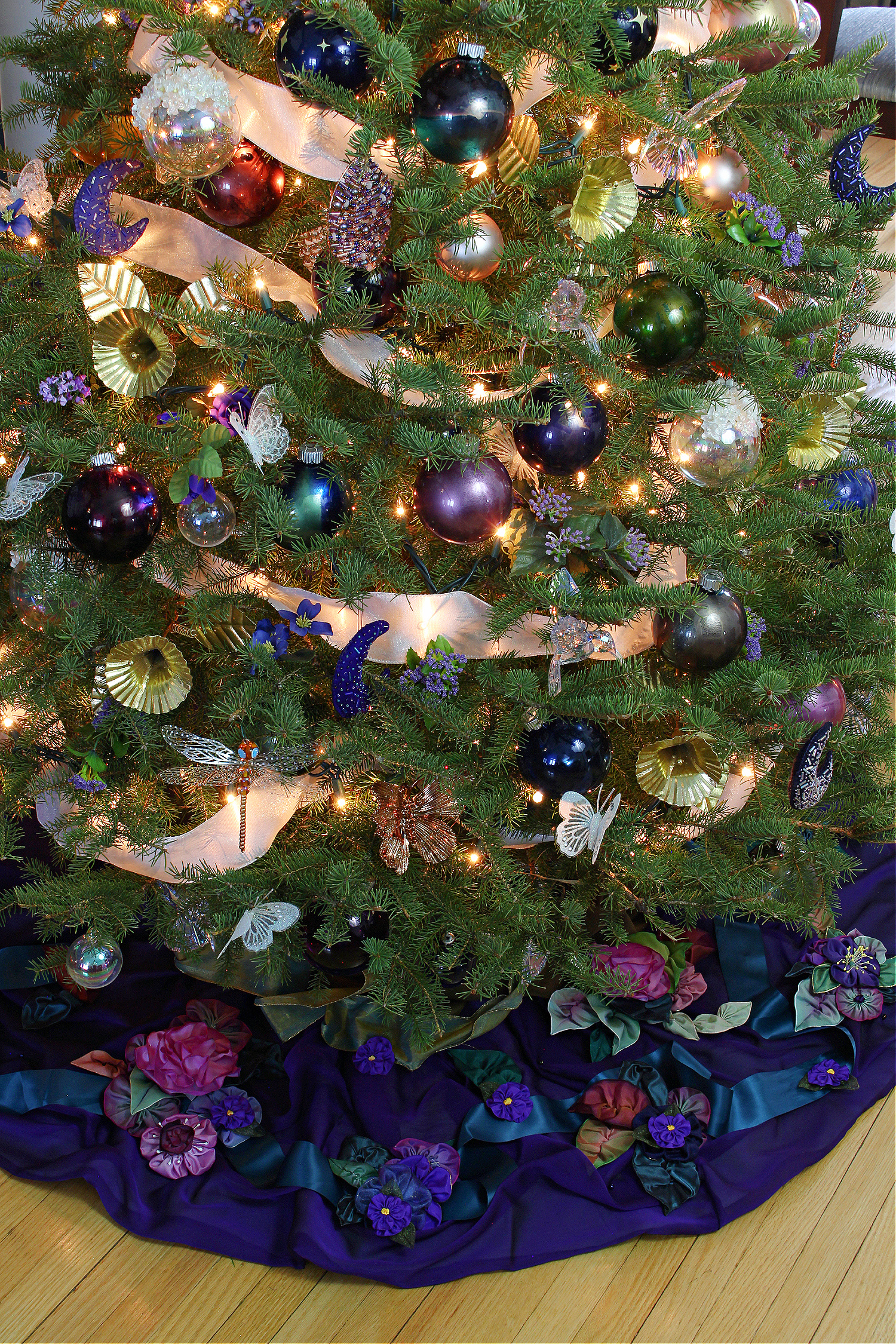 A Midsummer Night's Dream Mantel Decor
Next year we will do something a little more magical with the mantel decor too. I ran out of time to do anything really fancy with my Mom's mantel, but we still made it look cute and coordinating. The vibrant pink and blue bowl, and smokey glass vase – both of which are scooped from my local landfill – look really nice alongside the Midsummer Night's Dream Christmas tree color scheme. Some faux blooms and a little thrifted gold butterfly – meant to be used as an ornament but we ran out of room – ties together the theme.
P.S. Don't Forget to Pin for Later!