This is the first year EVER that I have put up a Christmas tree in my home, so I hope you enjoy this lakehouse-approved aqua Christmas tree decorating inspiration! I quite literally stole the entire aqua and white Christmas tree theme I made for my Mom – so handy that it fits my own home decor perfectly, right? 😉 But don't feel sad for her, because I've been working like an elf (always be cobbling!) to make her an entirely new Christmas tree worth of ornaments. We'll be setting her Midsummer Night's Dream Christmas tree up this weekend and I can't wait to see the ornaments I've made up on her tree. Although, if I'm being honest, I still have SO many more to make…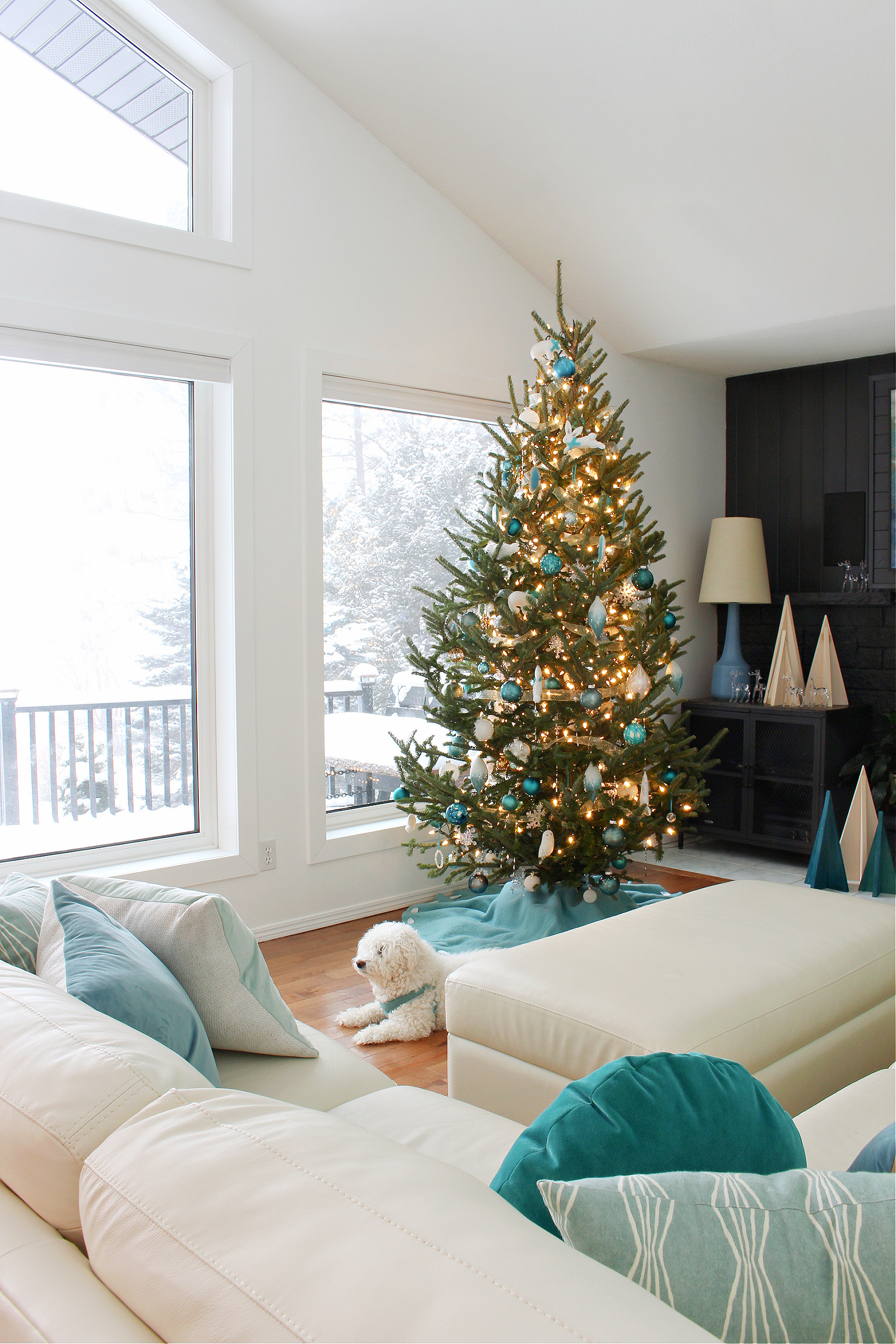 Aqua Christmas Tree Decorating Inspiration
If you're coming over from Life is Better at Home, welcome! Hubby and I were super sick last week, so we couldn't get our live tree until the day before yesterday – we were definitely too worn down to trudge into the bush and cut one down, as planned. Instead, we went to the grocery store and took a chance on a very skinny, tightly wrapped tree. I did not realize they take so long to relax after being wrapped up. We waited all evening, dubiously staring at a very skinny tree. Fortunately it relaxed enough to decorate it yesterday! Hopefully the tree will standing through the holiday season – Hynda and Szuka were VERY curious about it, and Hynda went around and sniffed each and every ornaments on the bottom foot or so of the tree. But so far they have been very gentle around it, so I am *hoping* there are no calamities… We did buy this brand new (very sturdy, MAGIC) tree stand and it holds the tree very securely.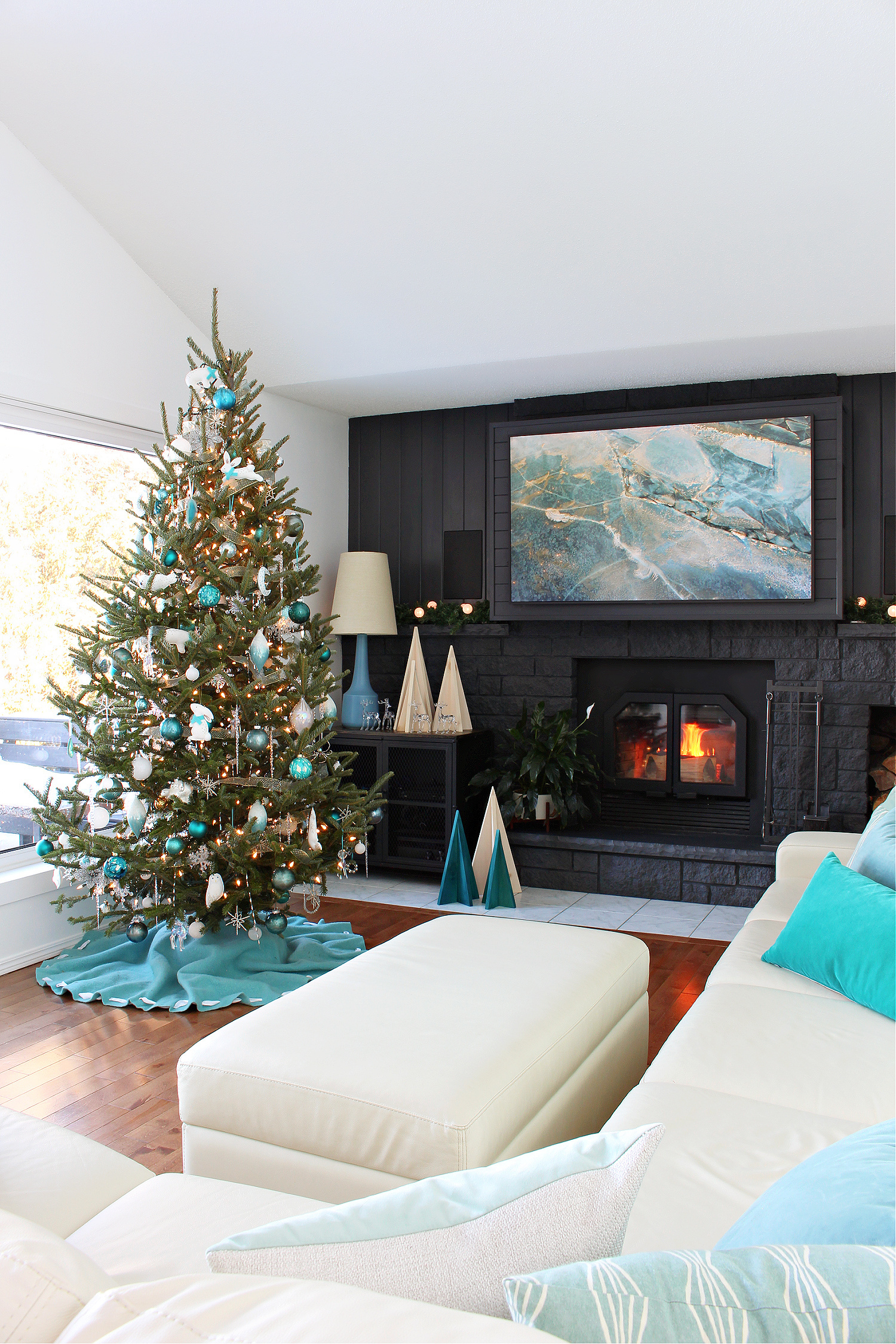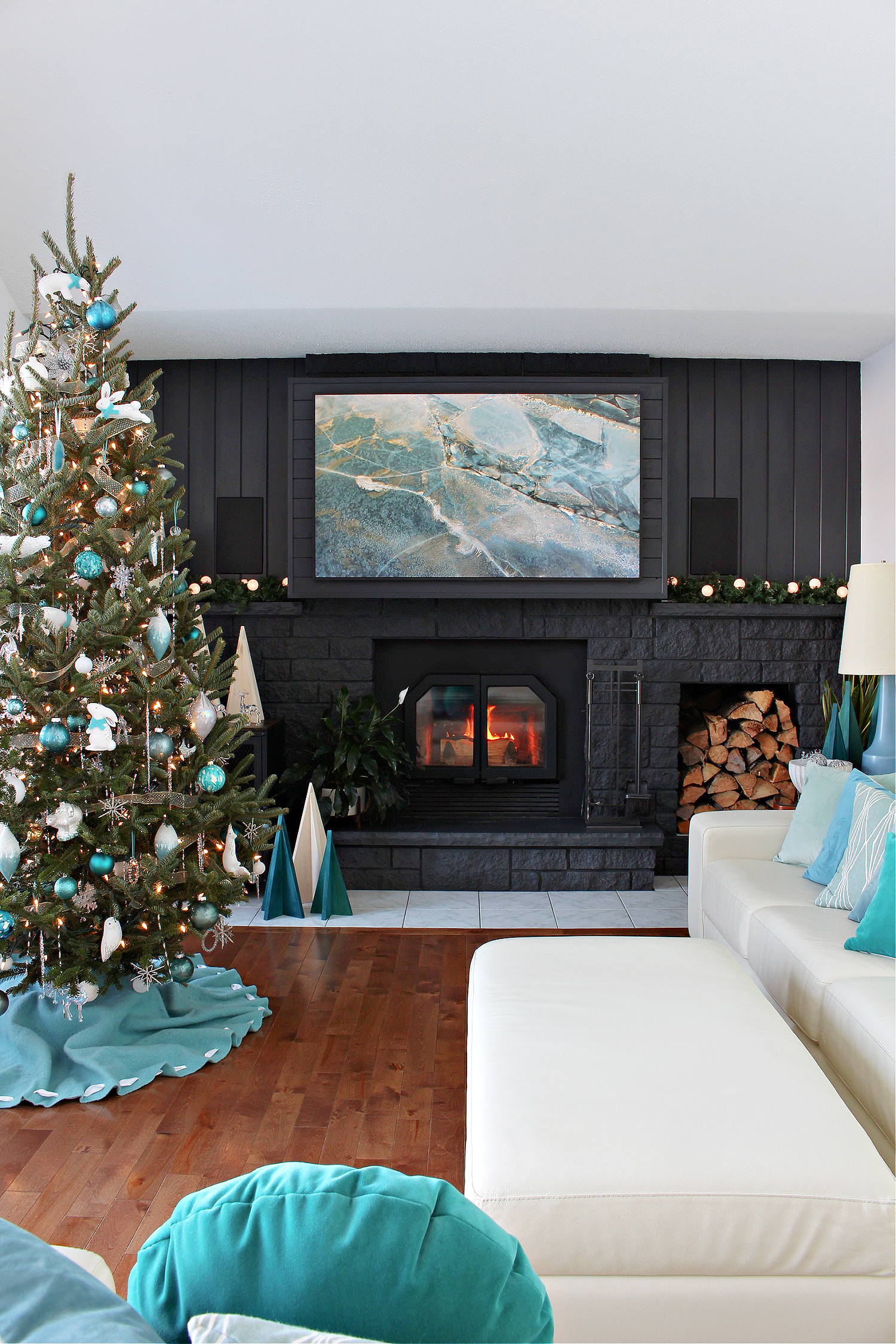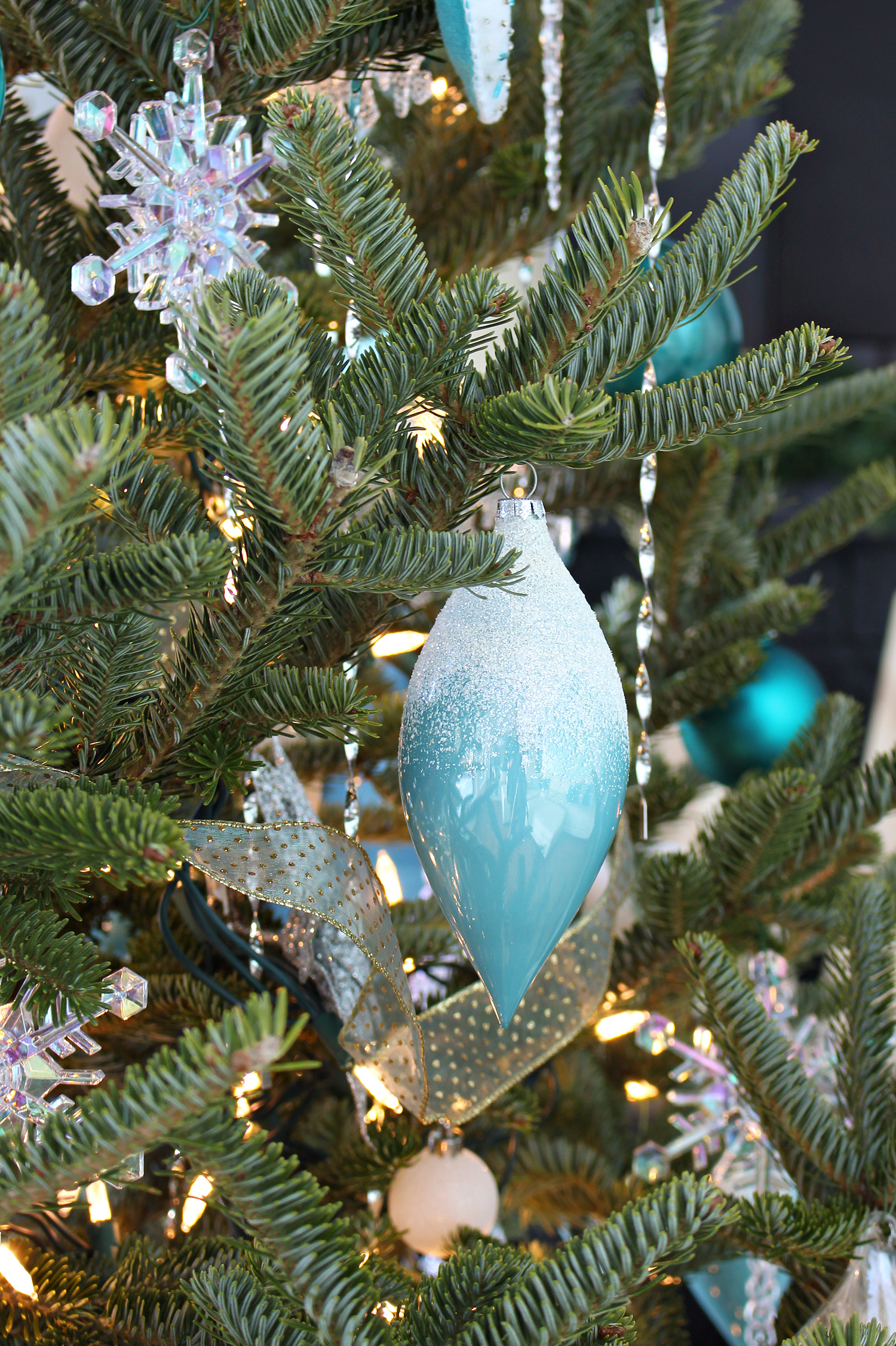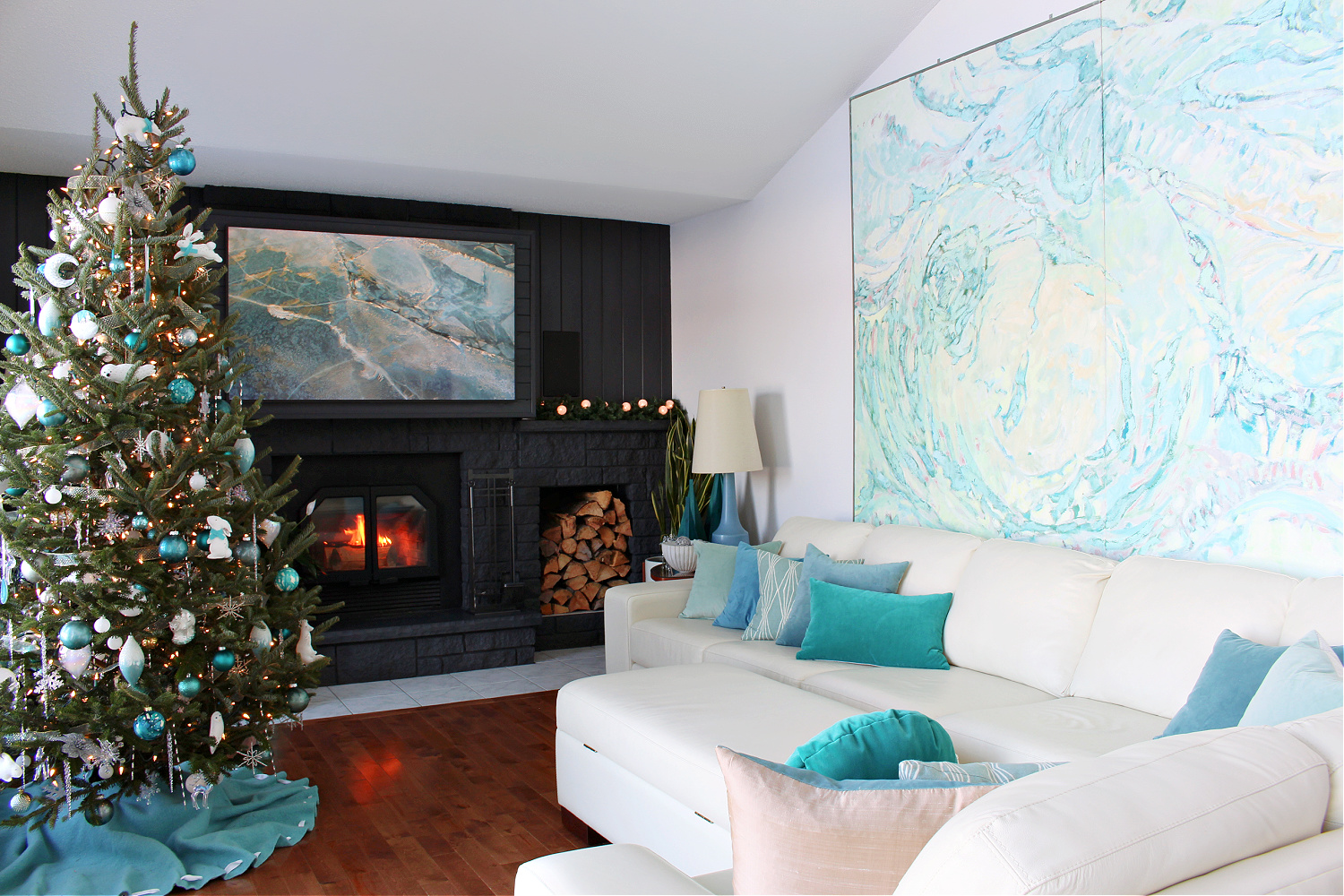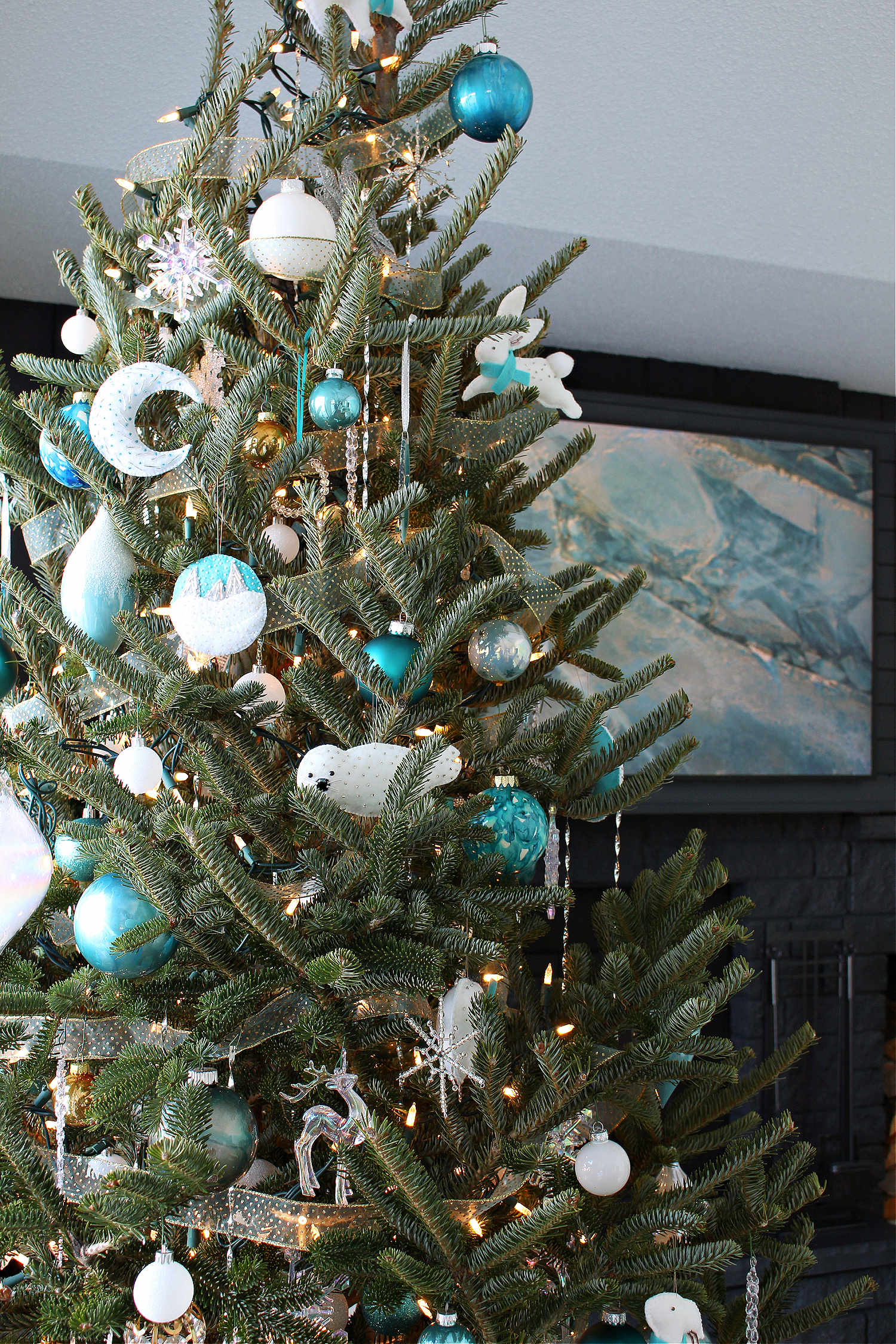 On the dining table, I'm growing some jade cuttings I planted awhile ago and they reeaallly like it here, so I didn't want to move them for the holidays. So I just added a few bottle brush trees and the DIY upcycled felt leaf garland from a few years ago to my collection of vintage McCoy planters! The nice thing about my aqua Christmas tree theme is that it coordinates so nicely with my regular decor so I don't really need to have special seasonal decor pieces…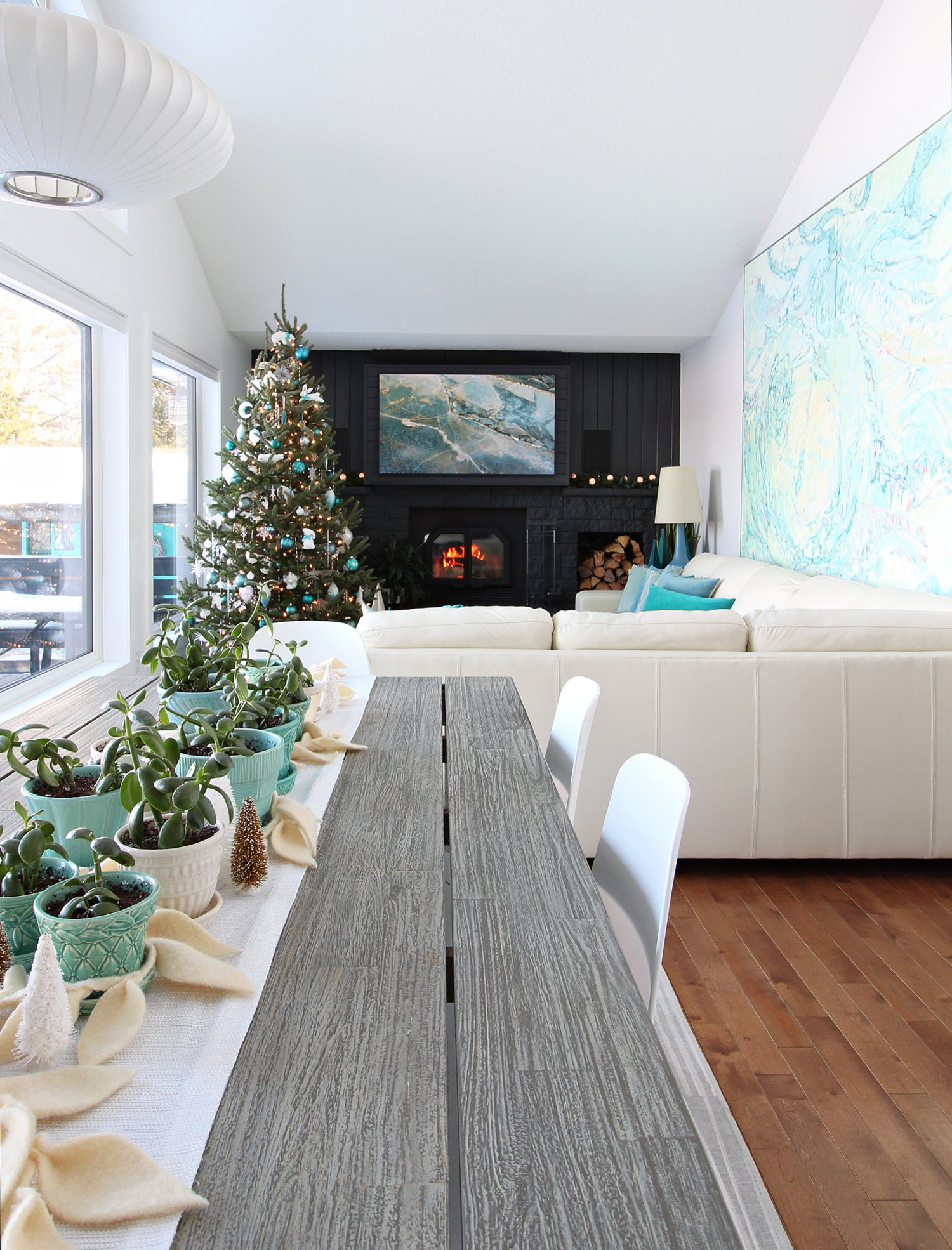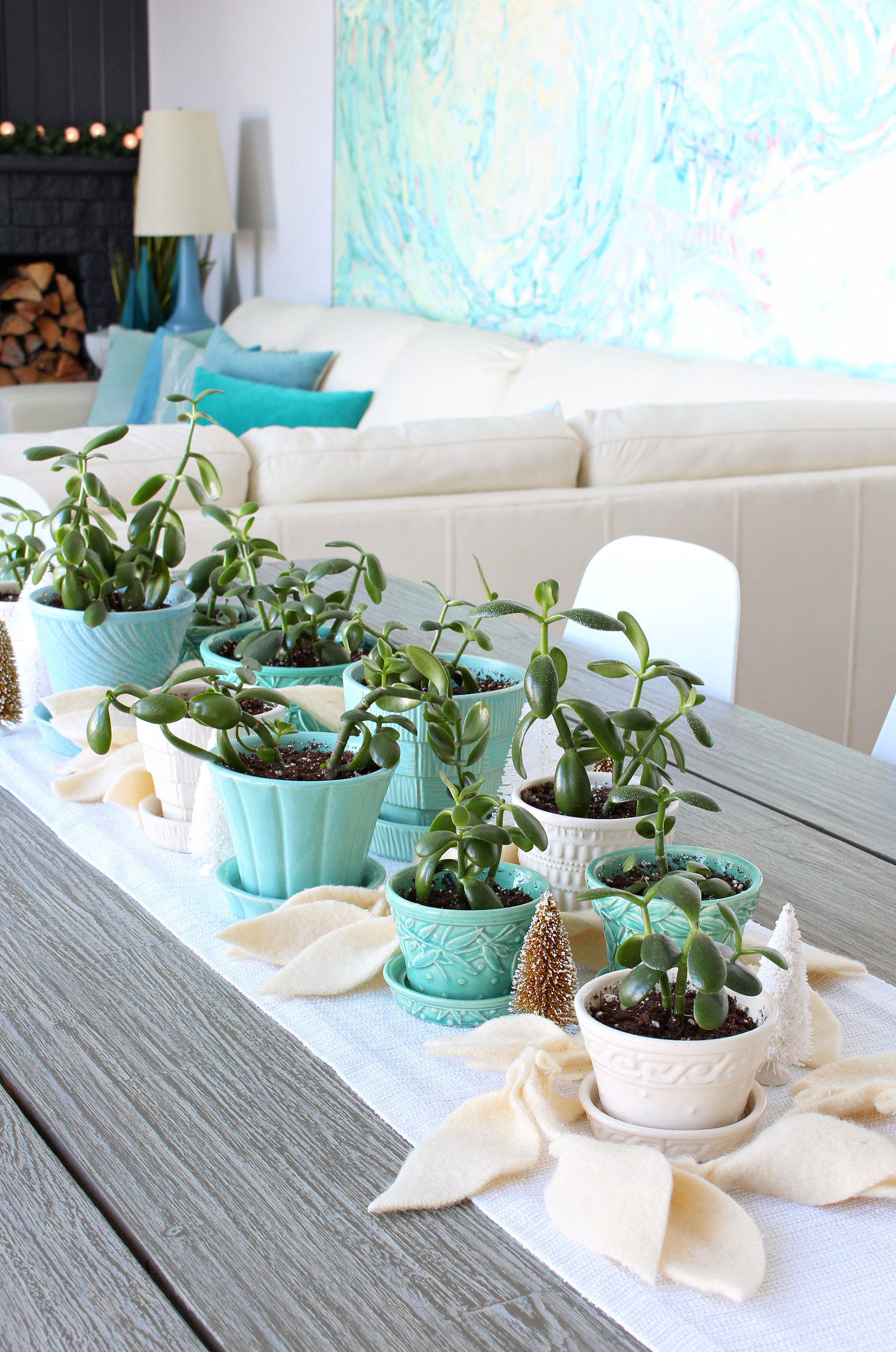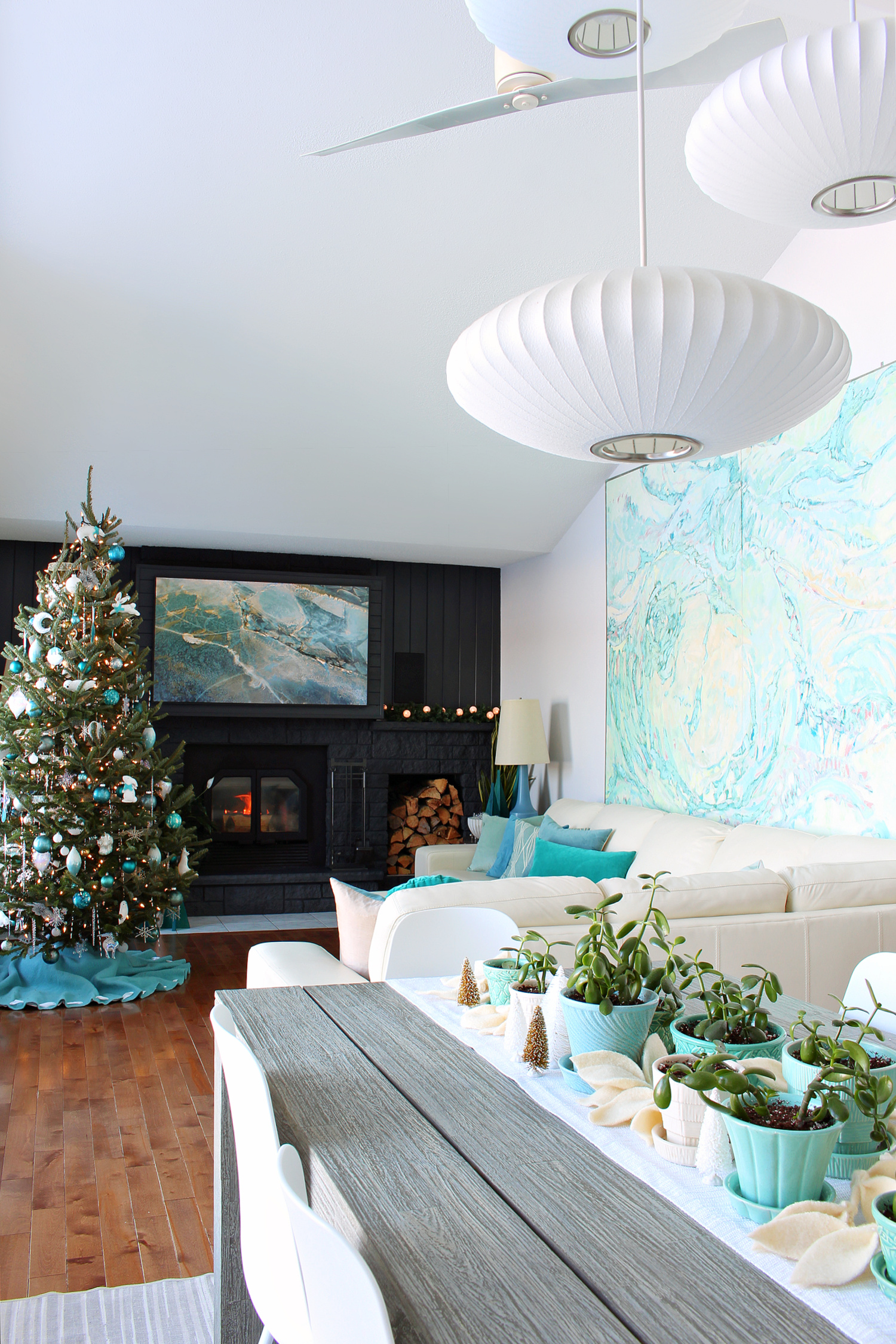 But a few special, seasonal touches are fun, so I set up the modern DIY wood trees we made a couple of years ago – I also took those back from my Mom, haha. I made a LOT of them, so I split them into trios on the side table, media cabinet, and in front of the fireplace. The clear deer came from dollarama and they're so adorable – but does anyone else sometimes feel like seasonal decor is really just toys for adults? Buying those felt very much like buying toys…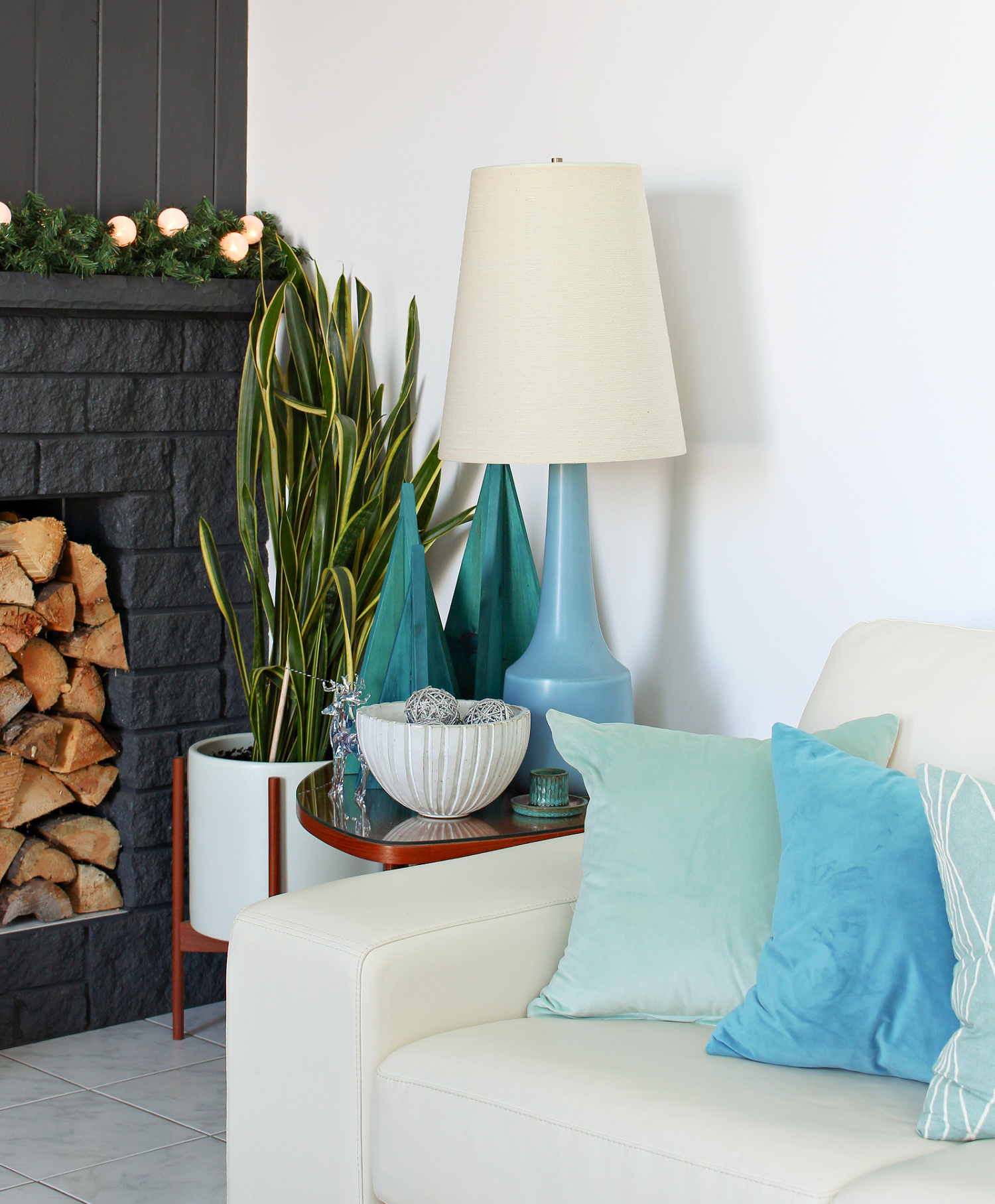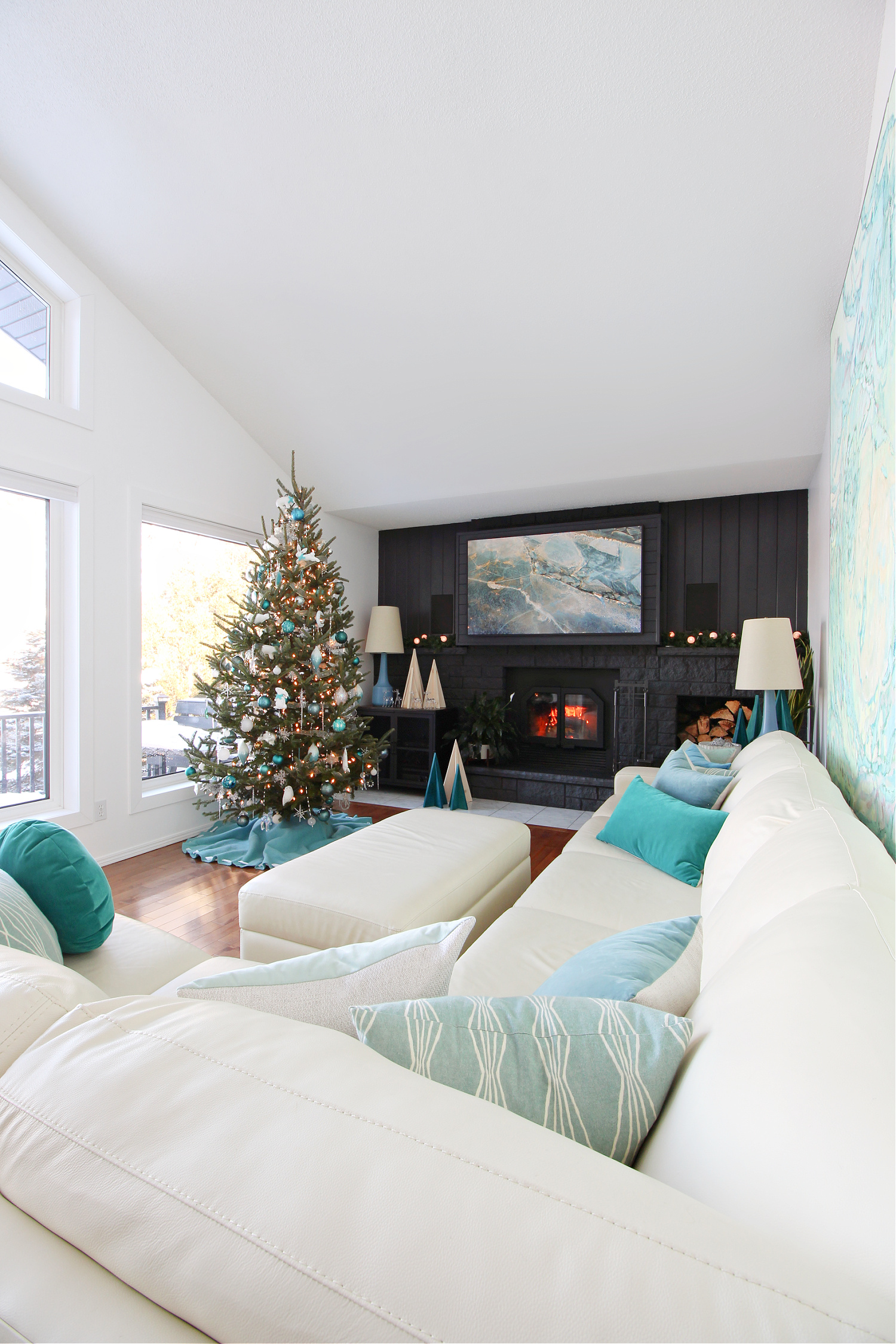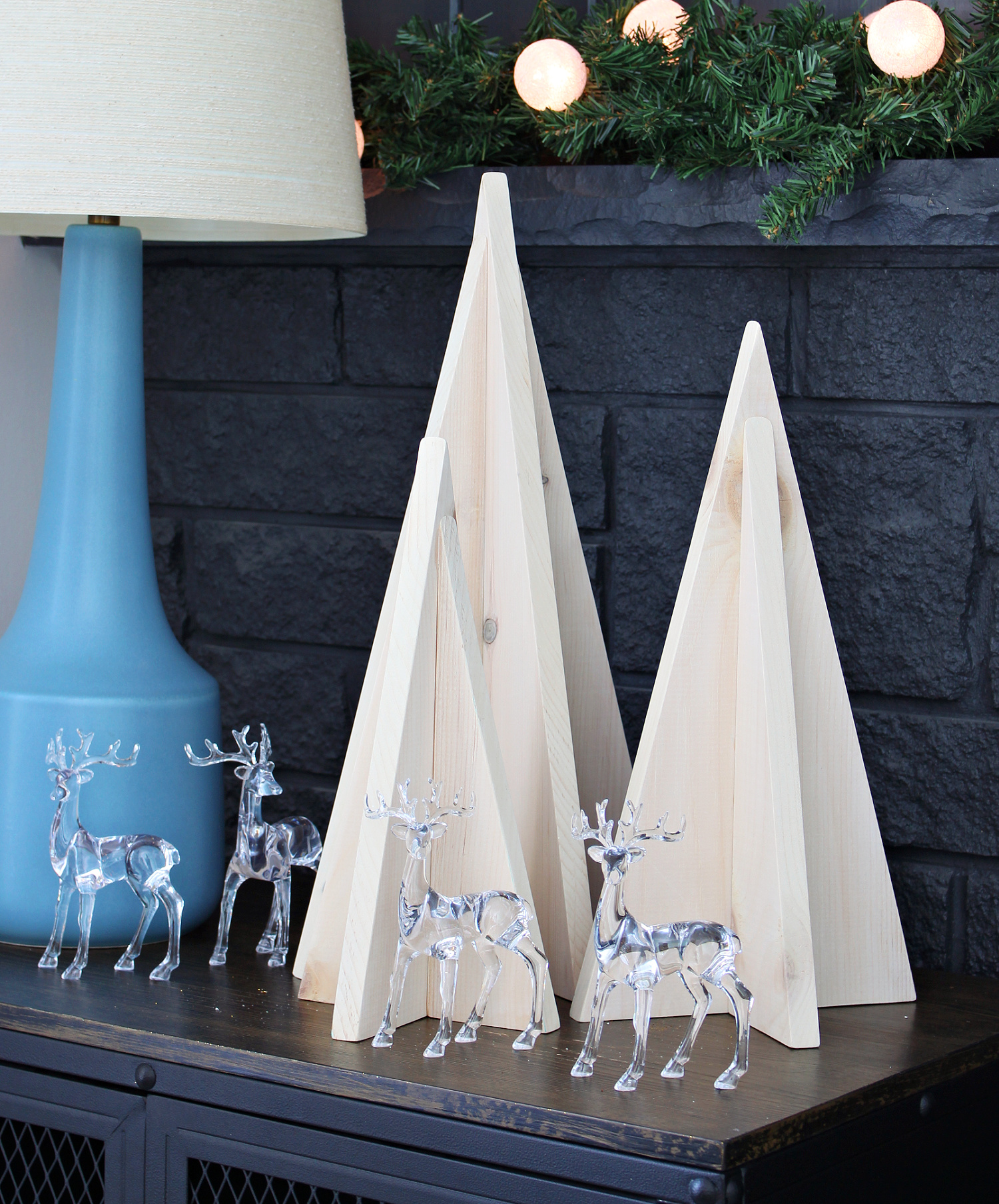 I really love how the aqua and white color scheme pairs so perfectly with our decor and the wintry tree theme is the perfect complement to the snowy lake view out these windows. My aerial photography of a frozen Lake Superior completes the scene (as do my matching pups, haha).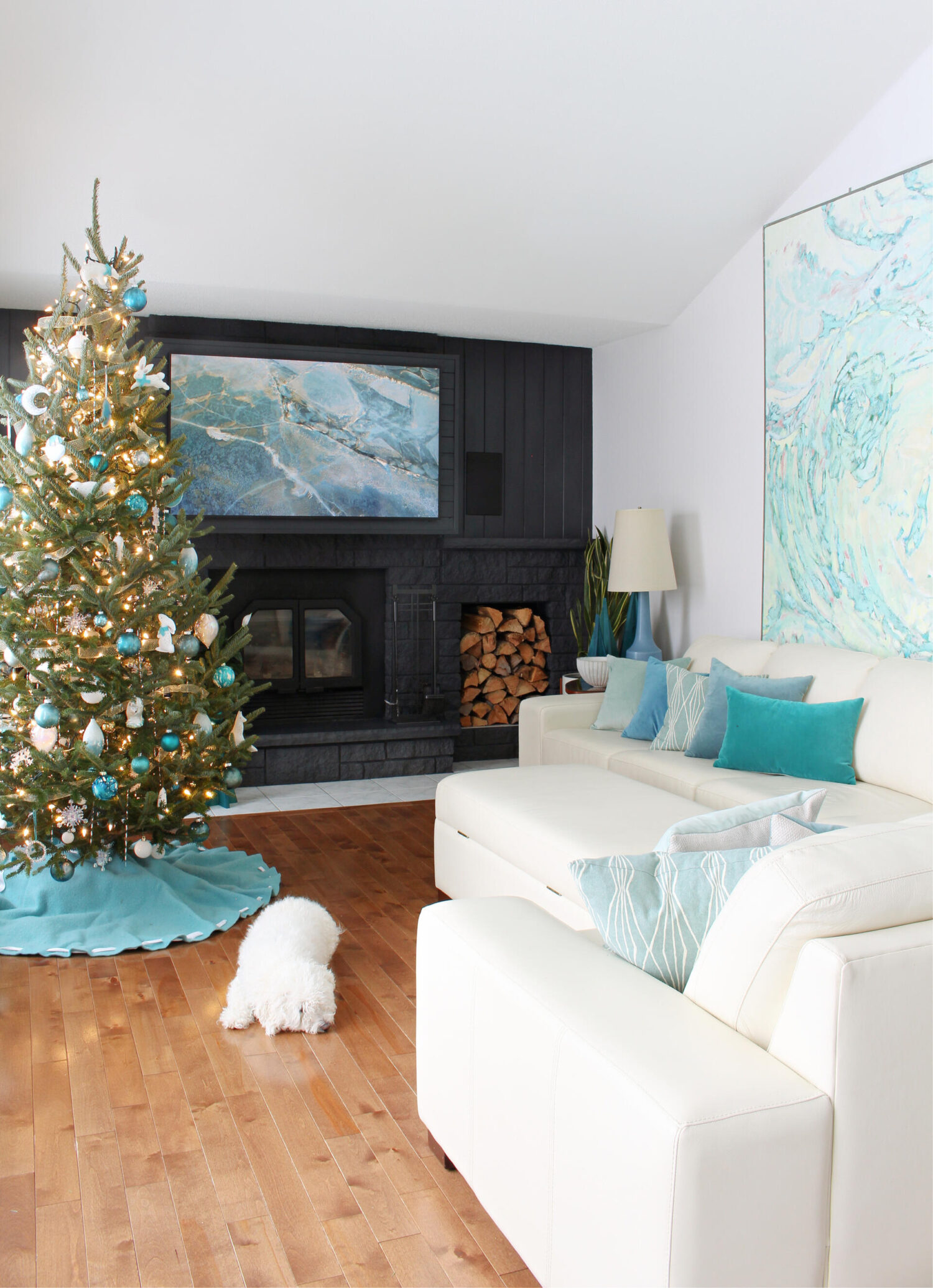 Here's a reminder of the DIY ornaments on this teal and white Christmas tree (I didn't use the painted birch slice ornaments this year):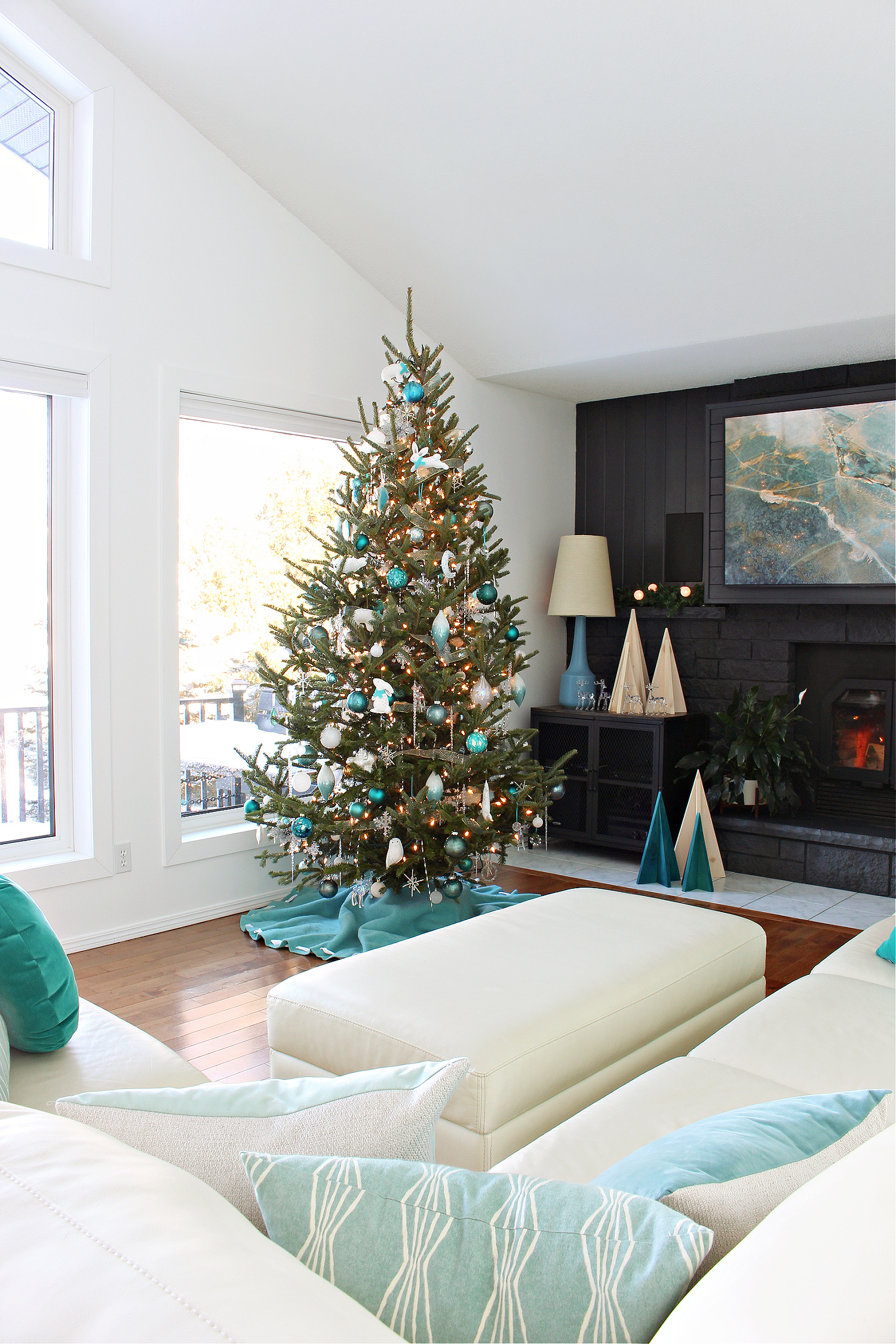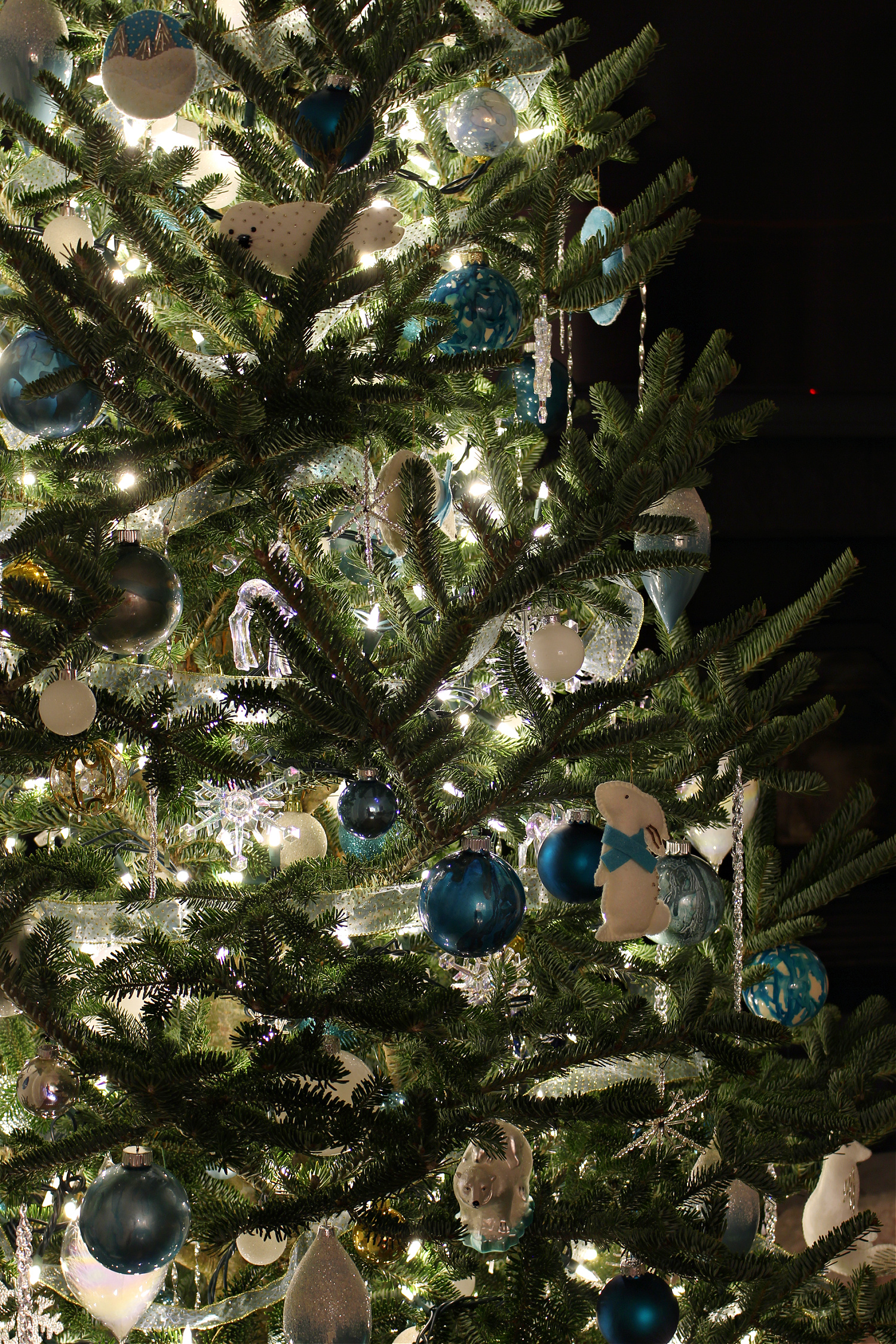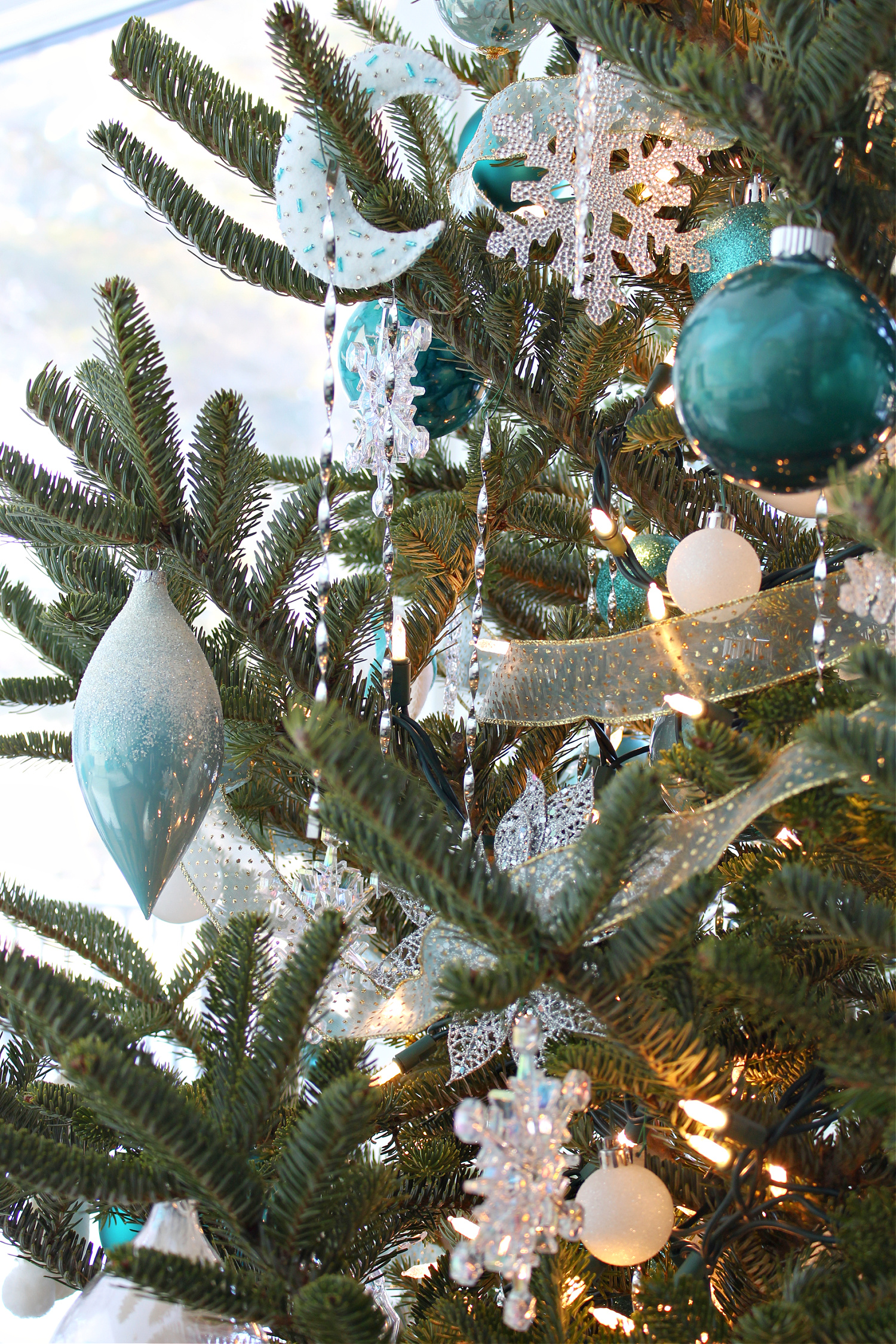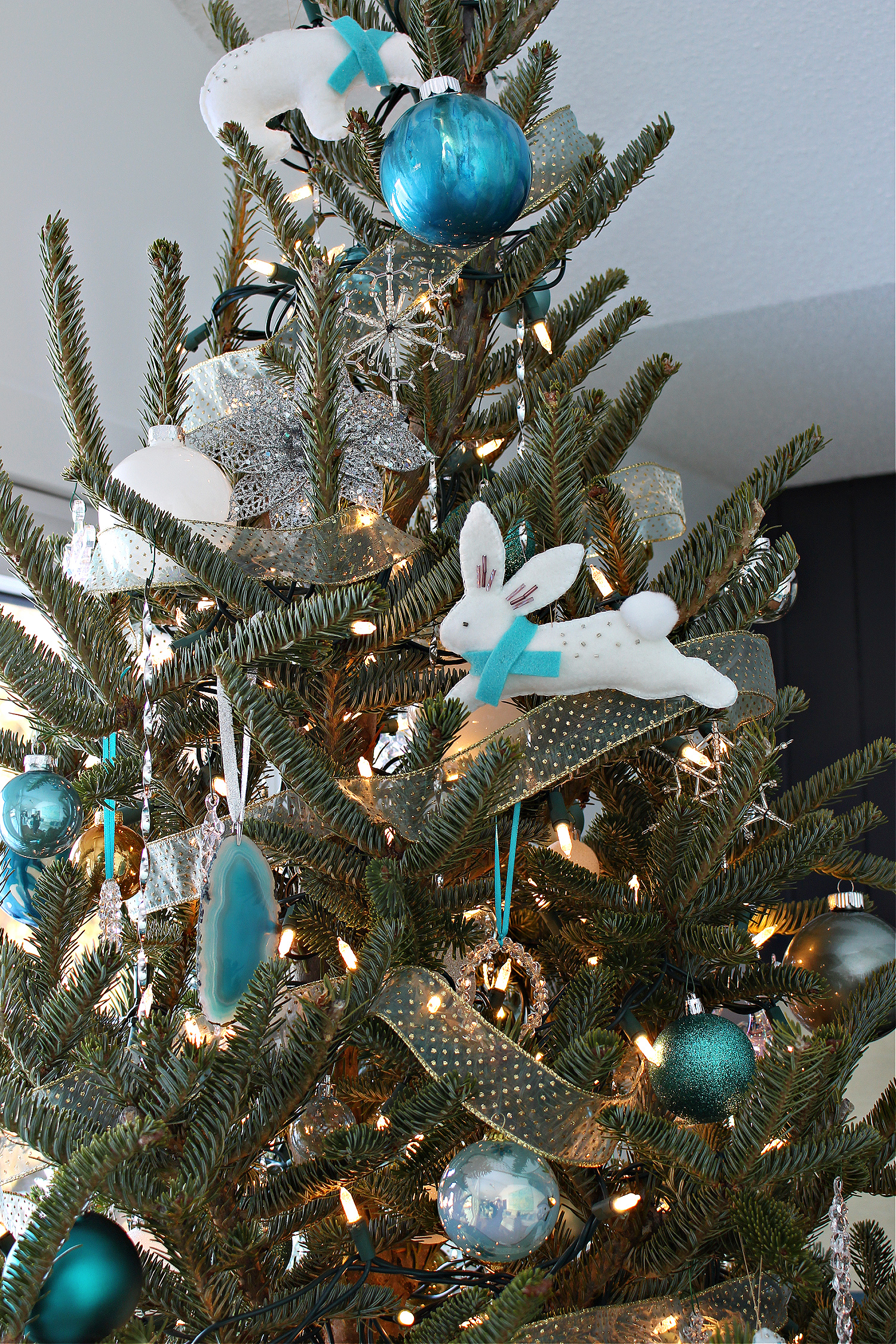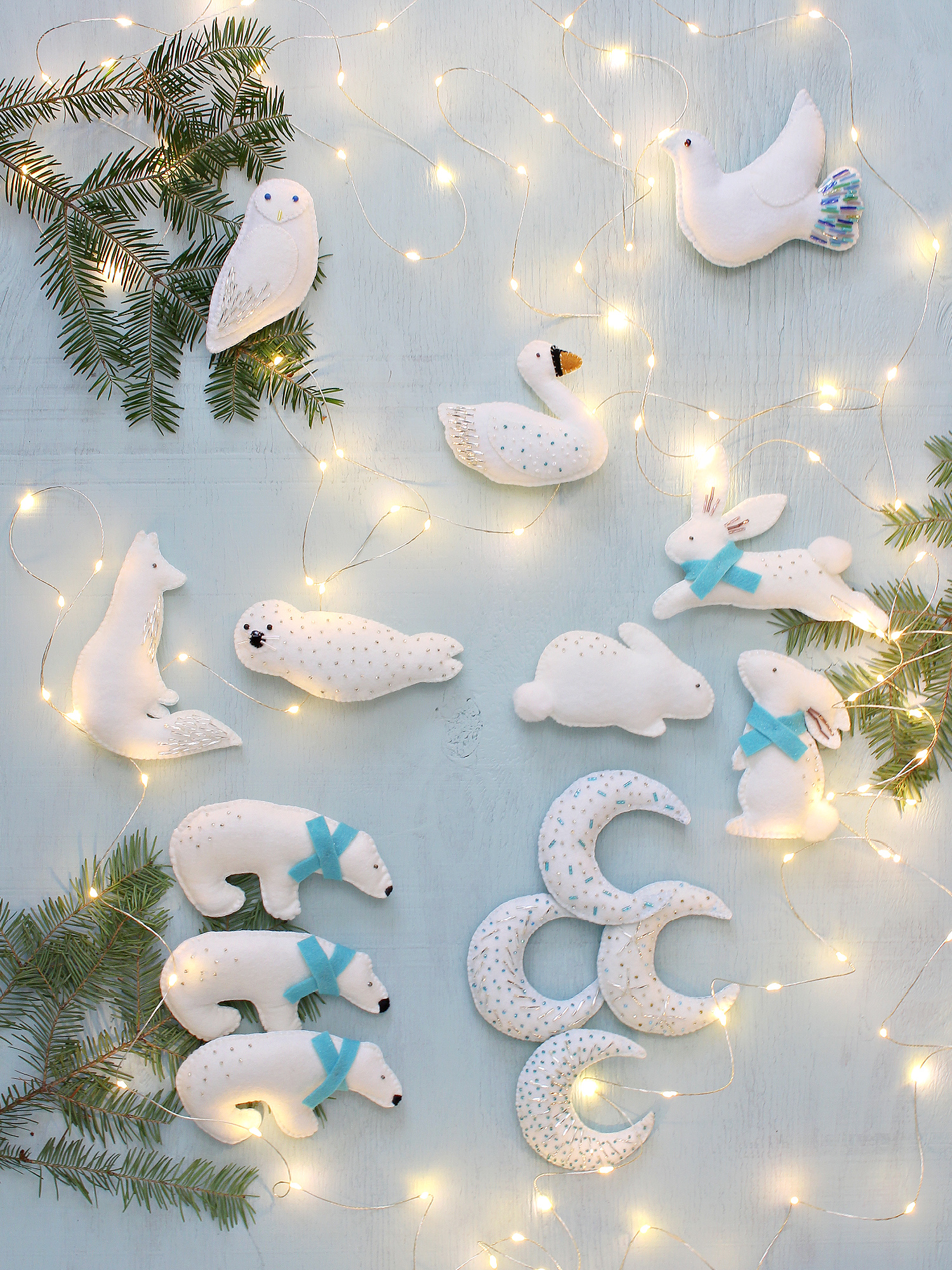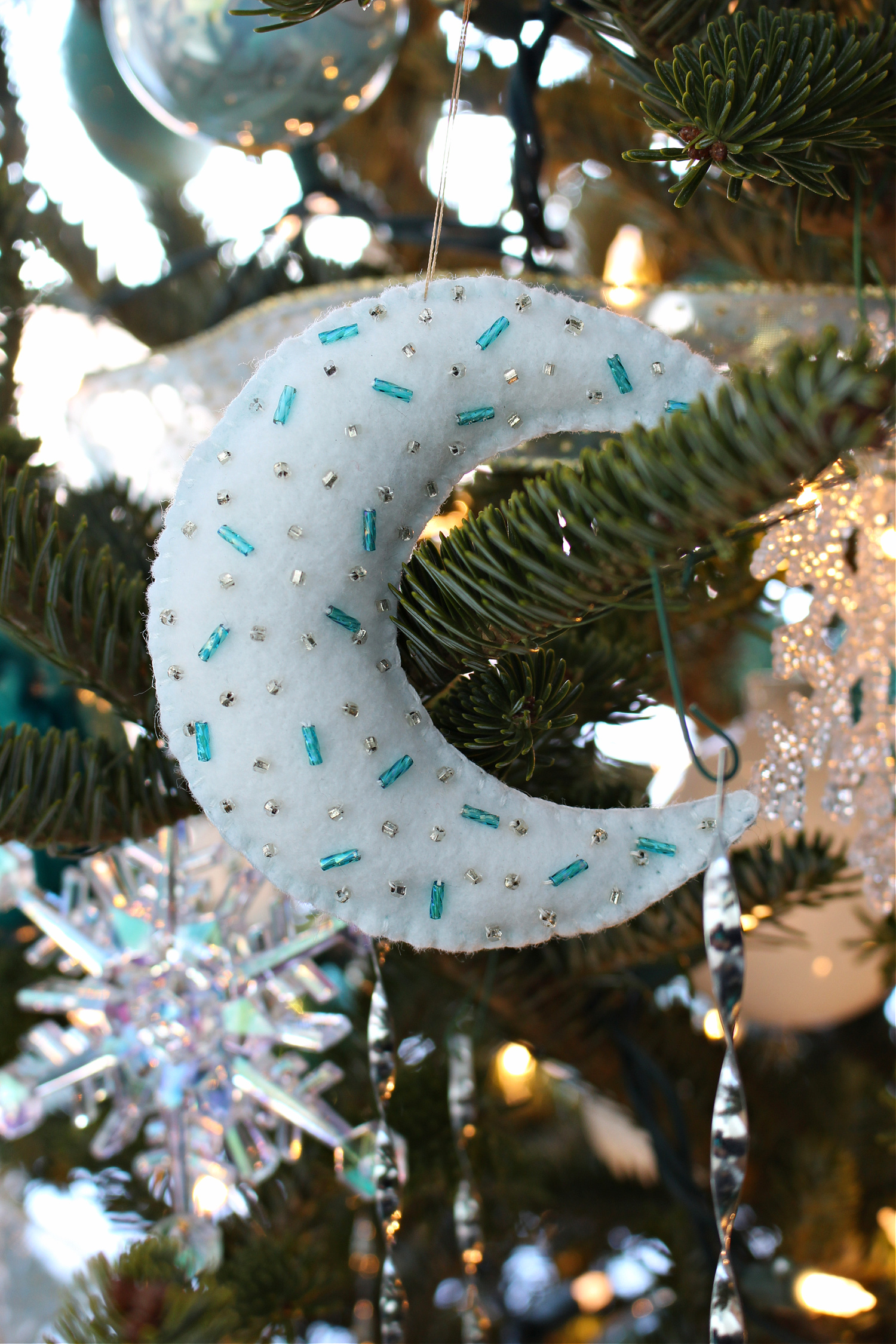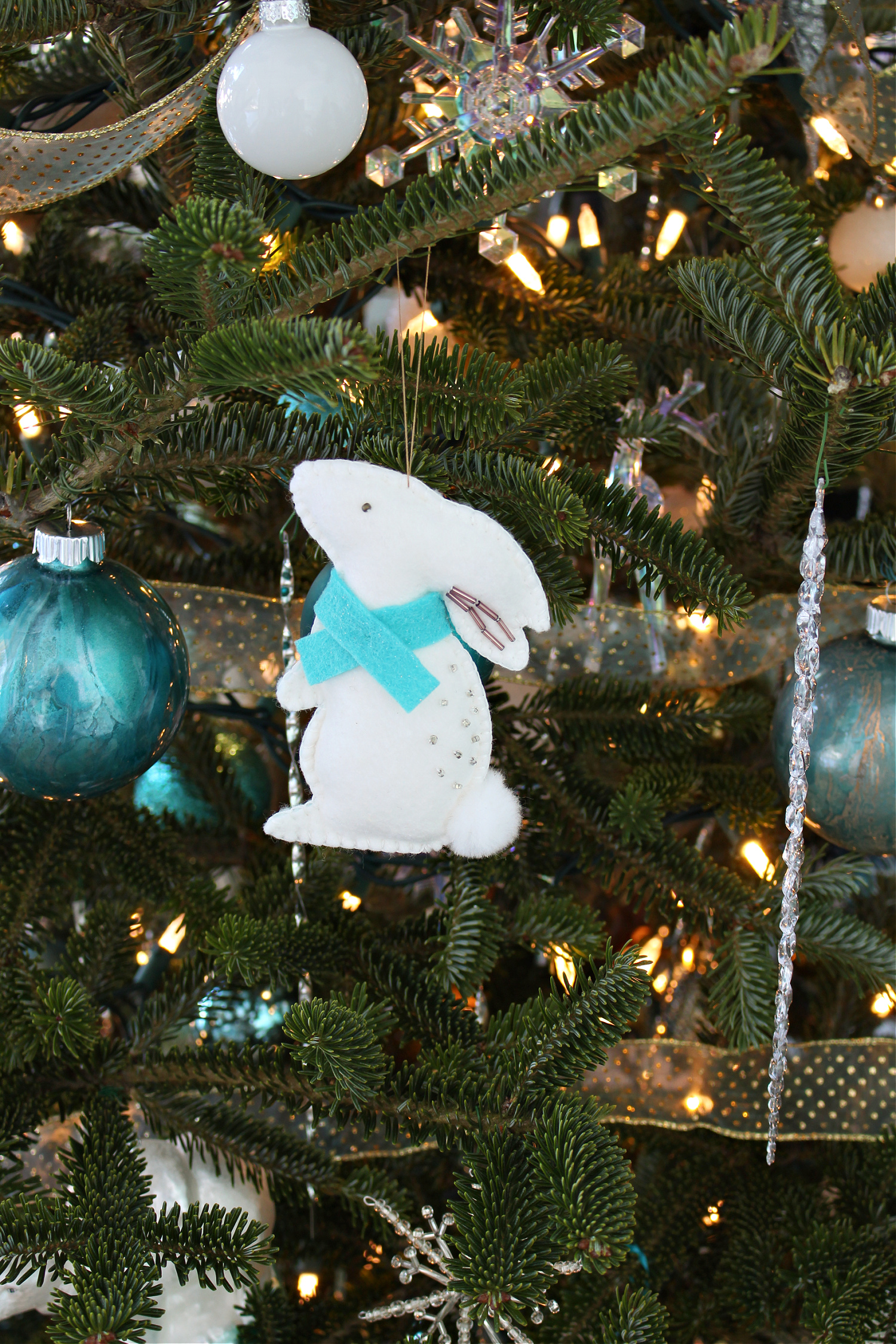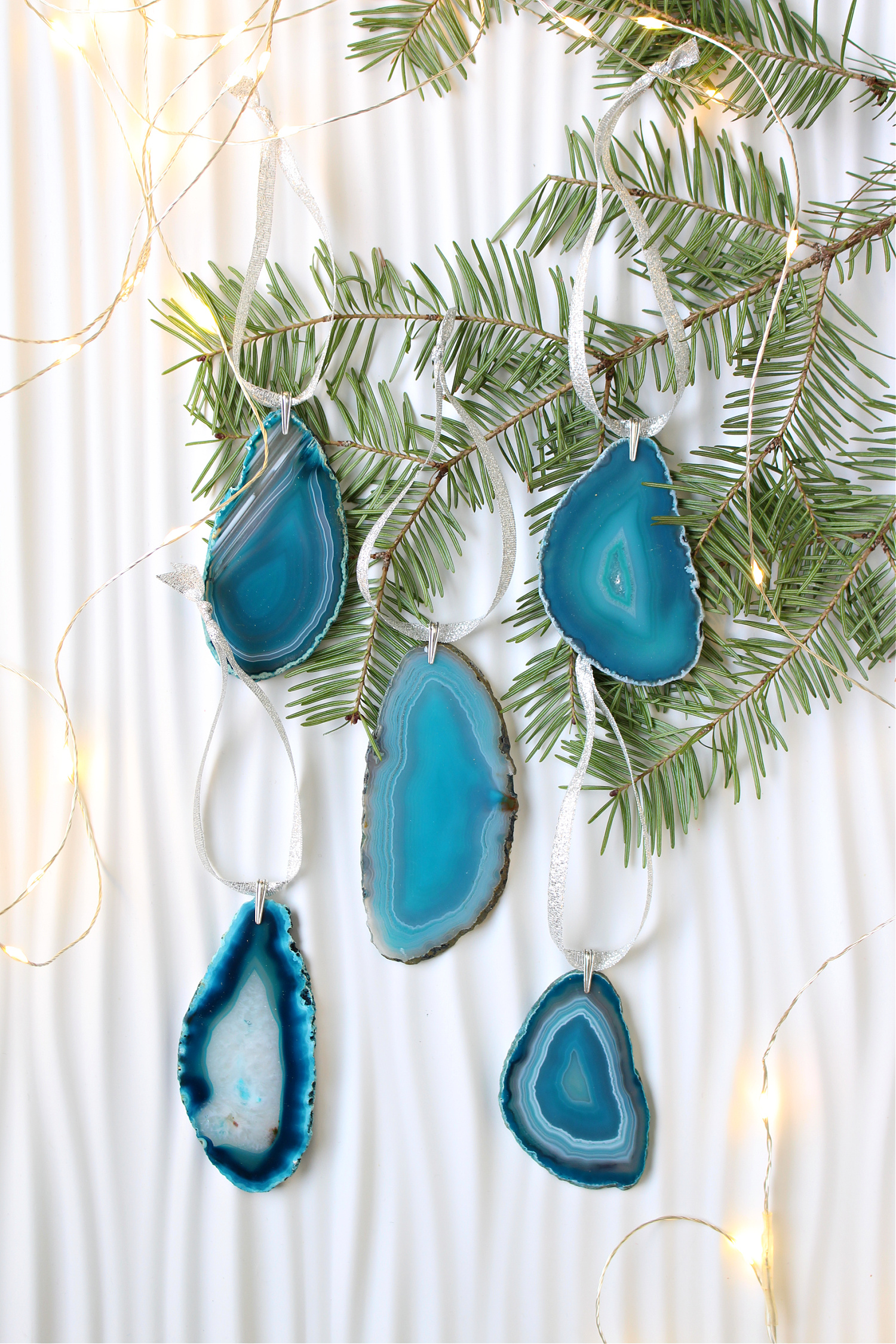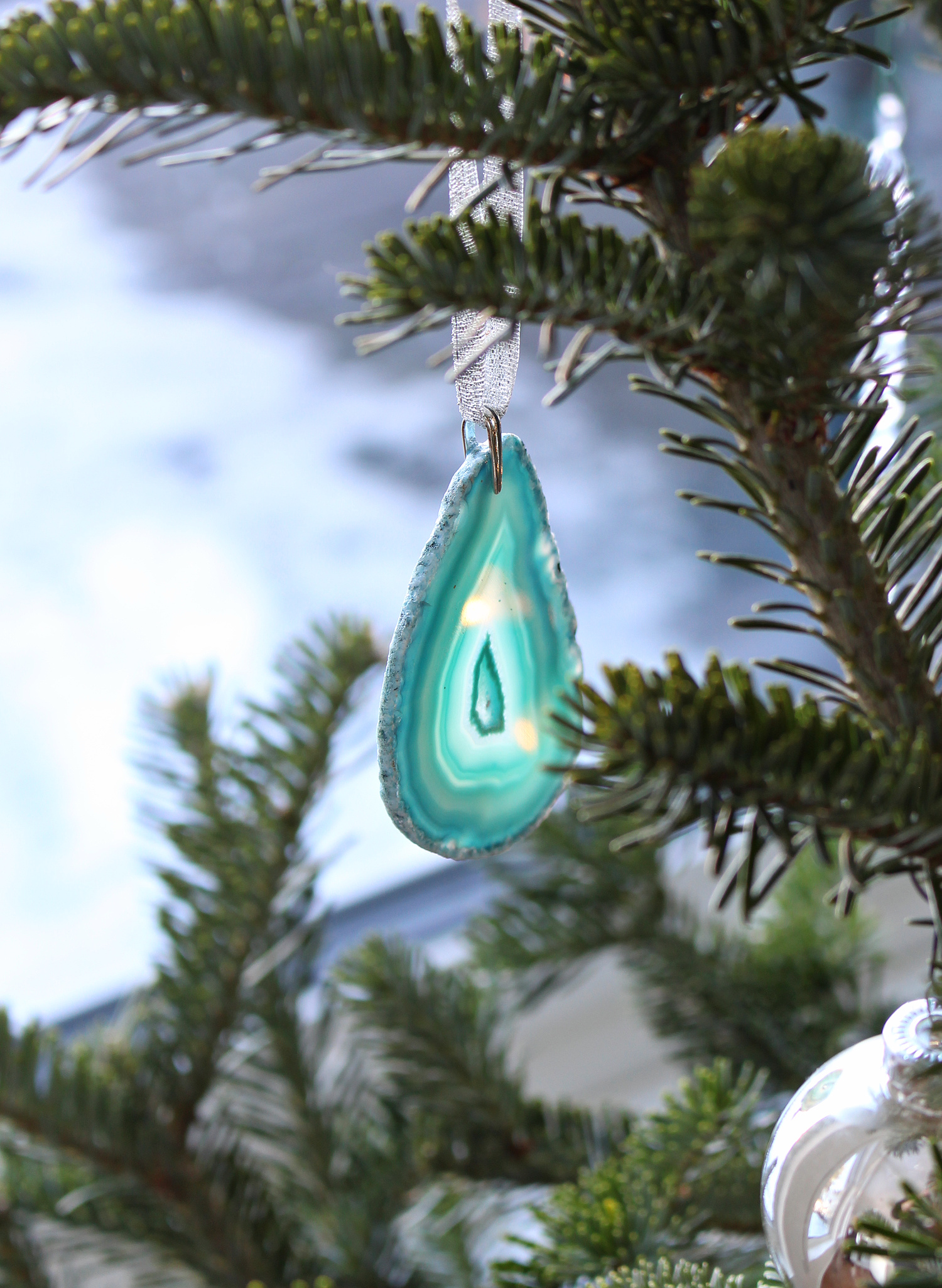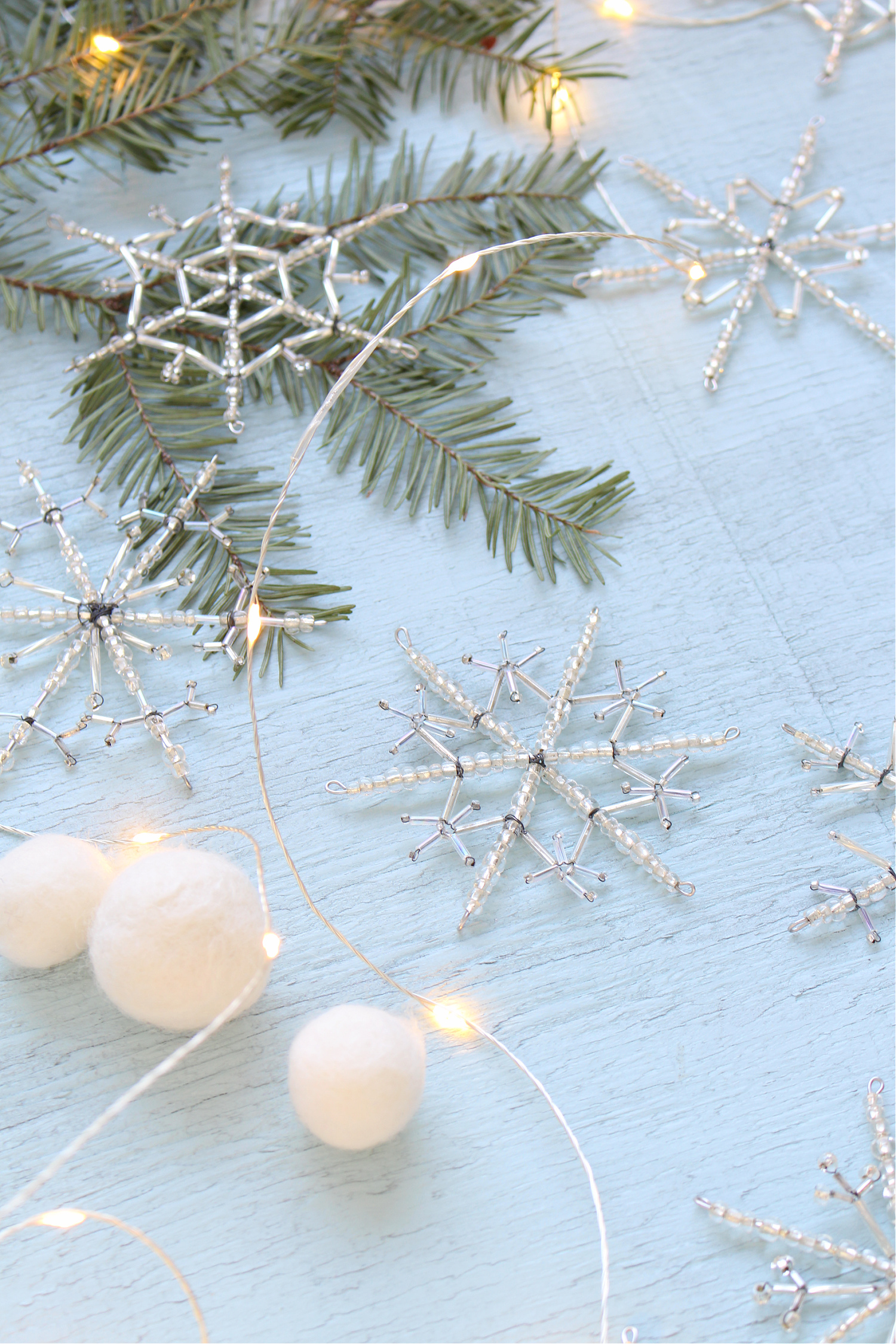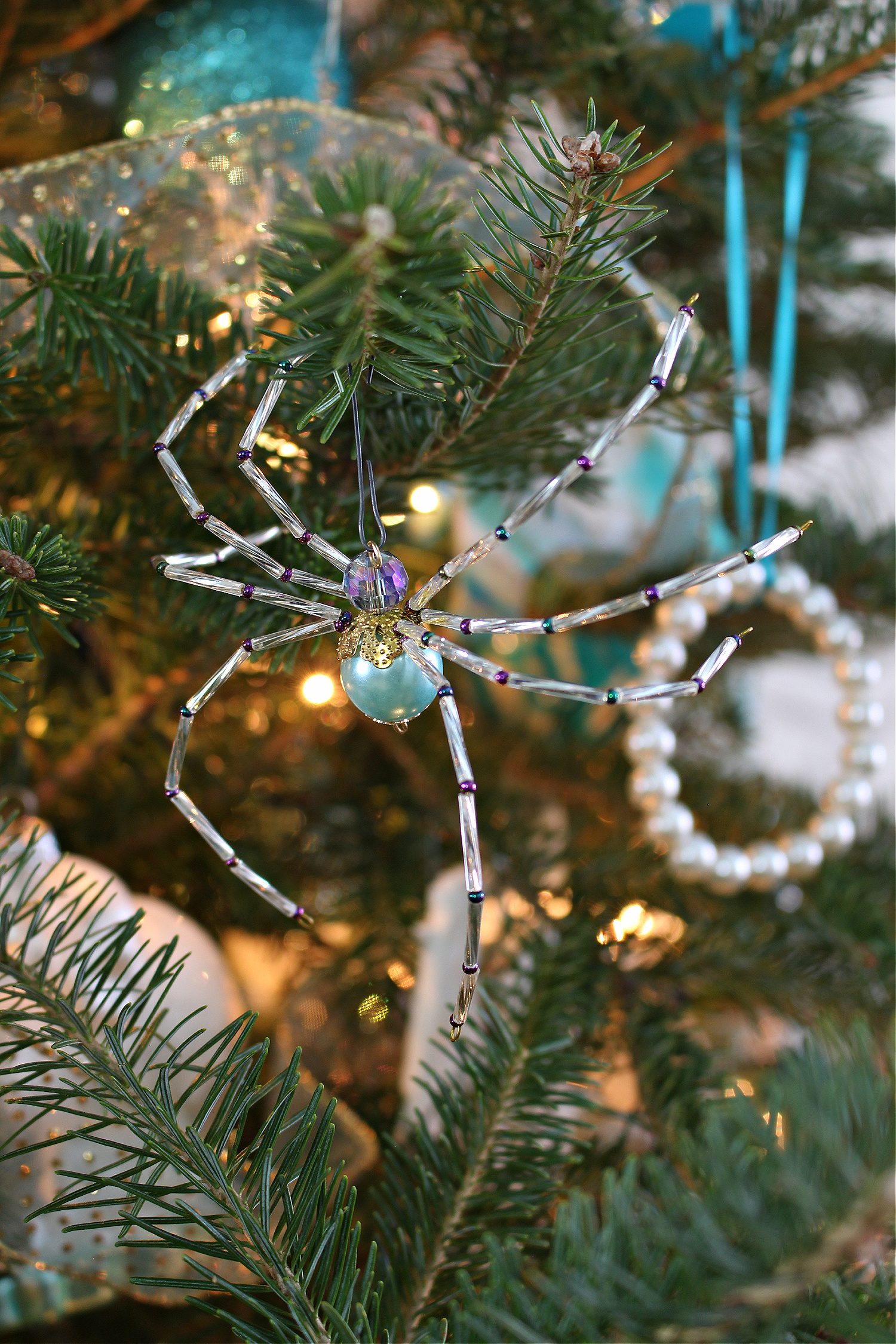 DIY Felt Winter "Scene" Ornaments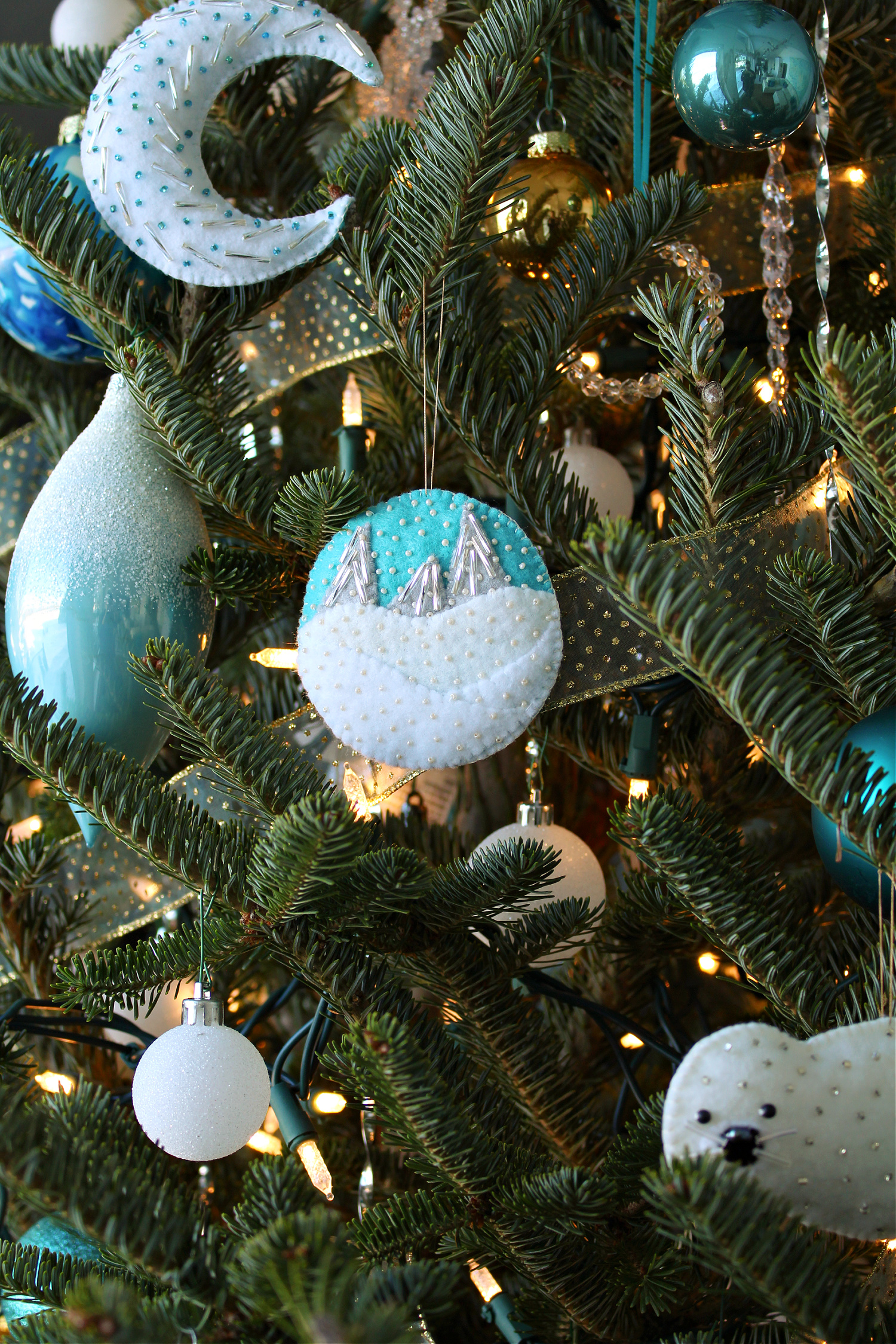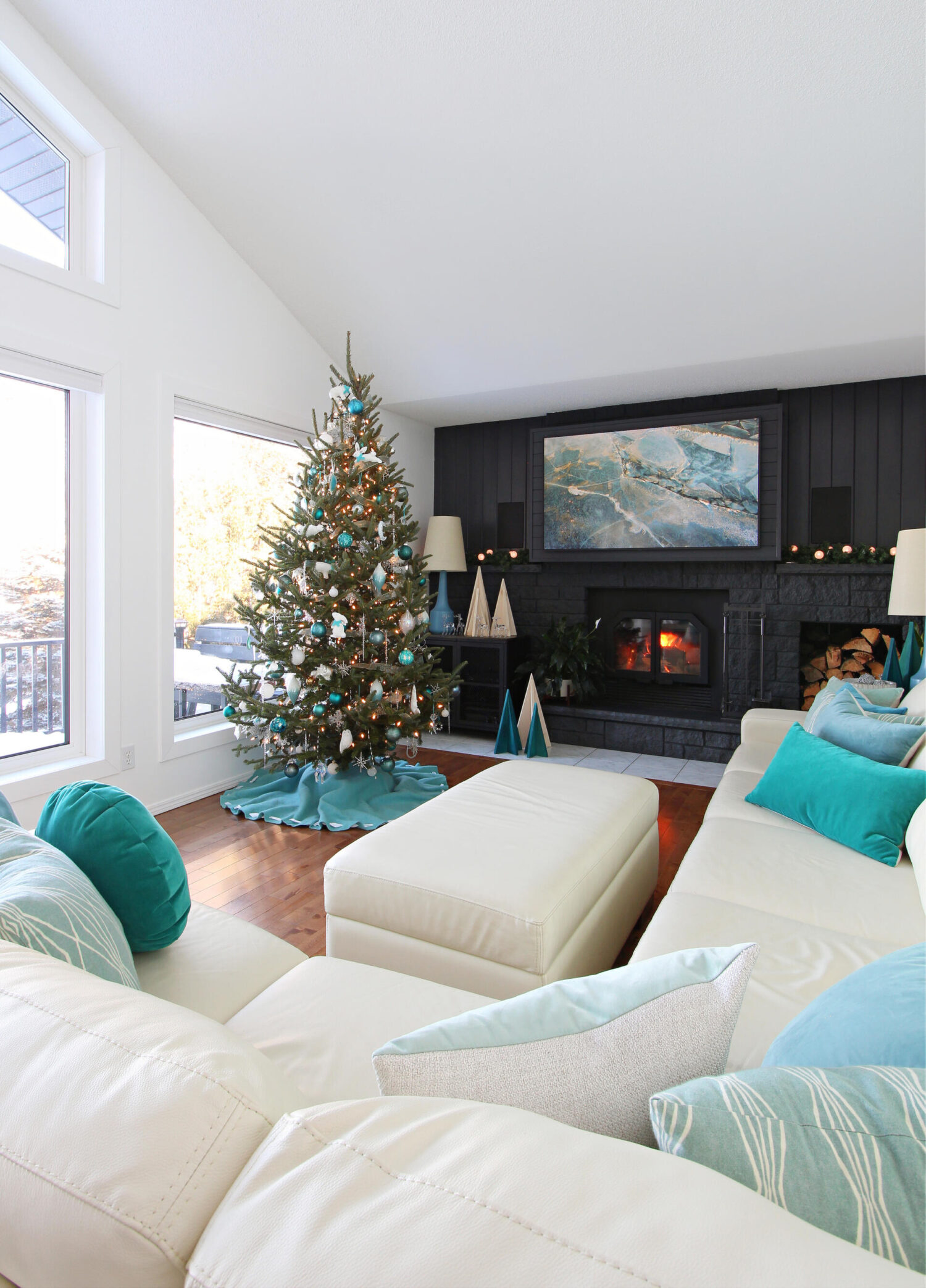 New Aqua Christmas Tree Decorating Additions for 2022
This year, I added a few things, including some thrifted ornaments! I found this little gem for 50 cents, still new in its packaging, and I love how it glows: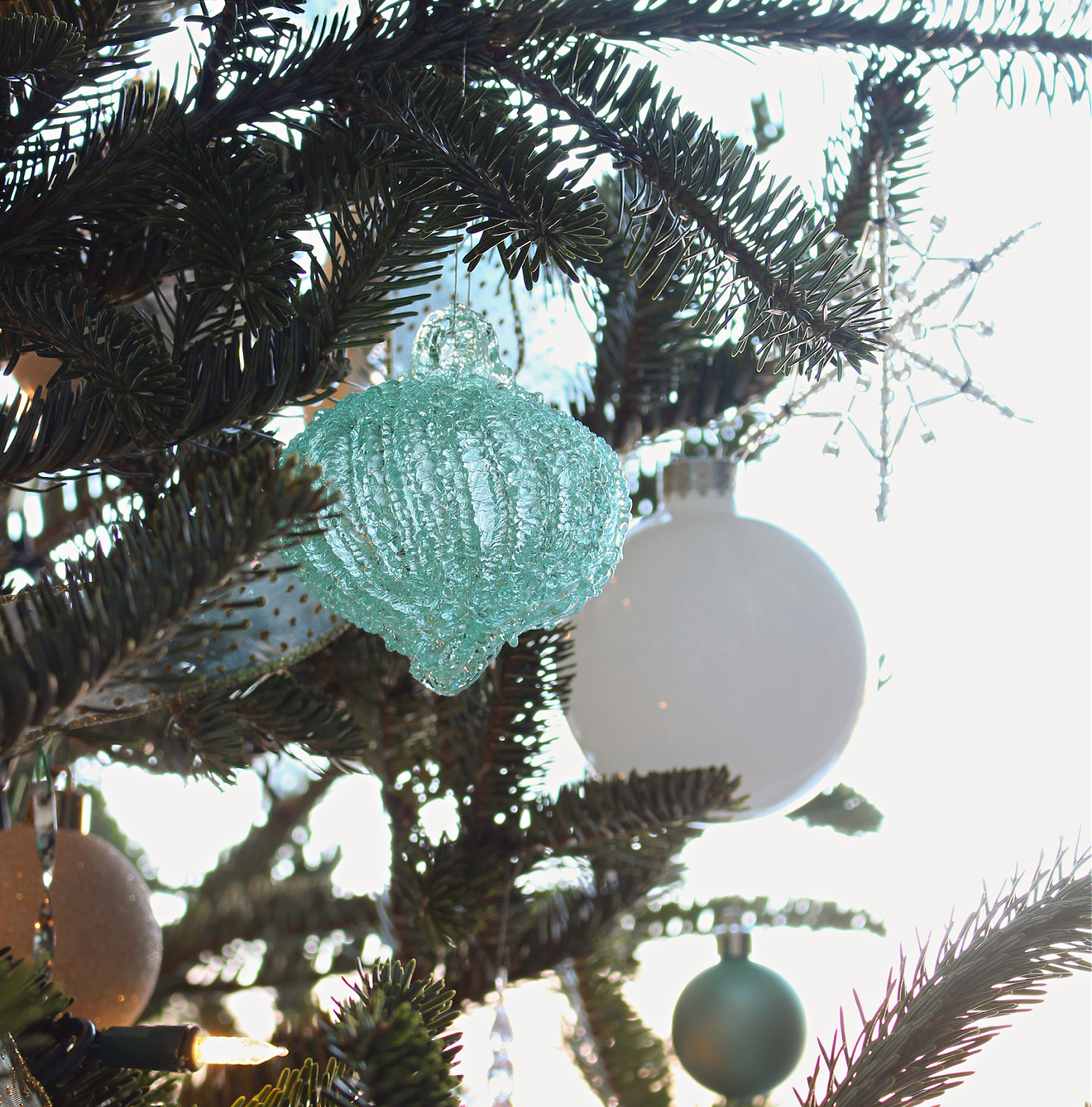 I thrifted this glass ones for 50 cents too!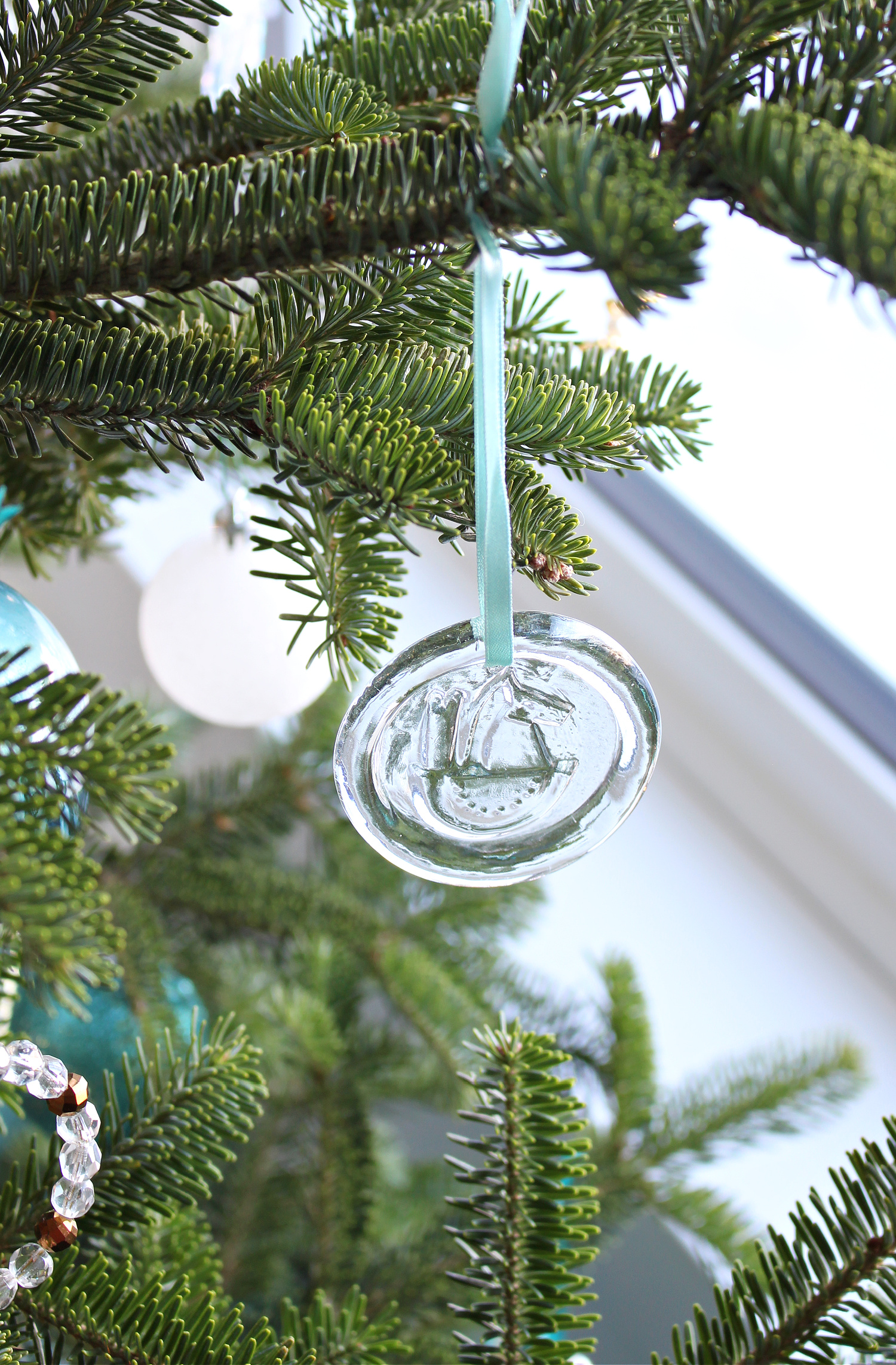 I thrifted this Pier 1 "Le Bien" back painted glass ornament that is super gorgeous (they still sell them, but different designs each year), but I didn't like that it random date painted on the bottom (2008). But I loved it so much, so I told my Mom: "we'll just pretend something special happened in 2008". My Mom didn't miss a beat and asked, "didn't you get married in 2008?!?". Lol, oops.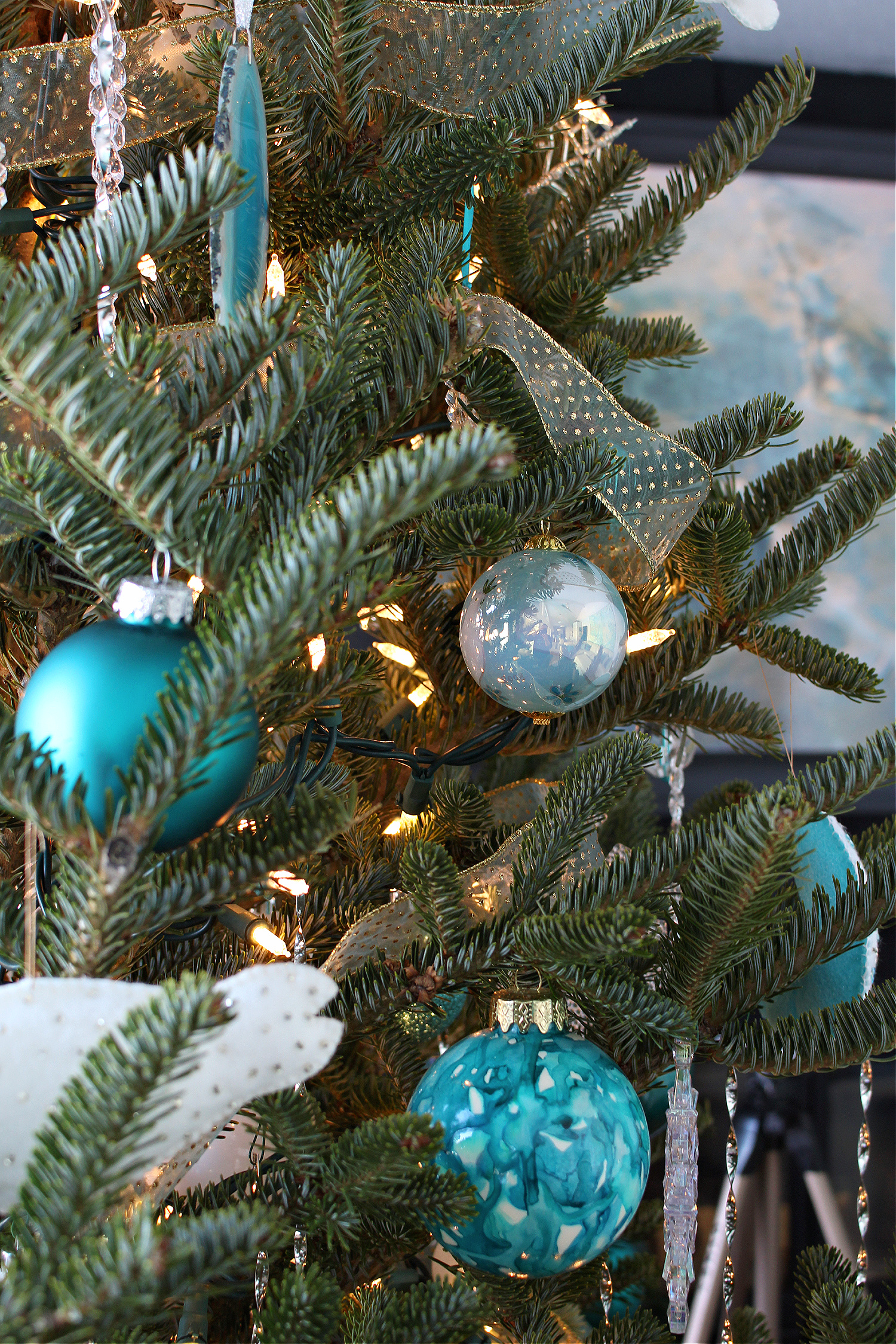 I found these little clip on silver poinsettias in my late grandmother's craft stash, and so I added them to the tree as well. The ribbon on the tree is from her ribbon collection and I love using her supplies for crafts/seasonal decorating because I miss her so much and it feels comforting to have things she chose worked into my craft projects and decor.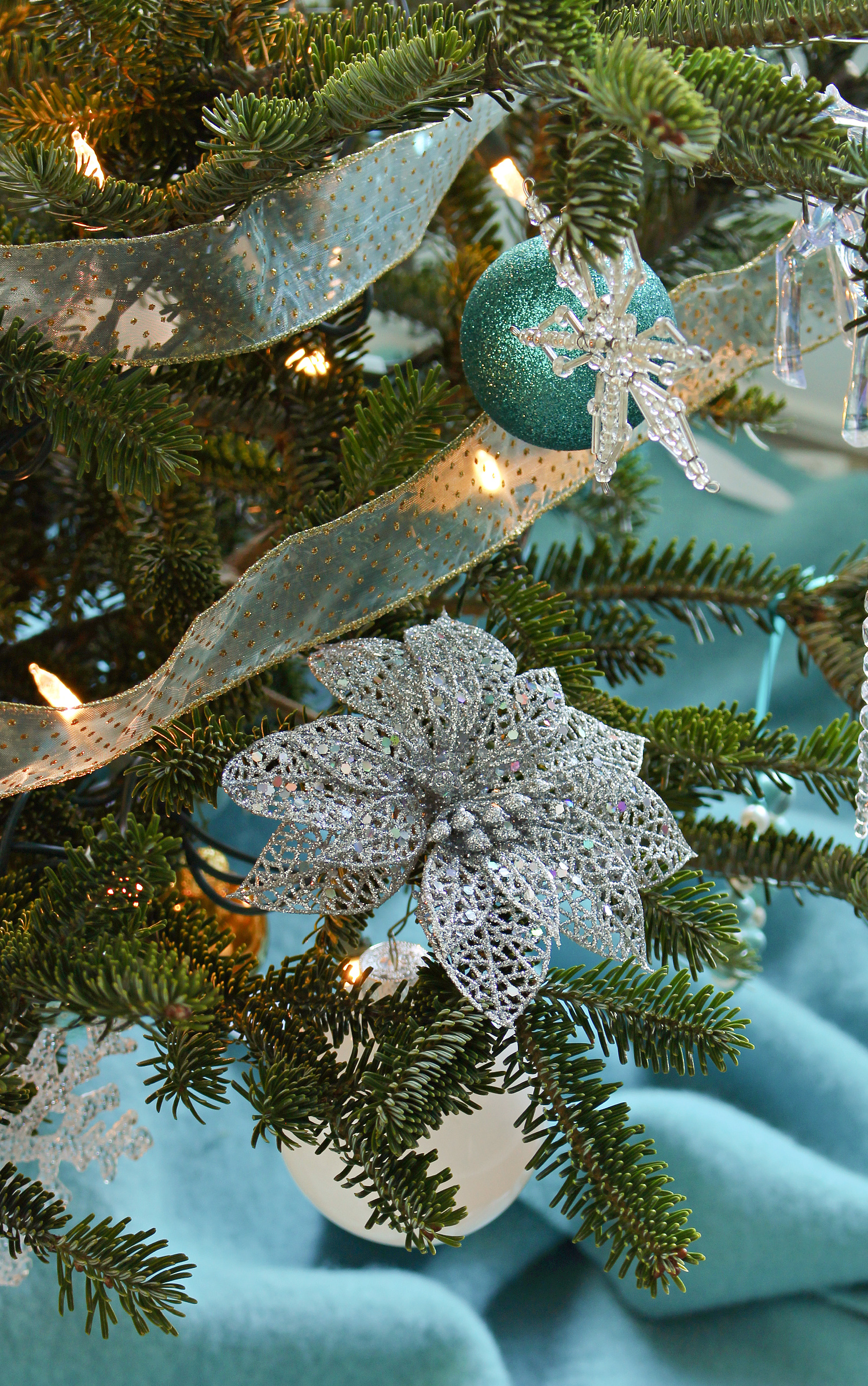 I also bought more Dollarama ornaments! I swear, they make the best ornaments because they glow so beautifully, have a substantial size/weight – and are SO inexpensive! I bought more of these iridescent plastic deer, but then also scooped some iridescent plastic snowflakes and three different sizes of plastic icicles. They're such nice tree filler for me, especially starting from scratch and having an entire tree to fill! But honestly, I just love them so much because they reflect different colors and just glow so nicely.

I didn't spend much adding ornaments to this tree this year (other than a few thrifted finds and some dollar store gems), but I did buy three of these glass ornaments with a feather inside – it's a little homage to my chooks!

Last year a special ornament I bought for my Mom was this mama and baby polar bear – I feel kind of guilty that I took the gift back when I moved this teal and white Christmas tree theme to my house, but we'll just consider a loan. Maybe next year my Mom and I will swap Christmas tree themes – or mix up the decorations for a new take on aqua Christmas tree decorating inspiration!

Looking for More Christmas Decorating Ideas?
I'm joining some of my blogging friends for this Christmas blog hop, so please visit Deeply Southern Home next! And be sure to check out the beautiful home and Christmas decorating ideas by clicking the links below:
Sharing with me today…
The Happy Housie / Life is Better at Home / Dans le Lakehouse / Deeply Southern Home
She Gave it a Go / This is our Bliss / Inspiration for Moms
Shared on Tuesday…
The Happy Housie / Rambling Renovators / This is Simplicite / Modern Glam
Life is a Party / Confessions of a Serial DIYer / Clean & Scentsible / Paint Me Pink
P.S. Don't Forget to Pin for Later!