Alcohol inks go a long way, so if you bought some alcohol inks for other DIY alcohol ink ornament tutorials I've shared (see here, here, and here), and have some left over, pick up an inexpensive pack of glazed ceramic ornament blanks and make these beautiful DIY alcohol ink on ceramic ornaments! They can also be used as a one of a kind gift topper – or add a name in some glittery vinyl using your Cricut Joy to make a reusable gift tag.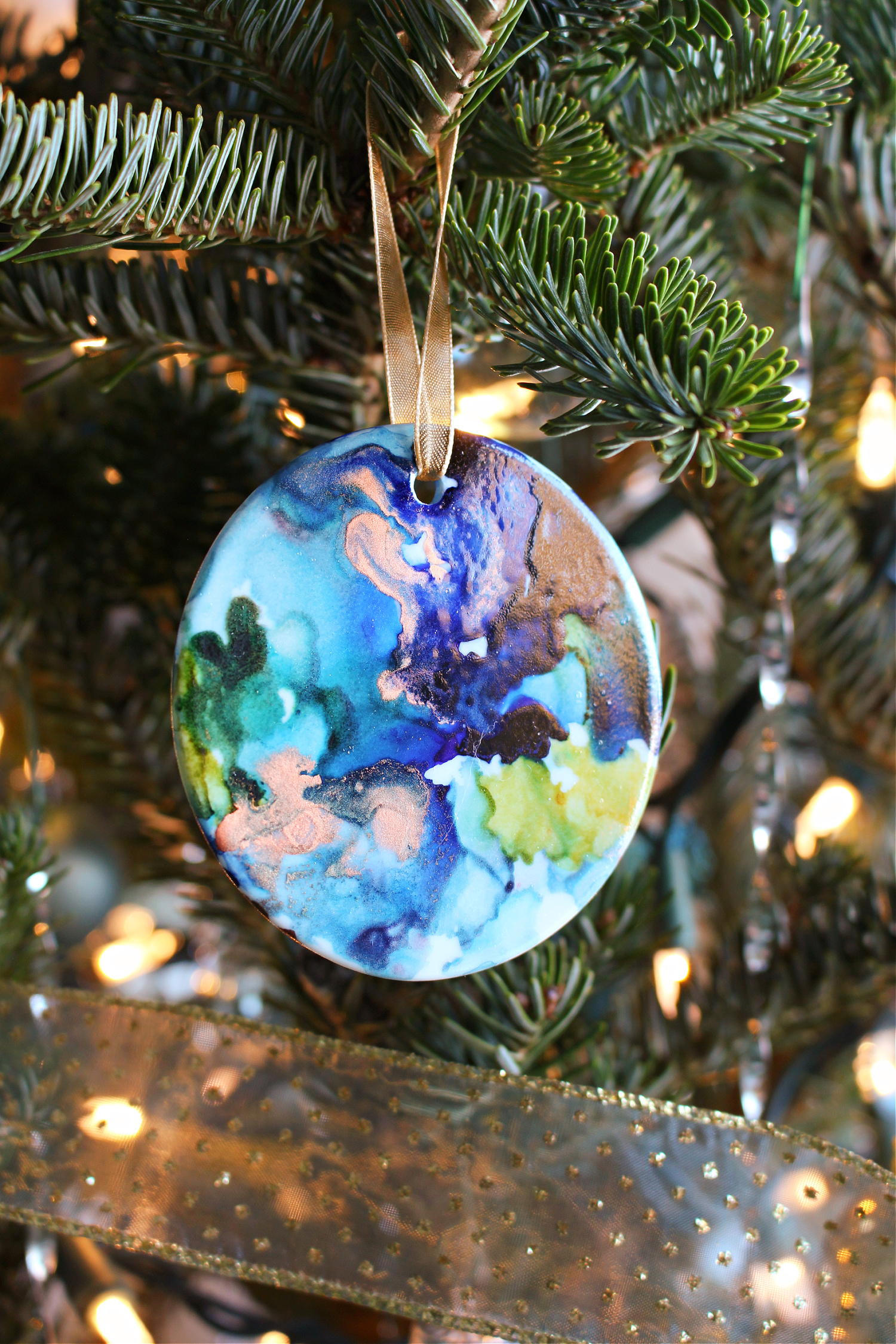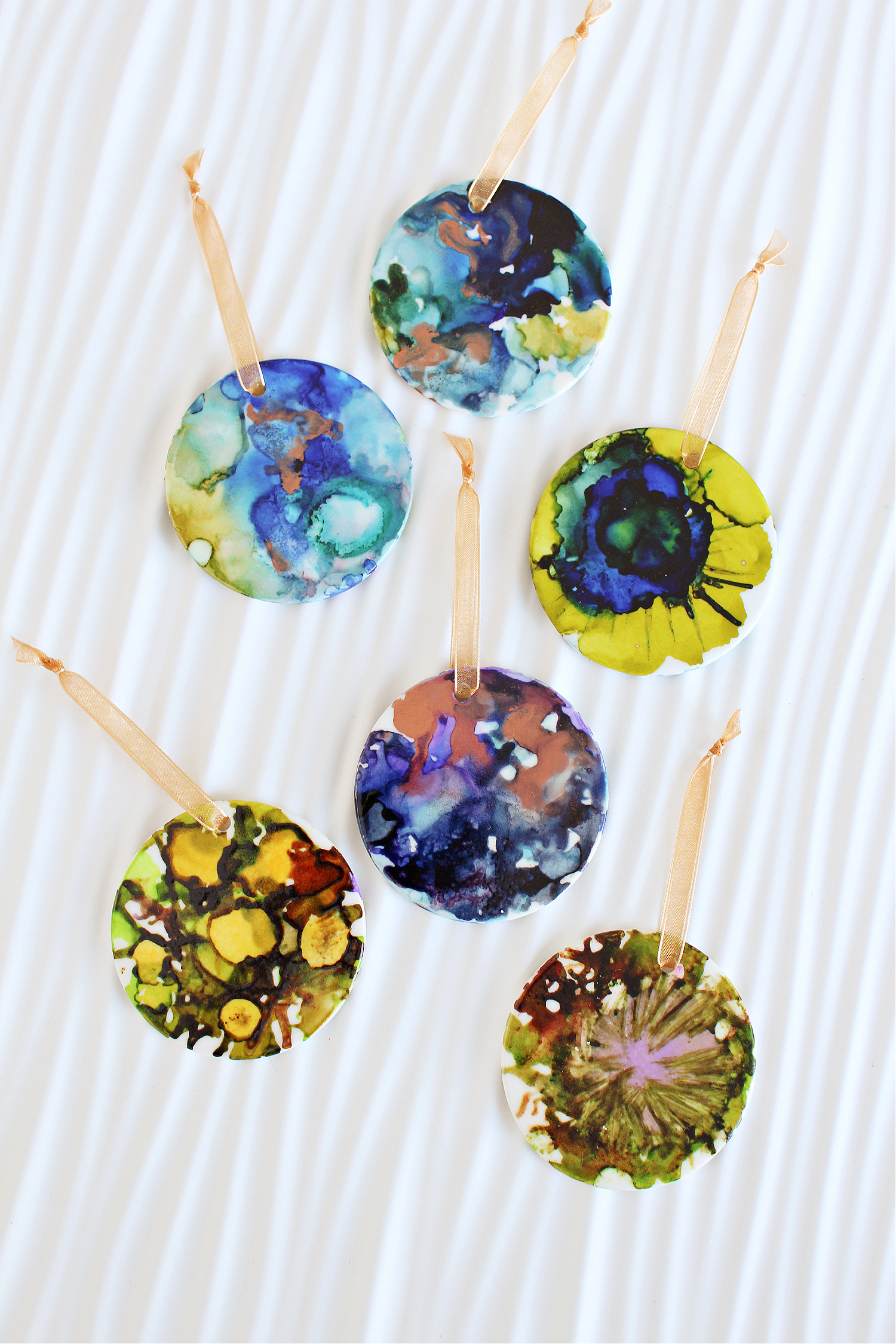 Supplies:
My blending solution came with some fillable "pens" and I used them a bit (they're pictured below), but didn't find them super helpful for this so you don't need to buy them.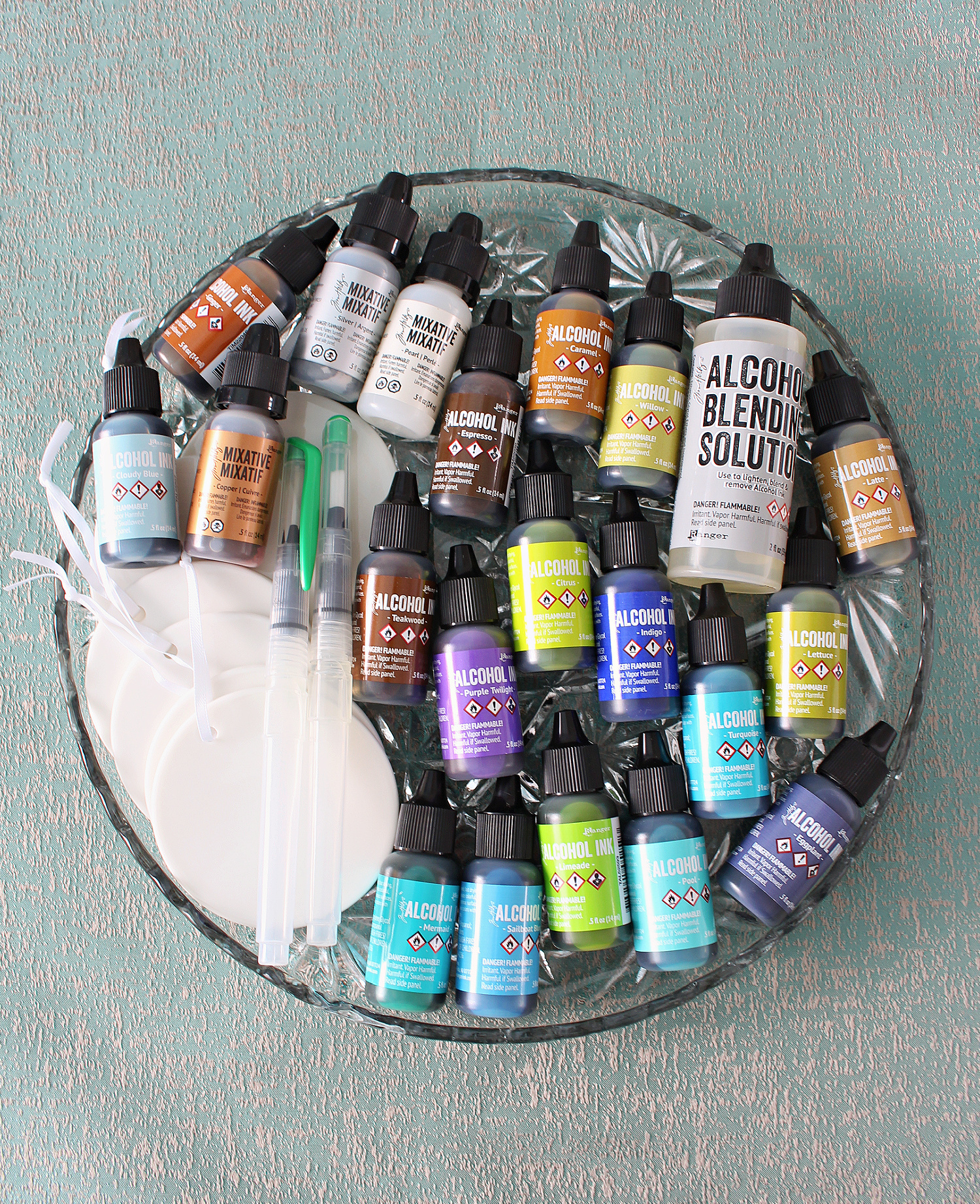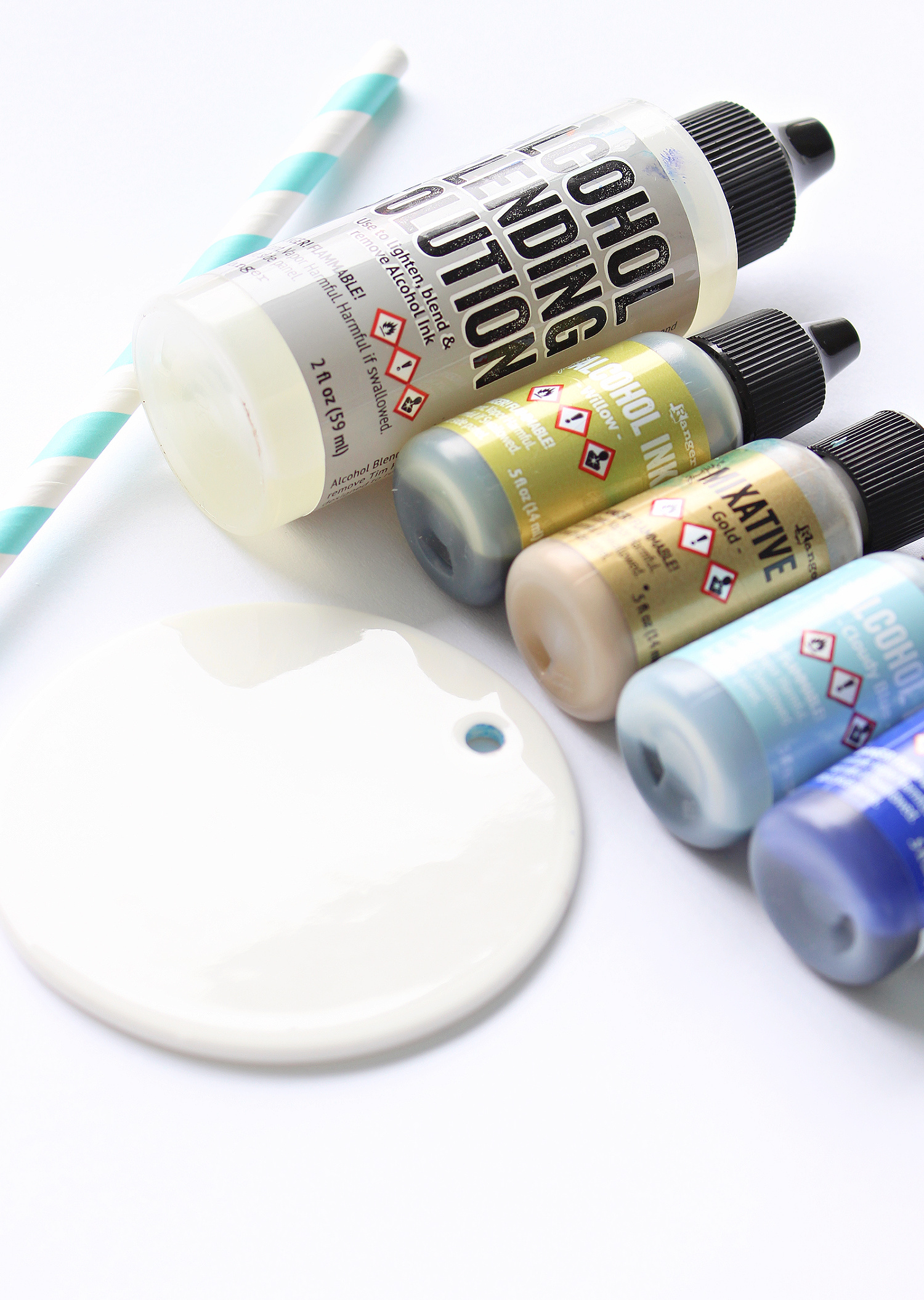 A Note on Mistakes: If you're not happy with how your DIY alcohol ink on ceramic ornaments turn out, use some rubbing alcohol and a cotton round or paper towel to wipe clean the design! It's easy to remove a muddy design before it dries, so don't stress about "ruining" your ornament – create freely, knowing you can start over easily!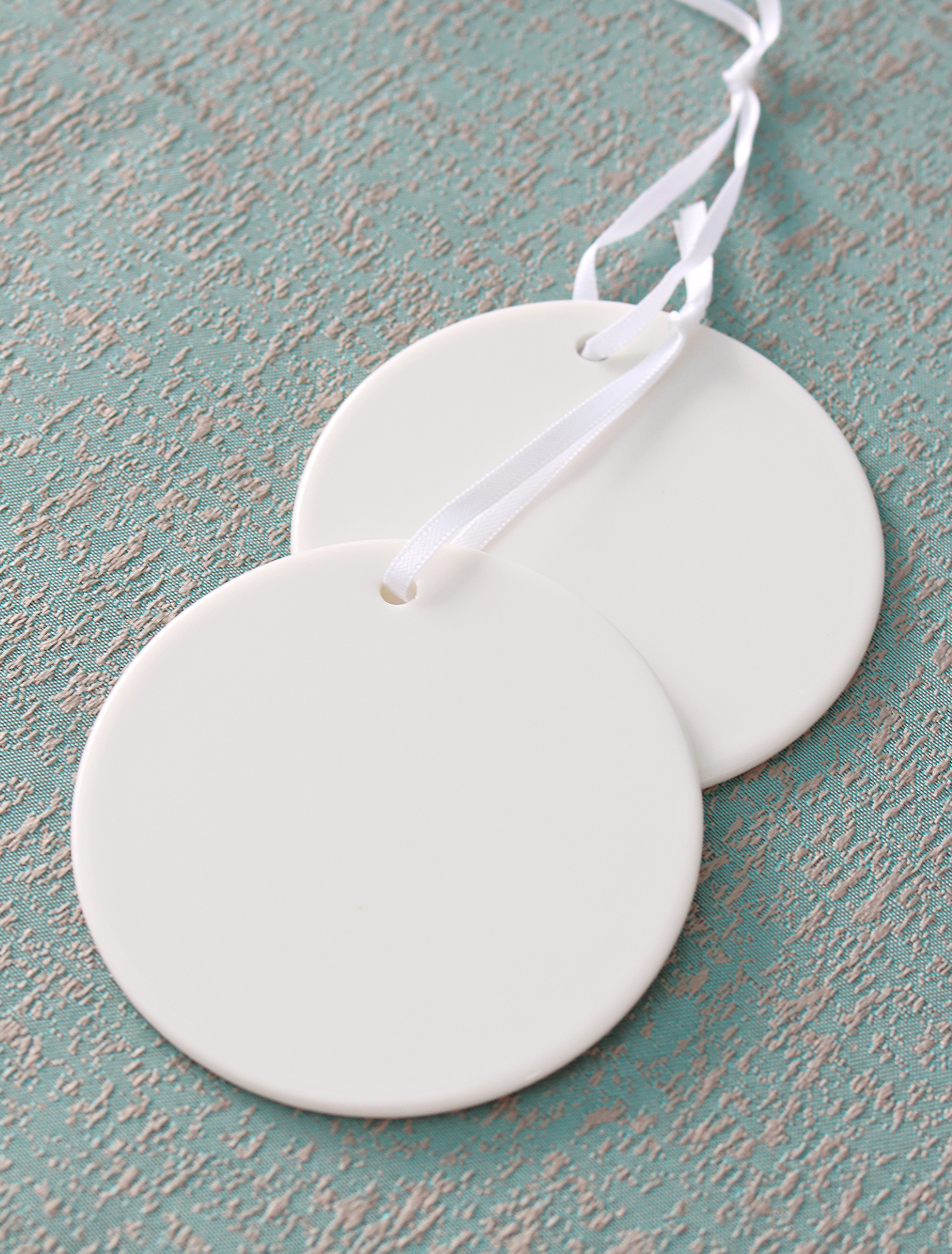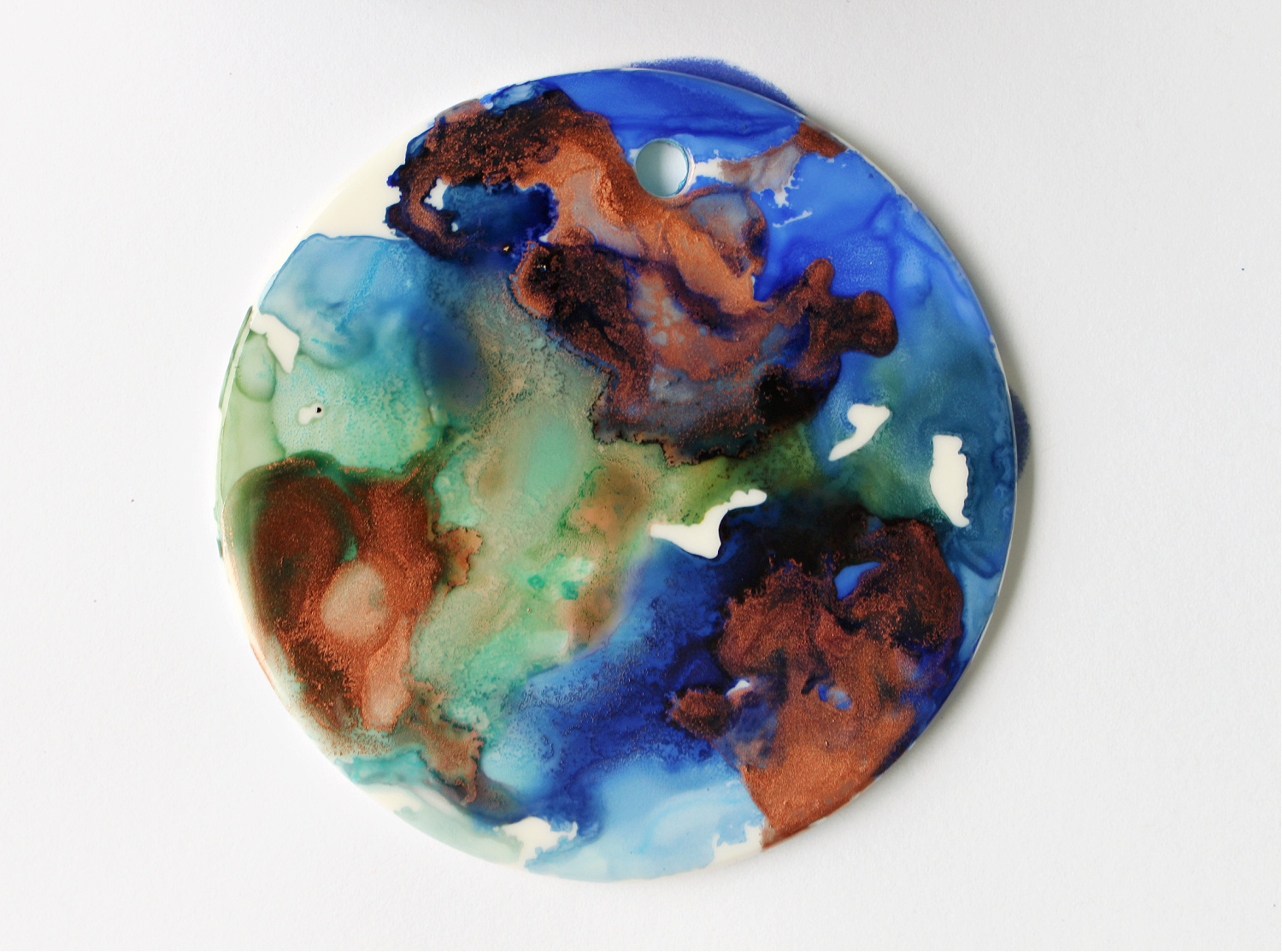 How to Make DIY Alcohol Ink on Ceramic Ornaments:
Protect surfaces with a drop cloth or garbage bag – alcohol inks can stain some surfaces but are easily wiped from skin with rubbing alcohol
Drop a few drops of blending solution on a glazed ceramic ornament blank
Drop a few drops of alcohol ink into the blending solution
Use a straw, hair dryer or can of compressed air to move the ink around
Repeat the process – choosing colors that will look nice when combined (think: blue + yellow = green)
Once you're happy with the design, set the ornament aside to dry overnight
Repeat the process on the other side (some ink might drip to the finished side, so use the same colors again)
Once dry, seal both sides with Krylon Triple-Thick Crystal Clear Glaze
Here are some photos to help illustrate the process. This is a really easy ornament idea – MUCH easier than applying alcohol ink to the outside of an ornament ball, because you don't have to worry about the ink flowing too quickly. You can take your time and experiment, working on a nice flat surface like this!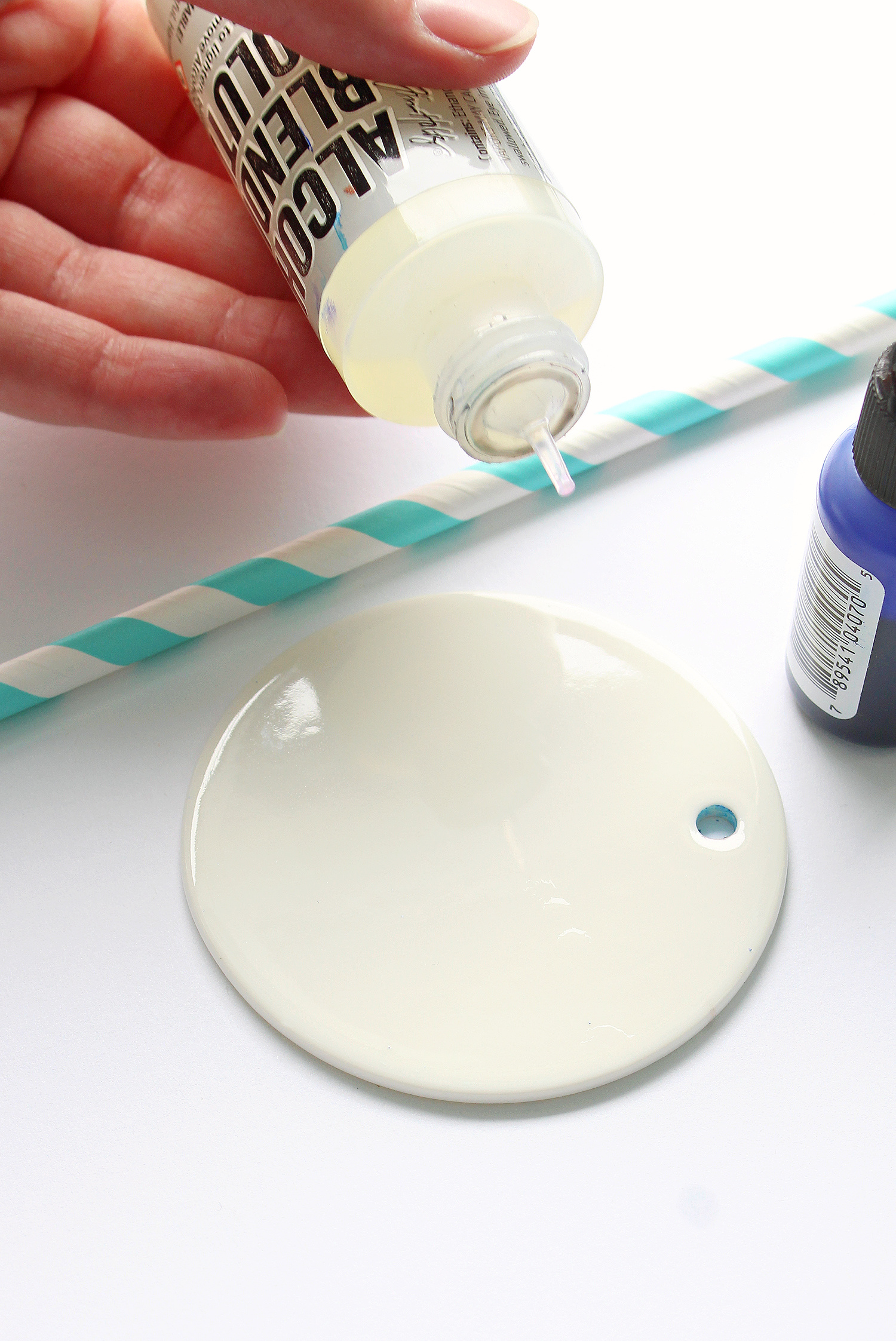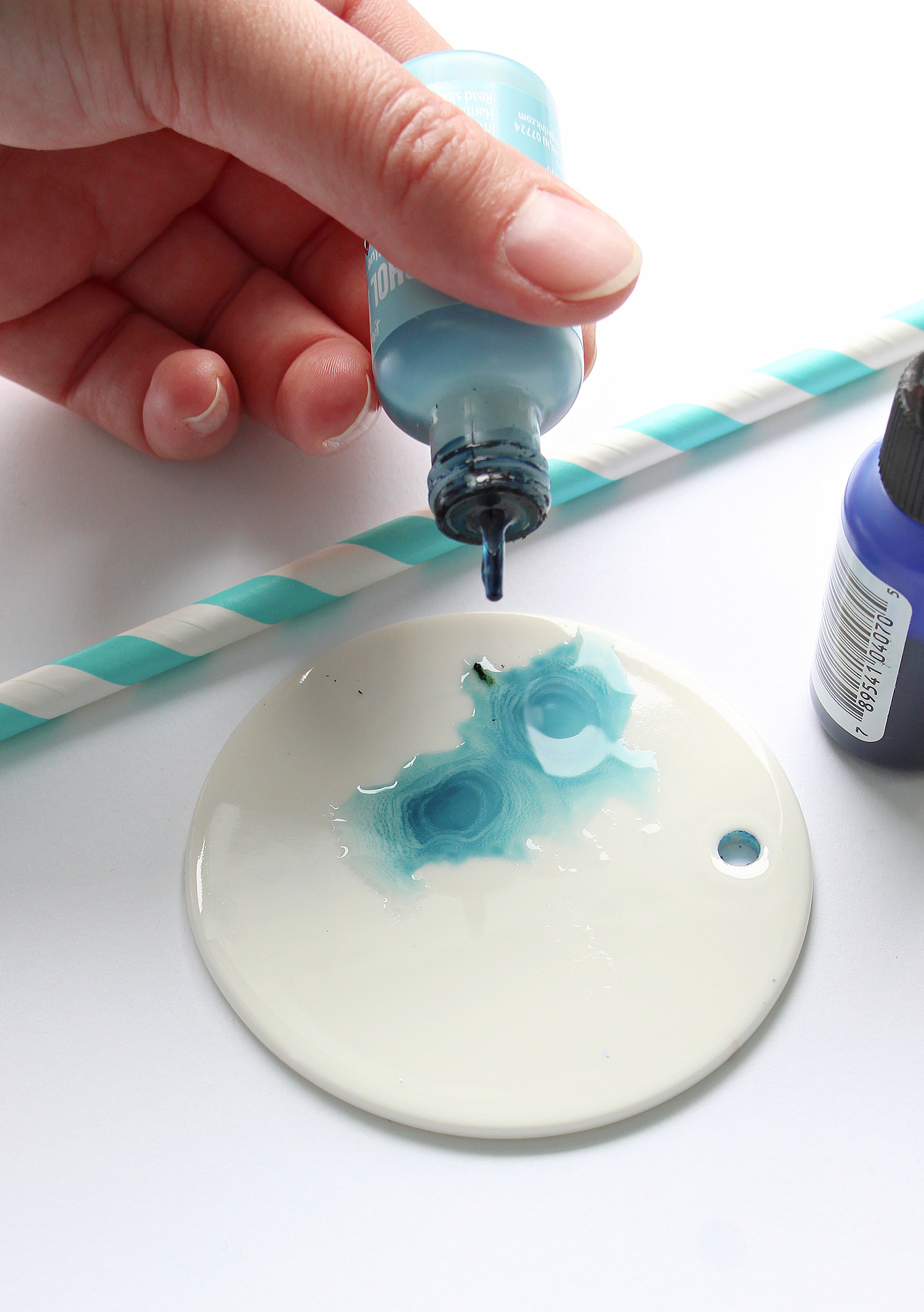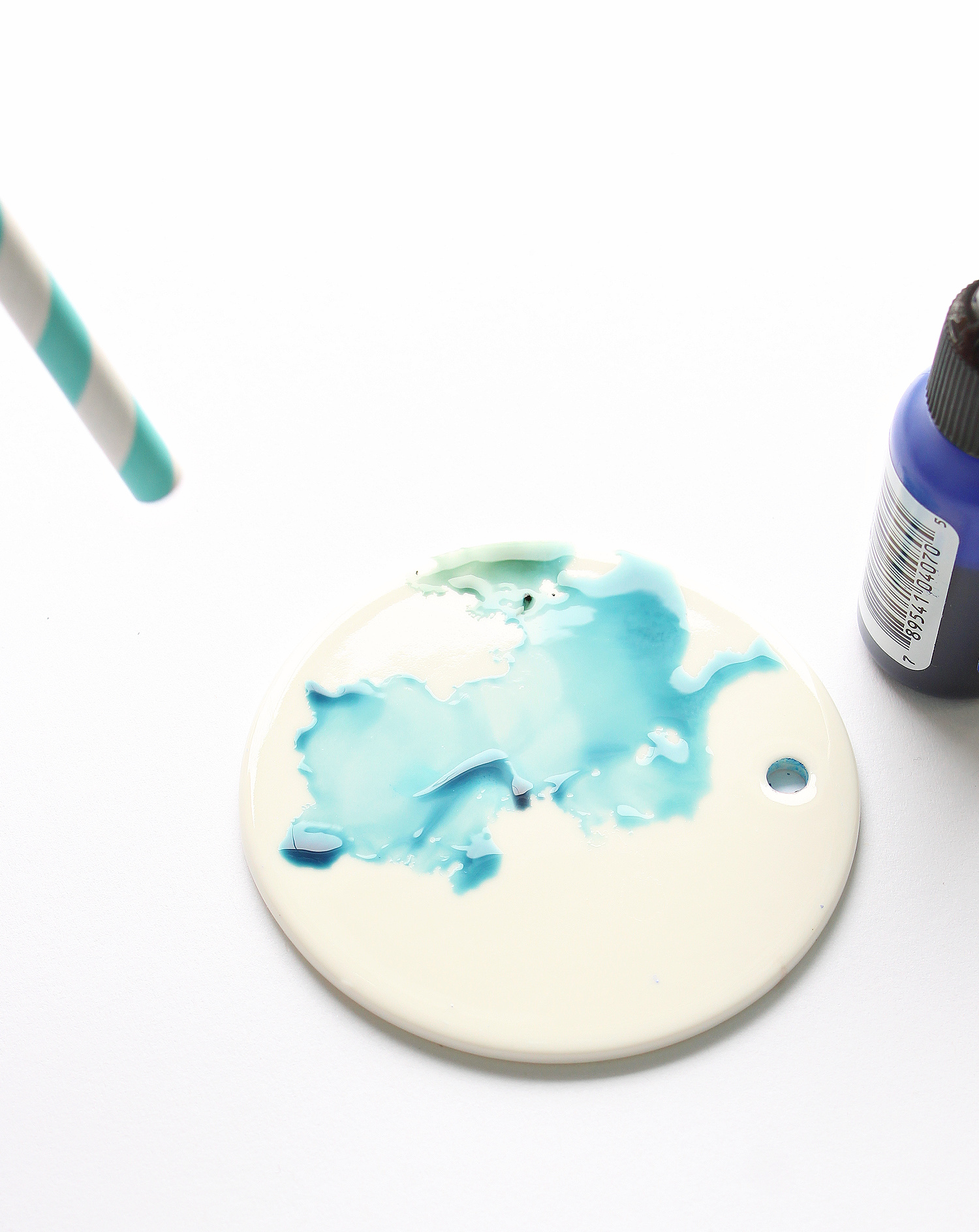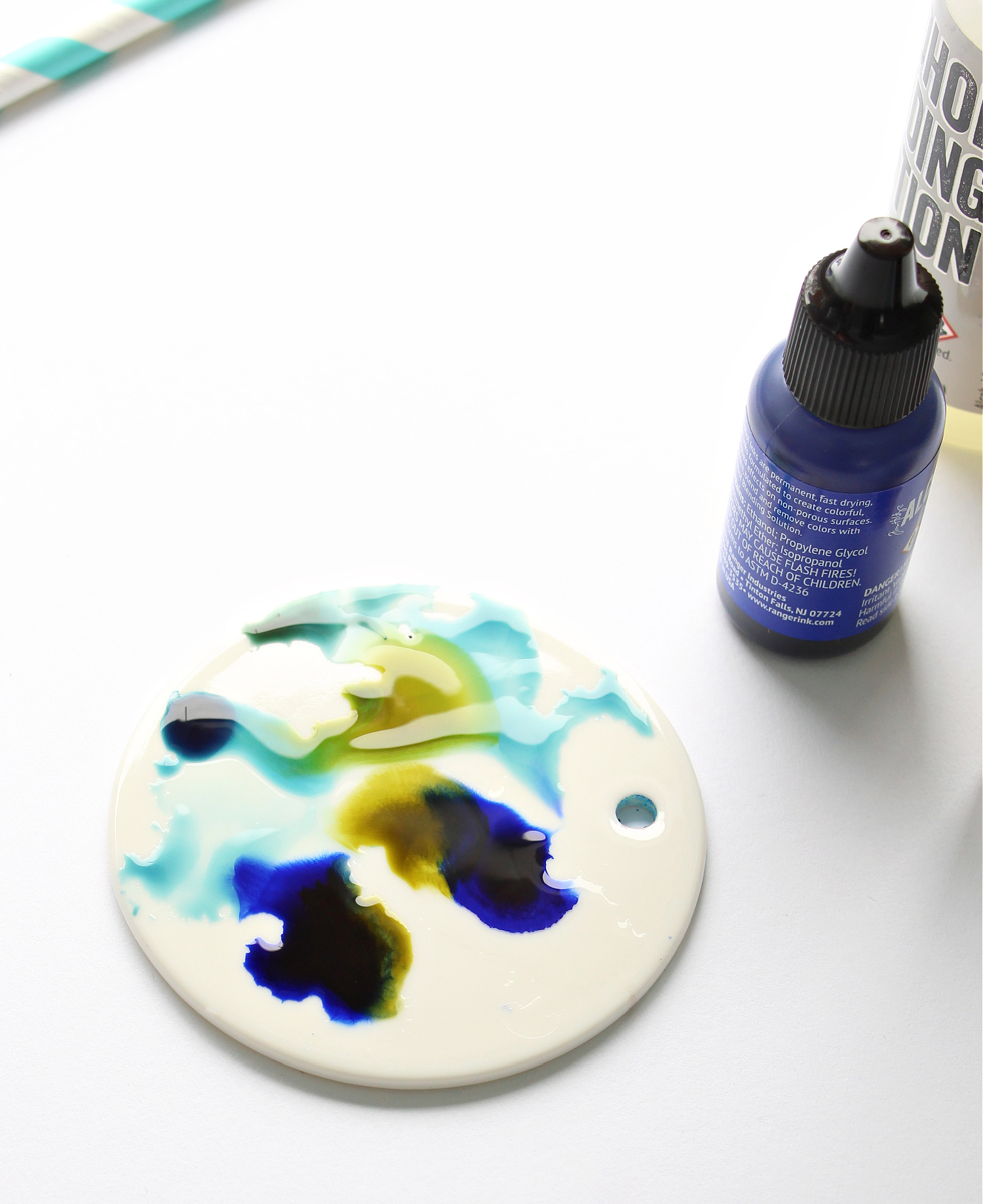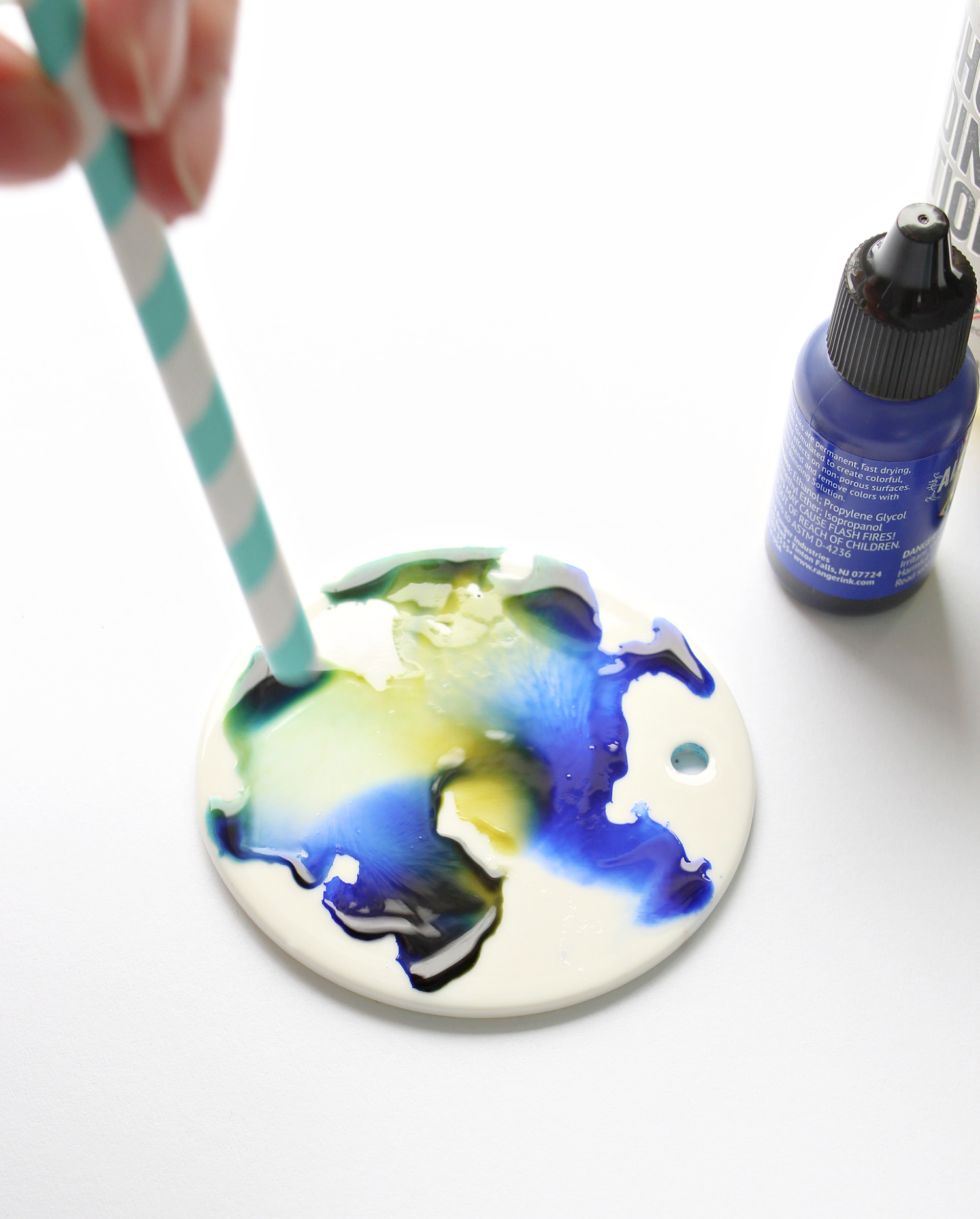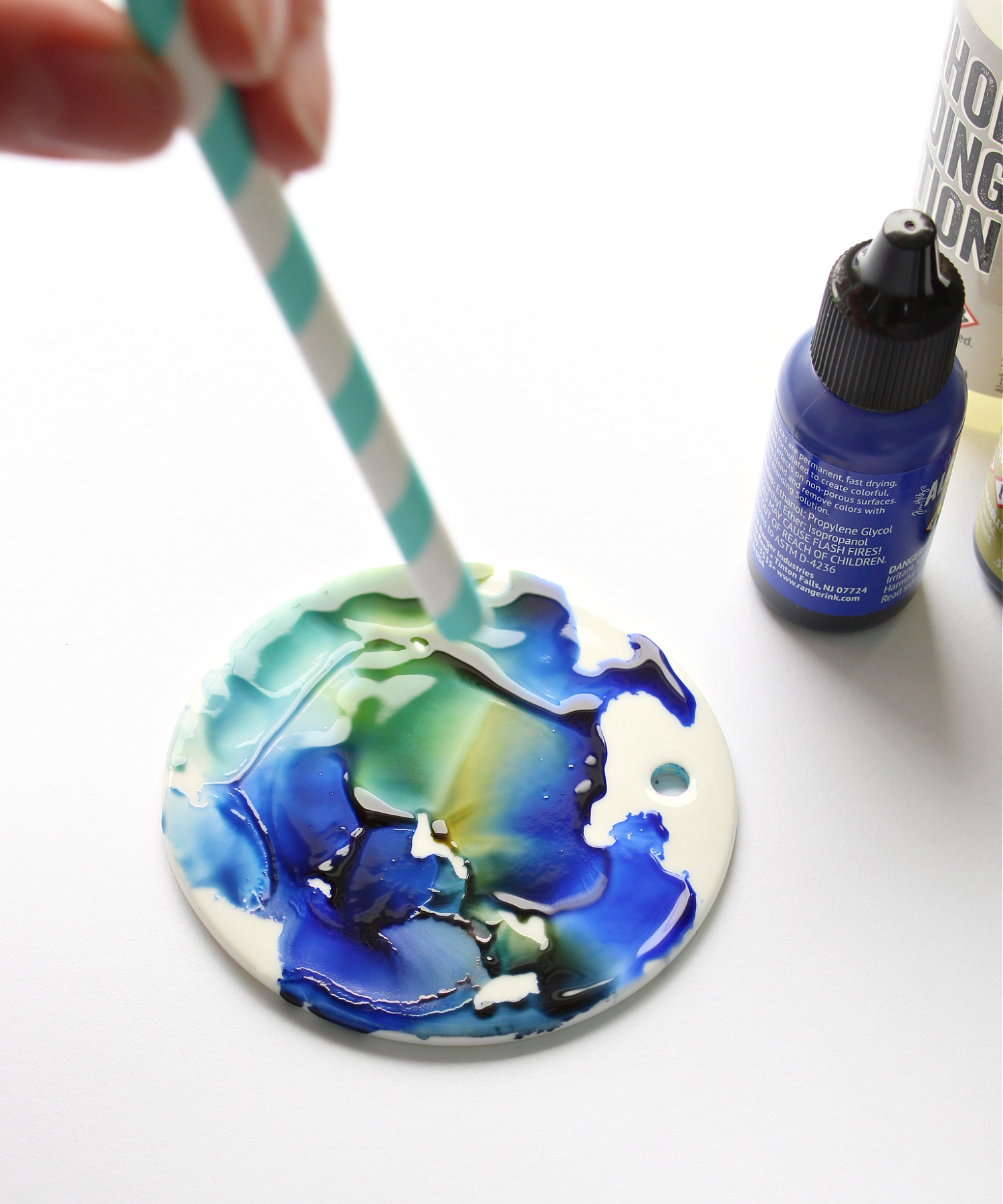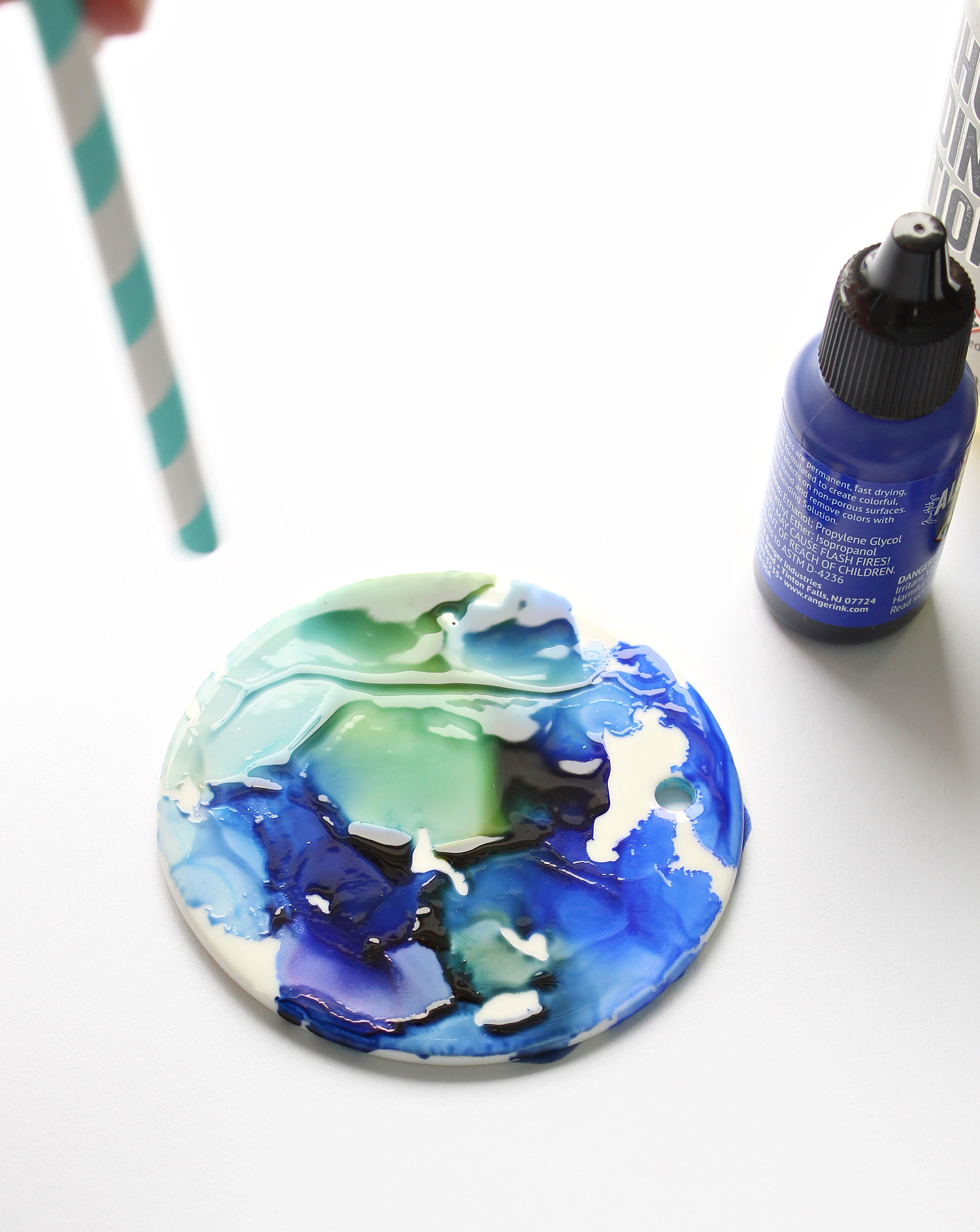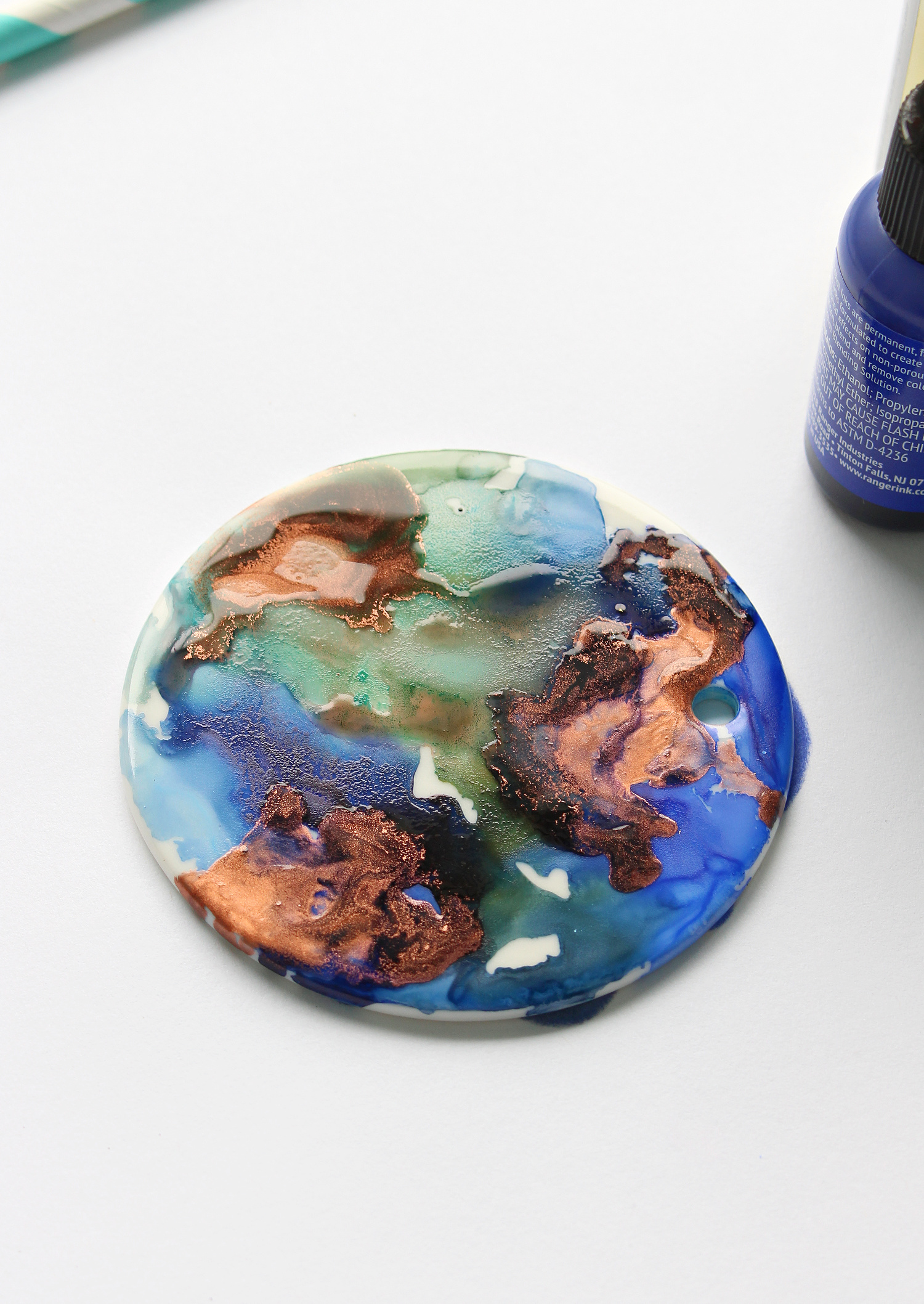 As with all of my alcohol ink crafts, I always think the addition of metallic alcohol inks makes these ethereal creations even prettier! This is especially true with DIY alcohol ink ornaments, because the metallics shimmer under the Christmas tree lights. I used mostly copper for my ornaments, but the pearl is a pretty addition as well (which also helps to create some pastel hues). This pack has my two faves, along with gold and silver.
These are, of course, for my Mom's A Midsummer Night's Dream inspired Christmas tree theme, but I photographed them at my house (on my aqua and white Christmas tree theme) first and they just look so pretty! I love the weight and glossiness of the glazed ceramic discs – they feel like such nice quality, and with the alcohol ink designs they look like mini works of art.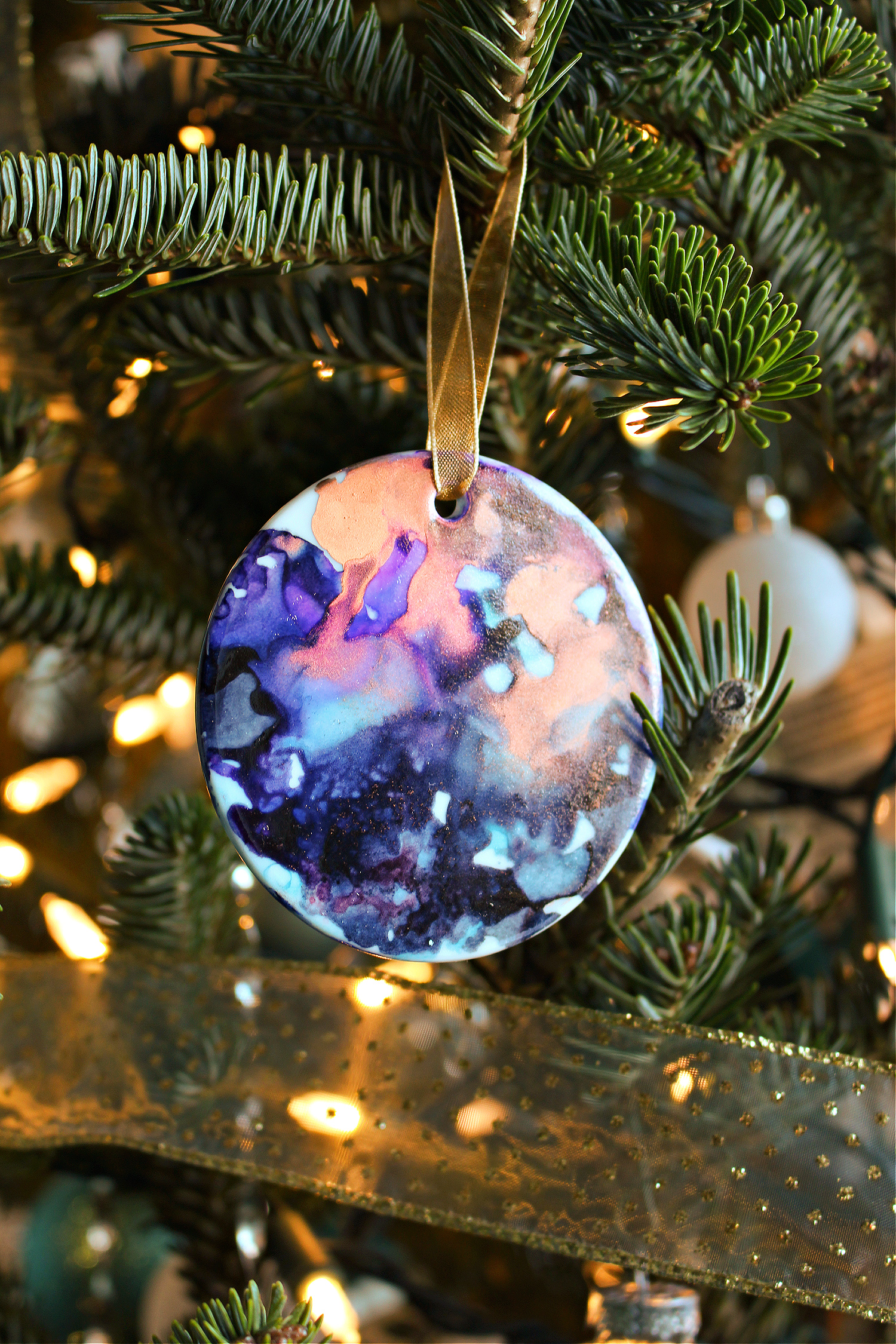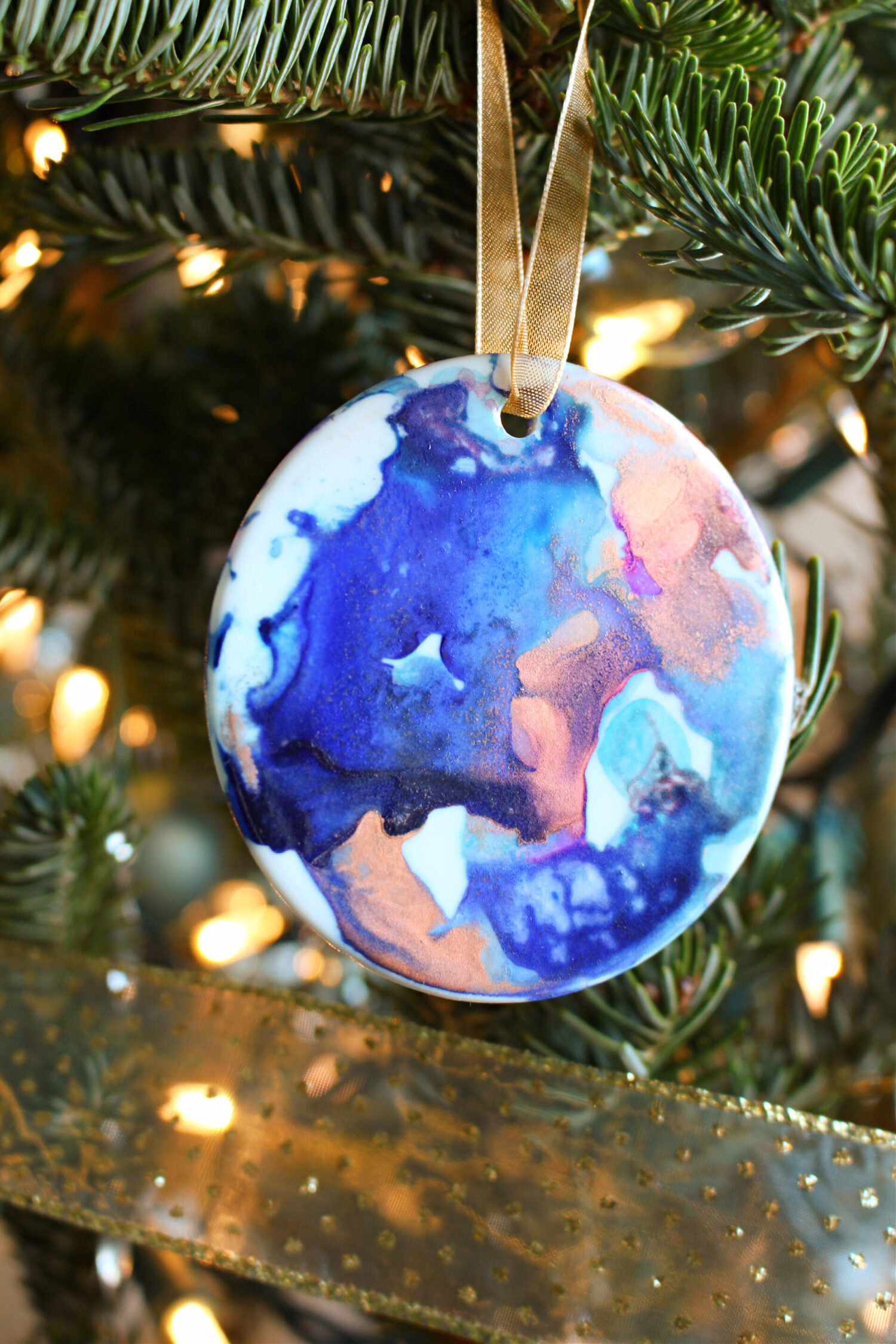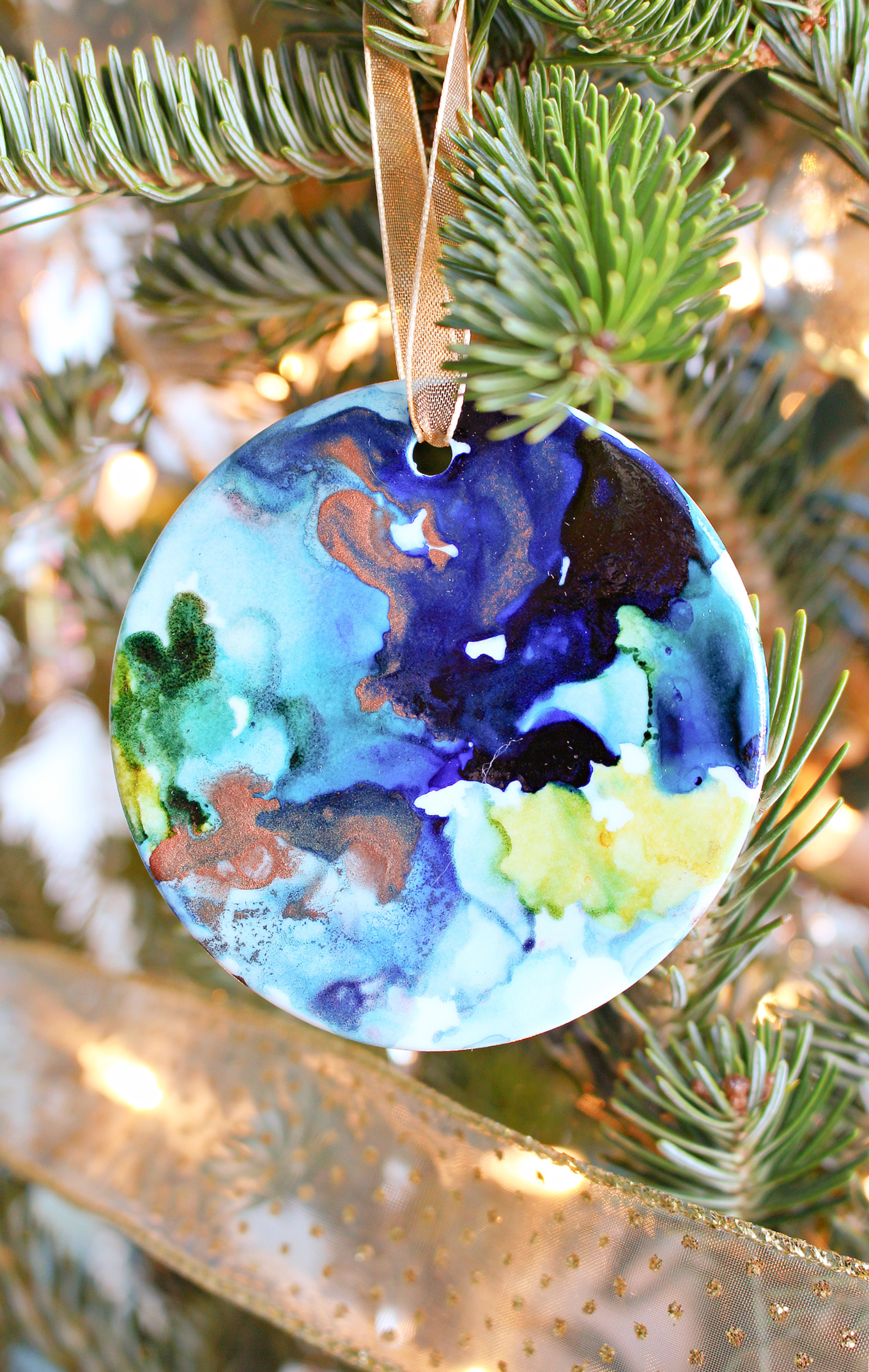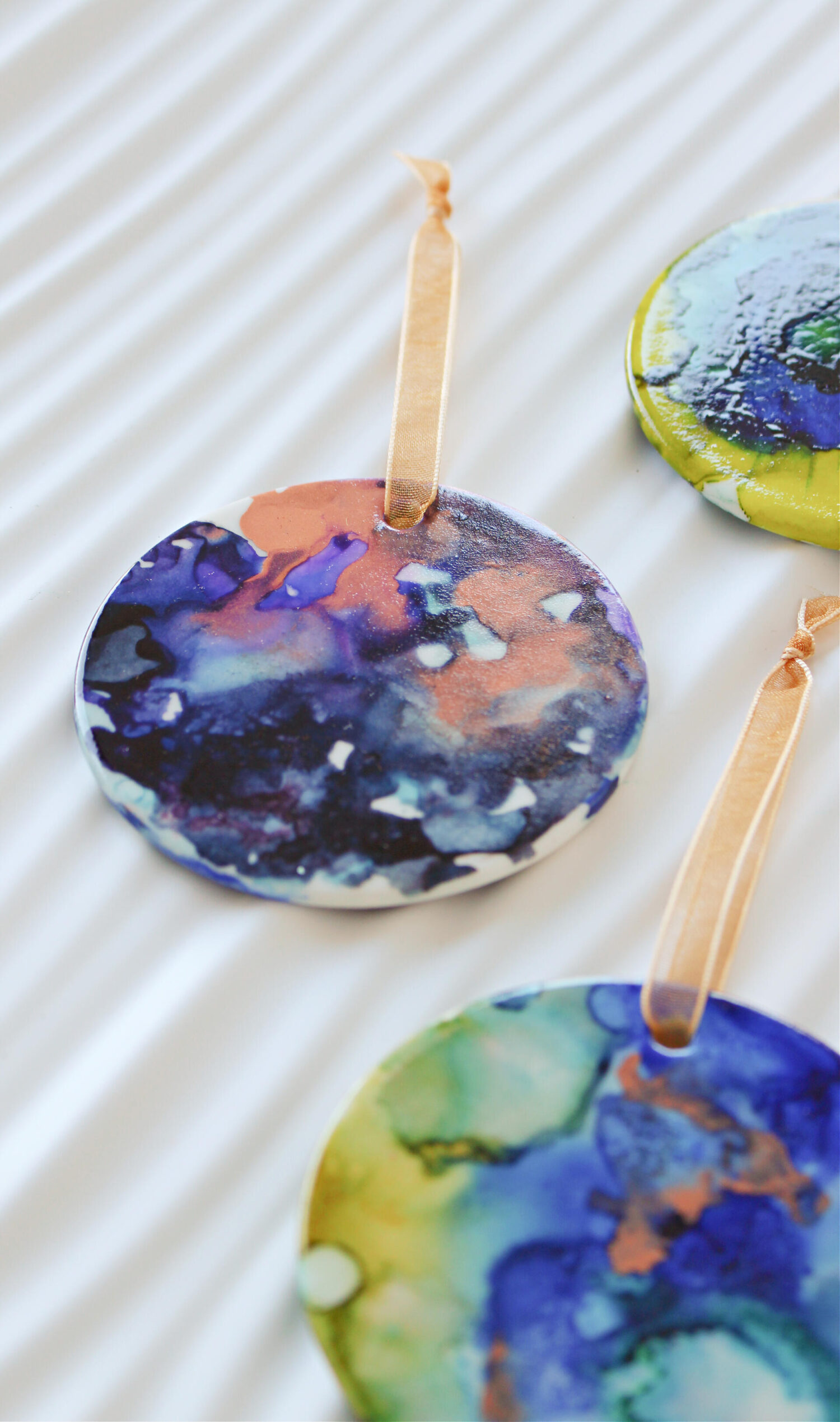 My Mom and I made these together and she experimented more than me, trying to make a flower shape (top ornament, in the photo below):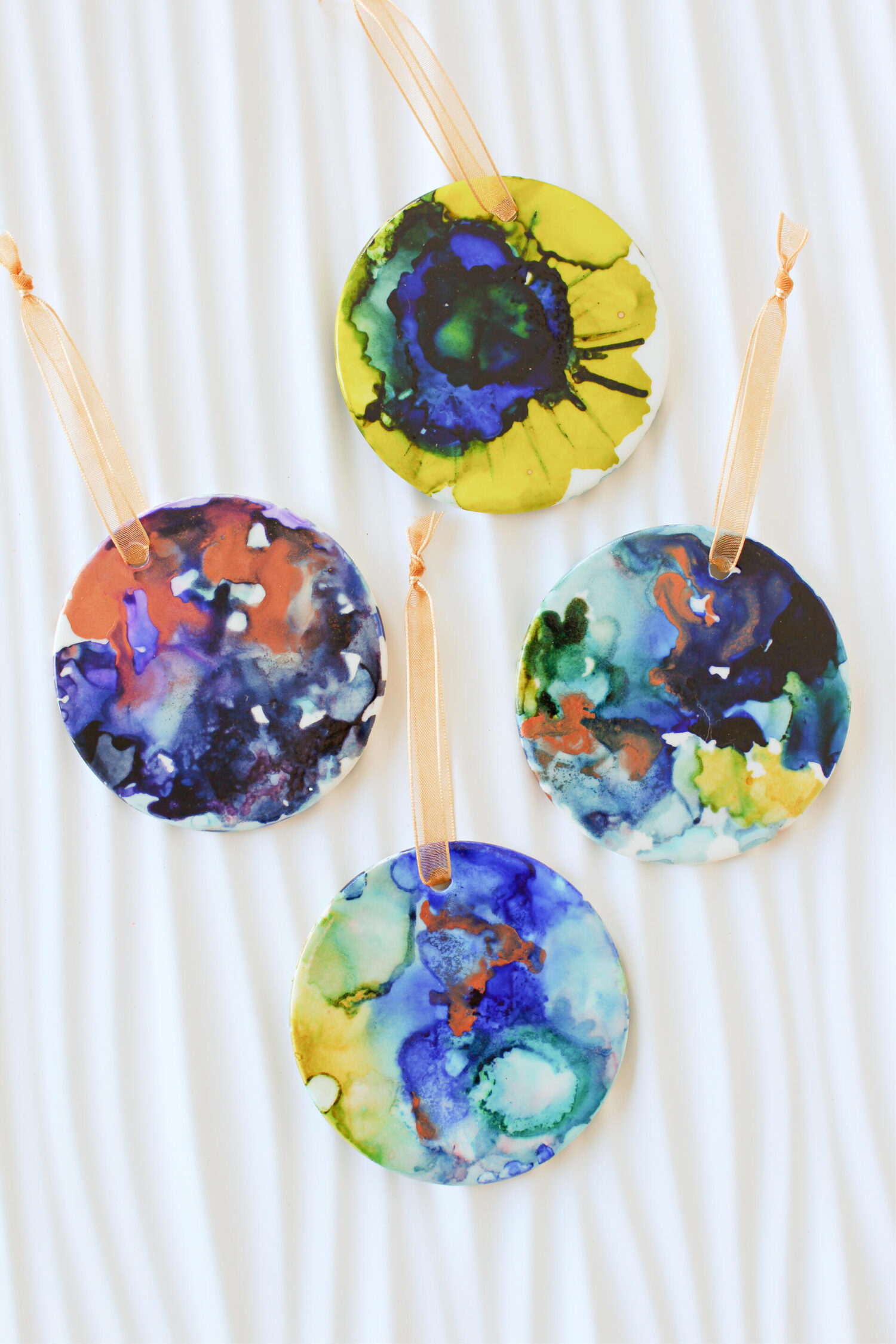 I, myself, am partial to just letting the alcohol inks flow and work their magic so I favor more abstract designs.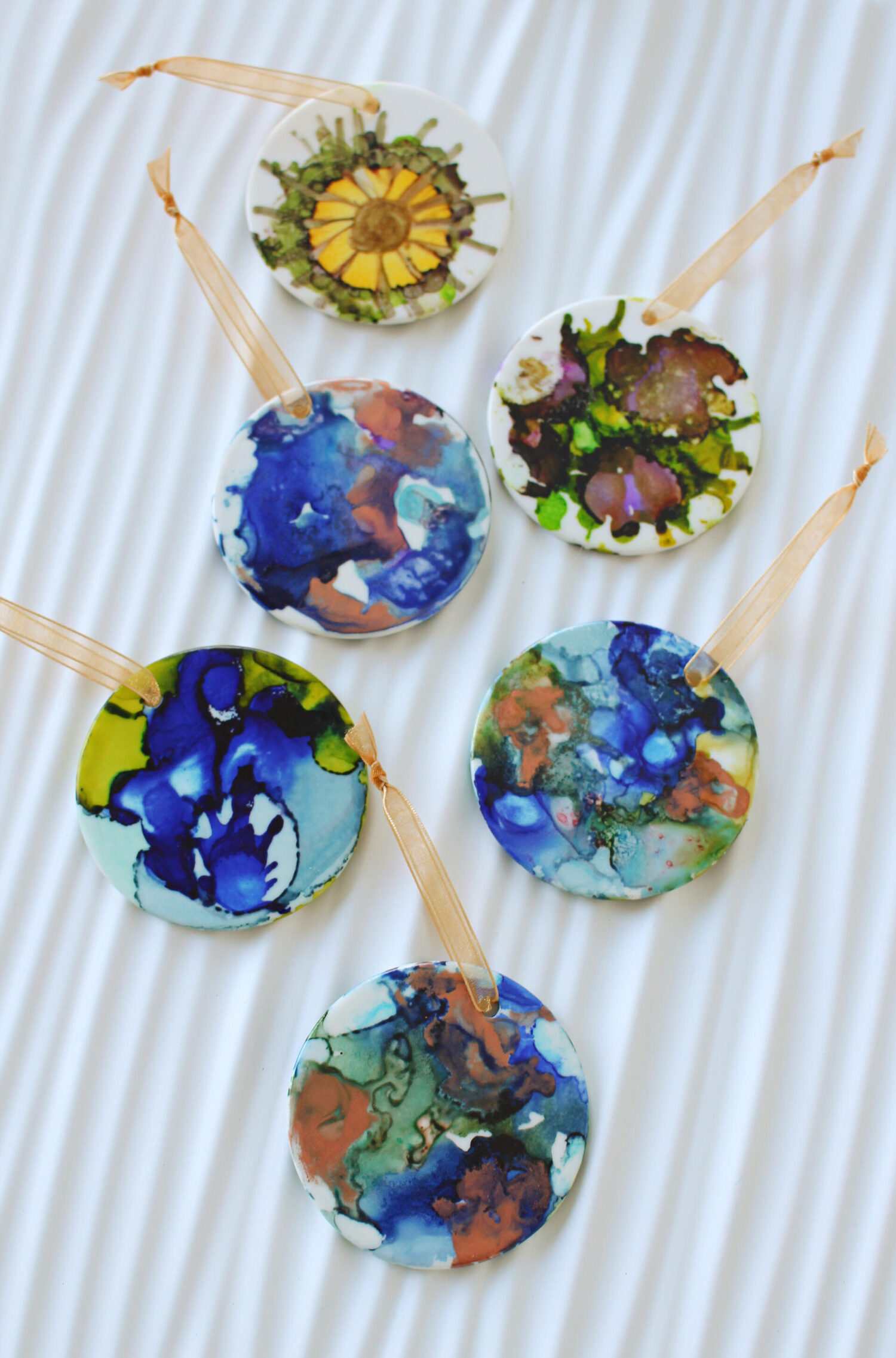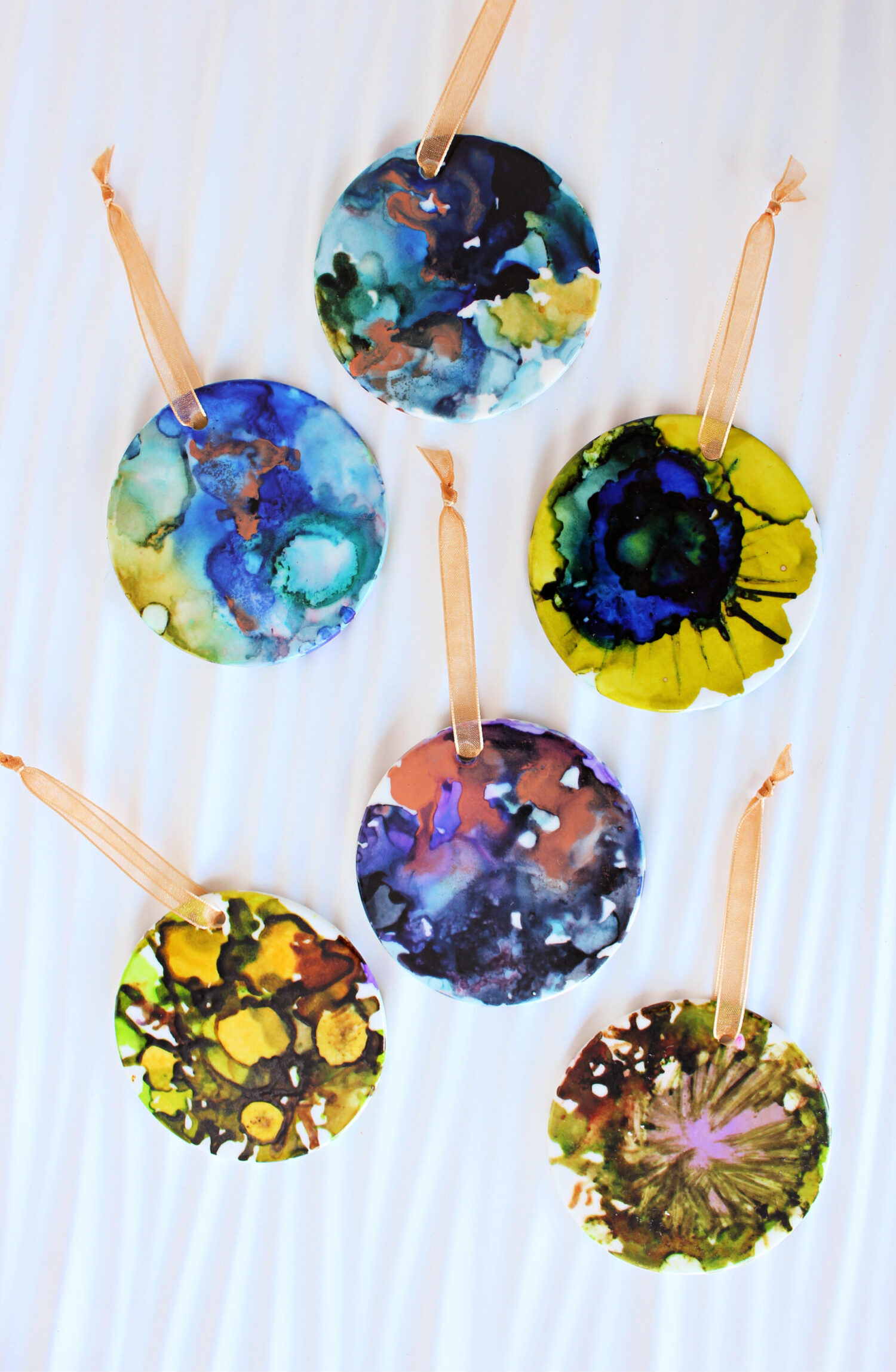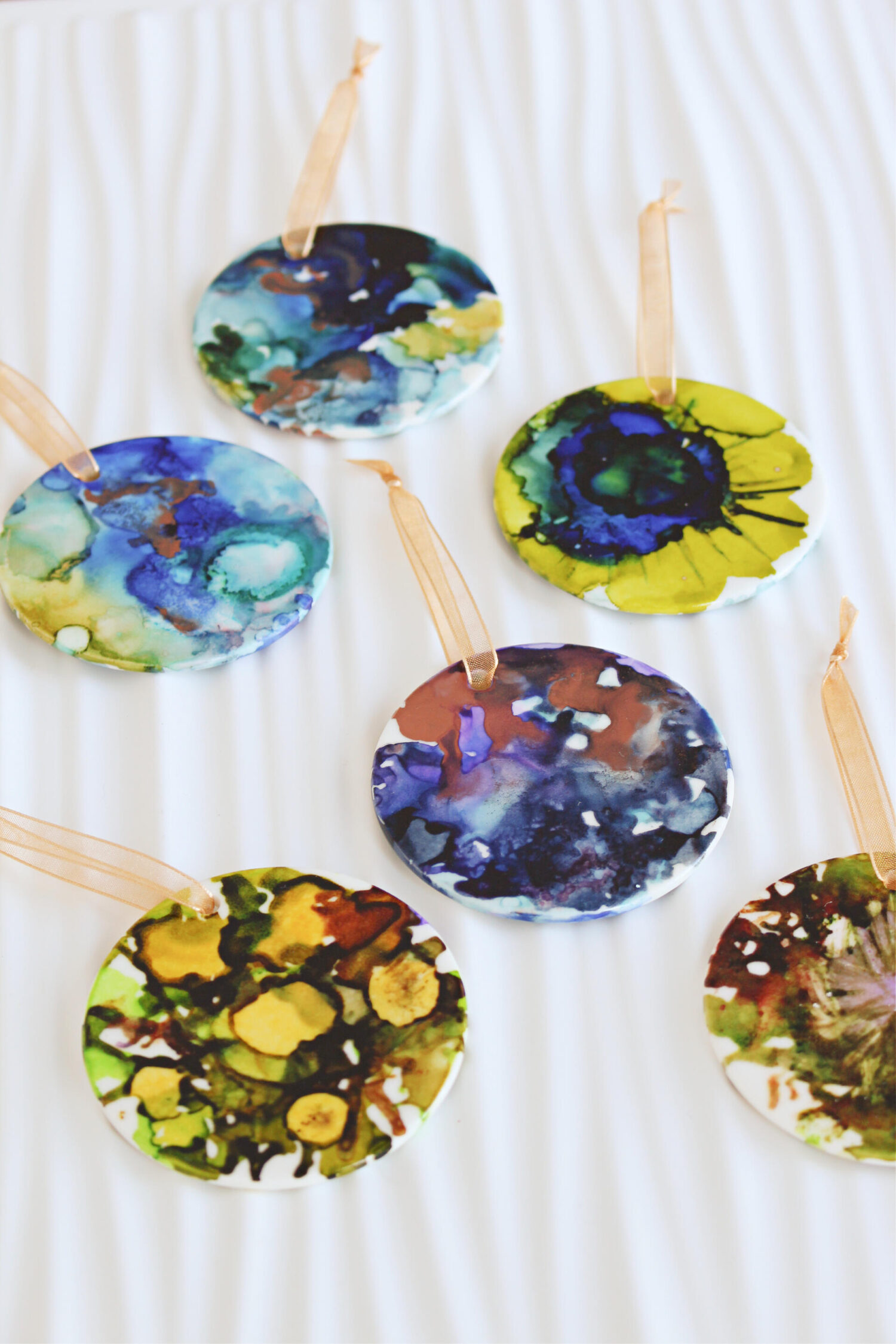 P.S. Don't Forget to Pin for Later!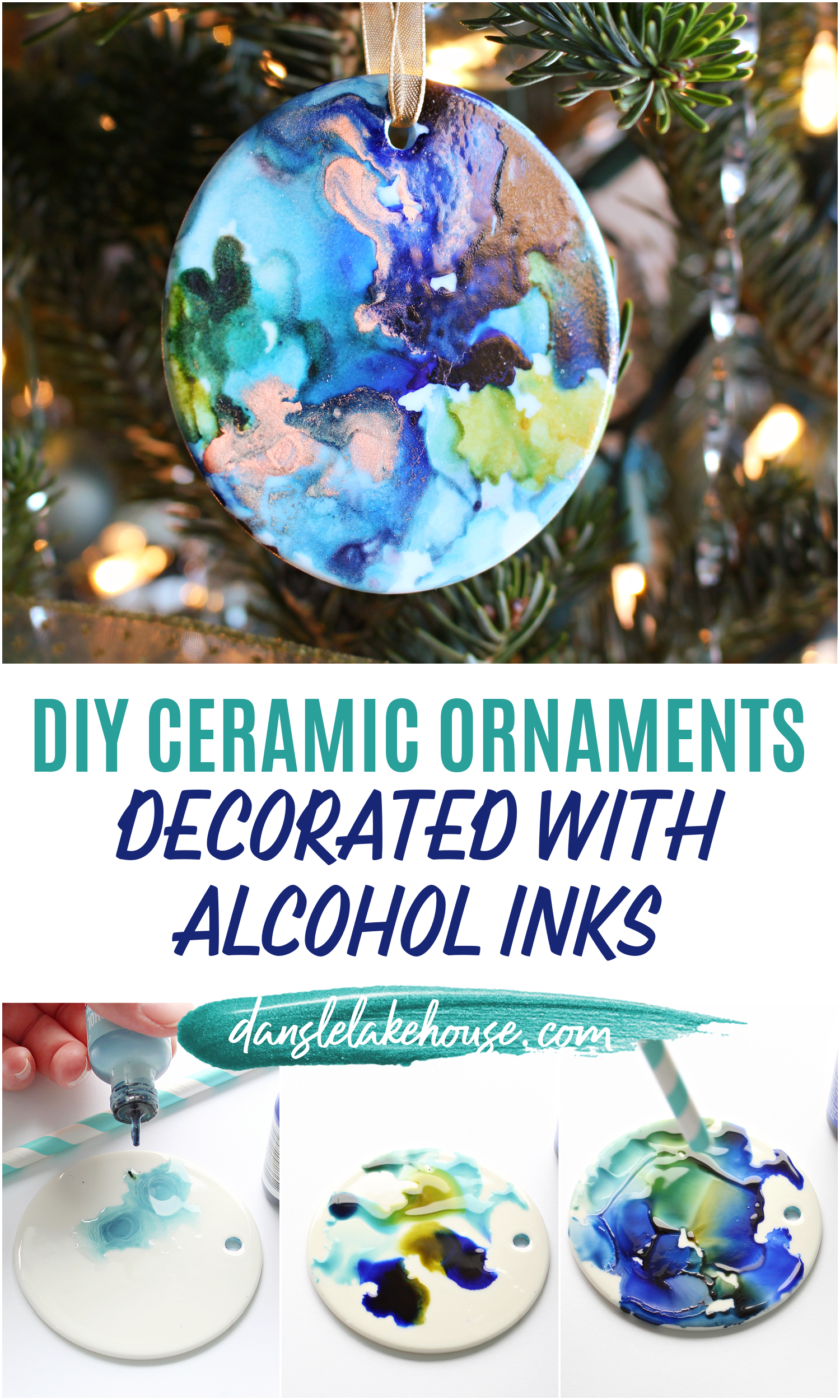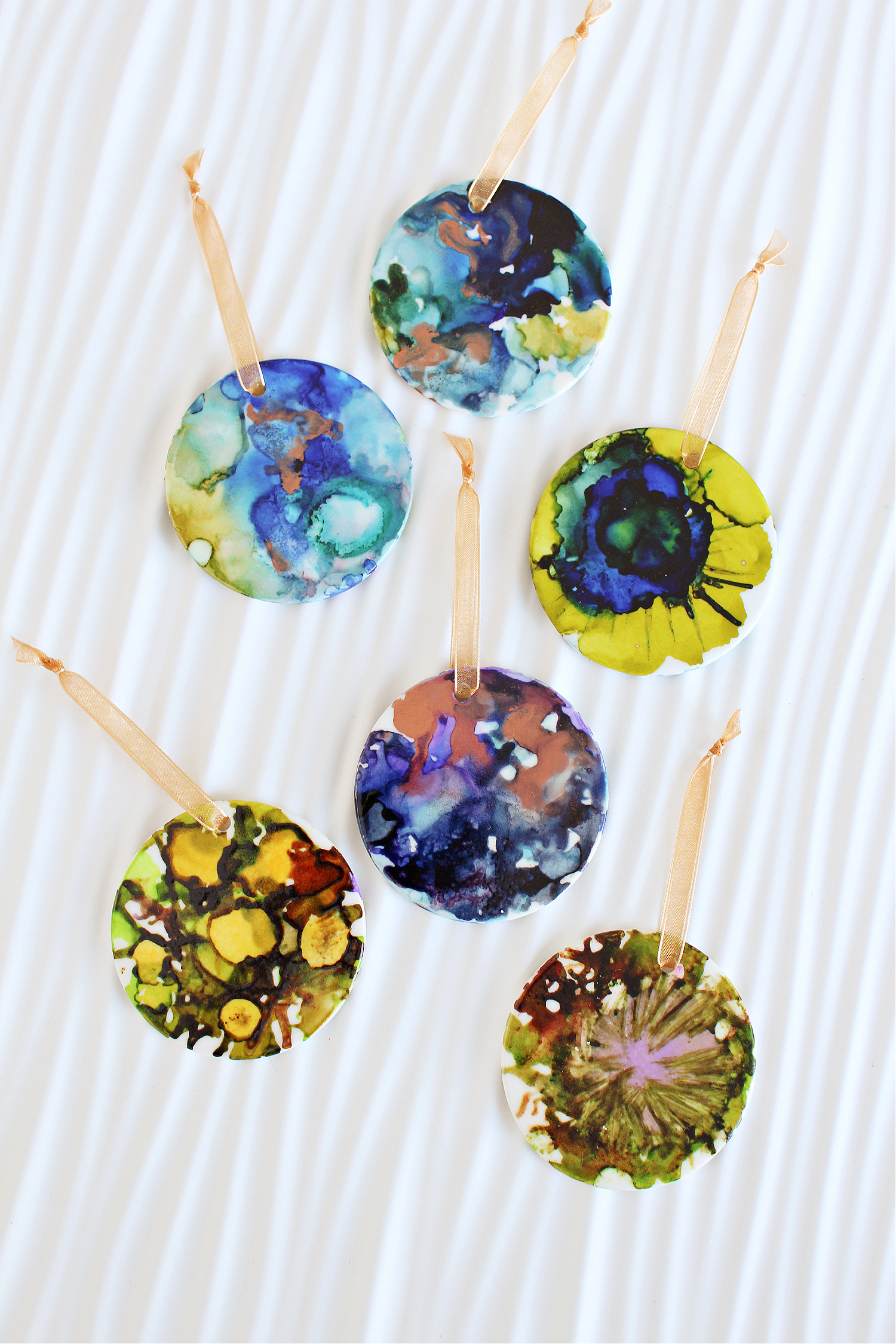 Looking for More Alcohol Ink Ornament Ideas?
Here are some more DIY alcohol ink ornament ideas for you to try – including a new "stained glass" effect I just shared!