Over the winter, I figured out how to make fabric mushrooms, using velvet scraps and felt – and today I'm showing you how to sew your own DIY fabric mushrooms! I used these as Christmas tree ornaments, but they're also so cute as spring or fall decor. String them on a garland, hang them from a moss covered wreath, or artfully arrange them in a pretty bowl… So many possibilities for decorating with velvet and felt mushrooms!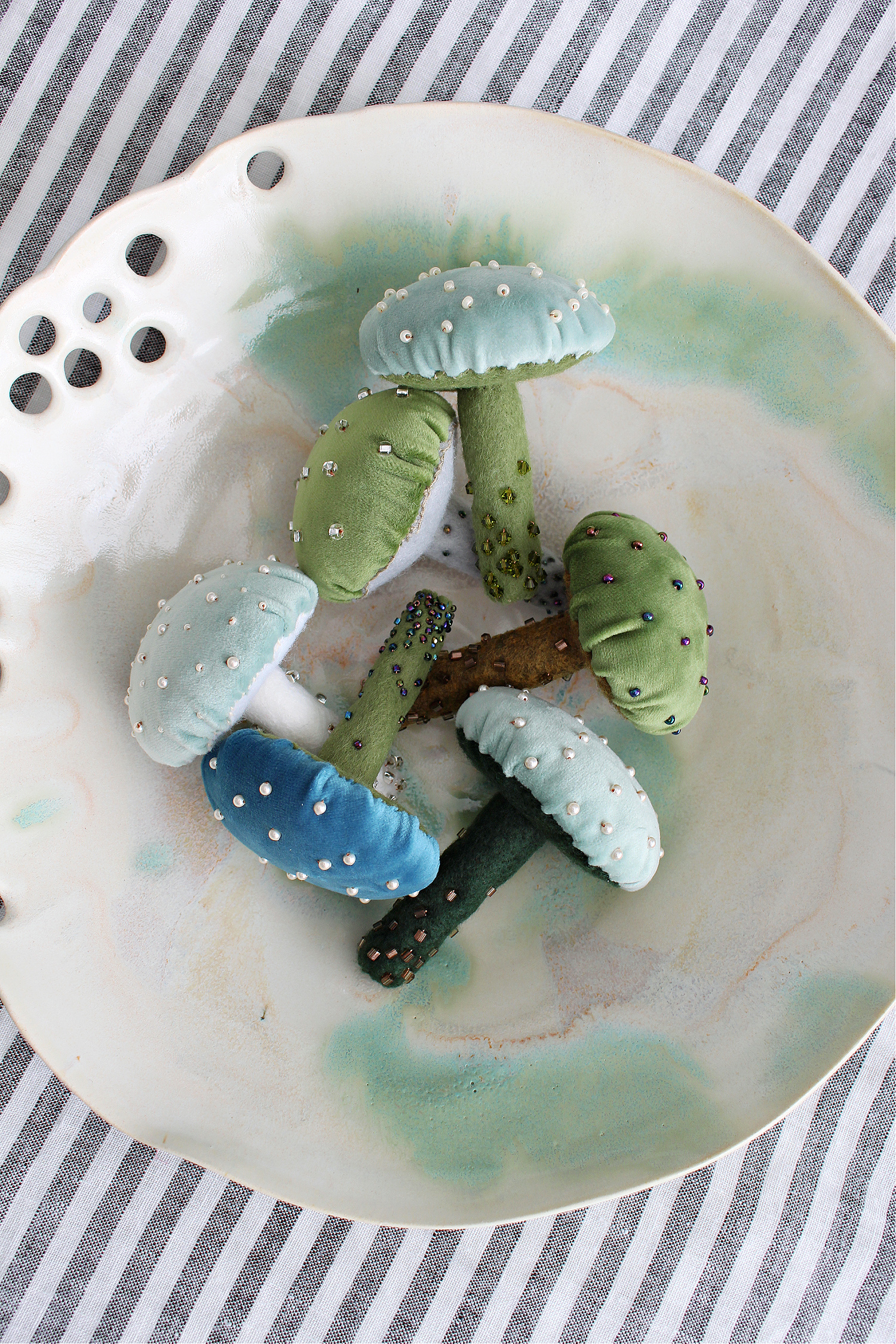 How to Choose Fabric for DIY Mushroom Ornaments
I used velvet, felt, and beads to make my DIY mushroom ornaments, but you can use any fabric you have on hand – this is a fun way to use up scraps! Before trying the velvet, I did make some all felt mushrooms, which you can spot in the photos, and they were cute too. When choosing fabrics, something soft and pliable works best – avoid anything thick, like leftover upholstery fabric. If you'd like to skip the beading, you can use fabric glue to affix felt polka dots or rhinestones instead. You can also make these any size, I just thought a smaller version was really cute (mine are approximately 3.5″ – 4″ tall. Ultimately, there are endless ways to customize these sweet DIY fabric mushrooms.
Supplies to Make DIY Fabric Mushrooms: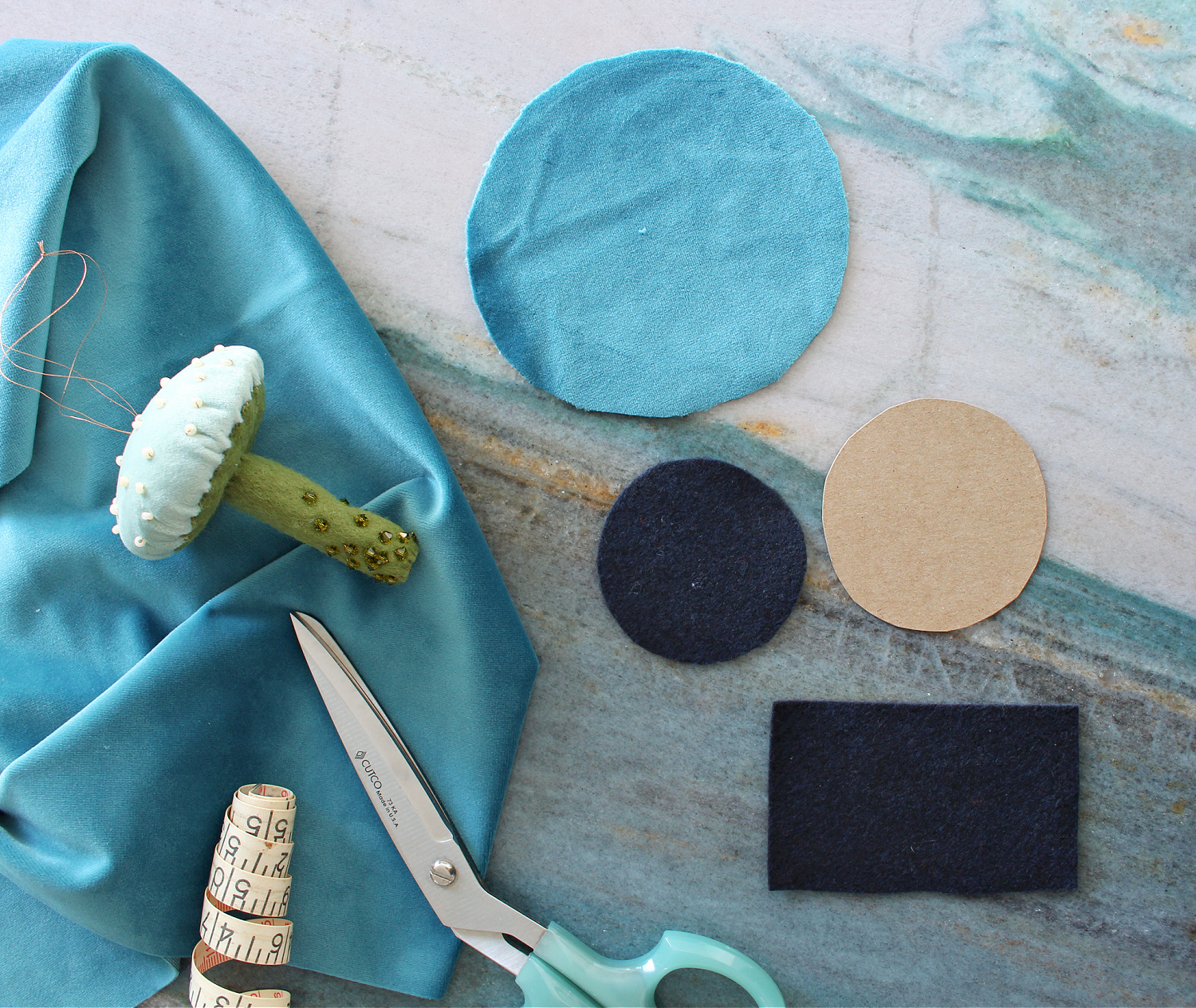 How to Make Fabric Mushroom Ornaments:
Cut a circle of velvet approximately 5″ in diameter
Cut out a circle of felt, approximately 2.5″ in diameter
Cut out a rectangle of felt, approximately 2.5″ by 4″
Cut out a rectangle of thin cardboard, approximately 3″ in diameter
Stitch beads onto the velvet circle – this will be the top of the mushroom
Using a large running stitch, stitch around the perimeter of the velvet circle
Place a ball of Poly-fil fiber fill on the velvet, then place the cardboard circle on top
Pull on the thread to gather the edges of the velvet
Arrange the velvet in a way that looks nice (I like to fiddle with the gathers)
Tie a knot in the thread to secure the gathered velvet
Roll the rectangle of felt into a tube and stitch along the bottom and side to keep it in a tube shape
Stitch the tube to the middle of the felt circle, to make the mushroom base
Stitch the mushroom base to the velvet mushroom top
Bead the mushroom base (optional)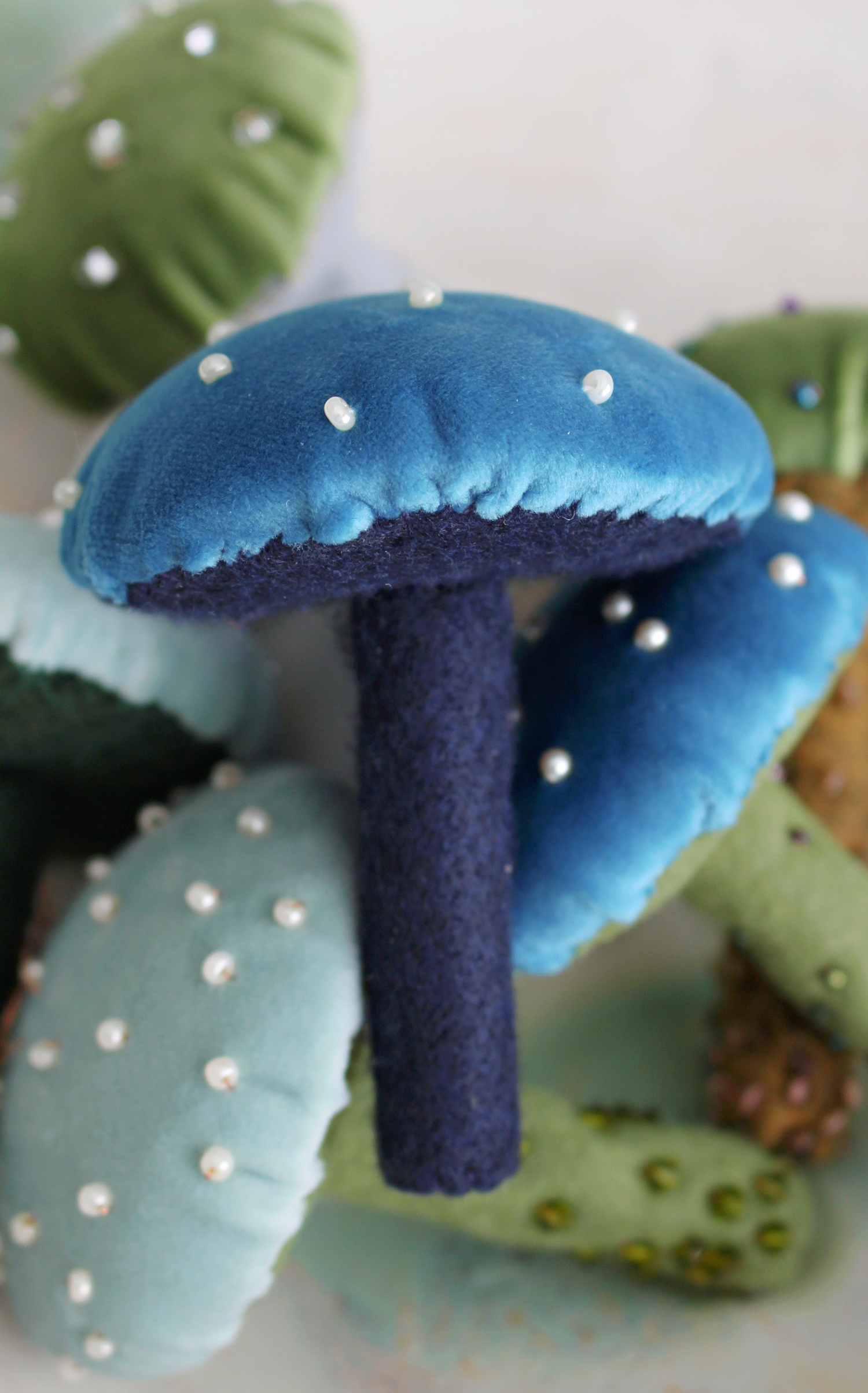 Keep reading for a more detailed list of steps, with photos, for making your own DIY velvet mushrooms.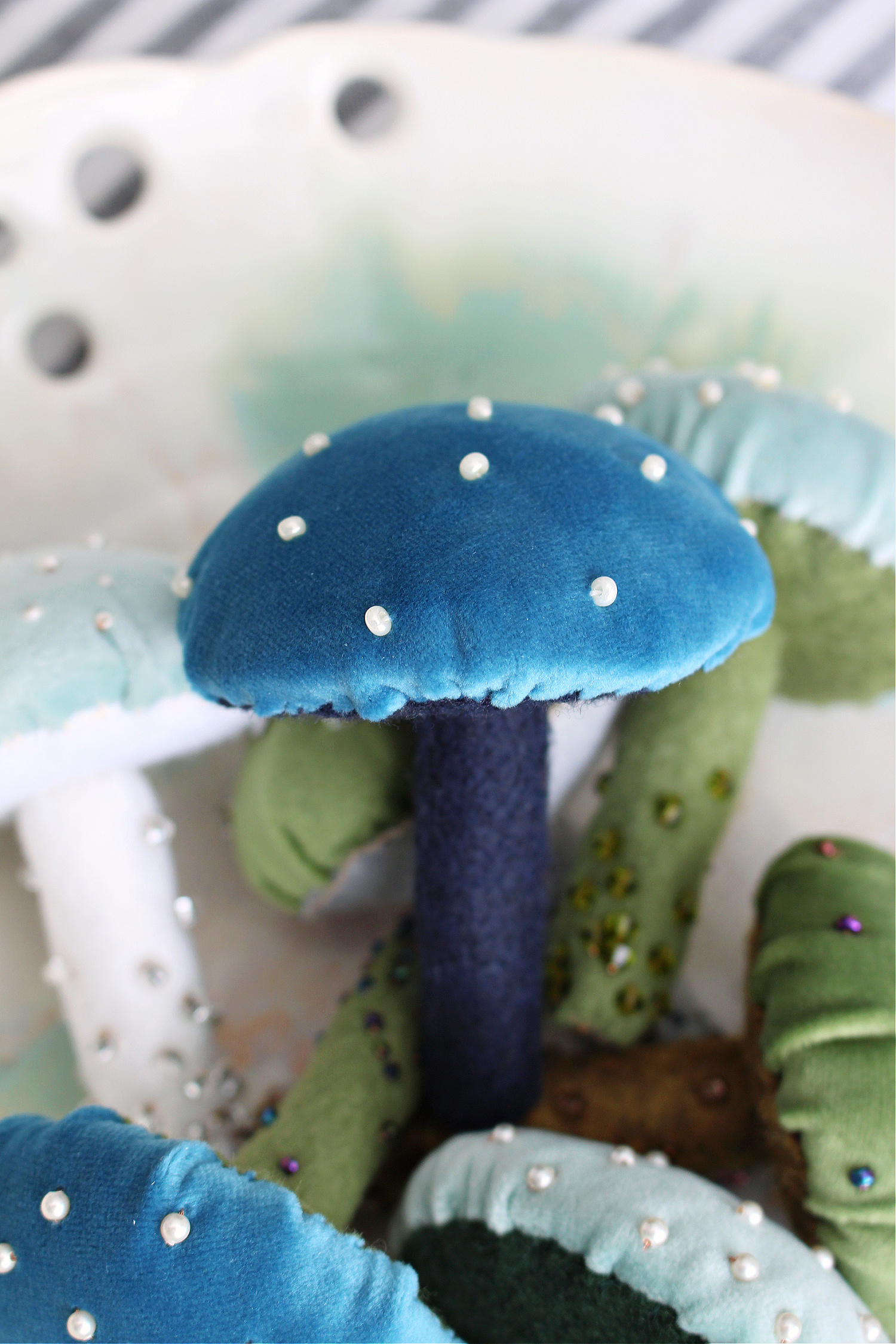 How to Make a Velvet Mushroom (with Photos)
My first step is to cut out all of the pieces I'll need: a circle of velvet, felt, and cardboard, plus a rectangle of felt.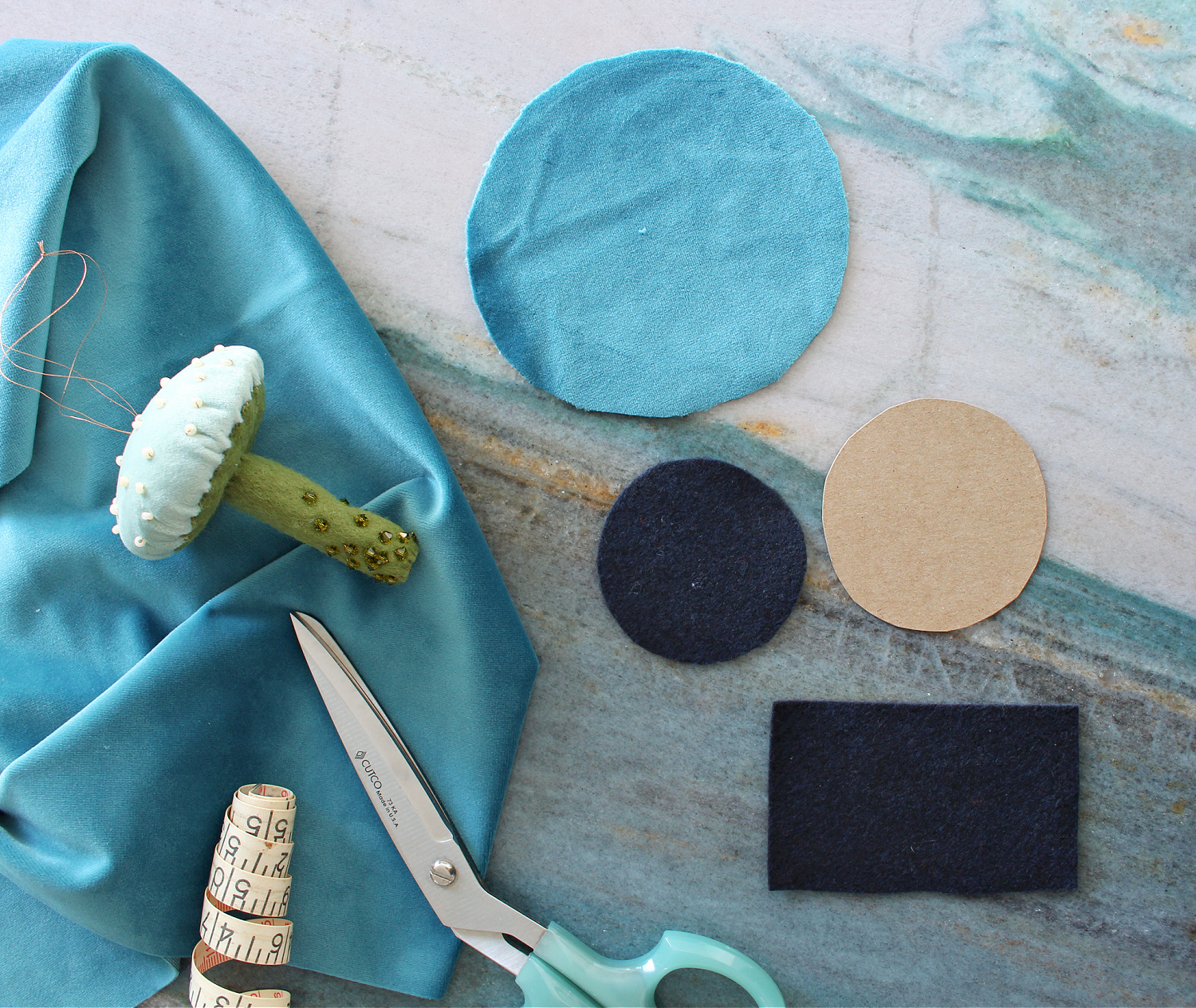 Before assembling my velvet mushroom, I stitched beads onto the velvet circle, which will become the top of the fabric mushroom. I liked using larger pearl beads for this, but you can use anything you'd like to embellish the mushroom top – including gluing on sequins or glitter or contrasting felt polka dots.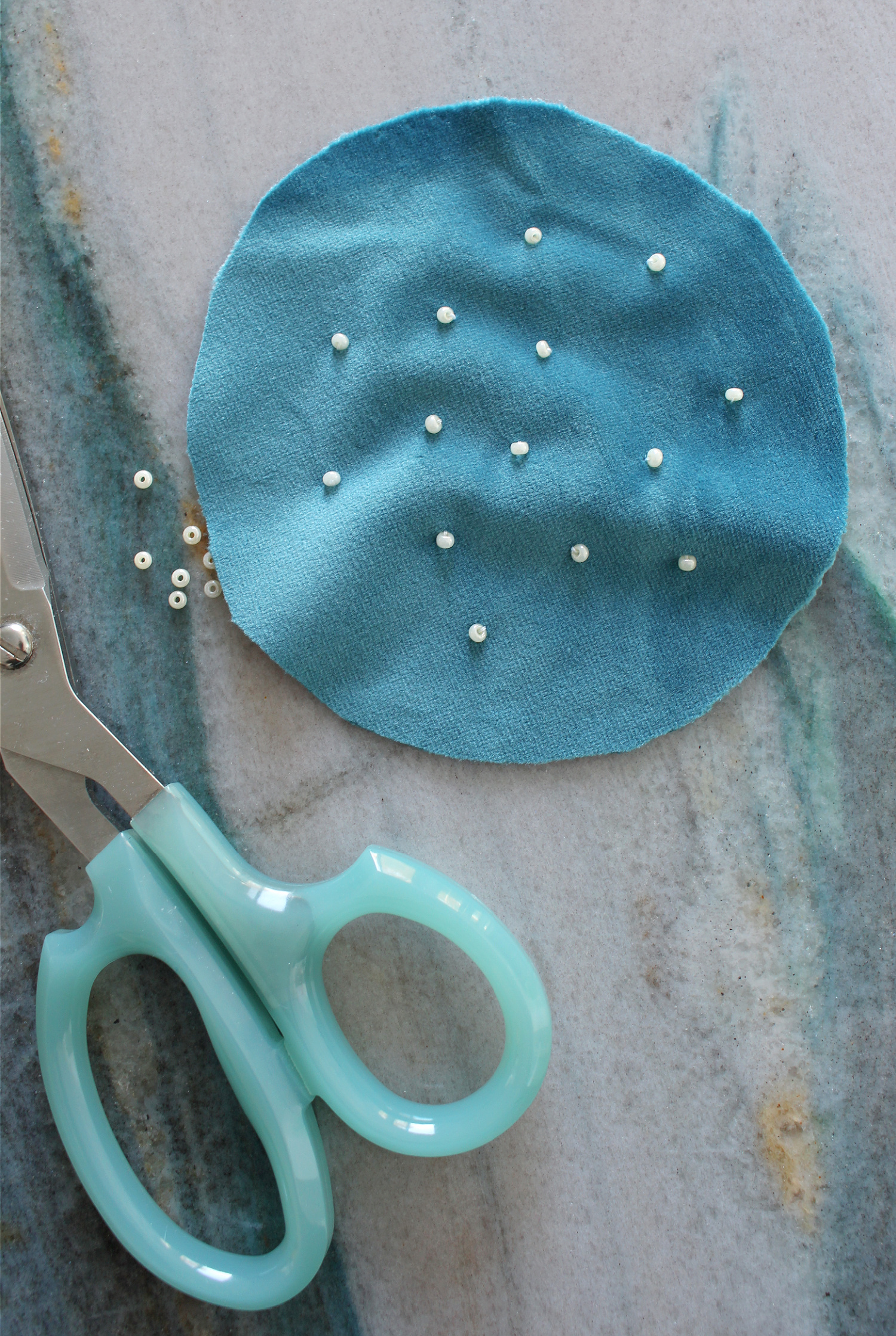 When I was satisfied with the beading, I stitched a long running stitch along the edge of the velvet. This is what will scrunch up the velvet, so try to place the stitches fairly evenly.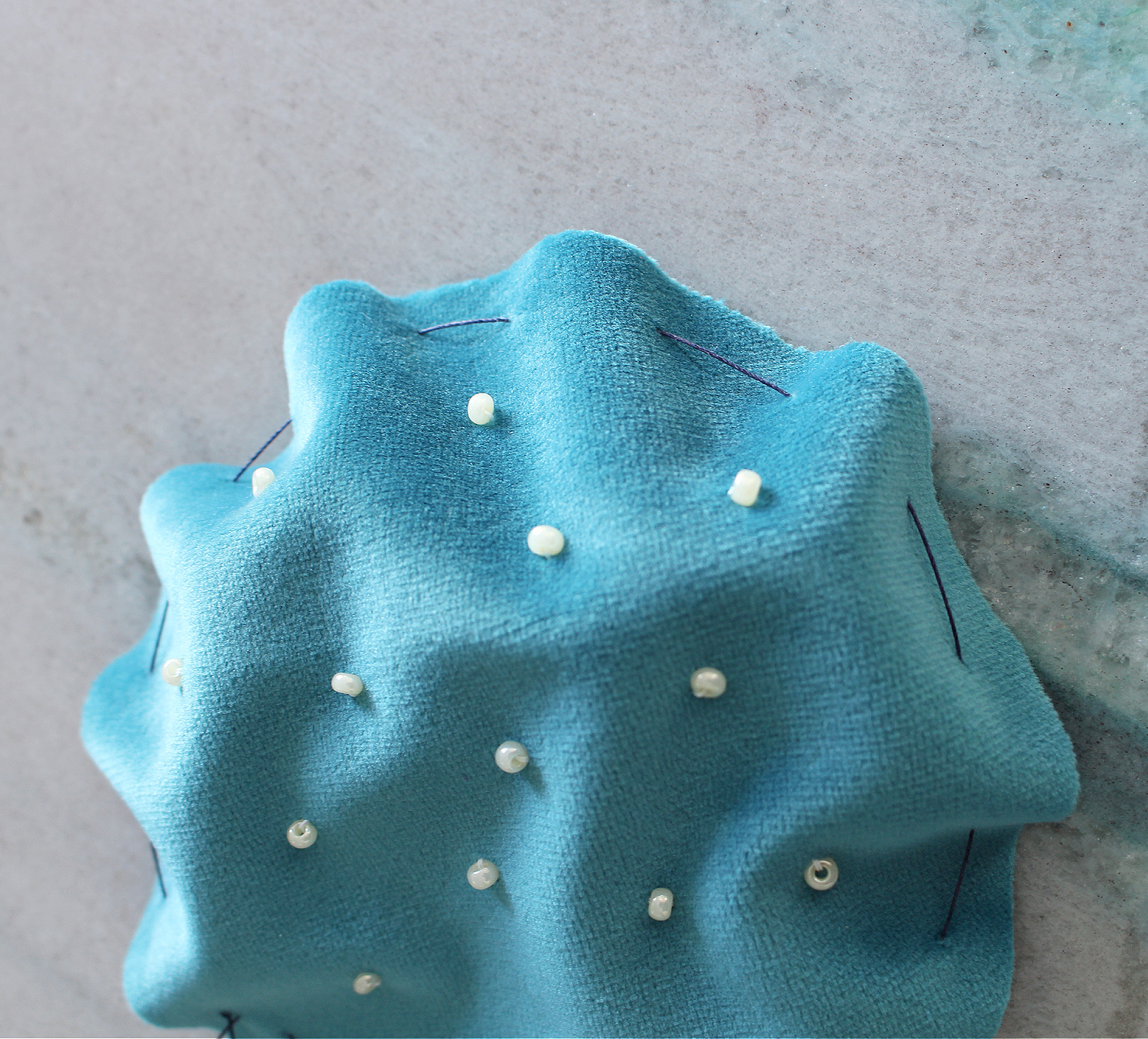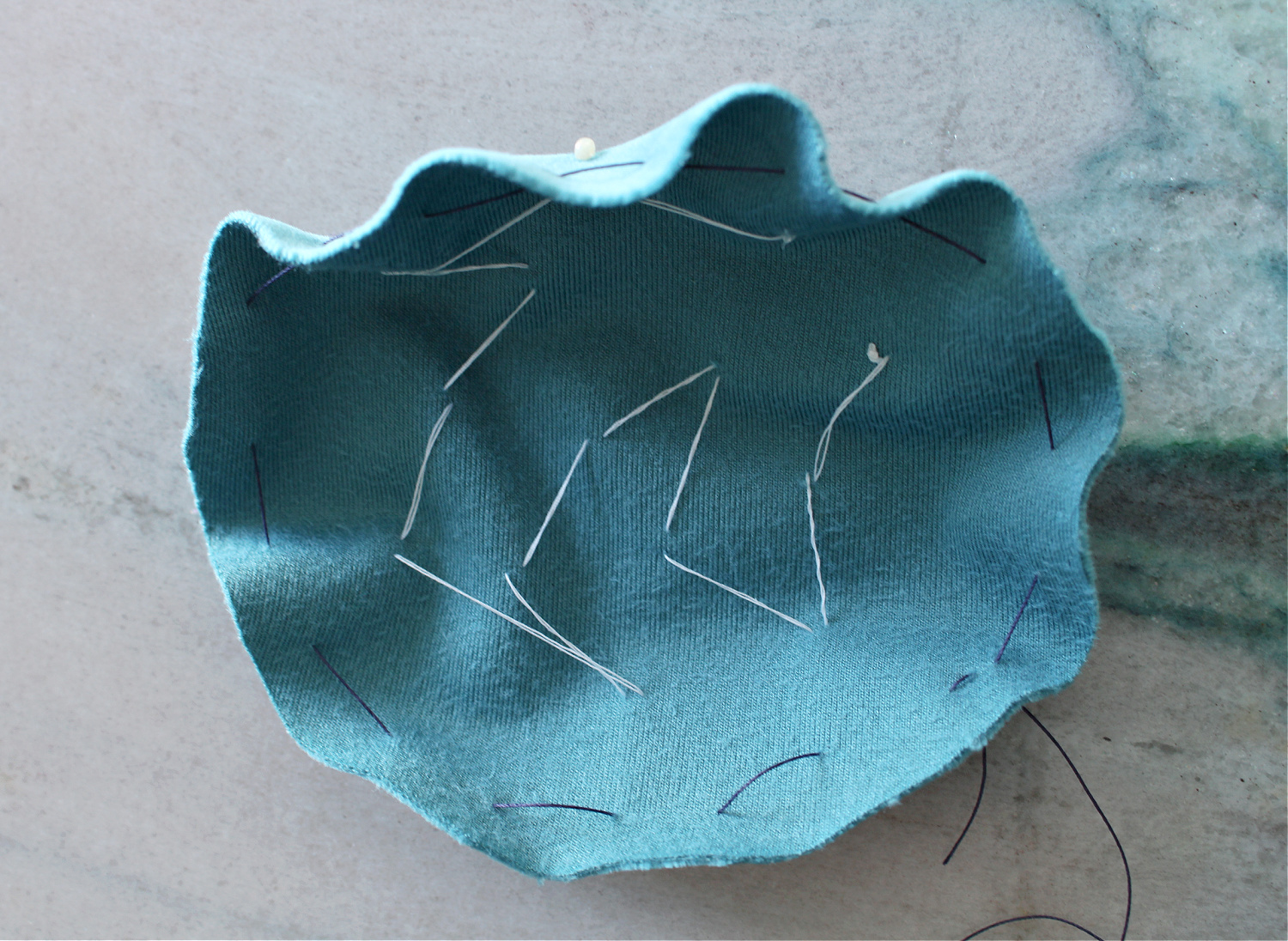 After stitching, I smoothed out the circle of velvet again and laid the velvet, good side down, on my work surface and then grabbed some Poly-fil fiber fill. I formed it into a circle and set in on the velvet. Then I placed the cardboard circle on top. I pulled on the ends of the string to cinch closed the mushroom top, trapping the batting and cardboard inside. If you have a second set of hands, it helps if someone else can hold the mushroom cap together while you tightly knot the thread.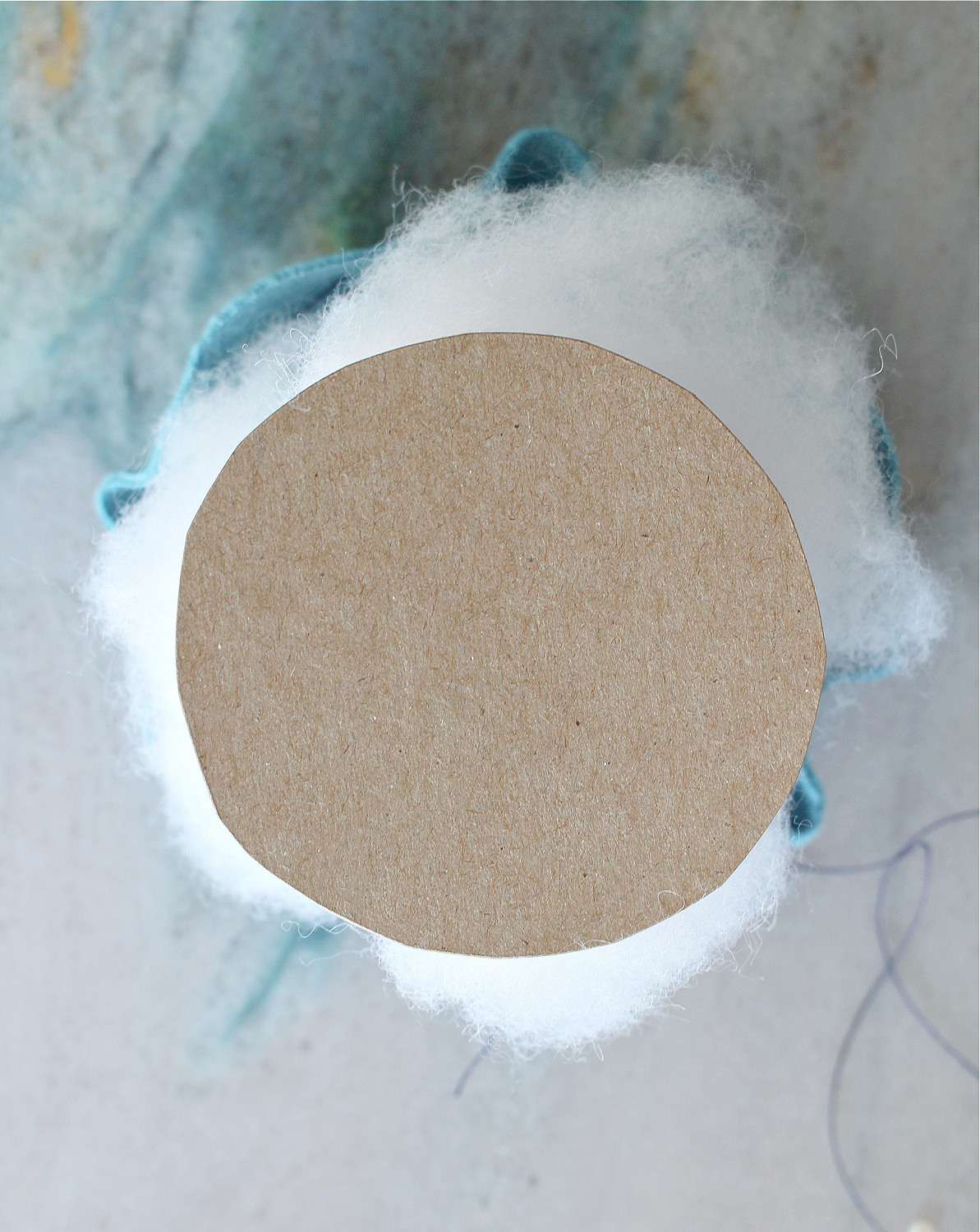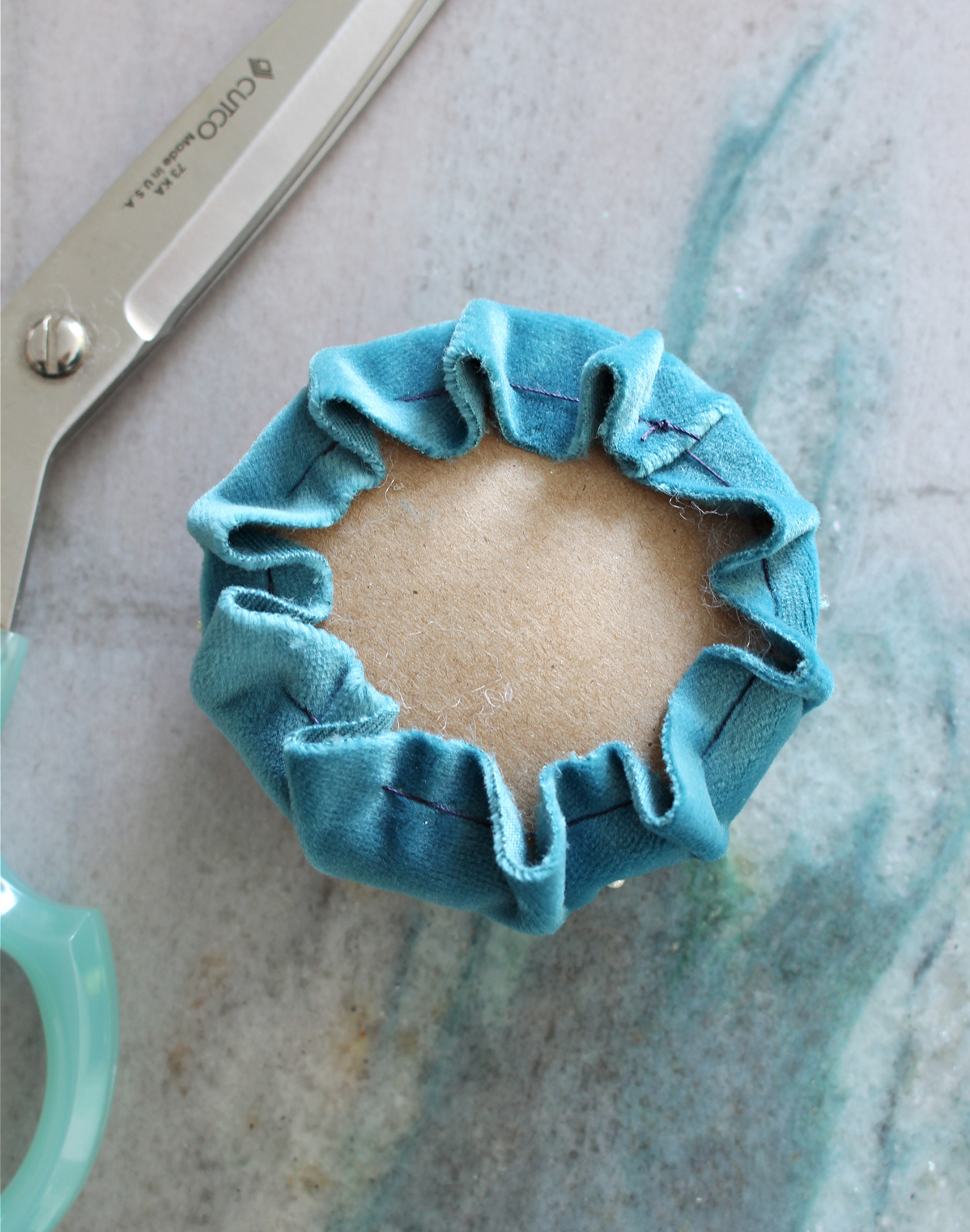 Moving on the to the base of the felt mushroom, I tightly rolled the felt rectangle into a cylindrical shape. I stitched along the bottom and up the side to keep the tube shape, then stitched this tube onto the felt circle. At this point, you can add beading or embroidery – or even ruched felt – to the felt circle to mimic the mushroom "gills". I just wanted to keep the shape straightforward and easy for everyone to sew.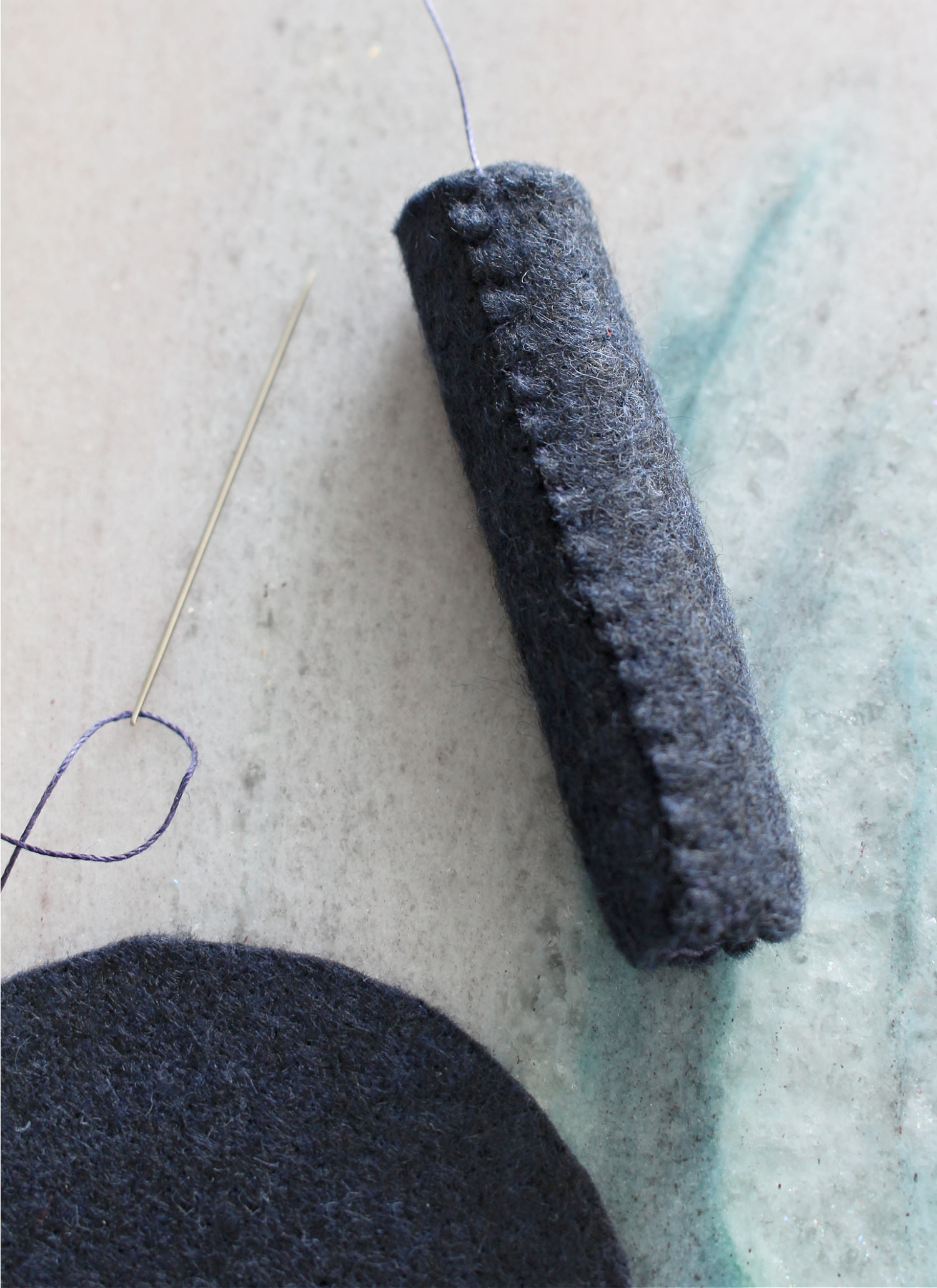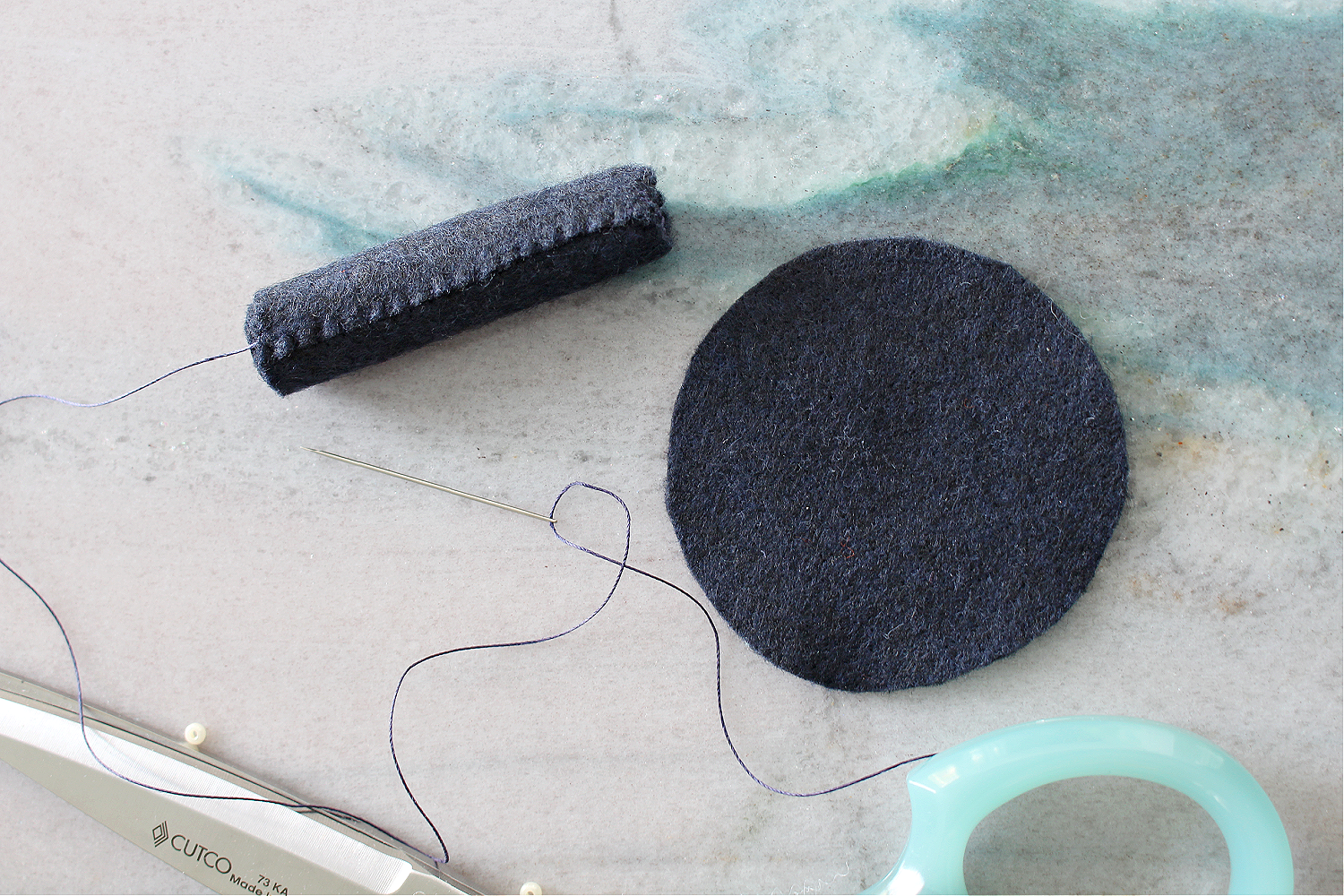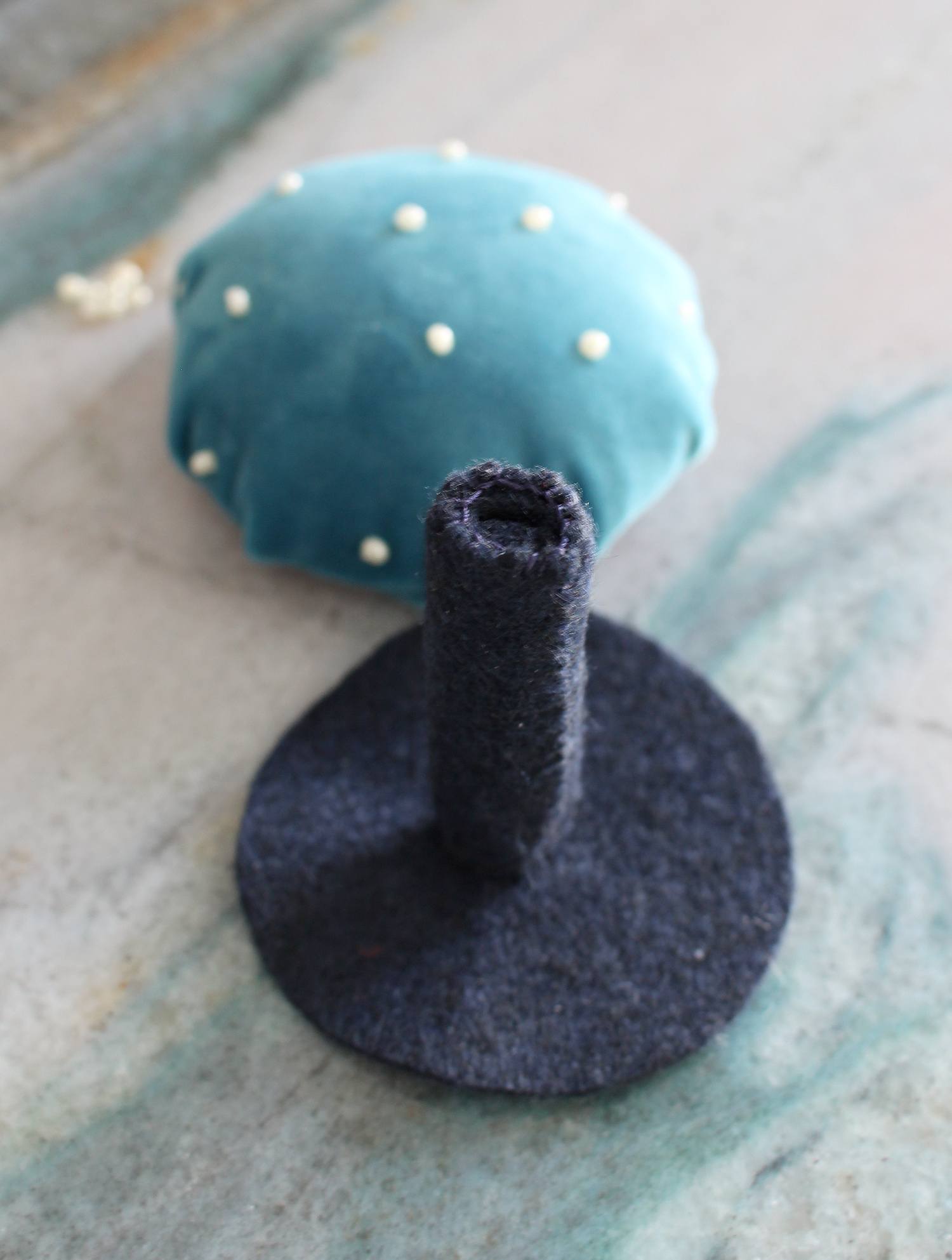 Finally, I stitched the felt mushroom base onto the velvet mushroom top.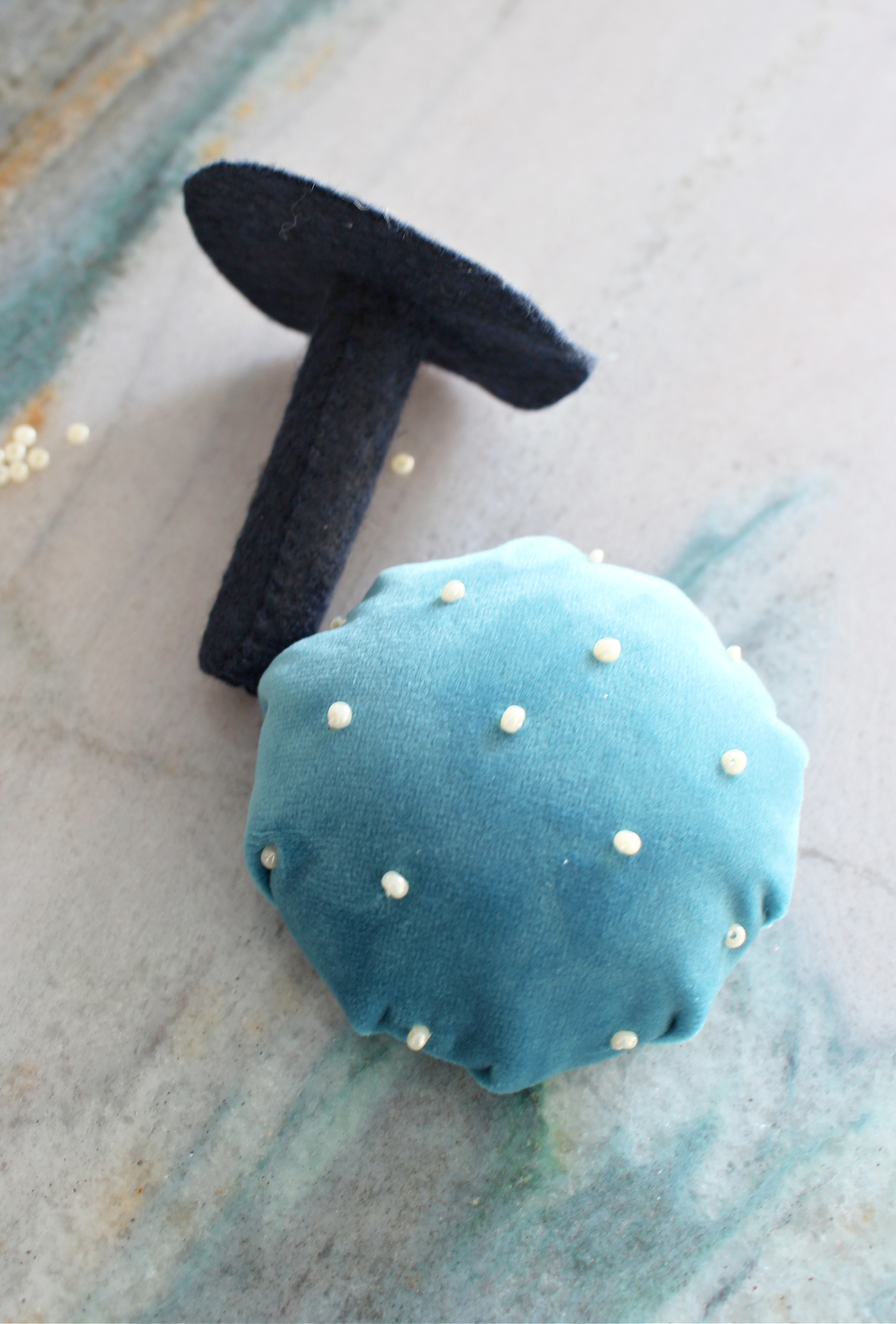 Here's a closer look at the stitching: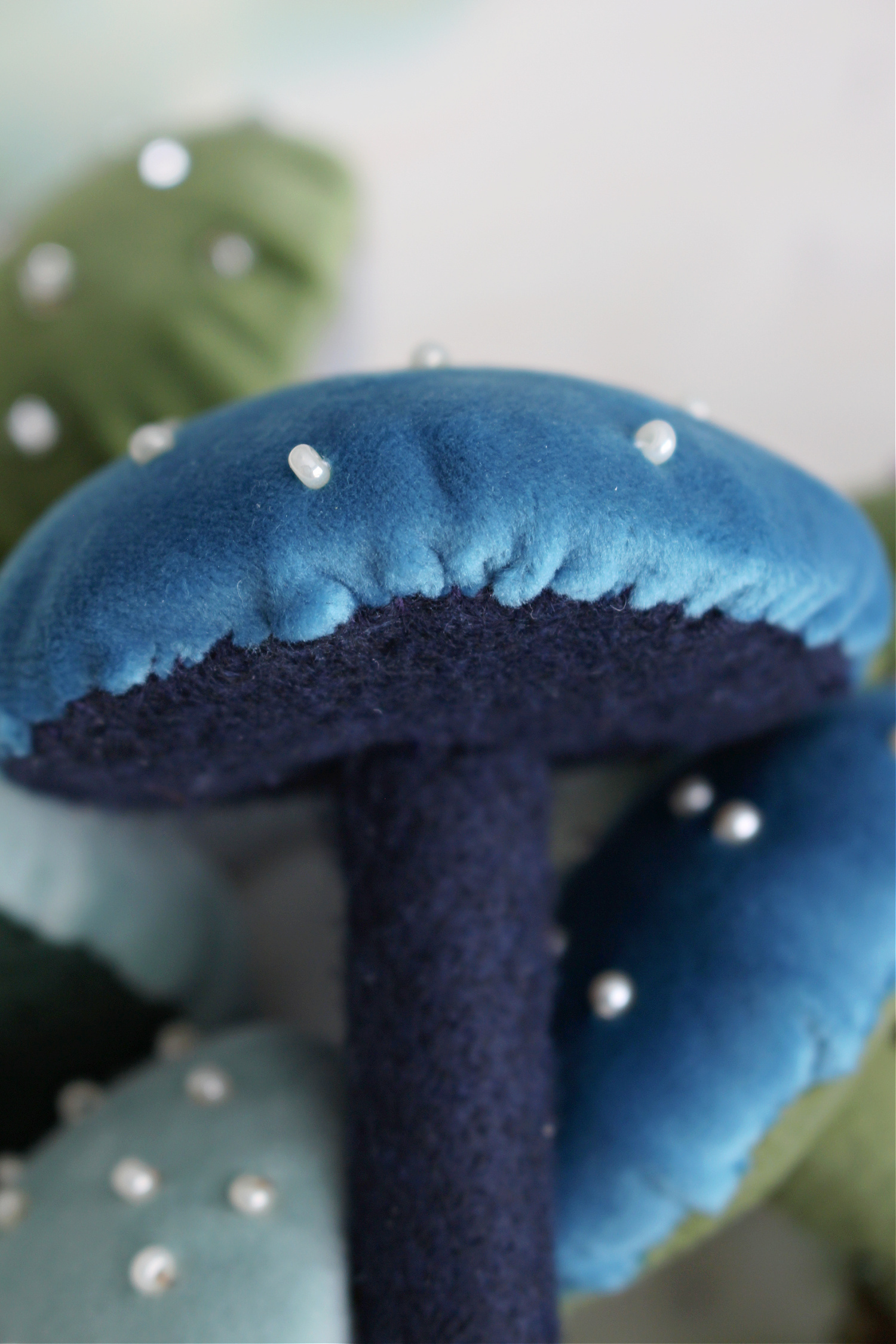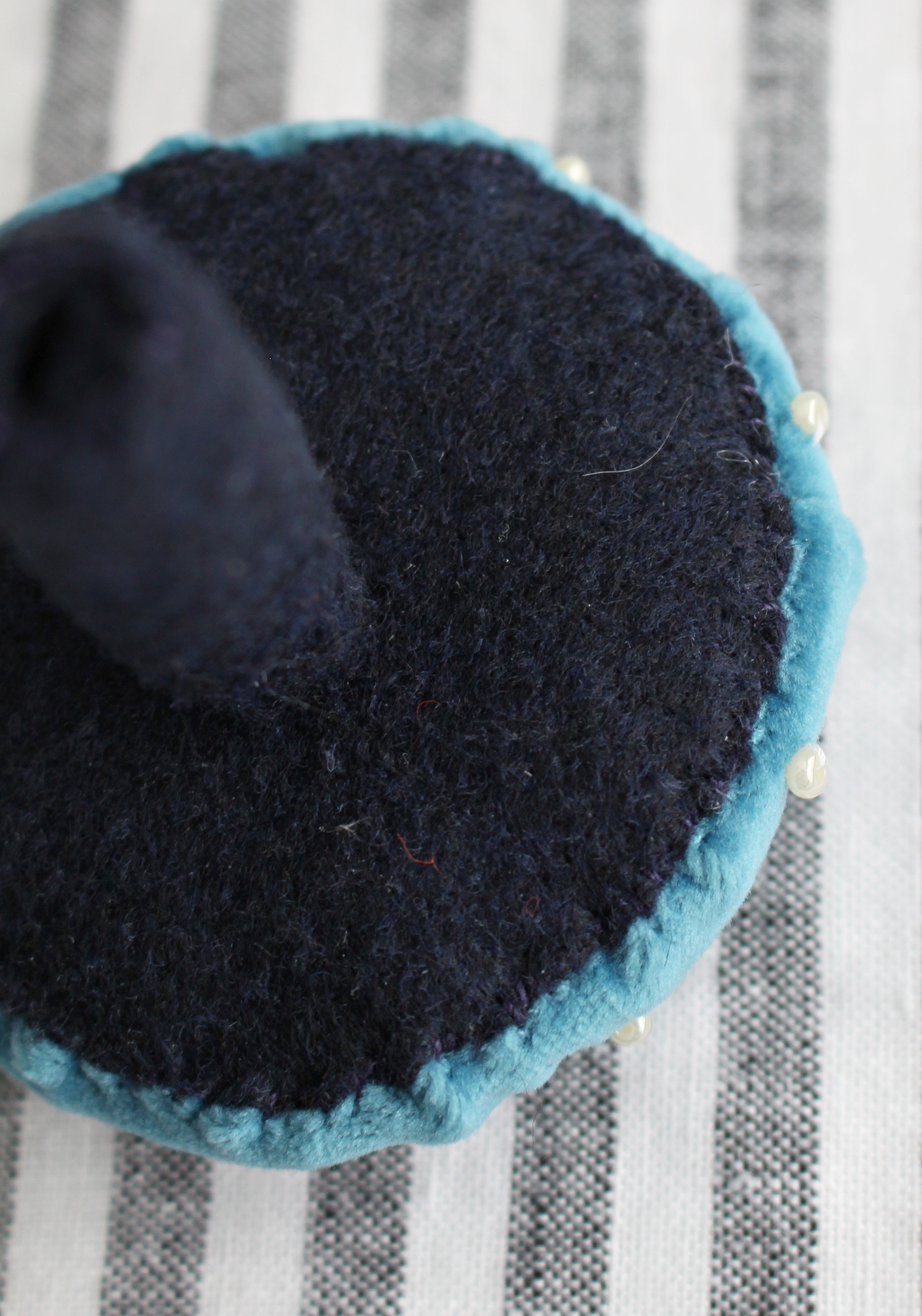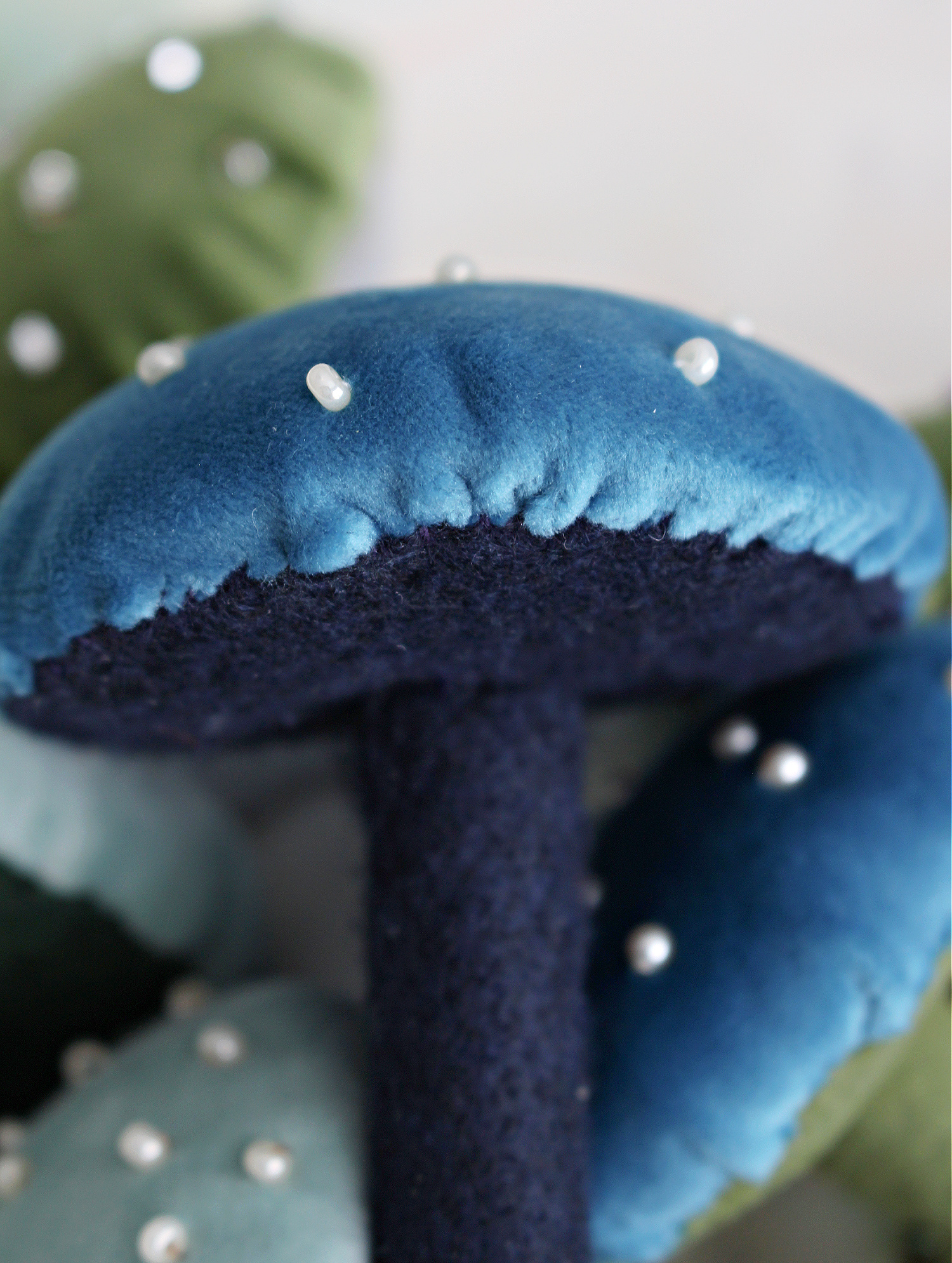 For this demo mushroom, I kept the beading minimal, but for the other DIY fabric mushrooms I made, I also added some beads to mushroom base, for a little added sparkle, but this is optional and can be done last.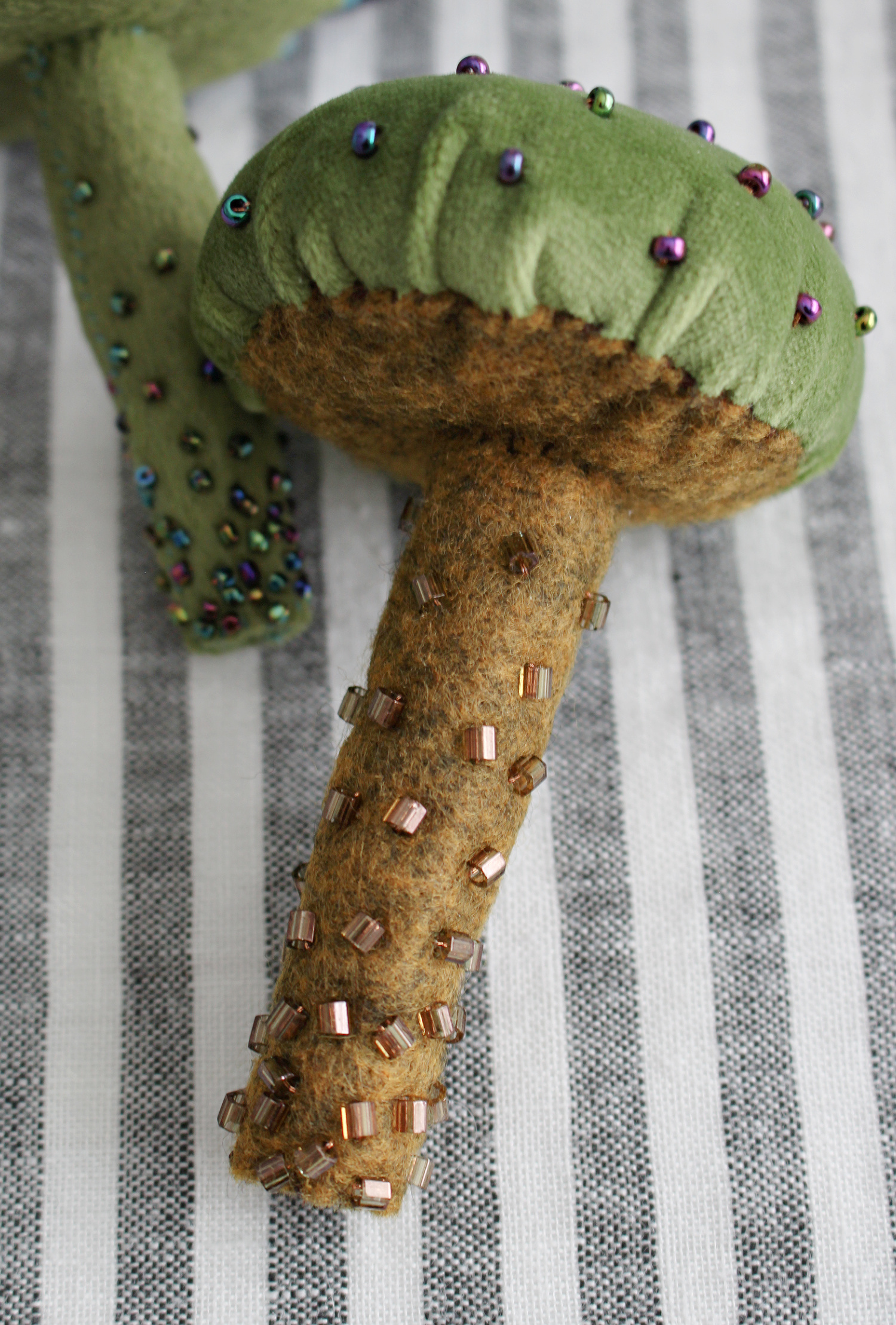 Here's a look at the finished DIY velvet and felt mushroom from the tutorial steps: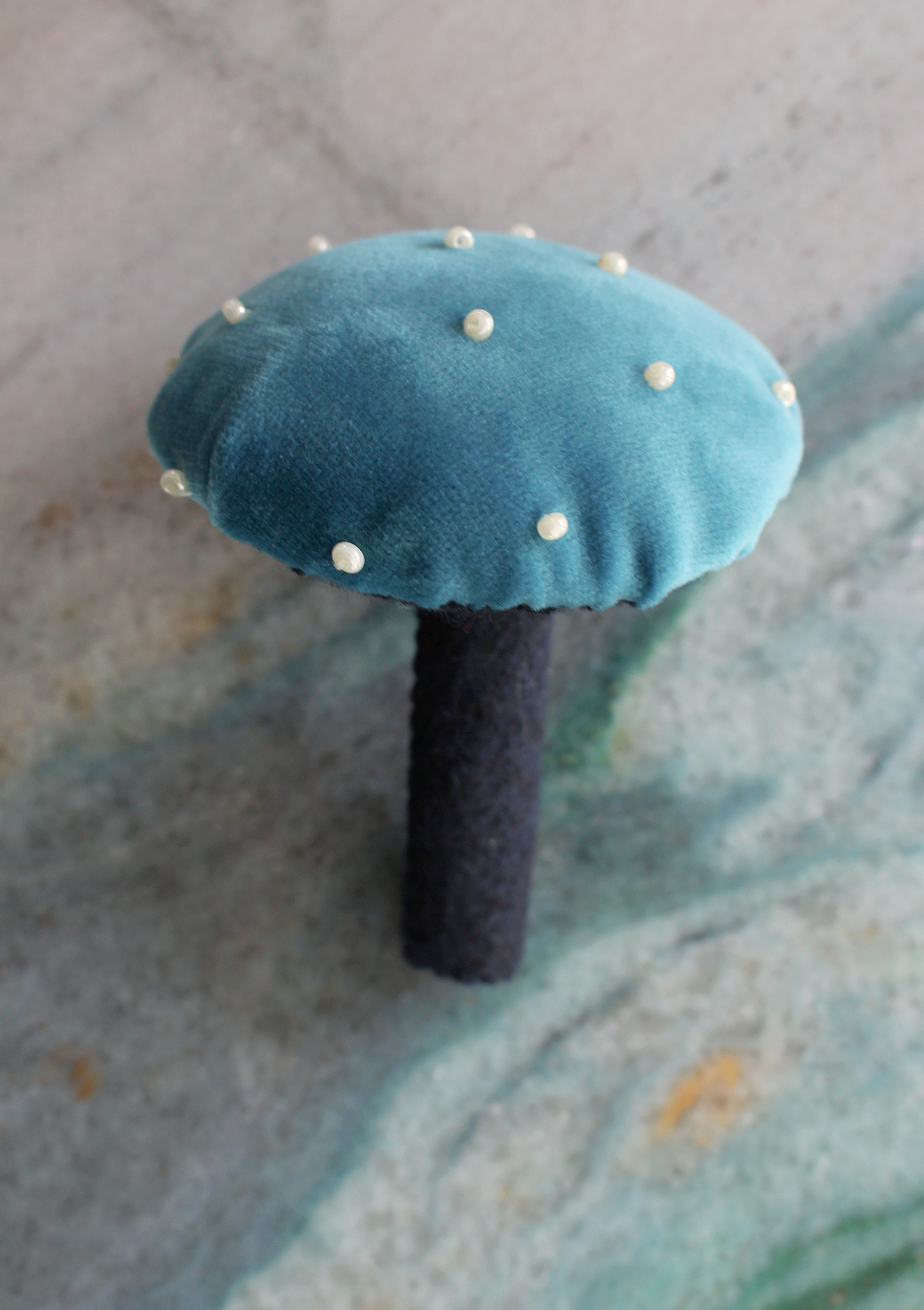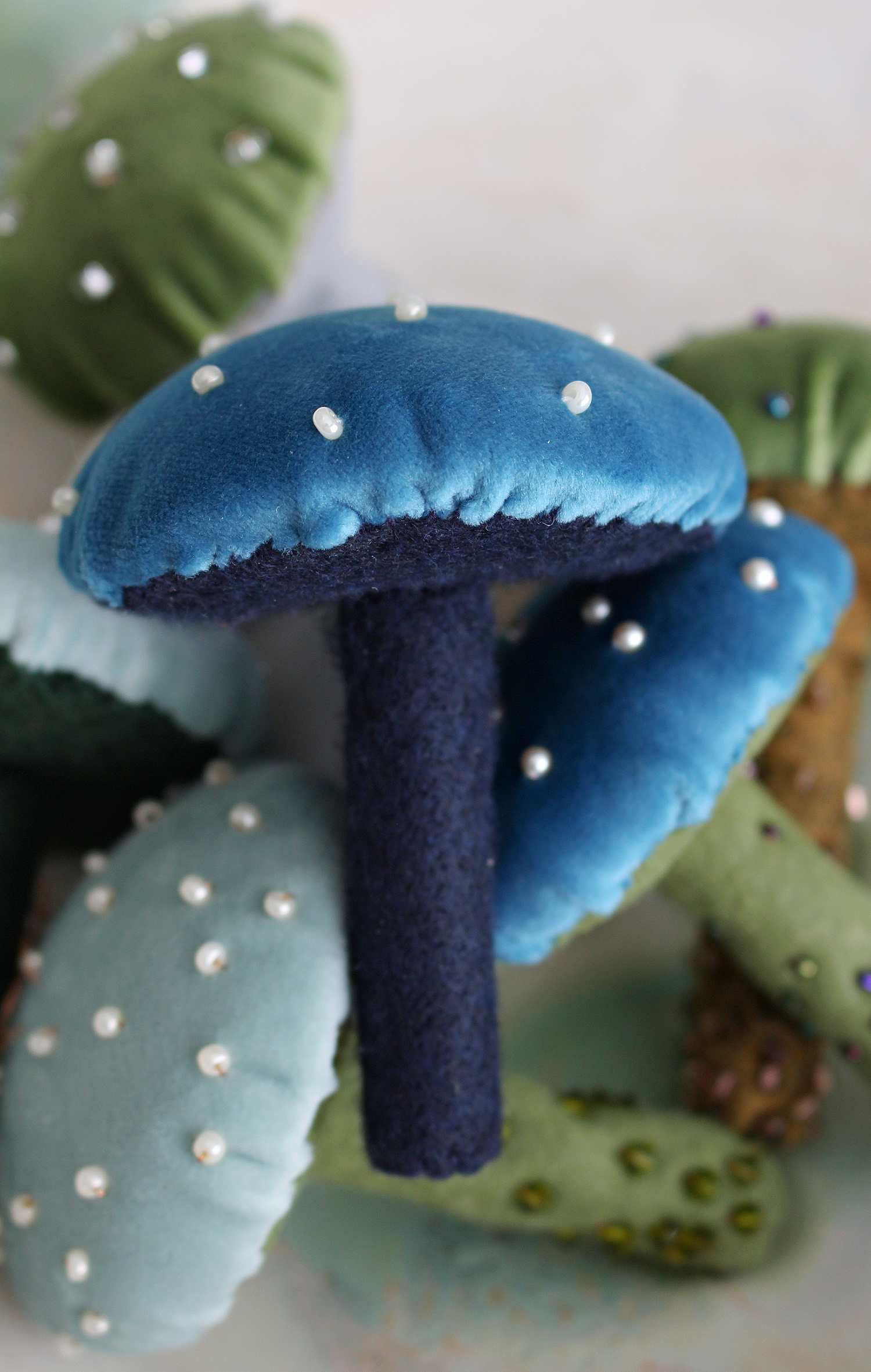 Here's another mushroom sewn together with slightly more contrasting stitching (bottom left) so you can see better how it's sewn: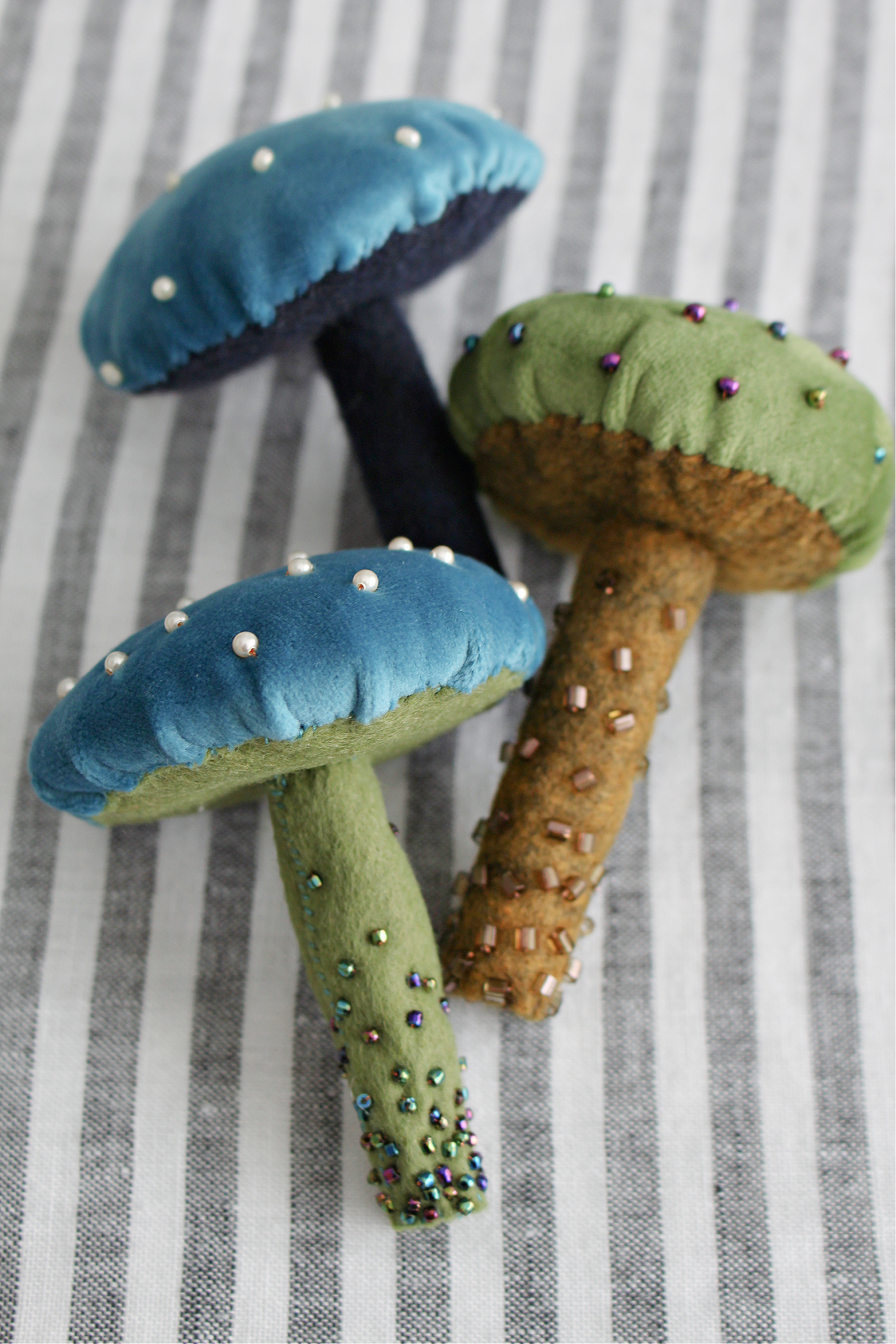 DIY Felt Mushroom Experiments
I experimented quite a bit with different ways of making these DIY mushrooms – and at first I started with all felt and no cardboard (the top brown and grey, one as well as the purple and brown one, in the photo below). These diy felt mushrooms turned out cute, but didn't have enough of a cap-shaped top. I tried adding a little cardboard to the giant green one, but still didn't love the shape. The bottom one was the first velvet and felt mushroom prototype, but I added poly-fil underneath the cardboard, which again didn't create the cap shape. But some of these have really neat beading – I love the bugles as "gills" on the top mushroom – so I wanted to show you the progression: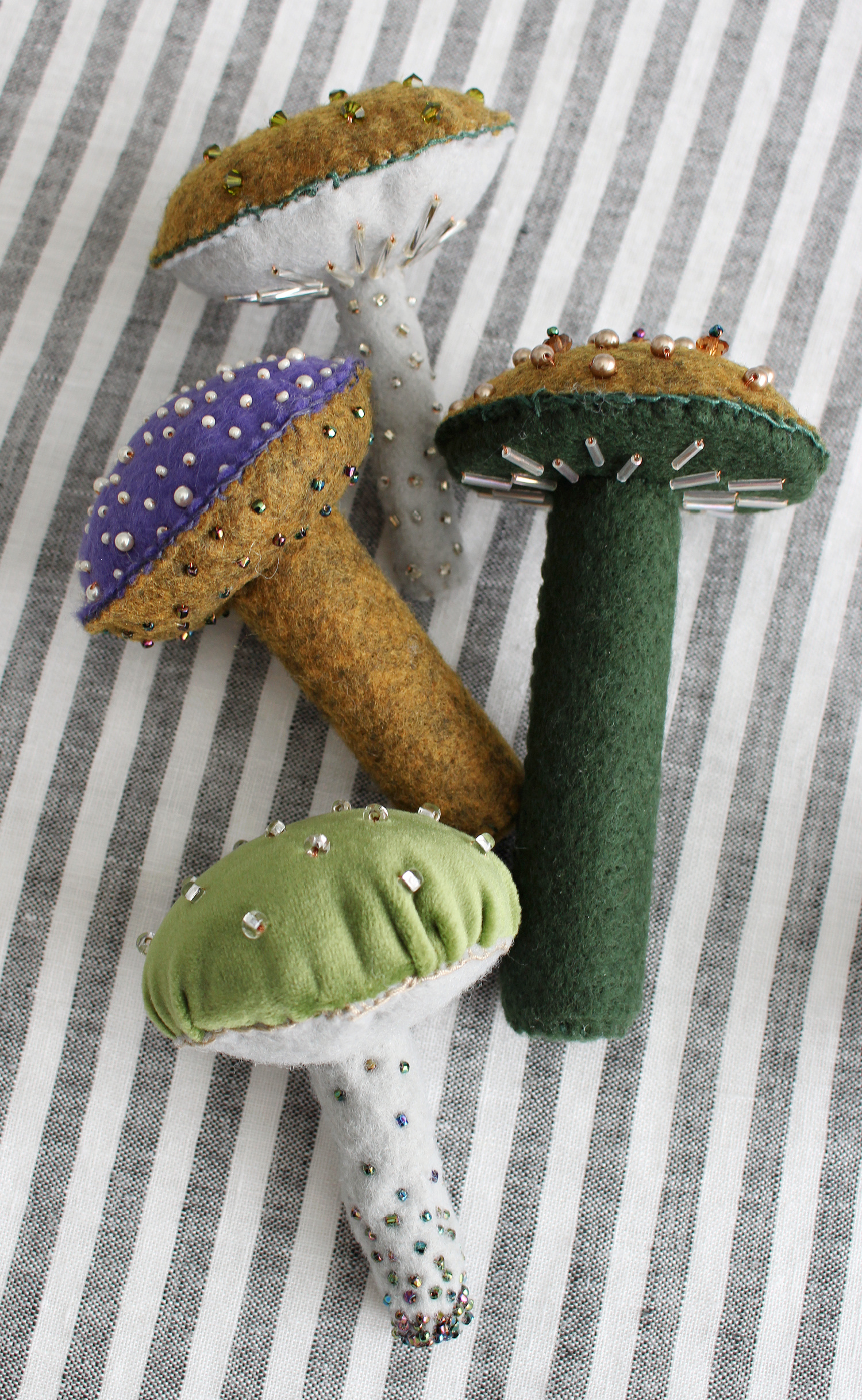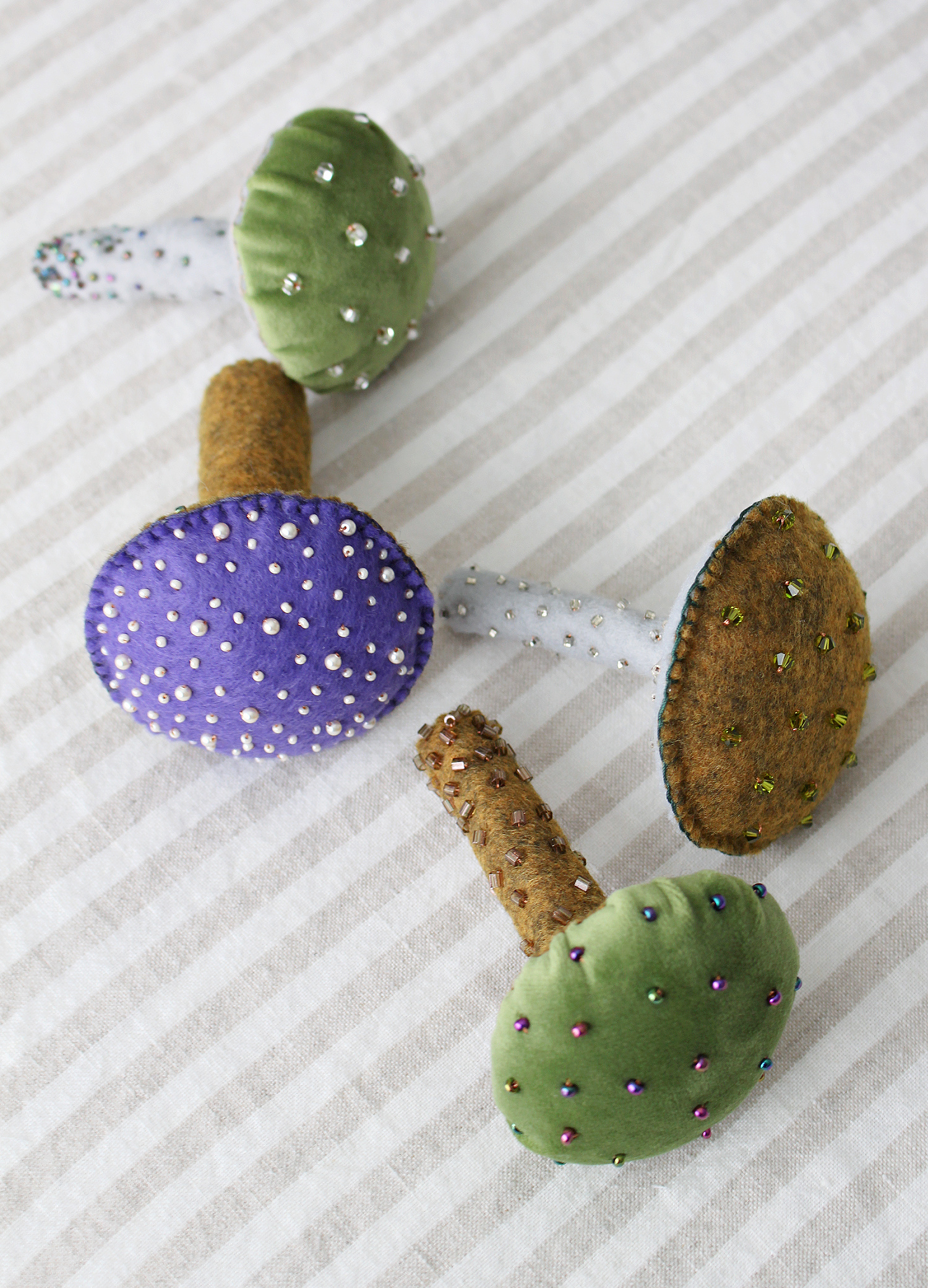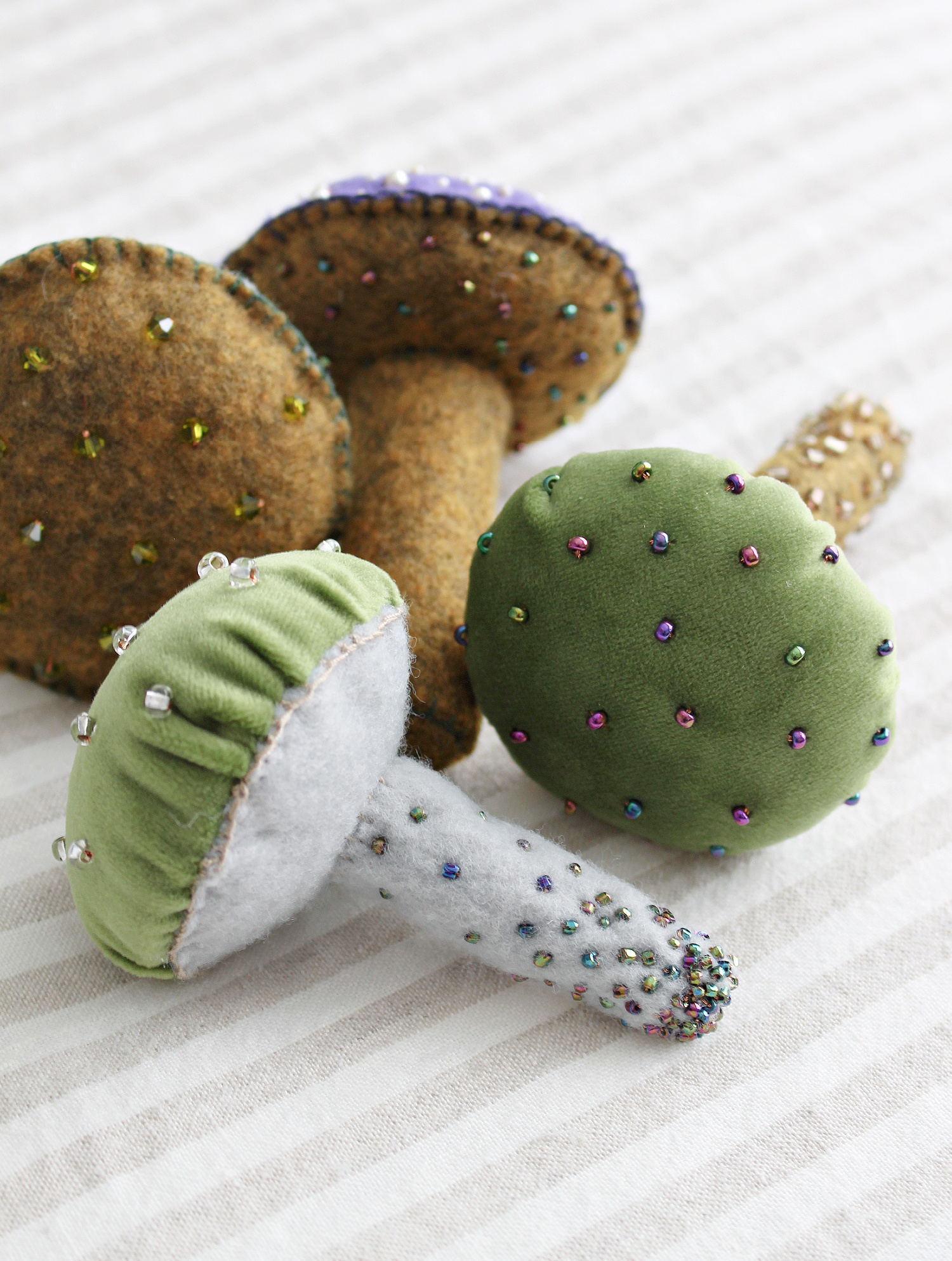 How to Create a Fabric Mushroom "Cap"
Adding the cardboard piece helped me create the most cap-like shape. I wanted to keep this method very simple, so anyone could sew these, but I might still experiment to make a rufflier bottom with "gills" and maybe even a more realistic base? If I cut the velvet circle larger, and cut the felt circle smaller, and made my stitches closer together, I think you'd see more of the ruffling of the velvet, which would probably look more like gills. I might keep experimenting… Once you start making these DIY fabric mushrooms, you will want to experiment too, because they're relatively quick and easy to put together. So dig out your craft supplies – especially those leftover odds and ends from other projects – and have fun making these little fabric mushrooms!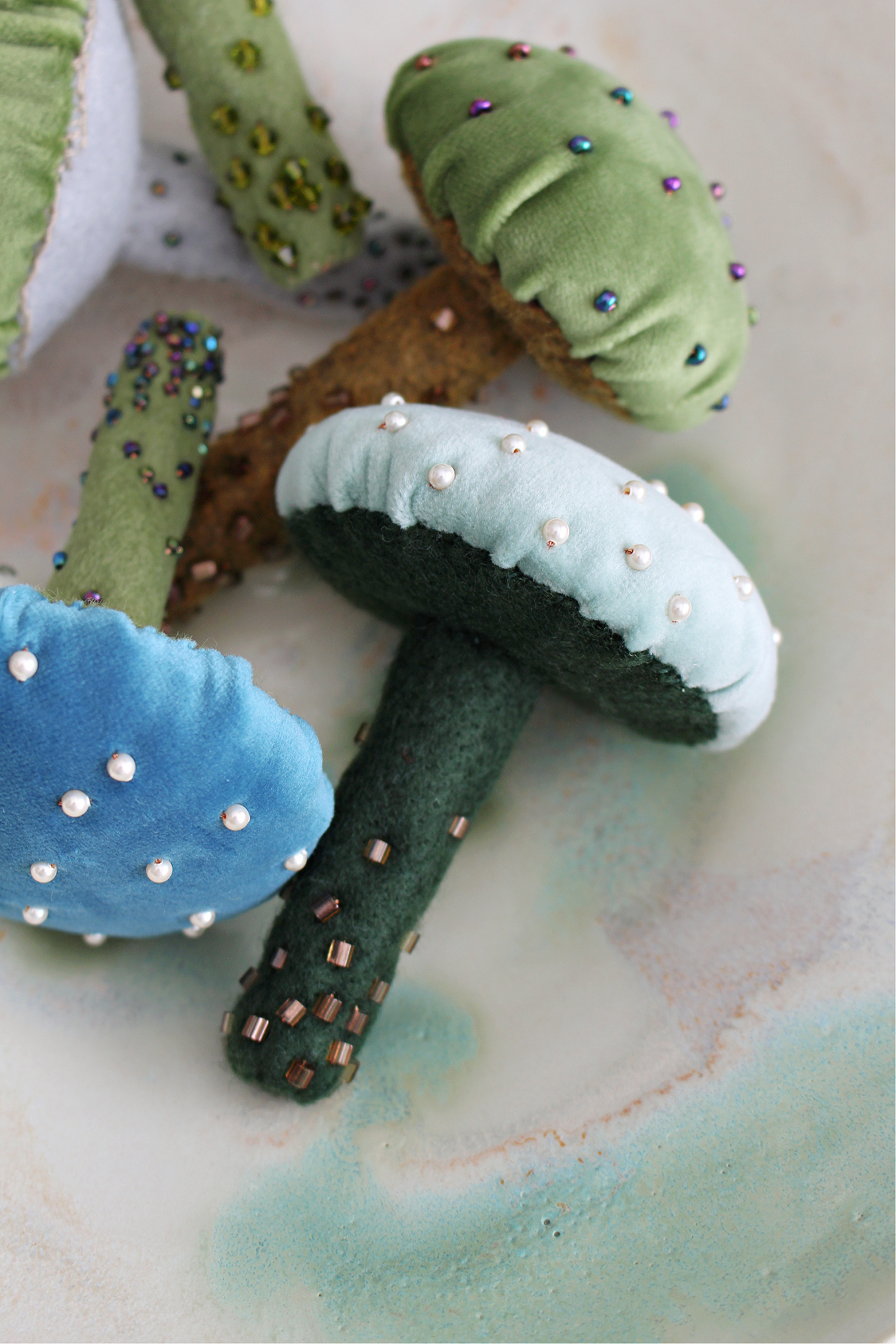 DIY Mushroom Christmas Ornaments
These three DIY velvet mushrooms are the ones I made specifically for my Christmas tree. I made them using leftover velvet scraps from the velvet throw pillows on my sofa, so not only did they coordinate with each other and my tree theme – they also coordinated with my living room decor! I had fun making each one unique, with different colored felt and beading. The one with the green faceted beads (top, pictured below) REALLY sparkled under the tree lights.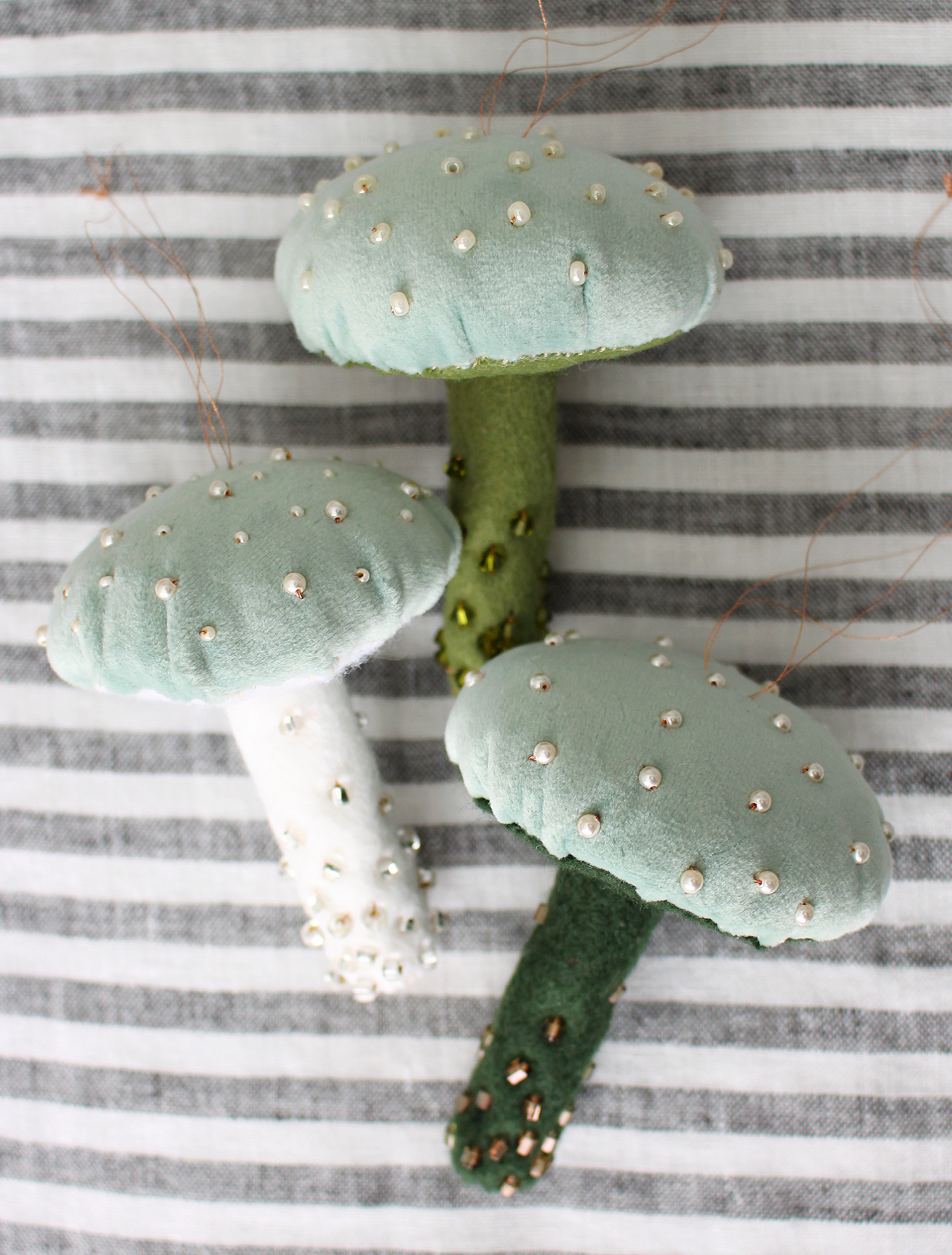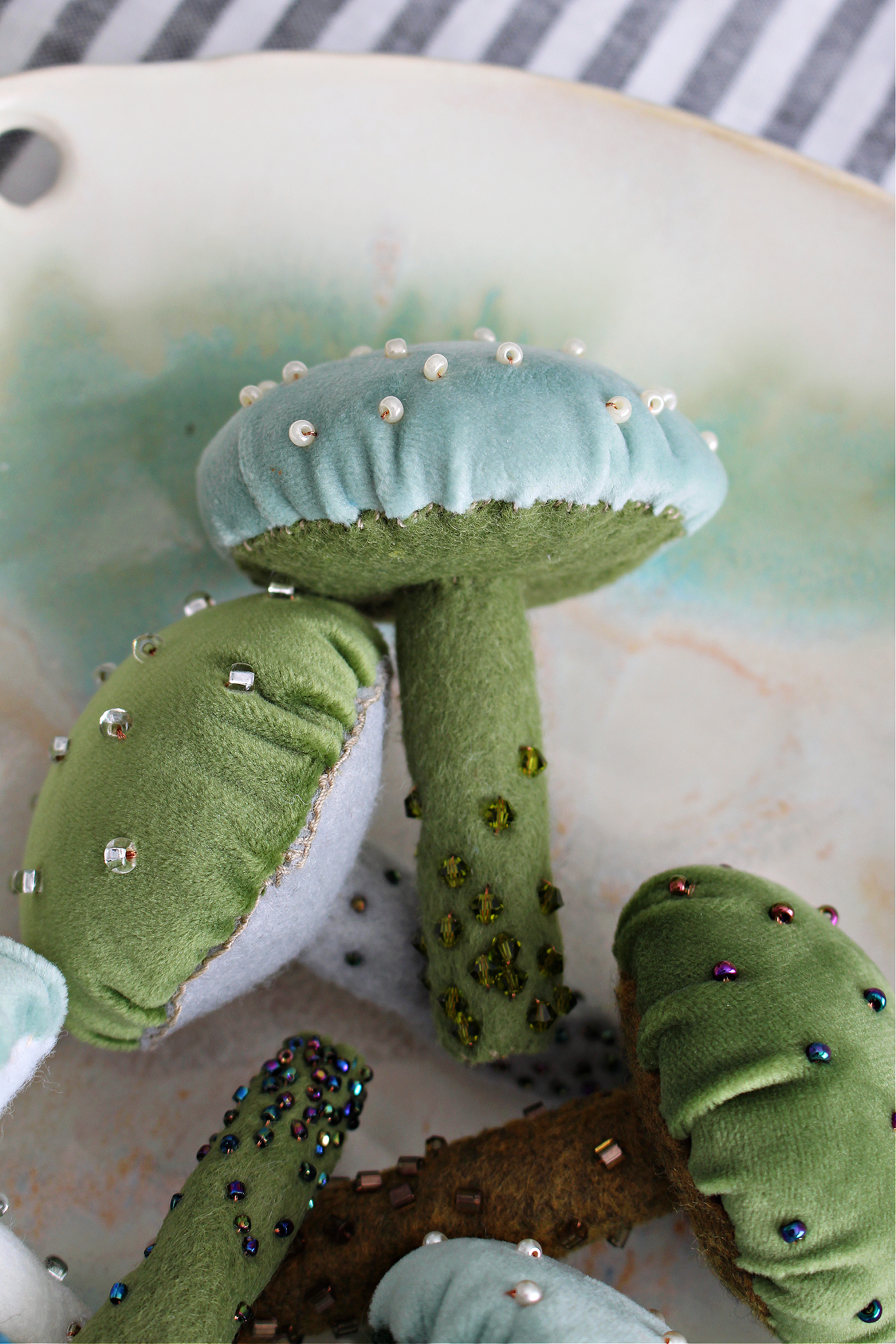 I hope you're feeling inspired to make your own DIY fabric mushrooms! Happy crafting.
P.S. Don't Forget to Pin for Later!