Back in 2020, Hubby and I built and charred raised DIY cold frame garden beds but we also built a simpler, matching raised garden bed for the raspberry bushes and today I wanted to share some photos and a brief step-by-step tutorial so you can learn how to build a raised garden bed! If you've never made one before, you'll see that it's really straightforward and easy to adapt to your own gardening needs and aesthetic! Below you can see my cold frames and also the simple raised bed around my raspberries: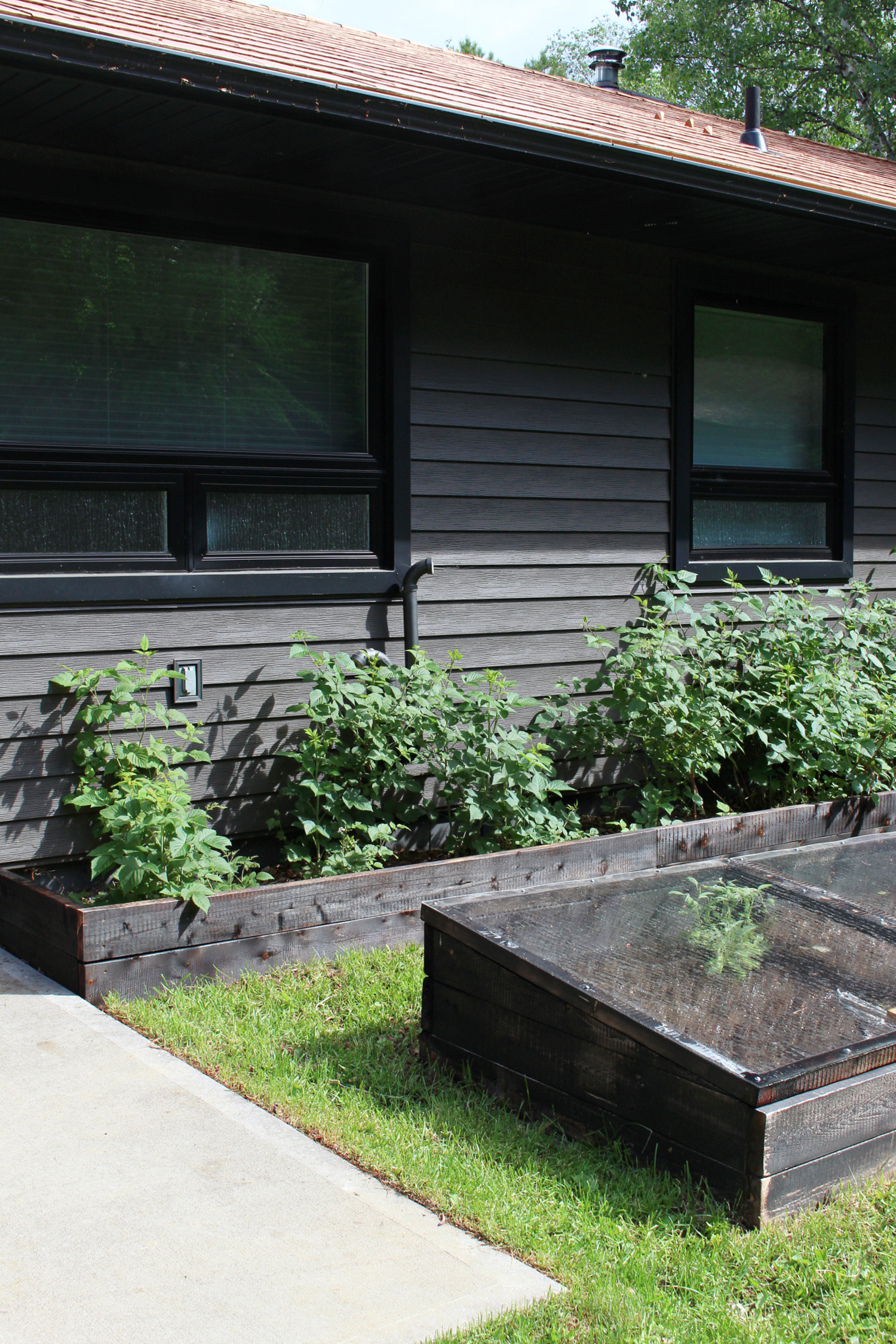 Supplies for DIY Raised Garden Beds:
Deck screws (they're more weather resistant)
Drill, drill bits and driver bit
Cedar 2×6's (we used rough sawn, you can use whatever wood in whatever size is available)
Miter Saw
Determining the Height of a Raised Garden Bed
For the DIY raised garden bed we built around the raspberry bushes, we built it two boards high – basically just to keep the dogs out of the raspberries. You can also built it one board high – or three or four boards high. Determining the ideal height for a raised bed depends partly on what height you'd like to work at when gardening and also how deep a soil bed you need for what you're growing. You can also choose a height for aesthetic purposes – or to keep certain animals, like puppers, out.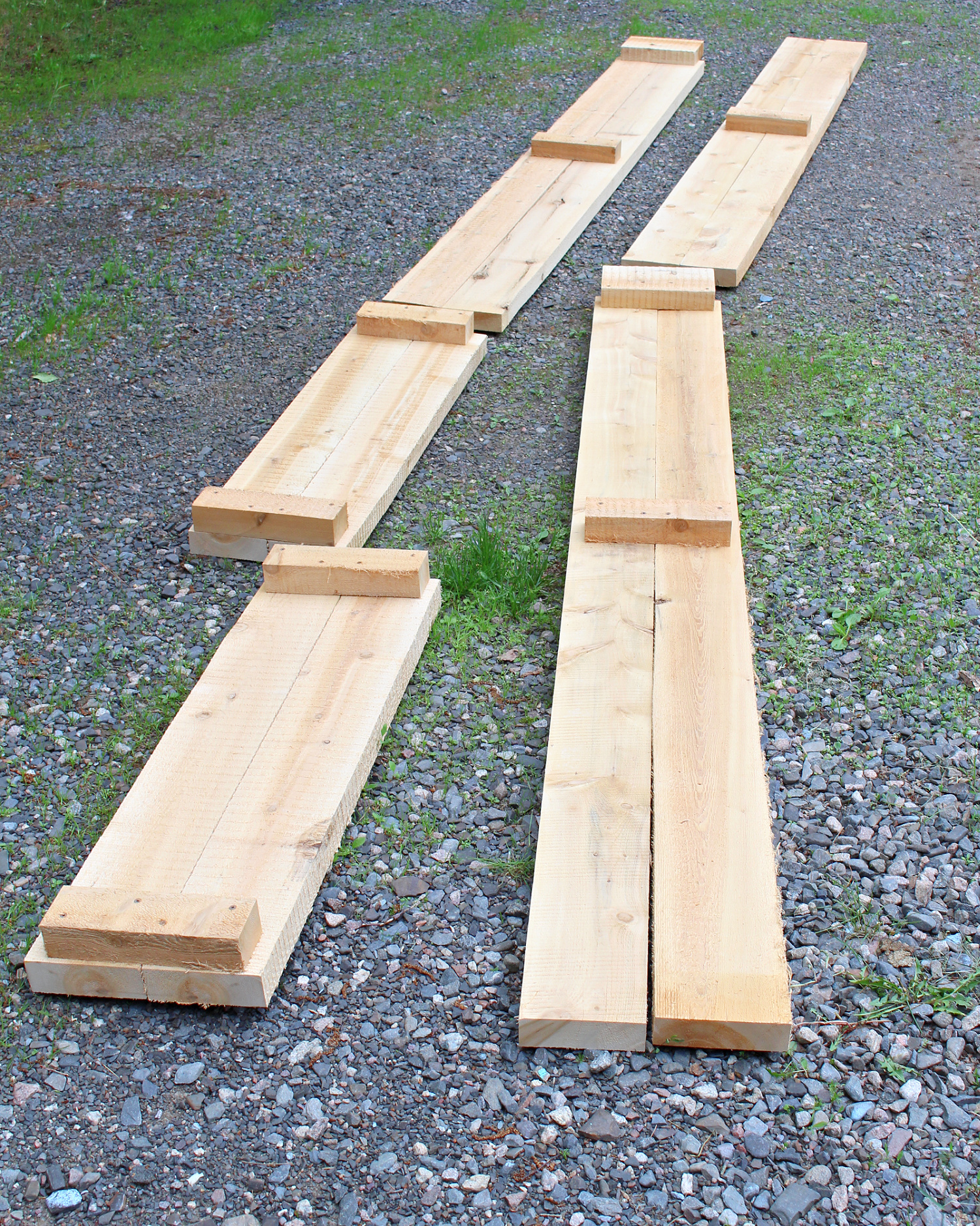 How to Build a Raised Garden Bed:
Measure the total length and width you'd like the finished garden bed
Cut any boards to length with a miter saw, if required (we used full length cedar boards for the front and only cut the side boards to length)
You will want to sand the wood before assembly, if required, but you can leave charring/sealing to the end
Cut smaller blocks of the same cedar wood, also with the miter saw, which will be used to join the planks together (see measurements below)
Screw the blocks of wood behind the planks to secure the planks together
Prepare the land, if required, with landscape cloth, etc
Assemble the pieces of the garden bed in their final position, screwing additional blocks in from behind if required
Measurements for Our DIY Raised Garden Beds:
For the corners, we cut the cedar wood to approximately 2″ x 2″ and the same length as the height of the garden beds. To secure the wood panels in between the ends, we cut 2″ x 2″ blocks of wood approximately 2″ shorter than the height of the finished bed. Because we made a really, really long bed, to hold the planks together at the ends, the wood blocks were cut to be approximately 4″ x 2″ and also 2″ shorter than the finished height. So, for our garden bed, which is 12″ tall, we cut wood 10″ tall to secure it from the back. This way the construction is hidden a bit from view, except in the corners where the wood holding the corners secure is flush with the height. You can see this in the photos below. You will also noticed that we built it in pieces, securing sections together by screwing the boards to the smaller pieces, and then assembled these sections in place.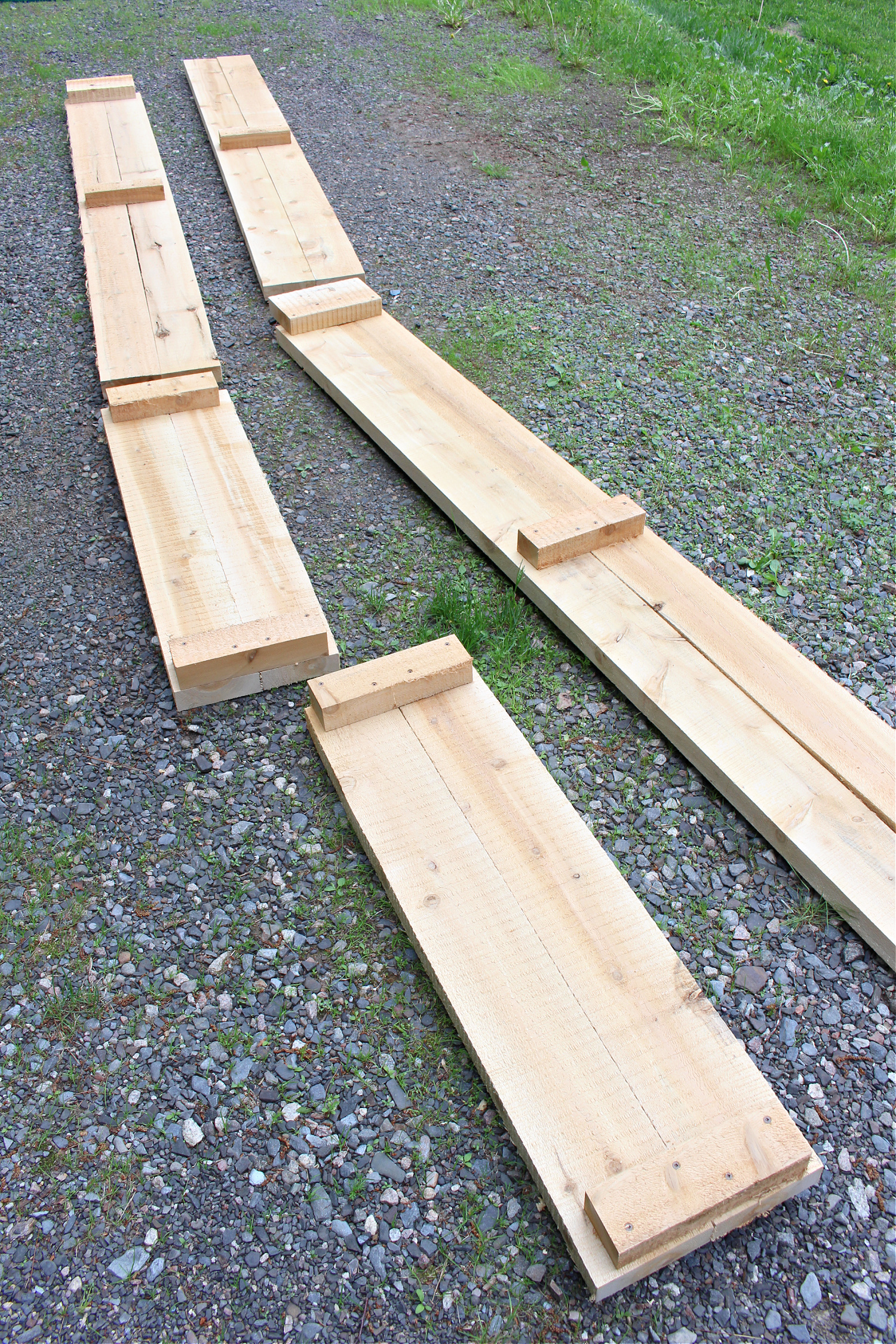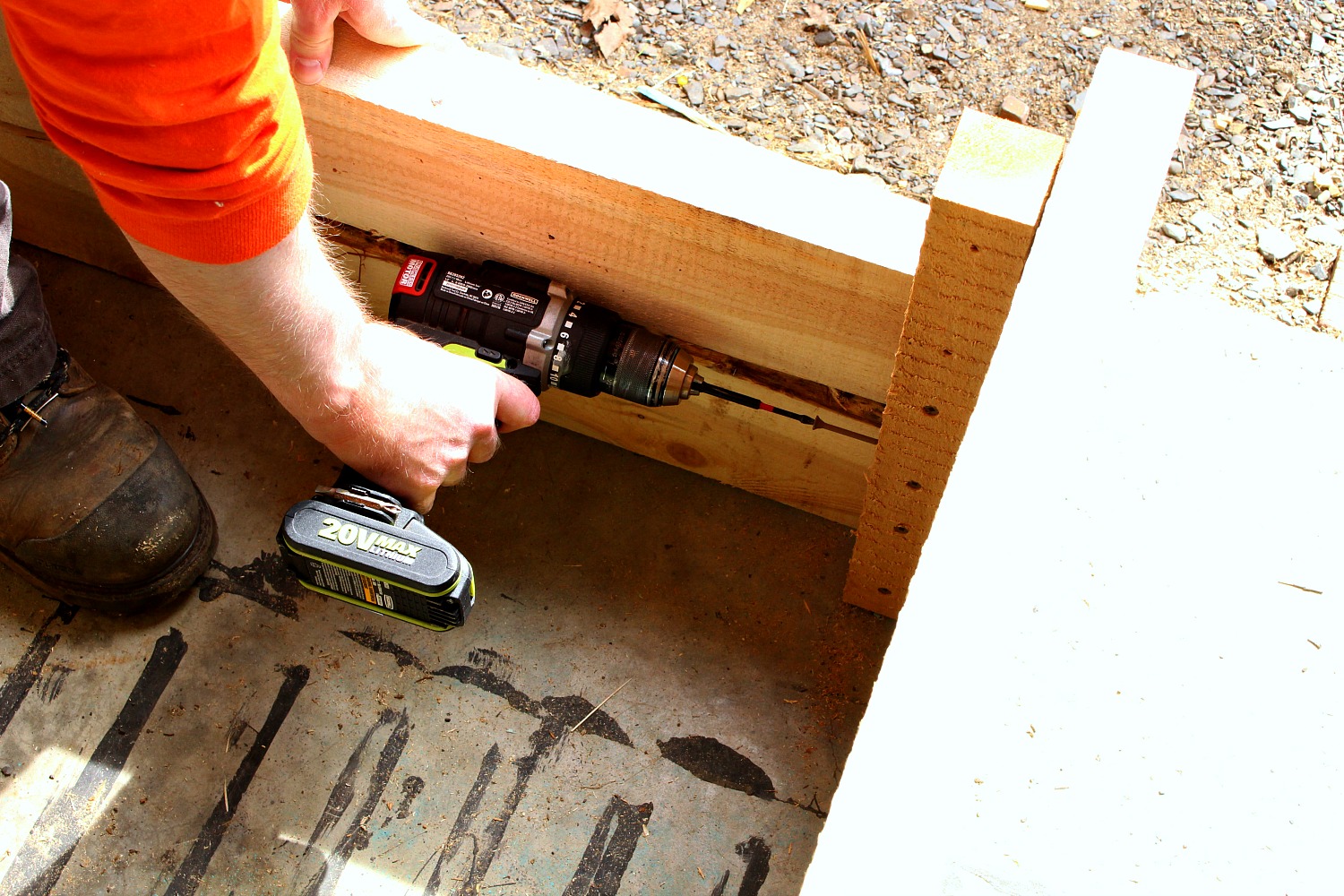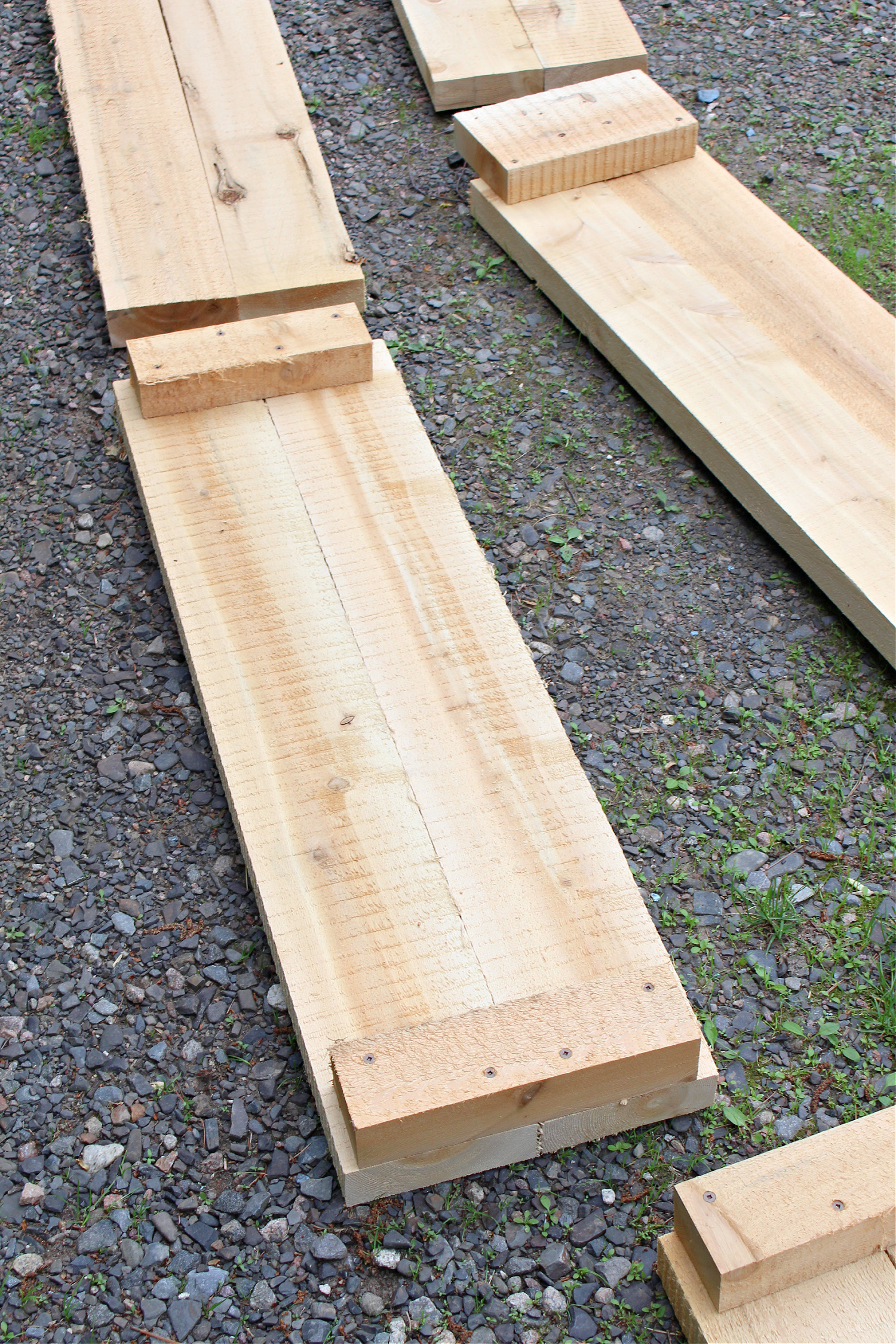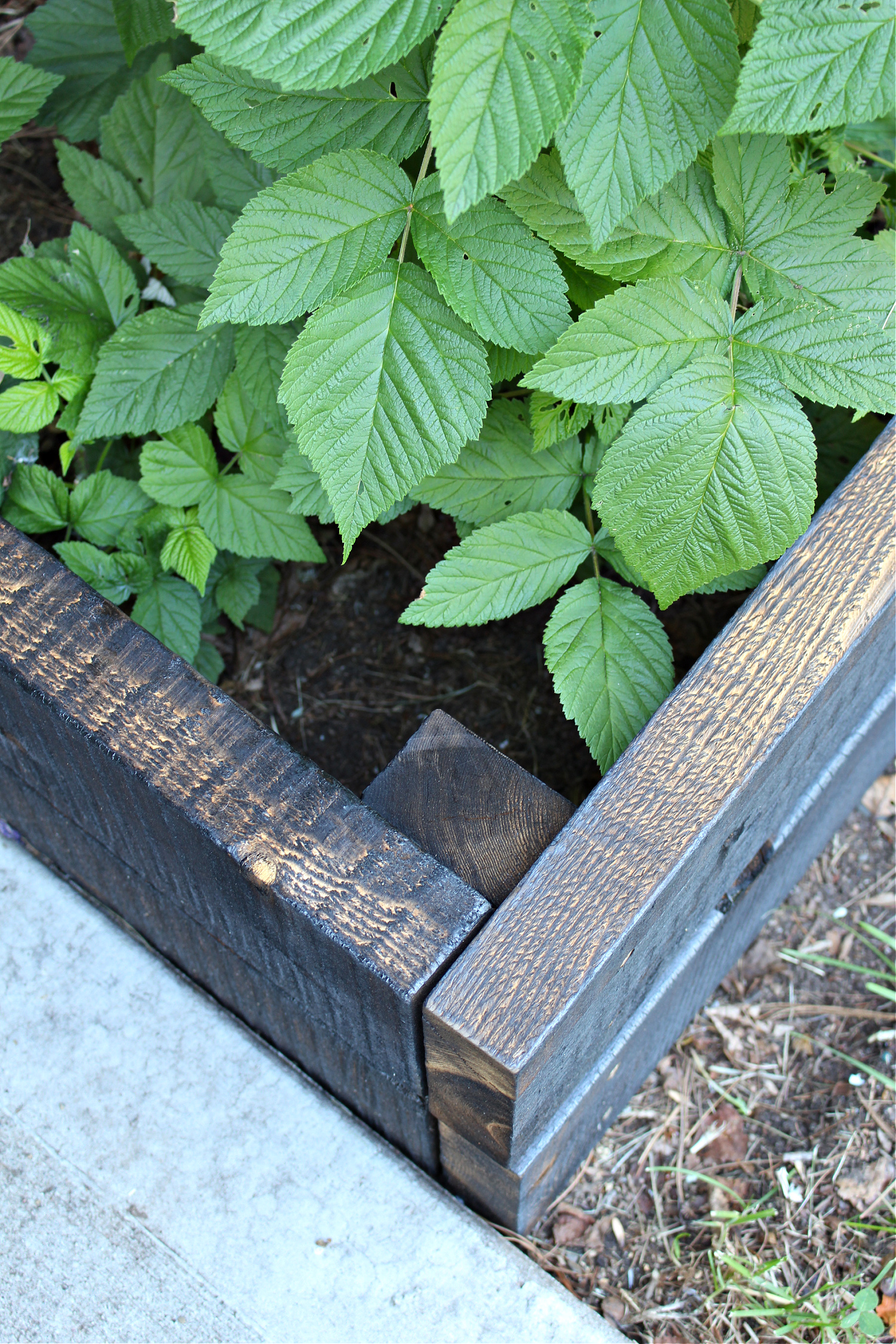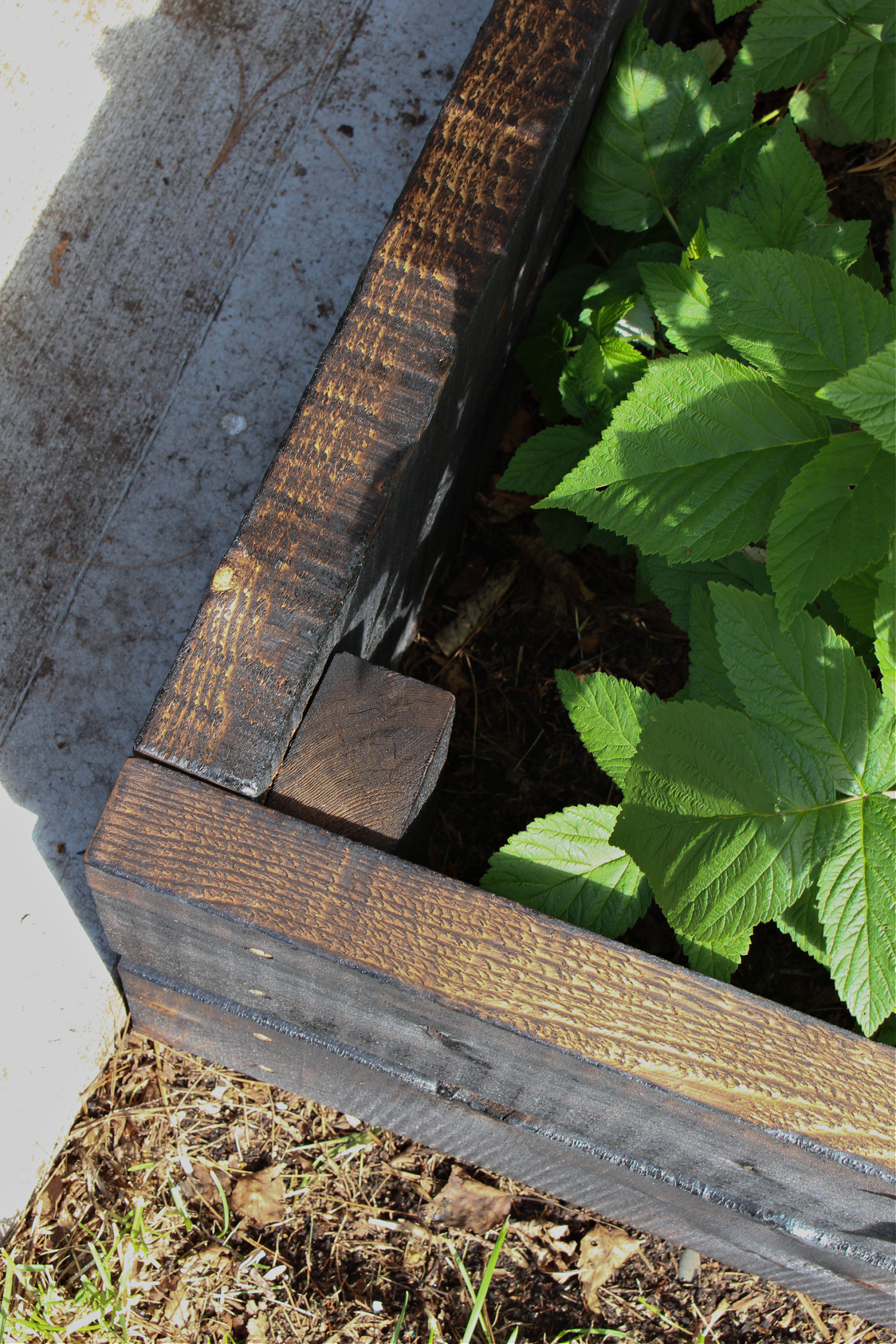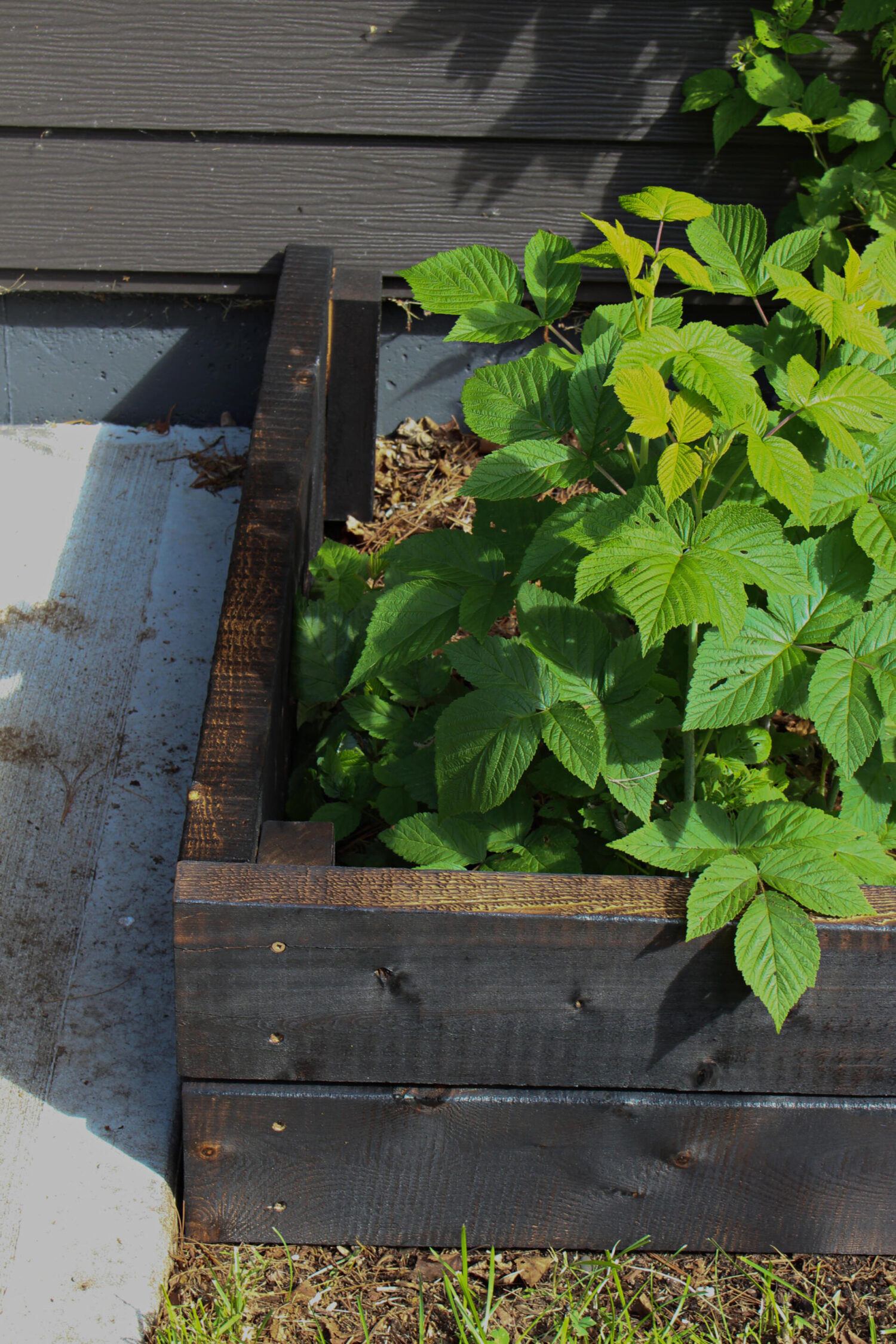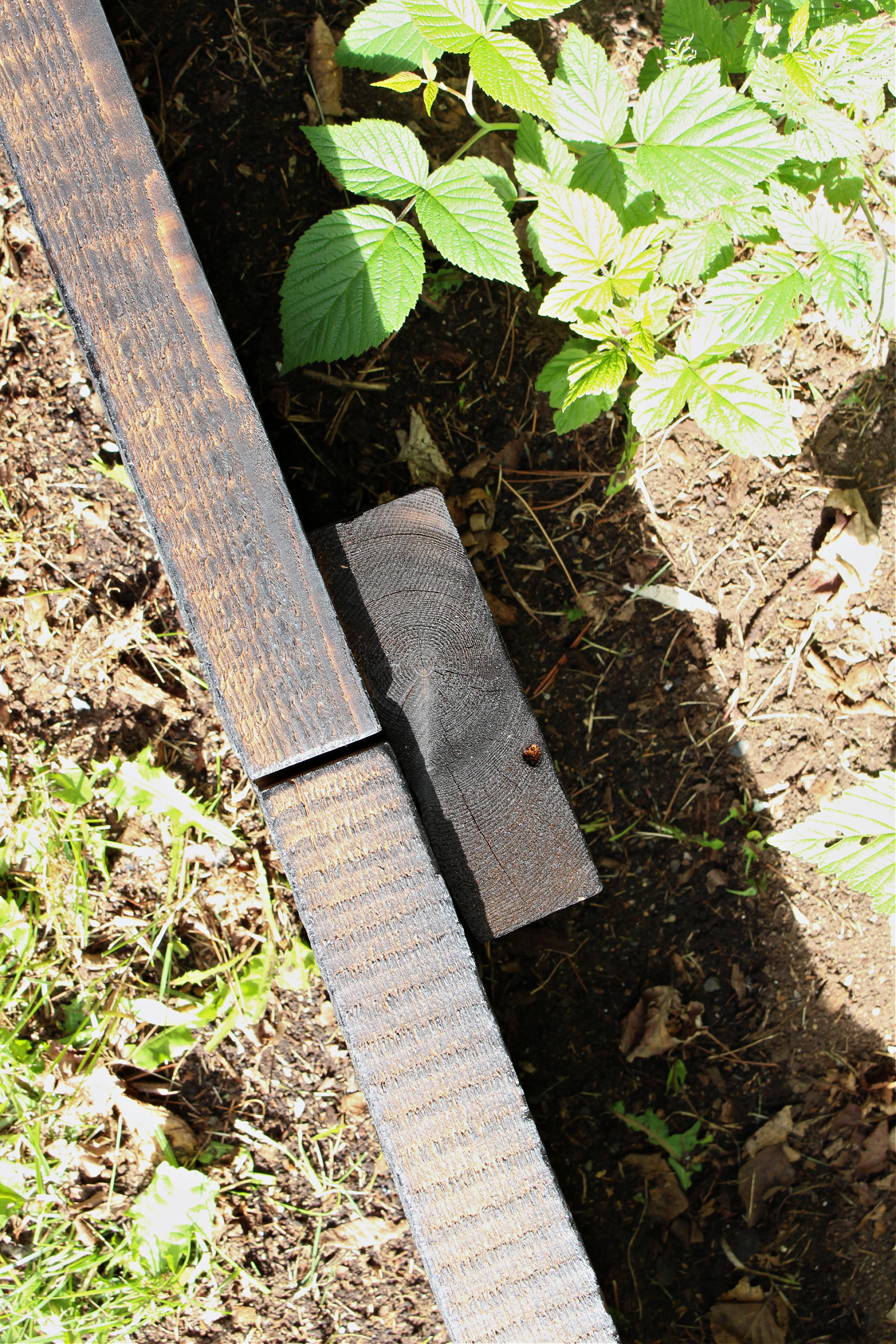 If you're making a smaller garden bed, more like the raised cold frames we made, you'll only need the 2″ x 2″ blocks. Basically, you can follow that tutorial as well – just omit the slanted boards for the top row and make the height the same, all the way around. As promised, the basic method for assembling a raised bed is easy, and highly adaptable. It's really this easy to build a DIY raised garden bed: you just need planks of wood, secured using durable deck screws, in the corners and middle (using leftover pieces of wood). We did a three sided raised garden bed in front of the raspberries, because it's against the house, but you can create one with four sides. Just secure it in each corner with wood, and then in the middle of each length of the garden bed.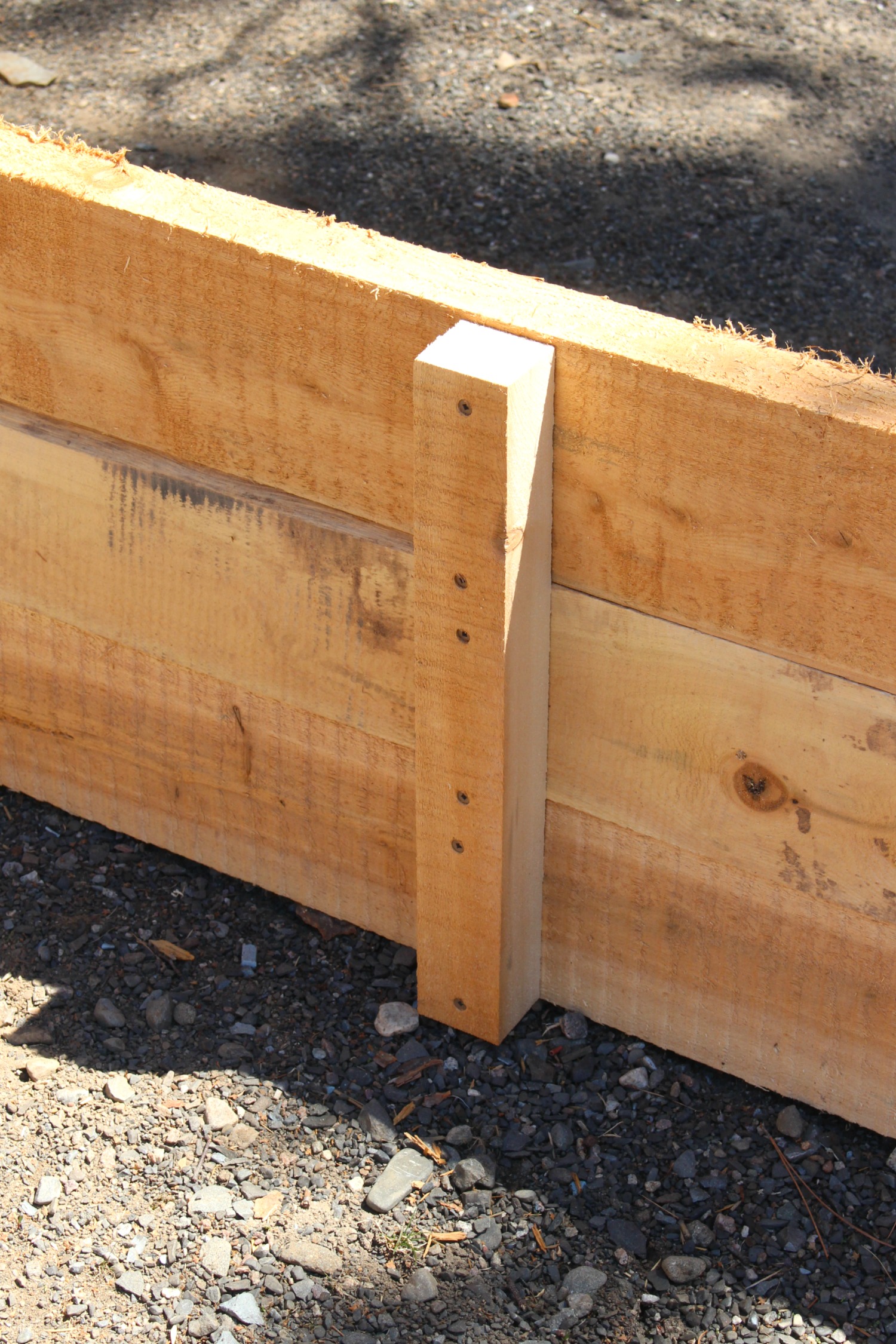 How to Prepare Land for a Raised Garden Bed:
To prepare the land for the cold frame garden beds, first we removed the sod and prepared for fresh soil. Underneath the soil you can use a variety of materials: I used landscaping cloth under my cold frames and then filled with topsoil, supplemented with manure and also a potting soil designed to help produce more growth in flowers and veggies. My soil here is not good for gardening, so a raised garden bed that I filled with fresh soil was a good option for me. Since the initial days of building our garden boxes, I've also added egg shells and my own "compost" from my FoodCycler to help enrich the soil further. There are other options for filling a garden bed, but this is what has worked for me. For the raspberry bushes, we really just used the garden bed as a fence to keep the dogs out, and keep everything contained and tidy, so other than just adding compost to the existing soil, I haven't done anything special there.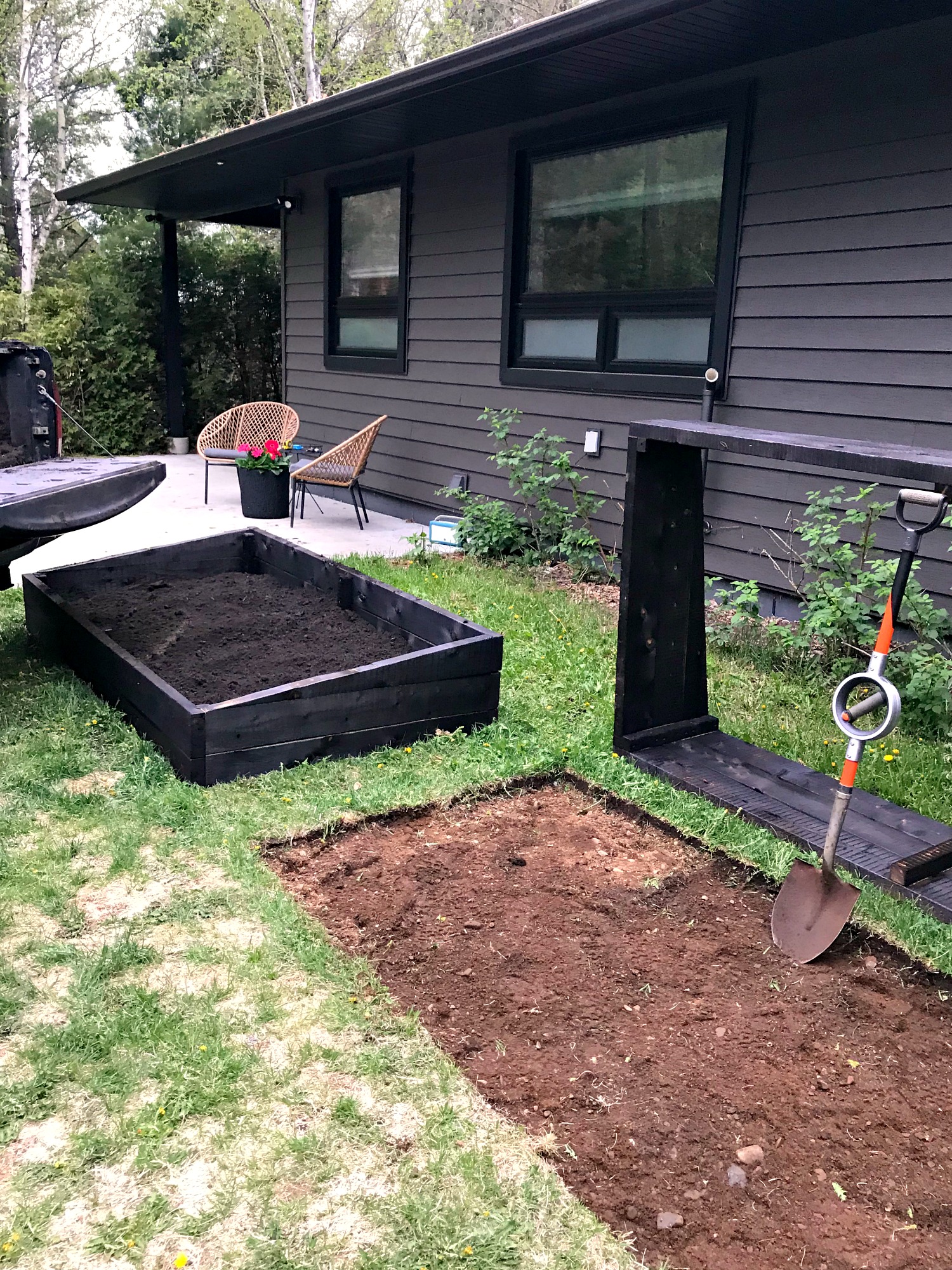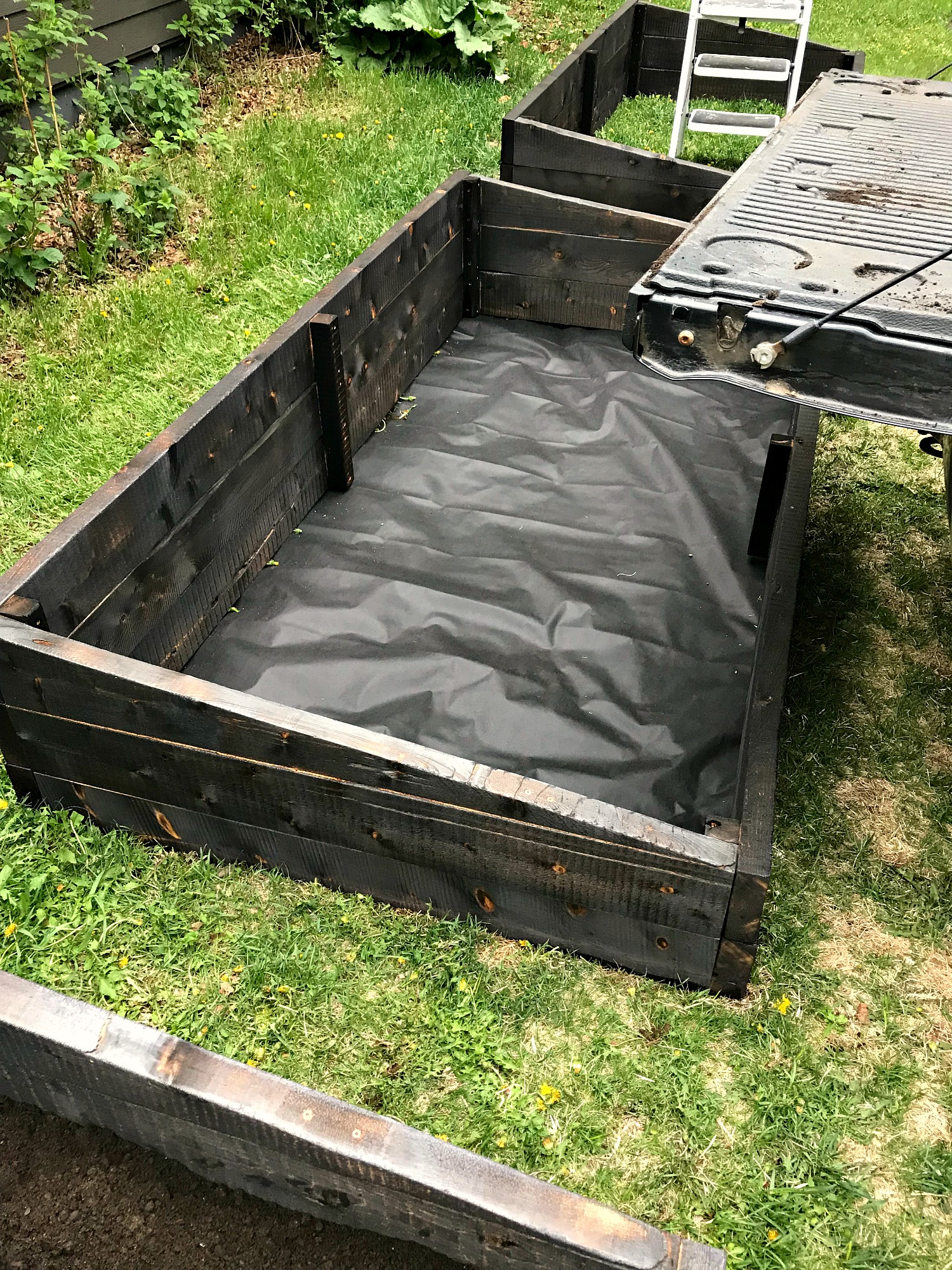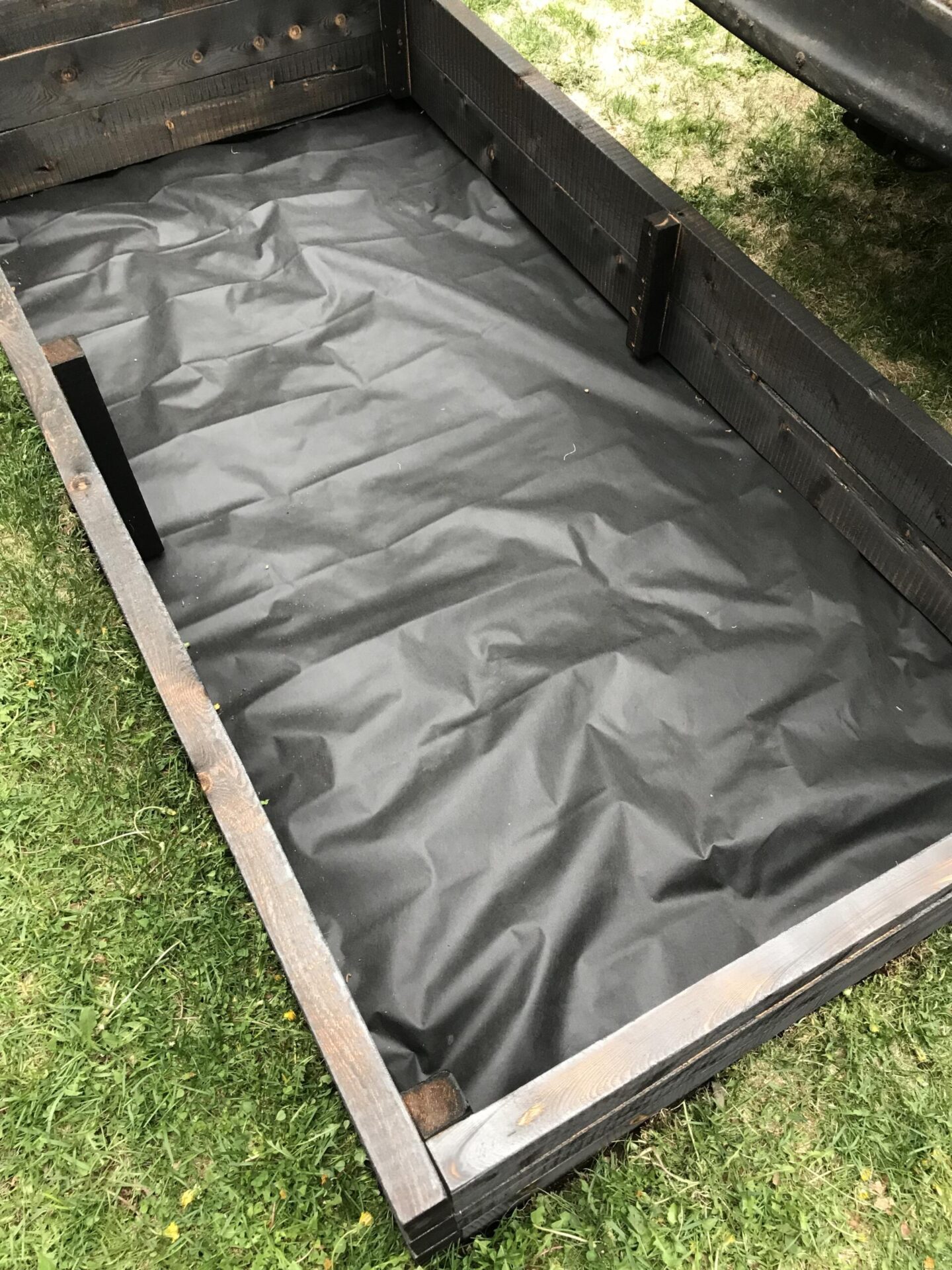 How to Finish Raised Garden Beds:
I charred my DIY garden beds for the final step, as you can see (find the tutorial here – along with what I used to seal the beds), but you can also find many food safe finishes design for raised garden beds, like this, to help the wood last longer. We bought very rough lumber, so charring was a fun and fast way to smooth that out – I really hate sanding, lol.
And that's how to build a raised garden bed! This will be my fourth year vegetable gardening (you can read about my first year's experiences here) and I'm excited about it because I have a better handle on it now – even though I am no green thumb. But I have found some gardening themed crafts to get me more enthused – once you make your own DIY garden boxes, try making these modern and waterproof DIY garden markers!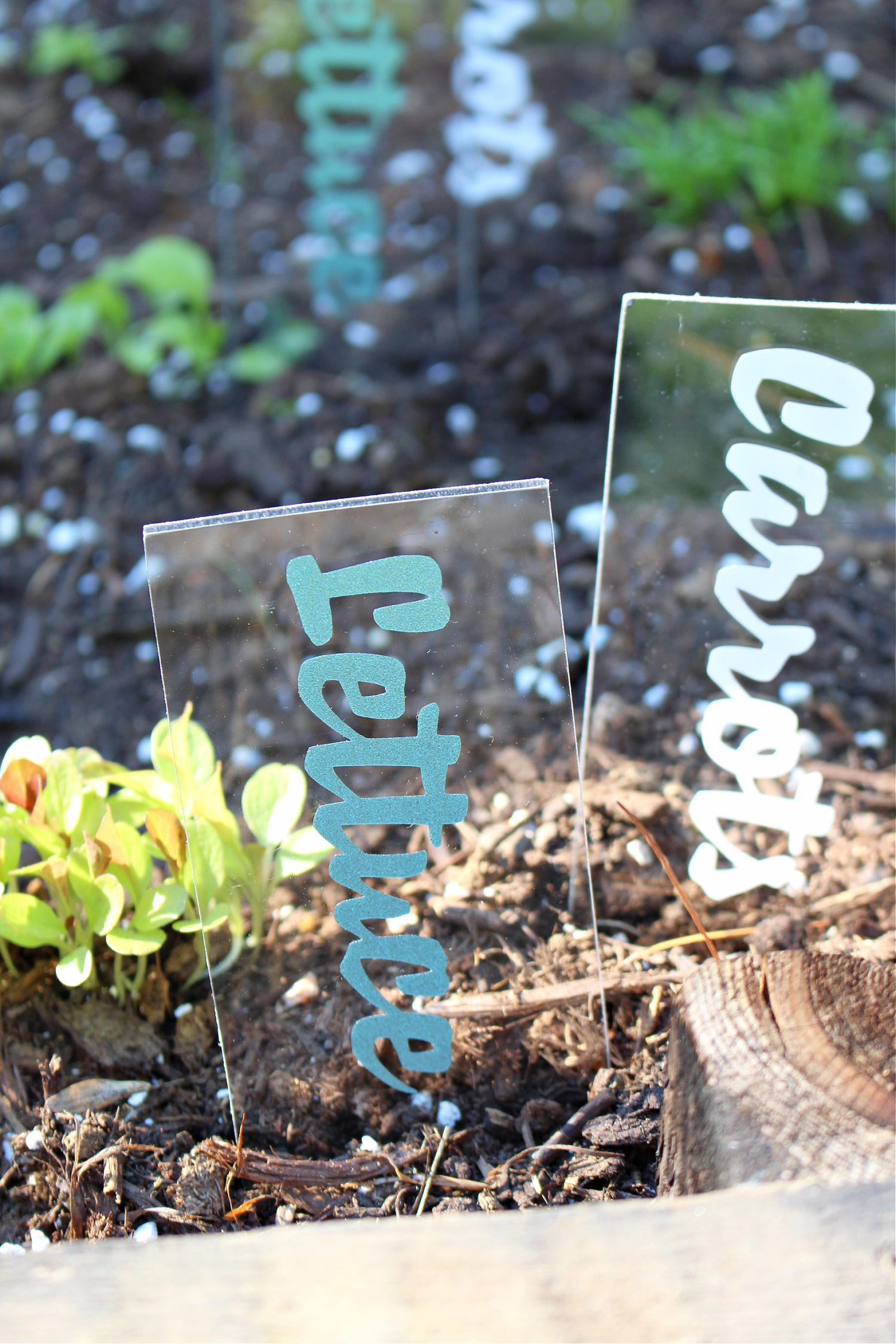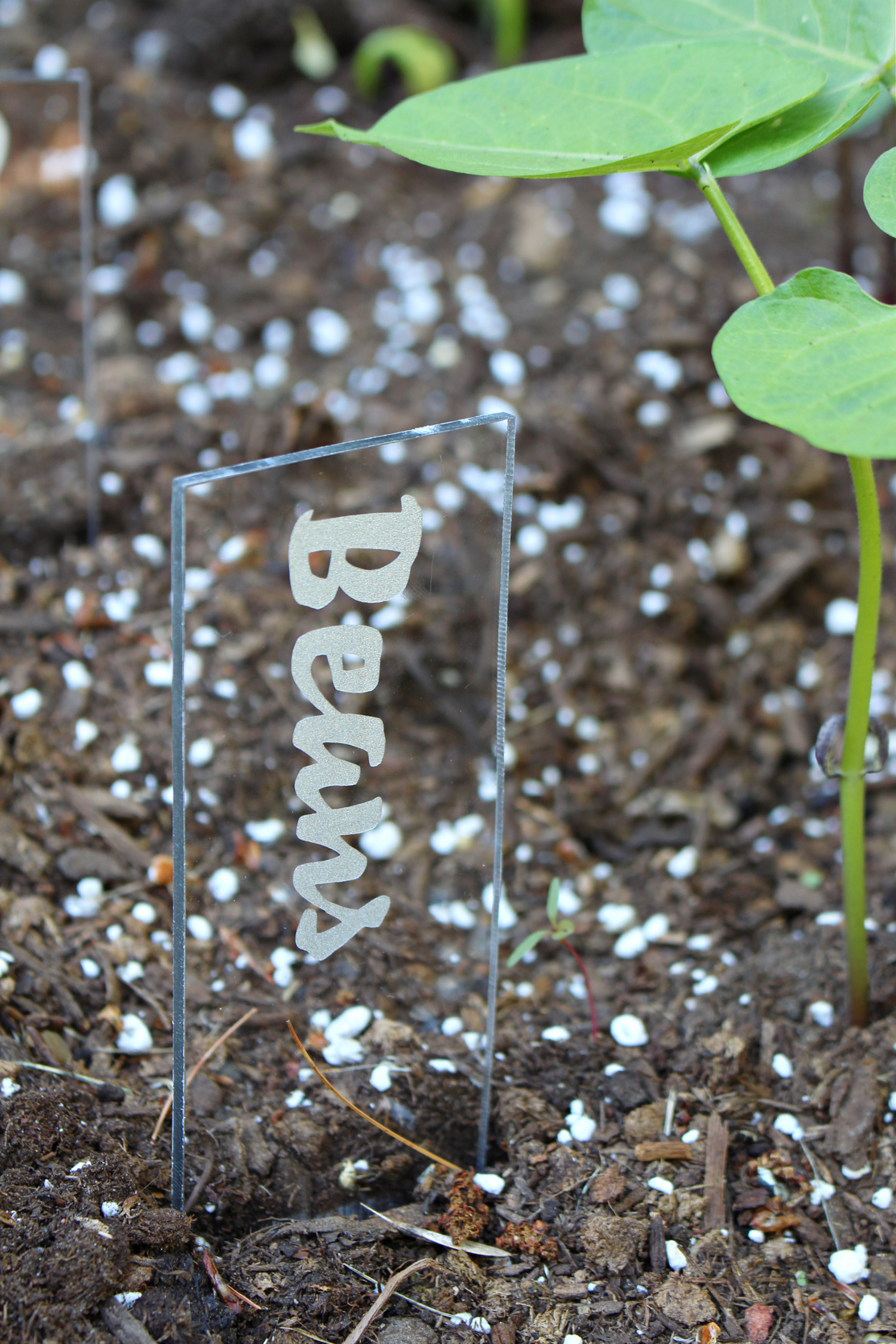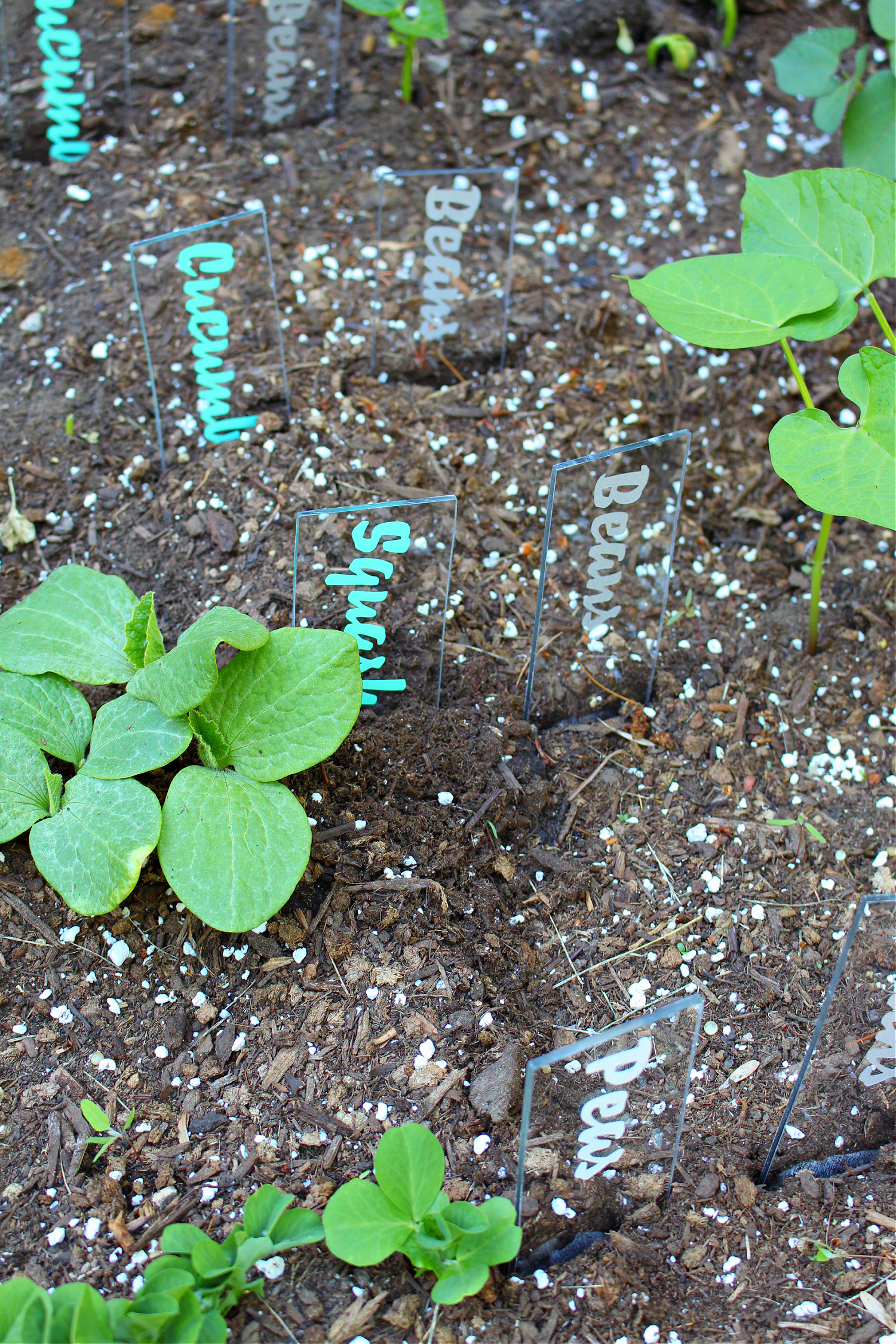 P.S. Don't Forget to Pin for Later: