I can't resist pretty, vintage table linens at thrift stores and yard sales, but this one had been sitting in a closet for too long – so my Mom and I turned it into a blend between a DIY egg apron and a DIY harvest apron for gardeners. We used the matching napkins as oversized pockets and they're perfect for egg collecting or gathering a few things from the garden boxes. This is such a cute upcycling idea for old linens – and because a lot of the sewing is already done, this is also a great sewing project for beginners.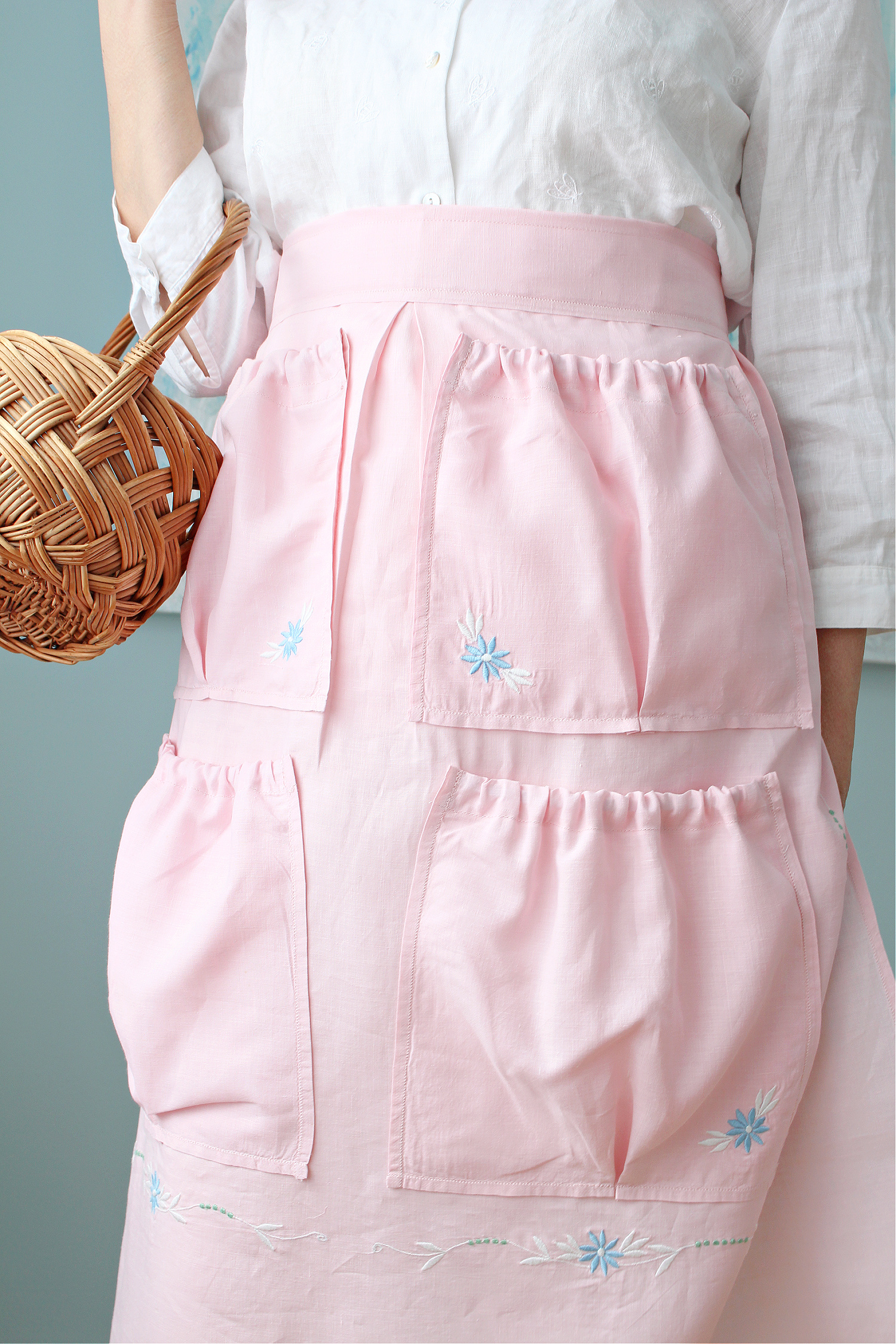 DIY Egg Gathering Apron Supplies:
Vintage table cloth with napkins
Scrap fabric for waistband (optional)
Thread
Sewing machine
Notes on Supplies: If you don't have vintage linens to make over, you can simply cut fabric – any sturdy cotton or linen will work. My apron is approximately 27″ long and 31″ wide, so you could cut a rectangle about that size, leaving some extra for hemming. (But I've made mine pretty long – you could do a much shorter apron as well). Then simply hem the sides and bottom of your fabric before following the rest of this tutorial. For pockets, you can cut squares approximately 9″ by 9″ to replicate my apron, or cut smaller pockets to hold individual eggs – or one large pocket for collecting garden veggies and greens. To make pockets from fabric, sew the edges under, then sew a channel for elastic. Roughly position with a pleat and stitch onto the apron. Returning to the tutorial that follows, you can then sew a waistband in a contrasting or matching fabric, or simply fold under and sew the top as well and then stitch on some ribbon. There are many possibilities to use what you have for material. And the best part about this, is that you can make a DIY apron that fits your body and needs perfectly!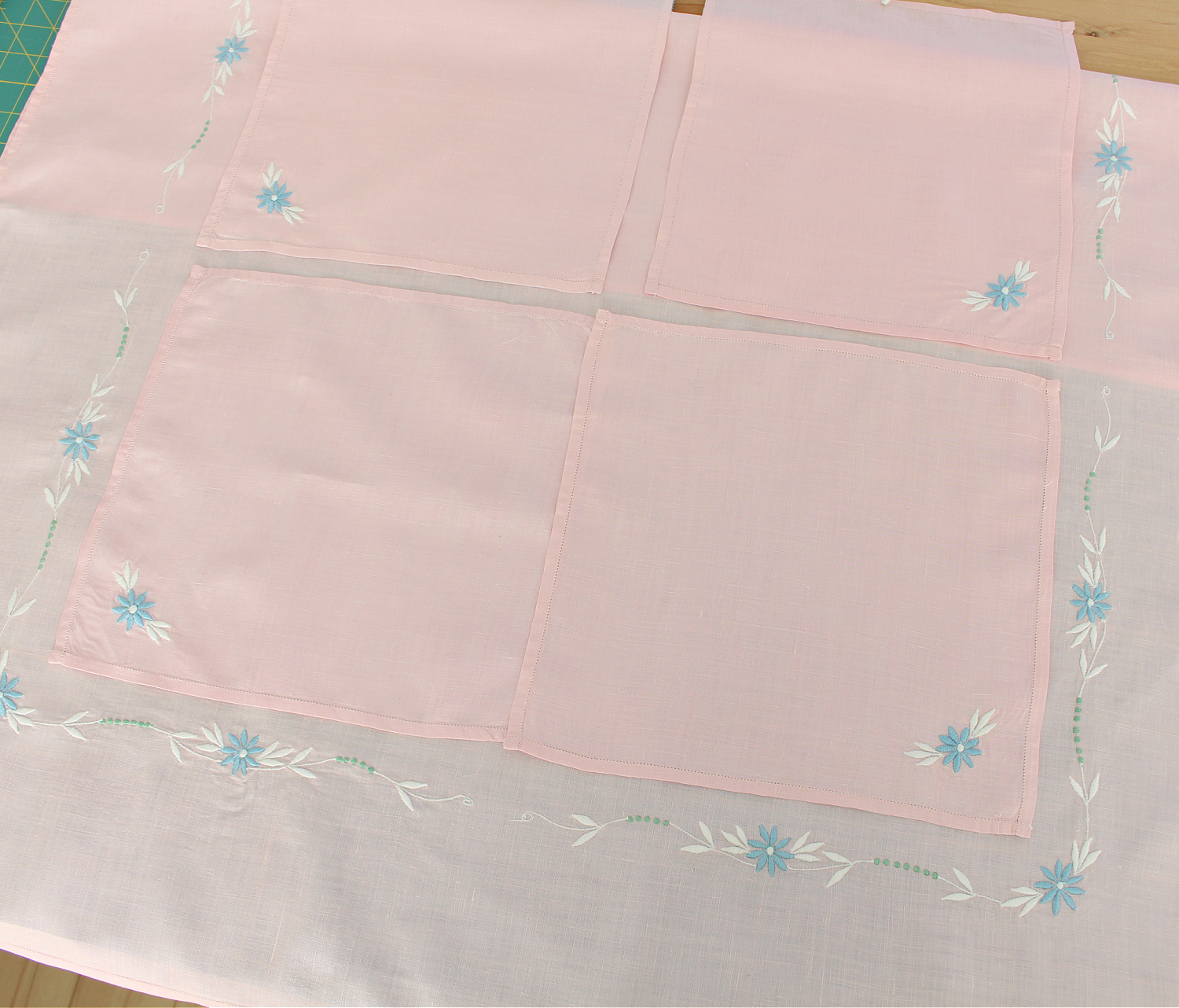 How Do You Make an Egg Apron?
Launder, dry and iron your vintage linens.
Decide what size you'd like your apron.
Cut the fabric accordingly (leaving as many finished edges as possible).
Place the napkins on the tablecloth to determine number and spacing of pockets.
Sew a channel at the top of each napkin to house an elastic.
Stitch the ends of the channel closed, securing the elastic.
Trim excess elastic.
Stitch a small pleat (or two or three) along the bottom of each napkin.
Pin the pockets in place and try on the apron to ensure the placement is convenient.
Using a running stitch, stitch along the sides and bottom of the napkins.
Sew a few pleats along the top of the apron, to help the apron sit nicely (optional).
Cut a rectangle of fabric for the waistband and fold it in half.
Stitch the bottom edge, of the back of the waistband, to the top of the apron (see photos below).
Insert apron ties into the ends of the waistband.
Then fold over the waistband and stitch the bottom of the front of the waistband to the top of the apron (see photos below).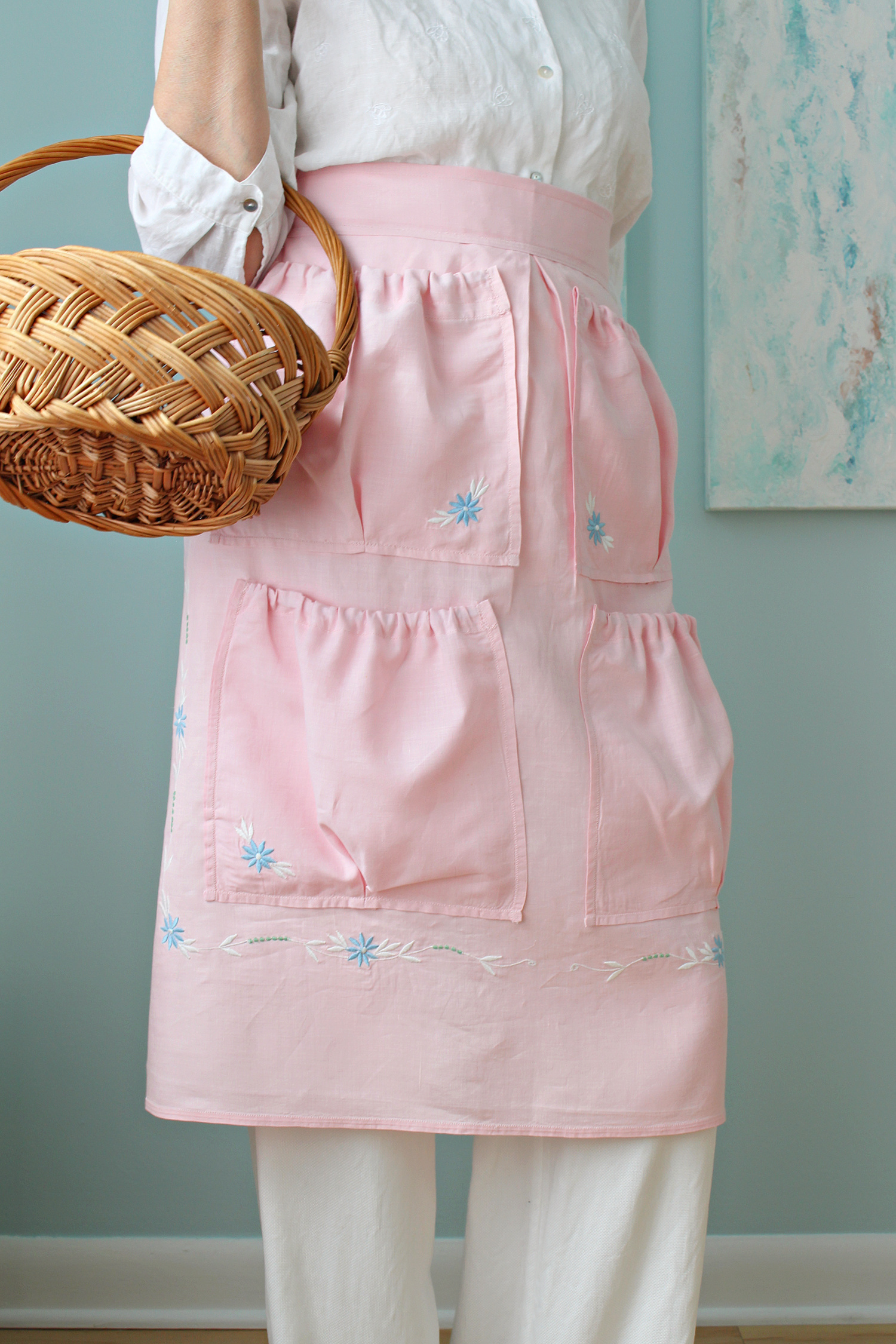 How to Sew a DIY Egg Apron Detailed Tutorial:
Whether you're upcycling linens or working from fabric from the bolt, first figure out how wide and long you'd like your apron. Position everything on the fabric – especially if you're using vintage napkins as pockets, because, as you can see below, the napkins are all different sizes. Once we realized this, it took a little time to figure out a nice placement. To get the widths to match up (without having to cut and re-hem anything) we ended up flipping some of the napkins a different direction.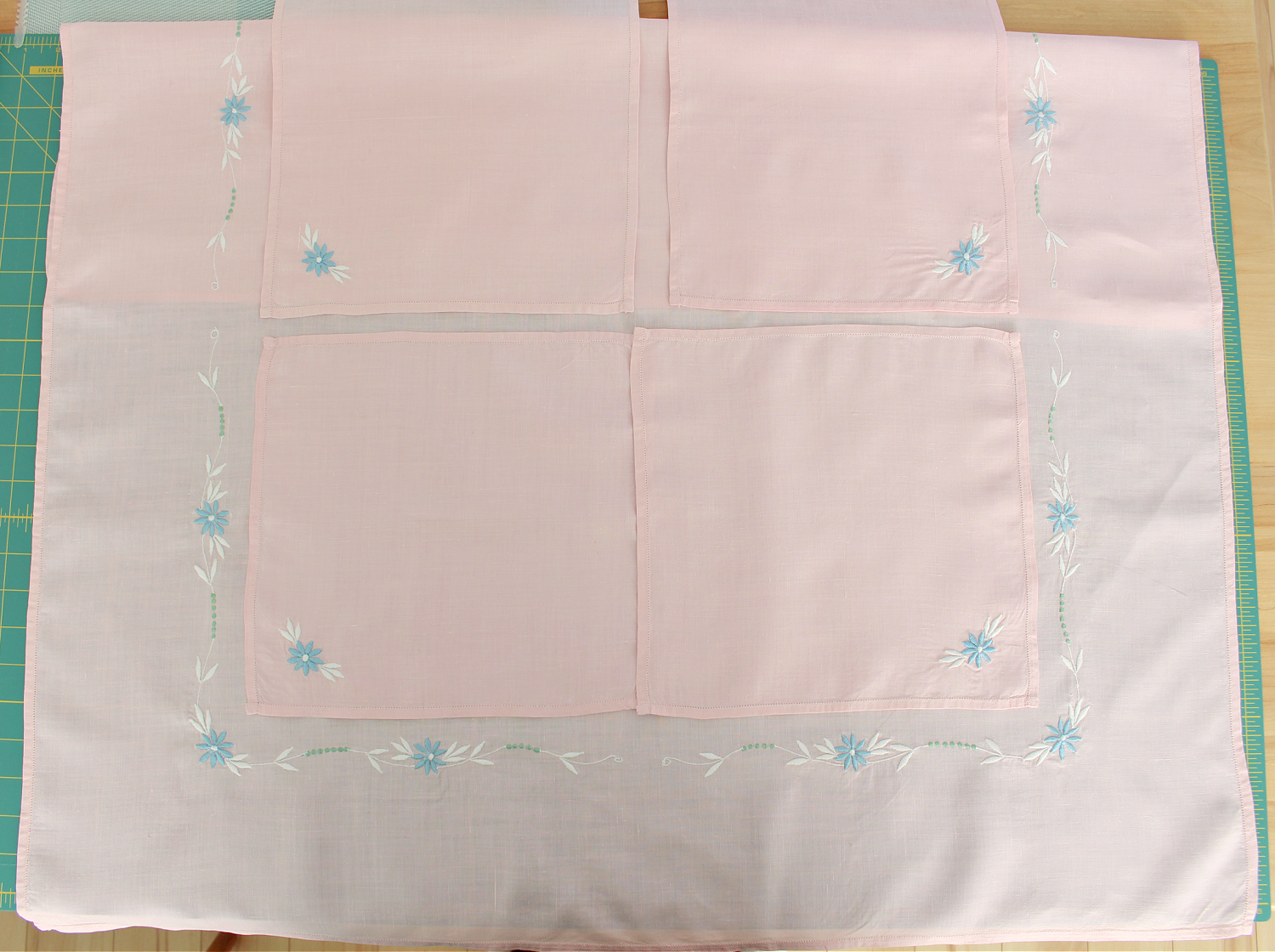 Sew a channel across the top of each napkin pocket for a piece of elastic. I didn't want the pockets to be tight and flat – and squash my eggs or make it hard to reach inside – so the pockets have a little roominess, thanks to a pleat at the bottom. An elastic at the top keeps things from falling out.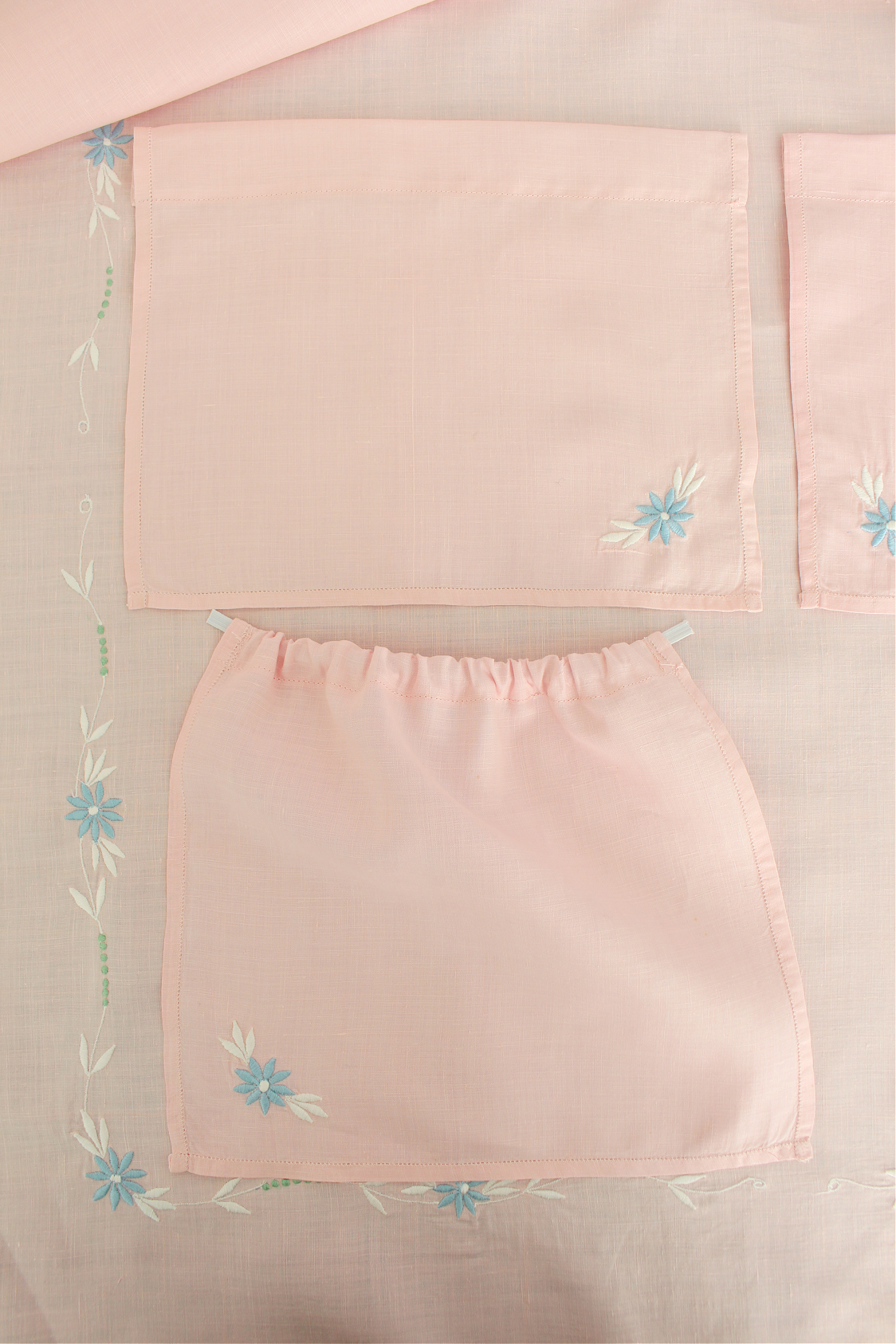 Repeat sewing a channel along the top of all pockets, and then thread through a piece of elastic before stitching closed the channels to secure the elastic. Trim the excess elastic.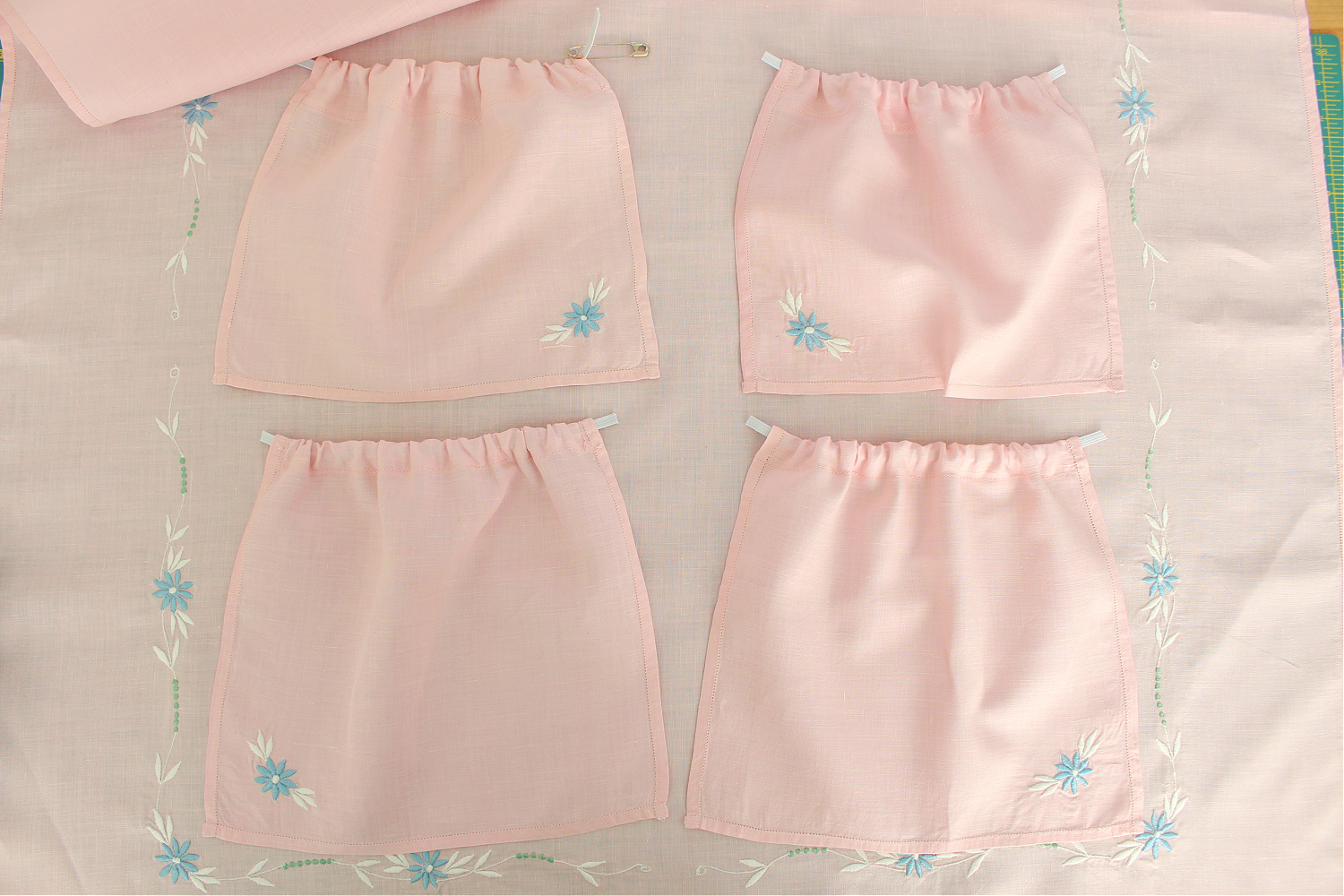 Next add a simple pleat, stitched into the bottom of each pocket before they are sewn onto the apron. And YES. I know what it looks like. You can invert the pleat or maybe don't use this shade of pink… or maybe just stop having such a dirty mind, lol.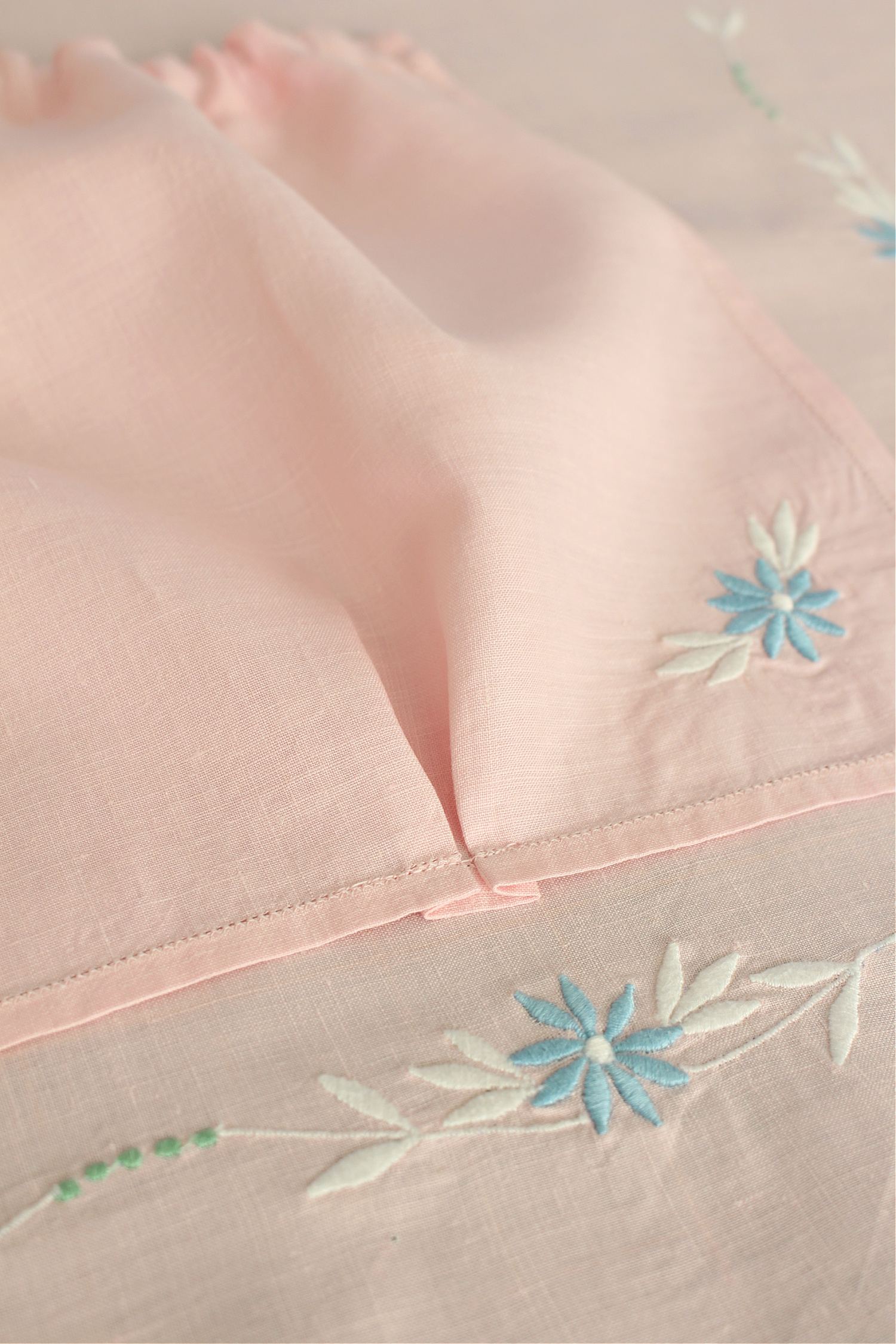 Once all four pockets have a little pleat stitched to the bottom and an elastic sewn into the top, pin each pocket onto the base of the apron. Using a sewing machine, or hand stitching, sew on the bottom and sides of each pocket.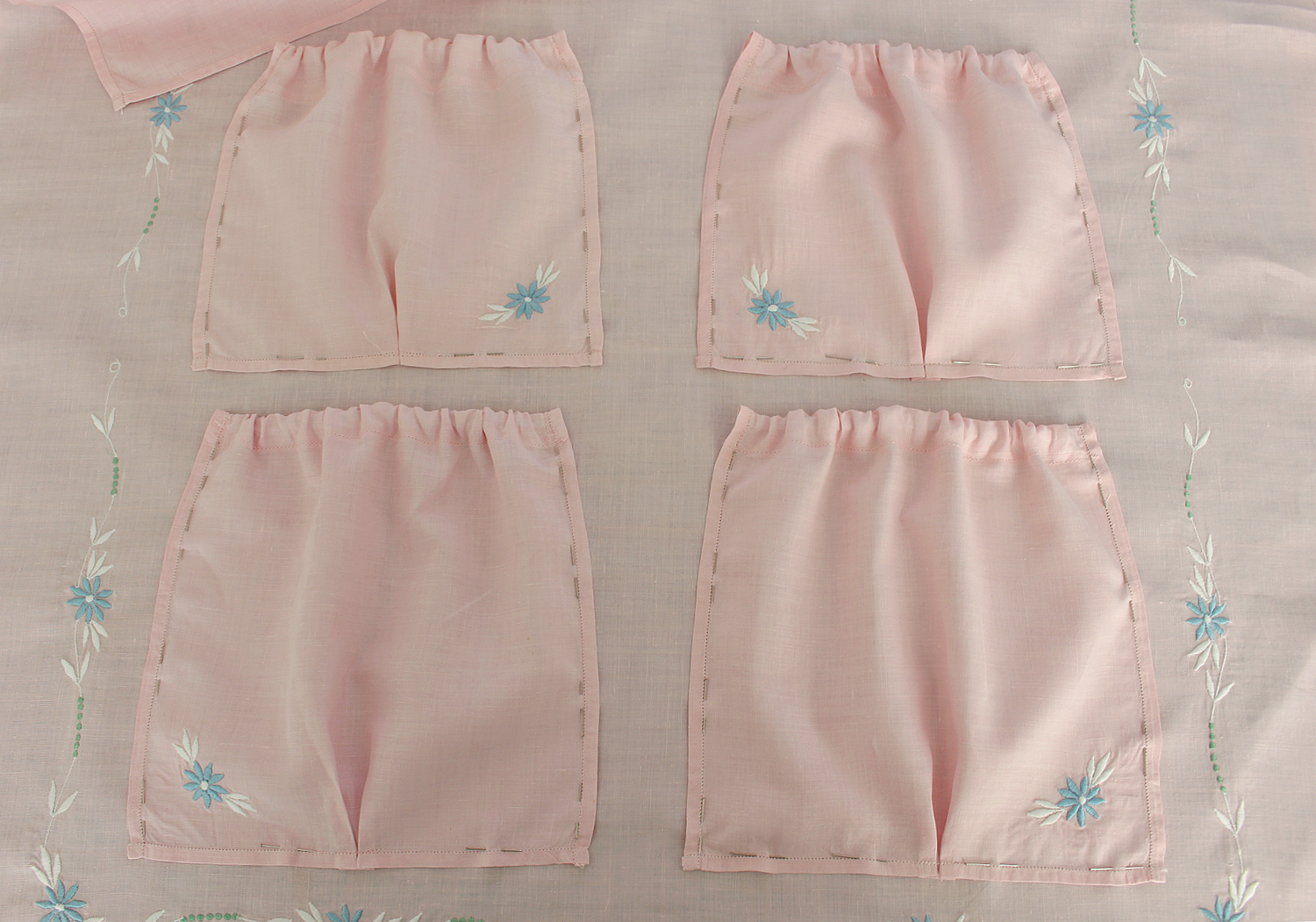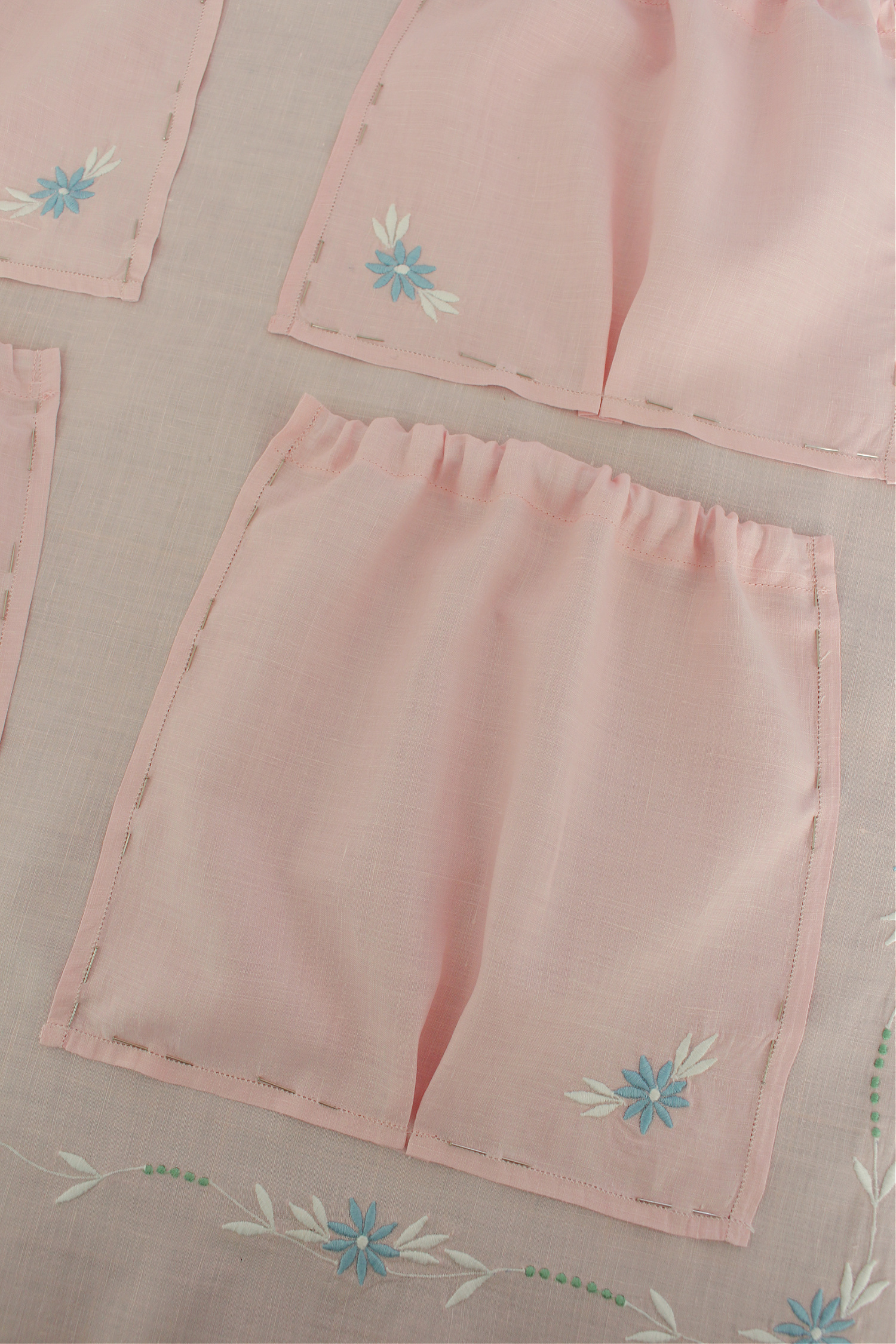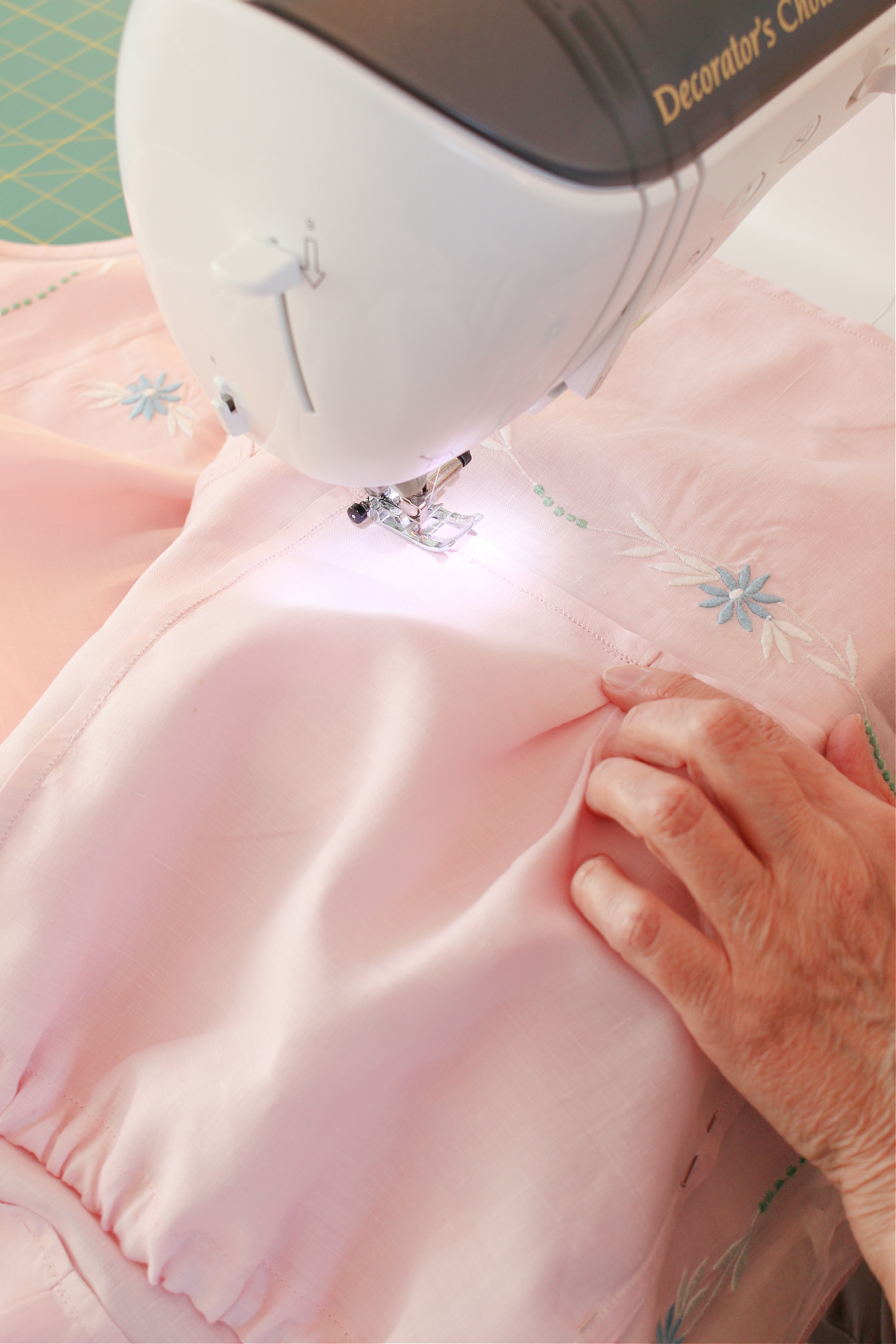 Now your DIY egg apron will look something like this: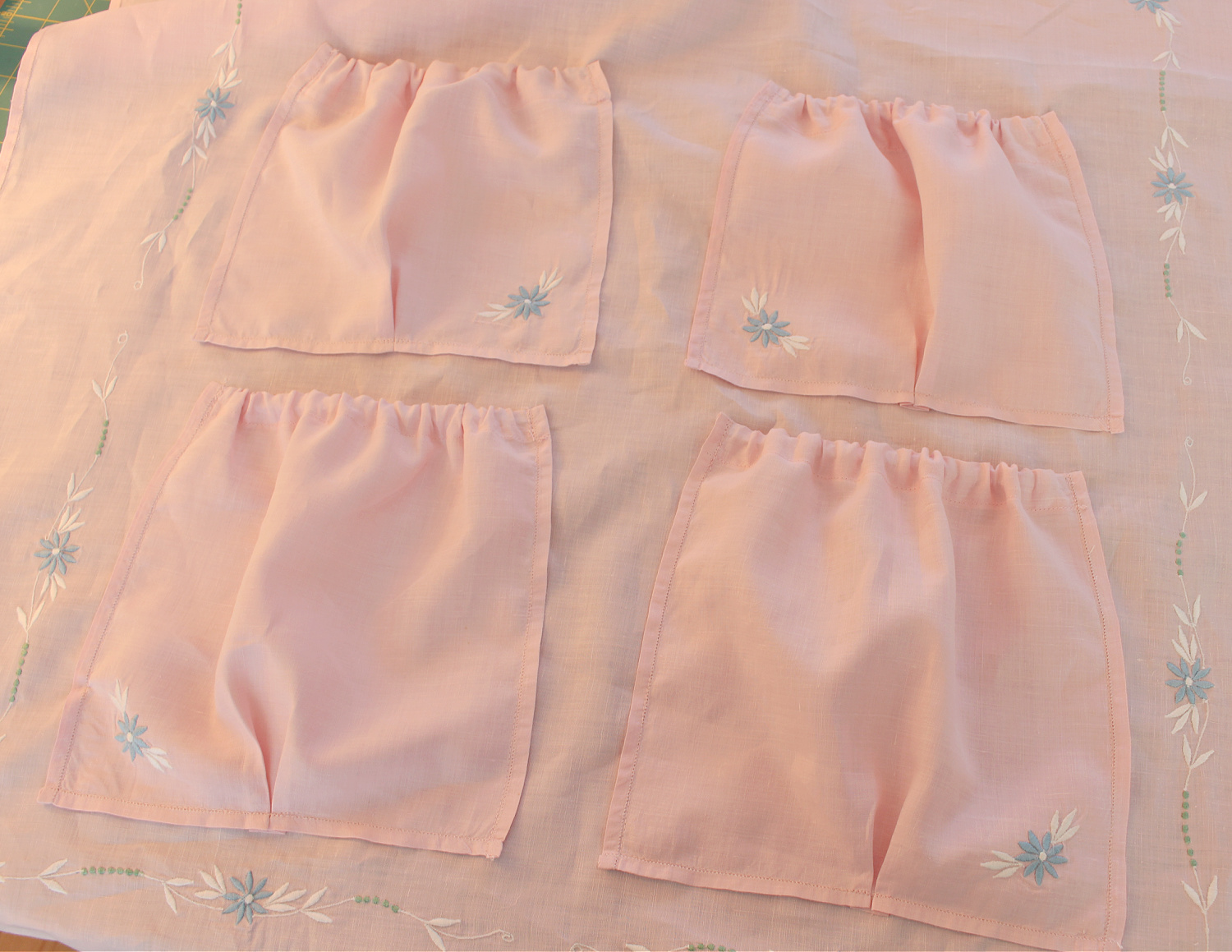 All that is left is to sew on the waistband! You can use a piece of the original tablecloth, if there's excess, or a piece of contrasting scrap fabric for fun. We used a piece of the linen tablecloth for the waistband, but used scrap white fabric for the apron ties. Either way, cut a piece of fabric a few inches longer than the width of the apron.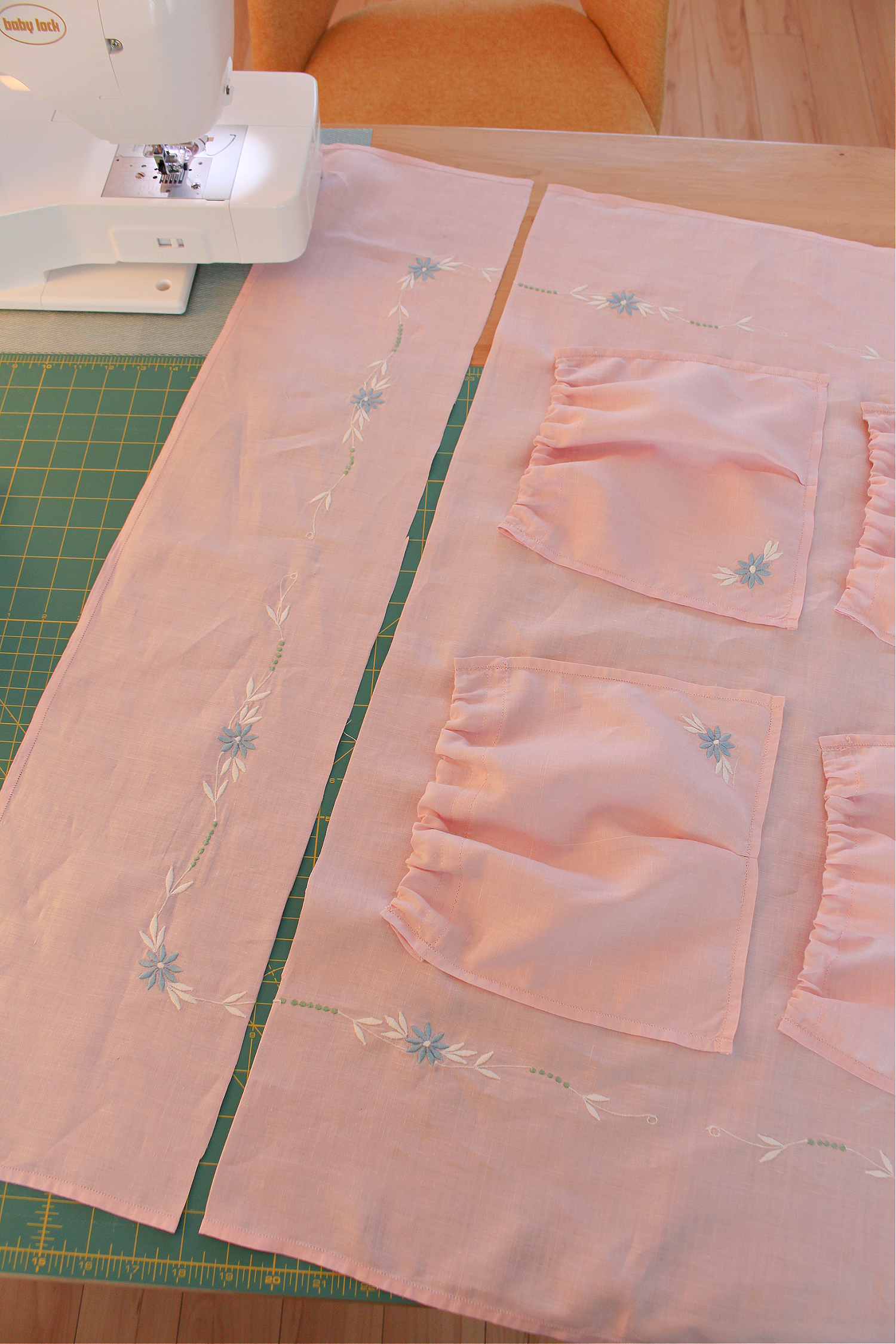 To help create a better shape, we added a few little pleats to the top of this DIY harvest apron – but this is optional.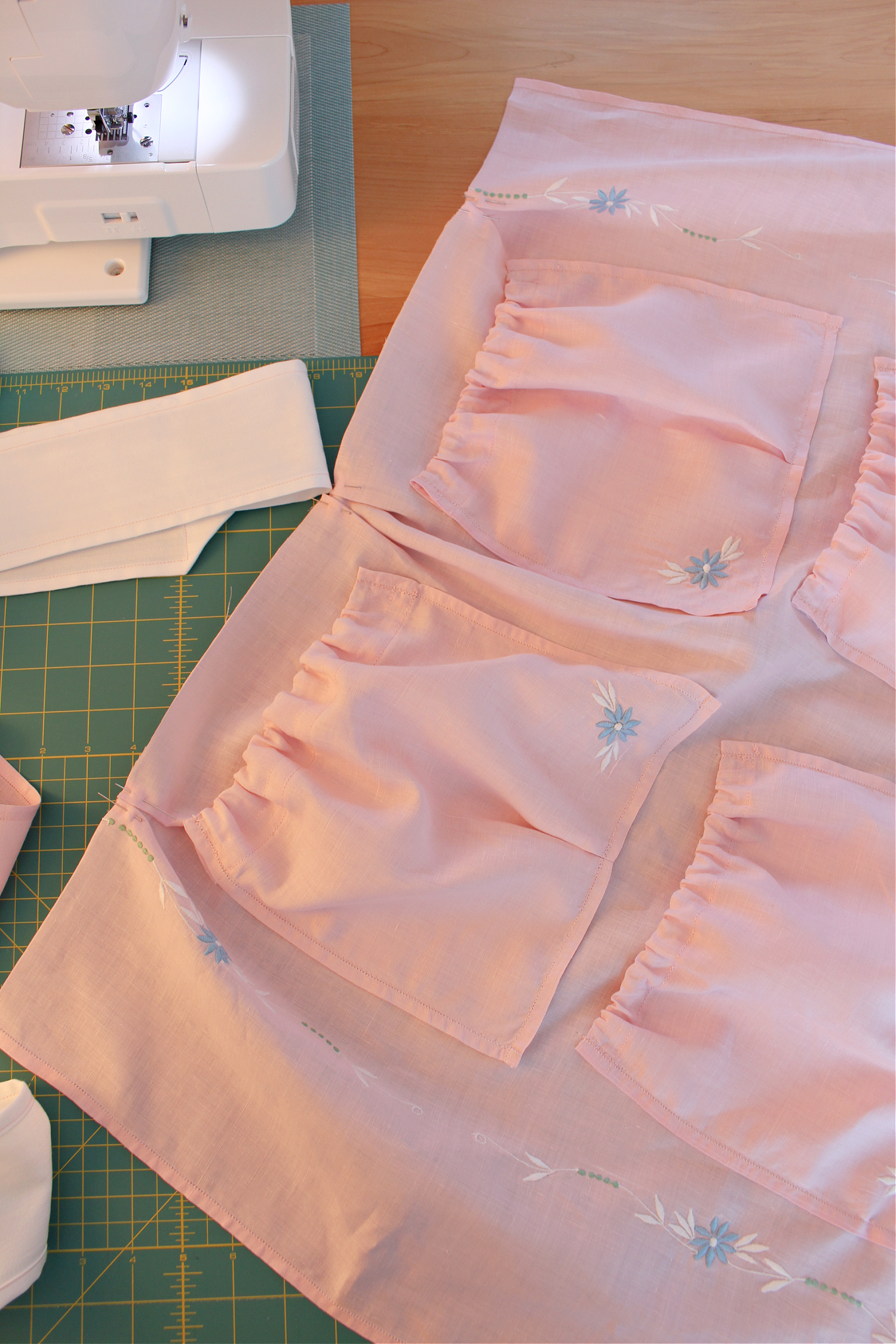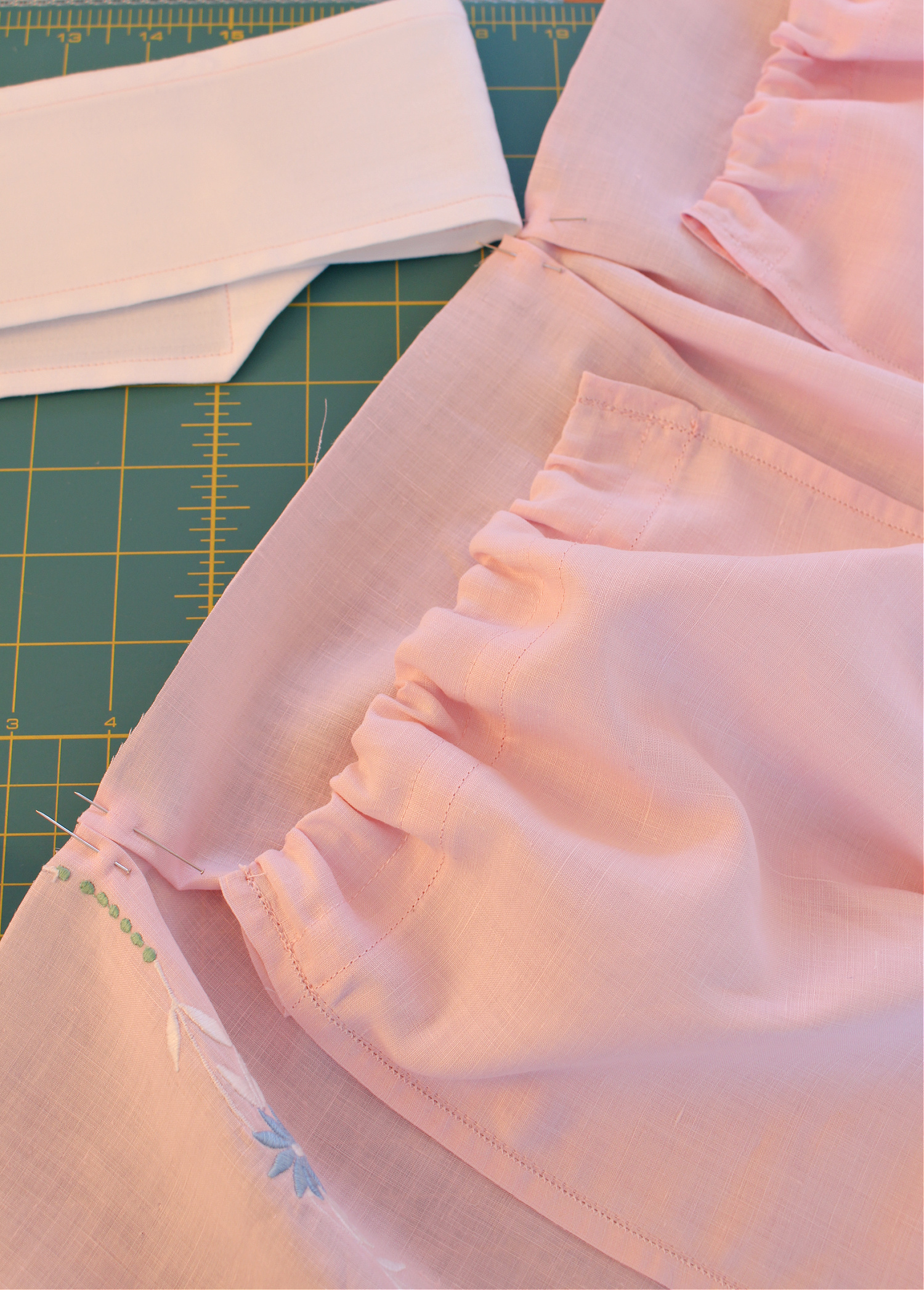 To attach the waistband, first pin and stitch the bottom of the waistband to the top of the apron. We took our rectangle of fabric and ironed it in the middle, lengthwise, before we laid it down on our sewing table, right side down. Then we pinned the bottom of the waistband (its right side) to the top of the apron (its wrong side) and stitched them together.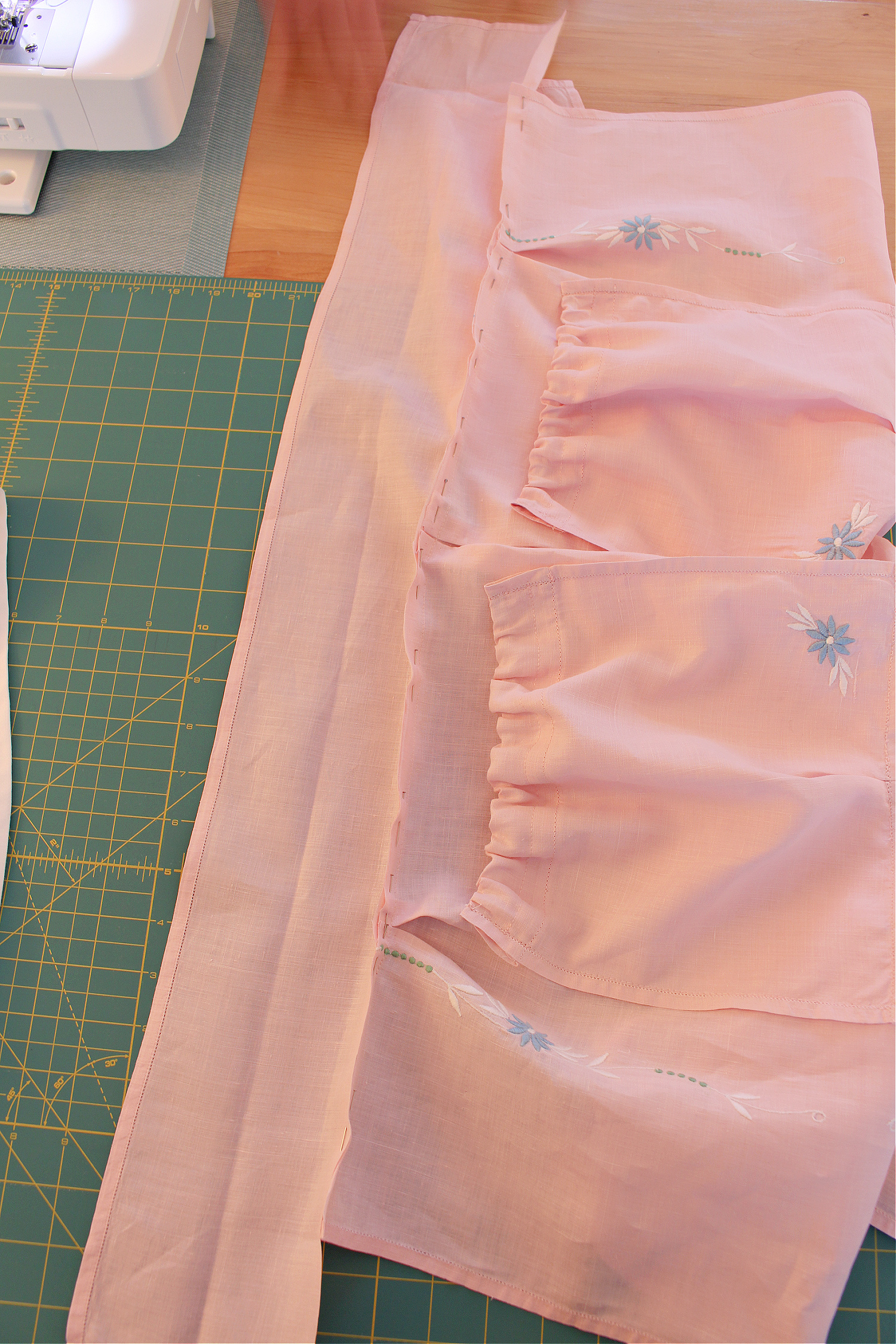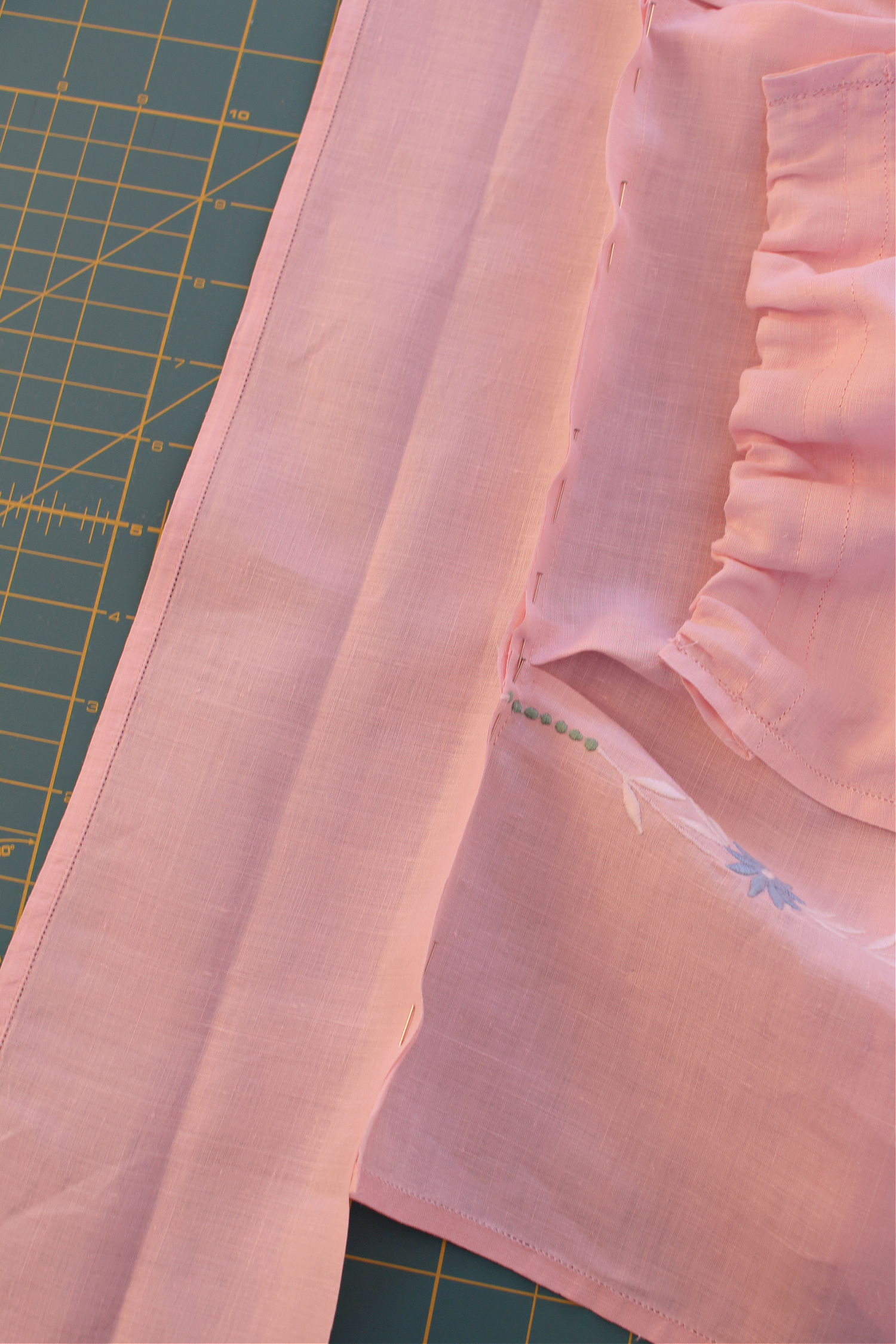 Before finishing the waistband, my Mom made these simple little apron ties from scrap fabric, but you could also use a sturdy ribbon.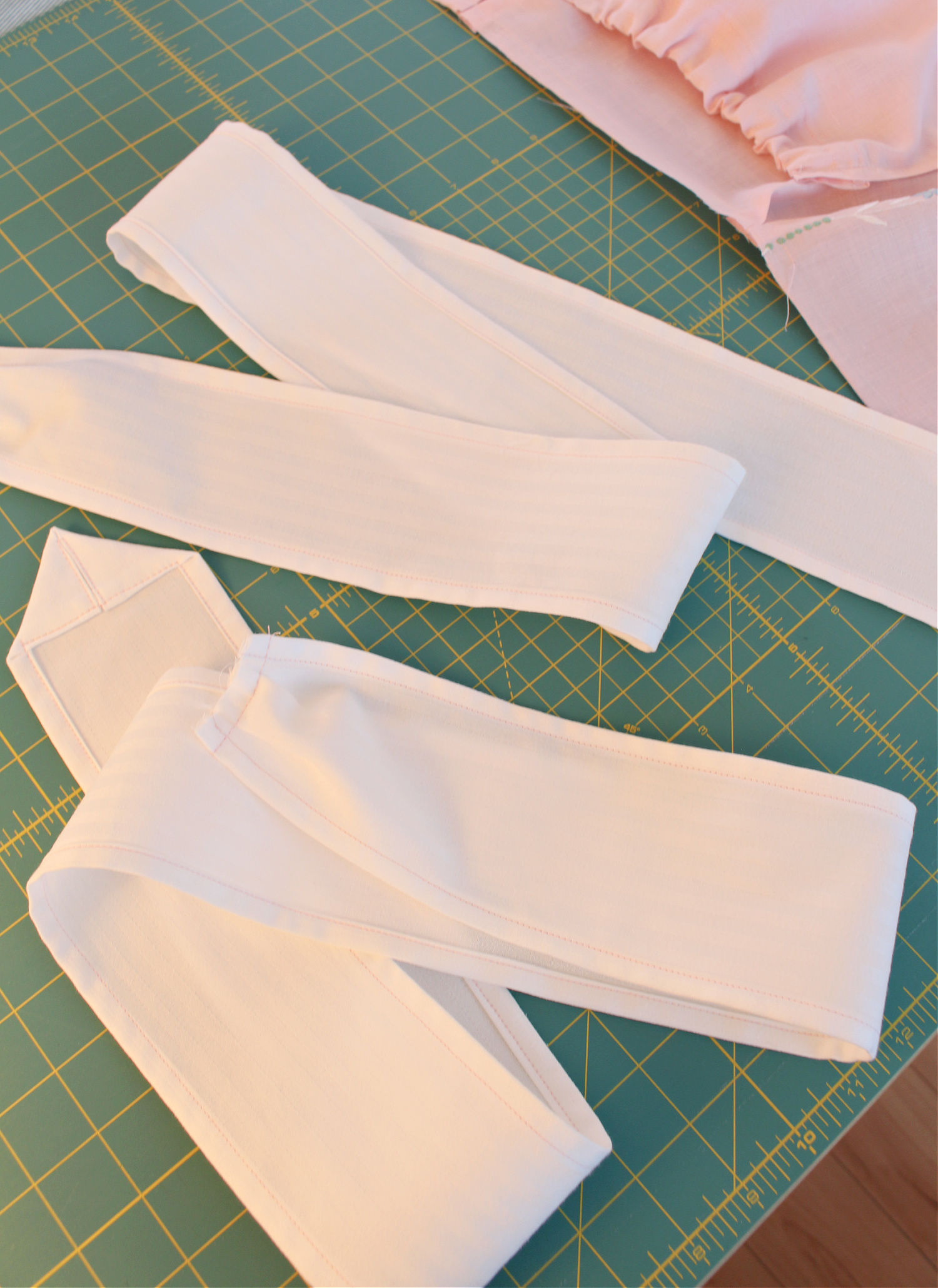 Then we tucked in the ends of the excess waistband fabric and inserted the apron ties. To encase the ties and rough edge of the top of the apron, fold the waistband fabric over.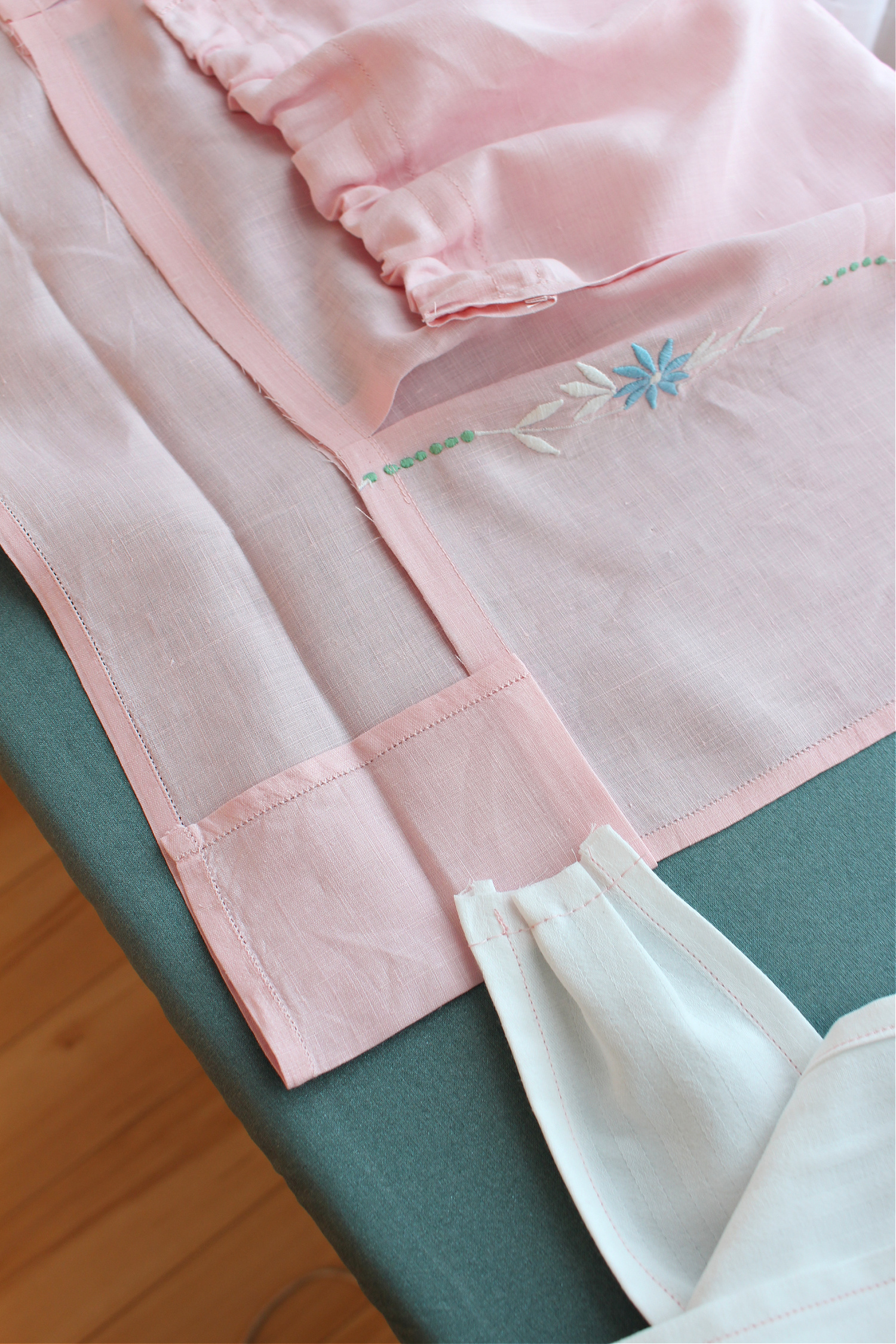 With the waistband folded over, pin and stitch along the edge.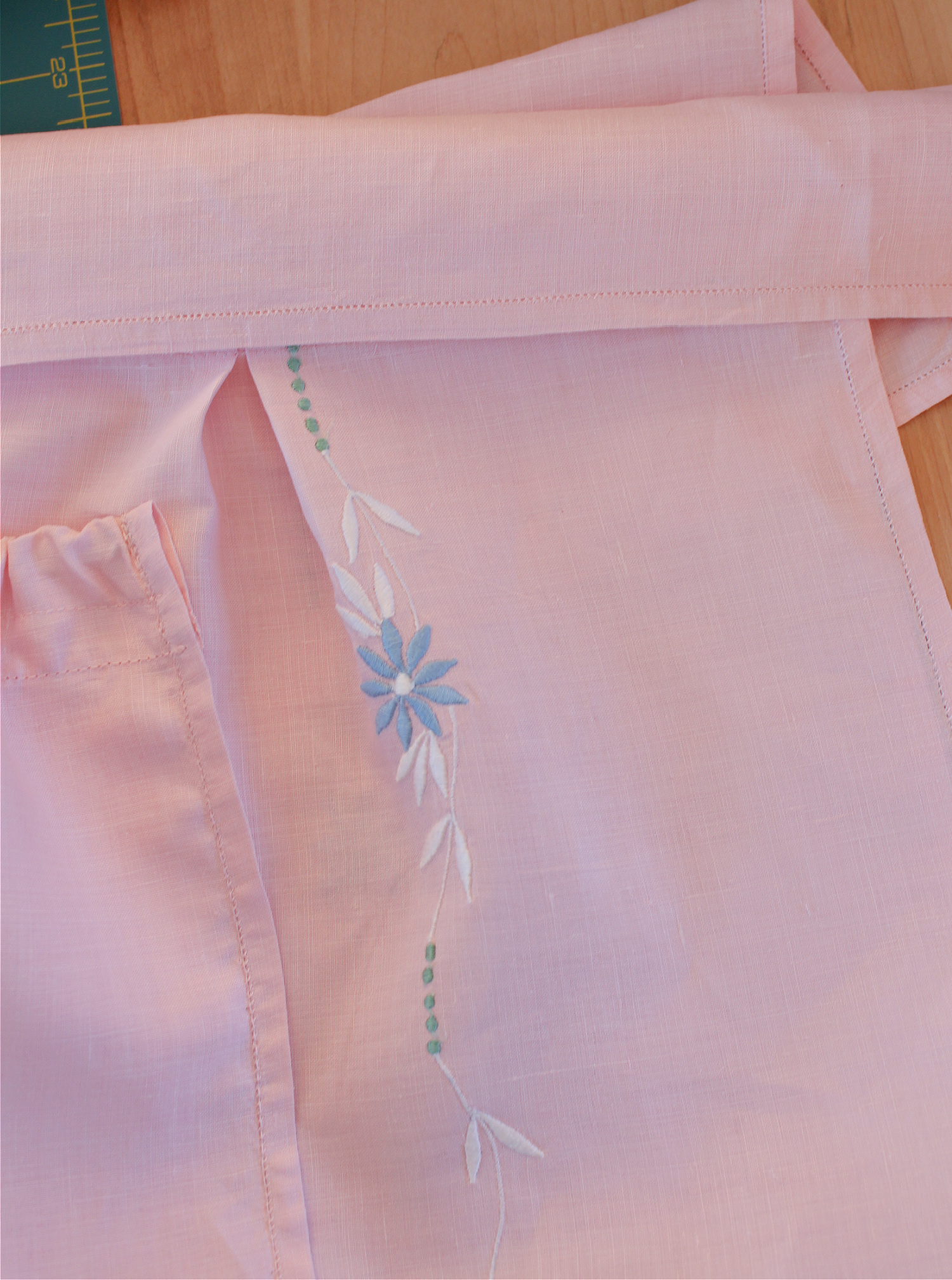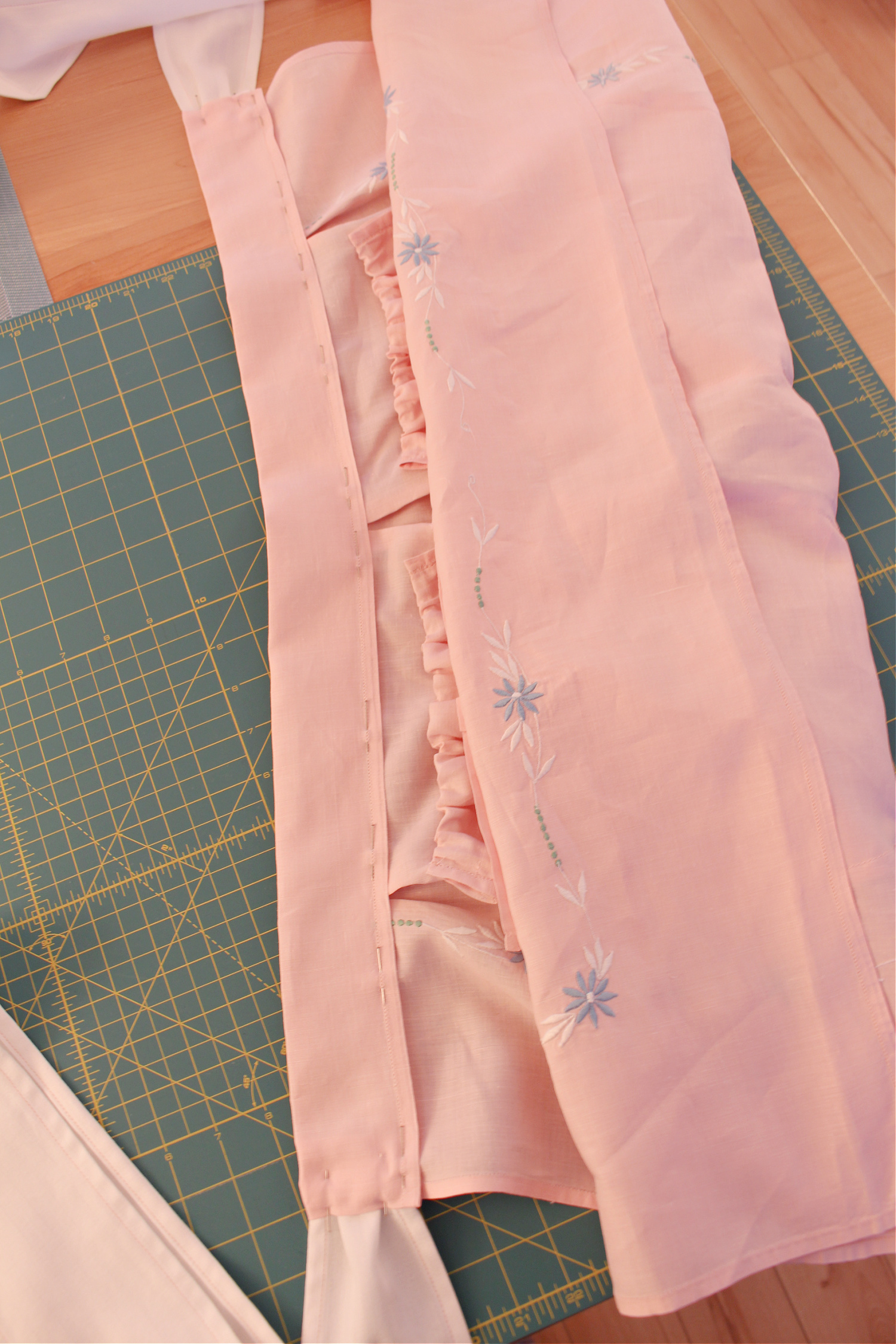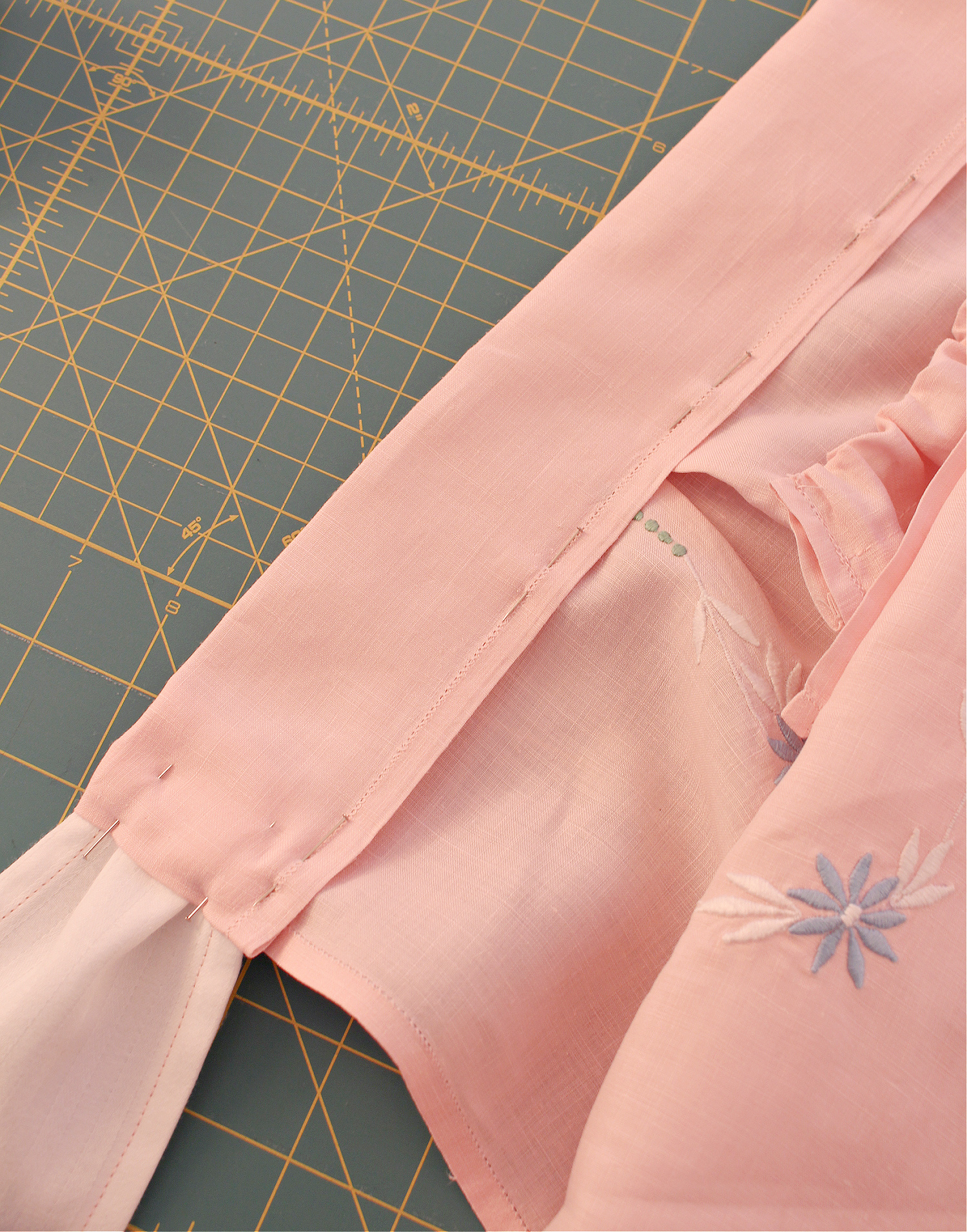 Here's the finished DIY egg gathering apron!
This is the finished DIY egg gathering apron – the waistband turned out so great! If you're not upcycling old tablecloths, you'll have to do a few extra steps here and there to finish the edges – just fold under (ironing helps) and sew. But using an old tablecloth is so easy because we could skip so many steps and whip this up in a couple of hours! I love sewing my own apron because I can customize everything: the length, the thickness of the waistband, the size of the pockets – this fits me perfectly (my lovely Mom is modelling it here for me).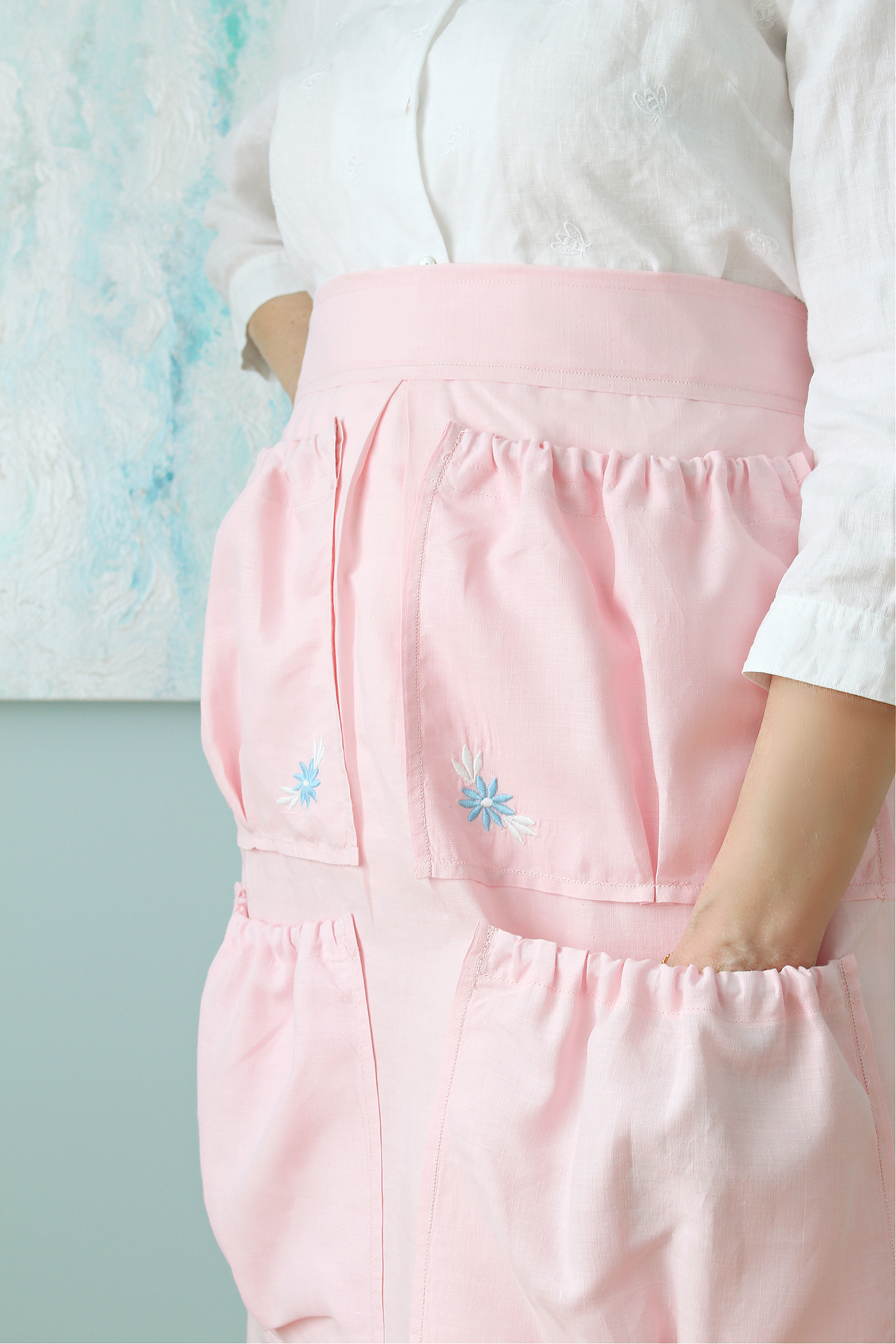 Here is a look at the back. I love the contrasting white ties with pink thread! They are long enough that I can also just wrap them around and tie in the front – but this big adorable bow was cute for pictures.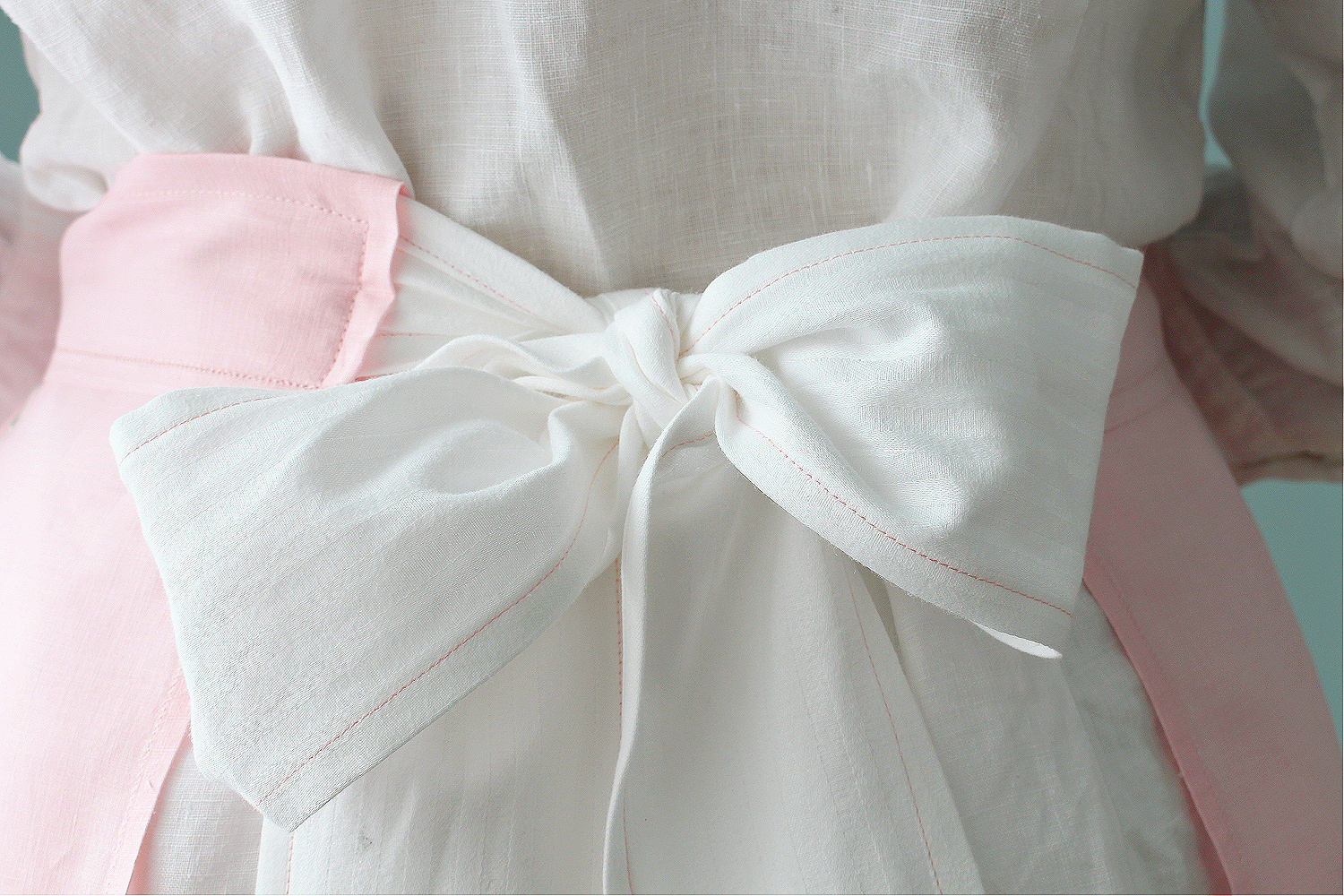 What is an Egg Apron vs. What is a Harvest Apron or Gathering Apron?
Usually I see egg aprons with a series of many small, egg-sized pockets, so backyard chicken keepers can insert on egg per pocket and bring them safely inside from the coop or barn. Harvest aprons, aka gathering aprons, usually have one or two big pockets – often it is a fold over pocket than can be easily unfolded so veggies can be deposited effortlessly on a kitchen counter. This DIY egg gathering apron is sort of a blend between the two. I love my version of a DIY harvest apron because I personally don't need an egg gathering apron with a lot of individual pockets (I don't get that many eggs), nor do I do a giant garden haul. I just needed something with some large, multi-purpose pockets so I'm not always shoving eggs and herbs into my hoodies. And I know from experience that eggs will not get damaged if I carry a few per pocket. Now I can fill my pockets with some seeds or kitchen scraps to bring out to my backyard chooks, pick some fresh dill from my DIY cold frames, and then collect my half dozen eggs – all in one trip, with one handy gathering apron! Feel free to customize this to what suits your purposes – I'd love to see what you make.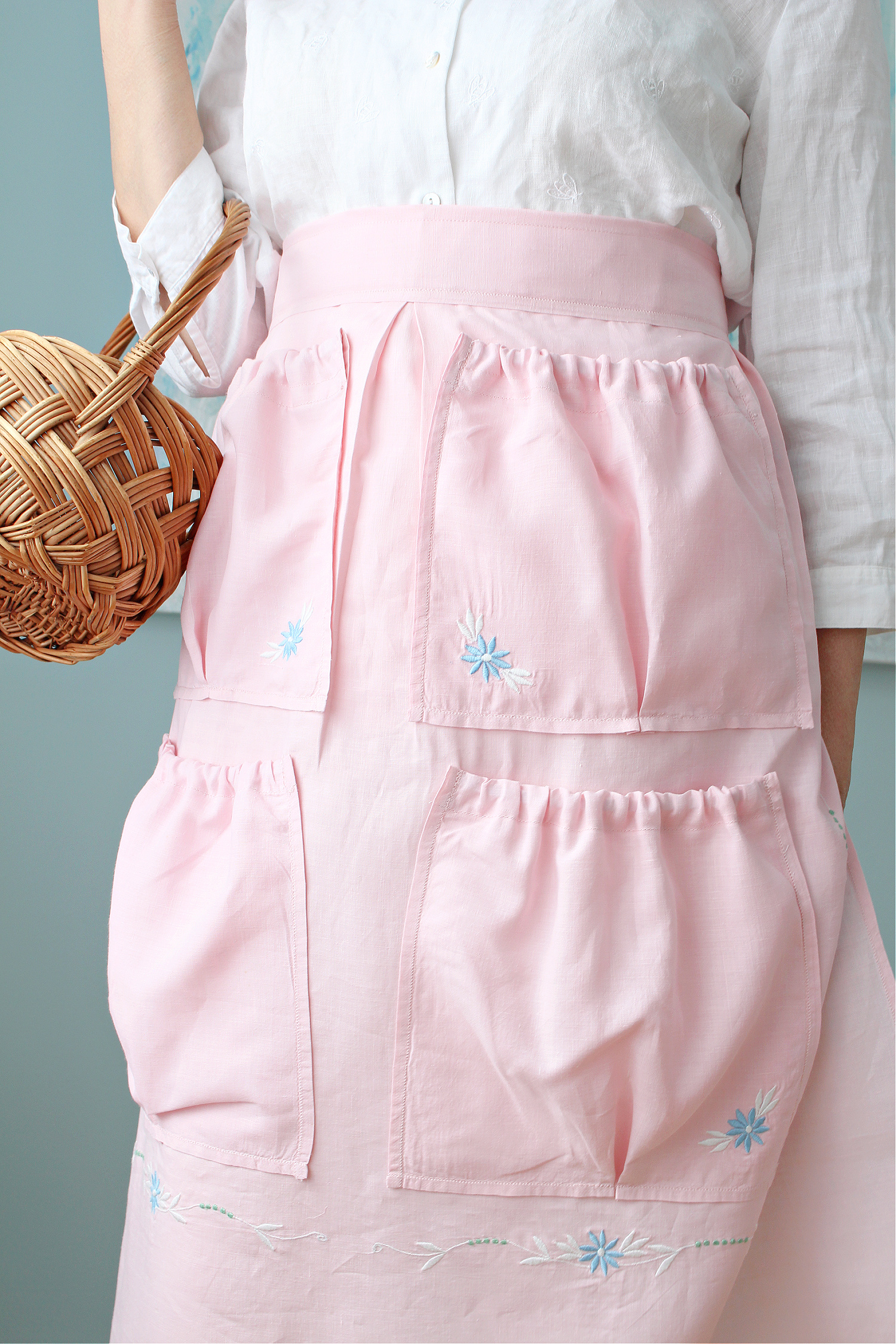 P.S. Don't Forget to Pin for Later!