As you know, we stopped celebrating Christmas many years ago but, in 2020, my Mom said she wanted a Christmas tree again and since then I have found a lot of joy and inspiration by making tree ornaments. Now I can't stop coming up with ideas for DIY ornaments and entire Christmas tree themes – so please enjoy these 10 Christmas tree themes for 2022!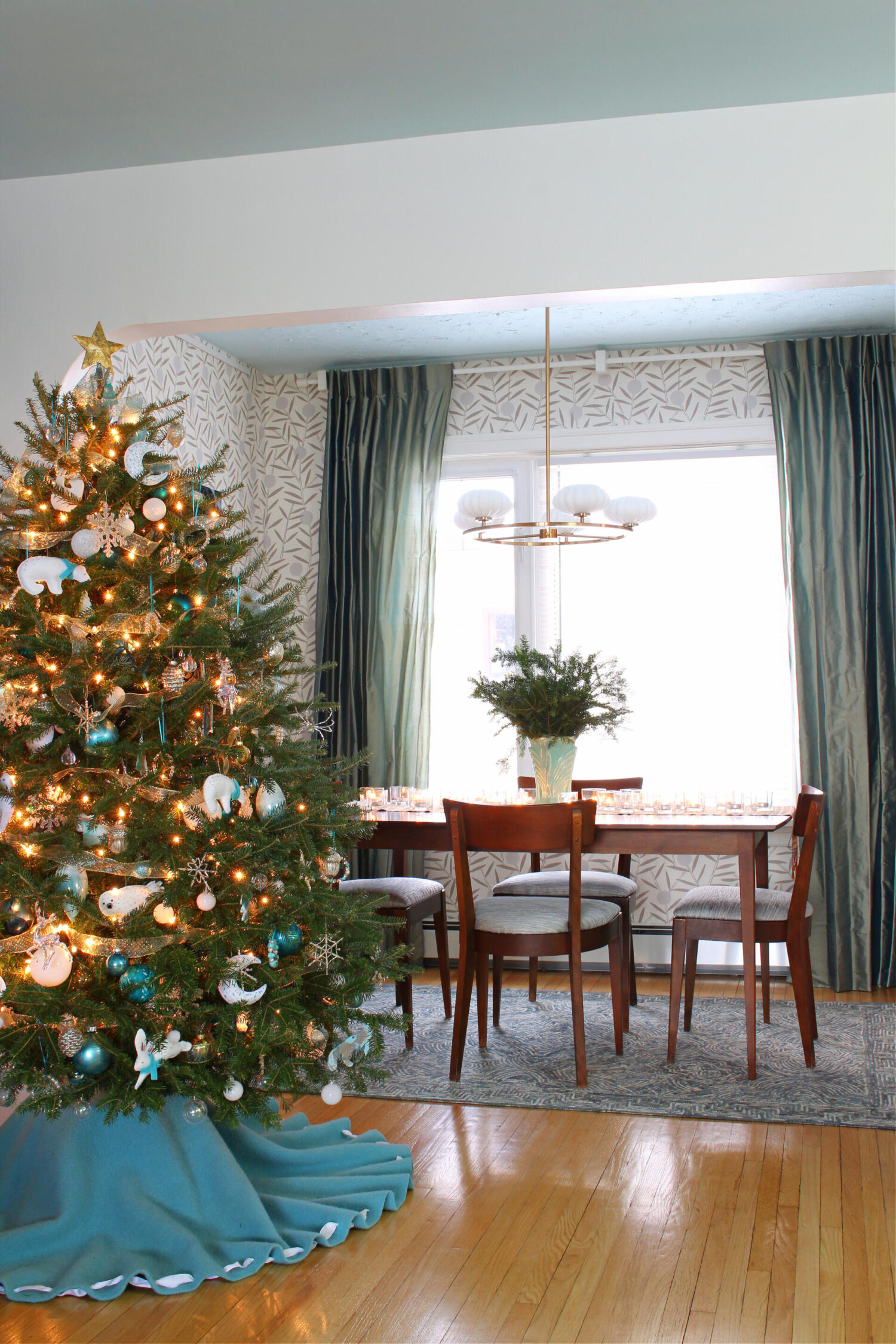 I would never have said that I'm a Taylor Swift fan, but her recently released album, Midnights, is SO good! I have loved the mood and aesthetic of the videos she's released so much, that I was inspired to put together a tree theme with inky, midnight shades, lots of bejewelled ornaments, and a couple of references to lyrics that stuck in my head. While there are references to Taylor Swift's lyrics in my ornament choices, even if you're not a fan I think a beautiful tree design could just be the mix of inky blue and black ornaments, paired with moons, stars, and lots and lots of sparkly ornaments in gold and silver. See all of my choices for this Taylor Swift Midnights Inspired Christmas Tree Theme here.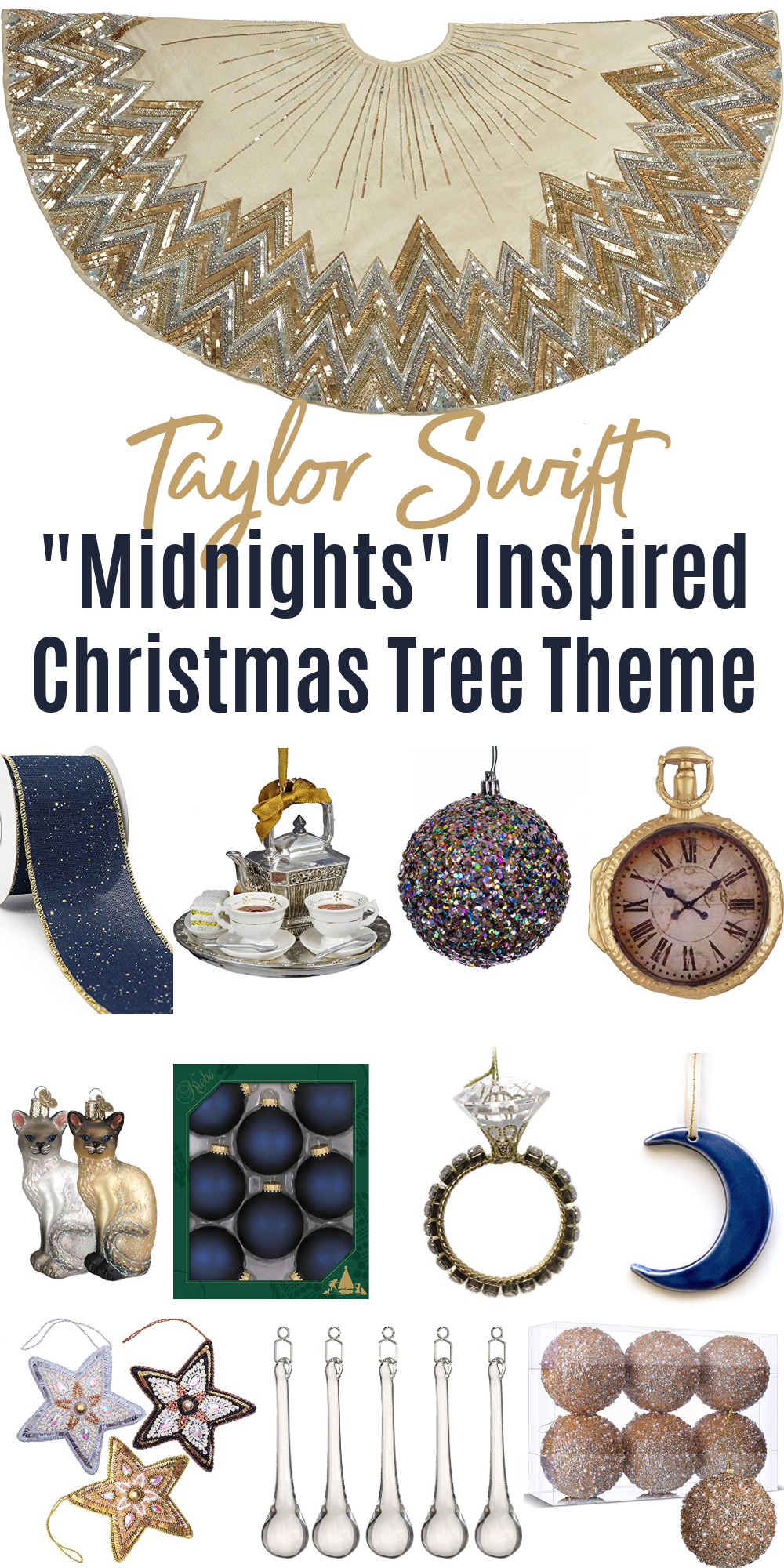 The starting point for this Midnights Christmas tree theme was this absolutely DAZZLING, handmade, silk beaded tree skirt, which would look so gorgeous with so many Christmas tree themes and is the kind of piece you can pass down for generations!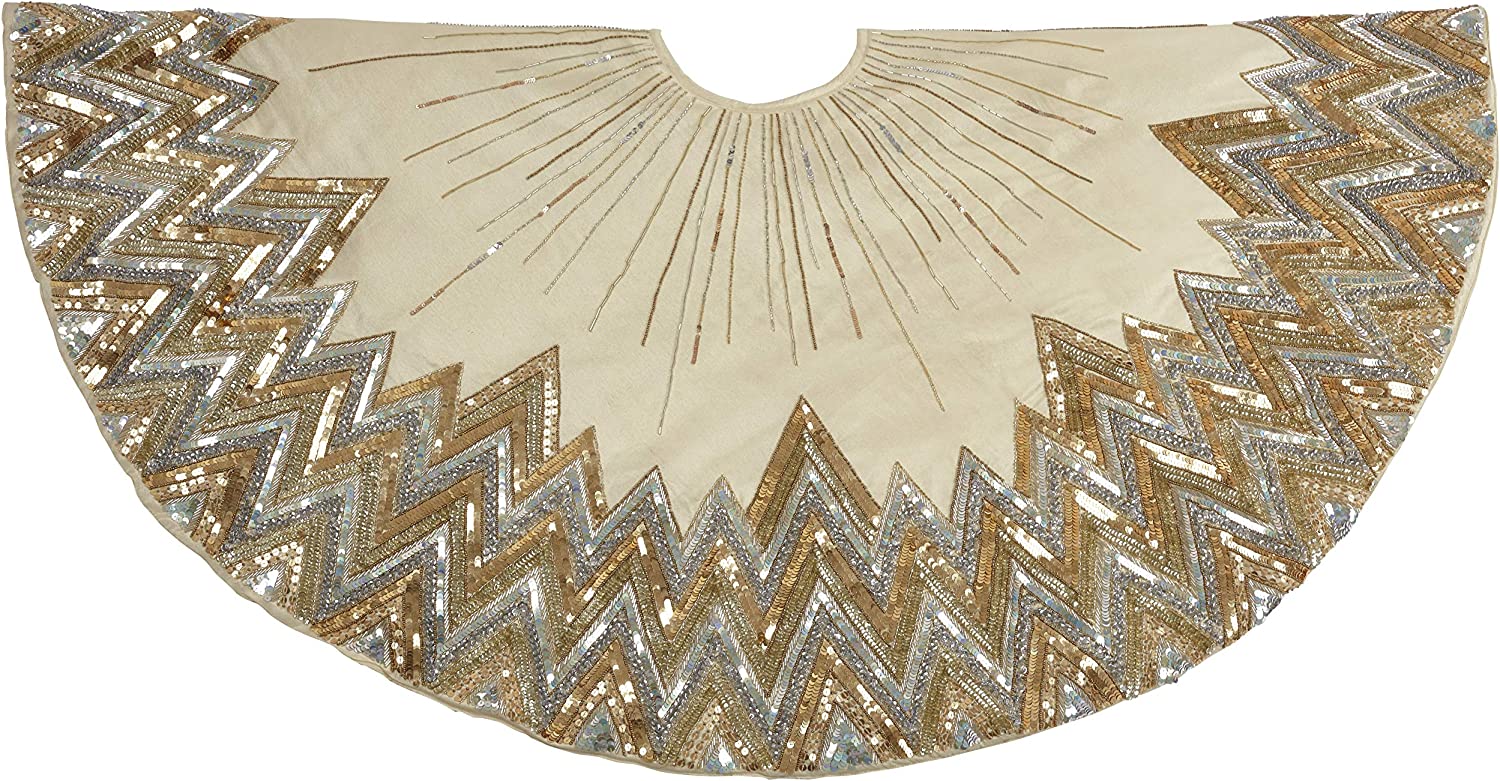 DIY Taylor Swift Midnights Inspired Christmas Tree Theme Ideas: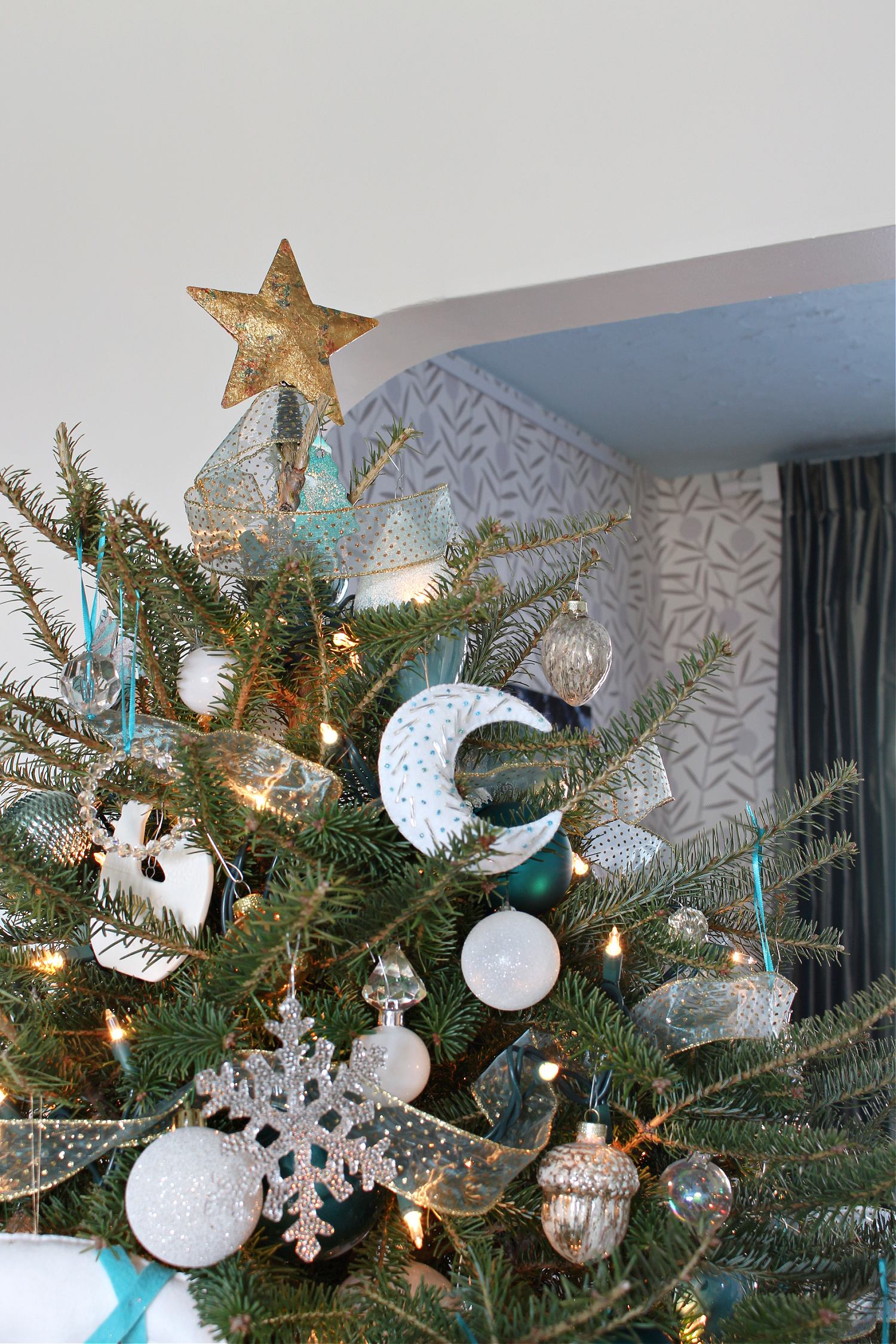 This Christmas tree theme could be very inexpensive and also low waste/easy on the planet! Forage pine cones, cut (and paint or wood burn) birch slices, and dry orange slices in the oven to make natural and neutral Christmas ornaments. Then make a wood bead, felt ball, or popcorn & cranberry garland! Upcycle thrift store ornaments with some neutral paint (bonus points if it's leftover you already have). If you want some inspiration for ornaments in this theme, check out my "Neutral & Natural Christmas Tree Theme" picks here. That round up has some beautiful, heirloom quality glass ornaments – and also some boho vibes as well, with a little macrame and a lot of texture.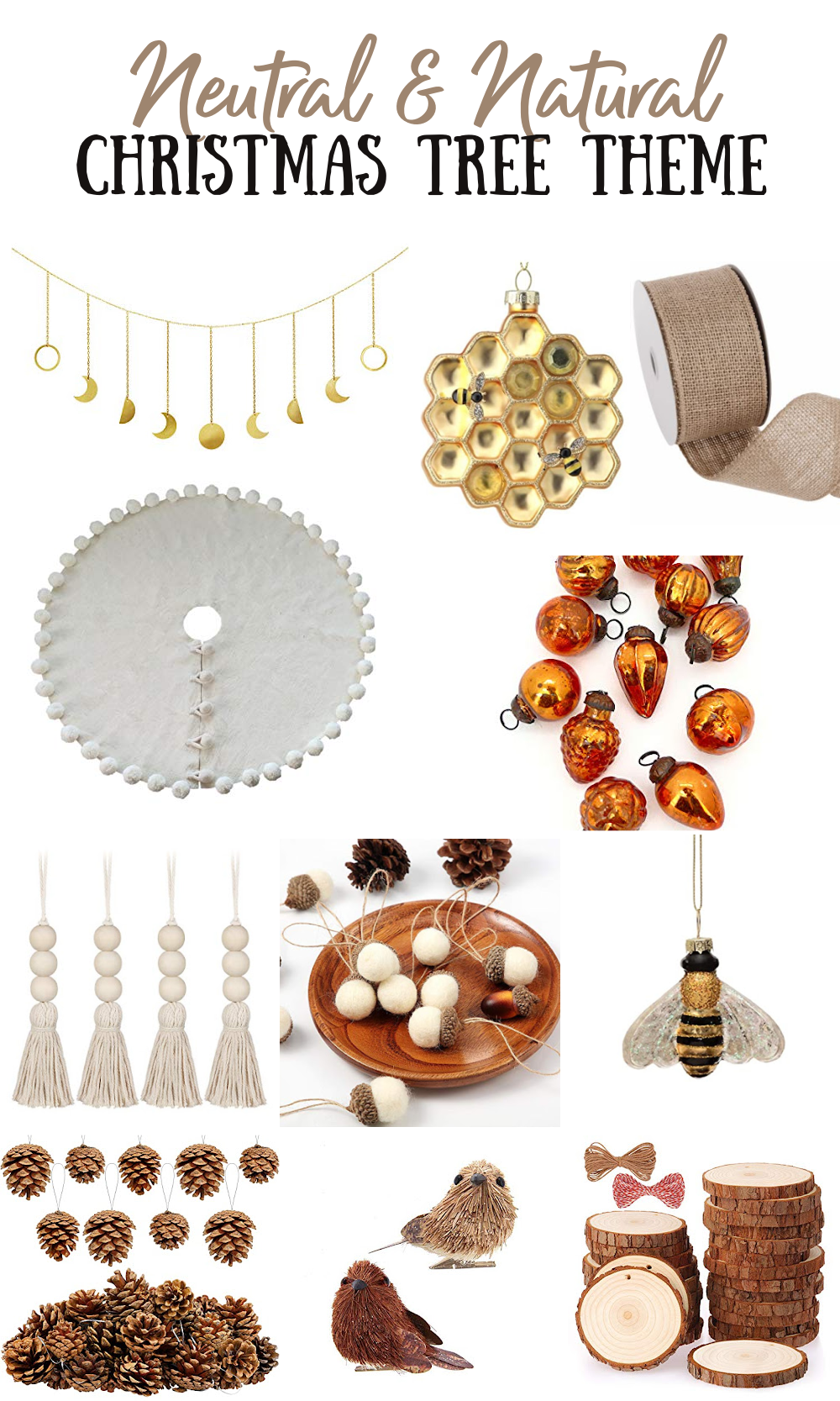 For a really magical and tactile neutral Christmas tree scheme, choose decor made from natural materials, like wool, glass, straw, etc, like this beautiful felt wool tree skirt.
DIY Neutral & natural Christmas Tree Ornament Ideas: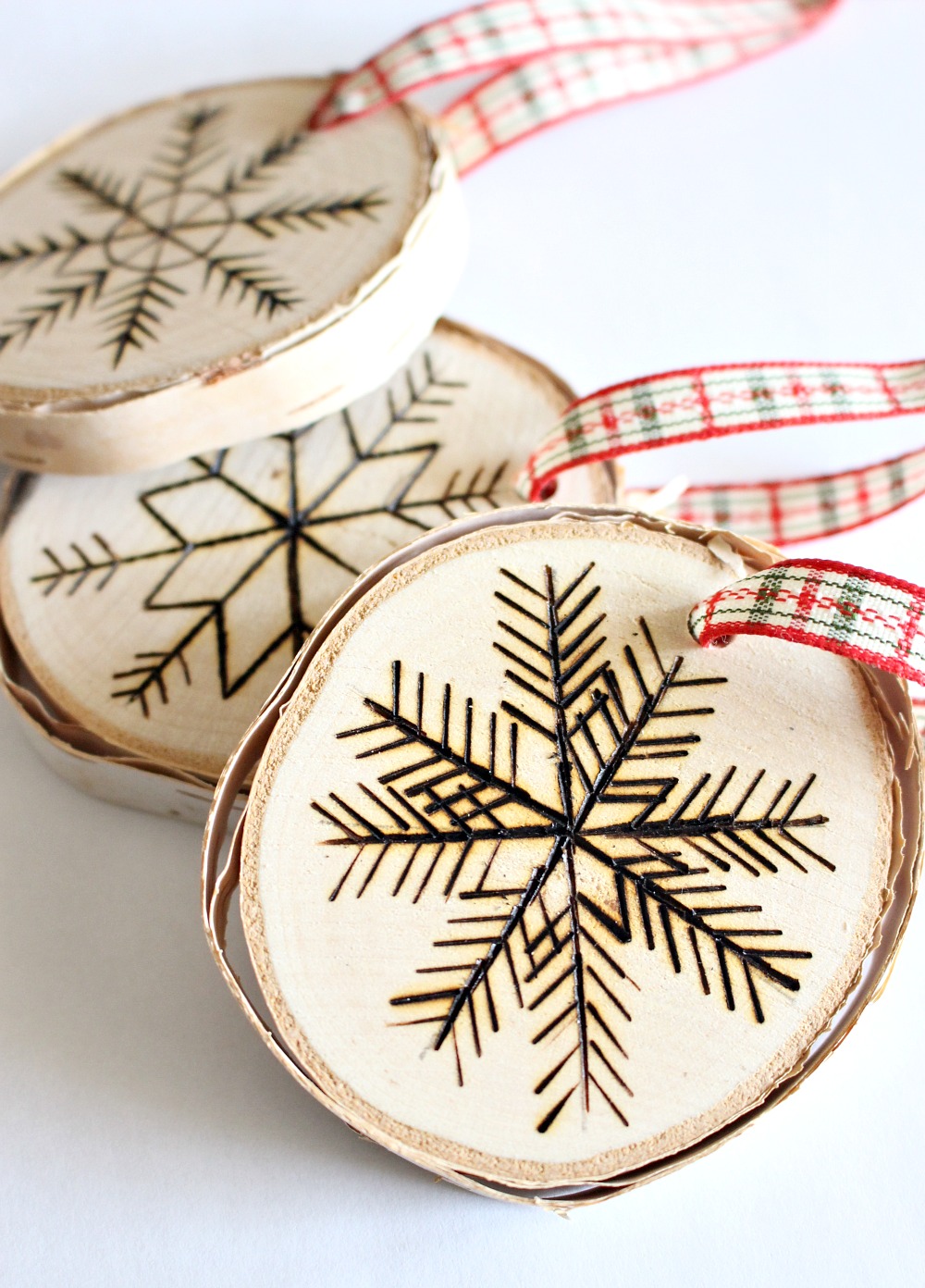 This Christmas tree theme is inspired by last year's Christmas tree theme and features a Lake Superior inspired teal and white color palette, touches of wintry textures, and lots of woodland creatures! It's sparkly and pretty and kind of nostalgic, but with modern touches. Click here for all my "Winter Cabin Christmas Tree Theme" picks – from garlands to ornaments to tree skirts!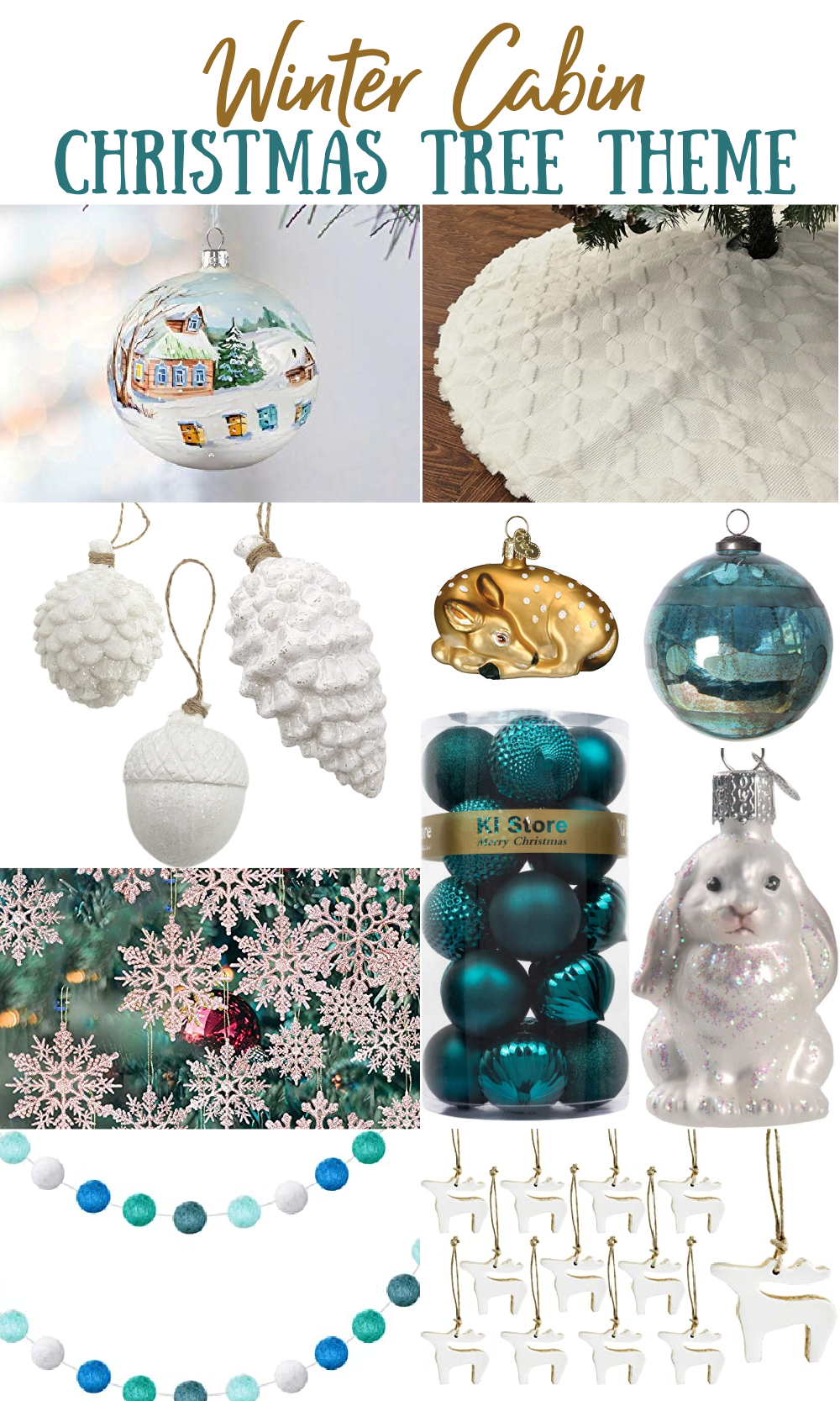 I even found some cute white felt ornaments!
DIY Winter Cabin Christmas Tree Theme Ornament Ideas: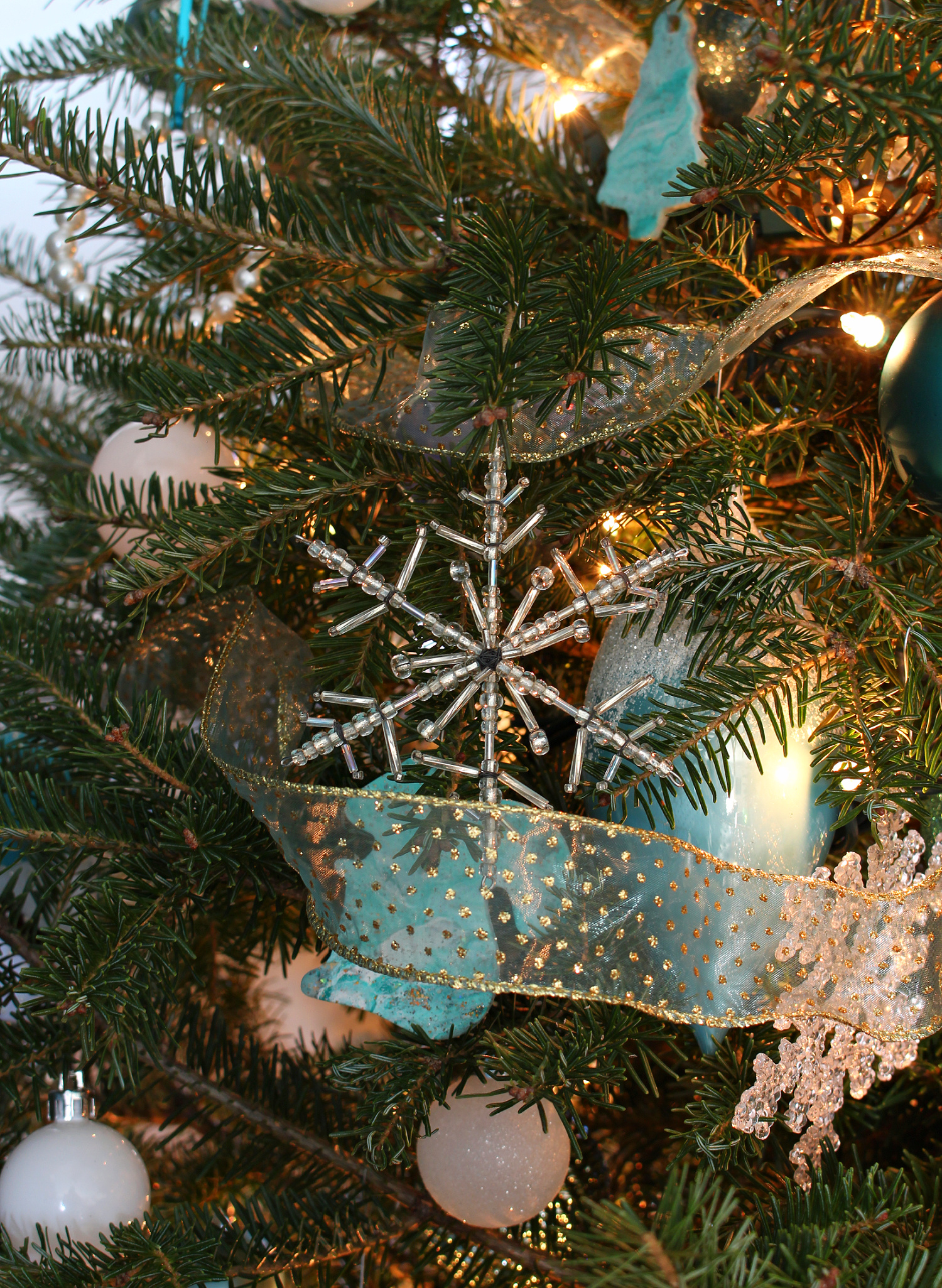 This retro Christmas tree theme is fun and colorful, with MCM vibes! You could thrift or find genuine antique/vintage ornaments in antique stores or Etsy (like these). But to help fill out the tree theme, I rounded up some adorably vintage inspired ornaments – in fun colors, with a lot of kitsch. Click the link for all of my "Retro Christmas Tree Theme" picks.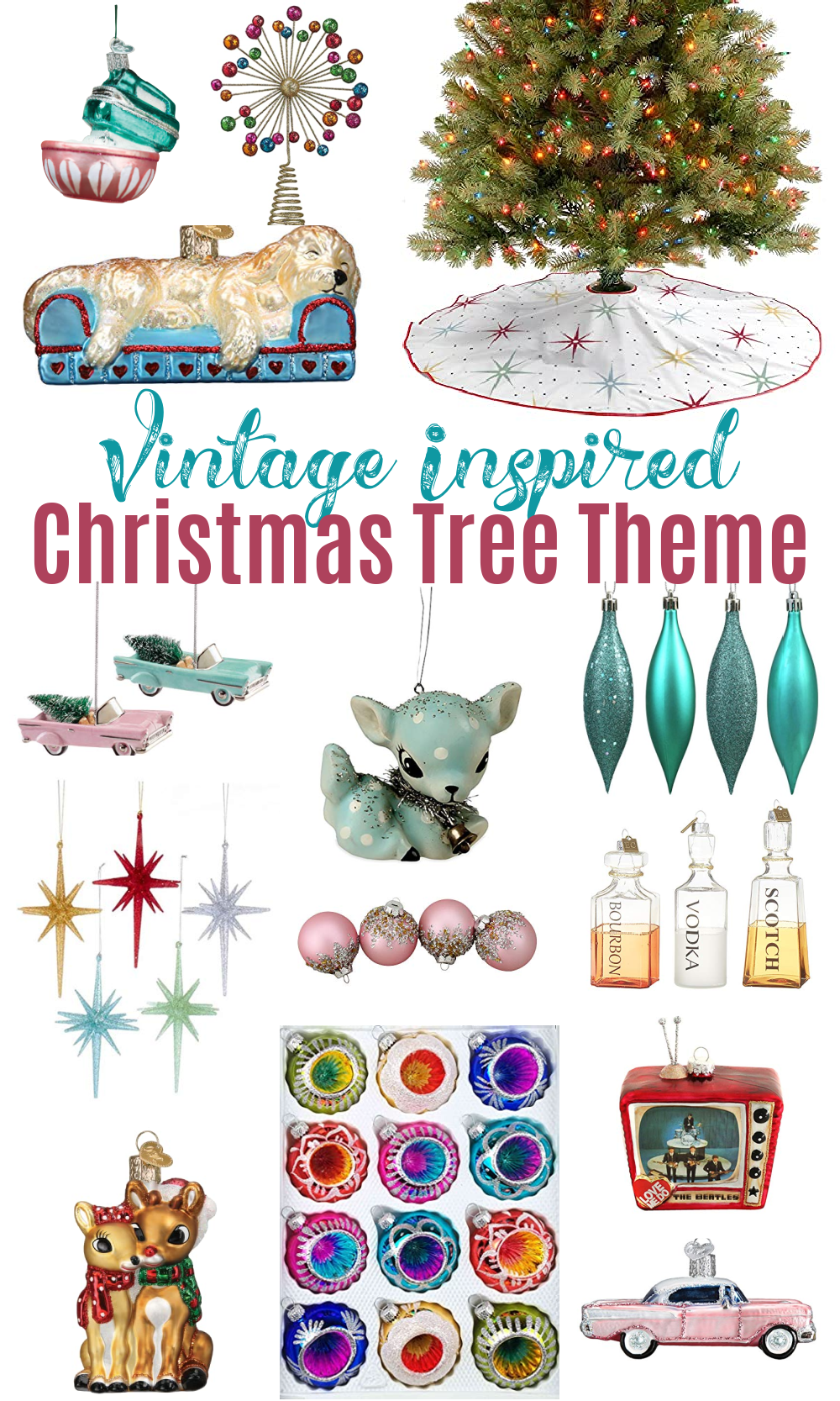 I'm especially in love with this ornament:
DIY Retro Christmas Tree Theme Ornament Ideas: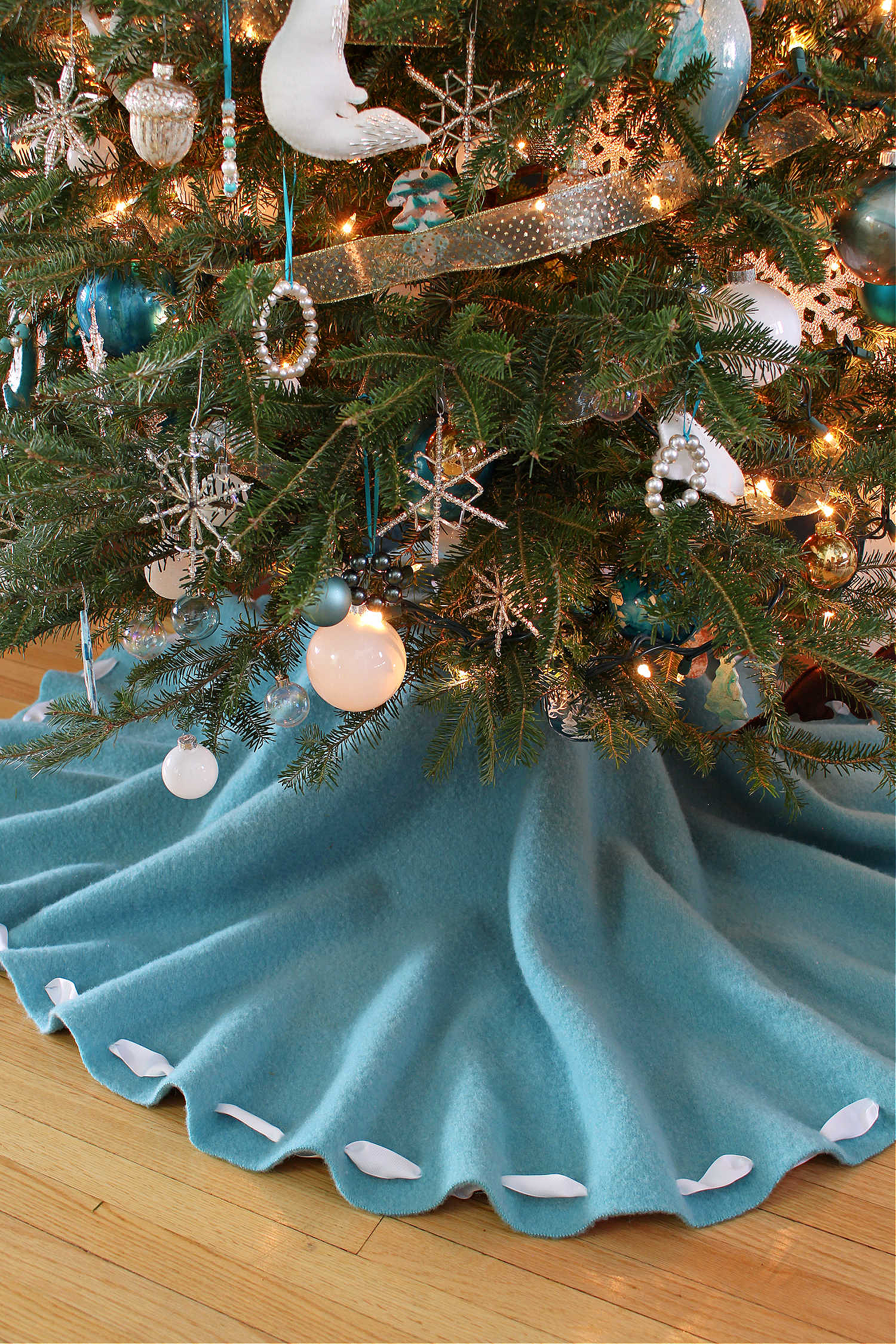 I have SO many chicken themed Christmas tree decor ideas saved, I can put together multiple themes of chicken Christmas tree themes (pastels, farmhouse, eclectic), but here are my favorites from my list of "Egg & Chicken Christmas Tree Theme" decor finds.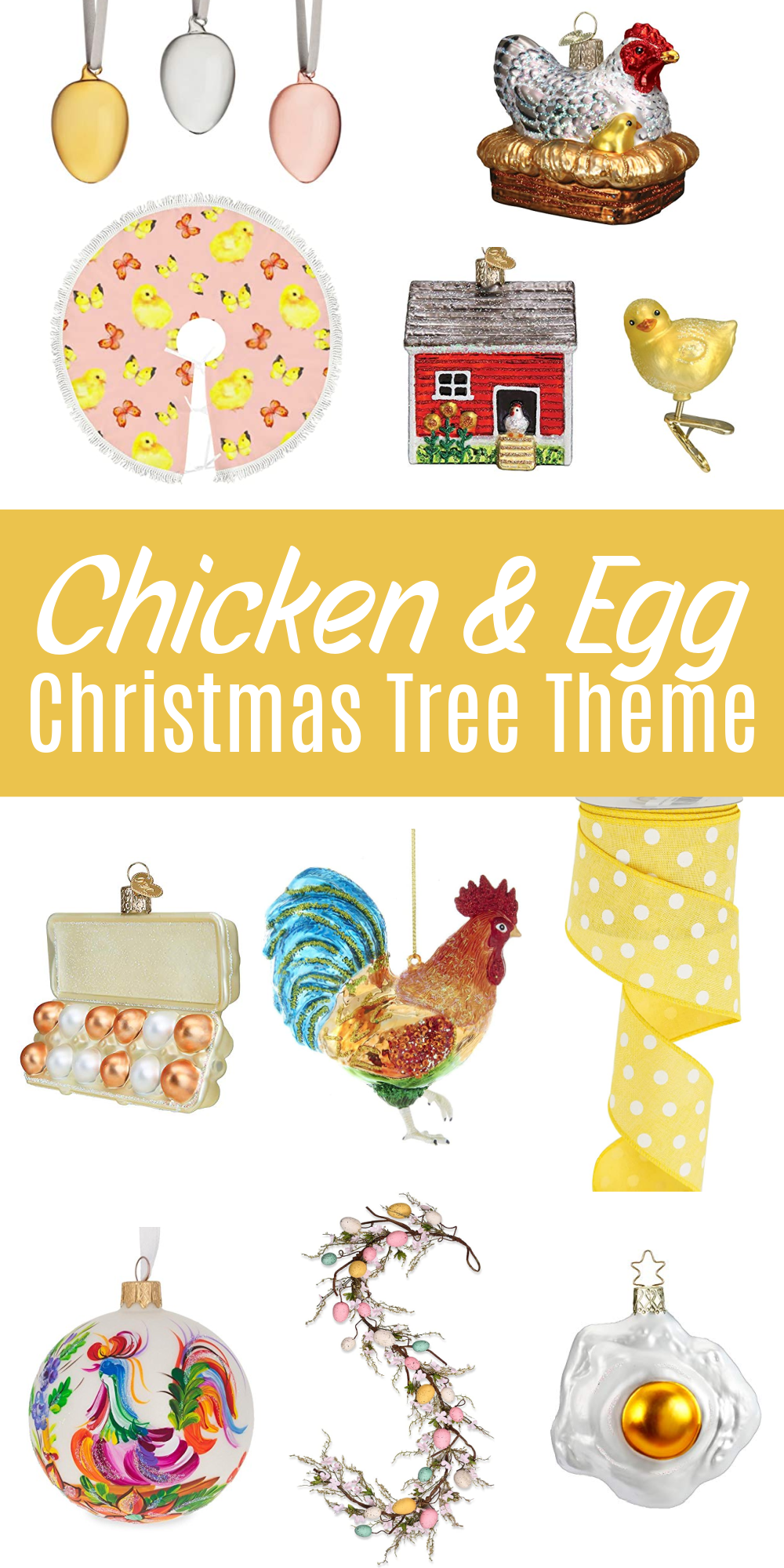 The bonus is that a lot of these ornaments/garlands can be repurposed for Easter decorating.
DIY Chicken Christmas Tree Theme Ornament Ideas: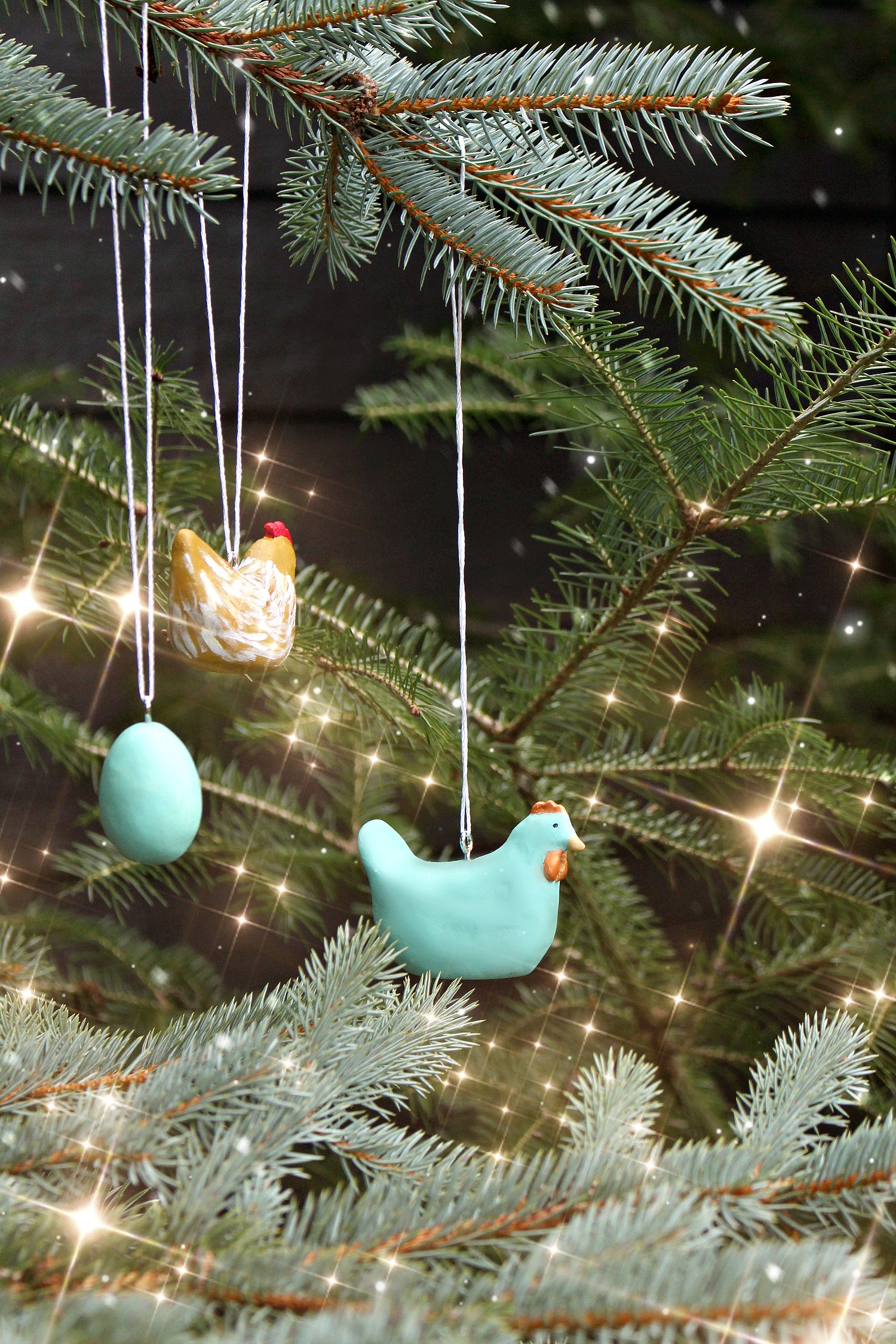 Someone on TikTok lamented that an all white tree theme is challenging because a lot of white ornaments look cheap. I took that as a challenge to curate a chic, all white Christmas tree theme. I cheated a little and added some beautiful clear glass ornaments to the mix. Click here for my chic "All White Christmas Tree Theme" finds.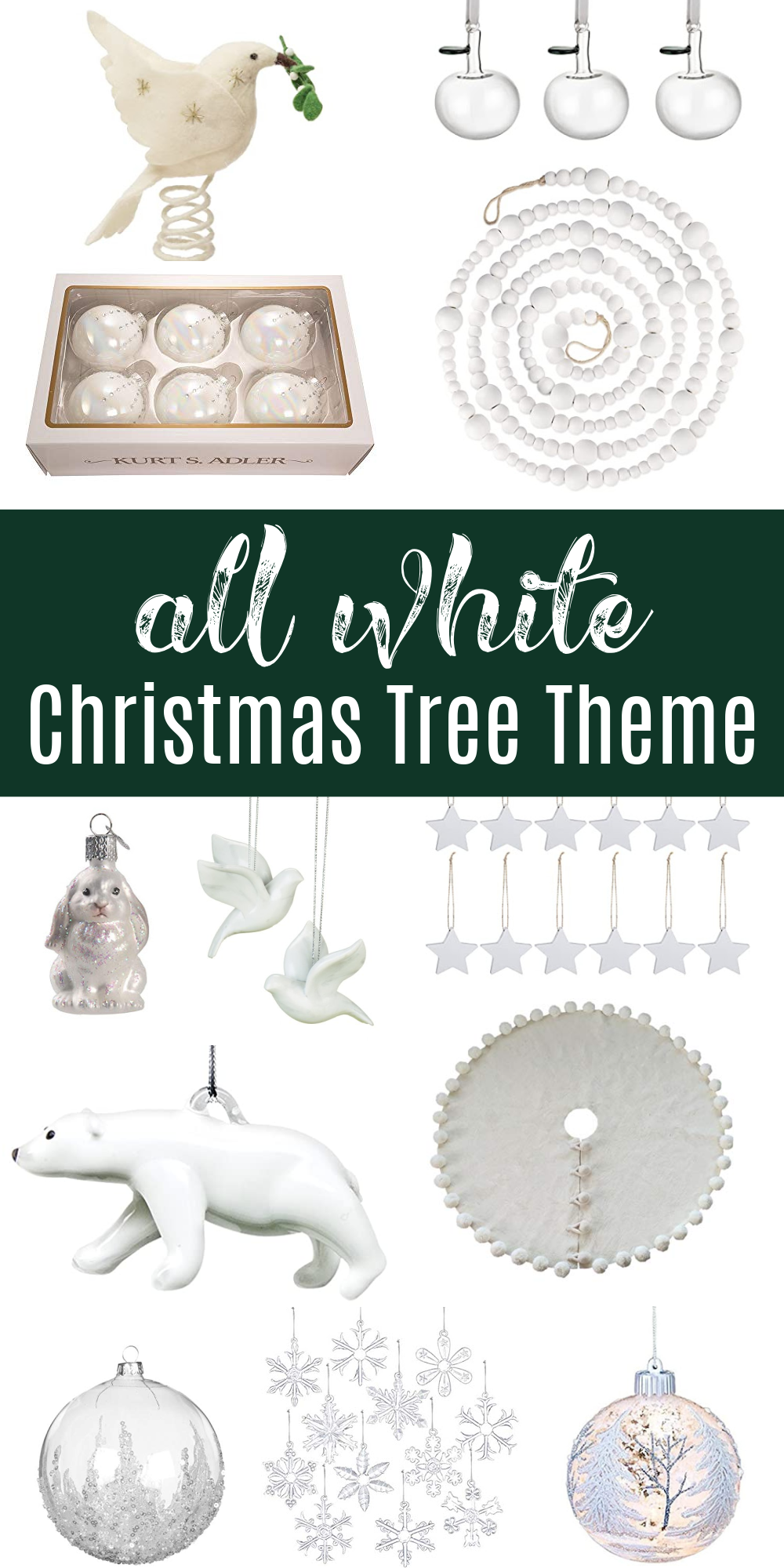 I think the secret is to look for glass, wool, and natural materials as opposed to plastic – and to focus on finishes, opting for pearl, iridescent, matte velvet, etc. Plain white plastic can often look cheap and a dull, flat finish won't look elegant. The magic is in the materials!
DIY All White Christmas Tree Theme Ornament Ideas: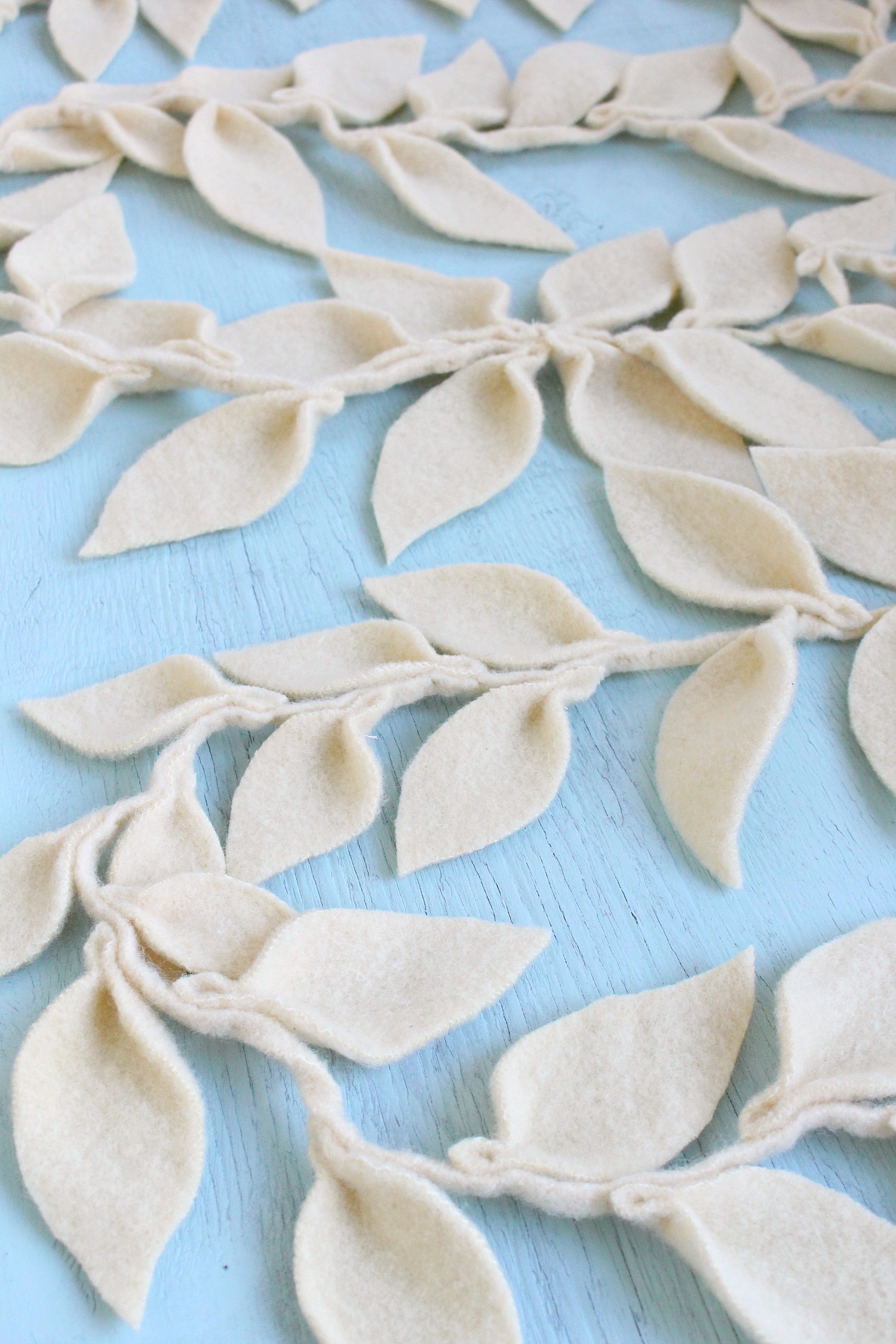 In another life, I live on the ocean and have the beachiest, most epic coastal Christmas tree design ever! Here are my fave finds for this imaginary "Coastal Christmas tree theme".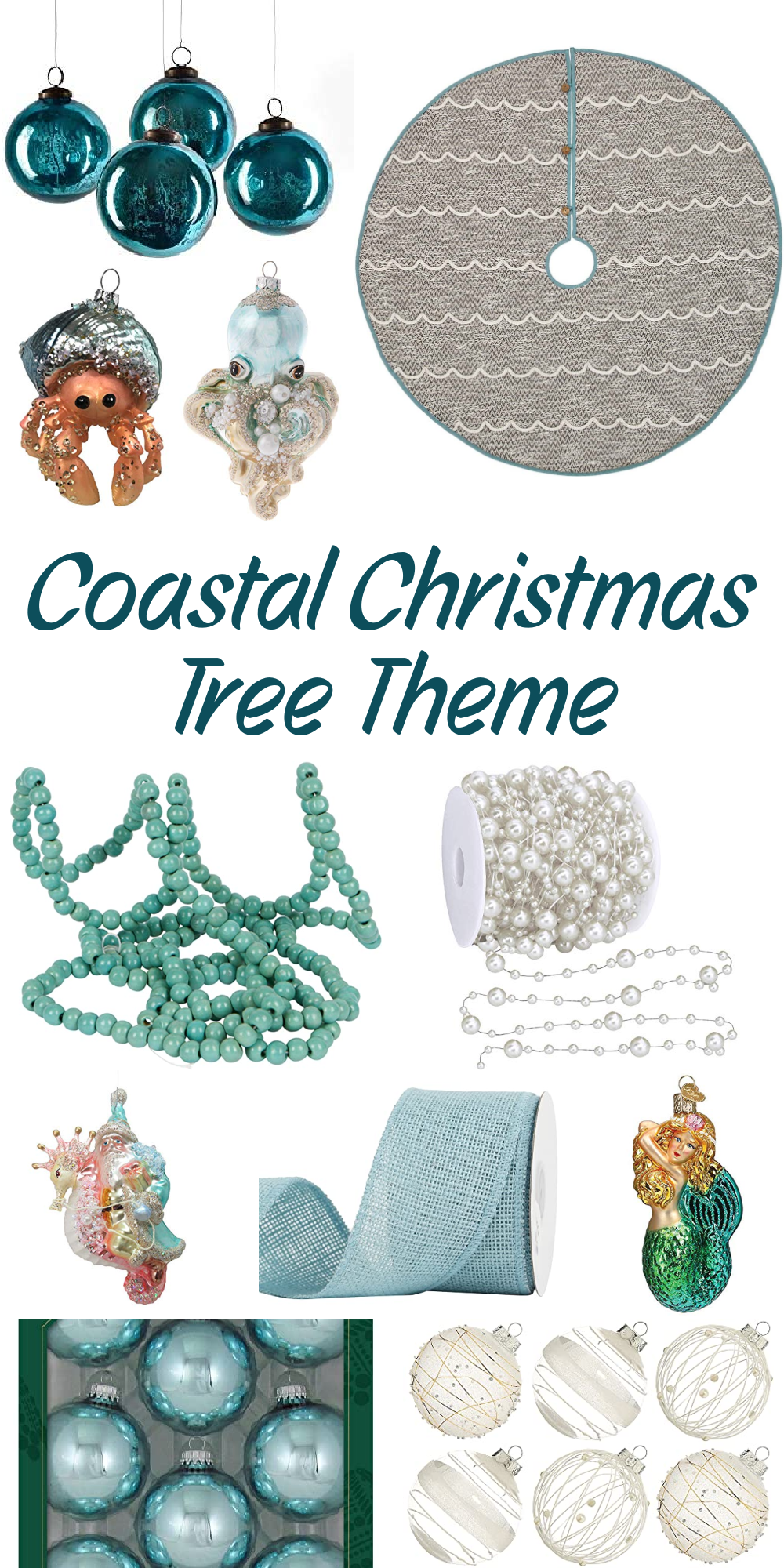 Not only do I love some of the kitschy coastal ornament designs, but I also love the opportunity to use interesting and natural textures, like recycled glass beads – which I'd turn into a garland.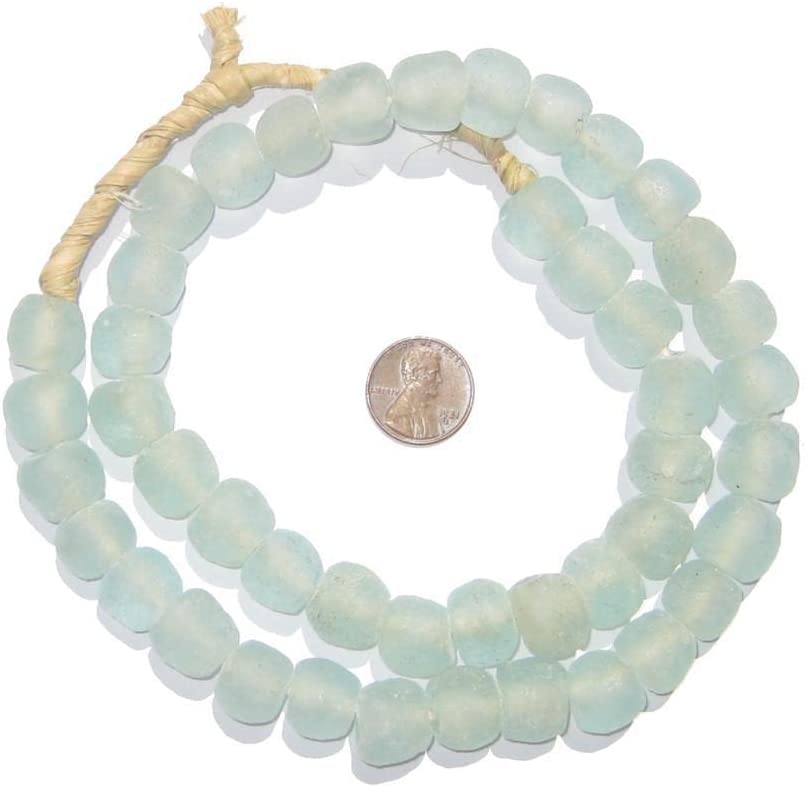 DIY Coastal Christmas Tree Theme Ideas: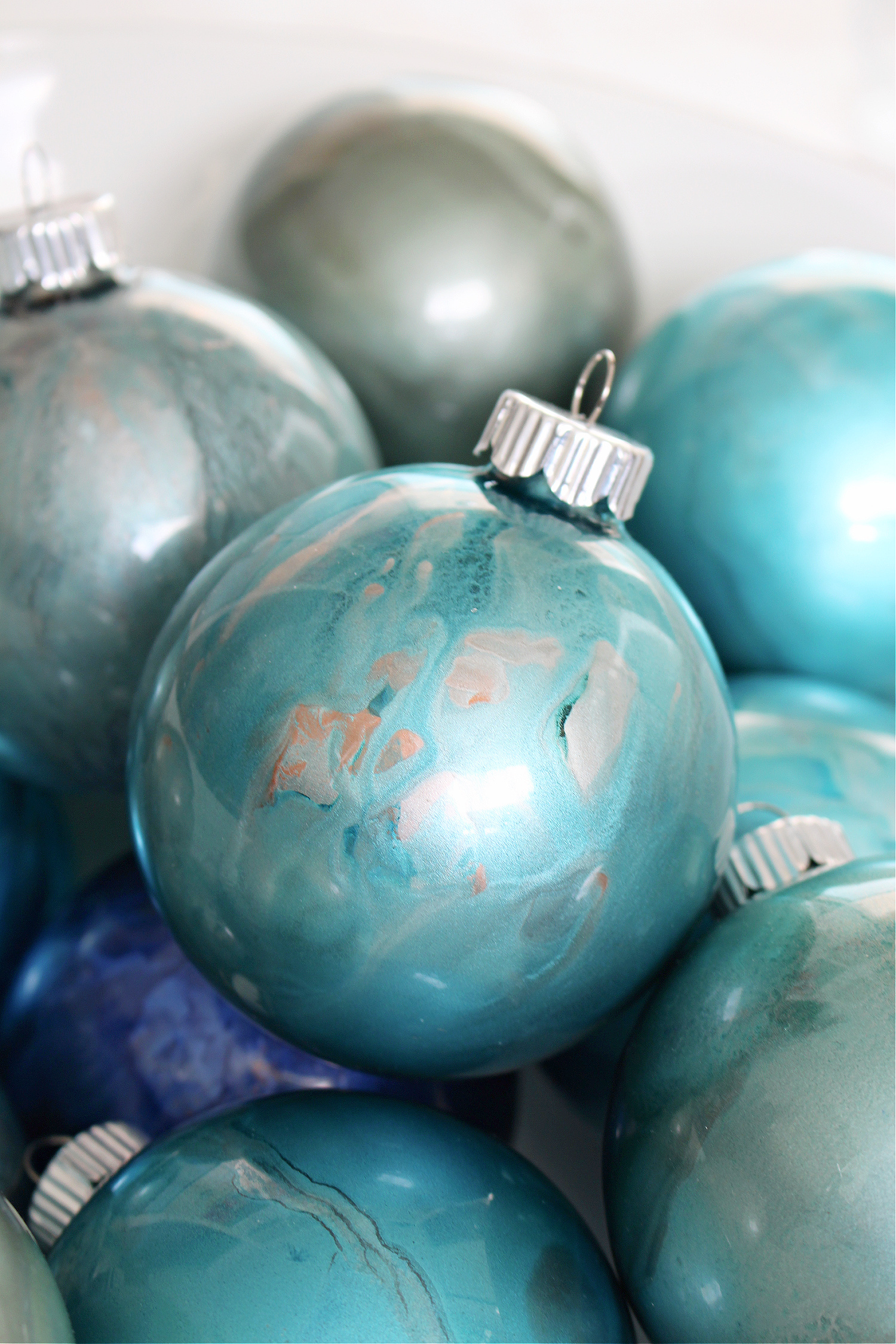 I wanted to round up a more classic Christmas tree theme. Now, I typically don't like red, but after spotting the sweet gingerbread house ornament on the right, and the gorgeous, multicolored wool tree skirt on the left, this Gingerbread House Christmas Tree Theme came together easily!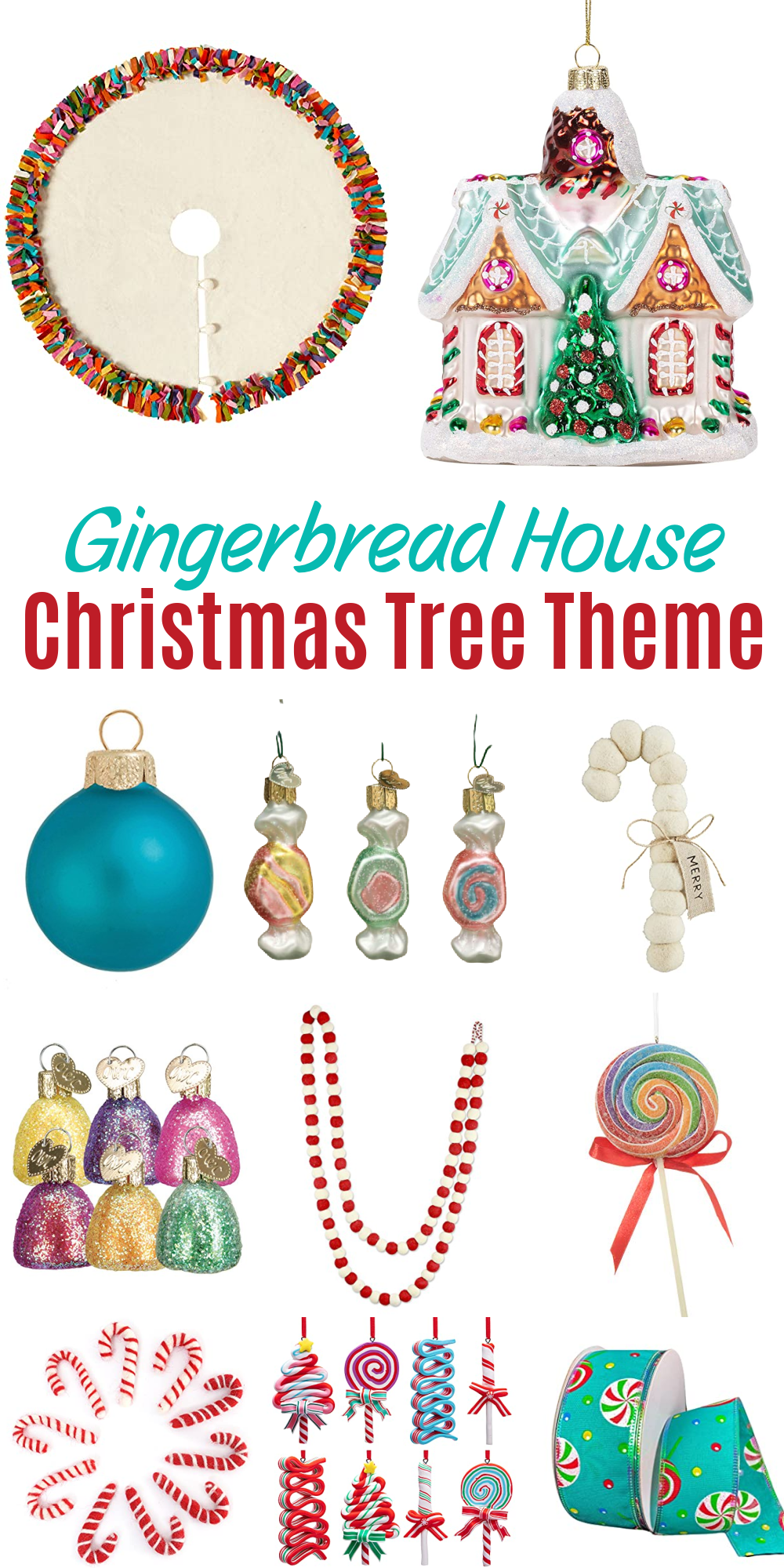 Seriously, how gorgeous is this sweet gingerbread house ornament? I love the touches of soft aqua, pink, and gold – you could do a completely unique gingerbread Christmas tree theme in a palette of aqua, pink, gold, and white (if you're red-adverse like I am). And let's talk about this absolutely stunning gingerbread house Christmas tree topper!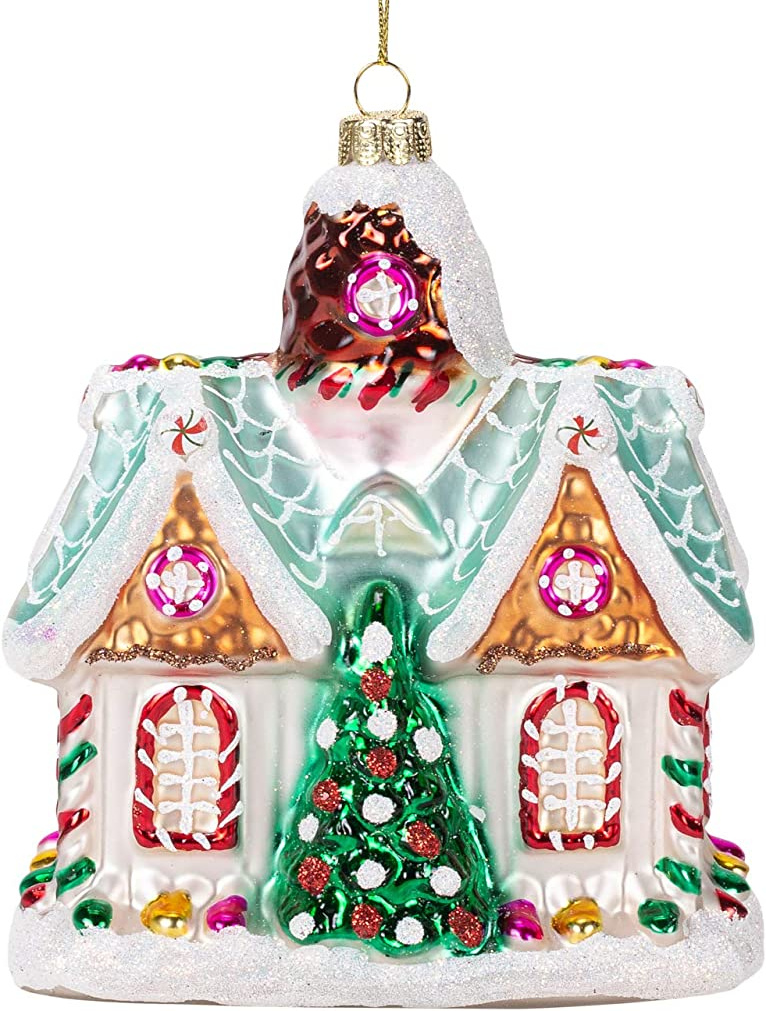 This beautiful, colorful felt wool tree skirt would work with so many Christmas tree themes, especially more traditional or boho color palettes. It's fun and playful.
DIY Gingerbread House Christmas Tree Theme Ornament Ideas: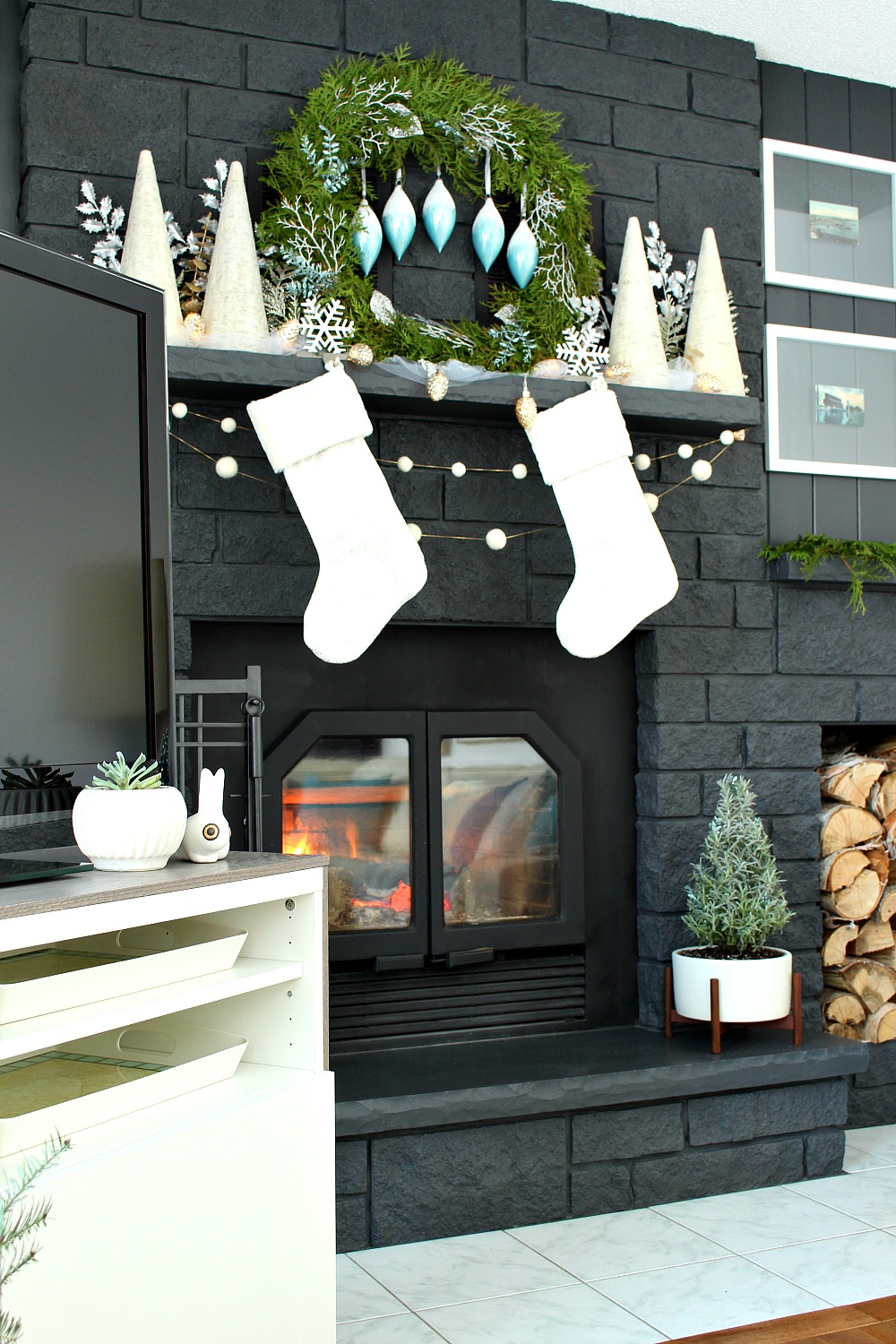 Flower Garden Christmas Tree Theme
Not to be confused with my Midsummer Night's Dream Christmas Tree Theme, this Flower Garden Christmas Tree Theme is all about bright colors and day time blooms. I definitely think this tree theme would look gorgeous on a pink tree (even though I favor natural ones, this pink is too pretty). This would be such a fun tree to decorate because you could tuck in dried or faux blooms, add baby's breath, cover it in summery colored ribbons, and add lots of pretty pastel ornaments – including some beautiful flower shaped blown glass ones.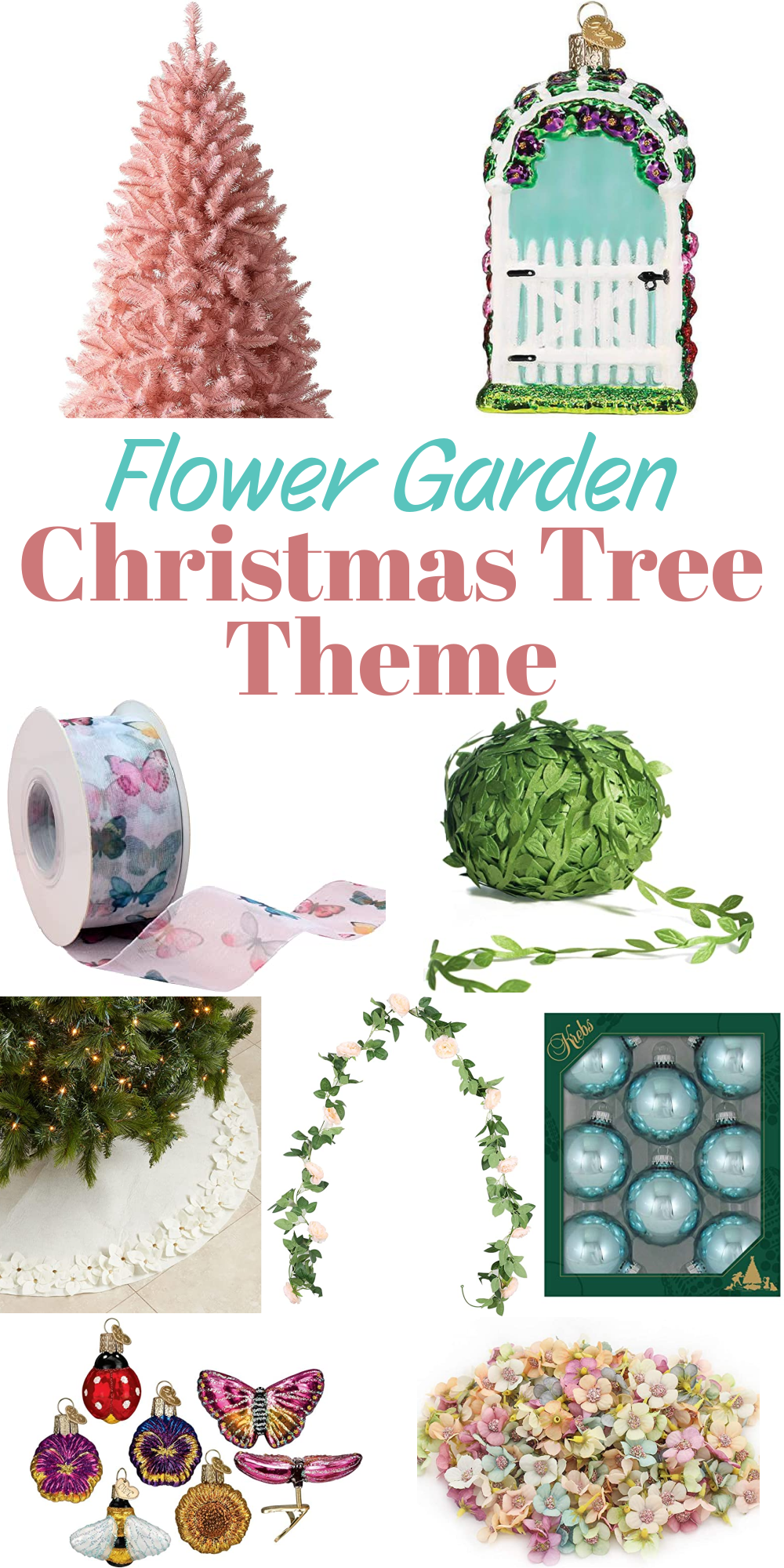 This one garden gate tree ornament and beautiful cream felt tree skirt inspired this flower Christmas tree theme for me: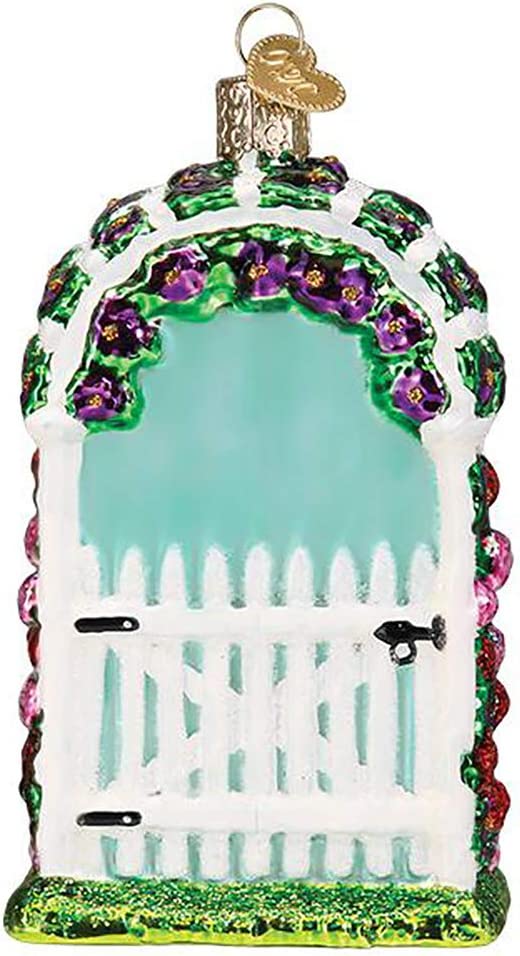 DIY Flower Garden Christmas Tree Theme Ornament Ideas: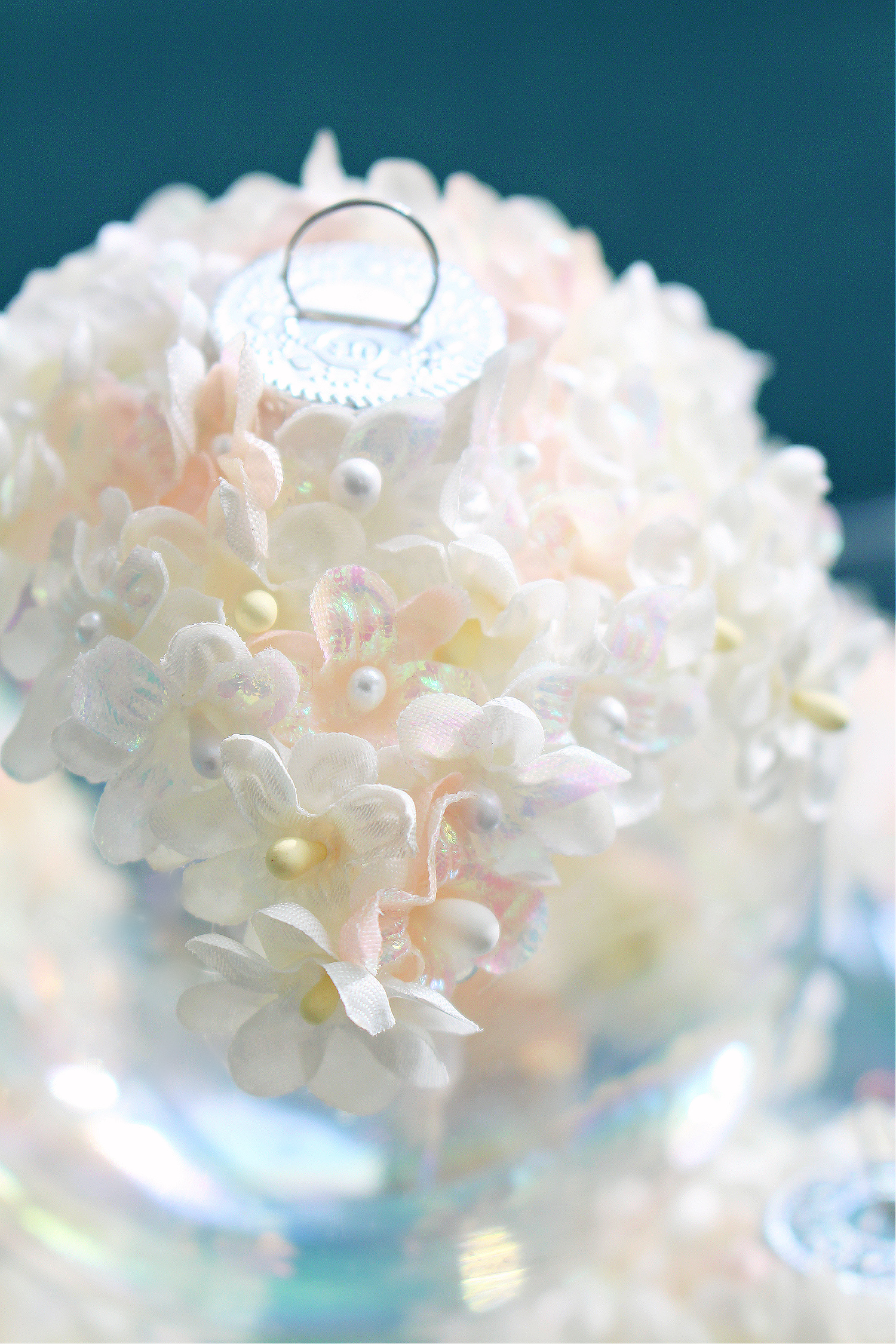 If you prefer a chic color palette with no "theme," I put together this gorgeous Mint & Gold Christmas Tree Theme – although there's technically more curated in this list than that. I pulled a bunch of mint/aqua/teal ornaments paired with glimmering metallics to suit your preferences! The warmth of bronze and gold ornaments paired with cool aqua tones – in a variety of interesting shapes and textures – is so visually pleasing.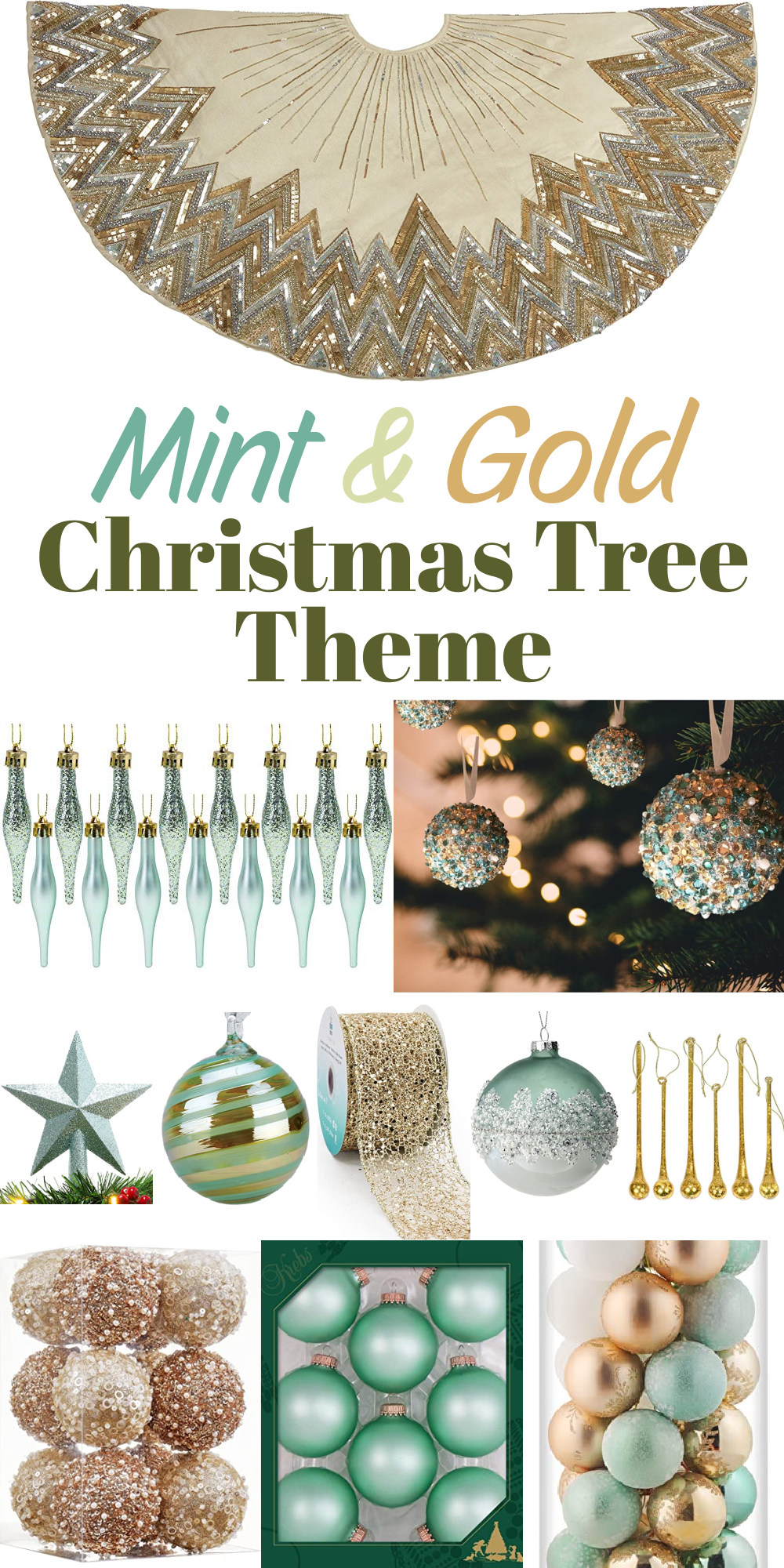 I've once again pulled the same glam tree skirt as the "Midnight" Christmas tree theme – because it's wildly gorgeous – but this velvet one is almost as glam! For just a touch of sparkle, this wool with fringe and sparkly trim is understates and versatile while this mint sequin one is full out gorgeous but under $50. Other than a few pine cones, the ornaments have no distinct shapes or theme – but there's a lot of GLAM choices (like the ornaments below) and so much sparkle!!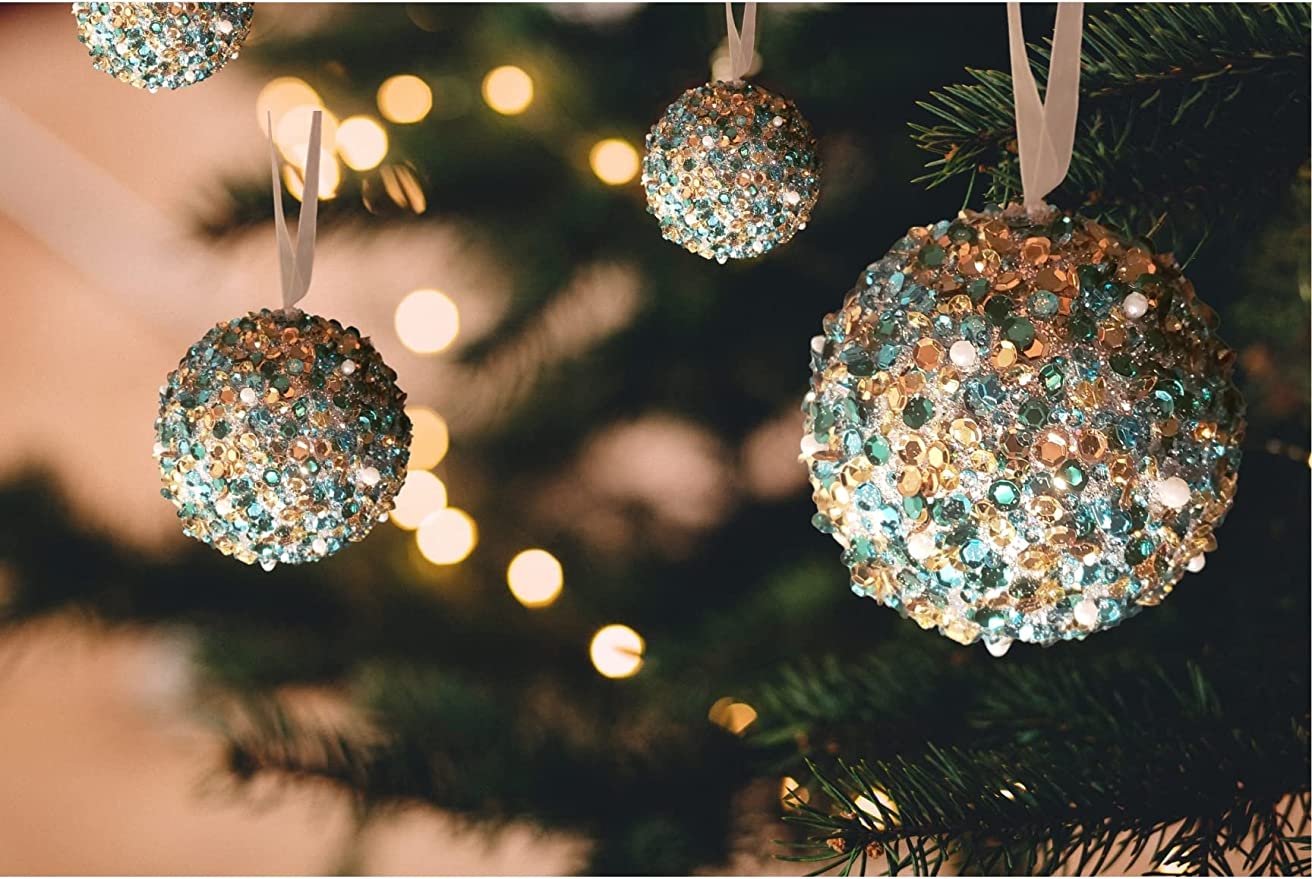 Does Your Tree Have a Theme?
I had SO MUCH FUN pulling together these 10 Christmas Tree Themes for 2022. You can see them all at once by clicking here. I hope you enjoyed scrolling through them!
Now I'd love to know: does your Christmas tree have a theme? And if so, what is it?