In the same style as the beaded crescent moon ornaments I made for my Mom's A Midsummer Night's Christmas tree, I also created these DIY beaded wire leaves! I love them as tree ornaments, but they would look beautiful attached to a wreath or garland for spring and fall decorating as well. I always appreciate multi-seasonal decor (like my upcycled wool leaf garland – I use that for winter, fall, and spring decorating). Actually, you could even make this a wired leaf pendant, because the method I'm using is taken from jewelry construction techniques. I used to LOVE making jewelry! I've shared a few, very basic tutorials here on the blog over the years, but I have secretly made myself so many pieces over the years. I don't make much jewelry for myself anymore though, because country living has definitely steered my style toward more casual vibes. But even just a few years ago, I was making earrings for a local shop to sell, and I enjoyed that immensely. I still love to play with jewelry making supplies, but by increasing the size I can turn them into ornaments now – which has been a joyful revelation for me!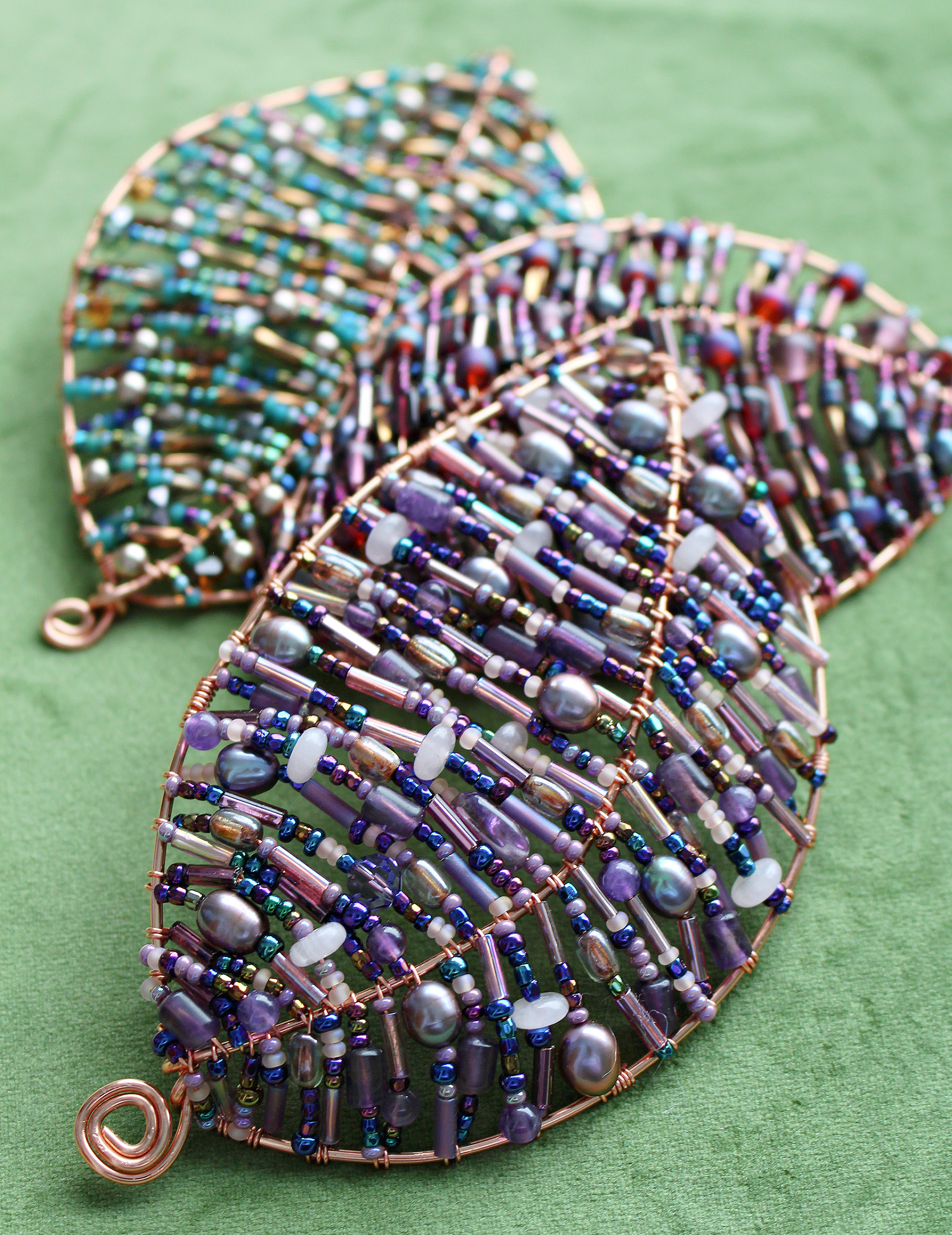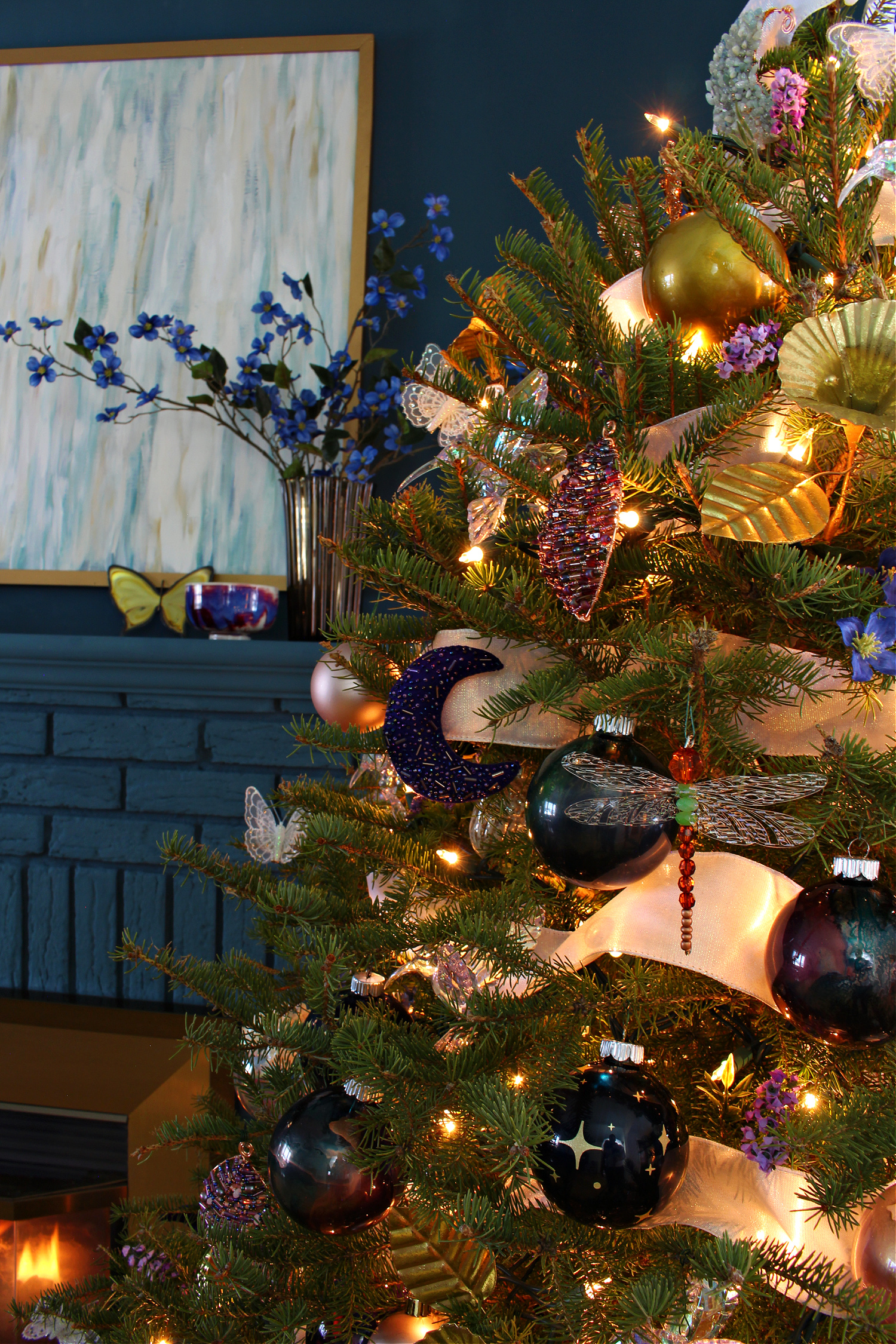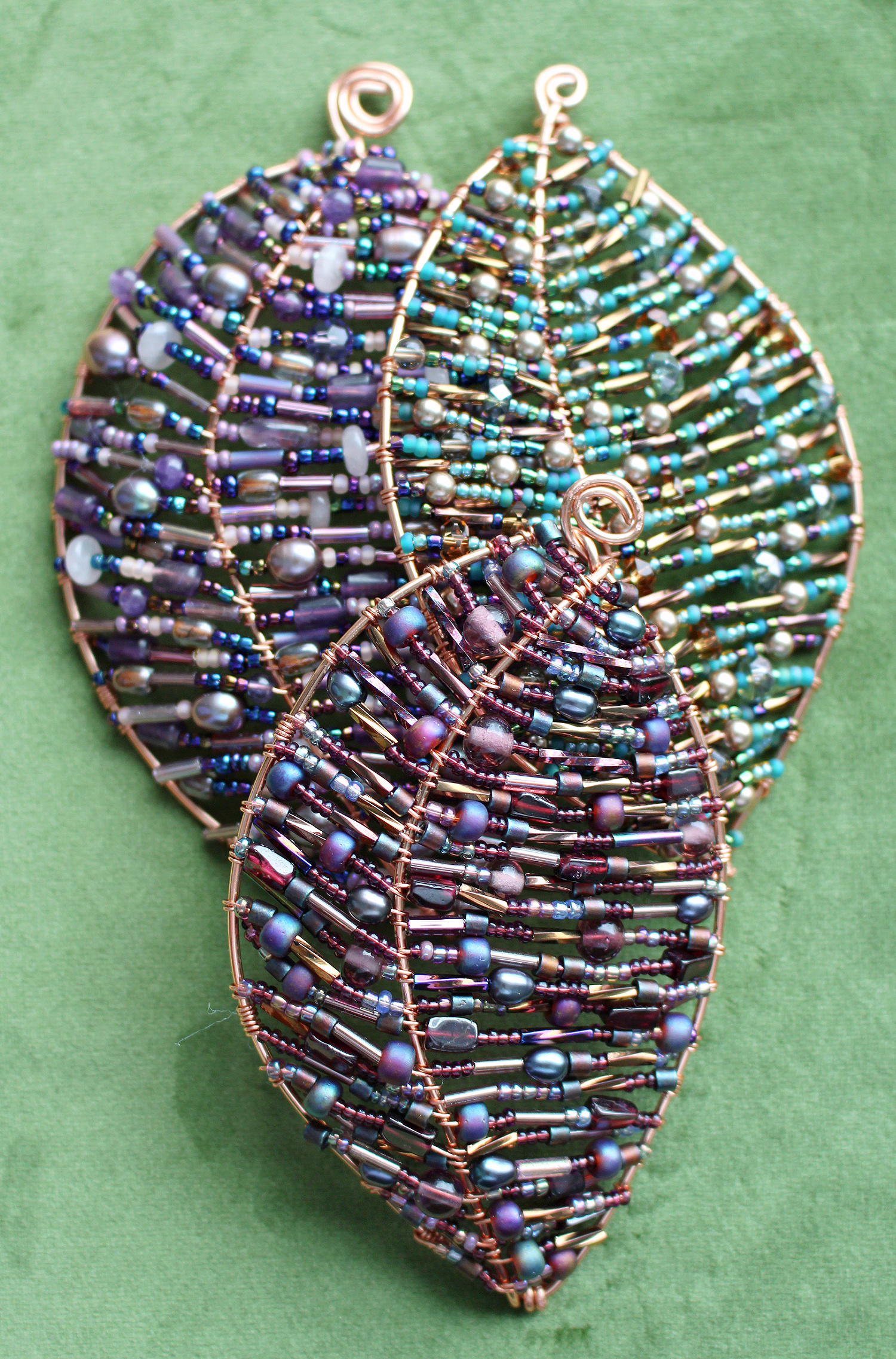 I'm going to take photos of the process and add them to this post soon, but for now I created a quick little video which I've shared to my new YouTube channel!
A Notes on Beads:
If you're intrigued by these DIY beaded wire leaves, let me share some ideas for supplies: consider upcycling old jewelry or using up crafting odds and ends. I have such a collection of random beads and making these, my beaded wired moons, and even my beaded felt moon ornaments has really helped me use up awkward amounts of beads that were leftover from other projects. These leaves are really good for incorporating one of two of something that's been left over. If you're buying supplies to make these, you can buy whatever catches you eye, but I'd suggested anything that's a little sparkly or transparent (think rhinestones, faceted glass, quartz, clear gemstones – even pearls), so that it really glows and glitters under the tree lights. The way some of these beads catch the light is just magical. I also love the idea of incorporating birthstones to make a special gift for someone!
Supplies:
Mix of beads (I used seed beads, bugle beads, plus smaller gemstones and faceted glass beads)
Needle nose pliers OR round nose pliers and wire cutters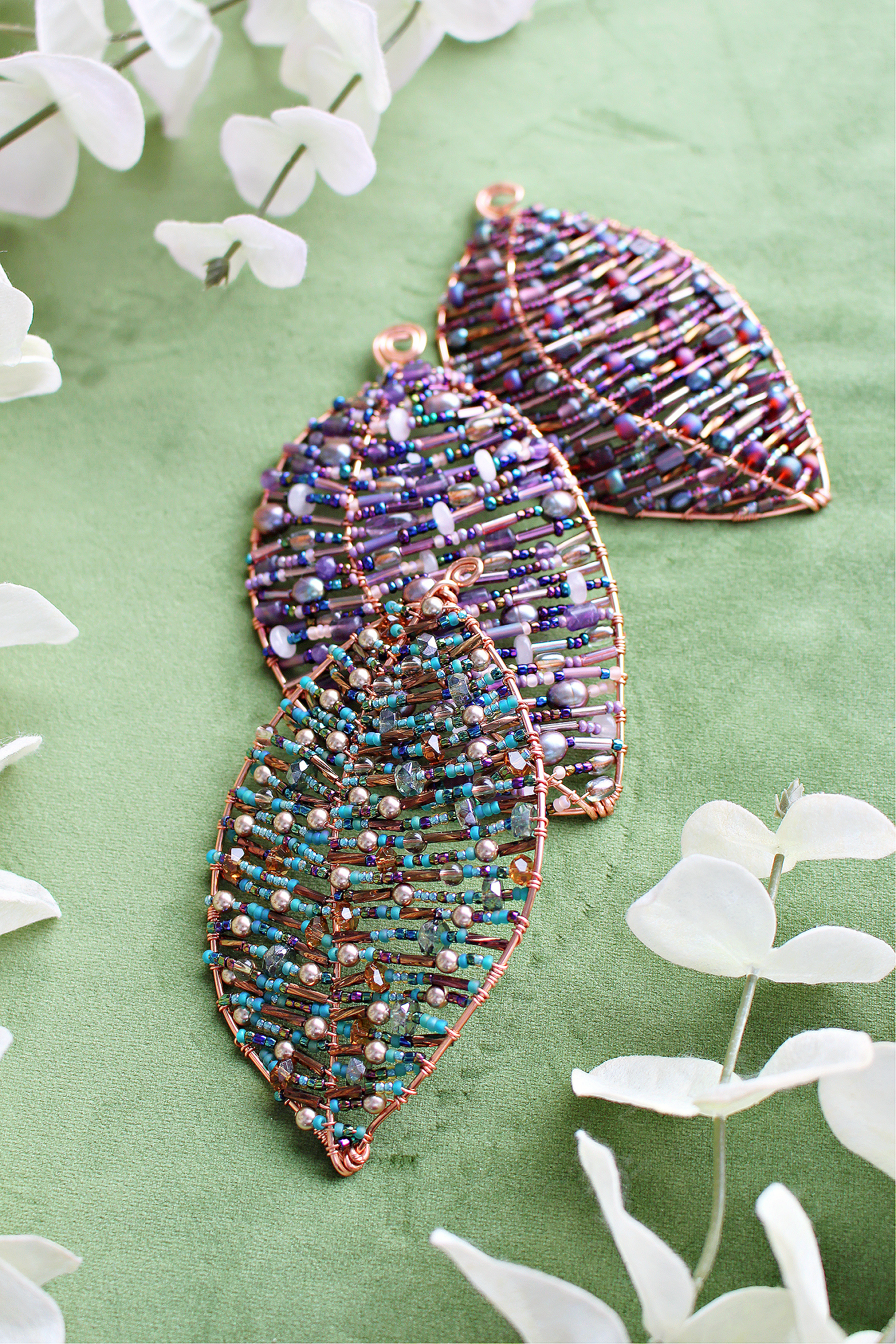 How to DIY Beaded Wire Leaves:
Loosely shape the 16 gauge wire into an elongated loop with a long tail end.
Bring that tail end down the middle of the loop – it will form the leaf's "vein".
Use pliers to pinch the end of the leaf into a slightly pointed shape.
Secure the loose end of the wire (the "vein") in that point by wrapping it around.
Trim any excess wire from the vein.
Continue to gently shape the wire into a leaf shape.
Create a curly cue at the top with the second loose end of wire.
Use the pliers to press down the ends of the wire to avoid any sharp bits (which can also be filed, if needed)
Take a length of 24 gauge wire and wrap it securely around one side of the leaf.
Running the wire over the leaf shape, string on some beads and then wrap the wire around the middle "vein" wire.
Continue stringing beads and then wrap around the opposed side of the leaf shape.
Run the wire back toward the middle, stringing with beads and wrapping around the middle.
String more beads and wrap the wire along the side of the leaf.
Repeat this process, back and forth.
Continue stringing beads, wrapping the wire along the edge, middle, then opposing edge of the leaf shape.
When there is no more room, wrap the end of the 24 gauge wire tightly around the 16 gauge wire and trim any excess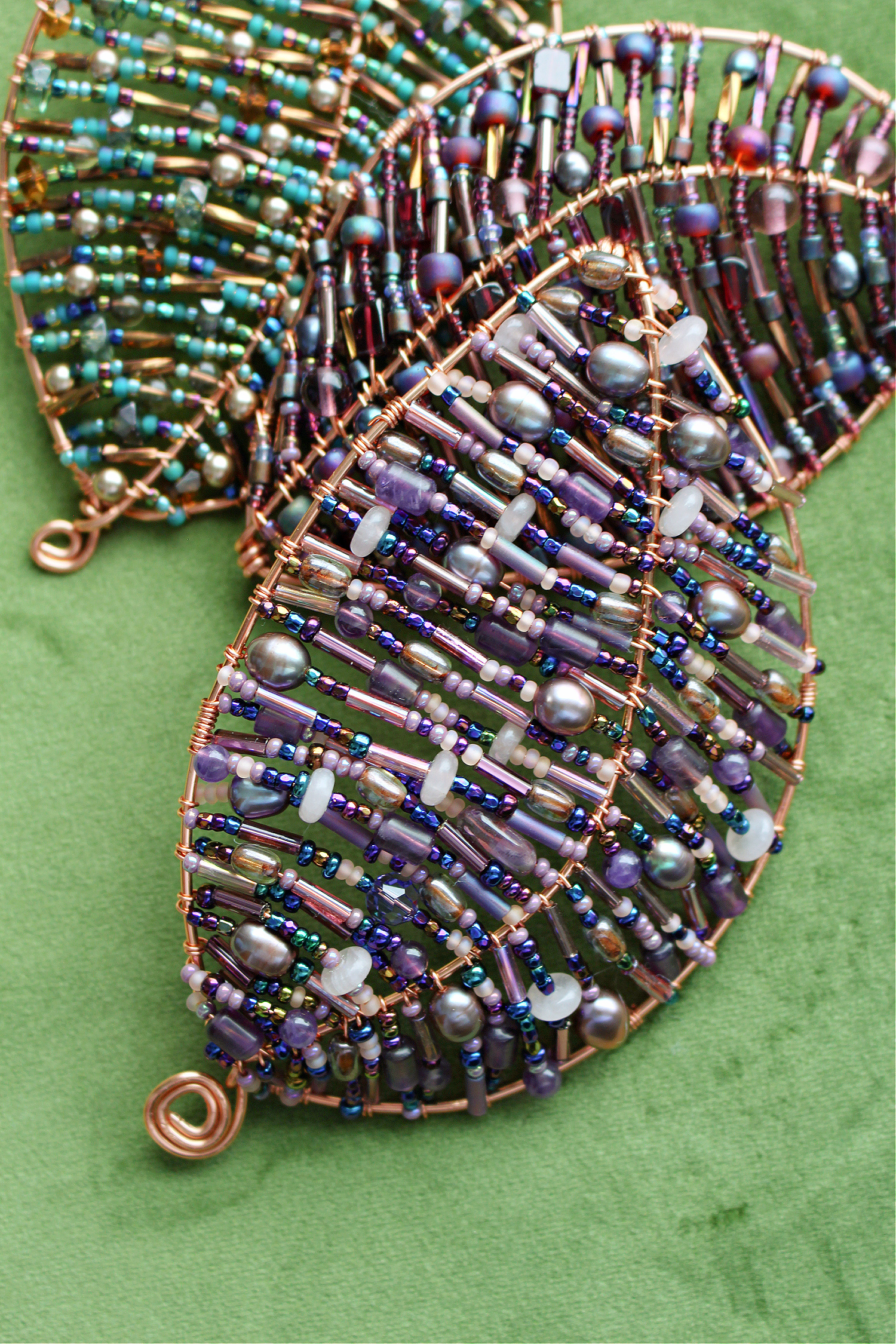 This video should clarify the process of wire wrapping beads around the leaf shape.
I'm going to be adding more videos to my blog tutorials – I hope you'll find that useful! Making these DIY beaded leaves is deceptively simple and the perfect craft project to work on while watching TV. These take my approximately 2-3 episodes of Buffy the Vampire Slayer to make.
P.S Don't Forget to Pin for Later!